If you are looking to watch a short anime series not more then 13 episode then here are 25 popular short anime series of all time.
So you got bored while watching a long anime or need some thing to fresh up your mind of just want a short series of no strings attached and minimum feeling hurt.
Today, we have created a list of popular short anime of all time for you to watch with 13 episode or less with only one seasons as of now and no movies in this list.
Lets begin the list of 25 popular short anime series of all time
25. Prison School
This short anime starts located on the outskirts of Tokyo, Hachimitsu Private Academy is a prestigious all-girls boarding school, famous for its high-quality education and disciplined students.
However, this is all about to change due to the revision of the school's most iconic policy, as boys are now able to enroll as well. At the start of the first semester under this new decree, a mere five boys have been accepted, effectively splitting the student body into a ratio of two hundred girls to one boy.
Kiyoshi, Gakuto, Shingo, Andre, and Jo are quickly cast away without having a chance to make any kind of a first impression. Unable to communicate with their fellow female students, the eager boys set their sights on a far more dangerous task: peeping into the girls' bath!
It's only after their plan is thoroughly decimated by the infamous Underground Student Council that the motley crew find their freedom abruptly taken from them, as they are thrown into the school's prison with the sentence of an entire month as punishment.
Thus begins the tale of the boys' harsh lives in Prison School, a righteous struggle that will ultimately test the bonds of friendship and perverted brotherhood.
24. Charlotte
This short anime story is as follow. While on the surface Yuu Otosaka appears to be just another charming and intelligent teenager, he has a secret—he has the ability to slip into people's minds and fully control their body for five seconds at a time.
Yuu has been using this skill for years to gain the highest grades, which allowed him to enter a prestigious high school. When the enigmatic Nao Tomori catches Yuu using his power, she coerces him and his sister Ayumi into transferring to Hoshinoumi Academy, a school for students with supernatural abilities.
The student council of the school, led by Nao, is tasked with secretly tracking down adolescents who abuse their powers. Yuu is forced to join the student council and together, they face formidable challenges that bring him closer to the shocking truth that his own, seemingly incomplete ability, might be more powerful than he could have ever imagined.
An original story from Jun Maeda, creator of Angel Beats and Clannad, Charlotte explores the supernatural lives of these teenagers and the price they must pay for being special.
23. Darwin's Game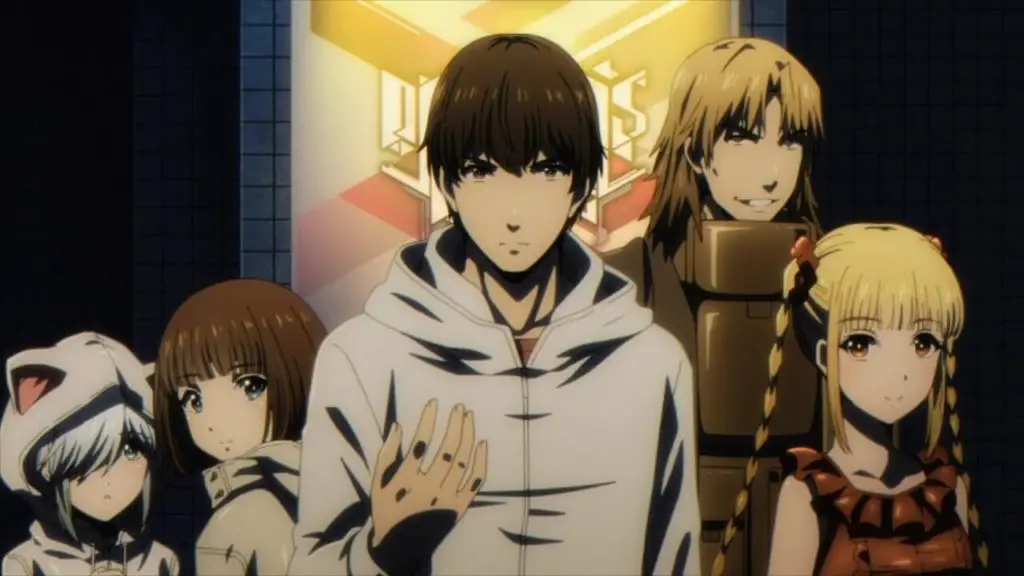 This short anime story is as follow. An unknowing Sudou Kaname is invited to try out a new mysterious mobile app game called Darwin's Game.
But later realizes that he's in for more than he's bargained for when he finds out that there's no way to quit the game.
22. Death Parade
This short anime starts After death, there is no heaven or hell, only a bar that stands between reincarnation and oblivion. There the attendant will, one after another, challenge pairs of the recently deceased to a random game in which their fate of either ascending into reincarnation or falling into the void will be wagered.
Whether it's bowling, darts, air hockey, or anything in between, each person's true nature will be revealed in a ghastly parade of death and memories, dancing to the whims of the bar's master.
Welcome to Quindecim, where Decim, arbiter of the afterlife, awaits! Death Parade expands upon the original one-shot intended to train young animators.
It follows yet more people receiving judgment—until a strange, black-haired guest causes Decim to begin questioning his own rulings.
21. Elfen Lied
This short anime story is as follow. Lucy is a special breed of human referred to as "Diclonius," born with a short pair of horns and invisible telekinetic hands that lands her as a victim of inhumane scientific experimentation by the government.
However, once circumstances present her an opportunity to escape, Lucy, corrupted by the confinement and torture, unleashes a torrent of bloodshed as she escapes her captors.
During her breakout, she receives a crippling head injury that leaves her with a split personality: someone with the mentality of a harmless child possessing limited speech capacity.
In this state of instability, she stumbles upon two college students, Kouta and his cousin Yuka, who unknowingly take an injured fugitive into their care, unaware of her murderous tendencies.
This act of kindness will change their lives, as they soon find themselves dragged into the shadowy world of government secrecy and conspiracy. 
20. Plastic Neesan
This short anime is about Iroe Genma is a third-year high school student often referred to as "Elder Sister" despite her short height. This trouble making teenager is the president of her school's Model Club, which is dedicated to building plastic models of various objects and structures, such as cars, boats, and even robots.
Joined by her two underclassmen, the violent Hazuki "Okappa" Okamoto and the rational Makina "Makimaki" Sakamaki, the small group aims to carry out their club duties but are often sidetracked by a myriad of distractions.
From battles between club members to lessons on how to confess to your crush, these three schoolgirls get caught up in all sorts of wacky, and downright outrageous situations!
19. WataMote: No Matter How I Look At It, It's You Guys' Fault I'm Unpopular!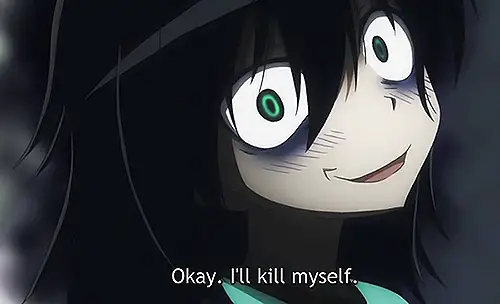 This short anime story is as follow. After living 50 simulated high school lives and dating over 100 virtual boys, Tomoko Kuroki believes that she is ready to conquer her first year of high school. Little does she know that she is much less prepared than she would like to think.
In reality, Tomoko is an introverted and awkward young girl, and she herself is the only one who doesn't realize it! With the help of her best friend, Yuu Naruse, and the support and love of her brother Tomoki, Tomoko attempts to brave the new world of high school life.
Watashi ga Motenai no wa Dou Kangaetemo Omaera ga Warui! chronicles the life of a socially awkward and relatively friendless high school otaku as she attempts to overcome her personal barriers in order to live a fulfilling life. 
18. Ishuzoku Reviewers
This short anime is about Ishuzoku Reviewers (the Japanese name for the show) is a s*x comedy totally unashamed of its premise.
Featuring the misadventures of a group of fantasy adventurers as they search far and wide for monster girls to then enjoy their services at a brothel.
17. House of Five Leaves
This short anime is about Masterless samurai Akitsu Masanosuke is a skilled and loyal swordsman, but his naïve, diffident nature has time and again caused him to be let go by the lords who have employed him.
Hungry and desperate, he becomes a bodyguard for Yaichi, the charismatic leader of a gang called "Five Leaves." Although disturbed by the gang's sinister activities, Masa begins to suspect that Yaichi's motivations are not what they seem.
And despite his misgivings, the deeper he's drawn into the world of the Five Leaves, the more he finds himself fascinated by these devious, mysterious outlaws.
16. The Comic Artist and His Assistants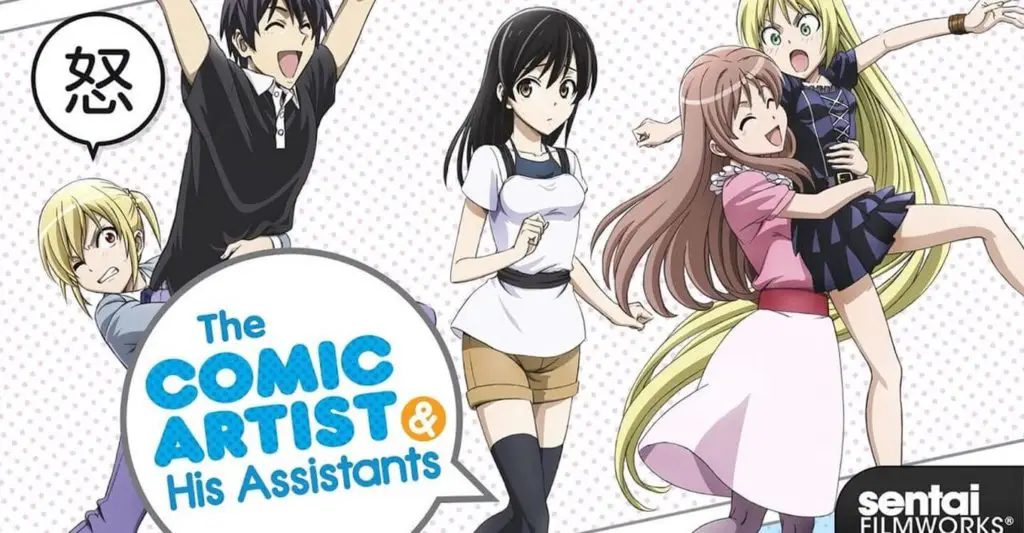 The story of this short anime depicts the work-life of a perverted mangaka, Aito Yuuki, and his assistant, Ashisu Sahoto.
Constantly pressured by his editor and lacking experience with girls, Aito asks Ashisu to act as a reference.
15. Grand Blue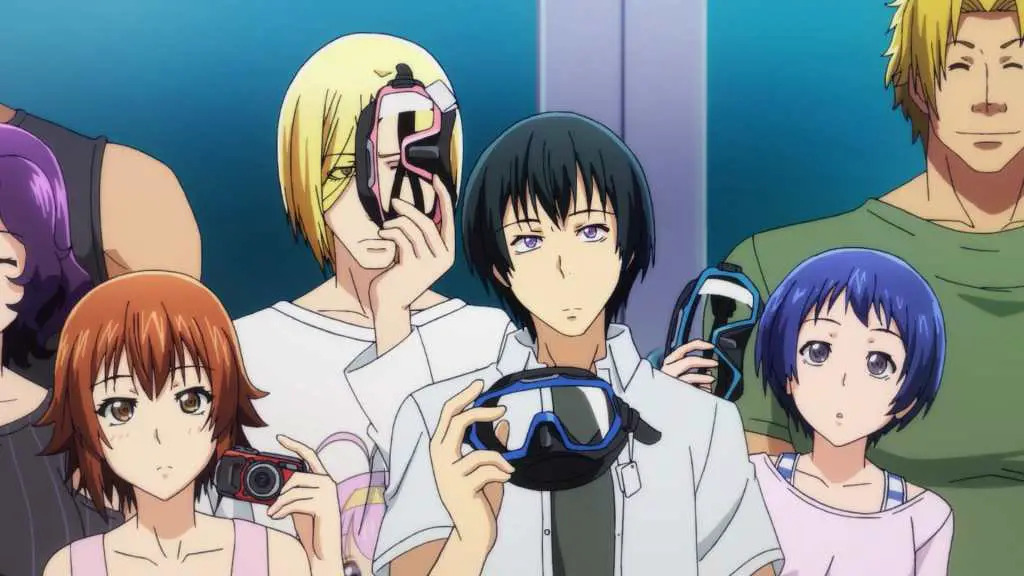 This short anime story is as follow. Iori Kitahara looks forward to his new life on the Izu Peninsula as he prepares to start his college life there, staying in a room above his uncle's diving shop "Grand Blue."
However, he is quickly shocked as he meets the local Diving Club, a group full of buff men who spend more time drinking, partying, and stripping naked than actually diving.
Despite his attempts to distance himself from the group, Iori gets quickly swept up in their antics, while his cousins try to show him the wonders of diving into the ocean and sea.
14. Another
This short anime story is as follow. In 1972, a popular student in Yomiyama North Middle School's class 3-3 named Misaki passed away during the school year. Since then, the town of Yomiyama has been shrouded by a fearful atmosphere, from the dark secrets hidden deep within.
Twenty-six years later, 15-year-old Kouichi Sakakibara transfers into class 3-3 of Yomiyama North and soon after discovers that a strange, gloomy mood seems to hang over all the students. He also finds himself drawn to the mysterious, eyepatch-wearing student Mei Misaki; however, the rest of the class and the teachers seem to treat her like she doesn't exist.
Paying no heed to warnings from everyone including Mei herself, Kouichi begins to get closer not only to her, but also to the truth behind the gruesome phenomenon plaguing class 3-3 of Yomiyama North.
Another follows Kouichi, Mei, and their classmates as they are pulled into the enigma surrounding a series of inevitable, tragic events—but unraveling the horror of Yomiyama may just cost them the ultimate price.
13. Baccano!
This short anime starts during the early 1930s in Chicago, the transcontinental train, Flying Pussyfoot, is starting its legendary journey that will leave a trail of blood all over the country. At the same time in New York, the ambitious scientist Szilard and his unwilling aide Ennis are looking for missing bottles of the immortality elixir.
In addition, a war between the mafia groups is getting worse. On board the Advena Avis, in 1711, alchemists are about to learn the price of immortality. Based on the award-winning light novels of the same name, Baccano! follows several events that initially seem unrelated, both in time and place, but are part of a much bigger story—one of alchemy, survival and immortality.
Merging these events together are the kindhearted would-be thieves, Isaac and Miria, connecting various people, all of them with their own hidden ambitions and agendas, and creating lifelong bonds and consequences for everyone involved.
12. Ping Pong the Animation
This short anime story is as follow. "The hero comes. The hero comes. The hero comes. Chant these words in your mind, and I'll surely come to you…" This mantra is what Makoto Tsukimoto repeats as a source of motivation when he fights through the stress of not only grueling ping pong matches, but also in situations of his life.
Makoto doesn't fight alone; he and his friend, Yukata Hoshino, nicknamed Smile and Peco respectively, are two boys who have grown up playing ping pong together nearly every day. Peco, brimming with confidence, aims to be the best table tennis player in the world; Smile, on the other hand, shows little ambition.
Nevertheless, the two have always stuck together, with a bond built upon their mutual love for this sport. Every year, students from all across Japan gather for the inter-high table tennis competition to achieve national and international stardom. Through intense training and competition, only the very best persevere.
From the avant-garde director of Tatami Galaxy, Masaaki Yuasa, Ping Pong The Animation serves a tale of ambition with its fair share of bumps along the way. Whatever the odds, Peco and Smile will face them together.
11. The Devil as a Part-Timer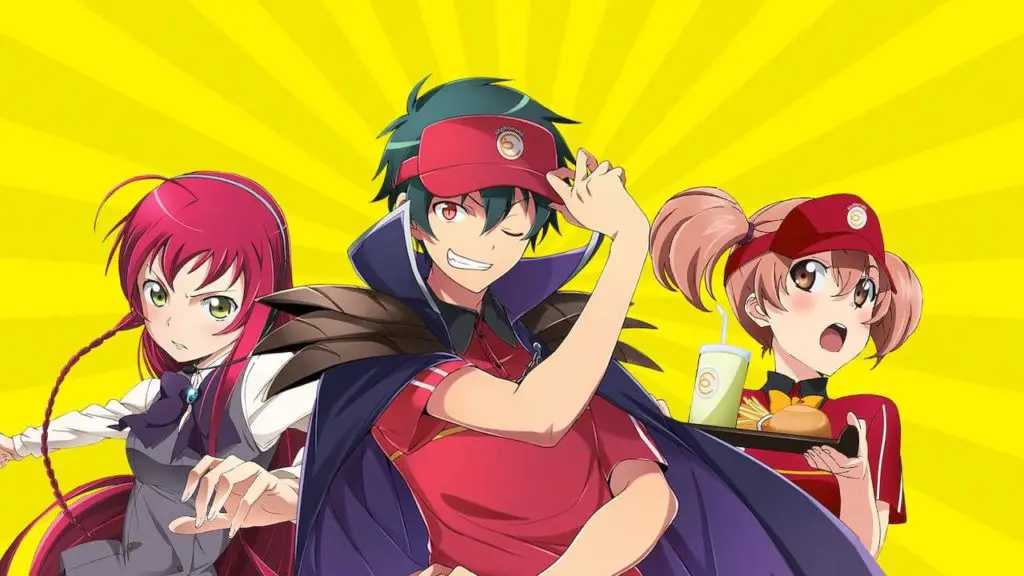 This short anime story is as follow. Striking fear into the hearts of mortals, the Demon Lord Satan begins to conquer the land of Ente Isla with his vast demon armies. However, while embarking on this brutal quest to take over the continent, his efforts are foiled by the hero Emilia, forcing Satan to make his swift retreat through a dimensional portal only to land in the human world.
Along with his loyal general Alsiel, the demon finds himself stranded in modern-day Tokyo and vows to return and complete his subjugation of Ente Isla—that is, if they can find a way back! Powerless in a world without magic, Satan assumes the guise of a human named Sadao Maou and begins working at MgRonald's—a local fast-food restaurant—to make ends meet.
He soon realizes that his goal of conquering Ente Isla is just not enough as he grows determined to climb the corporate ladder and become the ruler of Earth, one satisfied customer at a time!
Whether it's part-time work, household chores, or simply trying to pay the rent on time, Hataraku Maou-sama! presents a hilarious view of the most mundane aspects of everyday life, all through the eyes of a hapless demon lord.
10. Tonari no Seki-kun: The Master of Killing Time
This short anime original manga revolves around a girl named Yokoi who sits next to a boy only known as Seki-kun.
During class, Seki-kun continues to not pay attention and instead creates amazing little distractions, such as a detailed golf course with the course's hole being a dent in his desk, or an entire dramatic war being played out by paper shogi pieces.
Yokoi often finds herself getting reluctantly interested in his games, even though they always seem to end up getting HER in trouble with the teacher! 
9. I Can't Understand What My Husband Is Saying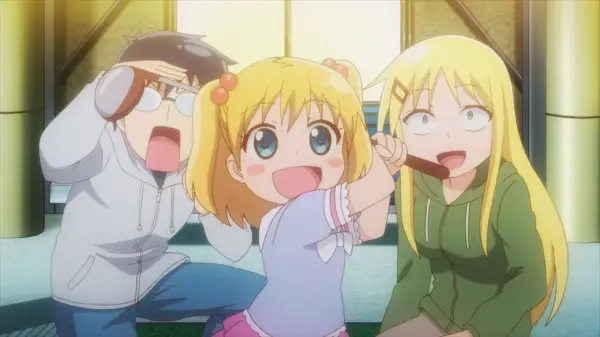 This short anime story is as follow. Though they couldn't be any more different, love has managed to blossom between Hajime Tsunashi, a hardcore otaku who shuts himself in at home while making a living off his blog, and his wife Kaoru—a hard-working office lady who, in contrast, is fairly ordinary, albeit somewhat of a crazy drunk.
As this unlikely couple discovers, love is much more than just a first kiss or a wedding; the years that come afterward in the journey of marriage brings with it many joys as well as challenges.
Whether due to their quirky personalities or the peculiar people surrounding them, Hajime and Kaoru find themselves caught up in a variety of baffling and ridiculous antics.
But despite the struggles they face, the love that ties them together spurs them to move forward and strive to become better people in order to bring their partner happiness.
8. Senyuu
This short anime starts Once upon a time, the demon lord Rchimedes spread terror throughout the world, until he was eventually sealed away by the legendary hero Creasion. Since then, a thousand years have passed peacefully.
However, a mysterious hole has opened up between the demon and human spheres, and countless demons have surged into the human realm once more. Coming to the conclusion that Rchimedes would soon return to wreak havoc, a human king summons the possible descendants of the legendary hero—all 75 of them.
Unfortunately, after so long, it was too difficult to pinpoint his true descendants. Among the lionhearted prospects is the amateur adventurer Alba Frühling. His skills may not be top-notch, but he is accompanied by the talented soldier Ross, who helps the young hero whenever he is in a pinch…or at least, he is supposed to.
Though undoubtedly a skilled warrior, Ross is actually both sarcastic and sadistic, and hence revels in Alba's suffering. Senyuu. is a comedic adventure following the unlikely duo as they struggle in their endeavor to defeat the demon lord, meeting various eccentrics along the way.
7. Deadman Wonderland
This short anime story is as follow. It looked like it would be a normal day for Ganta Igarashi and his classmates—they were preparing to go on a class field trip to a certain prison amusement park called Deadman Wonderland, where the convicts perform dangerous acts for the onlookers' amusement.
However, Ganta's life is quickly turned upside down when his whole class gets massacred by a mysterious man in red. Framed for the incident and sentenced to death, Ganta is sent to the very jail he was supposed to visit. But Ganta's nightmare is only just beginning.
The young protagonist is thrown into a world of sadistic inmates and enigmatic powers, to live in constant fear of the lethal collar placed around his neck that is slowed only by winning in the prison's deathly games.
Ganta must bet his life to survive in a ruthless place where it isn't always easy to tell friend from foe, all while trying to find the mysterious "Red Man" and clear his name, in Deadman Wonderland.
6. Sakamoto desu ga? (Haven't You Heard? I'm Sakamoto)
This short anime story is as follow. Sophisticated, suave, sublime; all words which describe the exceedingly handsome and patently perfect Sakamoto.
Though it is only his first day in high school, his attractiveness, intelligence, and charm already has the girls swooning and the guys fuming with jealousy.
No one seems able to derail him, as all attempts at tripping him up are quickly foiled. His sangfroid is indomitable, his wits peerless.
Will any of Sakamoto's classmates, or even teachers, be able to reach his level of excellence? Probably not, but they just might learn a thing or two trying.
5. Erased
This short anime story is as follow. When tragedy is about to strike, Satoru Fujinuma finds himself sent back several minutes before the accident occurs. The detached, 29-year-old manga artist has taken advantage of this powerful yet mysterious phenomenon, which he calls "Revival," to save many lives.
However, when he is wrongfully accused of murdering someone close to him, Satoru is sent back to the past once again, but this time to 1988, 18 years in the past.
Soon, he realizes that the murder may be connected to the abduction and killing of one of his classmates, the solitary and mysterious Kayo Hinazuki, that took place when he was a child.
This is his chance to make things right. Boku dake ga Inai Machi follows Satoru in his mission to uncover what truly transpired 18 years ago and prevent the death of his classmate while protecting those he cares about in the present.
4. Devilman Crybaby
This short anime is about Akira Fudo is informed by his best friend Ryou Asuka that the demons will revive and reclaim the world from the humans.
As the humans do not stand a chance against the supernatural power of the demons, Ryou suggests fusing with a demon.
Akira becomes Devilman, with the power of a demon and the heart of a human.
3. Zankyou no Terror (Terror in Resonance)
This short anime story is as follow. Painted in red, the word "VON" is all that is left behind after a terrorist attack on a nuclear facility in Japan. The government is shattered by their inability to act, and the police are left frantically searching for ways to crack down the perpetrators.
The public are clueless—until, six months later, a strange video makes its way onto the internet. In it, two teenage boys who identify themselves only as "Sphinx" directly challenge the police, threatening to cause destruction and mayhem across Tokyo.
Unable to stop the mass panic quickly spreading through the city and desperate for any leads in their investigation, the police struggle to act effectively against these terrorists, with Detective Kenjirou Shibazaki caught in the middle of it all.
Zankyou no Terror tells the story of Nine and Twelve, the two boys behind the masked figures of Sphinx. They should not exist, yet they stand strong in a world of deception and secrets while they make the city fall around them, all in the hopes of burying their own tragic truth. 
2. Beastars
This short anime story is as follow. In a civilized society of anthropomorphic animals, an uneasy tension exists between carnivores and herbivores. At Cherryton Academy, this mutual distrust peaks after a predation incident results in the death of Tem, an alpaca in the school's drama club.
Tem's friend Legoshi, a grey wolf in the stage crew, has been an object of fear and suspicion for his whole life. In the immediate aftermath of the tragedy, he continues to lay low and hide his menacing traits, much to the disapproval of Louis, a red deer and the domineering star actor of the drama club.
When Louis sneaks into the auditorium to train Tem's replacement for an upcoming play, he assigns Legoshi to lookout duty. That very night, Legoshi has a fateful encounter with Haru, a white dwarf rabbit scorned by her peers.
His growing feelings for Haru, complicated by his predatory instincts, force him to confront his own true nature, the circumstances surrounding the death of his friend, and the undercurrent of violence plaguing the world around him.
1. The Promised Neverland
This short anime story is as follow. Surrounded by a forest and a gated entrance, the Grace Field House is inhabited by orphans happily living together as one big family, looked after by their "Mama," Isabella.
Although they are required to take tests daily, the children are free to spend their time as they see fit, usually playing outside, as long as they do not venture too far from the orphanage—a rule they are expected to follow no matter what.
However, all good times must come to an end, as every few months, a child is adopted and sent to live with their new family… never to be heard from again.
However, the three oldest siblings have their suspicions about what is actually happening at the orphanage, and they are about to discover the cruel fate that awaits the children living at Grace Field, including the twisted nature of their beloved Mama.