Anime fans love watching Yakuza Anime characters whether they are hero or villain or maybe both it doesn't matter.
Especially if they are band together and working like a gangster organization then it makes the anime more exciting for the viewers.
From inner psychological machinations of the lower grunt, to the bureaucratic processes that overhang the gang's operations. It's all can be found in these yakuza anime.
So here we are counting down 18 deadly yakuza anime series to watch.
18. Gangsta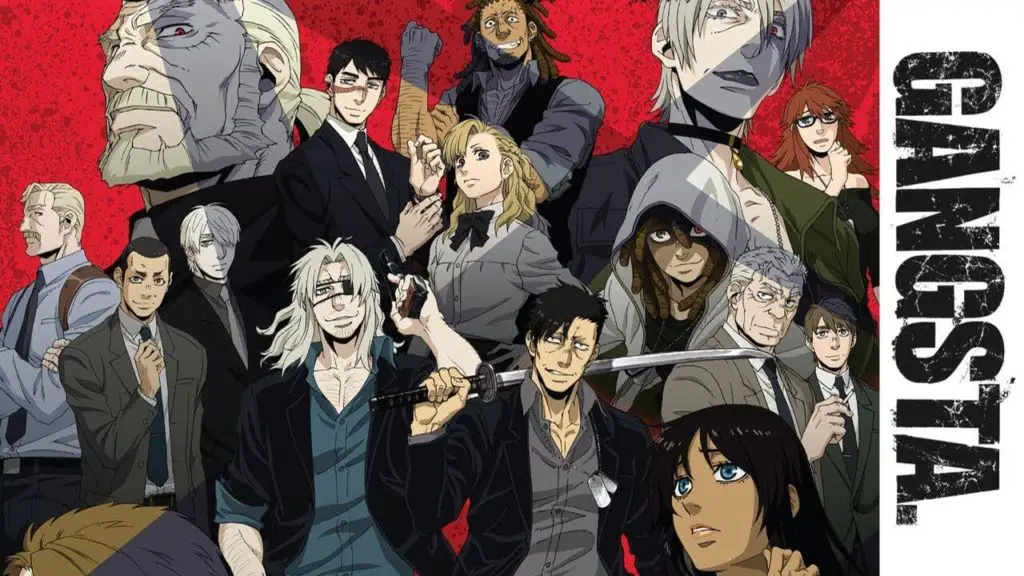 This yakuza anime is about Nicholas Brown and Worick Arcangelo, known in the city of Ergastalum as the "Handymen," are mercenaries for hire who take on jobs no one else can handle. Contracted by powerful mob syndicates and police alike, the Handymen have to be ready and willing for anything.
After completing the order of killing a local pimp, the Handymen add Alex Benedetto—a prostitute also designated for elimination—to their ranks to protect her from forces that want her gone from the decrepit hellhole of a city she has come to call home.
However, this criminal's paradise is undergoing a profound period of change that threatens to corrode the delicate balance of power. Ergastalum was once a safe haven for "Twilights," super-human beings born as the result of a special drug but are now being hunted down by a fierce underground organization.
This new threat is rising up to challenge everything the city stands for, and the Handymen will not be able to avoid this coming war.
17. Beastars
This yakuza anime starts in a civilized society of anthropomorphic animals, an uneasy tension exists between carnivores and herbivores. At Cherryton Academy, this mutual distrust peaks after a predation incident results in the death of Tem, an alpaca in the school's drama club.
Tem's friend Legoshi, a grey wolf in the stage crew, has been an object of fear and suspicion for his whole life. In the immediate aftermath of the tragedy, he continues to lay low and hide his menacing traits, much to the disapproval of Louis, a red deer and the domineering star actor of the drama club.
When Louis sneaks into the auditorium to train Tem's replacement for an upcoming play, he assigns Legoshi to lookout duty. That very night, Legoshi has a fateful encounter with Haru, a white dwarf rabbit scorned by her peers.
His growing feelings for Haru, complicated by his predatory instincts, force him to confront his own true nature, the circumstances surrounding the death of his friend, and the undercurrent of violence plaguing the world around him.
16. 91 Days
As a child living in the town of Lawless, Angelo Lagusa has witnessed a tragedy: his parents and younger brother have been mercilessly slaughtered by the Vanetti mafia family. Losing everything he holds dear, he leaves both his name and hometown behind, adopting the new identity of Avilio Bruno.
Seven years later, Avilio finally has his chance for revenge when he receives a mysterious letter prompting him to return to Lawless. Obliging, he soon encounters the Vanetti don's son, Nero, and seeks to befriend him using the skills he has quietly honed for years.
Set during the Prohibition era, 91 Days tells the story of Avilio's dark, bloodstained path to vengeance, as he slowly ends each of the men involved in the killing of his family And this yakuza anime is all about this.
15. Golden Kamuy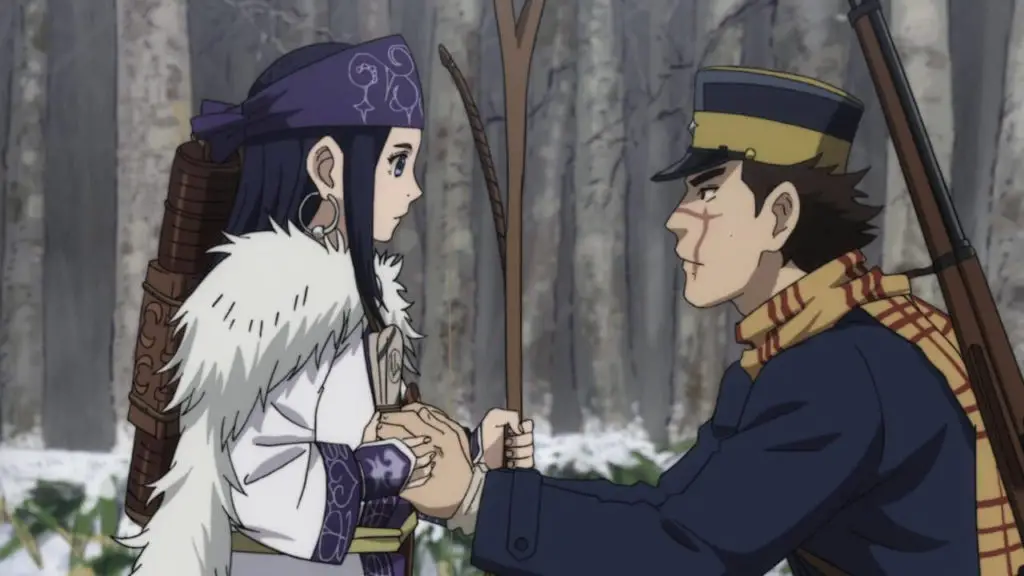 This yakuza anime starts in Hokkaido, the far northern lands of Japan, Sugimoto survived the Russo-Japanese war of the Meiji era. Nicknamed "Sugimoto the Immortal" during the war, he now seeks the riches promised by the gold rush in hopes of saving the widowed wife of his now deceased comrade from the war.
During his hunt of gold, he finds hints of a hidden stash of gold by corrupt criminals. Partnering with an Ainu girl that saves his life from the harsh climates of the north, they venture into a survival adventure to race against the criminals that seek the hidden stash.
14. Kemonozume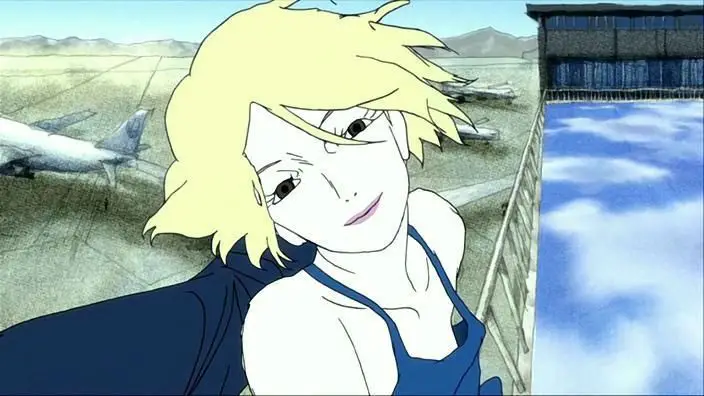 This yakuza anime is about Creatures known as Shokujinki have been secretly living alongside humans for hundreds of years. Though they may look like humans, Shokujinki are able to transform into uncontrollable beasts with gigantic claws and consume humans to survive.
The equally secretive Kifuuken dojo specializes in killing Shokujinki by cutting off their arms, and is the only force preventing unchecked Shokujinki domination.
Toshihiko Momota, the son of the leader of the Kifuuken, is instantly charmed by a mysterious woman named Yuka Kamitsuki. Their relationship is complicated, however, because unbeknownst to them both, Yuka is a Shokujinki and Toshihiko is sworn to kill her.
Meanwhile, the Kifuuken is having a crisis of confidence as Toshihiko's brother Kazuma pushes against tradition and tries to modernize the Kifuuken. As emotions are strained and the secrets of both the past and present are revealed, who will live, and who will be eaten?
13. Hinamatsuri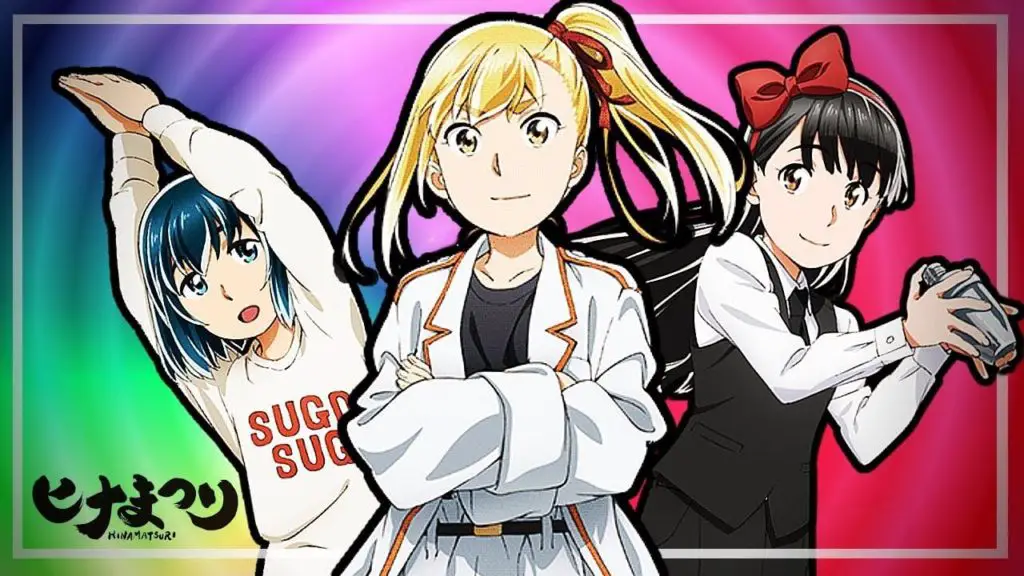 This yakuza anime is about one night, a strange object falls on the head of Nitta, a member of the yakuza. Inside the box is a strange young girl named Hina. She has tremendous supernatural powers, and Nitta finds himself reluctantly taking her in.
Her powers can come in handy for his yakuza business, but he also runs the risk of her using them on him! Not to mention, if she doesn't use her powers, she will eventually go berserk and destroy everything around her.
Nitta and Hina's strange life together is just beginning…
12. K
This yakuza anime is about "Kings" are individuals who have been bestowed with incredible supernatural powers and granted the ability to recruit others into their clans. Protecting the lives and honor of their clansmen is an integral part of the Kings' duties.
After a video depicting the heinous murder of a Red Clansman spreads virally, the unassuming student Yashiro Isana is accused of homicide.
Now, a manhunt is underway for his head, bringing him into contact with the infamous "Black Dog" Kurou Yatogami—a skilled swordsman and martial artist determined to follow the wishes of his late master, the Seventh King.
Meanwhile, the current Red King, Mikoto Suou, faces his own imminent demise as the search for Yashiro narrows.
But during Yashiro's struggle to prove his innocence, a greater conspiracy is unraveling behind the scenes; clouds begin to appear in his memory, and close friends start to question his very existence.
What began as a simple murder is now leading towards a full blown war between Kings with the very fate of the world at stake.
11. Great Teacher Onizuka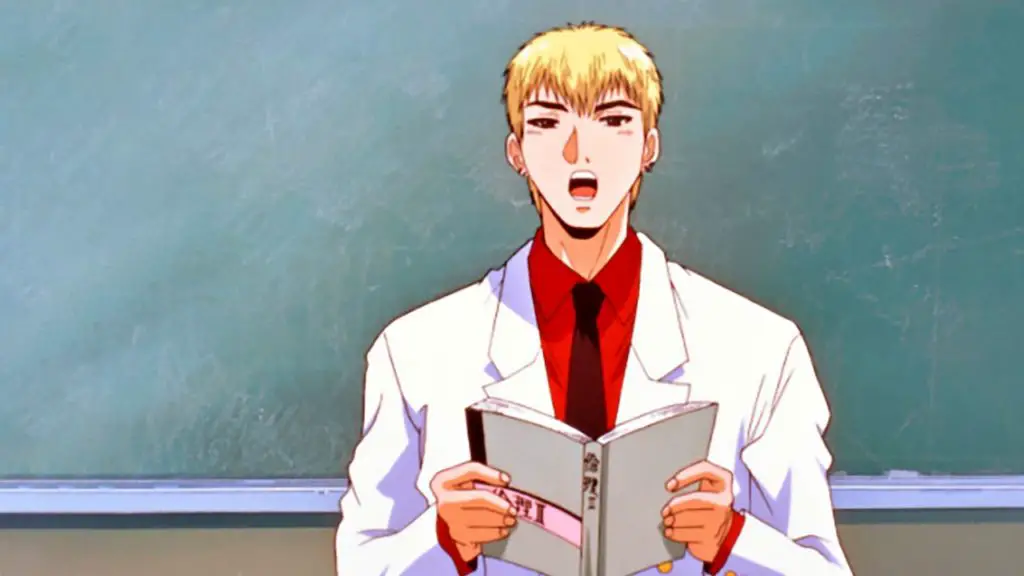 This yakuza anime is about Onizuka is a reformed biker gang leader who has his sights set on an honorable new ambition: to become the world's greatest teacher… for the purpose of meeting sexy high school girls. Okay, so he's mostly reformed.
However, strict administrators and a class of ruthless delinquents stand between Onizuka and his goal and they will use any means, however illegal or low, to drive the new teacher away.
Perfect, because Onizuka's methods won't be found in any teaching manual; he cares about the difference between legal and illegal activities about as much as he cares for the age difference between himself and a high school girl.
So get ready for math that doesn't add up, language you'd be slapped for using, and biology that would make a grown man blush… unless of course, you're the Great Teacher Onizuka.
10. Baccano!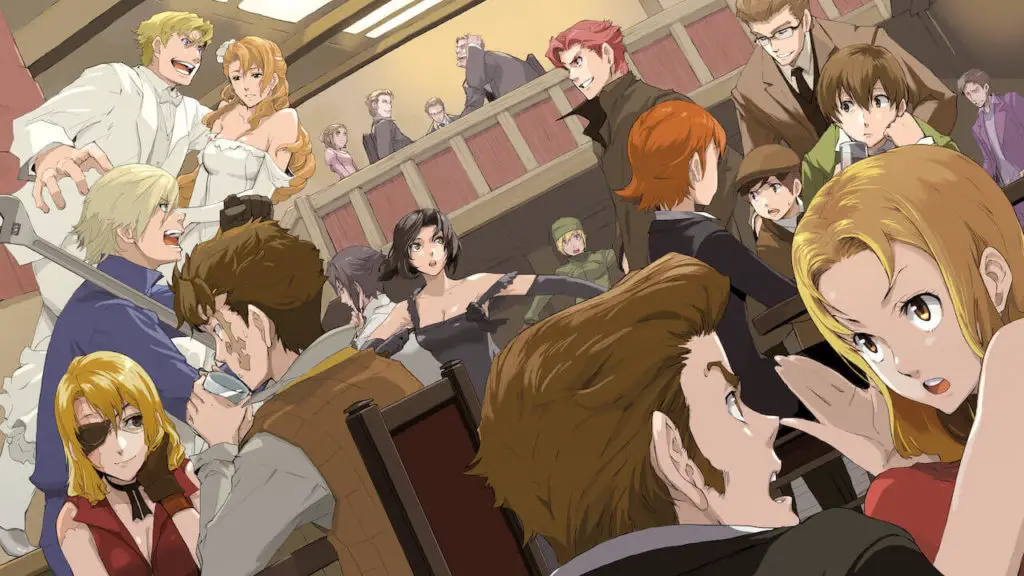 This yakuza anime starts during the early 1930s in Chicago, the transcontinental train, Flying Pussyfoot, is starting its legendary journey that will leave a trail of blood all over the country. At the same time in New York, the ambitious scientist Szilard and his unwilling aide Ennis are looking for missing bottles of the immortality elixir.
In addition, a war between the mafia groups is getting worse. On board the Advena Avis, in 1711, alchemists are about to learn the price of immortality. Based on the award-winning light novels of the same name, Baccano! follows several events that initially seem unrelated, both in time and place, but are part of a much bigger story—one of alchemy, survival and immortality.
Merging these events together are the kindhearted would-be thieves, Isaac and Miria, connecting various people, all of them with their own hidden ambitions and agendas, and creating lifelong bonds and consequences for everyone involved. 
9. Black Lagoon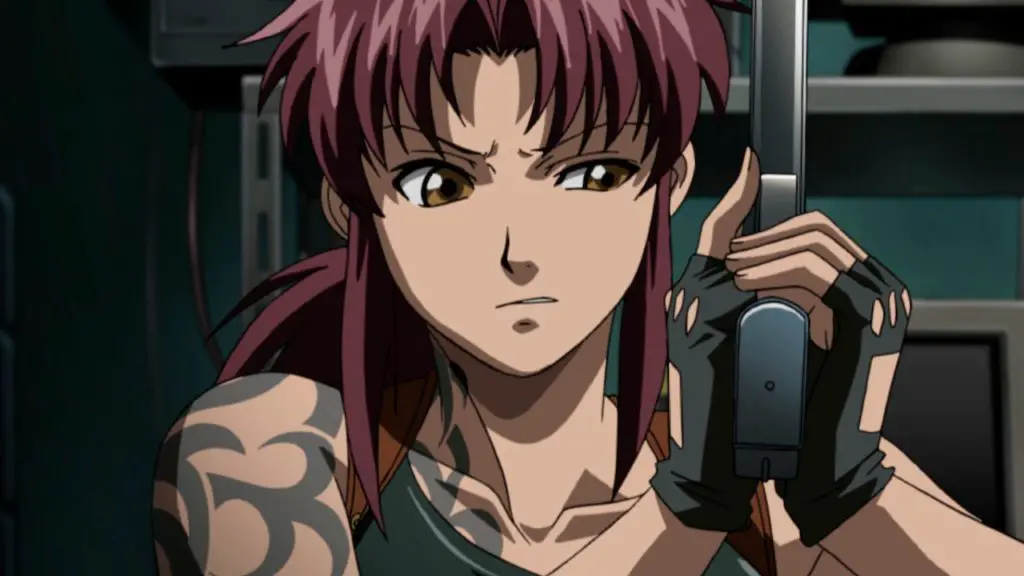 This yakuza anime starts within Thailand is Roanapur, a depraved, crime-ridden city where not even the authorities or churches are untouched by the claws of corruption. A haven for convicts and degenerates alike, the city is notorious for being the center of illegal activities and operations, often fueled by local crime syndicates.
Enter Rokurou Okajima, an average Japanese businessman who has been living a dull and monotonous life, when he finally gets his chance for a change of pace with a delivery trip to Southeast Asia. His business trip swiftly goes downhill as Rokurou is captured by a mercenary group operating in Roanapur, called Black Lagoon.
The group plans to use him as a bargaining chip in negotiations which ultimately failed. Now abandoned and betrayed by his former employer, Rokurou decides to join Black Lagoon. In order to survive, he must quickly adapt to his new environment and prepare himself for the bloodshed and tribulation to come.
A non-stop, high-octane thriller, Black Lagoon delves into the depths of human morality and virtue. Witness Rokurou struggling to keep his values and philosophies intact as he slowly transforms from businessman to ruthless mercenary.
8. Durarara!!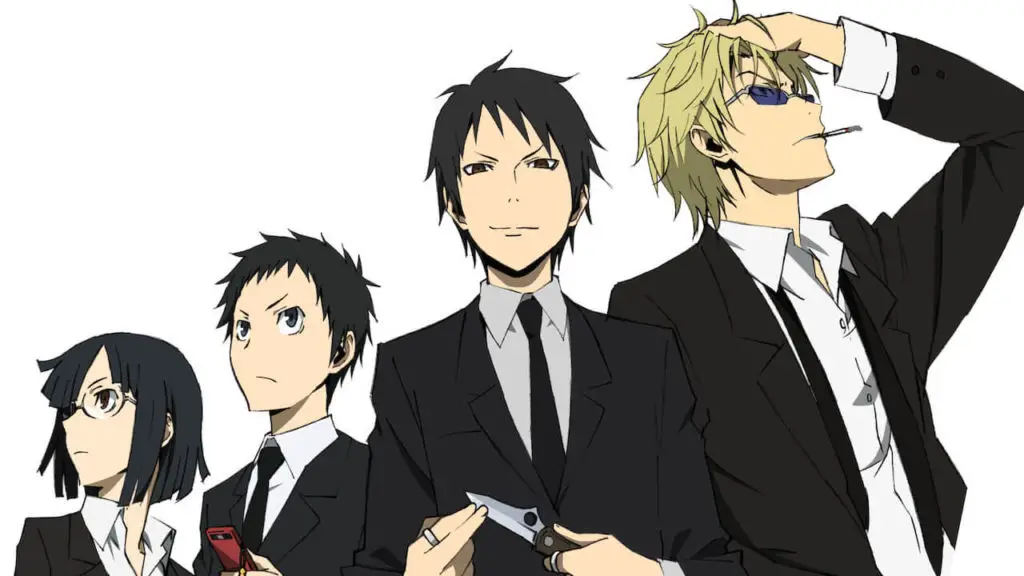 This yakuza anime start in Tokyo's downtown district of Ikebukuro, amidst many strange rumors and warnings of anonymous gangs and dangerous occupants, one urban legend stands out above the rest—the existence of a headless "Black Rider" who is said to be seen driving a jet-black motorcycle through the city streets.
Mikado Ryuugamine has always longed for the excitement of the city life, and an invitation from a childhood friend convinces him to move to Tokyo. Witnessing the Black Rider on his first day in the city, his wishes already seem to have been granted.
But as supernatural events begin to occur, ordinary citizens like himself, along with Ikebukuro's most colorful inhabitants, are mixed up in the commotion breaking out in their city.
7. Dorohedoro
This yakuza anime is about a Hole—a dark, decrepit, and disorderly district where the strong prey on the weak and death is an ordinary occurrence—is all but befitting of the name given to it. A realm separated from law and ethics, it is a testing ground to the magic users who dominate it. As a race occupying the highest rungs of their society, the magic users think of the denizens of Hole as no more than insects.
Murdered, mutilated, and made experiments without a second thought, the powerless Hole dwellers litter the halls of Hole's hospital on a daily basis.Possessing free access to and from the cesspool, and with little challenge to their authority, the magic users appear indomitable to most—aside for a few.
Kaiman, more reptile than man, is one such individual. He hunts them on a heedless quest for answers with only a trusted pair of bayonets and his immunity to magic. Cursed by his appearance and tormented by nightmares, magic users are his only clue to restoring his life to normal.
With his biggest obstacle being his stomach, his female companion Nikaidou, who runs the restaurant Hungry Bug, is his greatest ally. Set in a gritty world of hellish design, Dorohedoro manages a healthy blend of comedy and lightheartedness with death and carnage.
Taking plenty of twists and turns while following the lives of Hole's residents, it weaves a unique world of unearthly origin and dreary appearance not for the squeamish or easily disturbed.
6. Kaiji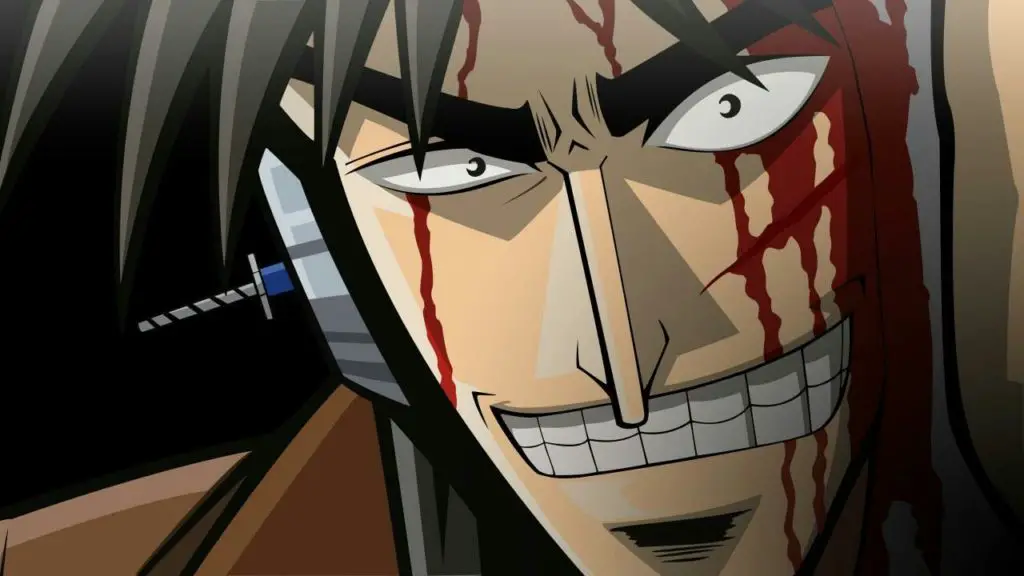 This yakuza anime is about owing to an increasing debt, Kaiji Itou ends up resuming his old lifestyle. One day, while walking on the street, he stumbles upon Yuuji Endou, who is hunting Kaiji due to the money he owes to the Teiai Group.
Unaware of this, Kaiji eagerly follows Endou, hoping for a chance to participate in another gamble, but soon finds out the loan shark's real intentions when he is kidnapped. Given that Kaiji is unable to pay off his huge debt, the Teiai Group instead sends him to work in an underground labor camp.
He is told that he will have to live in this hell for 15 years, alongside other debtors, until he can earn his freedom. His only hope to put an early end to this nightmare is by saving enough money to be able to go back to the surface for a single day.
Once he is there, he plans to obtain the remaining money needed to settle his account by making a high-stakes wager. However, as many temptations threaten his scarce income, Kaiji may have to resort to gambling sooner than he had expected. 
5. Hunter x Hunter (2011)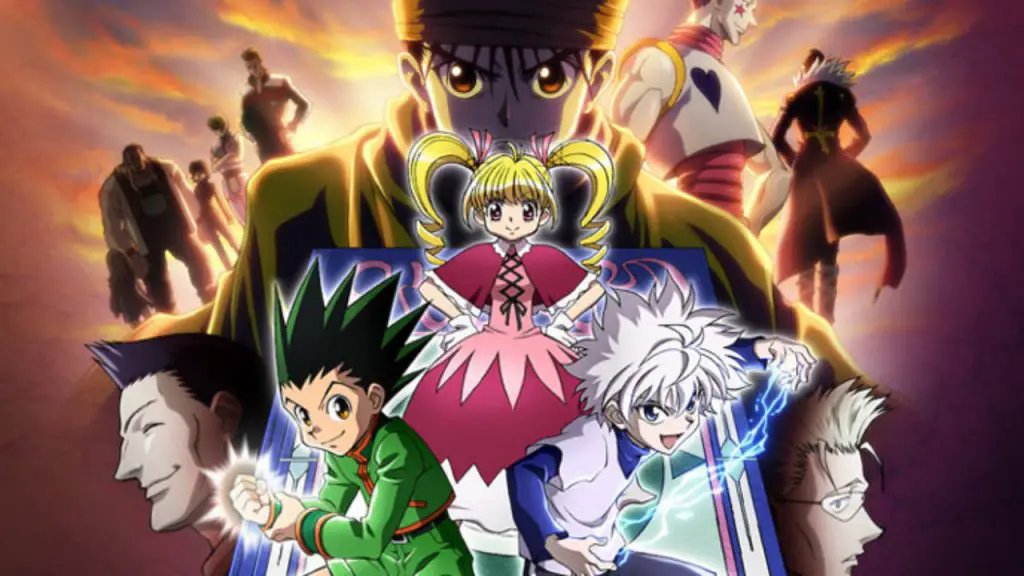 This yakuza anime is called Hunter x Hunter it is set in a world where Hunters exist to perform all manner of dangerous tasks like capturing criminals and bravely searching for lost treasures in uncharted territories. Twelve-year-old Gon Freecss is determined to become the best Hunter possible in hopes of finding his father, who was a Hunter himself and had long ago abandoned his young son.
However, Gon soon realizes the path to achieving his goals is far more challenging than he could have ever imagined. Along the way to becoming an official Hunter, Gon befriends the lively doctor-in-training Leorio, vengeful Kurapika, and rebellious ex-assassin Killua.
To attain their own goals and desires, together the four of them take the Hunter Exam, notorious for its low success rate and high probability of death. Throughout their journey, Gon and his friends embark on an adventure that puts them through many hardships and struggles.
They will meet a plethora of monsters, creatures, and characters—all while learning what being a Hunter truly means.
4. Texhnolyze
This yakuza anime is about texhnolyze takes place in the city of Lux, a man-made underground city that has crumbled after years of neglect and lack of repairs. Citizens of Lux have come to refer to their home as simply "The City" and treat it as though it has a mind and will of its own.
Three major factions battle to control Lux: Organo, a group of "professionals" who collaborate with the criminal underworld that controls Texhnolyze (prosthetics), the Salvation Union, a populist group that seeks to disrupt Organo's business, and Racan, a collection of young individuals with Texhnolyzes that use their abilities for personal gain.
Ichise was once an orphan who has made a place for himself in Lux as a prize fighter. One day, a fight promoter grows angry with him and the altercation that follows results in Ichise losing an arm and a leg. Before death can take him, Ichise is found by the scientist Eriko Kamata, who uses him as a test subject for her newly designed Texhnolyze.
With these powerful new limbs at his disposal, Ichise begins to work for Oonishi, the leader of Organo. He soon meets a mysterious young girl, Ran, who has the power to see possible futures. Together, they soon realize that Lux is on the brink of war and collapse, and that they may be the only ones who can save The City.
3. Akira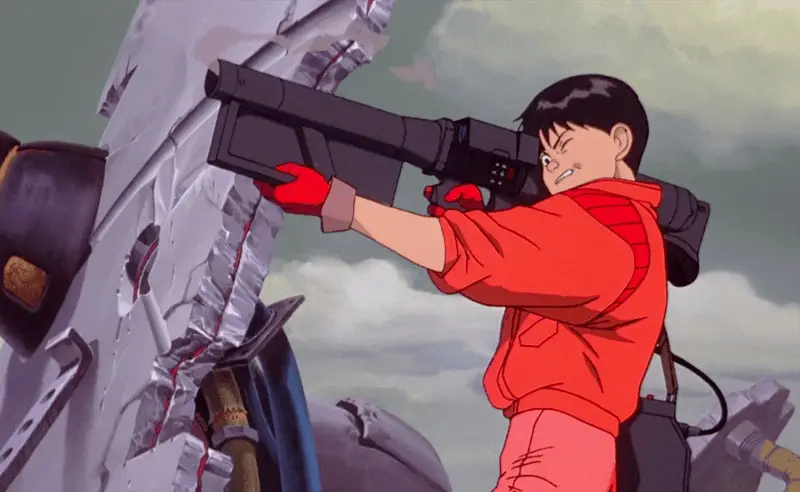 This yakuza anime start from Japan, 1988. An explosion caused by a young boy with psychic powers tears through the city of Tokyo and ignites the fuse that leads to World War III. In order to prevent any further destruction, he is captured and taken into custody, never to be heard from again.
Now, in the year 2019, a restored version of the city known as Neo-Tokyo—an area rife with gang violence and terrorism against the current government—stands in its place. Here, Shoutarou Kaneda leads "the Capsules," a group of misfits known for riding large, custom motorcycles and being in constant conflict with their rivals "the Clowns."
During one of these battles, Shoutarou's best friend Tetsuo Shima is caught up in an accident with an esper who finds himself in the streets of Tokyo after escaping confinement from a government institution.
Through this encounter, Tetsuo begins to develop his own mysterious abilities, as the government seeks to quarantine this latest psychic in a desperate attempt to prevent him from unleashing the destructive power that could once again bring the city to its knees.
2. Cowboy Bebop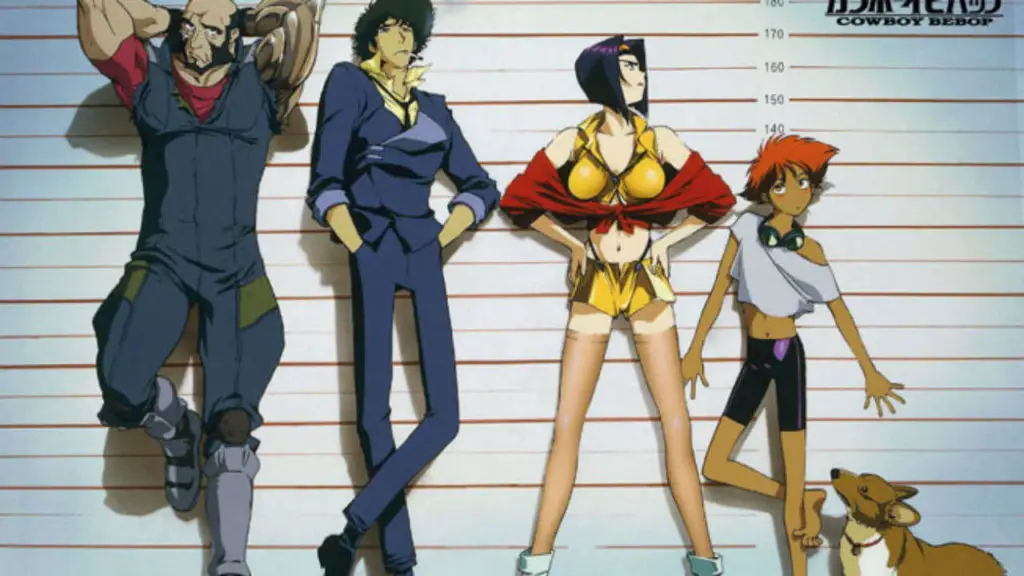 This yakuza anime starts in the year 2071, humanity has colonized several of the planets and moons of the solar system leaving the now uninhabitable surface of planet Earth behind. The Inter Solar System Police attempts to keep peace in the galaxy, aided in part by outlaw bounty hunters, referred to as "Cowboys." The ragtag team aboard the spaceship Bebop are two such individuals.
Mellow and carefree Spike Spiegel is balanced by his boisterous, pragmatic partner Jet Black as the pair makes a living chasing bounties and collecting rewards.
Thrown off course by the addition of new members that they meet in their travels—Ein, a genetically engineered, highly intelligent Welsh Corgi; femme fatale Faye Valentine, an enigmatic trickster with memory loss; and the strange computer whiz kid Edward Wong—the crew embarks on thrilling adventures that unravel each member's dark and mysterious past little by little.
Well-balanced with high density action and light-hearted comedy, Cowboy Bebop is a space Western classic and an homage to the smooth and improvised music it is named after.
1. JoJo's Bizarre Adventure V: Golden Wind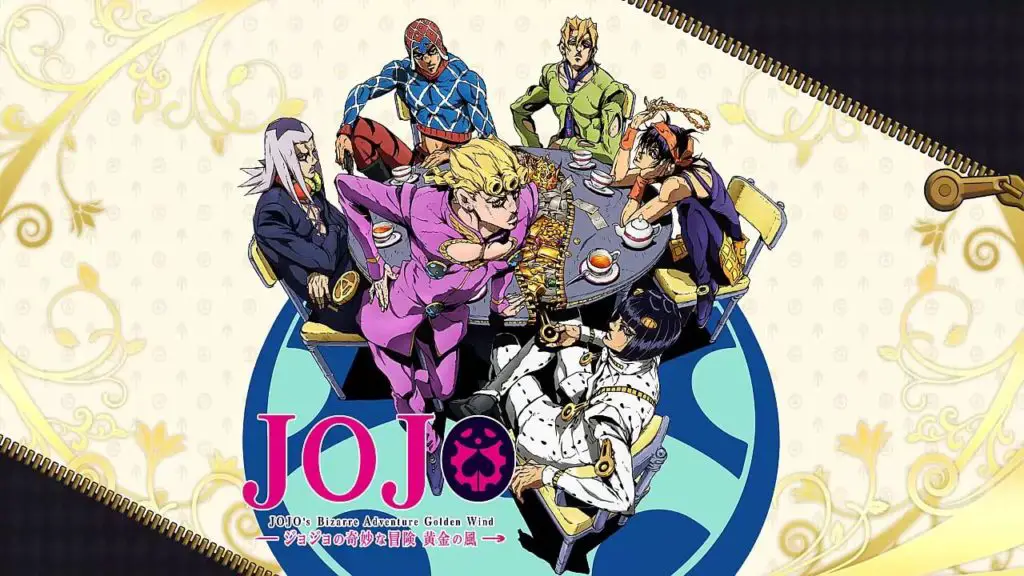 This yakuza anime is about Naples, 2001. Giorno Giovanna is a small-time crook with one big dream—to become a "Gang-Star." No ordinary thief, Giorno has a connection to the remarkable Joestar bloodline, and possesses a Stand named Gold Experience. His dream starts to become reality when he meets Bruno Buccellati, a mobster from the gang Passione and a fellow Stand user himself.
Realizing that they share similar ideals, and both disagree with the gang's harmful affairs, Giorno reveals his goal to Bruno: with Bruno's help, he will reform Passione by overthrowing the boss. As Giorno becomes a member of Passione, and is inducted into Bruno's squad, he discovers that it is no simple gang; its numbers are teeming with Stand users.
Now confronted by other squads of differing loyalties and unpredictable caliber, their goal to change the gang from the inside out will be a tough one. Taking on these adversaries, Giorno attempts to rise through the ranks and inch closer to the boss, a man who is shrouded in mystery.
Hope you enjoy this list of yakuza anime comment below which yakuza anime you are going to watch next share it with your friends and don't forget to bookmark MOW.