Hey Otaku's today we are going to discuss about 21 Best Thriller Anime Recommendations list and i promise you some of them will really messed up your mind.
Thriller anime genre of fiction, having numerous, often overlapping sub-genres. 
Thrillers anime are characterized and defined by the moods they elicit, giving viewers heightened feelings of suspense, excitement, surprise, anticipation and anxiety.
For Thriller anime fans that are looking for a little more excitement in their lives, these 27 thriller anime Recommendations are for you! lets dive into the list.
27. The Garden of Sinners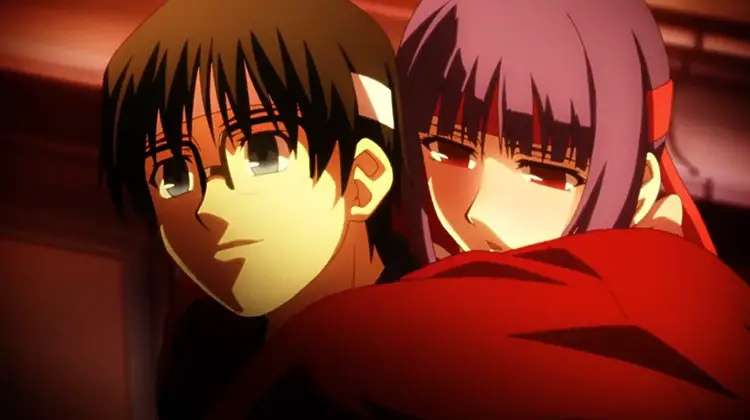 Now, if you're looking for a show you can really get into, I suggest The Garden of Sinners.
It's a collection of at least 8 films that all share a single, epic story.
The majority of it is a paranormal murder mystery, but there is so much symbolism in it that a whole book could be written about it.
The fact that the movies aren't shown in order of chronology actually enhances the overall effect, making the grand narrative more obvious as the chapters progress.
Amazing animation, voice acting, art direction, and a killer soundtrack make it a true masterpiece.
So be sure to try Garden of Sinners if you haven't already.
Just make sure to stock up on plenty of popcorn because you'll need it.
26. Baccano!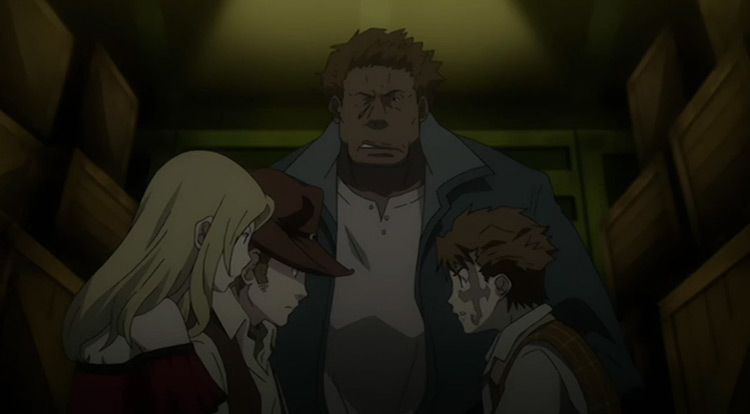 I think this anime has every right to be termed a thriller, even though it isn't classified as one.
It tells several stories set in several locations and times, all of which come together on a single train voyage.
The suspense that Baccano! manages to maintain throughout its entire run is almost unbelievable, as the focus shifts between various characters and their individual subplots.
The show does contain some S-class humour, which could ruin the suspenseful experience.
However, I believe that the finished product is more than the sum of its components, thus I wholeheartedly endorse it.
25. Psycho-Pass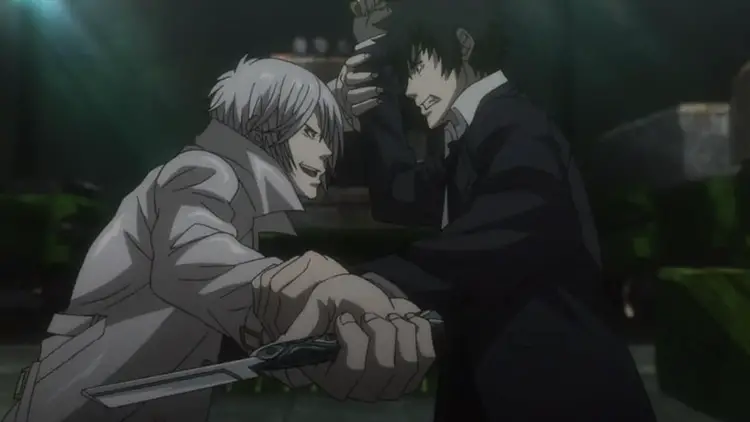 Another programme that satisfies all the requirements for a thriller but isn't classified as one is Psycho-Pass.
It's a typical cop movie with a major trope-busting plot element—a system that can judge whether a person is a criminal even before they commit a crime.
As it were, thought-crime.
Even without one of the greatest anime antagonists ever who is (for some reason) immune to the system despite committing numerous crimes, the mystery surrounding this system will keep you on the edge of your seat.
Overall, Psycho-Pass is a film that you simply must see.
24. Vivy -Fluorite Eye's Song-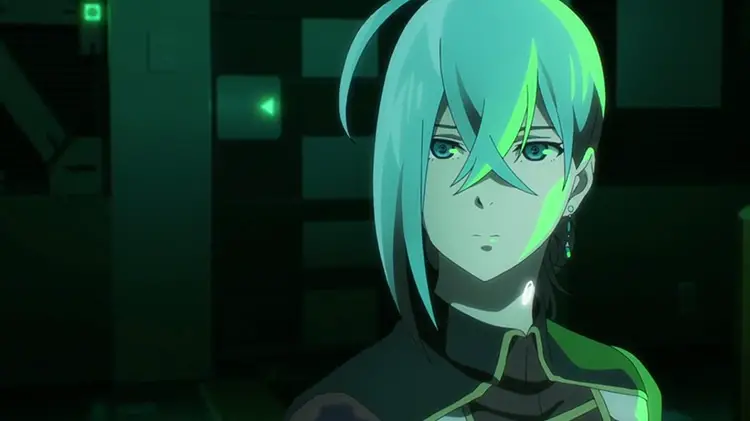 Anytime a show has artificial intelligence, you can be sure that major shenanigans could ensue.
And as you probably already guessed, the main character, Vivy, is actually AI.
She spends her days singing in a park, hoping to draw in visitors. One day, a different artificial intelligence from the future approaches her.
I mean, time travel plus AI?
You ought to be aware of where this is going.
Yes, the newcomer is here to avert a conflict between humans and AI that is due to start in exactly one hundred years.
Compared to any theme park I've ever been to, that sounds like a lot more fun.
23. Promised Neverland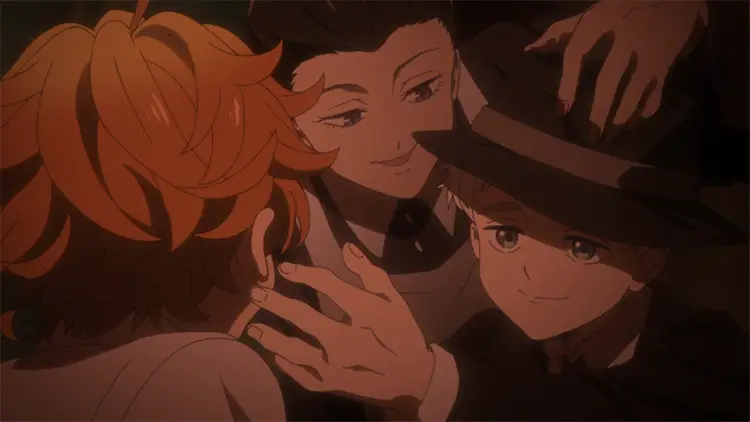 Promised Neverland's first season features some of the most compelling psychological 300 IQ action you're likely to witness in anime.
The protagonists of the tale are a bunch of young children and their devoted mother who live on a farm.
However, sike! All of it was a lie, and now their lives are all in jeopardy.
Therefore, the older children must devise an escape strategy.
The mother is no pushover, but the kids are all brilliant strategists, making for an exciting tale where everyone appears amicable while simultaneously planning ahead and trying to find a way out of this misery.
But don't watch the second season because it's about hell. Trust me, it's not worth it.
22. Re:Zero
You know how isekai shows tend to be fairly relaxed because the protagonist is typically outmatched and the setting is upbeat and positive?
Yes, none of that applies here.
Our main character is a regular person with the sole ability to travel back in time after being killed.
He gets to use it a lot, too.
Re: Zero presents an isekai genre perspective that is both depressing and very new. Everything in this world is exceedingly difficult to accomplish, so each step forward is earned and valuable.
Additionally, the sound effect used when the protagonist turns back time is as suspenseful as it gets.
21. King of Thorn
A mysterious virus, nicknamed Medusa, is spreading around the world, turning its victims into stone.
Given the impossibility of finding an immediate cure, a corporation offers to cryo-preserve a select group of patients until they come up with a solution. 
Kasumi, one of the chosen ones, wakes up after being asleep for an unknown period of time and her awakening, not a bed of roses, is a bed of thorns, and happens in the midst of total chaos where monstrous creatures lie in wait all around.
Genre: Action, Mystery, Sci-Fi, Thriller
20. Another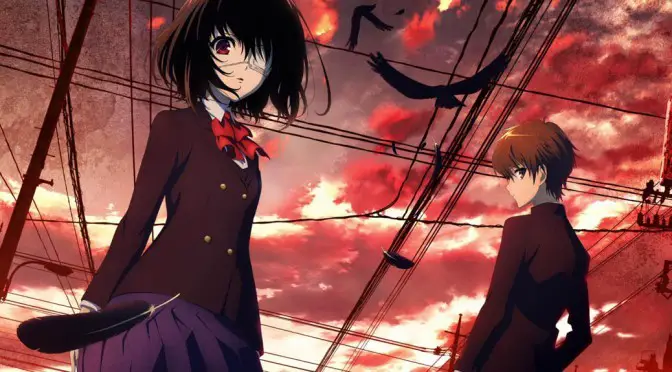 I have mention this anime in my other list's also if you haven't watched it yet them please do your self a favor man stop reading this list just go and watch it here is the plot summery for you read it and decide if its for you or not. 
In 1972, a popular student in Yomiyama North Middle School's class 3-3 named Misaki passed away during the school year.
Since then, the town of Yomiyama has been shrouded by a fearful atmosphere, from the dark secrets hidden deep within.
Twenty-six years later, 15-year-old Kouichi Sakakibara transfers into class 3-3 of Yomiyama North and soon after discovers that a strange, gloomy mood seems to hang over all the students.
He also finds himself drawn to the mysterious, eyepatch-wearing student Mei Misaki; however, the rest of the class and the teachers seem to treat her like she doesn't exist.
Paying no heed to warnings from everyone including Mei herself, Kouichi begins to get closer not only to her, but also to the truth behind the gruesome phenomenon plaguing class 3-3 of Yomiyama North.
Another follows Kouichi, Mei, and their classmates as they are pulled into the enigma surrounding a series of inevitable, tragic events—but unraveling the horror of Yomiyama may just cost them the ultimate price.
Genre: Horror, Mystery, School, Supernatural, Thriller anime
19. MIRAI NIKKI (The Future Dairy)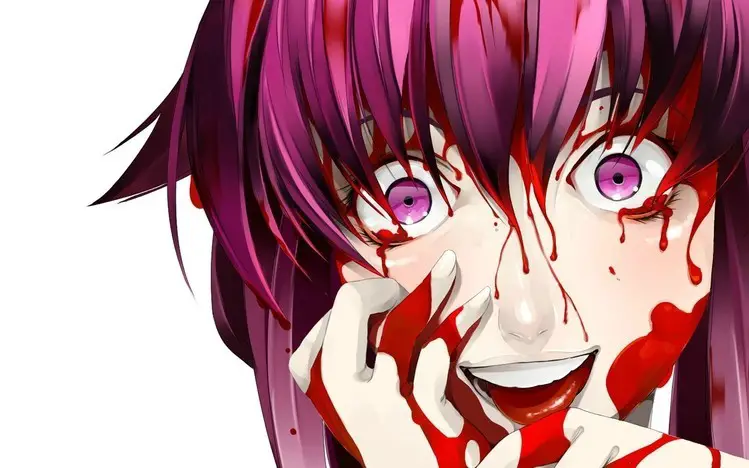 What an anime this was i clearly remember this one when i first watch it and if you into time travel themes you will gonna love it.
This anime its totally not about time travel but with twist and turns and a Crazy lover this anime is a gem if you haven't watched this one yet this will surely messed up your mind.
Yukiteru always rejects offers to go out with friends, preferring to spend the time writing a diary on his cell phone.
He has what he believes is an imaginary friend called Deus Ex Machina. However, one day Deus asks him to play a survival game along with eleven others.
The winner becomes the next Deus Ex Machina. In order to win, the contestants must use their diaries of the future to eliminate one another.
For Yukiteru to survive, he must team up with another diary holder, a girl named Yuno.
Genre: Action, Shounen, Supernatural
18. PARANOIA AGENT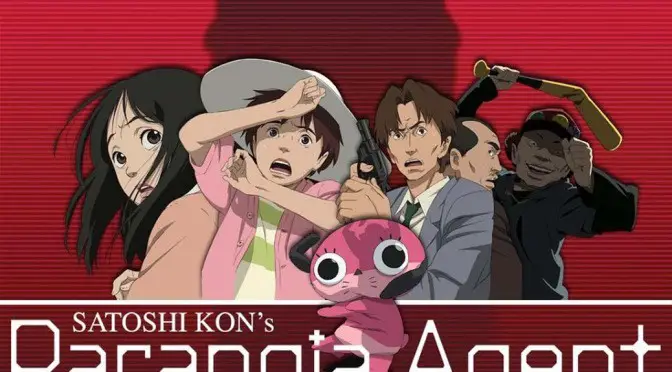 An elementary school kid dubbed with the title "shounen bat" or "lil slugger" has been going around attacking people with his bent, golden bat.
Now, two detectives are investigating so they can stop this kid from making any more attacks, but they will find out soon enough… that this case is much more than they expected.
I think i am gonna watch this anime next i am surely interested in it by the plot summery.
Genre: Drama, Mystery, Police, Psychological, Supernatural, Thriller
17. Shigofumi (Shigofumi: Letters from the Departed)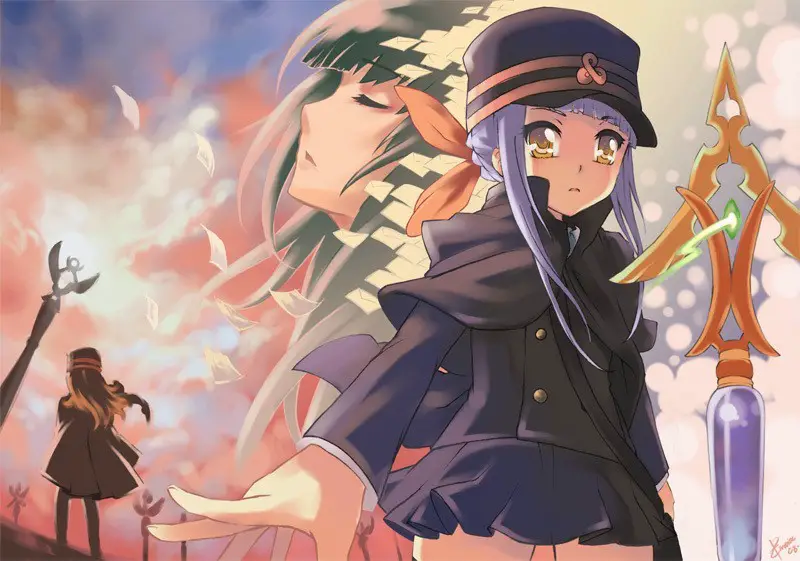 Fumika and Kanaka are mail carriers- but not the typical kind. For one, Kanaka is a talking staff and for two, Fumika delivers shigofumi: letters from the dead addressed to the living.
These letters are a final, true, communication derived from hate, hope, and love.
The story unfolds following this pair and their uncommon job as well as Fumika's unique 'situation'.
Genre: Drama, Fantasy, Psychological, Thriller Anime
16. IMAWA NO KUNI NO ALICE ( Alice in Borderland )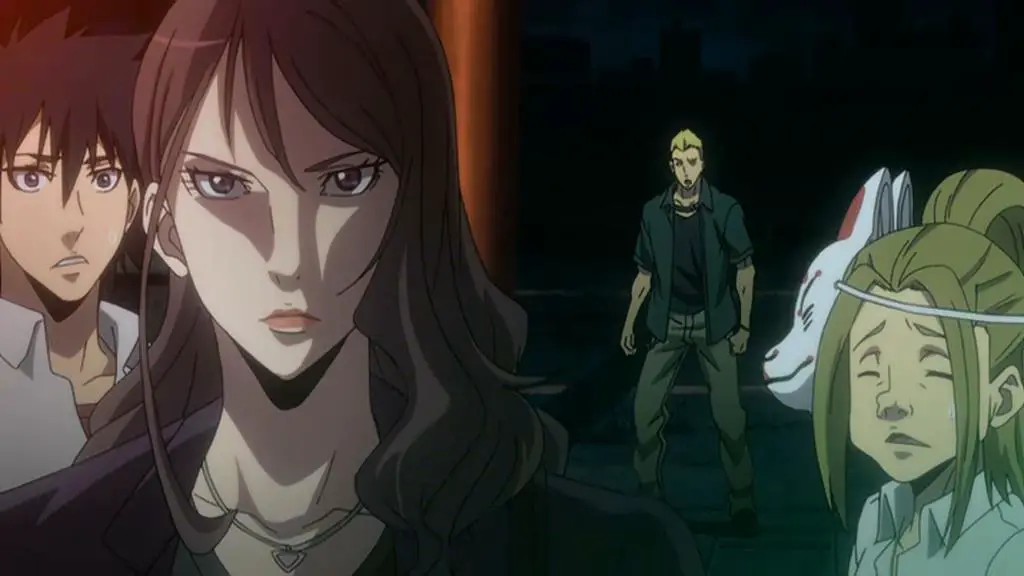 The story follows a high school boy named Arisu and other youths who are transported to a devastated alternate world. Trapped, they are forced to play a deadly game of survival.
Alice in Borderland is a psychological thriller that explores the ways people transform, from how humans act in normal situations compared to when the unexpected pushes them to their limit.
The anime shows how frightening and unsettling situations can bring out the selfish and dark side of people.
Genre: Action, Horror, Psychological, Shounen, Supernatural
15. DENPA TEKI NA KANOJO (  Electromagnetic Girlfriend )
Juuzawa Juu is a delinquent high school boy who just wants to be left alone.
One day, he is approached by Ochibana Ame, who claims that she knew him in a previous life, and now wants to serve him as his "knight".
At first Juu wants nothing to do with Ame, but after a classmate is murdered, he accepts her help as he looks for the killer.
Genre: Mystery, School, Thriller
14. HIGURASHI NO NAKU KORO NI ( When They Cry )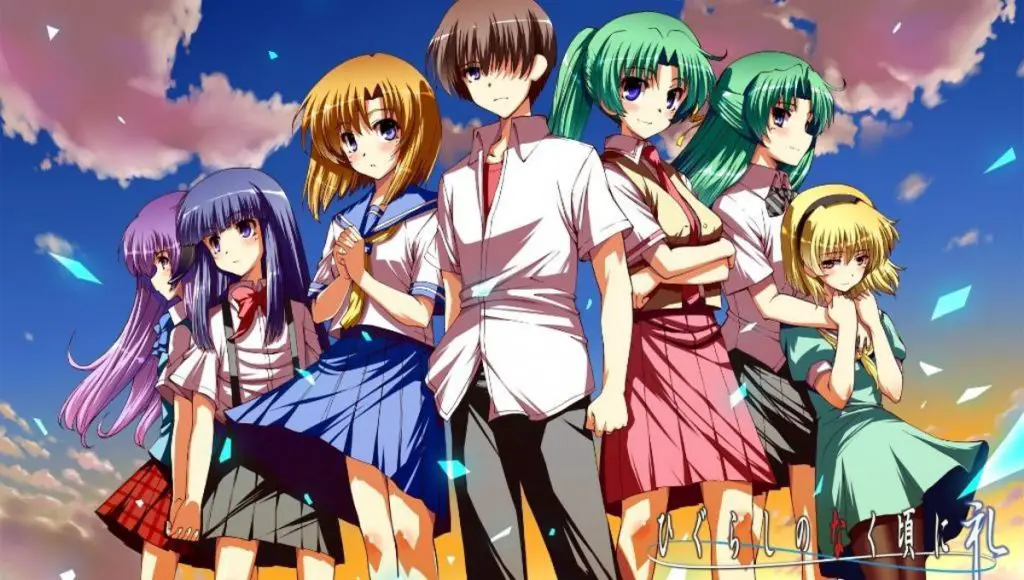 After moving into the quiet town of Hinamizawa, Maebara Keiichi spends his days blissfully in school often playing games with his local friends.
However, appearances can be deceiving. One fateful day, Keiichi stumbles upon news of a murder that had occurred in Hinamizawa.
From this point on, horrific events unfold in front of Keiichi, as he soon learns his close friends may not be all that they seem.
Based on the amateur mystery game by 7th Expansion, the story is told in a series of different scenarios.
Genre: Horror, Mystery, Psychological, Supernatural, Thriller
13. Shiki
During a fiercely hot summer in Sotoba, a peaceful and quiet village with a population of 1300 people, a series of bizarre deaths begin to occur.
At the same time, a strange family moves into a long abandoned mansion in the region.
Hospital dean Toshio Ozaki cannot figure out the cause of death in the deceased, initially suspecting an epidemic.
As investigations continue between the hospital staff and the residents, it turns out that the village is being attacked by vampires.
Genre: Horror, Mystery, Supernatural, Thriller, Vampire
12. PAPRIKA
A beautiful therapist named Chiba Atsuko and a genius scientist Tokita Kosaku work for a psycho-medical institute.
Tokita invented the DC-mini. It is an epoch-making device that brings them into a patient's dream and enables them to monitor the patient's inner world in order to cure him or her.
However, one day, the device was stolen by someone. Since then the dreams of those concerned with the project have been attacked one by one, and something is starting to go terribly wrong.
Chiba begins to investigate the matter, using another identity though. She becomes the Dream Detective Paprika who synchronizes with other peoples' dreams to remove their trauma.
She rises against the dream terrorist who uses the DC-mini that is strong enough to destroy ones personality.
But who is this criminal, and why commit these crimes? When the manipulated dream connects with the reality, an inner world no one has ever seen is revealed…
Genre: Fantasy, Horror, Mystery, Psychological, Sci-Fi, Thriller Anime
11. EDEN OF THE EAST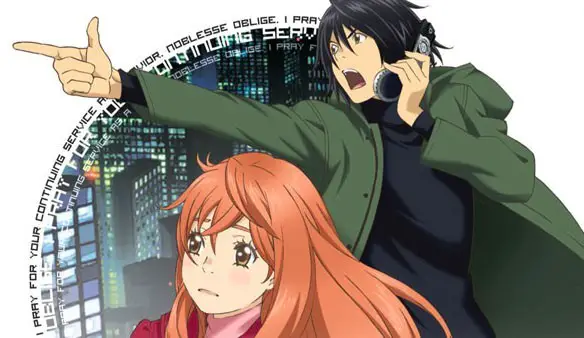 On November 22, 2010 ten missiles strike Japan. However, this unprecedented terrorist act, later to be called "Careless Monday", does not result in any apparent victims, and is soon forgotten.
Then, three months later… Morimi Saki, a young woman currently in the United States of America on her graduation trip, gets into trouble in front of the White House in Washington DC, and only the unexpected intervention of a fellow countryman saves her.
However, this man, who introduces himself as Takizawa Akira, is a complete mystery.
He appears to have lost his memory and he is stark naked, except for the gun he holds in one hand, and a mobile phone in the other.
A phone that is charged with 8,200,000,000 yen in digital cash.
Genre: Action, Comedy, Drama, Mystery, Romance, Sci-Fi, Thriller Anime
10. AKAGI
The story revolves around the Mahjong gambling exploits of Akagi Shigeru. After a death-defying game of chicken, Akagi nonchalantly enters a Yakuza Mahjong parlor to shake the cops' trail.
Even unfamiliar with the rules of Mahjong, his gambling intuition is enough to save a small time gambler, Nangou, and grant him a seat at the gambling table.
As… more The story revolves around the Mahjong gambling exploits of Akagi Shigeru.
After a death-defying game of chicken, Akagi nonchalantly enters a Yakuza Mahjong parlor to shake the cops' trail.
Even unfamiliar with the rules of Mahjong, his gambling intuition is enough to save a small time gambler, Nangou, and grant him a seat at the gambling table.
As the night progresses, the stakes are raised both for Akagi, who is under the suspicion of the local police, and within the game.
However, Akagi overcomes the situation with his tactics, defiant of both life and chance.
When he leaves the gambling house, no one present is in doubt of his genius
Genre: Game, Psychological, Seinen, Thriller Anime
9. PHANTOM: REQUIEM FOR THE PHANTOM
Mafia is rife in America where assassinations are a regular occurrence on the streets. Inferno, a mysterious company, is behind most of these dealings through the use of their near-invincible human weapon, "Phantom."
One day, a Japanese tourist accidentally witnesses Phantom's latest murder. Desperate to escape, the tourist hides in a secluded building.
However, Phantom, revealed to be a young woman named Ein, and the leader of Inferno "Scythe Master" captures the tourist and brainwashes him.
Given the name "Zwei," this once peaceful tourist is now a puppet of Inferno with no memories.
Drawn into a world of lies, deceit, and violence, Zwei must fight to survive, hopefully to one day regain his memories and escape from this world where he is constantly on the brink of death.
Genre: Action, Drama, Seinen, Thriller Anime
8. RAINBOW: NISHA ROKUBOU NO SHICHININ
Seven teenagers in 1955 have to learn to live together in the same hold in the reformatory of Shio.
Confined in a hall where suffering and humiliation are daily, they are waiting for a ray of hope in a dark, incarcerating world.
The story follows their life together and how they move on afterwards
Genre: Drama, Historical, Seinen, Thriller
7. ZANKYOU NO TERROR ( Terror in Resonance )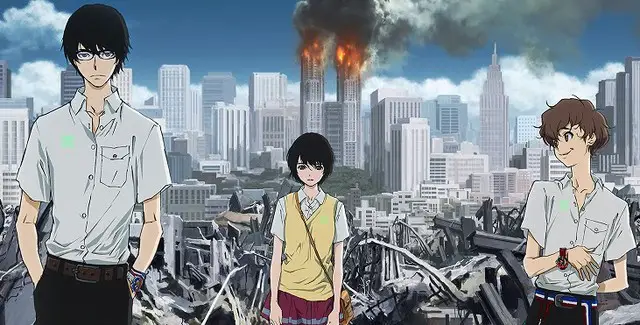 On a summer day… Suddenly, an immense terrorist bomb struck Tokyo.The culprits behind the act that woke up this complacent nation, were just two boys. The culprits known as Sphinx now, begin a massive game that envelopes Japan.
Genre: Psychological, Thriller
6. MAHOU SHOUJO MADOKA★MAGICA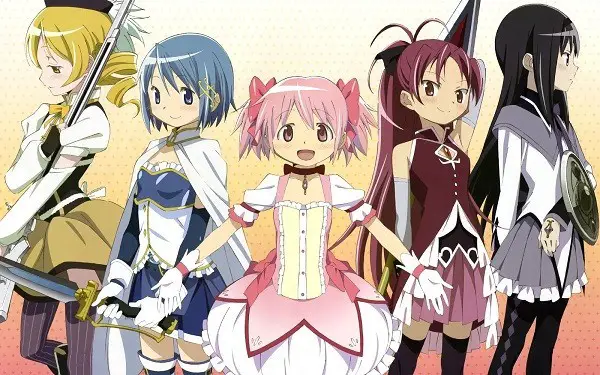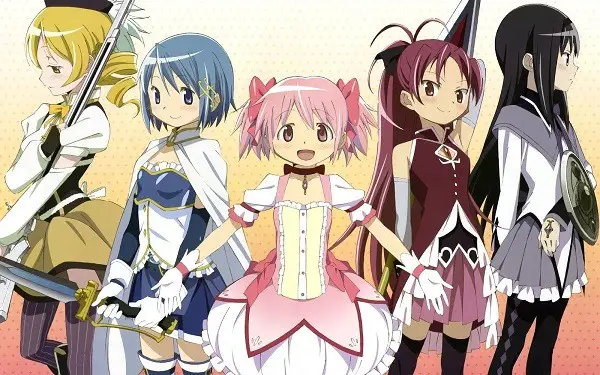 Madoka Kaname and Sayaka Miki are regular middle school girls with regular lives, but all that changes when they encounter Kyuubey, a cat-like magical familiar, and Homura Akemi, the new transfer student.
Kyuubey offers them a proposition: he will grant any one of their wishes and in exchange, they will each become a magical girl, gaining enough power to fulfill their dreams.
However, Homura Akemi, a magical girl herself, urges them not to accept the offer, stating that everything is not what it seems.
A story of hope, despair, and friendship, Mahou Shoujo Madoka★Magica deals with the difficulties of being a magical girl and the price one has to pay to make a dream come true. [Written by MAL Rewrite]
5. GANKUTSUOU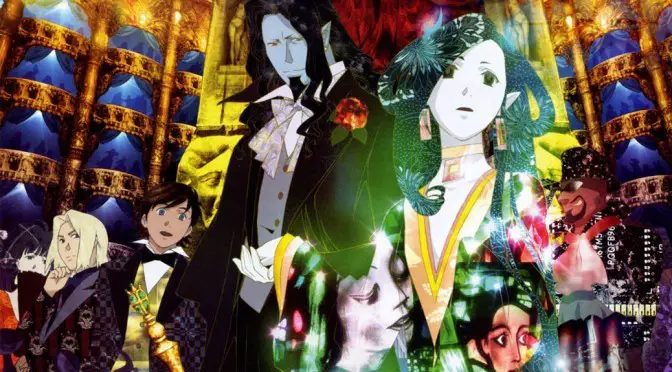 Trying to escape his uneventful life, Albert, the son of a renowned general from Paris, makes a journey with his friend Franz.
During his travels, he meets an immensely wealthy nobleman named The Count of Monte Cristo.
Living in luxurious hotels, surrounded by beautiful women and strong bodyguards, the charming but enigmatic count fascinates Albert.
Albert invites the count to join the high society of Paris. However, unknown to Albert, his father had once framed the count and took the Count's fiancee as his own.  
Genre: Drama, Mystery, Sci-Fi, Supernatural, Thriller Anime
4. DEATH PARADE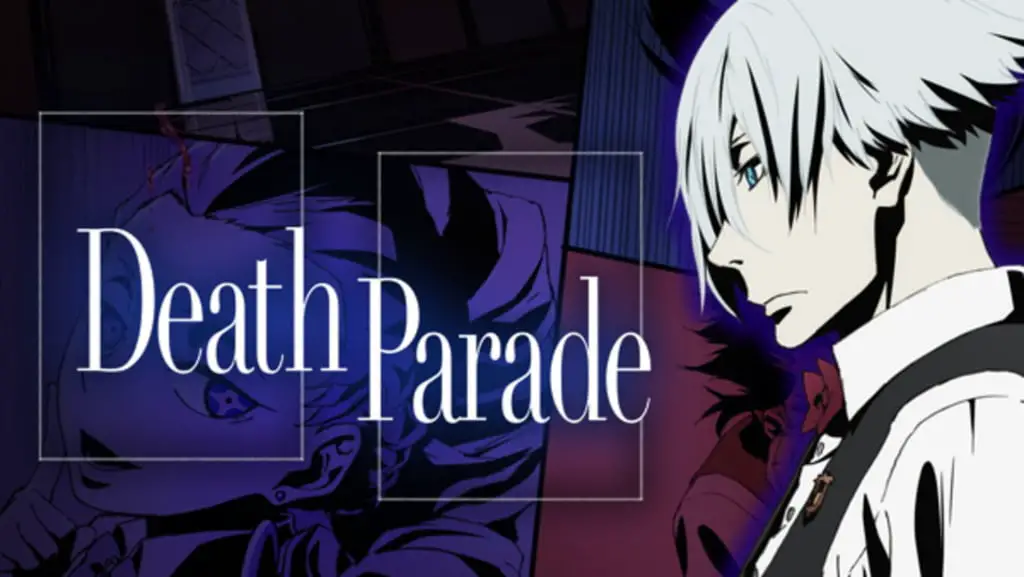 "Welcome to Queen Dekim." What greets two unsuspecting guests is a strange bar, Queen Dekim, and the white-haired bartender, Dekim.
"From here you two shall begin a battle where your lives hang in the balance," he says to introduce the Death Game.
Before long the guests' true natures become apparent. As a matter of course, at the game's end Dekim is revealed to be the "arbiter."
Dekim's judgement on the two guests is…
Genre: Game, Psychological
3. Death Note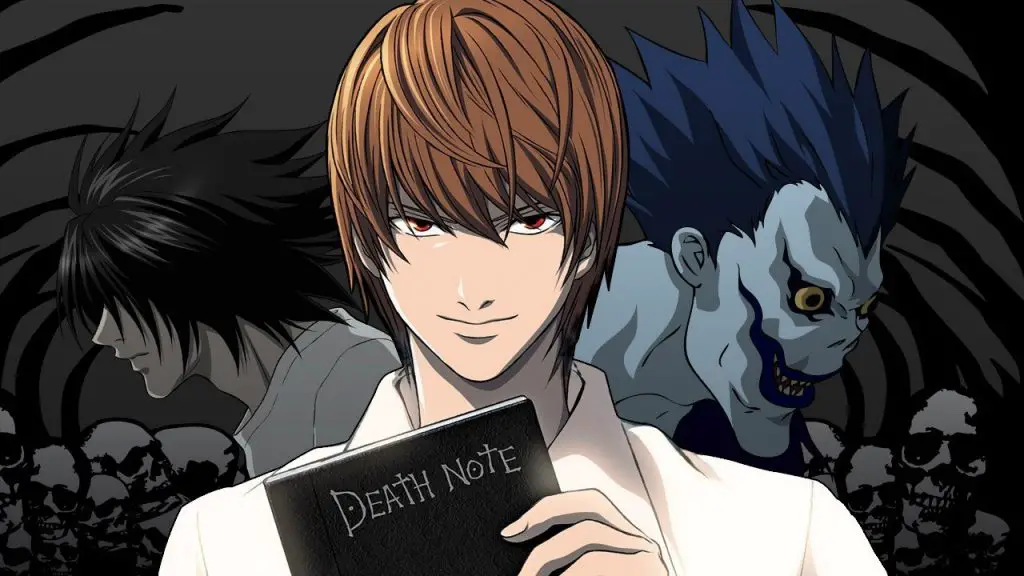 Firstly I have to mention this if you haven't watch this anime please go watch it I personally suggest this anime to non-otaku's and after watching just 3 episode they are into the anime its that level of thrill in death note.
I have to accept this also for they sake of otaku world after half part it will become lil boring but after 2 or 3 episodes it get back on track and why its that i will not tell you because it will ruins the fun for you so just go and watch it your self.
Yagami Light is an ace student with great aspects who's bored out of his mind.
One day he finds the Death Note, a notebook held by a shinigami (Death God).
With the Death Note in hand, Light decides to create a perfect world. A world without crime or criminals.
However when criminals start dropping dead one by one, the authorities send the legendar… more Yagami Light is an ace student with great aspects who's bored out of his mind.
One day he finds the Death Note, a notebook held by a shinigami (Death God). With the Death Note in hand, Light decides to create a perfect world. A world without crime or criminals.
However when criminals start dropping dead one by one, the authorities send the legendary detective L to track down the killer.
Genre: Mystery, Police, Psychological, Supernatural, Thriller Anime
2. MONSTER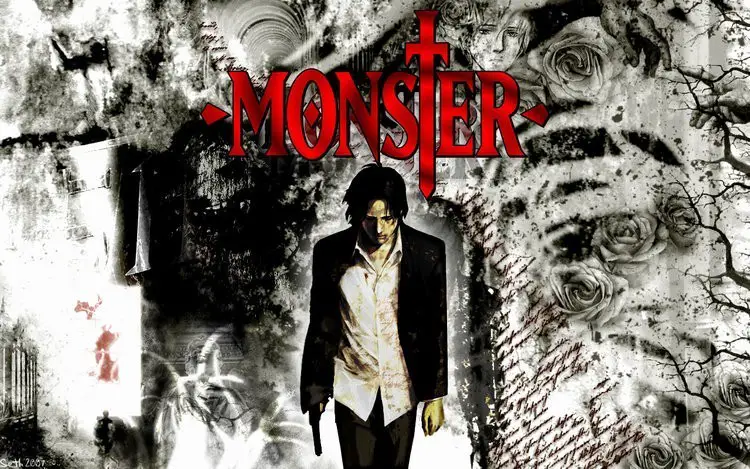 Kenzou Tenma, a Japanese brain surgeon in Germany, had it all: incredible skill at his work, a rich and beautiful fiancee, and a promising career at his hospital.
However, after becoming disenchanted by hospital politics, he chose to save the life of a young boy who got shot in the head over the life of the mayor.
As a result he lost the support of the hospital director, as well as his position in the hospital and his fiance.
A short time later, the hospital director and the doctors that replaced him were murdered, and once again he was catapulted back onto the top.
But as the chief suspect of the murders, Tenma did not get a easy life. As a matter of fact, it seems that the boy he saved was much more than he had appeared to be…
Now to clear his name and to correct his past mistake, Tenma must get to the bottom of these and other murders, and investigate the truth of the Monster who is behind all of this.
Genre: Horror, Seinen, Thriller Anime, Vampire
1. STEINS;GATE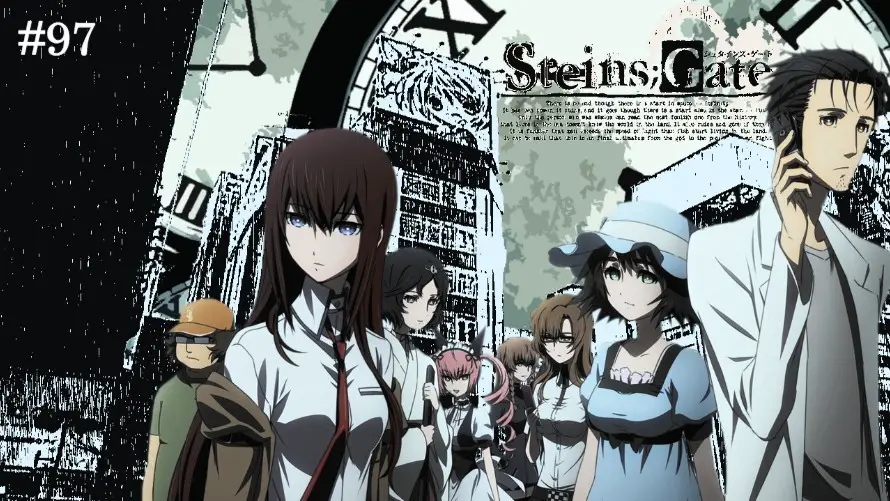 One of the best anime for time travel fans this anime will change the prospective of time for you must recommended.
The story of Steins;Gate takes place in Akihabara and is about a group of friends who have managed to customize their microwave into a device that can send text messages to the past.
As they perform different experiments, an organization named SERN who has been doing their own research on time travel tracks them down and now the characters have to find a way to avoid being captured by them.
Genre: Sci-Fi, Thriller Anime
So, That was the list otaku's please mention in the comments how was it and if i missed some awesome anime worth sharing and don't forget to share this list with your friends. 🙂