Samurai Anime genre is inspired by old Japanese culture, which is one of the most important part of their rich history and culture.
Samurai are also one of the biggest inspirations for Japanese artists so they take there rich culture and samurai history to create these awesome samurai anime.
With some of the awesome fight scenes and long discussions on friendships and the sense of honor of the samurai.
Lets dive in to the list of the 10 greatest samurai anime shows that you should watch right now.
10. SAMURAI 7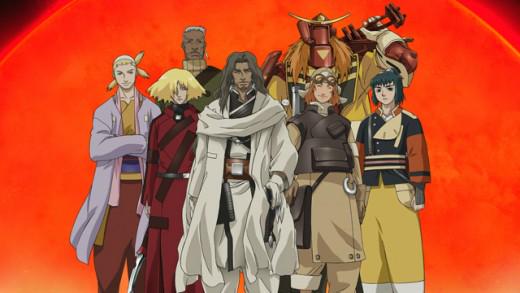 A beautiful tale of redemption, resilience and triumph over adversities. The characters will win your hearts.
Studios: Gonzo
Genres: Historical, Mecha, Samurai anime, Sci-Fi
Episodes: 26
Pitch : A small village is being persecuted by robbers who return every harvest to seize the village's crops. Faced with starvation, the villagers send out a mission to find and recruit some samurai to defend them.
With no pay to offer except rice, and knowing full well that only down-on-their-luck samurai would even consider accepting such an deal, the villagers can only hope that their saviours will appear before the rice is ready for harvest.  
9. BRAVE 10
Looking back on the show as a whole there was a story they wanted to convey and I can understand it and its emotional core, but it's too bad the later episodes weren't written as well as the foremost.
Studios: TMS Entertainment
Genres: Action, Adventure, Historical, Super Power, Samurai anime,
Episodes: 12
Pitch : The story reimagines the legendary adventures of the 10 brave warriors assembled by the warlord Sanada Yukimura in the year 1600, in the middle of Japan's tumultuous Sengoku (Warring States) era.
8. SARAIYA GOYOU (HOUSE OF FIVE LEAVES)
Saraiya Goyou is about a gang called "Five Leaves" during the Edo period in Japan. There is very little action, the artwork is nontraditional, and the story moves at a snail's pace.
So why should anyone pay attention to this? Actually, I'd say that those points work to Saraiya Goyou's advantage, resulting in a well-written, mature story.
Studios: Manglobe
Genres: Mystery, Historical, Drama, Samurai anime, Seinen
Episodes: 12
Pitch :  Masterless samurai Akitsu Masanosuke is a skilled and loyal swordsman, but his naïve, diffident nature has time and again caused him to be let go by the lords who have employed him.
Hungry and desperate, he becomes a bodyguard for Yaichi, the charismatic leader of a gang called "Five Leaves." Although disturbed by the gang's sinister activities, Masa begins to suspect that Yaichi's motivations are not what they seem.
And despite his misgivings, the deeper he's drawn into the world of the Five Leaves, the more he finds himself fascinated by these devious, mysterious outlaws.
7. SHIGURUI: DEATH FRENZY
Do not drop this samurai anime, endure a few episodes
This samurai anime has one of the greatest plots I have ever seen, every scene is there for a reason and a part of the complete picture. So, from my! point of view Shigurui is underrated.
Studios: Madhouse
Genres: Action, Historical, Drama, Martial Arts, Samurai anime
Episodes: 12
Pitch : At the beginning of the Edo Era, when people enjoyed a time of peace, Lord Tokugawa Tadanaga holds a fighting tournament. In the past, matches were fought with wooden swords. This time, real swords will be used.
One-armed Fujiki Gennosuke and blind Irako Seigen will fight each other in this match. Both are disciples of Iwamoto Kogan, who is known as Japan's greatest swordsman. Each of them are determined to prove himself the successor of Iwamoto's school.
However, there can only be one champion. So begins a story of intertwining fates, conflict, and strange destinies.
6. SENGOKU BASARA (SAMURAI KINGS)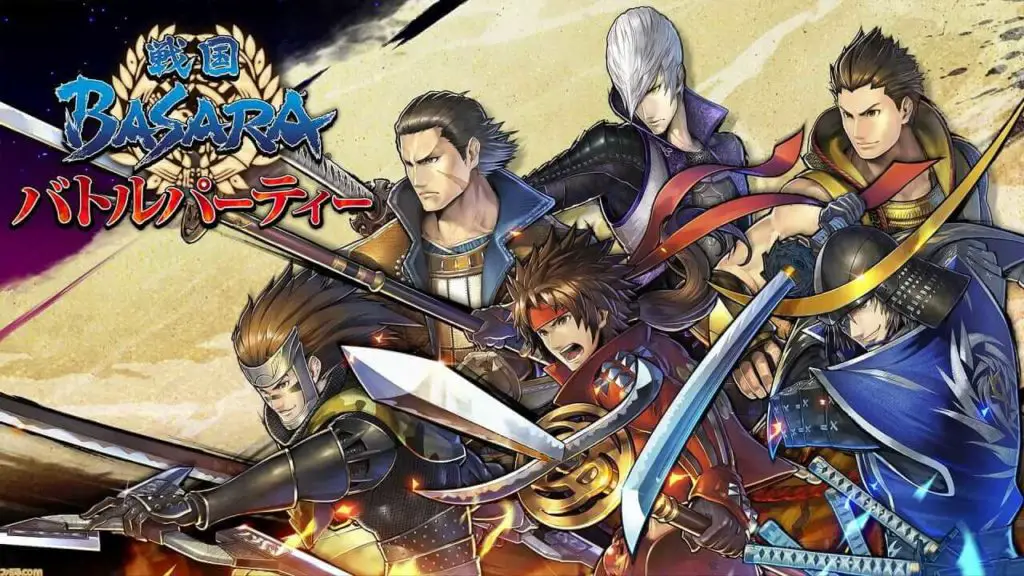 It was absolutely entertaining nice story line great artwork everything seemed to be perfect the thing that i wanted to see was the final fight between yukimura and date masamune and want to see the next season it hyped me over too much the music the characters everything was great want to definitely watch season 3 if it is coming.
Studios: Production I.G
Genres: Action, Historical, Martial Arts, Samurai, Super Power
Episodes: 12
Pitch : Sengoku jidai crowd hacking game Sengoku Basara (or Devil Kings) is set for anime adaptation, with the conversion to be handled by Production IG. The characters in the game are mostly daimyo, and it seems the anime follows suit, with the announced characters having the same seiyuu as the game version (which had an all star cast).
5. BASILISK: KOUGA NINPOU CHOU (THE KOUGA NINJA SCROLLS)
I can actually make a 3 word summary for this anime. It would go like this : KILL, KILL, KILL.
Studios: Gonzo
Genres: Action, Adventure, Historical, Supernatural, Samurai,
Episodes: 24
Pitch : The year is 1614 AD. Two warring ninja clans, each supporting a son of Hidetada Tokugawa as the next shogun, send ten representatives each to fight to the death for the possession of a scroll.
The prize: the annihilation of the other and the staunch support of the Tokugawa government for the winning clan for the next thousand years
4. MUSHIBUGYO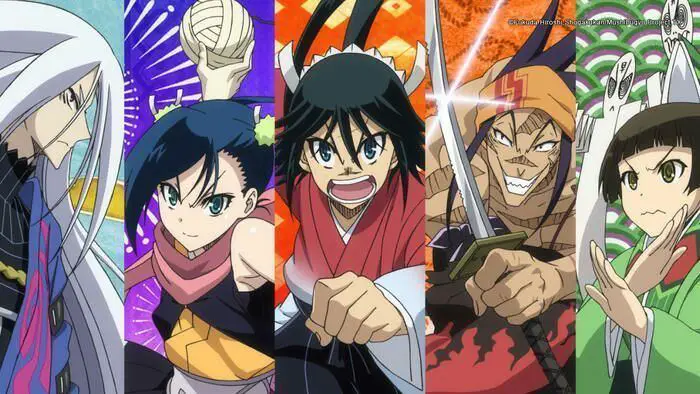 Mushibugyou follows a young samurai named Jinbei Tsukishima in Edo, hoping to be a member of the Insect Magistrate's office in the place of his father. In the Insect Magistrate's office, their only duty is to protect the peace in Edo from the monstrous insects.
When Jinbei got to be one of the members of the office, he met his new teammates namely Mugai, Hibachi, Tenma Ichinotani, and Shungiku Koikawa.
But the problem is that, all of his teammates believed that he will quit in less than 3 days and he was too weak to fight the insects.
Studios: Seven Arcs Pictures
Genres: Action, Historical, Super Power, Ecchi, Martial Arts, Samurai
Episodes: 26
Pitch : The action story is set in Edo-era Tokyo in the early 1700s. The eighth shogun Tokugawa Yoshimune ordered boxes to be installed so commoners can submit their thoughts. After hearing their voices, the shogun creates a new magistrate unit—Mushibugyou—to protect the people in the heart of the city. Each member is a specialist with unique fighting skills.
3. AFRO SAMURAI
As expected of a 5 episode series, the story is not very detailed on character backgrounds and side stories except the main character (their website more than explains each character). 
Studios: Gonzo
Genres: Action, Adventure, Samurai
Episodes: 5
Pitch : His father in front of him when he was just a boy, a three-armed gunman who is the lord of the dark swordsman's road and the current No. 1.
2. GINTAMA
Gintama is a masterclass in comedy writing and variety; a series that grows in originality with each passing episode, so inventive and fresh, dynamic and interesting, it's no wonder it has become one of Sunrises' flagship series, not to mention a mainstay of Shounen Jump.
Studios: Sunrise
Genres: Action, Comedy, Historical, Parody, Samurai, Sci-Fi, Shounen
Episodes: 201
Pitch : The Amanto, vicious aliens from outer space, has taken over the country of Japan. It has suppressed all the samurais by prohibiting the usage of samurai swords. Sakata Gintoki is one of the few remaining samurai.
1. RUROUNI KENSHIN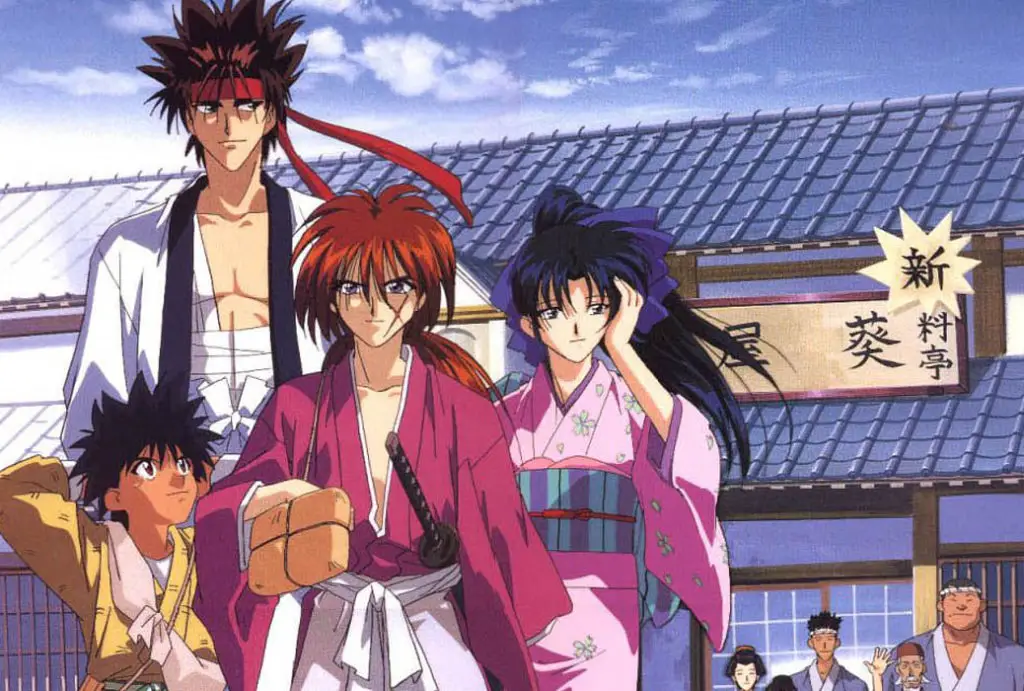 There is no doubt in my mind that if you are looking for an anime with a little bit of everything and looking for an anime that involves mystic sword styles, amazing battles look no further.
Studios: Gallop, Studio Deen
Genres: Action, Adventure, Comedy, Historical, Samurai, Shounen
Episodes: 94
Pitch : Himura Kenshin is a vagabond with a dark past and sunny disposition. Not a ronin but a rurouni, he was never a samurai, but an assassin of utmost skill in the Meiji restoration, who in the turning point of the war simply walked away.
His travels lead him to Tokyo in the 11th year of the Meiji era, where he befriends a female Kendo master, a former thief, a brawler and a doctor all with their own secrets. Together they fight off the enemies surfacing from the dark past that Kenshin cannot escape. 
Hope you like this list of samurai anime make sure to comment below which samurai anime are you going to watch next share it with your friends and bookmark MOW.