I believe you wanna watch a anime with full of action with a strong military presence then you come to the right place because today we are going to create a list of 10 action military anime.
Japanese anime are no stranger to war genre they have some pretty awesome war anime that we have covered in the past.
So, without wasting any more time lets begin the list of 10 action military anime series.
10. Shuumatsu no Izetta
If I am promised to the princess, then I will fight for her sake. In 1939 C.E., the imperialist nation of Germania invaded a neighboring country.
All at once, that war spread throughout Europe, and the era was dragged into a spiral of a great war.
Then, in 1940, Germania's attack turned towards the Principality of Elystadt, a small Alps country abundant with beautiful water and greenery.
9. Zipang
This military anime is about Mirai, an improved Kongou-class Aegis guided missile destroyer, is one of the newest and most advanced ships in the entire Japanese Self Defense Force (SDF).
Her crew, also one of the newest, is lead by Capt. Umezu Saburo and Executive Officer Kadomatsu Yosuke.
While running scheduled training exercises one day, Mirai encounters a fierce storm that throws their navigation systems into temporary disarray.
After a few minutes of recovery, the crew is shocked to discover that they've been transported back in time to June 4, 1942—The Battle of Midway, during World War II.
Letting history take its course for this battle, they manage to avoid the conflict firsthand and make a vow to remain annonymous, changing history as little as possible.
However, when the crew comes across the dying Lt. Commander Kusaka Takumi, XO. Kadomatsu's instincts to save lives takes over, changing the course of history more than he could've imagined.
8. 07-Ghost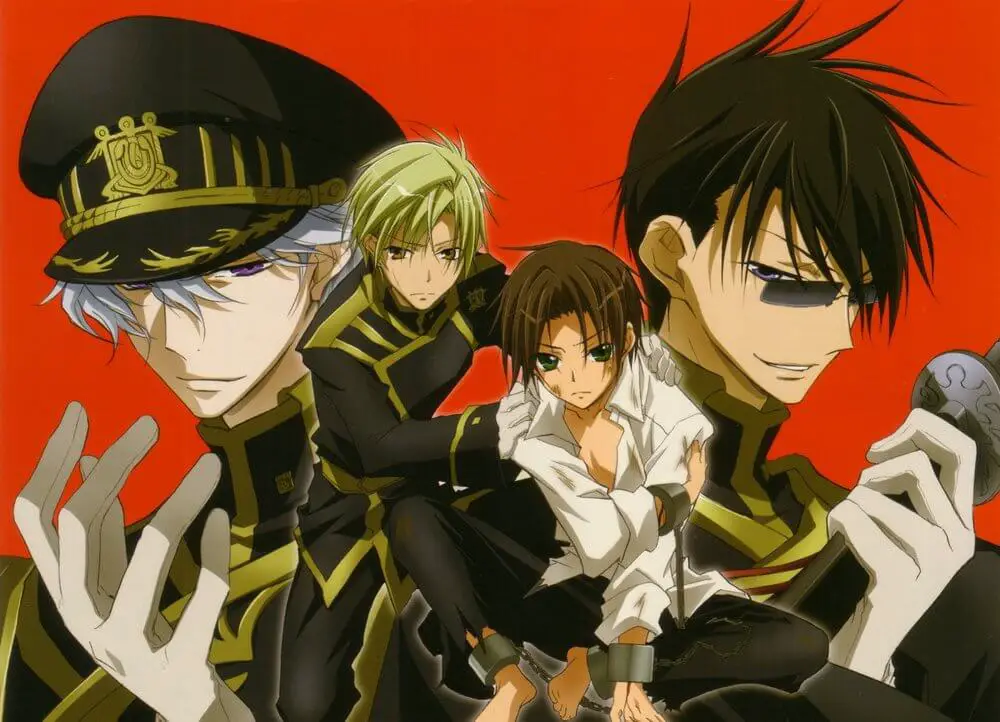 Out of 500 students in the military anime academy, only 20 will pass the difficult graduation exam to become begleiters (Assistant Executive Officers).
Teito Klein, the chairman's favorite, is one of them. He is disliked by the other students because of his relations with the chairman and his mysterious past.
After Teito and his best from, Mikage, finish the first phase, Teito begins to have strange dreams again about a man. Later on he eavesdrops on people talking about him.
During this conversation, Teito recognizes the man in his dreams and another man that killed him. When he is caught he is sent to prison, but escapes with the help of his best friend. Teito left Mikage and was found falling from the sky and unconscious by a group of guys.
7. Mobile Suit Gundam
This military anime starts in Universal Century 0087, and the One Year War between the Earth Federation and Principality of Zeon is over.
The Earth Federation has created an elite task force, known as the Titans, who are responsible for hunting the remaining Zeon forces.
However, the power-hungry Titans have shown themselves to be no better than Zeon, spurring the creation of a rebellious faction called the Anti-Earth Union Group (AEUG). 17-year-old Kamille Bidan lives in the colony Green Noa, home to a Titan base.
Kamille gets in trouble after assaulting a Titan officer, an event that coincides with an attack led by former Zeon ace Char Aznable, now known as AEUG pilot Quattro Bajeena.
When Kamille steals a Titan's prototype Gundam, he soon finds himself in the middle of the dangerous conflict.
6. Berserk
This military anime is about Guts, a man who calls himself "The Black Swordsman" looks upon his days serving as a member of a group of mercenaries, the Band of the Hawk, nicknamed "the Grim Reaper of the Battlefield."
Led by an ambitious, ruthless, and intelligent man named Griffith, together they battle their way into the royal court, and are forced into a fate that may change their entire lives.
5. Legend of Galactic Heroes
For decades, the Galactic Empire has been locked in an interstellar war with the Free Planets Alliance, a conflict that involves thousands of spaceships and millions of soldiers on both sides.
Two new commanders enter the conflict with great hopes: Imperial Admiral Reinhard von Lohengramm and the FPA's Yang Wen-Li.
As they deal with superiors and subordinates, maneuver through complicated political arrangements, plot strategies, and win battles, each will be tested, and ultimately, changed, by the reality of war.
4. Gate
A gate appears in Tokyo's Ginza district sometime in the 21st century. From the gate pour out monsters, knights from middle-age Europe and other fantasy-like beings, and they kill many citizens of Tokyo. This event is known as the Ginza Incident.
The government sends a small group of soldiers from the Japanese Self-Defense Forces to the alternate world beyond the gate.
Led by otaku soldier Itami Youji, they find that the villages in the world are being attacked by a dragon. An elf girl who is a survivor from the dragon's rampage joins the group in their travels across the dangerous new world.
3. Ghost in The Shell
In the year 2029, the world is made borderless by the net; augmented humans live in virtual environments, watched over by law enforcement that is able to download themselves into super-powered, crime busting mecha.
The ultimate secret agent of the future is not human, has no physical body and can freely travel the information highways of the world, hacking and manipulating whatever and whenever required.
2. Code Geass
The story takes place in Europe in the year a.t.b. 2017. A Knightmare unit made of boys and girls from Area Eleven are thrown into a military operation with a 5% chance of survival. They must rescue an allied unit left behind on the European warfront.
1. Fullmetal Alchemist
After losing their mother, Alphonse and Edward Elric attempt to bring her back using the forbidden science of human alchemy. However, alchemy operates on the theory of equivalent trade, and breaking the human alchemy taboo carries a heavy price.
Ed loses his leg, and Al loses his body. Ed is able to seal Al's soul inside of a huge suit of armor, at the cost of his arm. Years later, Ed (now with two mechanical limbs) and Al (still trapped in the armor) leave their childhood home, each brother concerned with the other's happiness.
Ed, who has a natural talent and skill for alchemy, becomes nationally certified and is soon known everywhere as the "Fullmetal Alchemist." Their true objective is to search for any information on the fabled Philosopher's Stone, hoping it will allow them to regain their old bodies.
All of their hopes rest with this mythical stone, which may not even exist at all. However, the brothers soon learn that they are not the only ones after the powerful stone.
Hope you all like this list of military anime make sure to share it with your friends and comment below which military anime you going to watch next and bookmark MOW.