Sims 4 land has something for everyone.
Sims is the most widely used life simulation out there. You can see how many content creators are online. Many of them are fans of anime.
Let's combine our love for The Sims and Japanese anime/otaku culture.
27. Pokemodby leljas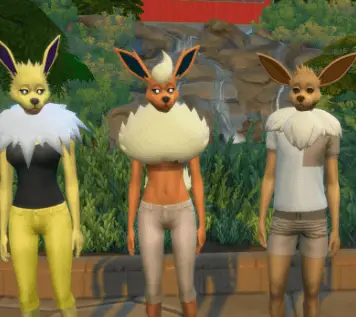 With the pokemon, it's possible to have a sim life that isn't boring or ordinary Bob Pancake. But you can also be Lucario, Leafeon, or Mega Lucario.
This mod allows you to create a full skin overlay both for male and female sims. This mod is too good to be true.
But here's what's even better: Your child can put on a full-body outfit and become a teenage pokemon. It's amazing, isn't it?
26. Totoro and Team Kiki Posters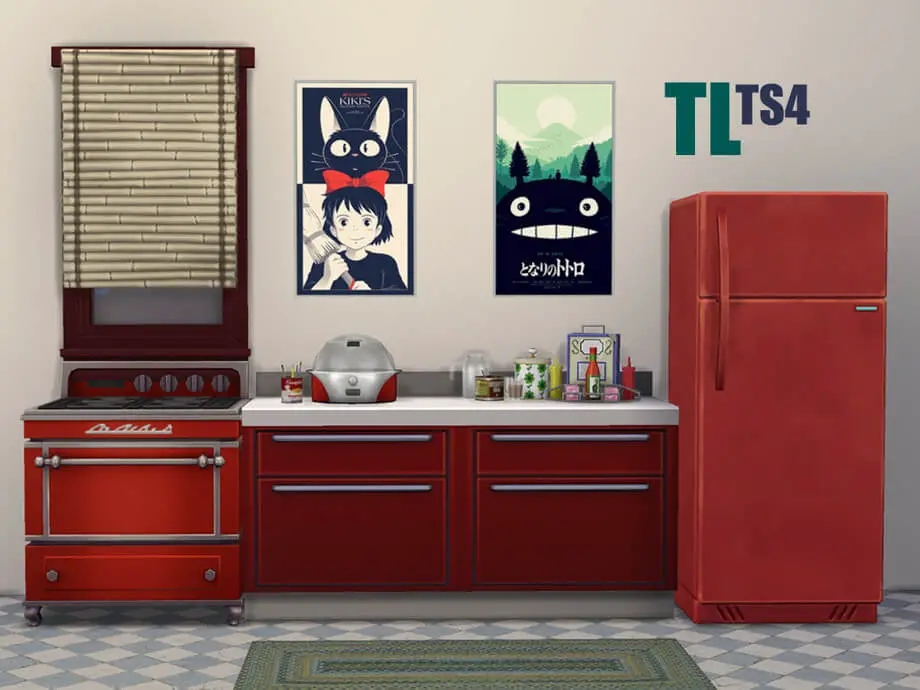 Your sim's friendly neighborhood Totoro is now in your dreams and thoughts, as well as on the walls of their home. 
Maybe Kiki's Delivery Service appeals to you more? These wall posters are dedicated to amazing anime masterpieces that are well-known by all fans.
These posters make a great addition to any room, whether it's your living room, bedroom, or study.
25. Three Anime Tattoos From Bleach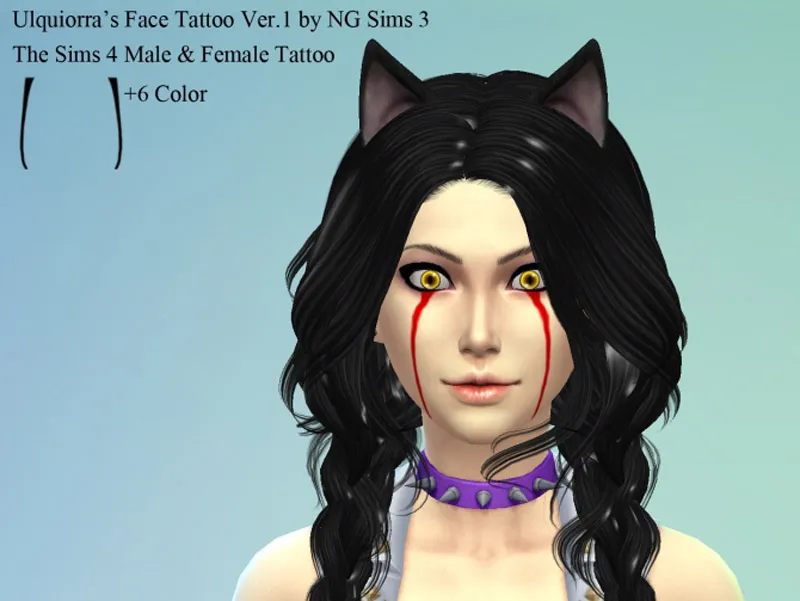 Bleach is a famous manga and anime series. It's no surprise that the stunning face and body tattoos of Ulquiorra were created in collaboration with dedicated Bleach and Sims fan.
This set includes six recolors of the face tattoos, including versions for males as well as females. 
The set also has 4 holes on the chest and a hole in the neck of the subject.
24. Background of Anime CAS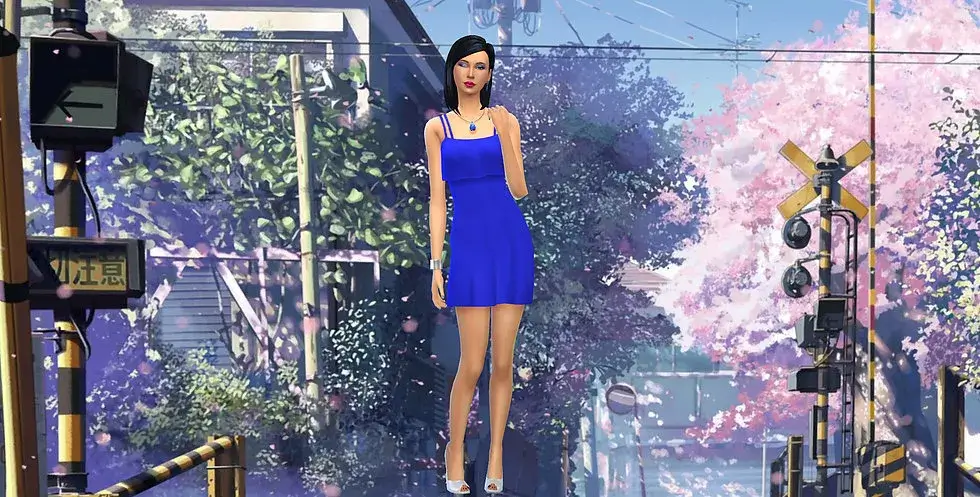 It is hard to believe that the current The Sims 4 CAS background is so boring. This was originally designed like a room in previous games.
Now, we only have a green wall. It's so boring! We are here to help and offer a custom background for anime.
Nine backgrounds are available that include beautiful Japanese street scenes, flowers, and houses. 
There are nine stunning backgrounds that feature beautiful nature, Japanese streets, flowers, houses, etc. You wish your creativity some luck.
23. Sailor Moon Crystal Clothes Pack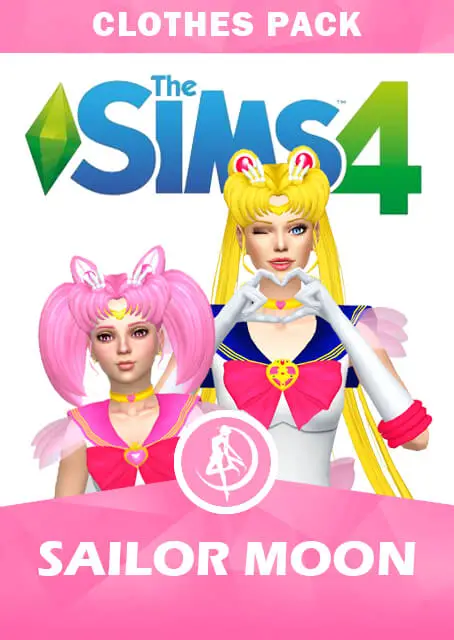 This set includes thirteen beautiful tank top swatches that are dedicated to different aspects of the Sailor Moon universe.
You can choose from different styles, colors, and characters. Personally, I prefer Sailor Mars to Sailor Moon.
But shush! Although this is a minor addition, it will allow you to honor your Sim's favorite anime characters with this set.
22. Shitennou Costumes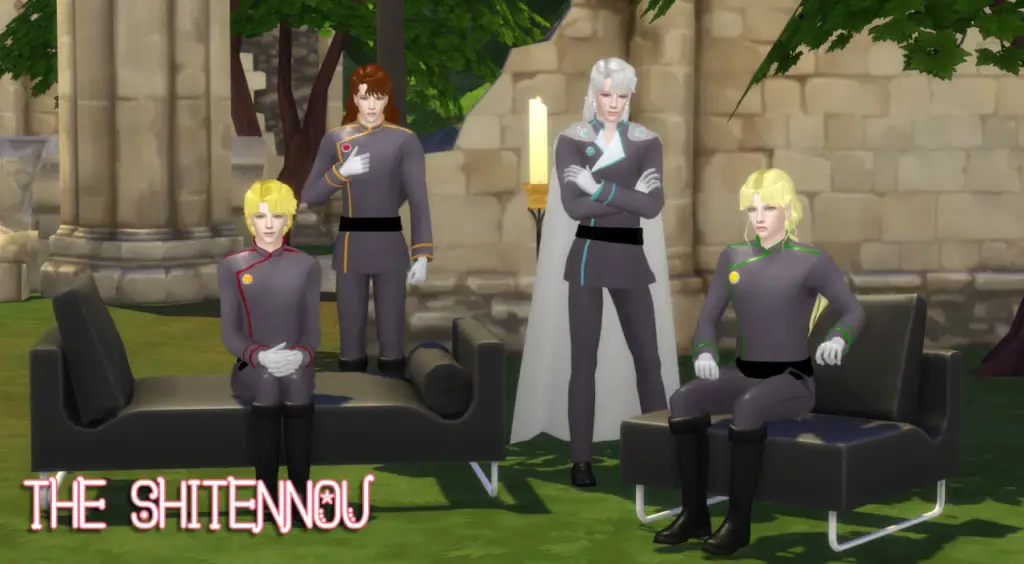 This set is fascinating and contains many details that Sailor Moon fans will love to see.
The package includes outfits as well as Kunzite, Zoisite, Nephrite, Jadeite, and Jadeite hairstyles. 
A cape can also be added or removed. This set is sure to make The Sims 4 a lot more fun!
21. Naruto Hairs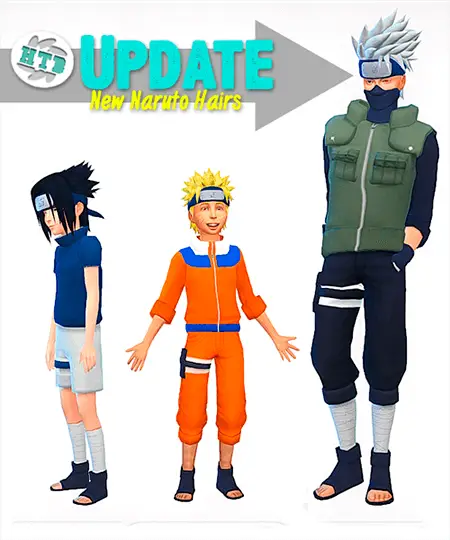 This set of hairs was created in tribute to Naruto, one of the most popular anime series. 
The creator managed to find a happy medium between a cartoonish anime style and a particular style of Maxi's pieces. This set has many options.
Second, you can get the Sasake or Kakashi hairs! And, of course, you can download bandanas! They are cooler than hairstyles, we know. 
You can recreate Naruto in your own city, or as a fangirl/boy. This story has you as the lawman and the hero.
20. Saimi Anime Eyes Series v2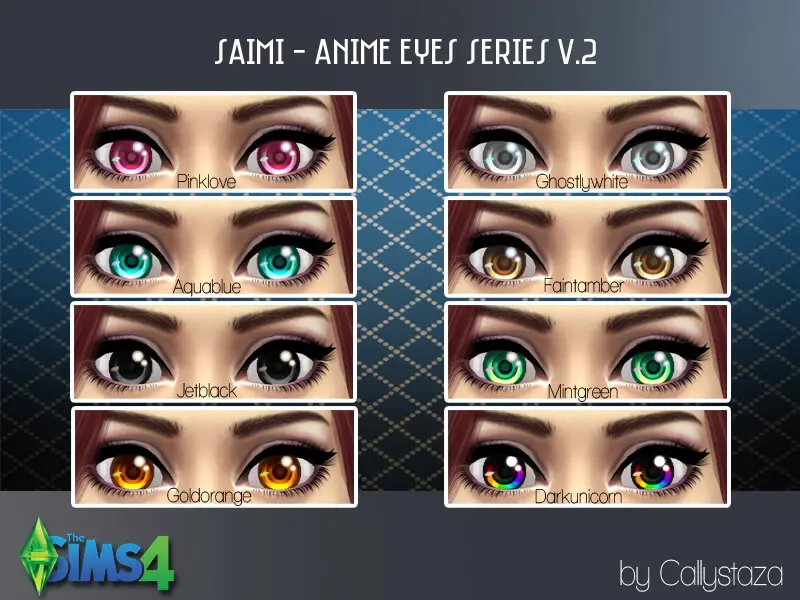 There are many options for anime eyes, some more realistic than others.
This is the second set of eight colors available, as the title implies. There are three options: Pink love, Ghostlywhite, and Mint green.
You can also purchase the first pack, which offers eight additional color options. This allows you to give your Sims almost any look you want.
19. Little Ebisu Short Hair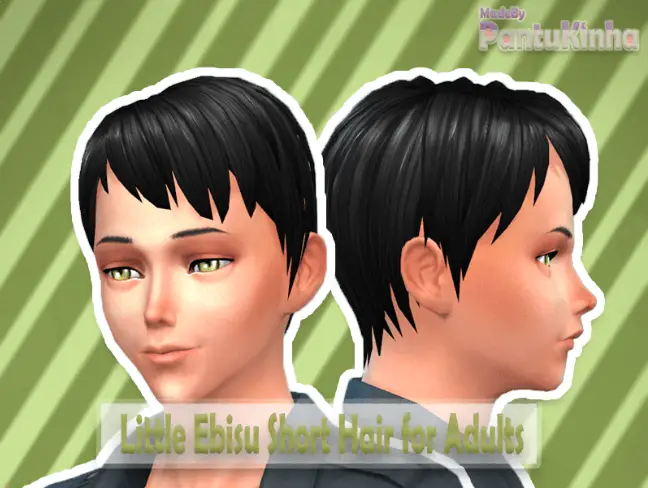 Next, you will need hair modifications to get that basic anime look.
We want hair that is anime-style, not just for regular hair modifications.
Modder PantuKinha offers many options, but my favorite is the Little Ebisu Short hair texture.
This male hairstyle is based on Little Ebisu God of Noragami and captures the most popular look for young adults in anime.
You will be one step closer to the anime look with your short, pointed bangs that face one side.
18. My Hero Academia Gym Uniform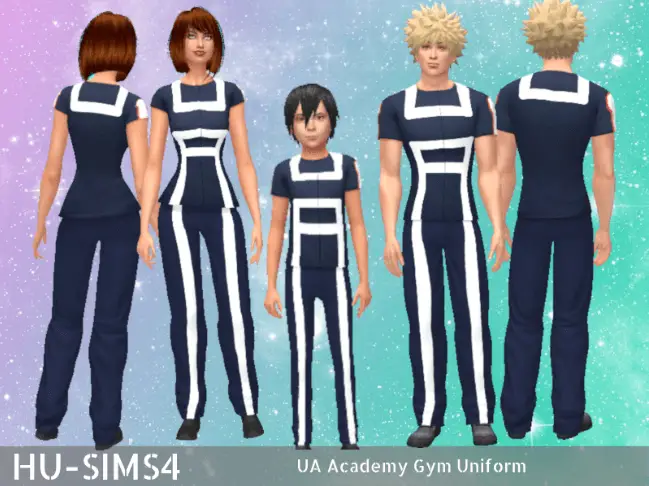 These mods may be more suited for you if you are looking to make a change in your anime series.
We start with an outfit that is based on My Hero Academia.
Their gym tracksuit is one of the most well-known and frequently seen cosplay outfits.
This outfit is available for adults, children, and both males and females.
17. Fullmetal Alchemist Outfit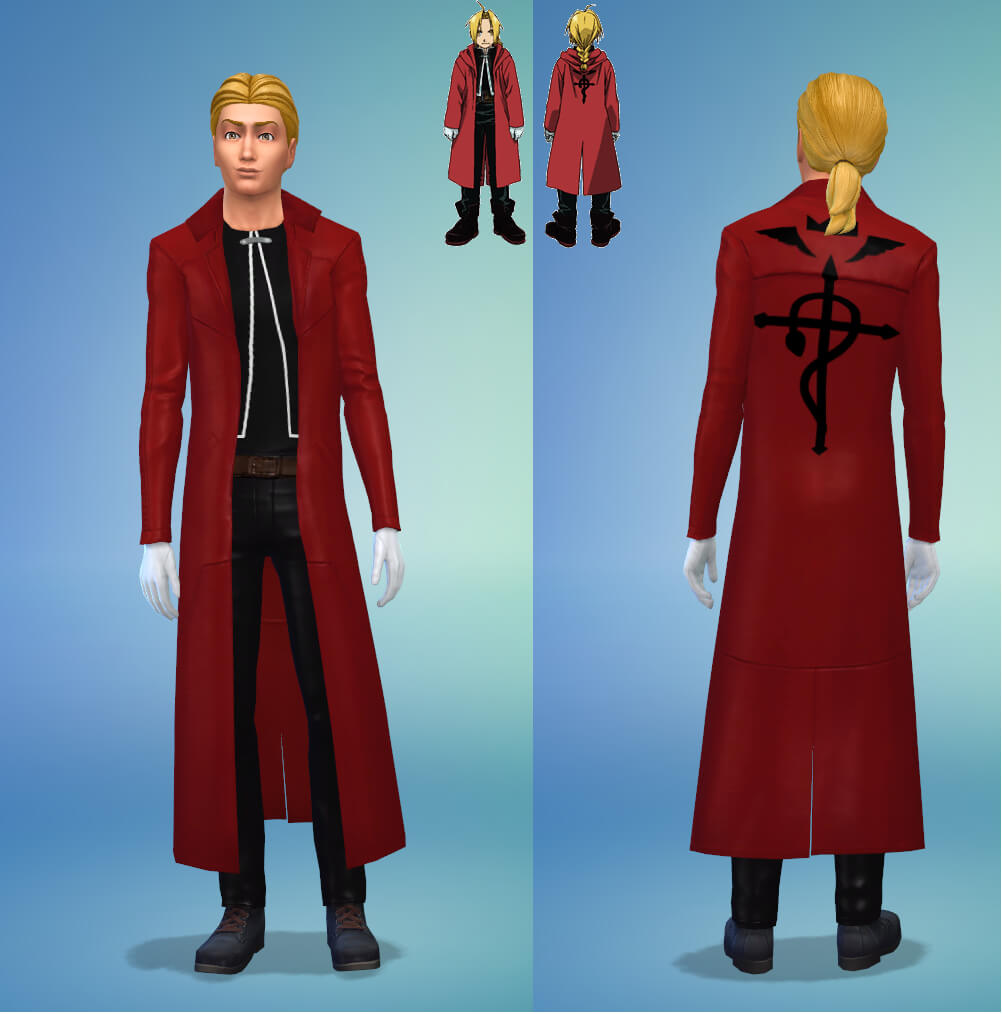 This CC is for you if Fullmetal Alchemist appeals to you more.
The red coat worn in the series by Edward Elric is instantly recognizable. Even the Flamel logo is incorporated into the back of the outfit.
This will make you feel like you are walking around Amestris no matter how long you wear it!
16. Set of Yaiba Costumes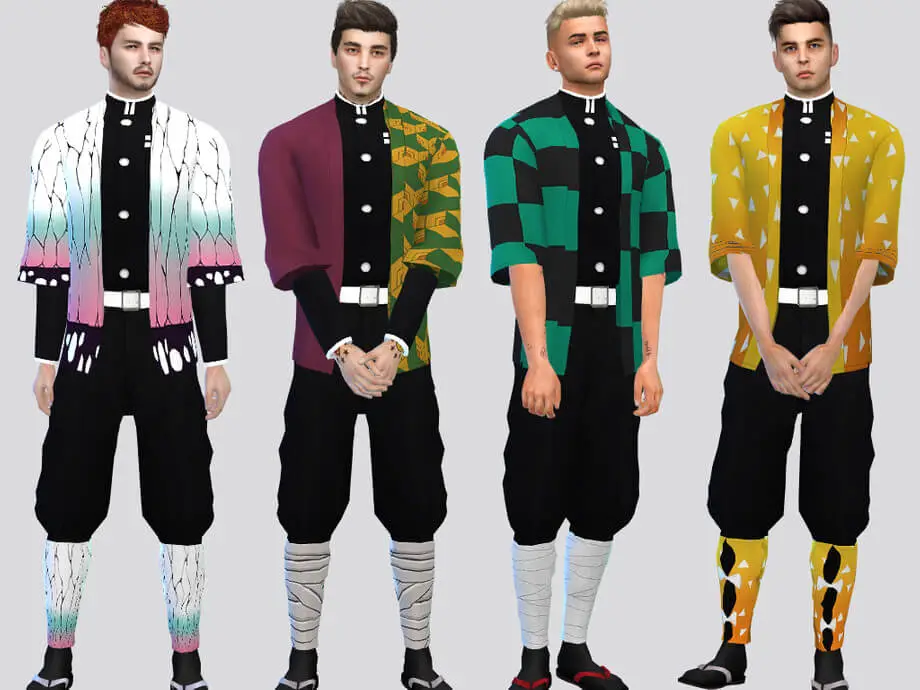 Kimetsu No Yaiba, also known as Demon Slayer is one of the most popular anime series.
We can't get enough demon slayers! It has been named the best anime of 2021 and is now available on Netflix.
McLayne Sims' Yaiba Costume Set allows your sims to transform into their favorite characters from the show.
This pack includes four costumes: the outfits for Tanjiro and Zenitsu, Kanae, and Hashira Giyu.
15. Dragon Ball Z Shirts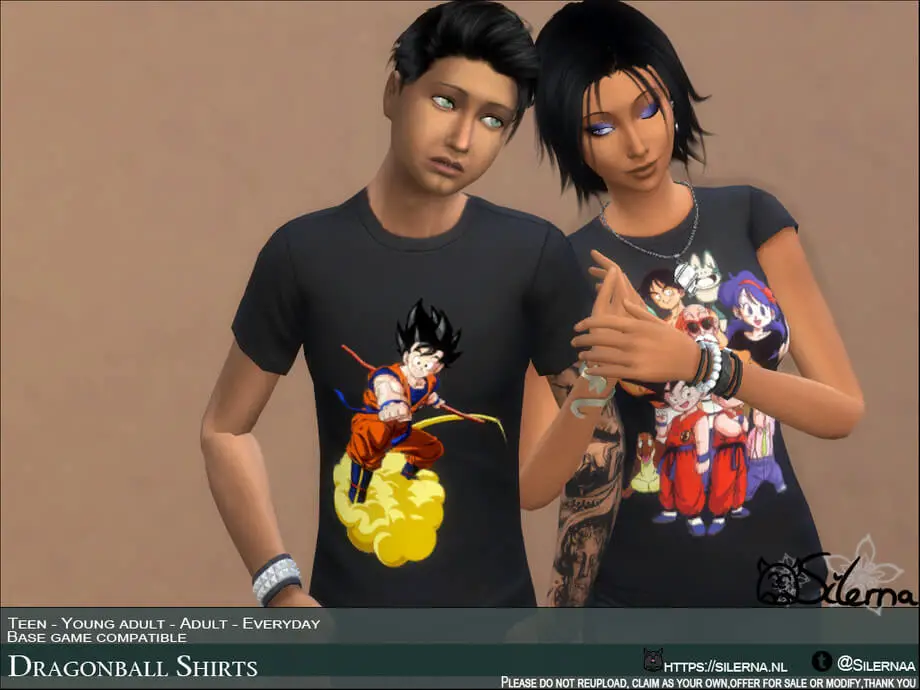 Dragon Ball Z is a childhood favorite.
Set of 7 Dragon Ball Z Shirts Shirts with Son Goku and other Dragon Ball characters.
You can mix and match the shirts to create different looks. A Dragon Ball shirt can be worn for each day of the week.
14. T-shirts Death Note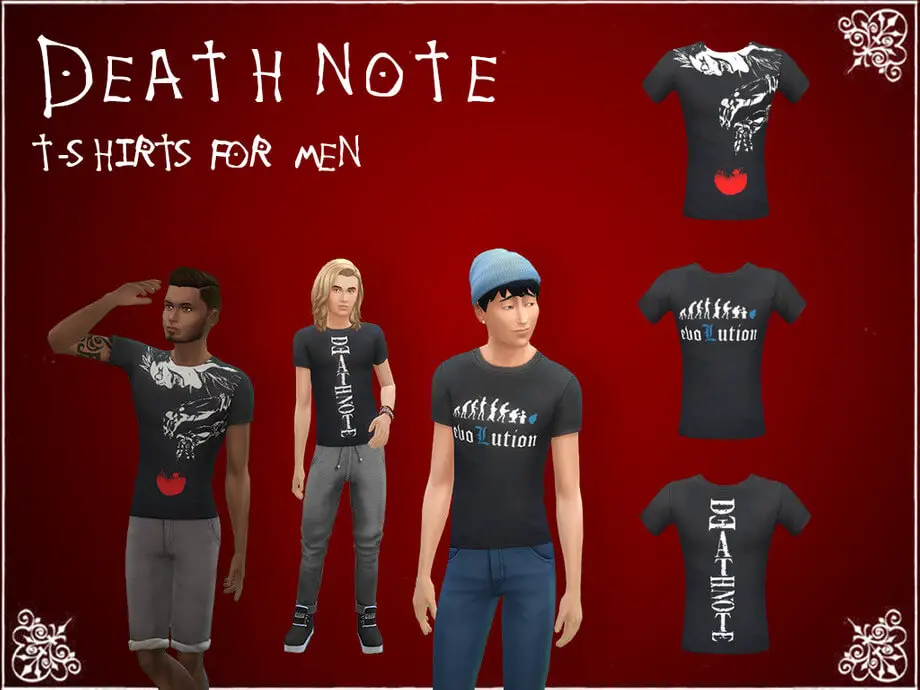 This Death Note CC set includes three new shirts for modern anime fans.
They are based on the popular anime series.
The set is currently only compatible with male characters.
However, you can dress your male sims in these Death Note-inspired additions to your wardrobe.
13. Little Ghibli Shirt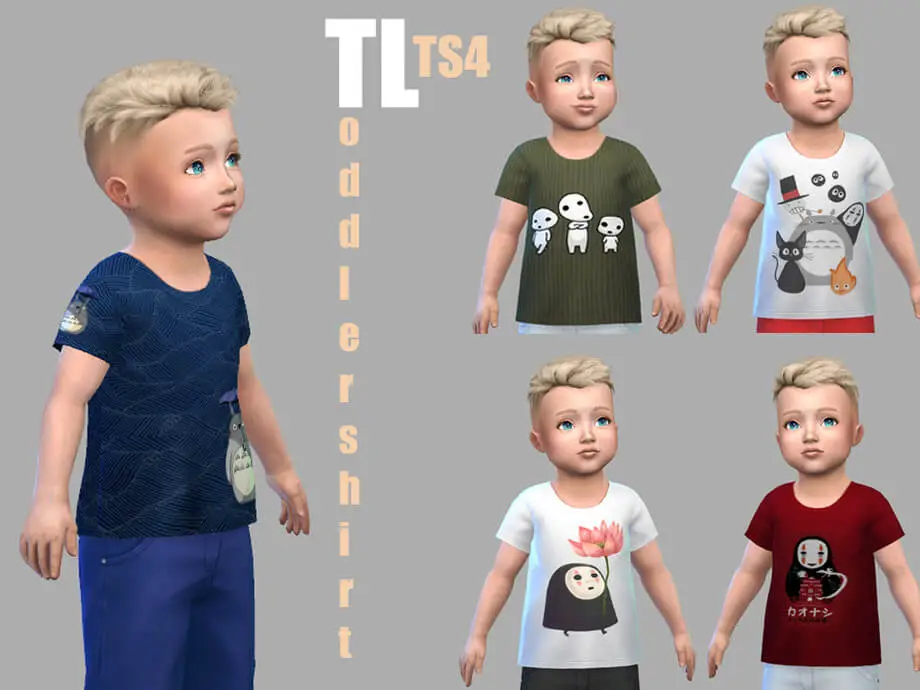 This set of shirts is inspired by Studio Ghibli's popular anime films.
This set contains five designs of shirts for toddlers, including Totoro from Princess Monokoke's tree spirits, Spirited Away's no-face, and one of the various Studio Ghibli characters.
12. Totoro Onesie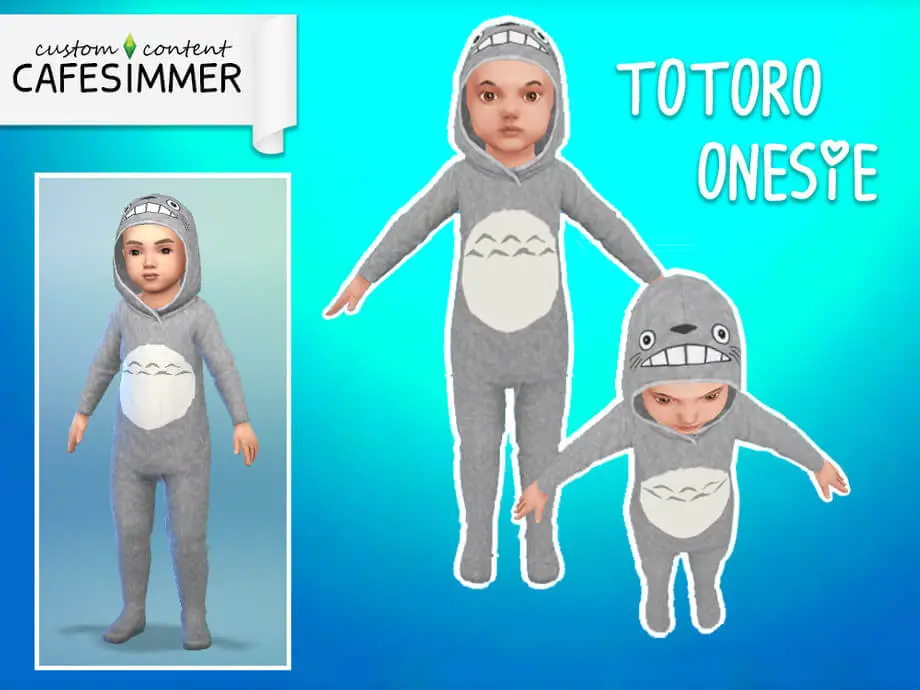 We all know the parents who are always on the lookout for the most adorable outfits for their toddlers.
They choose their outfits based on what interests them most of the time. They often end up laughing at their child.
We're not here for the judging, so dress your toddler like Totoro.
Modder Cafesimmer has made it possible to purchase this onesie for your toddler and have them walk around as Totoro.
This one is pretty adorable, I must admit.
11. Dragonball Rug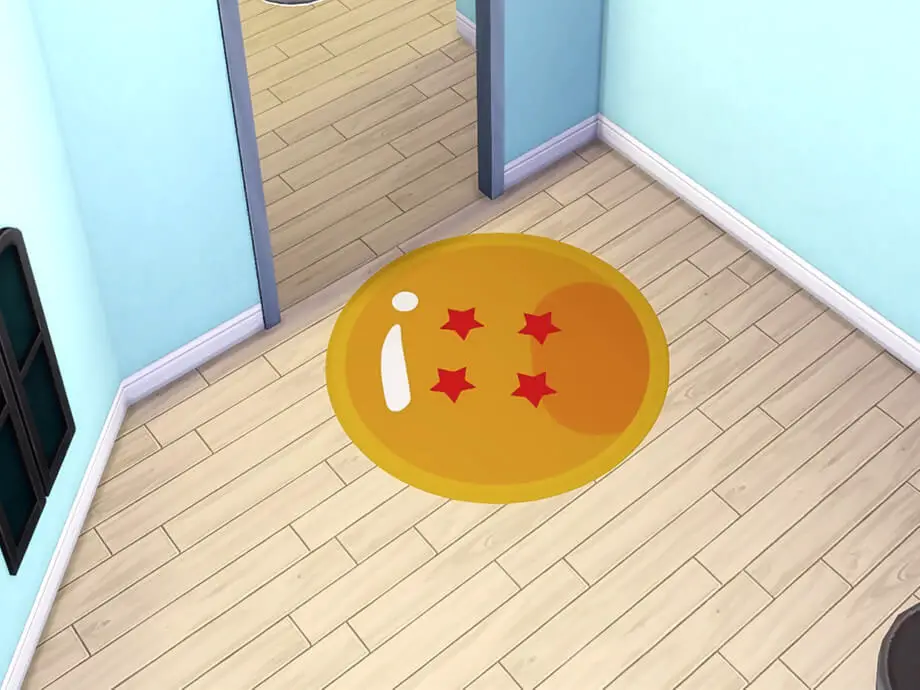 These CC packs are a great way to decorate your home with anime-inspired decor.
We have the Dragon Ball rug.
It is a circular rug with a Dragon Ball pattern. This is so cool! These would be amazing if they were actually available in real life.
10. Pokemon Rugs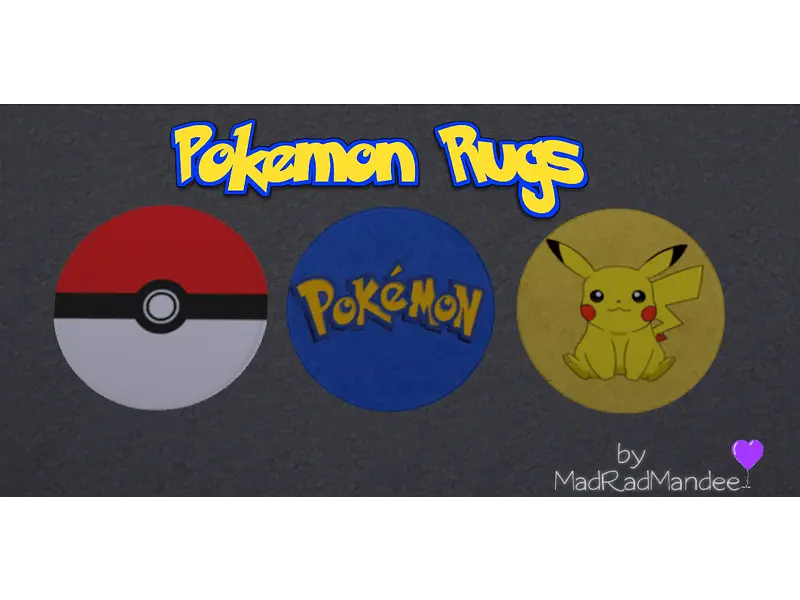 These are other options for rugs to complement your DBZ experience.
Who doesn't love Pokemon? This CC set contains six circle rugs featuring classic Pokemon designs.
Pick one of the original three starting Pokemon, Pikachu, or a Pokeball, or choose a Pokemon logo.
No one is stopping you from having one for each door in your home.
9. Wallpaper of Pokemon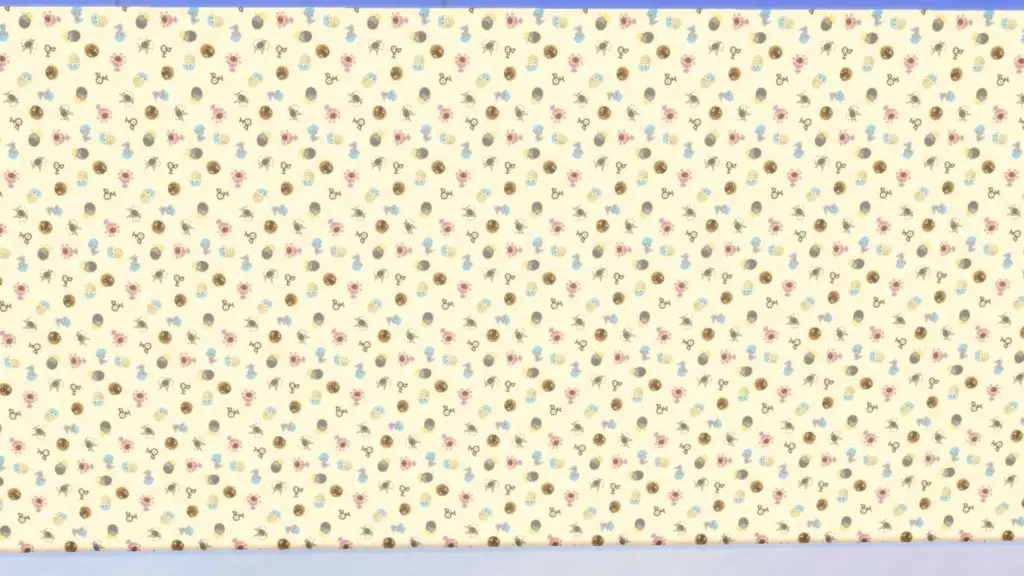 Pokemon Wallpaper is a permanent way to show your Pokemon love!
These wallpaper designs will add color and youth to any room, whether you are designing a child's bedroom or simply love Pokemon.
You have 15 options to choose from. Each design has different Pokemon characters and different color palettes.
Make every room in your house Pokemon-themed.
8. Set of Sailor Moon Posters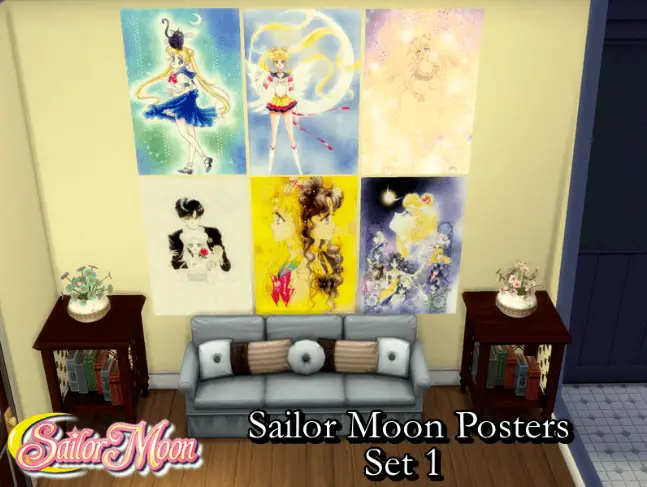 This Sailor Moon poster set is based on the classic anime from the 90s. It features a variety of decorative options and your favorite Sailor Moon characters.
Sailor Moon CC comes to your rescue!
You have three sets of 16 swatches, so there are plenty of choices.
7. Kawaii Kafe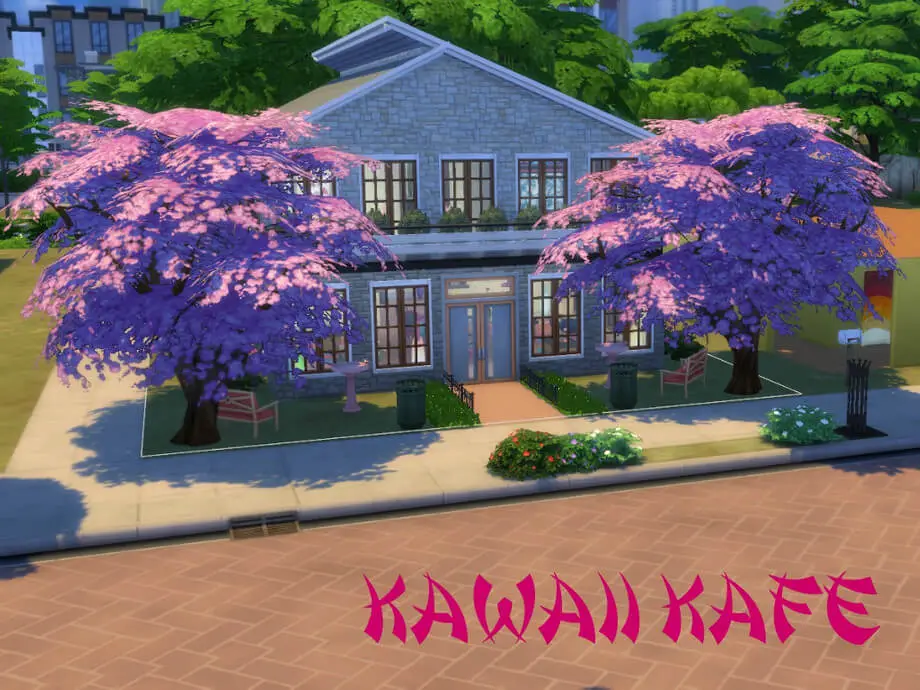 You can even go further and make your whole-building mods anime-inspired.
Although not all of these characters are based on anime, they will add a touching of anime to your TS4 gameplay.
Kawaii, in fact, is a subculture of Japan that revolves around an adorable and lovable style of art.
6. Otaku Hideaway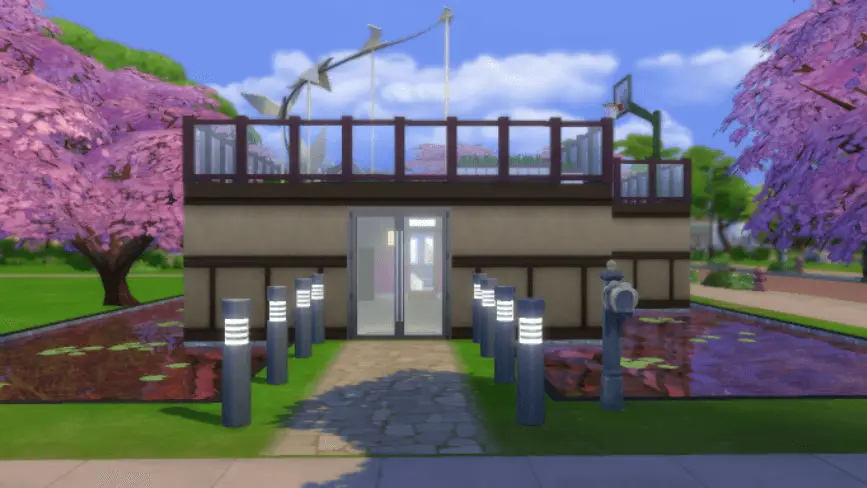 The Otaku Hideaway CC is perfect for anime geeks.
This mod can transform your entire house into an anime-inspired underwater home.
You can even raise your sim family here with four bedrooms and two baths. This is a huge place!
There are also typical anime-inspired features like karaoke or cherry blossoms around the exterior of the houses.
5. Diabolik Manor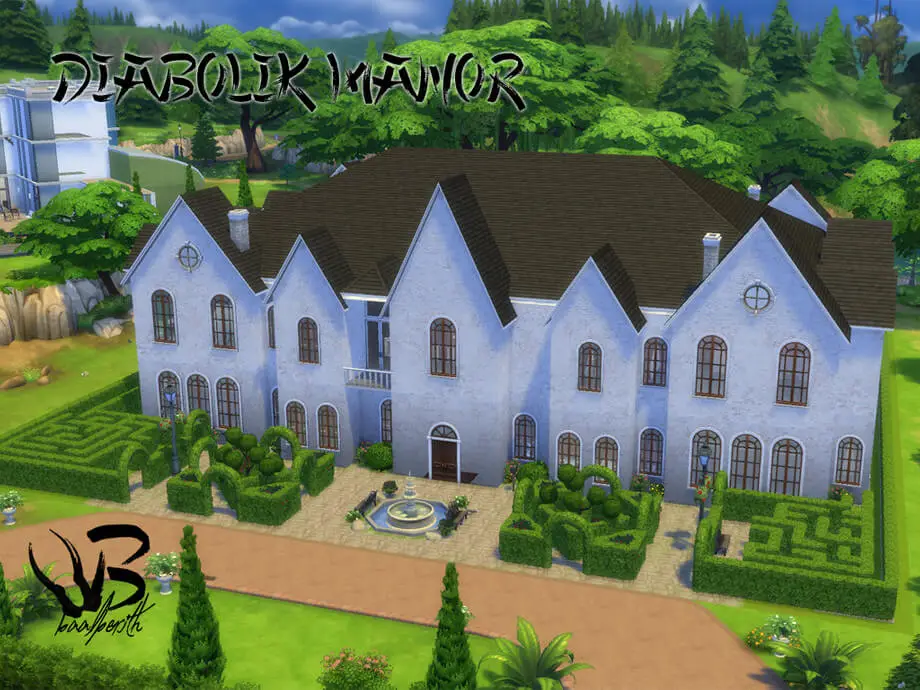 This re-creation of the mansion in the animated series Diabolik Lovers is a must-see for anime lovers.
This CC captures Sakamaki Mansion's look and feels, including its large yard with towering pillars.
The interior is a thing to be proud of, with two floors that contain everything you could need, from basic kitchens and bedrooms to a library, gym, music room, or game room.
This is the best way to make your sims live anime-style.
4. Totoro in The Rain Tattoo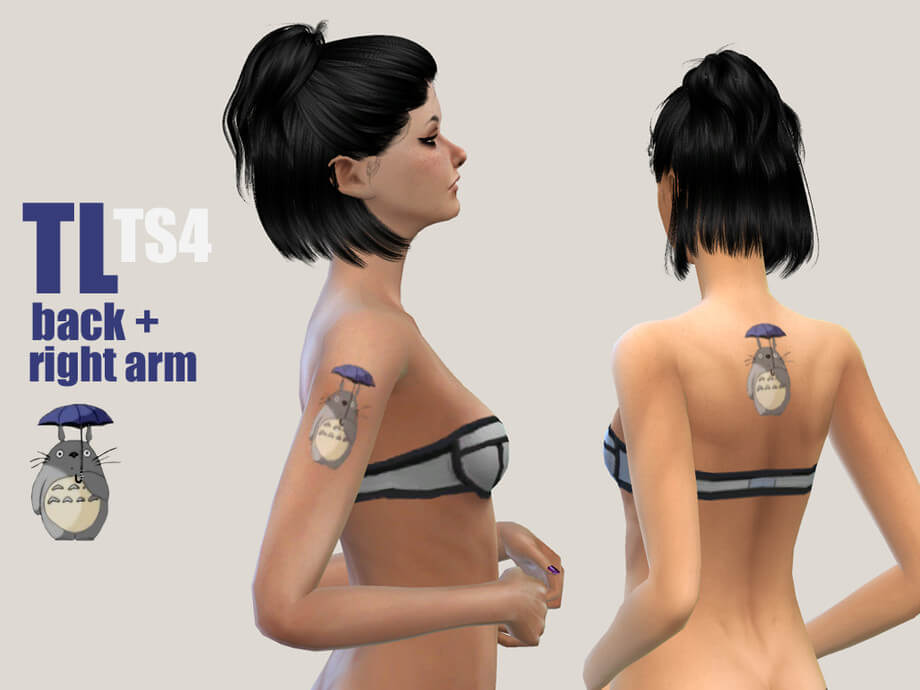 Here are some mods for anime lovers who love Japanese animation.
Your sims may also have their favorite anime characters inked, as tattoos are becoming more popular forms of self-expression.
This custom tattoo CC set lets you place a cute image about Totoro on either your upper arm or your back.
This is a great way to immortalize one of our favorite Miyazaki characters.
3. Fullmetal Alchemist – Ouroboros Tattoo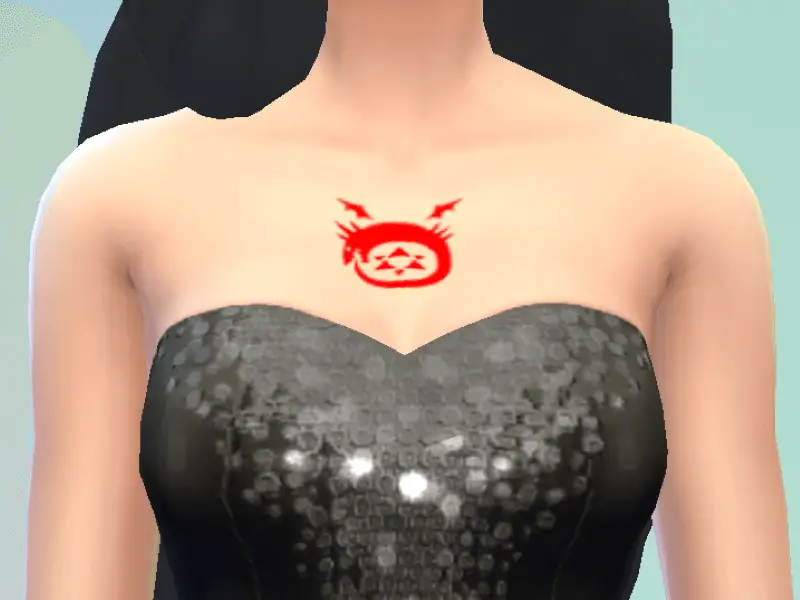 You might also like to show the villains your support by clicking here
This set of custom tattoos allows you to place the Ouroboros tattoos that were worn by the Homunculi at Fullmetal Alchemist.
Although not all variations are available, there are three options: Envy's hip tattoo, Lust's chest, and as green as he wore it on his hand.
2. Fullmetal Alchemist- Riza Hawkeye's Tattoo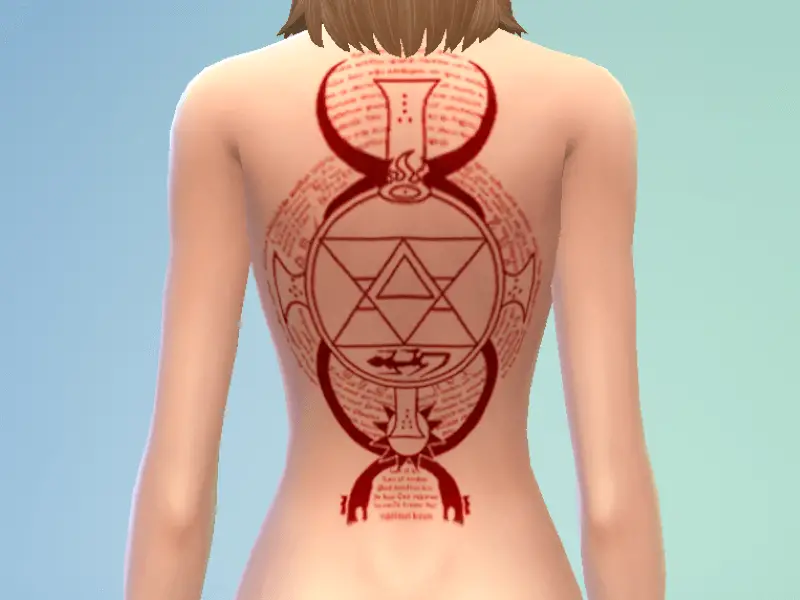 This is the CC you will need to install if you want to do more serious work (in the game).
Another mod to your tattoos based on Fullmetal Alchemist is that you can have your sim get the same full-back tattoo as Riza Hawkeye.
A beautiful back piece from the coded transmutation array series. This is a stunning piece that would look amazing on your sims.
1. Naruto Ninja Career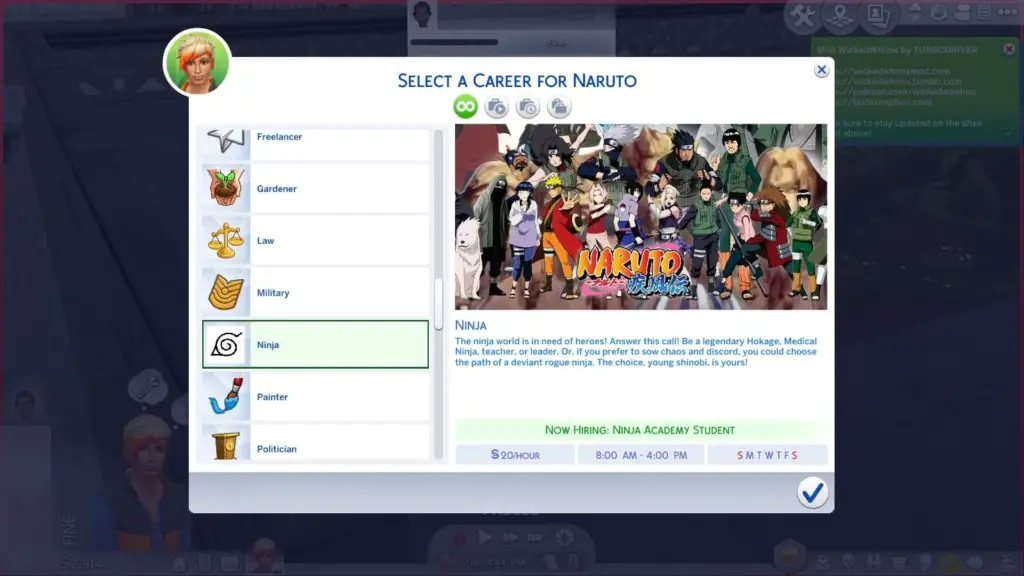 Thanks to the RayBreeder7 modder, sims can now live an anime lifestyle!
This career mode allows you to live the Naruto Ninja life.
This is a complete career modification. It consists of six tracks for the main track, before branching into four career options.
You can choose to be a Hokage or Akatsuki Leader, Teacher of a Legend, or a Medical Sannein based on the paths taken by Naruto characters.