I've been a huge anime enthusiast for years and have watched numerous series, ranging from dark and gritty action to sweet and heartwarming cute anime series. 
There are indeed times when we're not feeling up to the drama and want to remind ourselves that there's a bright and joyful side to our daily lives. 
That's fine! It's all right!
This list contains series that will inspire you to sit back and smile until you're aching in your cheeks and then let your heart melt inside your chest like marshmallows.
35. Gabriel DropOut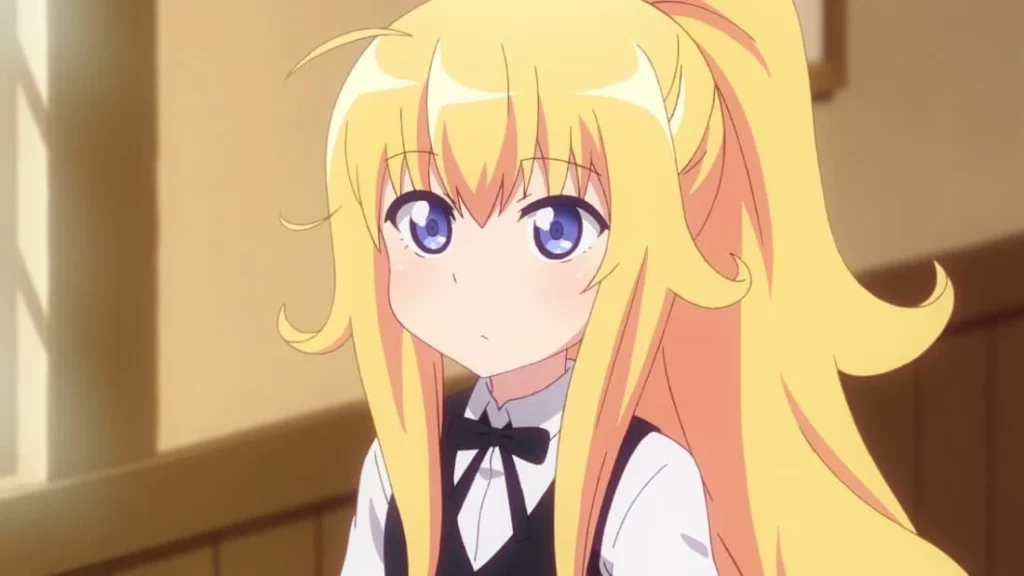 This anime is on our list because it is a fantasy. The story is still grounded and true to life, though.
How?
Let's find out! Gabriel DropOut is a TV anime with 12 episodes that started in 2017.
It's a Manga that was turned into an anime. Ukami was the one who wrote and drew the manga. In the series, Gabriel, a top angel from the realm of angels, came to earth to make people happy.
But she ends up playing video games online instead. And now she says she will always be that way. How will her messy life turn out in this world?
I told you it was real and grounded. Even though you don't want to admit it, you'll be able to understand this anime. It's so cute because of this.
34. Sound! Euphonium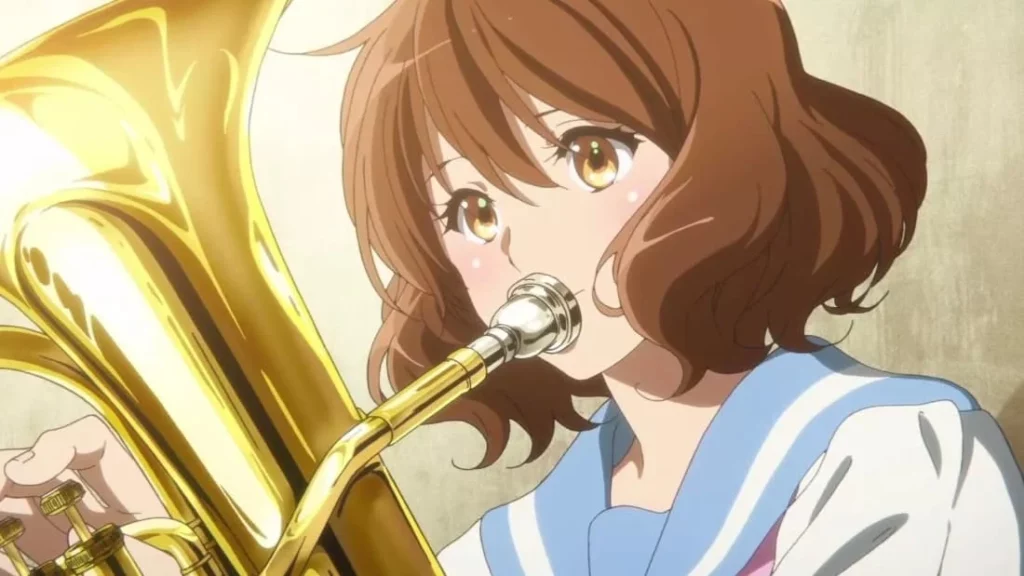 If you ask me, this is a pretty well-known anime. I mean, that makes sense. Since it was made by the famous Kyoto Animation, you can be sure it will be great.
Sound! Euphonium is a TV anime with 13 episodes that began in 2015. It is an original anime that was made by Kyoto Animation and directed by Tatsuya Ishihara.
The show is about Kumiko and her life as a member of her school's band.
The show goes into detail about her daily struggles and focuses on the competition she will be in. And the whole trip is going to be great.
Let's see how other people and Kumiko do with it. Visually, this series is so cute that you will thank me for suggesting it. Believe me, dude, it's worth your time.
33. Arifureta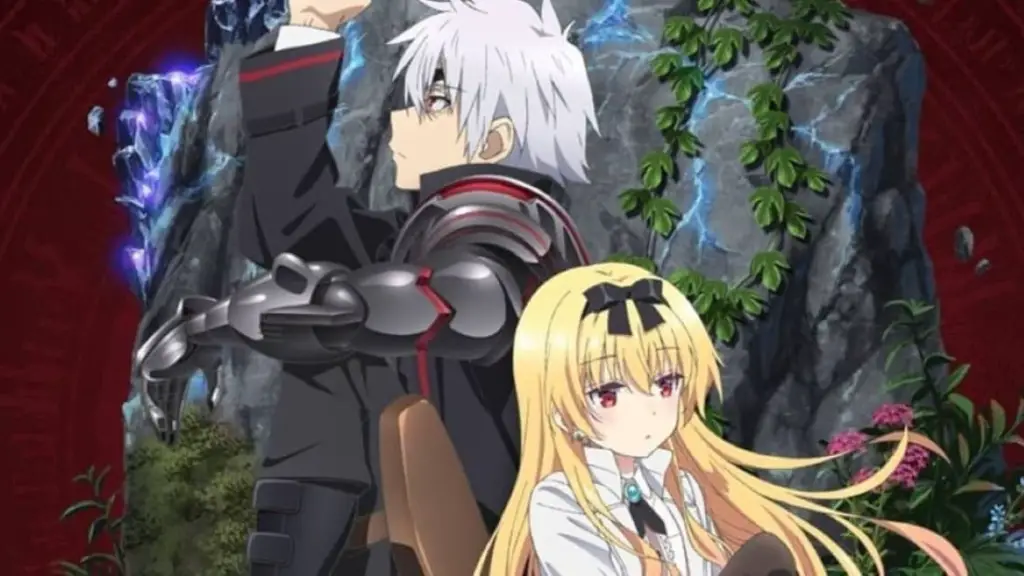 Ladies and gentlemen, it's time for some Isekai to shine. And this one will be a good one. The name of it is Arifurata. Arifureta is a TV anime with 13 episodes that began in 2019.
It was made into an anime from a light novel. Ryou Shirakome wrote the light novel, and TakayaKi did the pictures.
The show is about a boy named Hajime Nagumo and his class, which got teleported to a different world.
While his classmates got really powerful skills, he got a weak one. Hajime is now stuck in the Dungeon and must do everything he can to get out and stay alive.
Or else, his story is ending very soon. A simple but moving anime that will both inspire you and make you blush with how cute it is. Sure enough, you should respect them.
32. Laid-Back Camp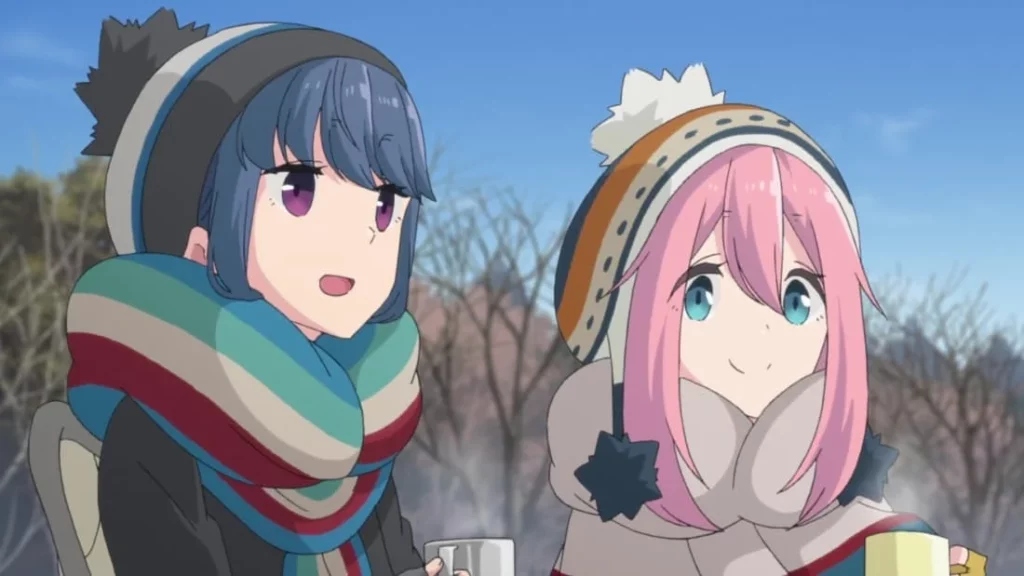 Oh wow. Finally, this anime has come out. People in the community say that the anime is full of cuteness and nothing.
Yes, you can say that about but. Laid-Back Camp is a TV anime with 12 episodes that began in 2018.
It's a Manga that was turned into an anime. Afro was the one who wrote and drew the manga. In the series, a group of cute girls goes camping.
All done!
All done! Yeah, amazing indeed. But while they are camping, they face choices and learn lessons that will teach them a lot. As I said, this anime is all about cute girls doing cute things, like going camping and stuff.
But when you watch the anime, you won't be distracted by how cute the characters are.
31. Monster Musume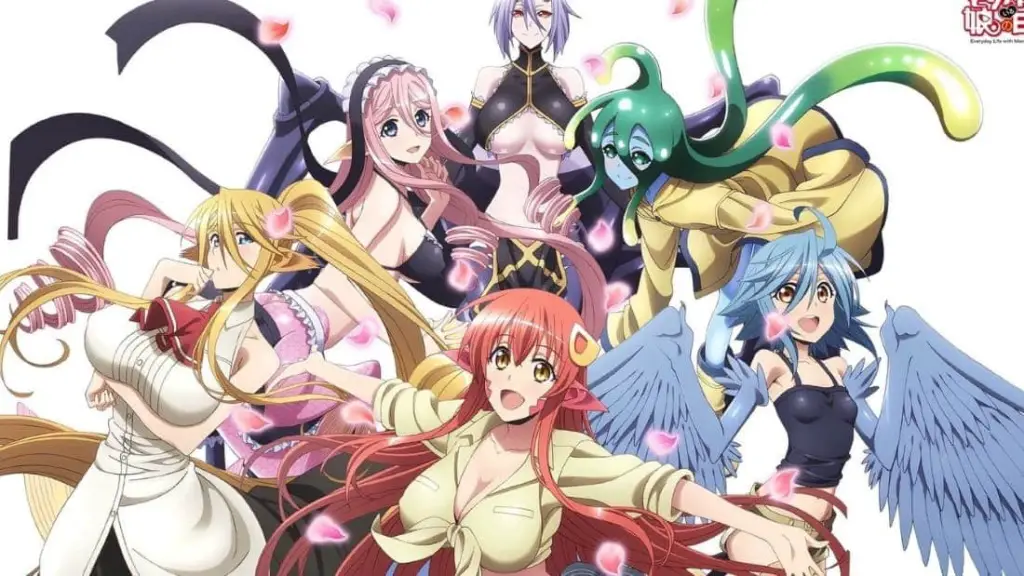 Cultured gentlemen have been shown in a cultured anime. And I think you guys must be already aware of this one. It is Monster Musume. Monster Musume is a 12-episode TV anime that started back in 2015.
It's a Manga that was turned into an anime. Takemaru Inui was the one who wrote and drew the manga.
The series tells us about Kurusu Kimihito who has to live alongside hot monster girls without having any lewd acts towards them because of the law.
However, these monster girls seem to have a different idea and they are making it difficult for our boys to obey the law. How will he ever be able to love with such beautiful women around?
The show is not only cute and enticing, but also funny and fun to watch. It's a package that you and I will both be very happy with. After all, we are cultured gentlemen!
30. Sword Art Online Alternative: Gun Gale Online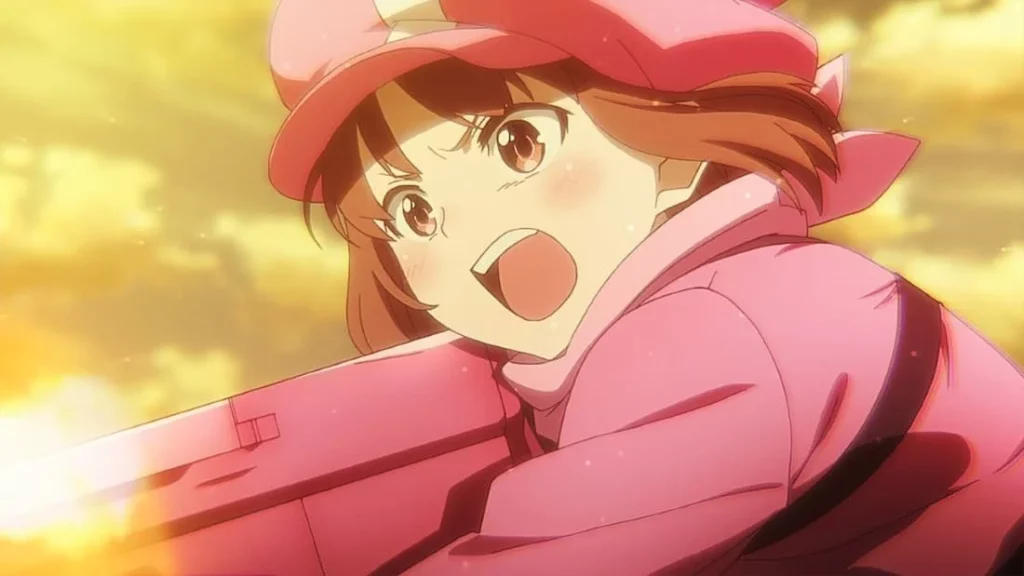 Surely you've heard of this series before?
Well, this is a different kind of story in that series. And probably also the cutest. Other than Sword Art Online: Gun Gale Online is a TV anime with 12 episodes that began in 2018.
It was made into an anime from a light novel. Keiichi Shigusawa wrote the light novel, and Kouhaku Kuroboshi drew the pictures. In the story, Karen is 6 feet tall and doesn't like how tall she is.
So, when she plays Gun Gale Online, she chooses a character who is 5 feet tall and wears pink clothes. There, she makes a few friends and, as a result, ends up in a battle to the death.
But how will she do in this battle royale?
This is an action-packed show that also has some science fiction elements. So watching it will be a good time for you in many ways.
29. A Place Further Than The Universe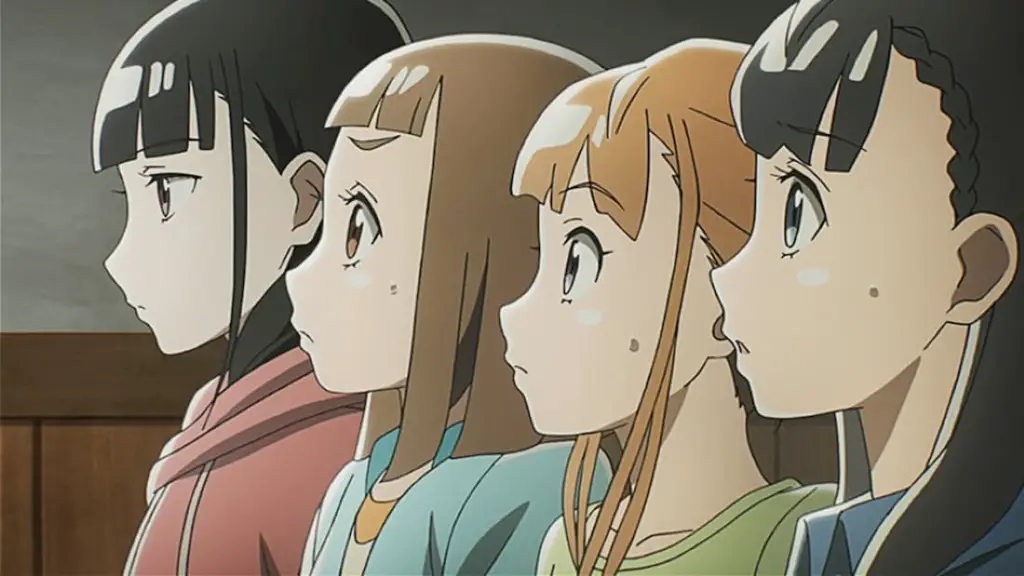 Oh my, this is an anime that everyone should see at least once. Now is the time to talk about good things. We will talk about A Place Further Than the Universe now.
A Place Further Than The Universe is a 13-episode TV anime that started in 2018. It is an original anime that was made by Studio Madhouse and directed by Ishizuka Atsuko.
In the show, there is a girl named Tamaki who wants to do something impossible and go somewhere beyond the universe. But her fear is getting in the way of her dream.
But when she meets a girl named Shirase whose mother went missing in Antarctica, she feels a lot better about herself. Soon, they start getting along with each other and decide to work towards their dreams.
If a few more girls join this group, they will do something totally new and amazing. This anime is all about wanting to do something you love. It has a lot of cute and adorable characters, but its message is what makes it stand out.
And that's why you should look at it right now!
28. Little Witch Academia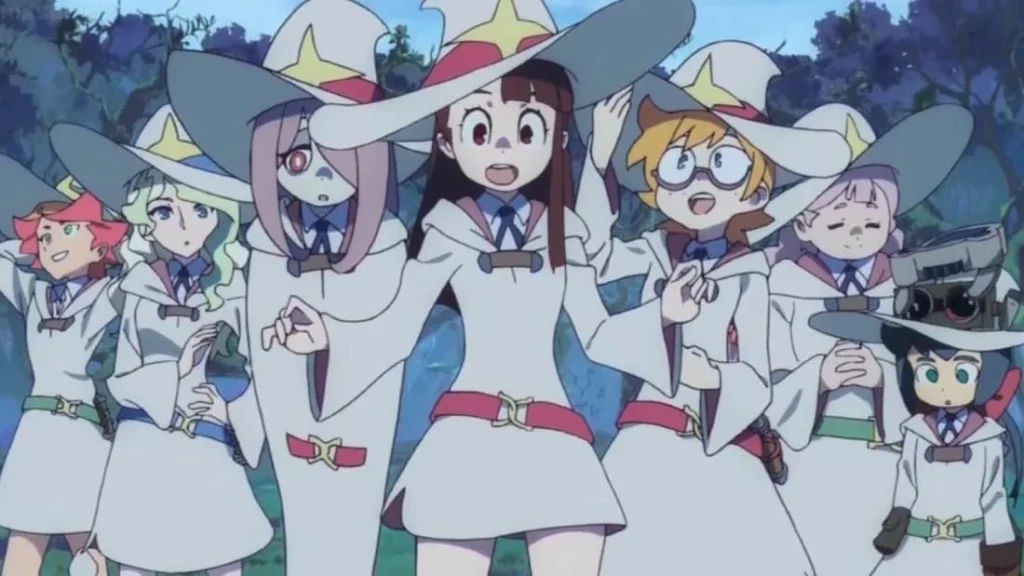 The anime TV show Little Witch Academia (TV) has 25 episodes and began in 2017. It is a new anime that was made by Studio Trigger and directed by You Yoshinari.
In the series, we learn about Atsuko Kagari, a happy girl who wants to learn magic and get to the same level as Shiny Chariot, her idol. Shiny, on the other hand, hasn't been seen in public for years.
As the mystery goes on, Atsuko goes to her magic school, but she quickly realises that she will have to work hard because she is not from a magical family.
She found something that Shiny used to have. Maybe this thing will help her use magic better and show her the real Shiny.
It has a great story, great animation, and an amazing cast. All you need is something cute and fun like this.
27. Haganai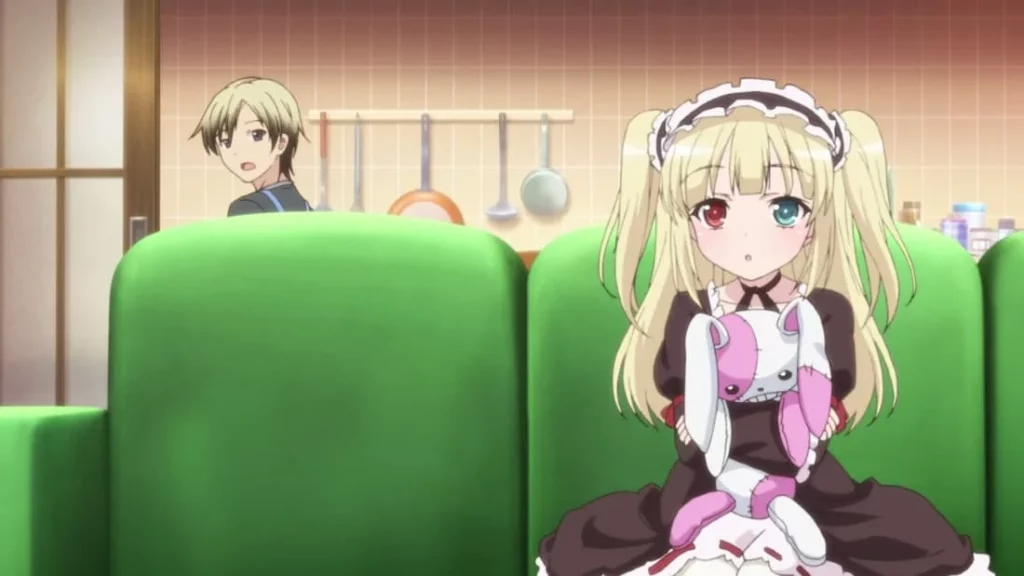 The next anime on our list could be something that a lot of you guys can relate to. Yes, it is about being alone. And let's just say that if you are lonely, you would love to be in the realm of Haganai.
Haganai is a TV anime with 12 episodes that began in 2011. It was made into an anime from a light novel. Yomi Hirasaka wrote the light novel, and Buriki drew the pictures that went with it.
Hasegawa Kodaka didn't have any friends because he moved from school to school so often. His life changes, though, when he meets another girl who is lonely and doesn't have any friends.
So, they decide to start a group for people who don't have any friends. They call it the Neighbors Club. Soon, more people who are alone start to join in the hope of making friends.
But their hopes don't come true the way they thought they would. Fans of anime don't know much about this one. But if you've ever felt lonely, this series is the cutest and most relatable thing you could watch.
Just try it!
26. Himouto! Umaru-Chan
Oh my God! On the way is a show that will make fun of YOU. Ladies and Gentlemen, get ready for Umaru Chan. He's funny. Himouto! Umaru-chan is a TV show with 12 episodes that began in 2015.
It's a manga that was turned into an anime. Sankaku Head was the one who wrote and drew the manga. In the series, there is a girl named Umaru who is not only attractive in terms of her looks and personality, but is also a great athlete.
You might think her life is perfect, but wait until she gets home. Because when she gets home, all she does is eat snacks and watch her favourite anime all day.
This anime is all about Umaru Chan's life at school and at home. Fans of anime like the show because it has a lot of funny moments. It also says that it is a great anime parody.
This makes sense to be so high on this list.
25. BLEND-S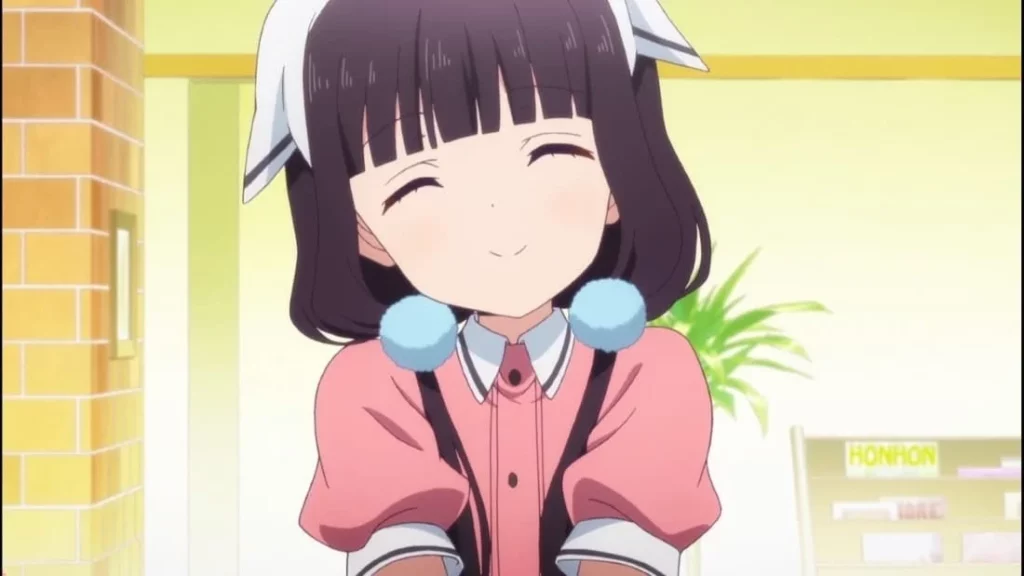 "Smile, Sister, Sweet, Cruel, Surprise!" We've all seen that internet joke, right? But do any of you know where that joke came from?
So, you know now! BLEND-S is a TV anime with 12 episodes that began in 2017.
It's a manga that was turned into an anime. Nakayama Miyuki was the one who wrote and drew the manga. The main character of the anime is a girl named Maika who works at a cafe.
But this Cafe is a little different. Here, all of the waitresses have to put on a certain kind of persona. Something like "Tsundere" or "Imouto". Maika is asked to take on the Sadist nature because of this.
And let's just say that it doesn't go as well as we might think. Blend S is full of cute and fun things. Nothing hard or hard to understand. Just pure fun and laughter.
24. Nichijou – My Ordinary Life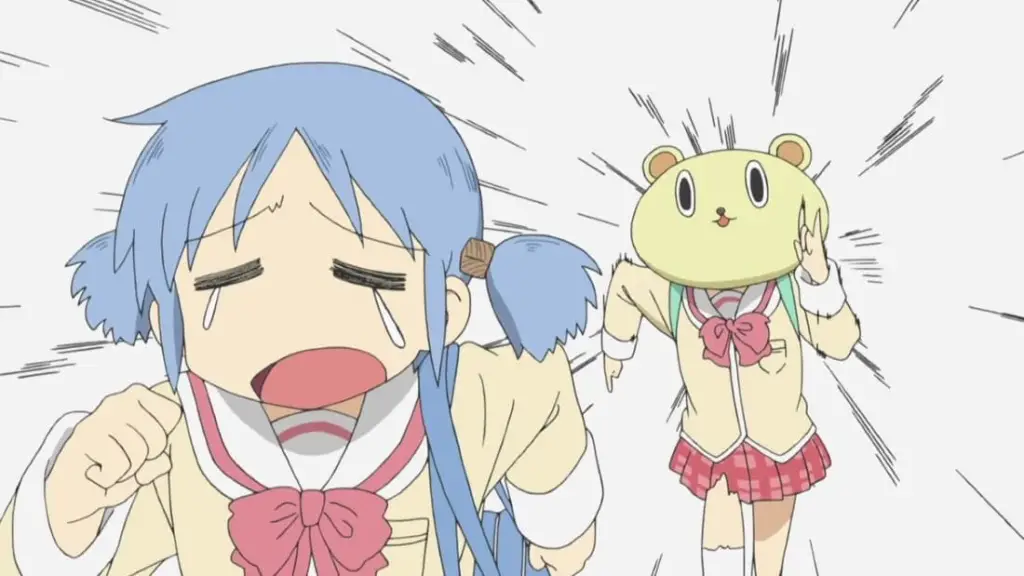 If you guys had a bad day up until now, you won't anymore! Nichijou is one of the funniest anime ever made, so let me tell you about it.
Nichijou: My Ordinary Life is a TV anime with 26 episodes that began in 2011. It's a Manga that was turned into an anime. Keiichi Arawi was the one who wrote and drew the manga.
Nichijou means "My Ordinary Life" in English, and that's exactly what it is. It's about a lot of different people and what they do at school, home, a cafe, etc., every day. A film about how they lived.
But the best thing about this anime is that it can make anything funny. This show is so great because it can make something as silly as an eraser falling down into something very funny.
Nichijou is for people who like slice-of-life anime. For you guys, it's like a feast that you wouldn't want to miss at any cost. It just blows my mind.
23. Beyond The Boundary
We have another cute anime that has a lot of fans, especially because of how it looks. Ladies and gentlemen, I'd like to show you Beyond The Boundary, which is a very beautiful song.
Beyond the Boundary is a TV anime with 12 episodes that first aired in 2013. It was made into an anime from a light novel. Nagomu Torii wrote the light novel, and Tomoyo Kamoi drew the pictures.
The series is about a magical girl named Mirai Kuriyama who can control blood at will and a half-human, half-monster named Akihito Kanbara who can heal in ways that don't make sense. These two don't seem to be anything special by themselves.
But when they run into each other by accident, things start to go in a different direction. And I think you and I will find these directions very interesting. This fantasy drama has a lot of cute characters and a good storyline that many of you would love to see on TV.
Not only that, but the story also has some amazing lessons about life. So you can be sure that putting it on your list of things to watch will be a good idea.
22. Miss Kobayashi's Dragon Maid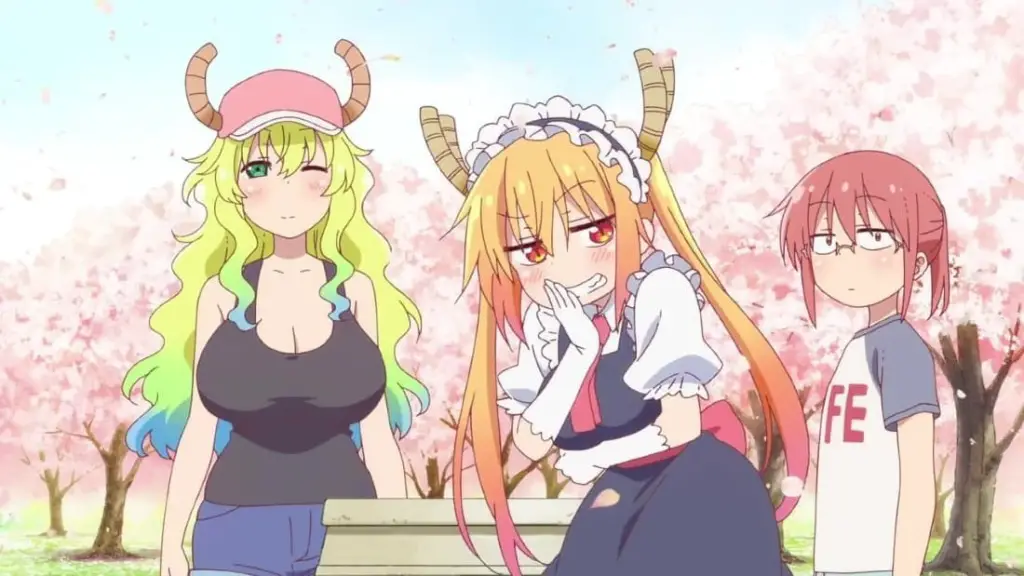 Miss Kobayashi's Dragon Maid is a 13-episode TV show that debuted in 2017. It's a manga that was turned into an anime. Cool-Kyou Shinja was the one who wrote and drew the manga.
In the show, Kobayashi is a programmer whose life is turned upside down when a dragon named Tooru shows up and tells her that she should be her master.
Now Kobayashi has a dragon as a maid. As a dragon, she can do some very hard jobs, but because she is an unusual creature, she also has trouble doing normal work.
Also, as time goes on, Kobayashi meets more and more monsters, which makes her life a mess. But believe me, this mess is nothing short of amazing, and that's what makes this show so great.
Kyoto Animation is the company that made Miss Kobayashi's Dragon Maid. They also made a lot of the other shows on this list.
So you know that those guys don't miss a single chance to make the show as cute as possible.
21. Lovely Complex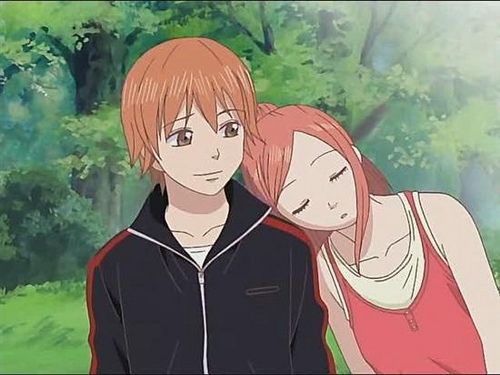 I'll call it cute and great to define this beautiful complex in two words! The reason is that it's on the sign. It's an adorable, romantic love story that is perfect for comedy. 
Atsushi Otani, a high school student, is a small one, while Riza Koizumi, a young girl, is excellent. Their characteristics may not be an issue in their individuality.
However, they appear to be an obvious comedy duo in that they're opposites of one another within the same group. Otani and Risa are fighting each other and complaining about their egos. They are the opposites of one another. 
Strangely, however, they share a few traits that only they share. This is an adorable start; extremely cute, hilarious, extremely funny, and, above all, most importantly, adorable.
20. Yuri on Ice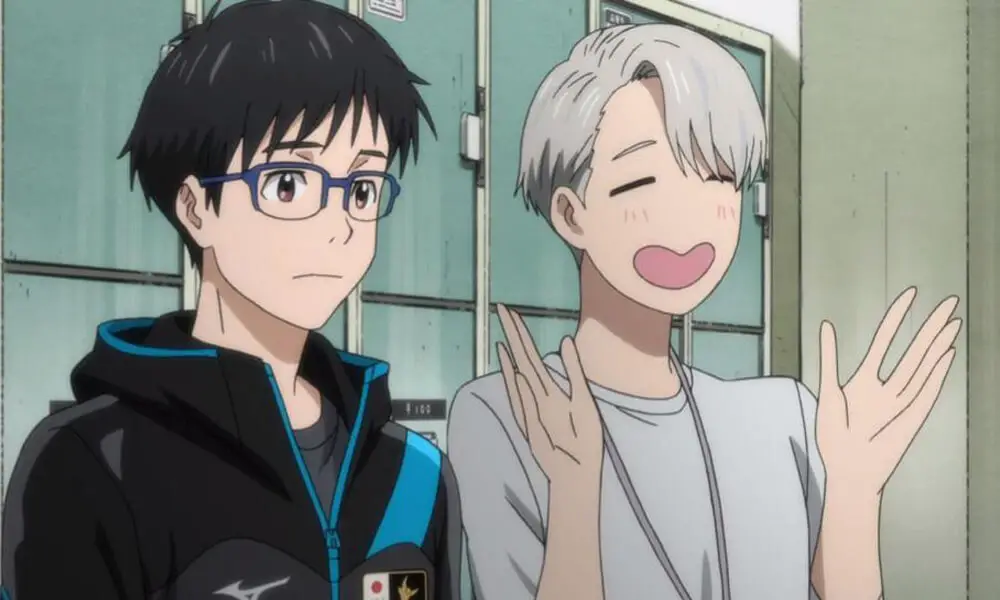 The most highly acclaimed anime show of any kind in recent seasons, Yuri On Ice focuses on an issue that is often criticized: state competition — and makes it the basis for an inspiring and profound tale of romance, mentorship, and discipline. 
When Yuri Katsuki, a young Japanese figure skater, suffers the most devastating loss of his career, the young figure skater goes back to his home, wondering whether he'll ever be able to take part in another competition. 
The situation is changed when his idol, Russian figure skater Victor Nikiforov, takes an interest in his skater and suggests taking him to the top of the ladder. 
The friendship between the two skaters was told with stunning storytelling sensitivity. Do not make any mistakes; it's the story of two people who were captivated by the sport as the basis of building a friendship. 
Skating is the method by which people interact, express their feelings, and communicate with the outside world. It's quite a feat.
19. Slow Start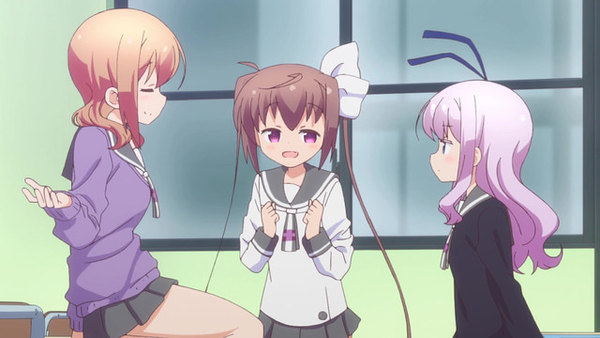 The plot revolves around Ichinose Hana, a shy girl who is about to begin her new life at high school. 
She meets new people and has new adventures and may find that her new life will help her overcome her introverted nature. 
Slow Start is similar to other life-based shows with an all-female cast. You can argue about what you like.
However, these types of shows are a result of Japan's being a lover of cute things, and there's nothing more charming than watching a group of girls doing everyday things while doing random things, such as one of the girls being attracted to older women, specifically when they're teachers. 
Slow Start includes the standard life flaws, but also some yuri scenes like the one mentioned above.
The girl is attracted to her teacher. The show is suitable for the cute girls that are causing trouble for the teacher's students. Also, the animated quality is amazing!
18. New Game!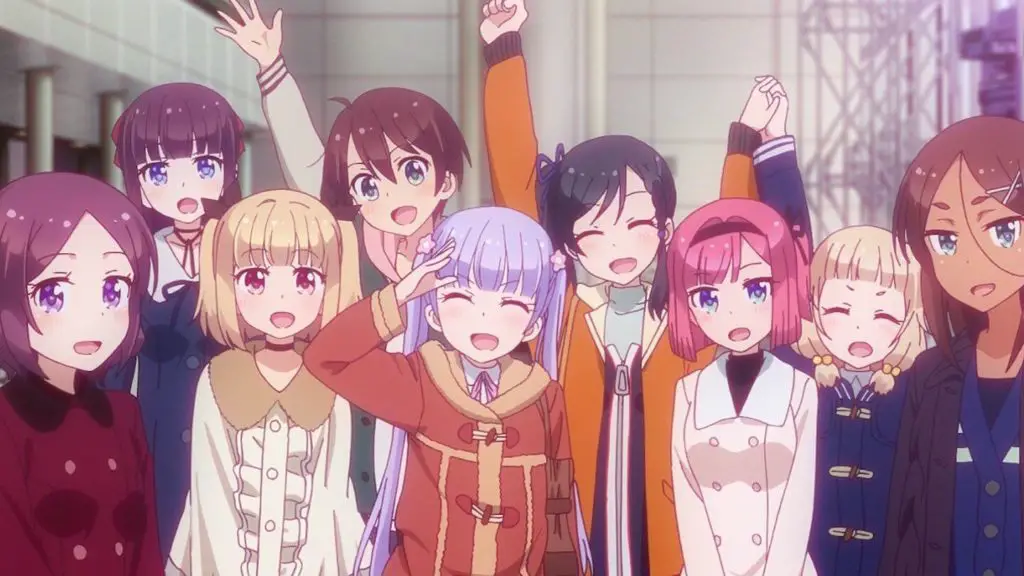 So, based on the name, what do you think the anime will be about? Now, keep that in mind as you read the plot summary. Let's see if you're right.
NEW GAME is a TV anime with 12 episodes that began in 2016. It's a Manga that was turned into an anime. Shoutarou Tokunou was the one who wrote and drew the manga.
The story is about a pretty young girl named Aoba Suzukaze who is about to make a big change in her life.
She got a job at the video game company she liked best. That's so cool! But when she first shows up, things seem to go in a very strange way.
Even though it gets back on track, Aoba is about to start a new journey as she learns more about the office culture.
A lot of us might be able to connect with this show. It will not only get you going, but it will also show you the good things in your life. I hope you enjoy yourself.
17. School Babysitters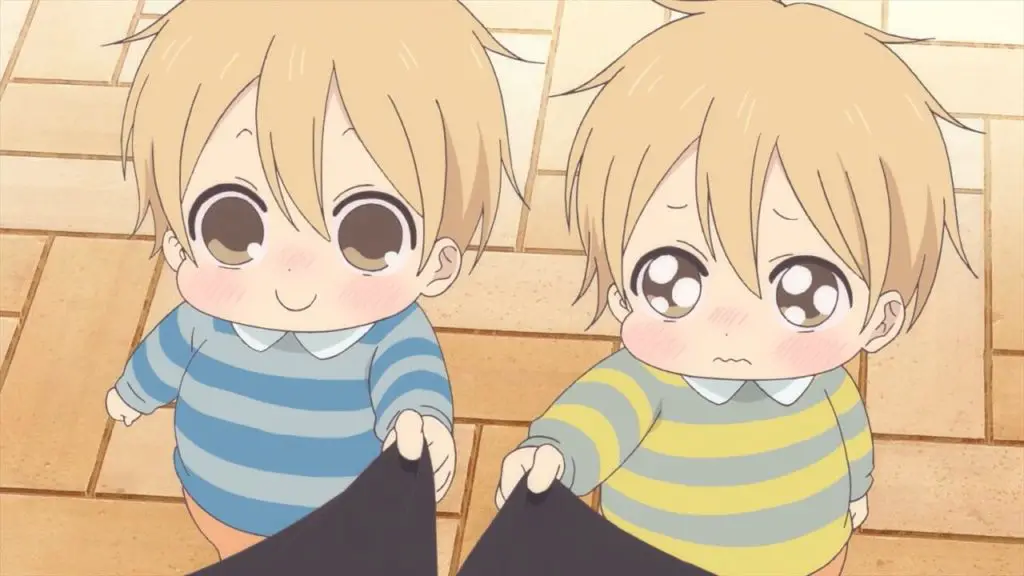 Ryuuichi's parents passed away in a terrible plane crash, which left him to look after his infant brother Kotarou. One morning, Ryuuichi received an invitation from an academy's top chairwoman to serve as the guardian of their children. 
There's a requirement, however: Ryuuichi must be able to visit by serving as a babysitter for the children of the school's faculty. 
It's a common method to refer to the show's cute baby characters in the context of the kawaii world, such as when you're holding your child's sibling to convince girls who are at school that you're a beautiful and kind person, but in Gakuen Babysitters, it's… this. 
The list mostly consists of shows featuring exclusively female casts… It's not because they're cool. It's not because we're minimizing the quality of the anime and Gakuen Babysitters hasn't painted the characters as innocent angels.
Because there are hilarious moments where Ryuuichi must look after his infant brother as he tries to cope with these little monsters that spring up from the faculty of the school.
16. The Circumstances of His or Her Life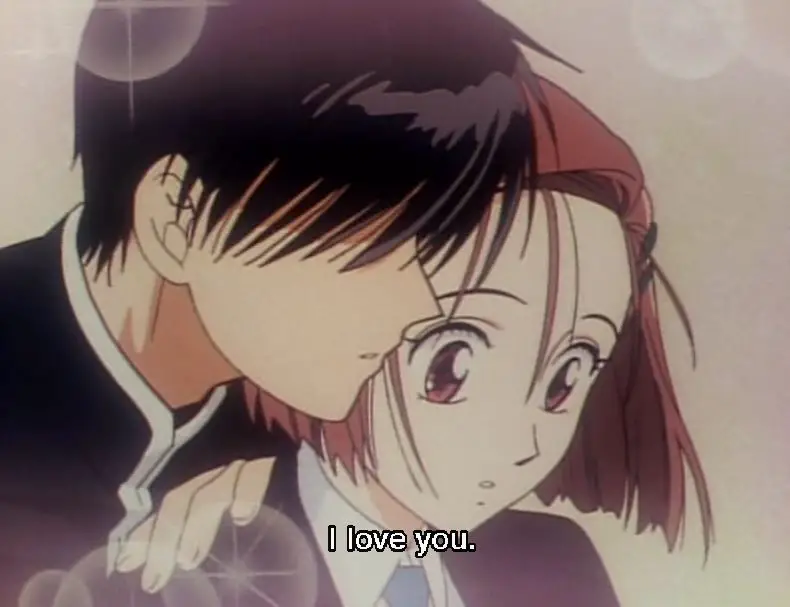 Kare Kano is another name for Kare Kano, which tells the story of two students who appear perfect but are, in reality, extremely flawed individuals. 
Yukino Miyazawa is a believer in affirmation and is secretly convinced that she is the king of self-esteem. 
She is a model student, and Soichiro Arima, starts to take charge of her and vows to bring her to freedom immediately. Arima uncovers her lies, deceives her, and exposes a new aspect of her. 
They build relationships and, eventually, romance. They become more at peace with their authentic personas and know what they're like, at least with one another. 
The characters of offbeat and the two-faced main characters and the unique ways they confront their challenges distinguish their situations from other shoujo romances. 
This romance series is authentic. To give you an idea, the show ends abruptly and you'll be required to read the manga to follow the story.
15. Alice & Zouroku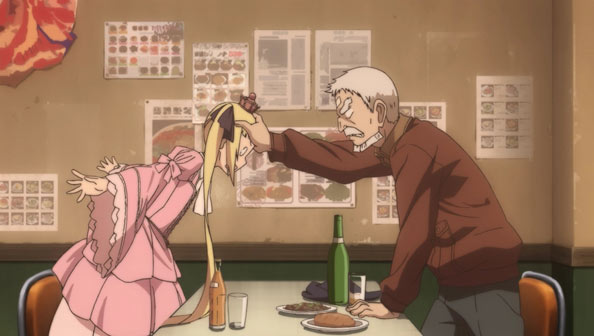 Alice And Zouroku is an excellent "pass time" anime series. Because the plot is simple, relaxing, and easy to be absorbed.
It's almost like something from life, even though this is Seinen or adventure. It's also cute. Sana Kashimura is cute as it gets, in any case!
This is despite the battle scenes you're likely to be able to see in this anime (even if they're not many and).
14. Lucky Star
Alright, ladies and gentlemen. It's time to talk about some all-time greats. Lucky Star is the only other great classic I'm talking about. Lucky Star is a 24-episode anime series that has been on TV since 2007.
It's a Manga that was turned into an anime. Kagami Yoshimizu was the one who wrote and drew the manga. The series is about a group of friends who do nothing but have fun at school.
This is a show about everyday life and funny things that happen in it. I don't think you'll believe this, but this anime gave the slice-of-life genre a huge boost.
The face value of this series is so high because of this. I mean, it's an old favourite, what did you expect? It's sure to be amazing and fun. And in the case of Lucky Star, this is even more true.
13. Is The Order A Rabbit?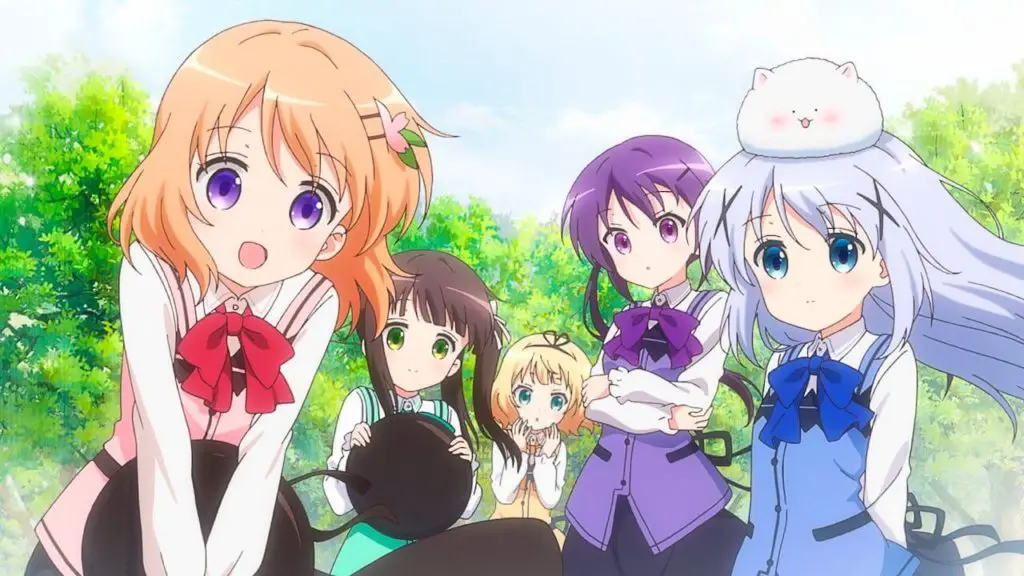 Well, it looks like an anime about cute rabbits is coming, right? Nope, not really. This anime is a little bit different from what you might expect. Is the Order a Rabbit is a TV anime with 12 episodes that began in 2014.
It's a manga that was turned into an anime. Koi was the one who wrote and drew the manga. In the show, a girl named Cocoa finds a place called Rabbit House. People can relax and have fun at this boarding house and restaurant.
Now that Cocoa needs to find a way to stay alive, she applies to work at the restaurant and is accepted. This is how Cocoa starts her journey as a part-time worker. But there are still a lot of mysteries and secrets to be found out about the Rabbit House.
Let's see how it happens. Not all of the anime is about rabbits. Even so, it is still very cute and fun to watch. So have fun.
12. Konohana Kitan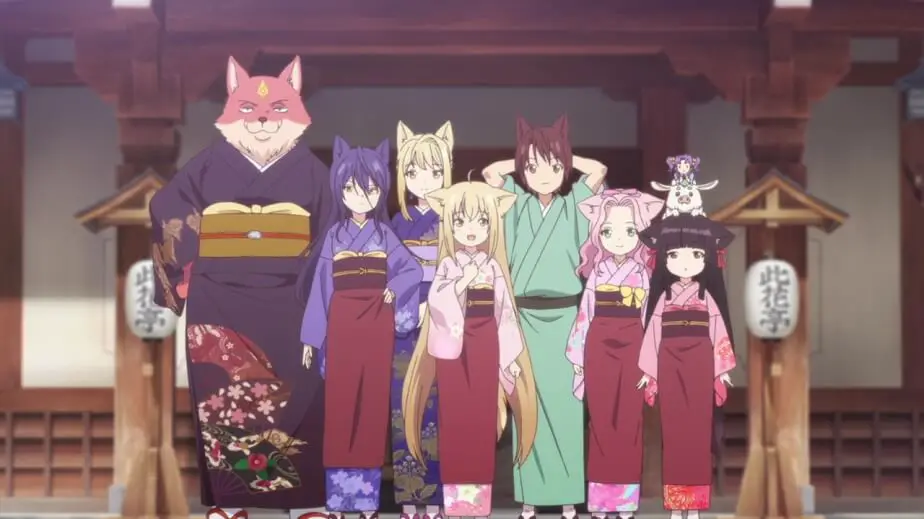 Yuzu is an adorable fox youngster who is seen in a peaceful city that is friendly to animals and people alike. As a guardian of Bikuni-Sama, Yuzu travels to a gorgeous hot spring inn known as Konohanatei to be an attendant for the first time. 
Yuzu will be one of the fox girls who will be welcoming and serving guests—whether animals, human spirits, or gods—as well as helping them to heal their bodies of fatigue and rejuvenate their spirits by soaking in the warm water and relaxing surroundings of Konohanatei.
It's just a cute-girls-doing-cute-things episode, except this time with a supernatural twist involving Japanese folklore-based creatures. It has a more intense feel compared to the happy-go-lucky shows we've described. 
Konohana Kitan contains several adorable moments of Yuzu getting used to working in the inn, meeting new people with stories to tell, and interacting with the other female foxes inside the hotel.
11. Kinmoza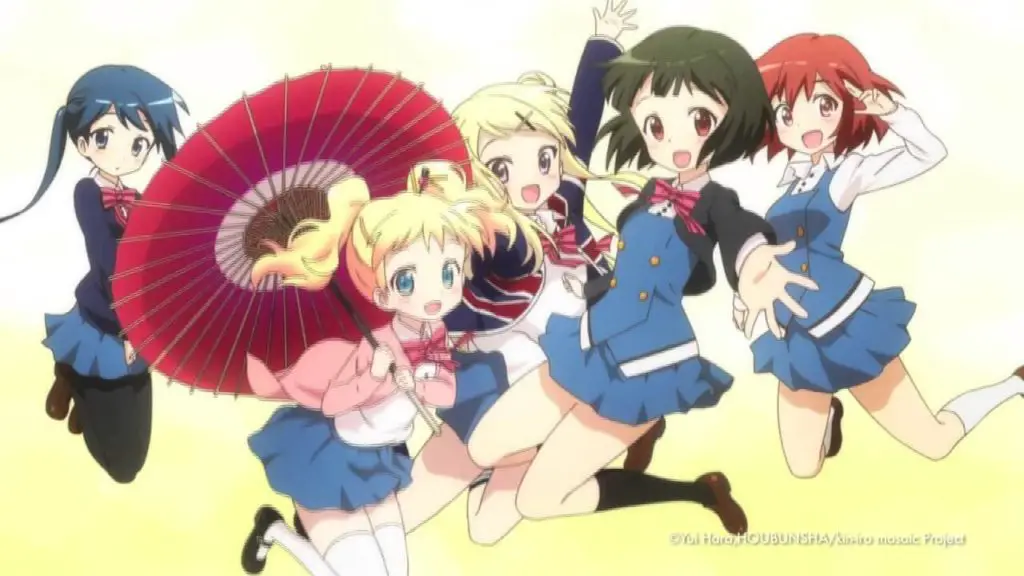 It's easier to see than to explain how cute Kinmoza is.
The characters look like they were made by kids.
And so is the story.
But that's what makes Kinmoza the type of anime it is.
It's a simple and straightforward anime, so you don't have to think too much about it to enjoy it.
10. Chuunibyou Love, and Other Delusions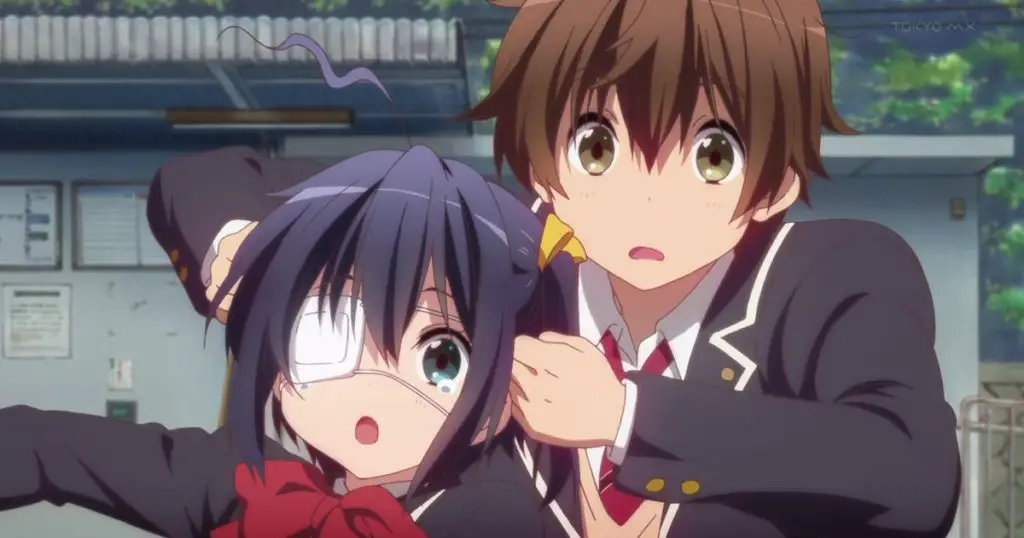 Only a few other shows on this list of cute anime can even compare to Love, Chunibyo, & Others Delusions.
This show is really cute!!
Love, Chunibyo & Other Delusions is a TV anime with 12 episodes that began in 2012. It was made into an anime from a light novel. Torako wrote the light novel, and Osaka Nozomi drew the pictures.
The show is about a guy named Yuuta who dealt with Chunibyo (the idea that you are a special being from another world) and feels bad about it.
So, he changed high schools to try to move on from his past. But when a girl named Rikka shows up, Chunibyo doesn't seem to leave him. She still can't get rid of Chunibyo.
So starts the journey of my boy, who gets into trouble again with Chunibyo. But he might be able to feel something new and different in the process.
Go watch it!
That's the only piece of advice I can give you about this show.
9. Tamako Market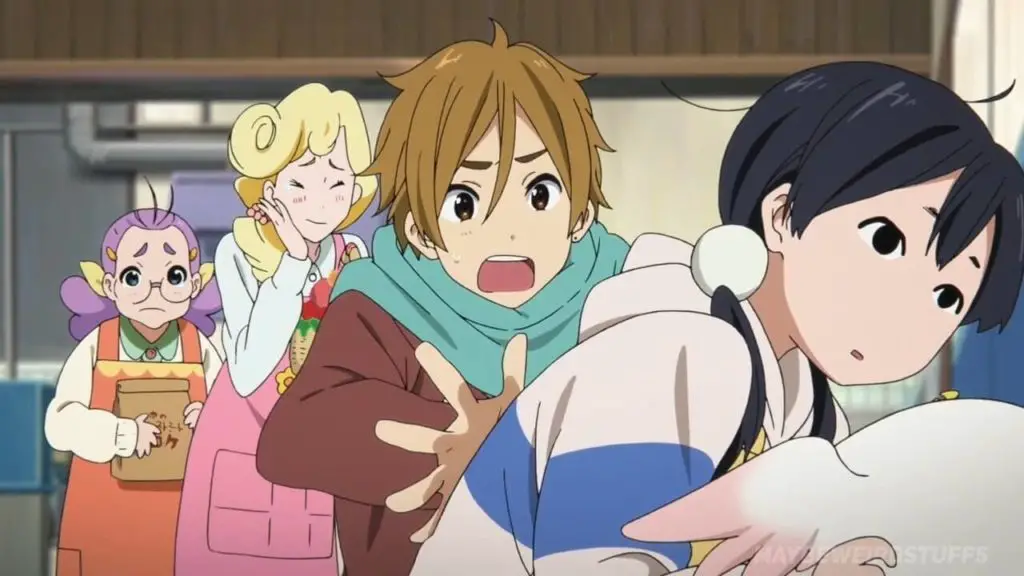 Now, ladies and gentlemen, we're going to watch some very cute anime. When you're done with Tamaki Market, you'll be all blushed up and in love. Tamako Market is a TV anime with 12 episodes that began in 2013.
It is a new anime made by Kyoto Animation and directed by Shinichi Nakamura. In the series, Tamaki is a girl who wants to be the best at making Japanese sweets and take over the market.
But her shop is smaller than you might think, so she has to do everything by herself. Her best friend is also one of her rivals, so things can get very interesting.
But no matter what will happen, it will be very cute. You will be a part of Tamaki Market, which is why. This anime is so cute that I don't even know how to describe it.
If you don't believe me, just watch a few clips from this show. You'll be surprised!
8. My two-faced Little Sister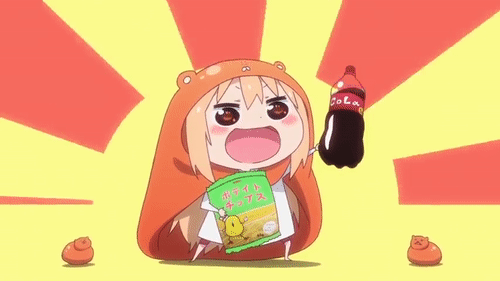 Eat, sleep, play, repeat! That's exactly what Umaru is doing every single day after training. 
She's flawless, bright, popular, and polished as an instructor. But what's not known is that when she's at home, she's quite the opposite. 
After practicing, she dons her hamster hoodie and transforms it into a slightly lazy and spoiled brat. She doesn't do anything at home aside from eating potato chips, drinking soda, or playing video games. 
Of course, if she fails to do any of these, she gets annoyed with her brother and throws a fit for him to run out and purchase the latest manga book. 
That is the theme of the entire show. It's easy to follow and quite adorable. 
You'll fall in love with Umaru's personality and her fun-loving outlook on life. It's the most fun Kawaii-inspired anime I've ever watched and is my top pick of the bunch. 
You should watch it if you haven't done it.
7. Love Live School Idol Project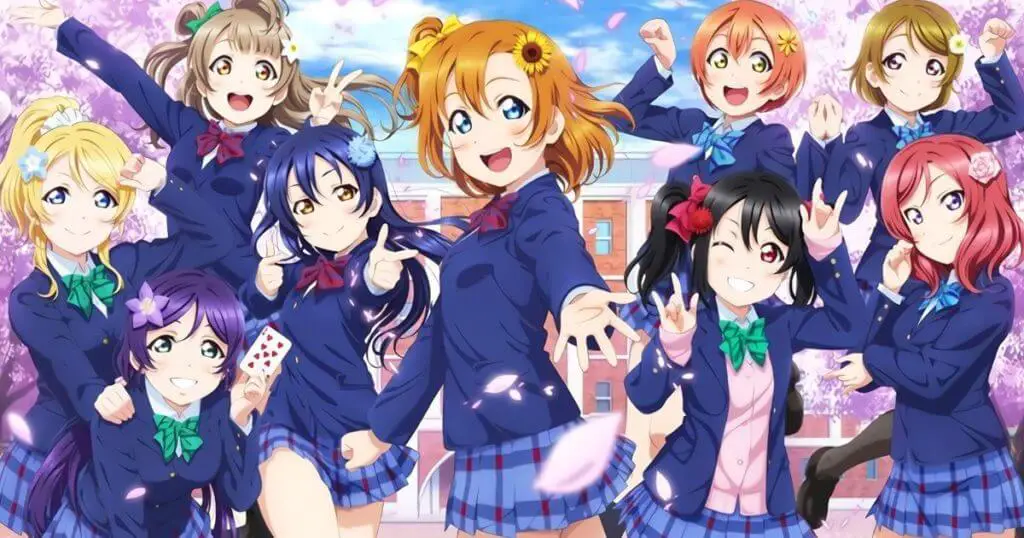 If you like Idol anime, you have probably already seen this one. If not, feel free to take the summary with you. Love Live!
School Idol Project is a 13-part TV show that first aired in 2013. It's an anime version that was made by Sunrise and led by Kyougoku Takahiko. In the show, a group of girls want to become idols so that they can save their school.
You might be wondering how an Idol group can save a school. Well, that's because this school is surrounded by pop culture, and if this group doesn't make it, it will be the end for them.
So, will they be able to give it their all and save the school they love? People love idol-based anime, so it won't be a big surprise if you end up loving this one as well.
6. Bunny Drop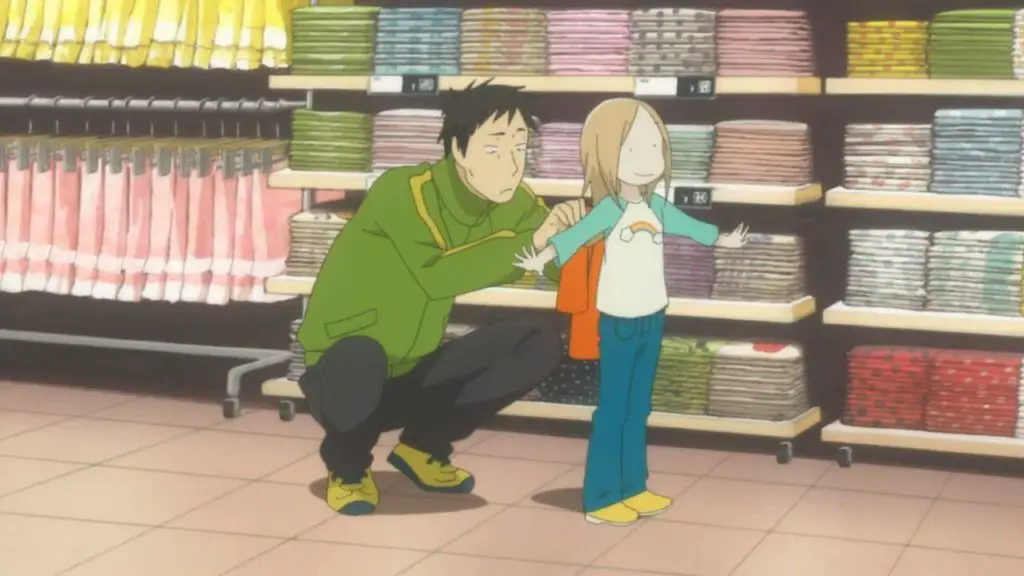 Bunny Drop is a far more emotional anime than the others on this page. It's not your usual type of silly, playing-around kawaii anime, but it's as cute and sweet as they come. 
This is the tale of a single thirty-year-old known as Daikichi Kawachi. He was at the burial of his grandparents when he was informed that there was an uninvolved child that his parents had. 
Despite the terrible plan of the family to take the child to an orphanage, Daikichi is willing to take in this girl, aged six, known as Rin. 
Rin is a beautiful young child (similar to Umaru-chan) that will charm you and grab your heart. She's a sweet girl, inspiring poor Daikichi to become a great father. 
Also, Daikichi himself isn't likely to be left behind. Daikichi is a shining spirit and knows from the beginning how to be a father figure as well as an influential influence in Rin's life.
5. Quintessential Quintuplets
Quintessential Quintuplets is turning out to be an anime show with more subtleties than similar shows.
Futaro is desperate to get a job so he can pay off his family's debt. And ends up teaching five twins from a wealthy family.
Each of them is nervous in their own way, annoying, hard to get along with, or doesn't care about their studies or academic success.
But Futaro is supposed to be their teacher, and he is determined to make enough money to pay off his debt. So far, what comes next has been interesting because of that.
The five quintuplets are cute little sister!
4. Cardcaptor Sakura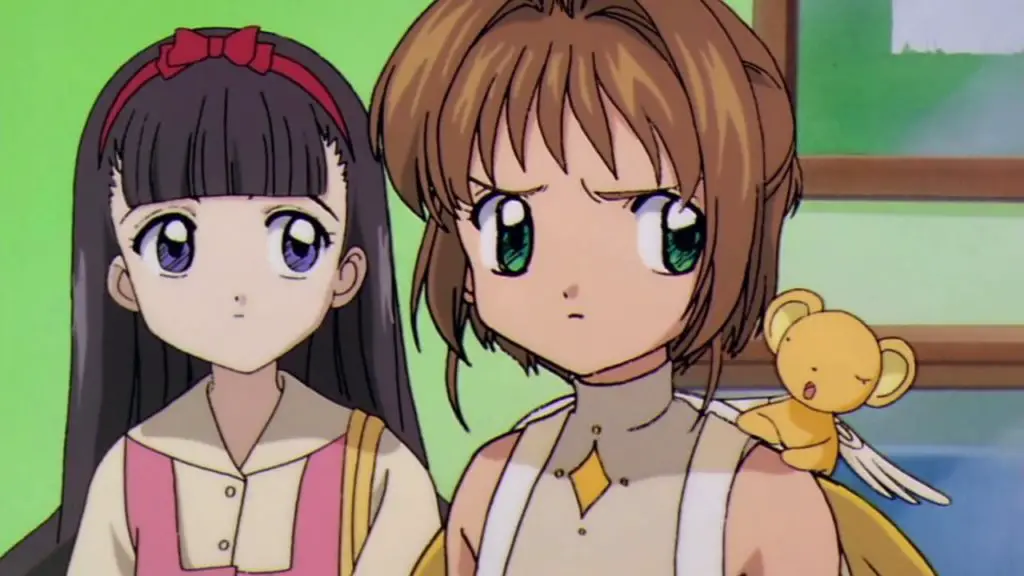 Sakura is a typical high schooler who's alive and is often bullied by her brother. He has a loving father, a mother who passed away, and a best friend who has a bizarre obsession and is in love with someone older than her. 
A few days ago, she was looking through an article she saw in her dreams, and as she opened the book up, the cards were enchanted and Sakura accidentally distributed them all across the globe. 
Sakura stood in front of Keroberos and explained to Sakura that he was the guardian of the Clow Cards, the magical cards of immense strength that Sakura published. 
What will they do? Yes, Keroberos has called Sakura Cardcaptor, and it's now up to them to track down and rescue Clow Cards before they destroy the entire world! 
For many of the older fans of anime, Cardcaptor Sakura has a place in their hearts because it may be their first-ever anime experience. 
For others, Cardcaptor Sakura has led them on many thrilling adventures, with Sakura in her quest to recover the lost Clow Cards.
3. K-On!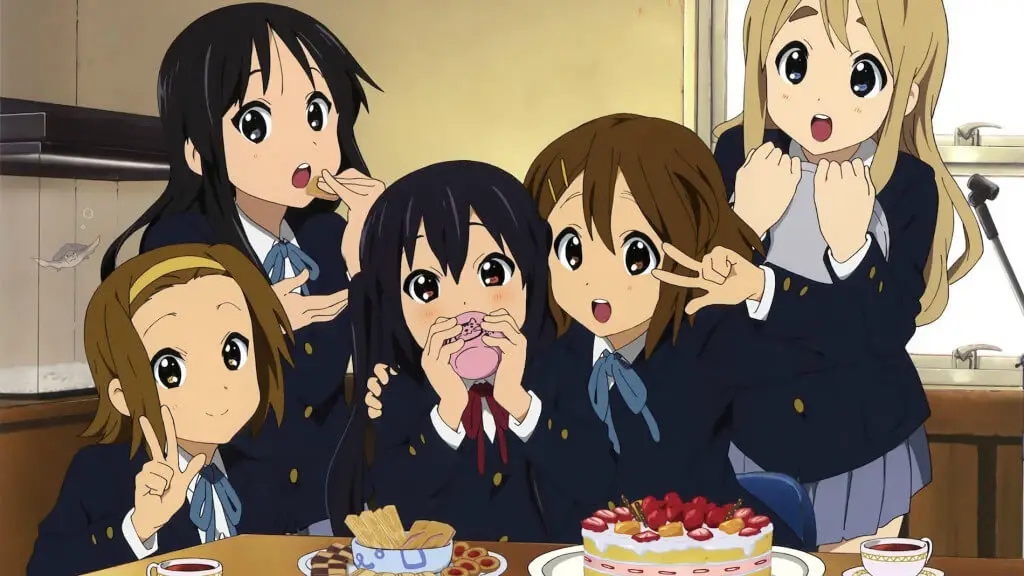 K-On is a classic in the genre of anime called "slice of life." In fact, K-On was the first anime to show what we now call "Moe" culture.
You can thank Kyoto Animation for that, since they make these kinds of shows, drawings, characters, and animation styles.
K-On is not like most school series because it doesn't have a real plot. It's an anime about nothing at all.
That's all there is to it. In between all of these scenes and episodes, there is a lot of funny stuff that will make you laugh until you die.
And some touching stories that will make your heart feel like it's going to burst with love.
Every episode is full of the adorableness you want to see from K-On! It's all about the music.
2. Hanayamata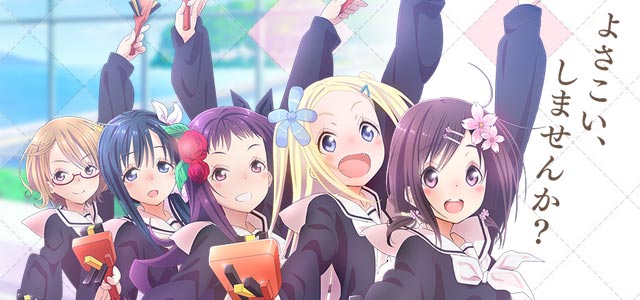 Hanayamata is one of those anime where cute things happen to girls. – similar to shows like Love Live.
Hanayamata is different from other shows because it is made by Madhouse and there is no fan service at all.
Still, the show is about a group of girls in high school who get together to dance a Japanese dance called Yasekoi.
It's a fun show to watch when you don't want to think about anything too serious or deep. But instead, you want to watch something light, without any fan service, tropes, or anything else you might find weird or over the top.
And, of course, the girls in anime are as cute as it gets, without being too "over the top."
1. The Pet Girl from Sakurasou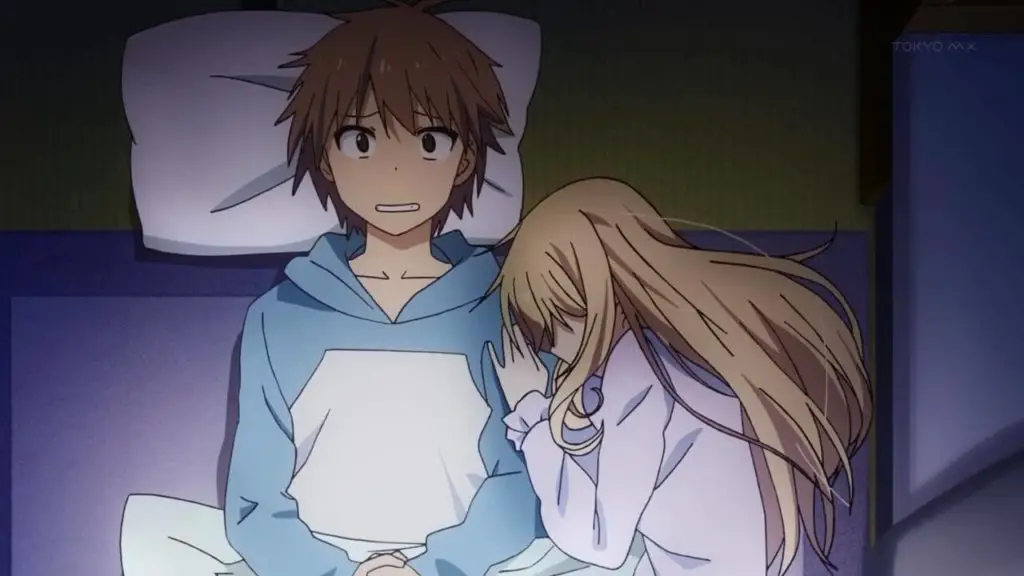 Sorata is scheduled to be the new head of Mashiro, a boy who has an exceptional creative capacity but isn't able to accomplish the most simple of tasks. 
Their interactions are as surreal as they are funny, and their goals are distinctive to the category. 
What makes Sakurasu's Pet Girl apart from other shows is the way that the characters that aren't the principal couple are treated. 
In a sense, they're both misfits, with their own goals and dreams, and the fans are driven to support everyone. 
The conflict and relationships they share with Sorata are beautifully handled and connected. There's much more happening in this movie than just friendship, and it's very well-constructed. 
Sakura's Pet Girl is a perfect animation for all, not just those who love sensuality.
Honorable Mentions:
Yuru Yuri.
Non Non Biyori Repeat.
Sekirei
Shadows House