There is always at least one, or two, tropes in anime and manga that stand out due to their unique traits. 
These characters are also fascinating because they have interesting backstories and distinct personalities. 
Twins are a well-known trope.
The best anime duo is the twins.
They can always rely on one another and have their backs. 
This dependence makes it easy for them to connect mentally and physically whenever they can. 
Twins are often used by creators to support or even be the main character.
This is because of the easy use of the bond the twins share.
Twins in anime can have similar choices and even say the same things.
But they are still two totally different people, just like other siblings. 
No matter what anyone says, anime seems to be a great place for twins. 
And anime, unlike live-action movies that limit the possibilities of twins, is open to exploring them. 
Here's our list of the top twin characters from anime.
21. Mariya & Shizu Shidō From Maria†Holic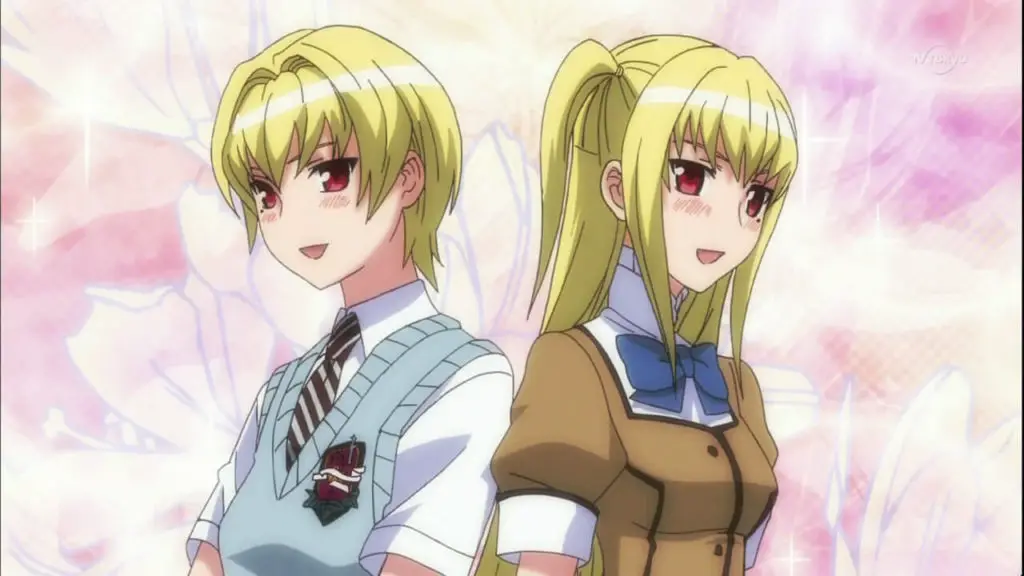 Mariya is Shizu's twin sister. 
Maria crosses-dresses with her brother Shizu most of the time in the anime. 
Maria is a sweet girl who doesn't mind cross-dressing but must do it. 
She dresses up as her brother Shizu in school uniforms and is spoiled and uncoordinated.
Shizu, an arrogant and ill-tempered boy, dresses up as Maria, his sister, and goes to school as an all-girls. 
Shizu plays the role of Maria throughout most of the anime.
He does this without hesitation. 
Maria's original nature was very soft and sophisticated.
Shizu attempts to control his spoiled, irritable personality while playing the role of Maria.
The anime twins, Shizu and Maria, decide to cross-dress to fulfil their grandmother's wishes. 
The twins engage in complicated acts of mimicry.
20. Patty & Liz From Soul Eater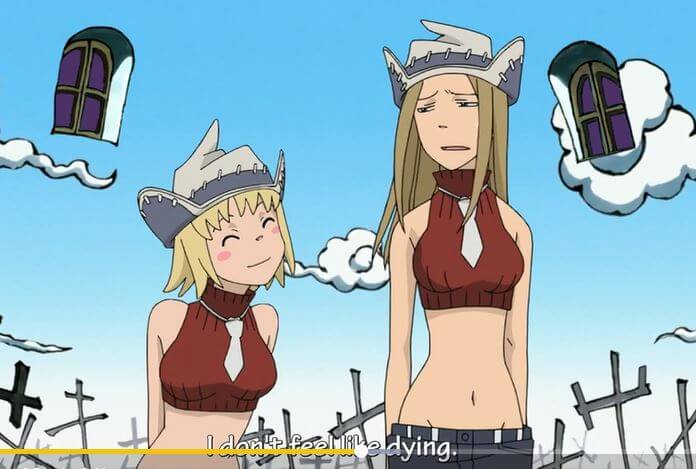 Patrica Thompson, or Patty, was once a top-ranking criminal in Brooklyn. 
Patty's personality is not typical of her profession. 
Patty is very simple-minded and can see the difference between right and wrong. 
Her twin sister's commands are all that matters to her.
Lis is the older sister. In every way, she is different from Patty. 
Her appearance is quite bold. Liz, unlike Patty, is very proud of her appearance and makeup. 
She is smart and uses her charm to deceive men.
Patty and Liz were the children of a prostitute. 
They were abandoned and left to survive on their own in New York City. 
They grew up to be the infamous, elite criminal duo known collectively as the "Brooklyn Devils".
19. Chii and Freya From Chobits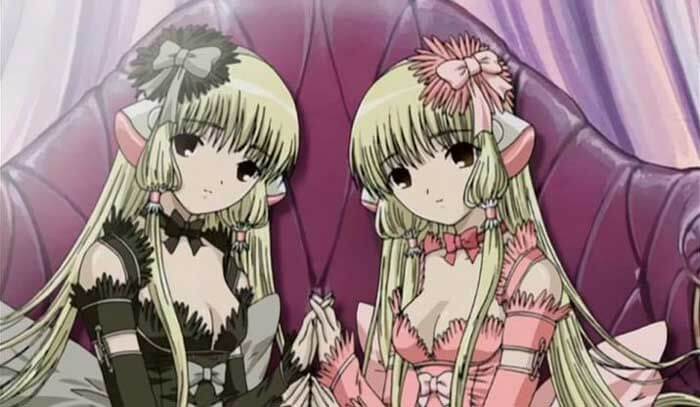 Twins don't always have to be born. 
They aren't always born. 
The anime Chobits depicts the twin sisters and surrogate daughters of their creators, Elda and Freya. 
Although they share the same twin psychic connection, it may be more understandable this time as they might just be sending each other messages through WhatsApp.
18. Sora & Haruka Kasugano From Sky of Connection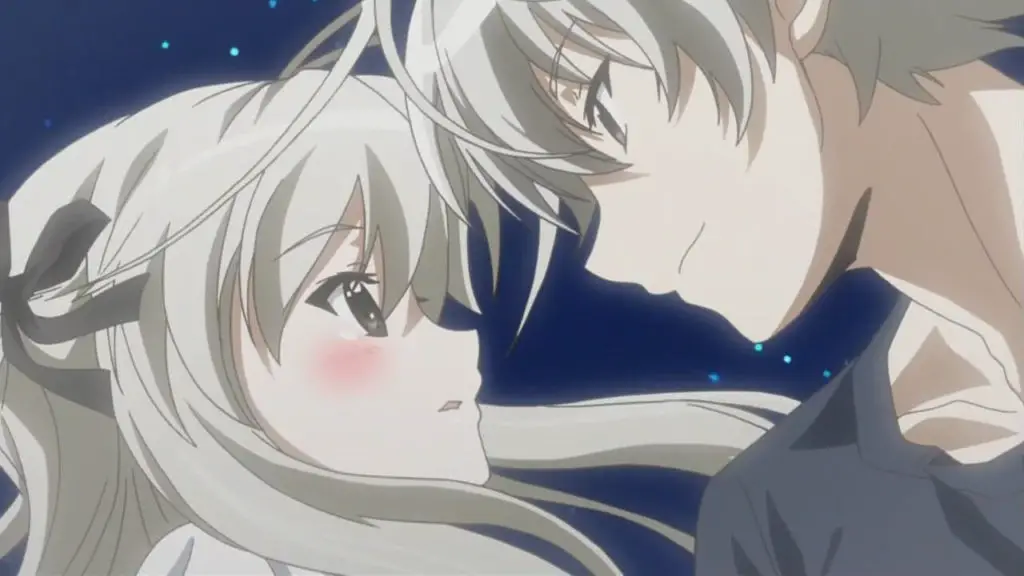 Haruka's twin sister, Sora, is Sora. 
With her long, white hair and light skin, she is a beauty. 
She is not only beautiful, but she is also lazy and does not know how to socialize. 
She is not interested in Haruka, her brother.
Haruka, 16 years old, is the twin brother to Sora. 
Although his looks are very similar to her sister Sora's, his personality is different. He is friendly, kind, and sociable. 
He can sometimes be a bit childish but he is very polite and keeps his head up in all situations.
Sora and Haruka can trust each other after the tragic deaths of their parents. 
Both siblings have feelings for one another that society doesn't understand, despite being close to each other. 
Their relationship is a battle between Sora and Haruka. Sora is the more aggressive of the two, while Haruka is calm and collected. 
These twin anime characters can be quite frightening.
17. Kururi & Mairu Orihara From Durarara!!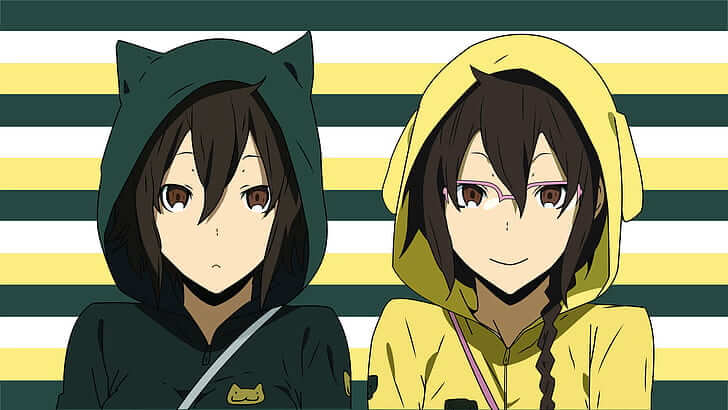 Kururi is reserved and soft-spoken. 
Kururi communicates with her sister in short sentences. 
Kururi, Mairu's mature sister, makes sure Mairu isn't too aggressive. Kururi regularly goes to martial arts classes.
Mairu is outgoing and energetic.
Mairu is an avid reader, both of adult magazines and encyclopedias. 
Mairu also practices martial arts and is a skilled fighter. She is playful but takes real harm seriously.
16. Kotone & Akari Kirishima From Nyan Koi!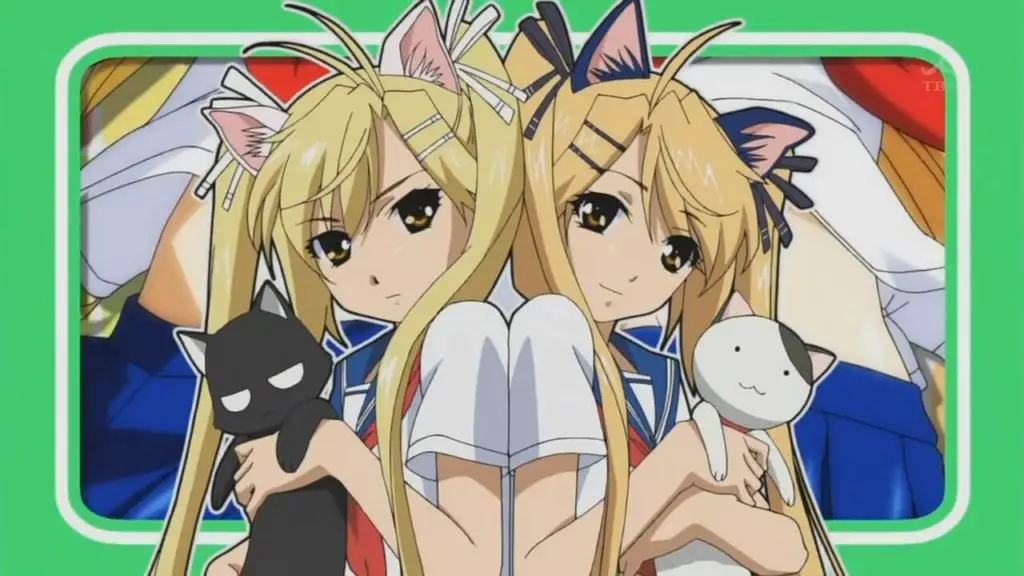 Kotone is a sweet and gentle person, but she also has an obsessive and ruthless side. 
People who have suffered misfortune in life are attracted to Kotone. 
For such people, her attraction is at the stalker level.
Due to her ability to spot the supernatural, Akari is a tsundere personality.
She avoids socializing with other people. 
After her parents' divorce, she fears losing her sister.
15. Ichiru and Zero Kiryuu From Vampire Knight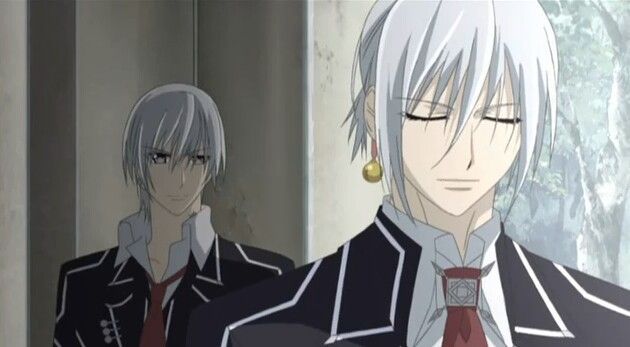 Zero and Ichiru share a long history. 
Before the chaos of family fights, there was a time when the two were truly caring for one another. 
We only wish those innocent smiles would last forever.
14. Hansel & Gretel From Black Lagoon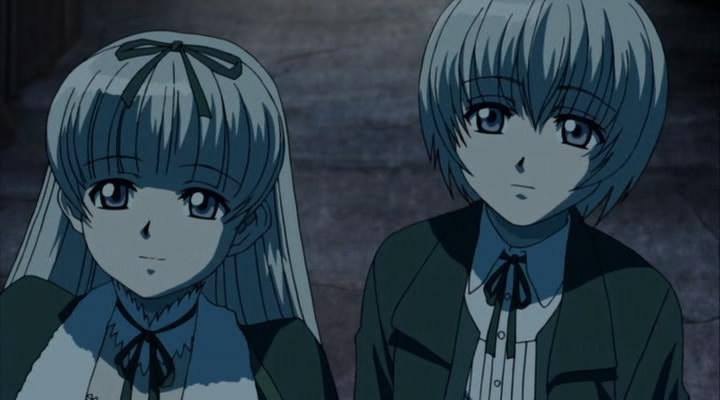 Hansel is Gretel's twin brother. 
They look identical, except Gretel has a long hairstyle. 
Cross-dressing is a common way for them to blend in with each other. 
"Hansel", a sharp-looking, wicked-looking battle-axe, is used in battle.
The twins are very similar. 
Gretel is just like her brother, a sadistic, cruel and clever person. 
Gretel and her brother were tortured as children, which led to their tragic end. 
Gretel has an M-1918 Browning Automatic Rifle, which appears larger than she is.
The siblings had a very difficult childhood which made them sceptical and wary about others. 
They share a strong bond and will do whatever it takes to support each other. 
Due to their past, their relationship is unusual.
13. Kaoru & Hikaru Hitachiin From Ouran High School Host Club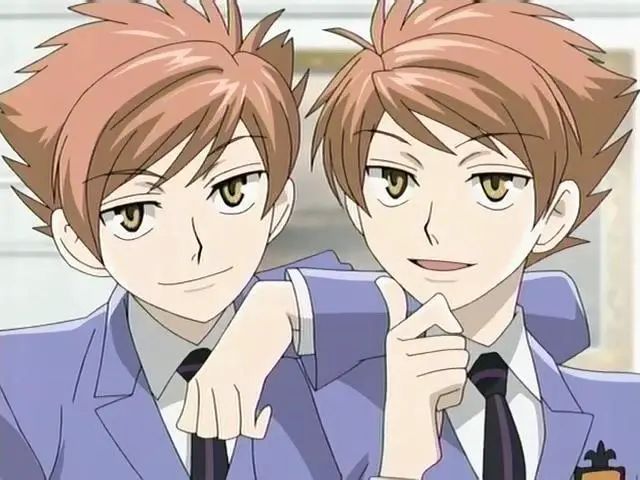 It doesn't matter whether you're a woman or a man, it's better to have two versions of the same pretty girl. 
This is especially true because these anime twins love to have a homoerotic and incestuous relationship in Ouran High school Host Club. 
It would be reasonable to expect parents of identical anime twins to give them different names.
But, they chose to stick 'hi" on Kaoru's front name instead of christening their second son.
12. Yuuko & Hideyoshi Kinoshita From Baka and Test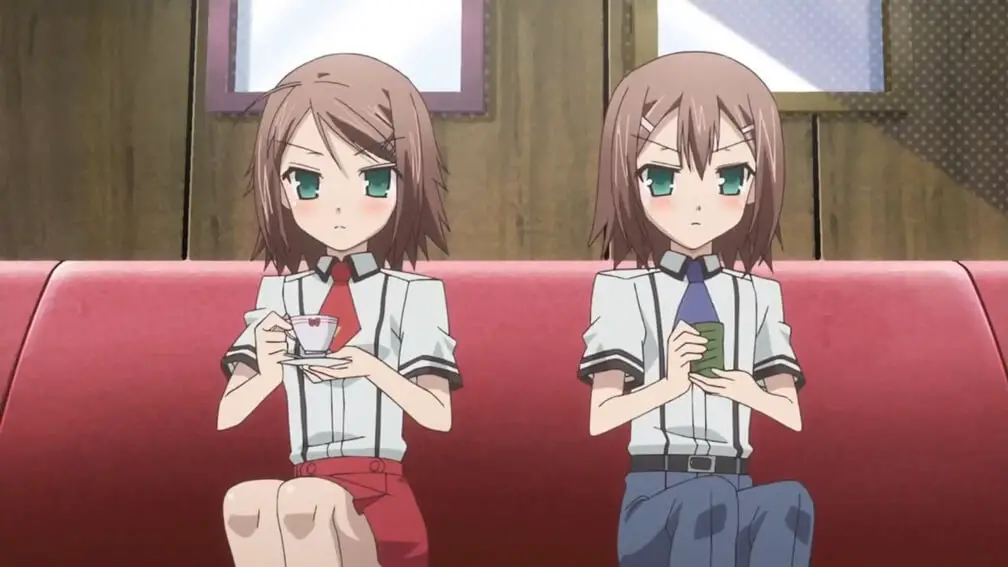 Yuuko was one of the top ten school students in her first year. 
She is proud, arrogant, and easily angered. 
She is not good at singing, and Hideyoshi disguises her to help her keep her model student image.
Hideyoshi, a fraternal twin is often confused with a girl because of his feminine appearance. 
Hideyoshi is calm and composed, but he can get angry when someone misunderstands him for a girl. 
Because of his appearance, he is a member of the Drama Club.
11. Yukio & Rin Okumura From Blue Exorcist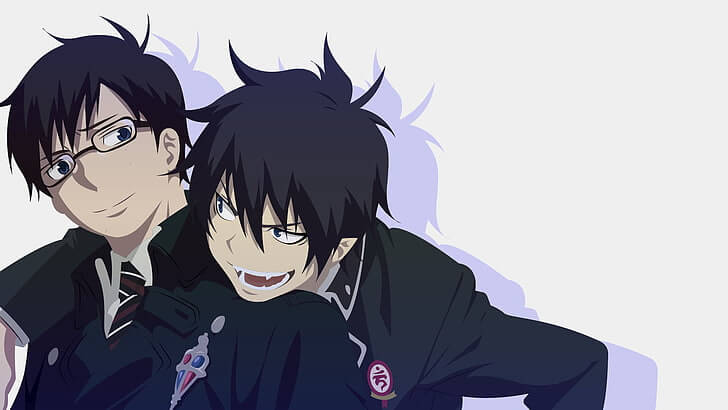 Rin is Yukio's older twin brother and the son of Satan. 
Rin is a kind, passionate person who will do whatever it takes to help his family and friends. 
Yukio is angry at Rin because he can be carefree and sometimes acts foolishly.
Yukio, a 16-year-old smart guy, is mature and smart. 
He is Rin's exact opposite. He is the exact opposite of Rin.
Although he tries to maintain a level head, he can get so mad that Rin becomes scared.
The twin anime brothers are like any other sibling brother. 
They are both supportive of each other, but they also get angry when they're not feeling well. 
They try to be there for each other in difficult times, but they don't show too much emotion. 
They have a bittersweet relationship.
10. Kozue and Miki Kaoru From Revolutionary Girl Utena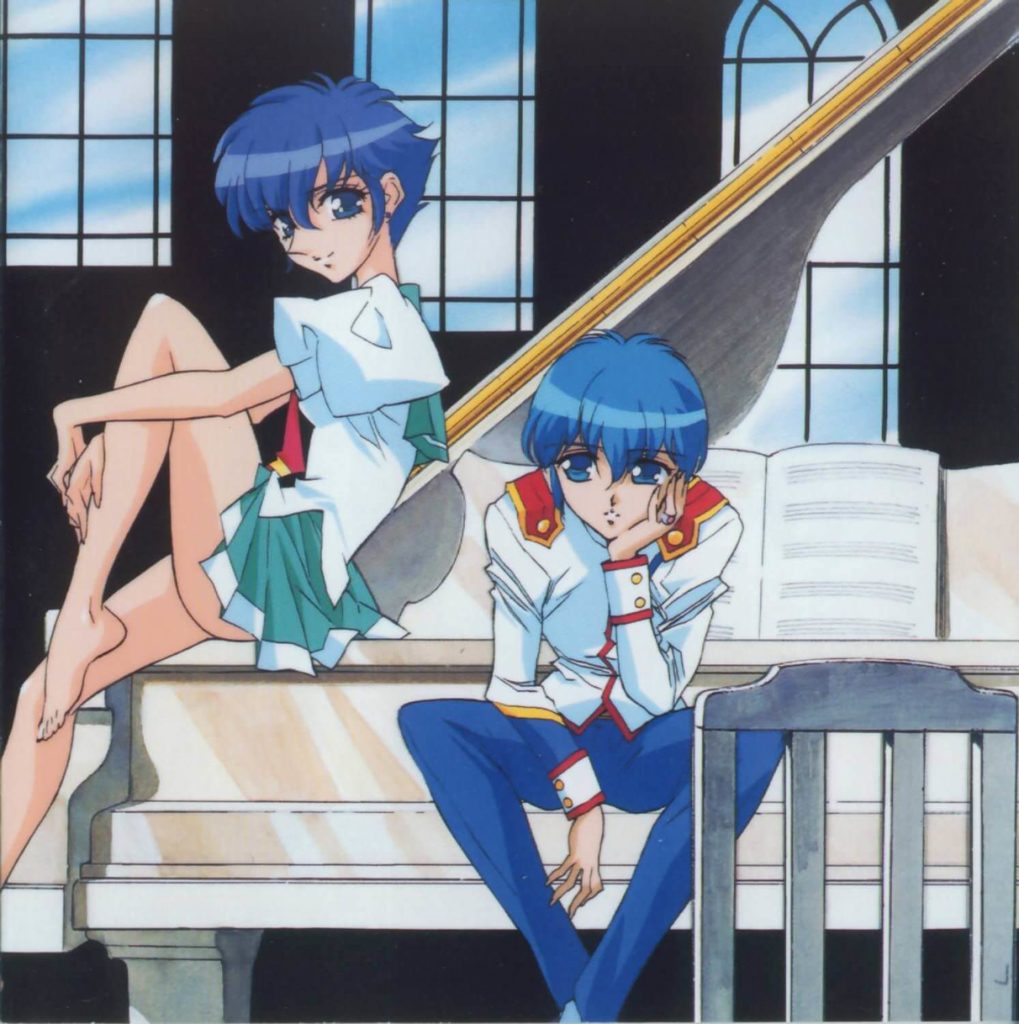 While it is easy to play up the incest of anime, directors sometimes decide to explore the emotional complexities and complicated relationships that such feelings can create. 
Kunihiko Ikuhara presents his masterpiece Revolutionary Girl Utena. 
While Kozue, Miki and their struggle are not the main focus of this show, they are an integral part of this captivating tale.
9. Riko & Ako Suminoe From Kiss x Sis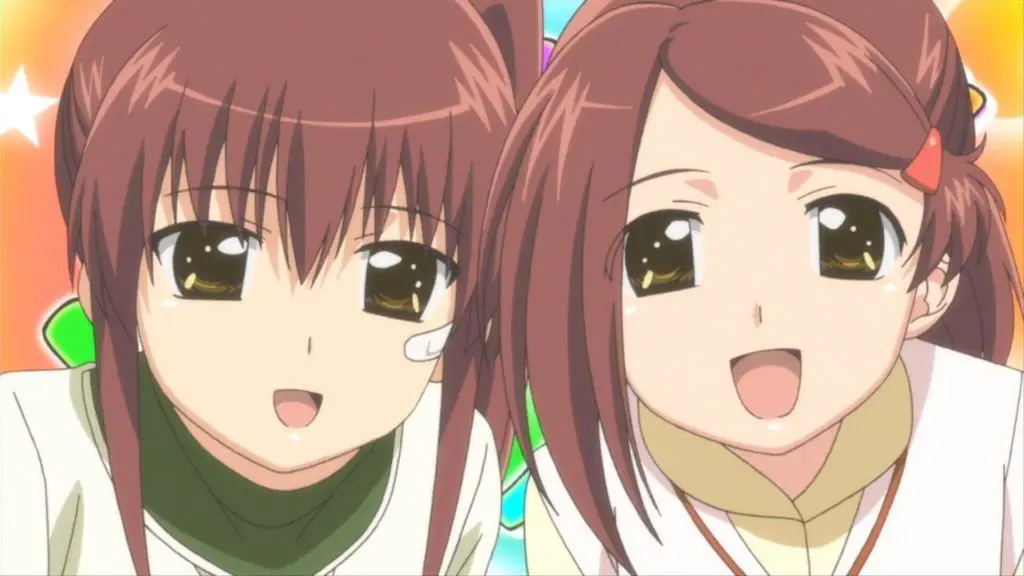 Riko is an athlete student and helps out with training at various clubs. 
However, academics are a challenge for Riko.
She even believes that passing an exam is dependent on luck.
Ako is an intelligent and bright girl who excels at her studies and in cooking. 
Ako is the school's general manager for the student council. 
To set an example for her fellow students, she prefers to keep a professional and prim demeanour.
8. Diva & Saya From Blood+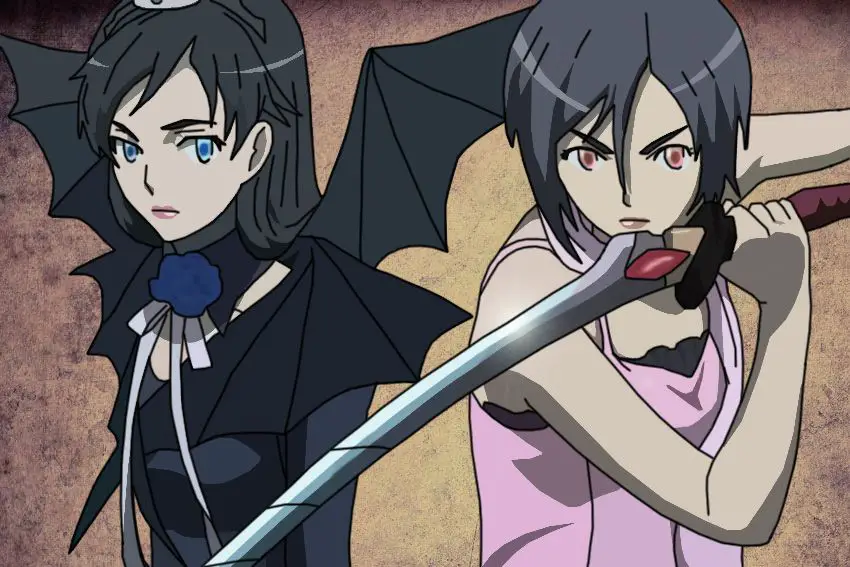 Diva is Saya's younger sister. 
Saya and Diva are both supernatural beings. 
Diva is different from Saya because she has long, black hair. 
Both grew up separately and Diva was forced to live a more difficult life. 
Diva is a sadist, bloodthirsty and fearless woman who kills for pleasure.
Saya, a cheerful and innocent girl with short hair, lived a happy childhood with her foster family. 
Later events make her bitter and broken. 
She detests all human beings and hates the idea of not being one.
Diva and Saya, despite being identical twins, are very different in personality. 
While Saya grew up in a happy home, Diva was raised in a harsh environment that made her violent. 
Both sisters are enemies of one another.
7. Ryou & Kyou Fujibayashi From Clannad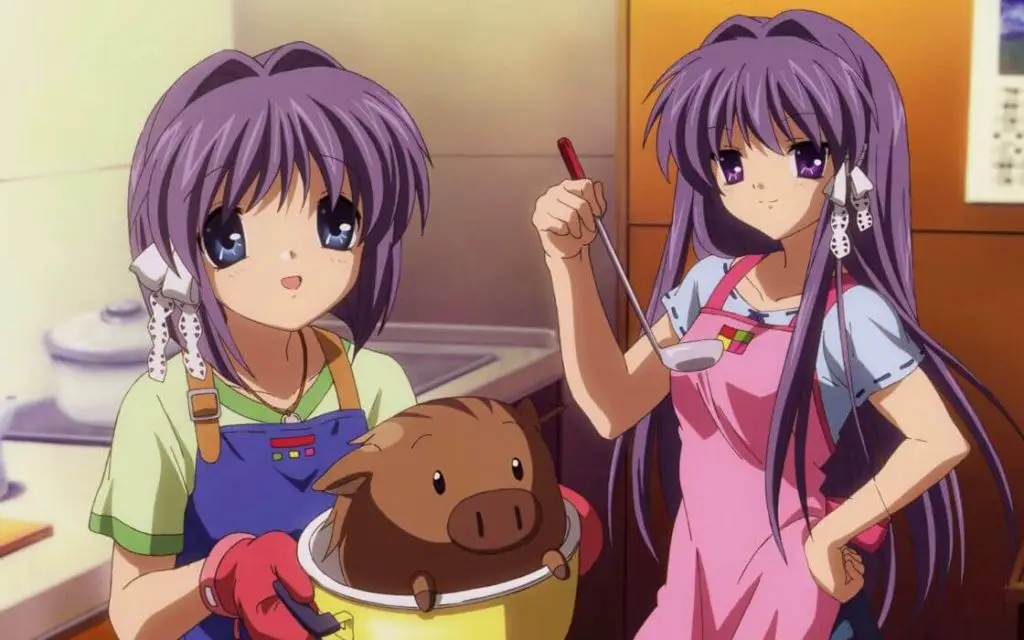 Kyou is often more prominent than Ryou because of her shy nature. 
Kyou is her best friend, but she also makes friends with people outside of her social circle. 
Ryou isn't a great cook. 
Ryou still manages to complete other chores to keep up with her sister. 
She is a fortune-teller, but her predictions are often wrong.
Kyou is a strong-headed, bold girl and is often considered an older sister by her classmates. 
Kyou is a highly energetic girl who loves to have fun and find new ways to keep her busy. 
Kyou is a responsible student but she sometimes breaks school rules by riding a bike or bringing her pet to school.
6. Kaguya and Yuzuru Yamai From Date A Live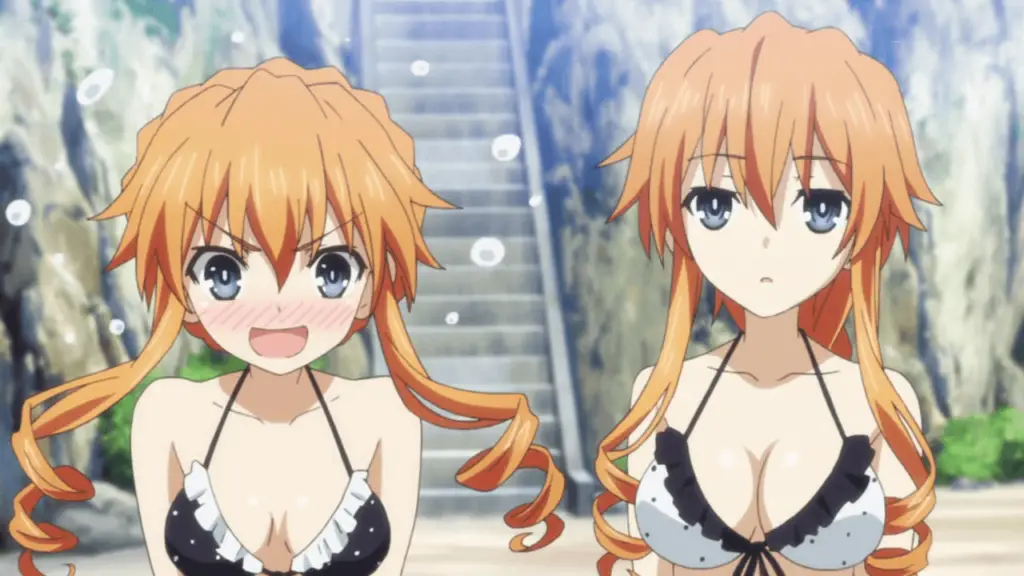 They are actually the fifth spirit in Date A Live, but Yamai, the spirit who appears in the anime, is then somehow split into two spirits with different names. 
Although they may be twins, Kaguya (or Yuzuru) have distinct personalities and thoughts. 
They are said to always fight for the title of best Yamai.
5. Tsukasa & Kagami Hiiragi From Lucky Star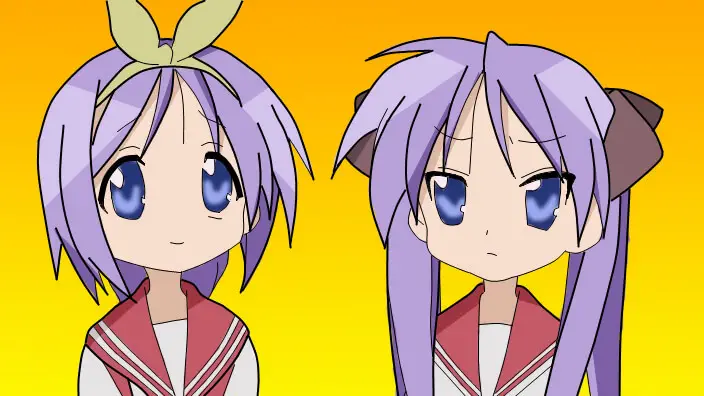 Tsukasa is a sweet, innocent, but a little bit dimwitted person. 
Tsukasa excels at household chores and cooking, but her airheadedness results in poor grades at school. 
Kagami is required to assist her with tasks like texting and other skilled tasks.
Kagami has a tsundere and bit egotistic personality. 
Kagami is terrible at cleaning and cooking. 
Kagami is a straight-talking, intolerant person who has difficulty talking to anyone except her closest friends.
4. Momo Belia & Nana Astar Deviluke From To Love Ru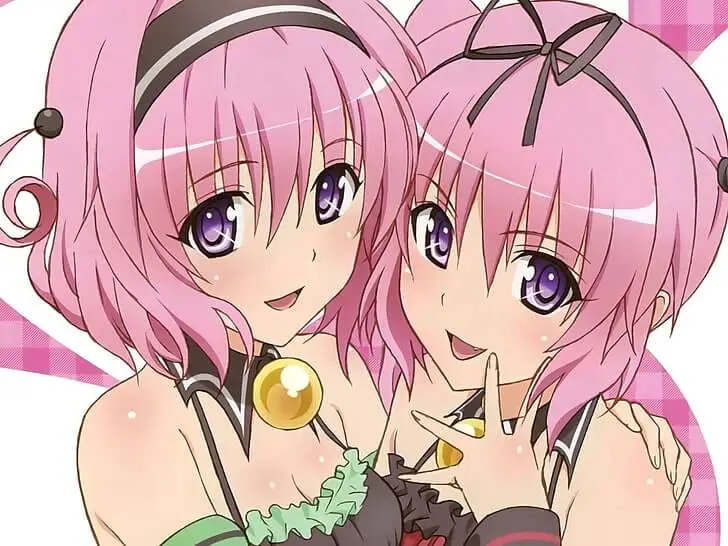 Momo is the third princess of Deviluke. 
Because she can communicate with plants, she is an expert botanist who knows all the plants in the universe. 
Rito is her true love and she often fantasizes about being together in different situations.
Nana is the second princess of Deviluke. 
Although she is a bit impulsive and a little bit nerdy, her caring nature and kindness are evident. 
She once risked her life to save a friend.
3. Mion and Shion Sonozaki From Higurashi When They Cry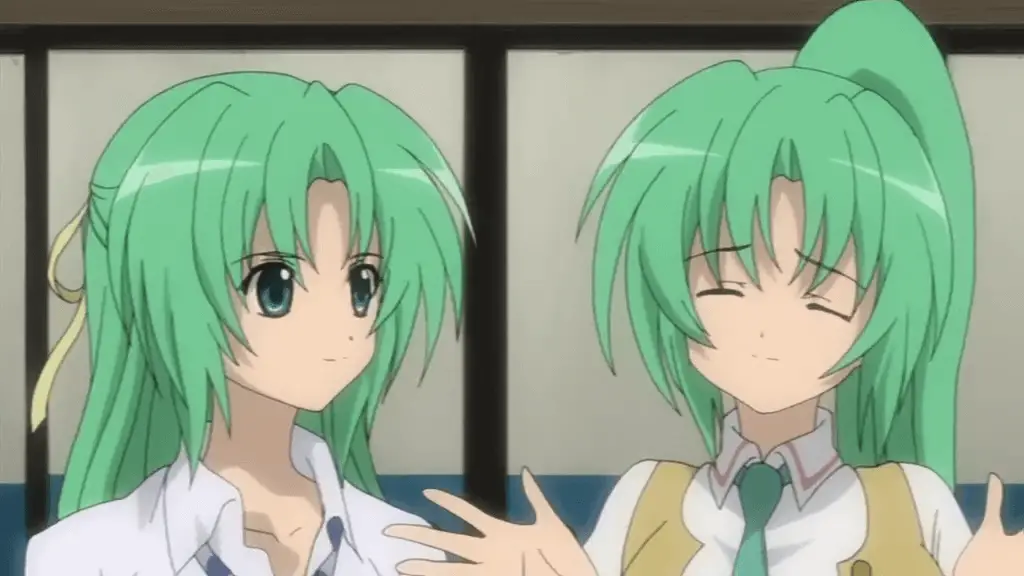 Mion and Shion are among the most lovable psycho twins of all time. 
Mion is more mature than Shion and more stable in her mind.
She's also a bit more tomboyish. 
She is also the heir of the Sonozaki house. 
Mion, who is known for her severe mental disorder and brutality, is not her.
2. Linze & Elze Silhoueska From In Another World With My Smartphone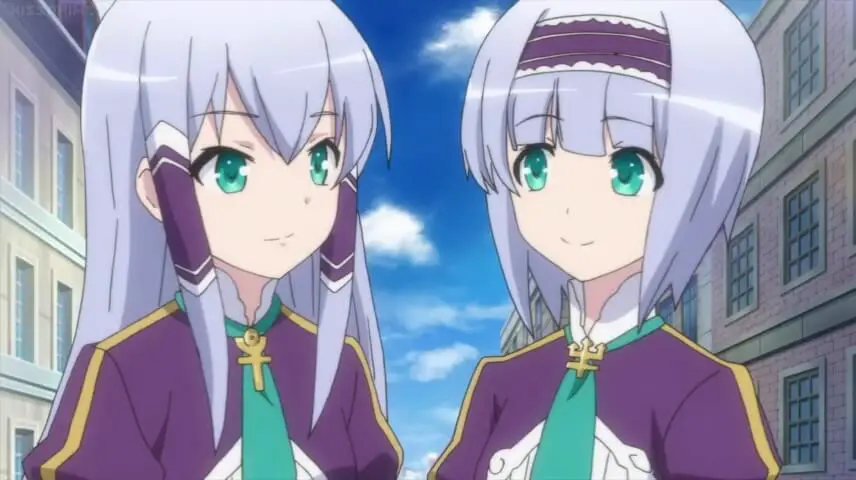 Linze's twin sister Elze is one hour older than Elze. Elze is a petite woman with long silver hair. 
Elze is open, honest, and positive. 
She's not shy, but can sometimes be perverse.
Linze is more reserved than her older sister. 
Linze has smaller hair and a bigger bust than Elze. Linze is not shy but she isn't afraid to voice her opinions.
When she is angry it can be difficult for her to control herself.
Despite the small gap between their births, Linze still treats Elze like her big sister and shows her respect for her. 
Elze, on the other hand, is protective of her younger sister.
They share a wonderful bond.
1. Ram & Rem From Re:Zero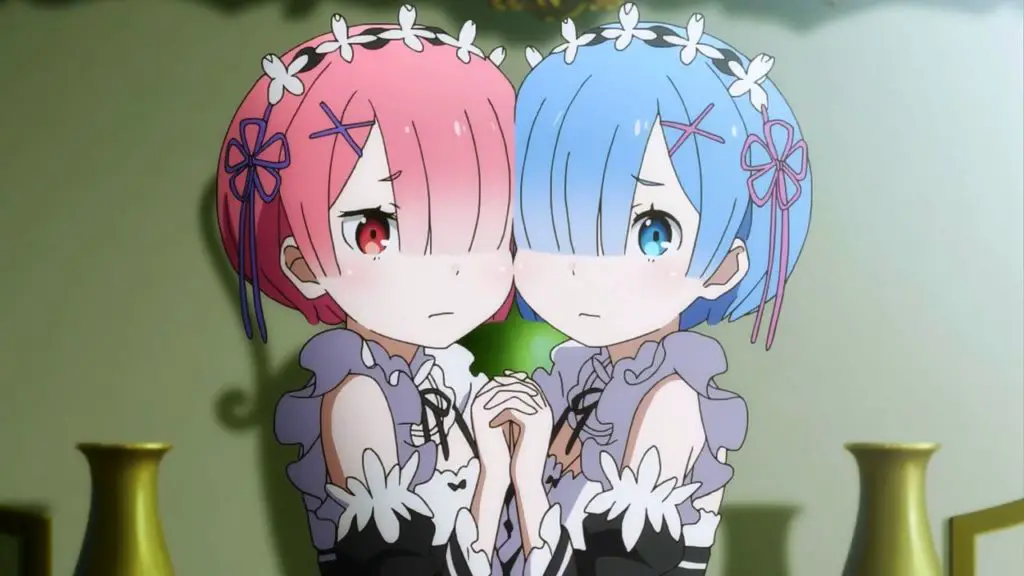 Ram, an Oni, works alongside Rem as a maid. 
Because of her extraordinary talent and strength, people in her village call her the Oni God's Reincarnation. 
Ram prefers to work at her own pace.
Rem, an Oni, became a maid with her sister. 
To maintain a false image of a good maid, she speaks politely. 
A past incident with her sister has left Rem feeling inferior.