Recently Cooking Anime Series Are getting popular among fans I think this is the most loved genre because of the Shokugeki no Soma (Food Wars!) impact on the fans.
But, Food Wars is not the only food anime series there are a lot of great cooking anime that you can watch after food wars.
So, Today we are going to create a awesome cooking anime list for all the foodies or chefs.
Lets dive into the list without wasting any more time here are epic cooking anime series.
30. Silver Spoon
In three words: a look into farming. This series is all about that.
The story is mostly told from Yuugo Hachiken's point of view. He is a smart young man who went to a farming school to get away from his parents' stress.
You might be wondering how this fits into a list of things to cook.
The show shows more than just how food is grown and raised. It also has some good cooking scenes.
There's just something interesting about seeing how things are grown and how they become food.
The cooking in the series isn't anything special, but it's presented well, and the story and personalities leave a good impression.
29. Ristoranto Paradiso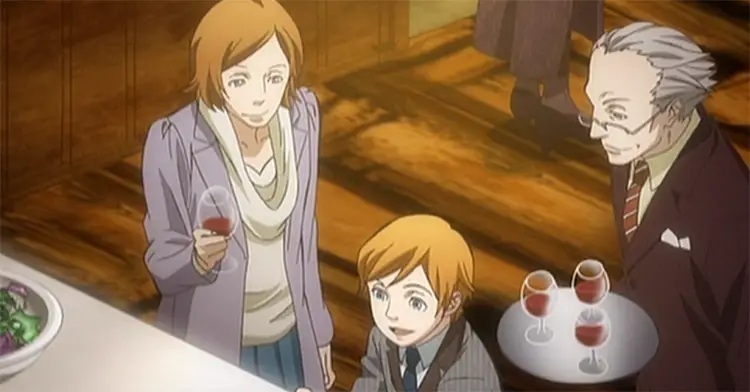 From the first episode of the series, this anime finds a way to hook you, whether it's through the story, the characters, or, strangely enough, the food.
The story has a lot of depth because it looks at different people, especially Nicoletta and how she learns more about her mother at a restaurant called Casetta dell'Orso.
A lot of the show is about Italian food and getting to know the people. But it also shows a good amount of cooking, which is also fun.
Most of the stories and how they connect to the different people in the series are pretty interesting.
The fact that it mixes and focuses in a restaurant just gives the series more depth. It's interesting to watch.
28. JK Meshi
This is something to check out if you like short but cute stories.
It's a pretty simple show about high school girls learning to cook easy meals.
But each show also has some good cooking tips and facts about food.
There isn't much of a story here, but there's still a lot to enjoy. And in its own way, it's kind of cute.
Compared to the other entries, it cooks quite a bit more. Each episode of the show lasts less than 5 minutes, so it is easy to watch.
As a food show, it's not bad and has some interesting information. You might want to give this a try if you're looking for a short series about girls getting together over simple food.
You won't have to spend much time on either one.
27. Cooking with Valkyries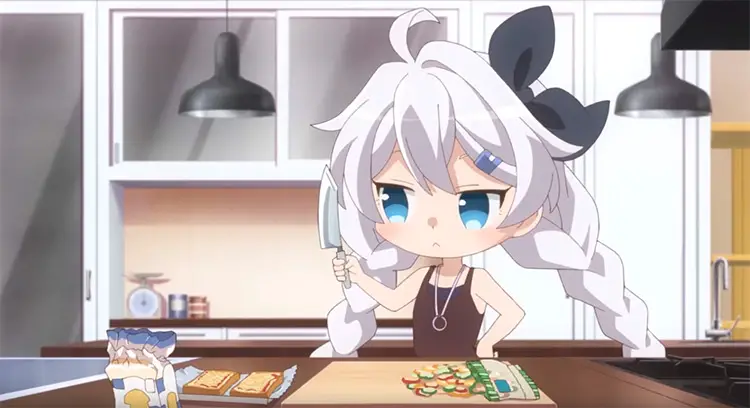 People who have played the popular hit game Honkai Impact 3rd may know these characters.
The anime series is more like a different side story, so the link is only with the characters.
In each show, cute girls cook simple meals for a few minutes.
The style is similar to the last entry, but there seems to be more focus on cooking and how simple ingredients can make a good meal.
In short, it's a miniseries about cute girls cooking meals with items you can find in almost any grocery store.
A simple but fun series with lots of tips on how to cook easy meals at home and learn to cook for yourself.
26. Yuru Camp
Even though this is mostly a camping show, there are some cooking episodes.
Most of the cooking you can do when you go camping.
You could think of it as a second episode of the series to watch, as long as you like being outside.
Yuru Camp is about a group of girls who go camping together and become close. But it also teaches you a lot about food along the way.
Most of the meals are pretty easy, but it's fun to see how they're made.
This is a series that is mostly about enjoying beautiful scenery and good food to go with it.
So, if you like fun shows that take place outside and have good food, you should definitely check this one out.
25. Rokuhoudou Yotsuiro Biyori
There are a lot of cooking shows with either all women or all shounen men.
This show is different because it is a slice-of-life anime with an all-male cast.
It's also very nice how it shows off different meals and sweets. But I think this one will be a lot more popular with women.
This is a nice addition to the few works that have Japanese sweets in them. There are also a few scenes with cooking that are fun to watch.
And while a slice-of-life story about four men who work in a Japanese-style cafe isn't all that strange, it is a series that is fun to find out about.
Overall, this is a fun anime that shows both traditional Japanese foods and sweets. A low-key show with a few treats that look great.
24. Isekai Izakaya Nobu
In this next series, a modern place has a door that leads to another world. What is going on with these stories?
This show is different because it focuses more on food and drinks that go with them.
Every show has a live-action segment about a different meal that goes well with a drink.
It's a different style than most anime, but it's still fun to watch. I can see why some people might not like it, but if you have an open mind, you should at least give it a shot.
The other world is also more like the Middle Ages, and people don't just show up there once. So there's a mix of food and drink enjoyment, as well as a look at what makes each meal unique.
A easy but unique kind of anime to watch and enjoy.
23. Kakuriyo no Yadomeshi
Outside of Japan, you don't see a lot of stories that mix the supernatural with food.
But Kakuriyo no Yadomeshi makes it work.
It's not always about cooking, but there are times to enjoy.
At first, this was a set of books about a young girl named Aoi who was taken away by a demon and made his bride.
She opens a small cafe, and most of the story is about how the food she makes affects different people.
This can be more of a magical book, but the way it shows her journey with cooking is so good that it deserves to be so high on this list.
To put it simply, it's a kind of magical cooking adventure.
So, this is a good show for people who like the supernatural and want to see something a little different. Before you watch the movie, you could also read some reviews to get an idea of what people think.
22. Oishinbo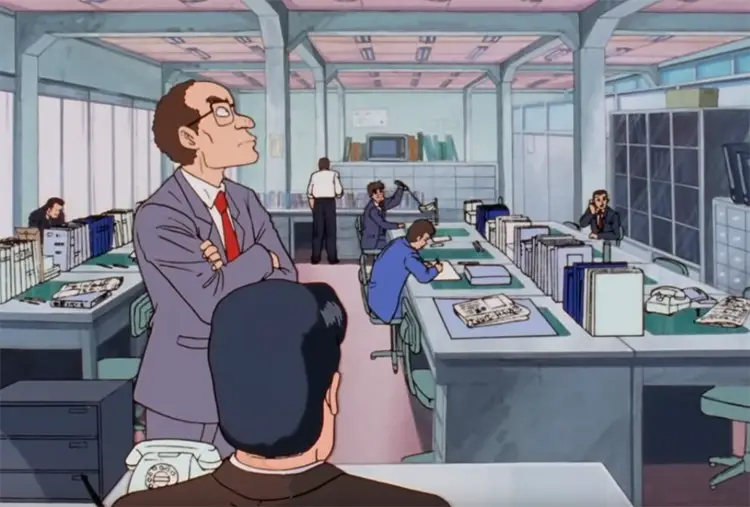 Yanaoka, a cynical food critic, and a woman writer are asked to write about Japanese food and culture.
You might think this would be more of a story about culture and food, but it's not.
This actually has some good cooking in it too!
There's a heavy focus on Japanese culture and Japanese cuisine being a top feature. And that means there are plenty of cooking moments featured within the episodes.
The show is pretty old (it first aired in the 1980s), so not many people know about it.
But it does hold up well as a food/cooking series even for modern times.
Along the way, there is more than just a look at cooking and how items are used. There is also a story to keep things interesting.
21. Piace: Watashi no Italian
Want to try something new for a change?
Then why not Italian, since the Piace anime is in Italian?
It's a short series but it packs as much cooking and different Italian dishes as it can.
Now, it can move a little too quickly at times, but it has interesting characters and tries its best to present them.
The main focus of the story is on the heroine Nanase and how she changes and grows in an Italian restaurant. It's interesting how they show her learning and how she ends up making her own dish.
You could say that this series is a bit strange. But it's also a rare show that looks at food from outside Japan, which is very exciting.
20. Adorable Food Goddess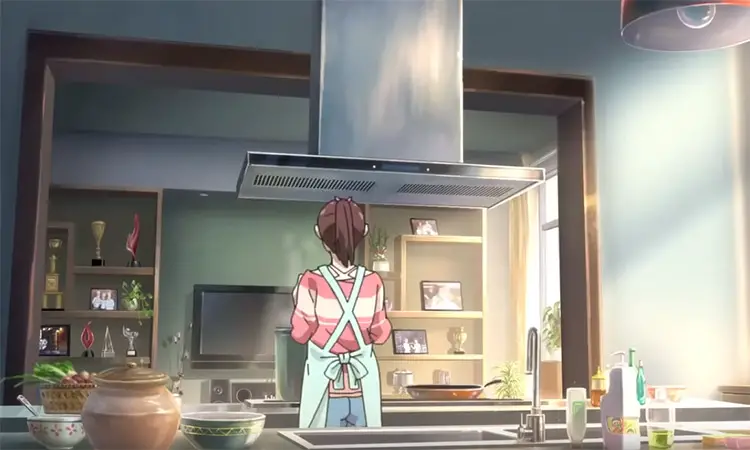 Expect some shocks when you start this series.
At first, it's about a girl named Ye Jiayao who goes back in time and wakes up in the body of Ye Jinxuan. Later, it's about… more. A lot more.
There are a lot of different kinds of stories in this anime.
But cooking is a big part of the show, and it's clear that the animation team put a lot of work into this.
The plot may seem a little too strong, but you can still enjoy the delicious food while you read.
I also like how, even if it's just addressed in passing, this anime shows how different things can work together.
People can have different opinions on whether the story and characters are really fun or not. But the way this show shows how to cook is good.
19. Emiya-san Chi no Kyou no Gohan
In a lot of ways, this book is a lot like the last one in the series.
The difference between the two is that Koufuku Graffiti is more about eating with someone and enjoying food together.
In this series, there is more focus on how the food is made and on the time spent together. The thought that eating together can bring us closer.
This anime is kind of like a slice-of-life version of the Fate saga.
You don't have to have read the whole Fate series to understand this one, so don't worry. But it's also pretty great if you've never seen it.
This is a very soothing show with a simple story that is based on the idea of a warm home meal.
You'll feel all warm and fuzzy from watching, and you might even learn how to cook along the way.
Note: This is called Today's Menu for the Emiya Family if you are looking for it in English. The one with subtitles might be better to watch, though.
18. Chocolate Underground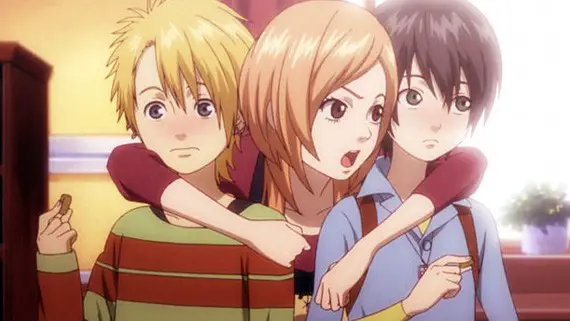 In this cooking anime chocolate and other sweets have been banned thanks to the political reign of the Good For You Party, and the new laws are enforced strictly, with force if need be.
Smudger and Huntley are two teen boys determined to eat chocolate again.
They search out rumored chocolate bootleggers, eventually starting their own chocolate underground distribution.
17. Dagashi Kashi
This cooking anime is about Shikada Kokonotsu's father owns a rural sweets shop, and his plan is for Kokonotsu to take it over one day.
However, Kokonotsu wants to be a manga author instead!
One day in summer, the cute but weird girl Shidare Hotaru, from the famous sweets company, comes to pay a visit.
Apparently, Kokonotsu's father is famous and she wants him to join her family's company. However, he will only agree if she can convince Kokonotsu to take over the family business!
16. Bonjour Koiaji Pâtisserie (Bonjour Sweet Love Patisserie)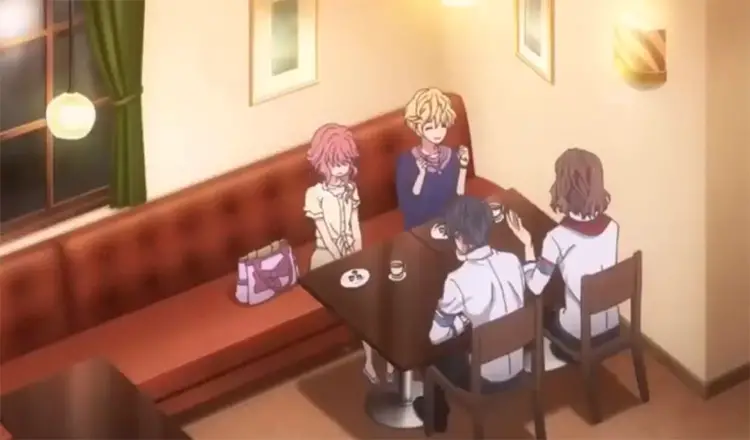 This is another set of short stories. This time, though, it has sweets.
The story is mostly about romance, since it's about a girl named Sayuri who goes to school to learn how to make sweets and meets some good-looking and skilled men there.
But it does have some good parts where you can bake and make desserts.
The different kinds of treats in the series are pretty interesting. And the fact that each character has their own style makes it feel even more real.
I think there could have been more about food, since the book is so short.
It is still sweet and fun, though. So, add this to your list of shows to watch if you want a short but sweet series with a plot about love and baking.
15. Wakako-Zake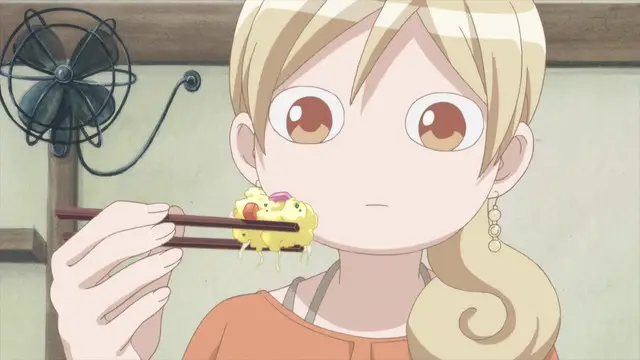 After a long day, do you ever just want a certain meal?
Murasaki Wakako does, and the series is about how she eats and drinks well on her trips to different places.
In a lot of ways, this series is like a trip cooking show.
Even though it shows different places and the food you can get there, there are also some good cooking scenes.
Overall, it's a pretty chill anime with a lot of good food scenes to enjoy.
Since the focus is more on eating and drinking than on making the food, you could say that the show is easier to watch.
Which is great after working all day!
14. Koufuku Graffiti (Gourmet Girl Graffiti)
If you like anime where cute girls do cute things, you should check out this series.
The whole show is about how good food and good people go together.
The best way to describe the series is as a piece of fluff that is sure to make you laugh.
It doesn't go into a lot of detail about how to cook, but you can see how the characters become close.
In the main story, a young girl named Machiko finds joy in cooking when she meets her young cousin and becomes close to her.
This is especially true as she gets closer to getting married and needs to learn how to be a good wife.
It's a story that makes you feel good, with a focus on how nice it is to eat a home-cooked meal and what it means to cook for other people.
There are some interesting points in the different reviews on MyAnimeList, so if you want more information, check out that page.
13. Muteki Kanban Musume (Ramen Fighter Miki)
This cooking anime is, to say the least, not what you'd expect.
The show is about a poster girl named Miki Onimaru who works at her mother's Chinese food business.
At first, you might think the show is mostly about cooking, with some fighting thrown in.
Well, there is a lot more fighting going on than you might think.
This means that the food gets less attention, but there is still a lot of it in the show.
I'll be honest: this is an odd series, but it does have its charms. Try it out if you like strange things.
12. Mister Ajikko (Born to Cook)
Mister Ajikko is a pretty old show. It first aired just under 100 shows in the late 1980s.
This was the first cooking show to come out in Japan as a anime.
It's about a young chef named Yoichi who is very good at what he does. It shows how he improved as a cook as he competed against other chefs.
A lot of attention is paid to how the food is made and what makes it so tasty. So really, this is a true anime gem.
In every way that matters, this is also a cooking anime.
So why isn't at the top of this list?
Well, you have to think about how old this show is and how many new cooking shows there are as well.
It's still fun to watch and holds up well as a cooking anime, so if you like older shows from that time, you should definitely check this one out.
But just know that there is a lot more anime about cooking out there.
11. Bartender
One could say that this series is not a cooking piece like some others… But I think that making drinking drinks all day counts as cooking food.
Even more so because the show looks at how different drinks work together and what makes them different.
It's a show that is different from most anime in many ways.
Still, you can't help but like how much care they put into making drinks and how that affects the people in the show.
In this show, Ryuu is a bartender who helps different people by giving them drinks that are just what they need.
It's not often that you can find a whole series about bartending, so if this is your thing, you should jump on it.
10. Ristorante Paradiso
This cooking anime is about Nicoletta is a young woman who decides to go to Rome to see her mother who left her when she was a child.
She plans to tell her mother's lover (a resonant owner who will not marry a divorced woman) that her mother was once married.
Nicoletta latter struggles to understand her feeling for Claudio (an older man) who works at the restaurant.
9. Isekai Shokudou (Restaurant to Another World)
At the bottom floor of the building with a dog signboard, in the shopping district near the office street, there lies a cafeteria called "Youshoku no Nekoya," that has an illustration of a cat on the door.
It's been open for fifty years and has satisfied various salarymen from nearby offices. Despite it being called a Western cuisine cafeteria, it also provides other varieties of menus.
For the people of this certain world, it's their one-and-only special cafeteria. There is, however, one secret to "Nekoya." The cafeteria is closed to the public every Saturday in order to make way for special guests.
When a bell rings, customers from different places of birth and races appear who ask for mysterious and delicious dishes.
They are actually the same dishes served to the salarymen, but these special guests find them to be more exotic than to what they are used to.
As the cafeteria aims to serve masterpieces, it is usually referred as "Isekai Shokudou." And so, the bell rings again this week.
8. Amaama to Inazuma (Sweetness and Lightning)
This series is also the best way to describe how it makes you feel.
A father and daughter who used to eat store-bought food start to learn to cook with the help of a new high school friend.
It's fun to see how hard the characters have to work to learn and how the show shows that.
As the show goes on, you can really tell that they are getting better. The way the characters treat each other is another great thing about this show.
The way the show mixes cooking and getting to know each other makes you want to see more.
You could think of it as another slice of life story about food. But there is a lot of sweetness and depth here that you notice more in the background.
7. Udon no Kuni no Kiniro Kemari (Poko's Udon World)
This cooking anime is about Souta Tawara is a web designer working in Tokyo.
When he visits his family's Udon place in his hometown Kagawa Prefecture, he discovers a young boy.
Upon confronting the boy, Souta soon learns his secret and decides to quit his job in order to take care of the boy, Poko.
The daily adventures of the two slowly enfold as Poco energetically navigates his way through Kagawa, the "Udon Kingdom," along with Souta.
6. Ben-to
The story revolves around a poor high school student named Y? Sat?. Sat? goes to the supermarket one day and discovers a bent? (boxed meal) on sale at half price.
Just as he reaches to grab it, he ends up on the floor unconscious.
Sat? has just entered the fierce, no-holds-barred "supermarket survival battle" for half-price bent?.
5. Yakitate!! Japan
This anime show is all about that.
The story is about Azuma, who loves bread so much that he wants to make the best cakes ever. If this sounds strange to you, you should watch more anime.
There is a lot of imagination in the series, and it can be over the top at times, but the story still feels real.
But since it's a shounen-style show about making bread, it's kind of supposed to be weird.
It's kind of silly, but the way it talks about making bread is pretty interesting.
This is one of the best cooking shows from the classic age of anime, which ran from the mid-2000s to the early 2010s.
Now I know that a series about how to make bread might not seem like much on its own. But trust me, Yakitate!! Japan found a way to spice up the situation.
4. Yumeiro Patissiere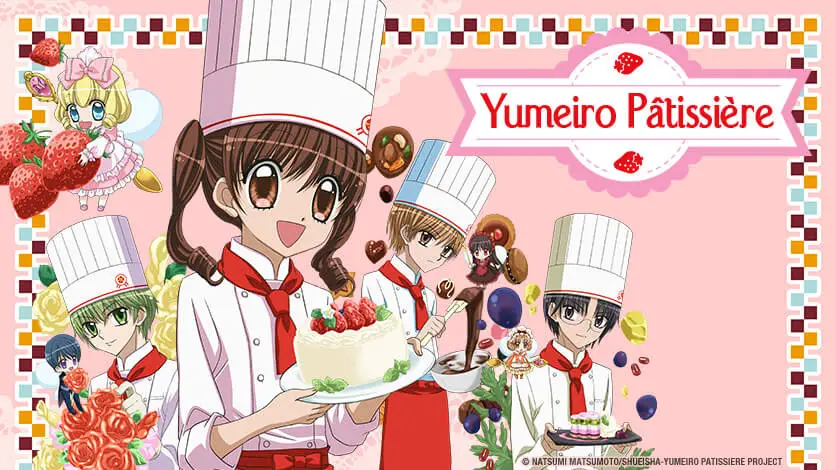 Now, this one isn't about cooking but about baking, and it's the best one out there because it covers baking so well.
This story has a lot going for it. It's about Ichigo's journey to become a real pastry chef, and it also has other interesting characters.
A lot of the show's best parts come from how it looks at different food and dessert recipes.
Aside from these things, the characters' quirks and cuteness become more important as the series goes on.
Since it's a shoujo story, it can sometimes get more romantic and dramatic.
But baking is still a big part of it, and you can't help but learn to appreciate it.
The best way to describe the show would be as cute and sweet with a side of weird.
3. Chuuka Ichiban! (Cooking Master Boy)
Since it came out in the 1990s, not many people may have heard of this show.
But since the second series came out at the end of the 2000s, this is a series to keep an eye on.
It takes place in China and is about a young boy named Mao who wants to become a famous cook like his mother.
Since the show is set in China, it is likely that most of the food will be Chinese. It has a lot of things, but a lot of them are from East Asia.
This is so high on the list because the cooking scenes can be so dramatic.
Yes, it can be a little too much. But this makes the show even more fun.
Basically, this is an old recipe that food lovers still like.
2. Toriko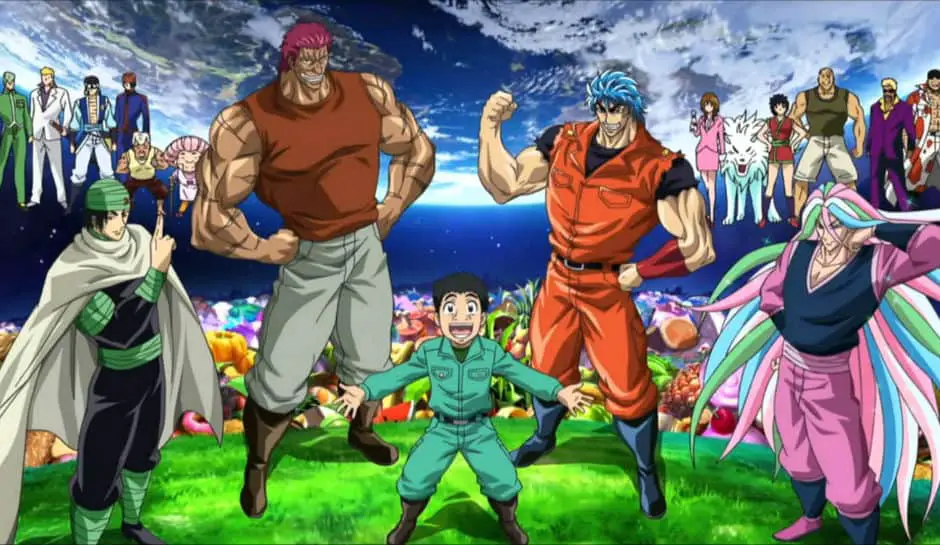 In this series, Toriko is a Gourmet Hunter who searches for the rarest and most delicious foods in a world where food is different from what we know.
That's what it says.
Komatsu, Toriko's partner and a chef, shows off the cooking part of the show.
The series shows more than just Toriko's story. It also shows how Komatsu grows as a cook.
In a way, the series is both a trip about food and cooking and a hunt for food. There is also a lot of action in the series.
It's creative, different, and a good shounen anime to watch if you want to have fun with food.
1. Shokugeki no Soma (Food Wars!)
Out of all the shows on this list, Shokugeki no Souma is the best example of a great cooking anime.
To put it simply, it's the shounen version of a cooking trip that takes place at a school where students move up in rank by competing in food battles called "Shoukegi."
As an anime about food, it's the best at trying out different ways to tell stories with different characters.
It also considers how important learning is and what it means to work in the food business.
But you can use these lessons in any part of your life: you should always try to get better.
The meals are also interesting because of how they are made and how they are served.
As of this writing, Shokugeki no Soma is in its fourth season and is still one of the best cooking shows you should check out.