If you are a fan of good drama anime series or maybe movie then you have come to the right place because today we have 30 best drama anime recommendation for you.
Every Otaku loves a good character sometimes some of the anime characters are not able to impress the audience.
But sometimes you just want to feel the characters emotions related to the situations they are in and that's where the drama anime genre comes in.
The aim of the list is to covering awesome dramatic anime with strong character writing, subtext, metaphors, or individual growth.
30. Hi Score Girl
This drama anime starts in year is 1991 and 6th grader Yaguchi Haruo only has video games to live for. He's not popular in school and he's neither handsome, funny, nice nor even friendly.
The only thing he has going for him is that he is good at video games. One day at the local arcade, he plays Oono Akira, a fellow classmate but who's popular, smart, pretty and a rich girl that absolutely destroys him at Street Fighter II.
Not only does he lose to her 30 times in a row, he can't beat her at any game. Haruo can't seem to shake Akira off as she follows him from arcade to arcade everyday after school and beats him every time.
As weird as it sounds, the odd couple begins a strange bond and friendship.
29. Tokyo Magnitude 8.0
This drama anime is about middle school student Mirai Onozawa is dissatisfied with her family circumstances and, in a moment of frustration, wishes to tear everything apart.
Unfortunately, these destructive thoughts seem to come true in the form of a magnitude 8.0 earthquake just a few moments later. When summer vacation begins, Mirai reluctantly takes her younger brother Yuuki to Odaiba, where a robot exhibition that he wanted to go to is being held.
However, while they are in the exhibition center, the fury of a major earthquake shakes the Kanto region; helpless, both kids witness the devastating power of this natural disaster as it brings the city to its knees.
In its aftermath, they stumble upon Mari Kusakabe, a motorcyclist and single mother who decides to help the young siblings. Aiming to return to their homes and reunite with their families, the group sets off on a long and hard journey through the decimated city.
28. The Flower We Saw That Day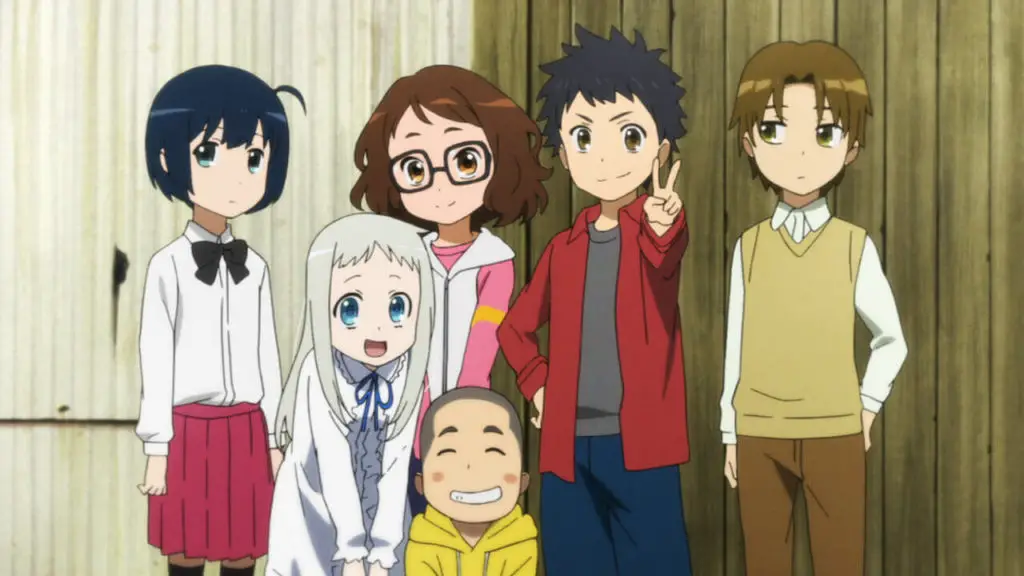 This drama anime is about Jinta Yadomi is peacefully living as a recluse, spending his days away from school and playing video games at home instead. One hot summer day, his childhood friend, Meiko "Menma" Honma, appears and pesters him to grant a forgotten wish.
He pays her no mind, which annoys her, but he doesn't really care. After all, Menma already died years ago. At first, Jinta thinks that he is merely hallucinating due to the summer heat, but he is later on convinced that what he sees truly is the ghost of Menma.
Jinta and his group of childhood friends grew apart after her untimely death, but they are drawn together once more as they try to lay Menma's spirit to rest. Re-living their pain and guilt, will they be able to find the strength to help not only Menma move on—but themselves as well?
27. Haibane Renmei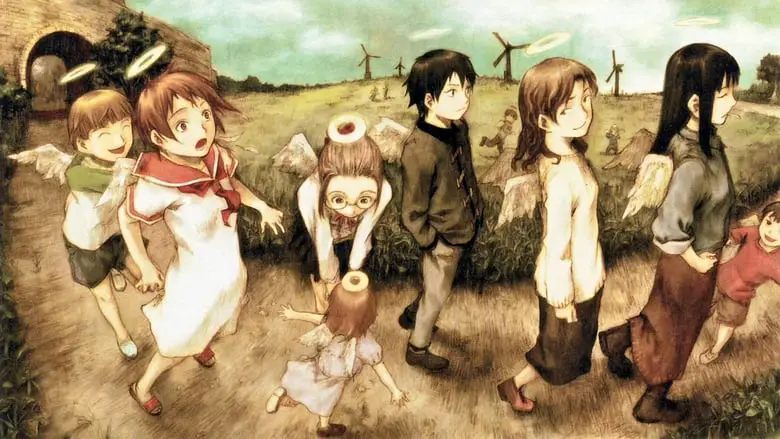 This drama anime start form Born from a cocoon in the village of Old Home, a young Haibane—a being with a halo and small gray wings—awakens to a world she does not understand without memories of her past. Named Rakka for the dream of falling she had while inside the cocoon, she soon becomes accustomed to life in the strange town.
However, there are strict rules for the Haibane, such as being forbidden to leave the village or go near the walls surrounding it. These, along with mysterious disappearances of their kind on their "Day of Flight," begin to unsettle Rakka and the others since they know almost nothing about their own kind.
Haibane Renmei tells not only Rakka's story but also of those around her, as they live their lives with no memories of the past while trying to break free from their former pain and ultimately find salvation.
26. Beck
This drama anime is about Fourteen-year-old Yukio "Koyuki" Tanaka is a dispirited young boy with no goals in life. However, this all changes when Koyuki saves a strange-looking dog named Beck from being harassed by a group of local kids.
The dog's owner, 16-year-old Ryuusuke "Ray" Minami, is an emerging guitarist and the former member of a popular rock band. After Koyuki meets Ray again in a diner, the older boy leads him to his former band's meeting place and dazzles Koyuki with his amazing guitar skills.
Slowly becoming interested in the glamour of western rock culture, Koyuki decides to start playing the guitar while helping Ray achieve his dream of leading the ultimate rock band.
Together with Ray's younger sister Maho and a few other members, the two boys launch their career into the world of rock by forming a band called BECK. Beck follows the group's struggles and successes as they spread their fame across Japan.
25. Kokoro Connect
This drama anime starts when five students at Yamaboshi Academy realize that there are no clubs where they fit in, they band together to form the Student Cultural Society, or "StuCS" for short.
The club consists of: Taichi Yaegashi, a hardcore wrestling fan; Iori Nagase, an indecisive optimist; Himeko Inaba, a calm computer genius; Yui Kiriyama, a petite karate practitioner; and Yoshifumi Aoki, the class clown.
One day, Aoki and Yui experience a strange incident when, without warning, they switch bodies for a short period of time. As this supernatural phenomenon continues to occur randomly amongst the five friends, they begin to realize that it is not just fun and games.
Now forced to become closer than ever, they soon discover each other's hidden secrets and emotional scars, which could end up tearing the StuCS and their friendship apart.
24. Barakamon
This drama anime is about Seishuu Handa is an up-and-coming calligrapher: young, handsome, talented, and unfortunately, a narcissist to boot. When a veteran labels his award-winning piece as "unoriginal," Seishuu quickly loses his cool with severe repercussions.
As punishment, and also in order to aid him in self-reflection, Seishuu's father exiles him to the Goto Islands, far from the comfortable Tokyo lifestyle the temperamental artist is used to.
Now thrown into a rural setting, Seishuu must attempt to find new inspiration and develop his own unique art style—that is, if boisterous children (headed by the frisky Naru Kotoishi), fujoshi middle schoolers, and energetic old men stop barging into his house!
The newest addition to the intimate and quirky Goto community only wants to get some work done, but the islands are far from the peaceful countryside he signed up for.
Thanks to his wacky neighbors who are entirely incapable of minding their own business, the arrogant calligrapher learns so much more than he ever hoped to.
23. Death Parade
This drama anime starts After death, there is no heaven or hell, only a bar that stands between reincarnation and oblivion. There the attendant will, one after another, challenge pairs of the recently deceased to a random game in which their fate of either ascending into reincarnation or falling into the void will be wagered.
Whether it's bowling, darts, air hockey, or anything in between, each person's true nature will be revealed in a ghastly parade of death and memories, dancing to the whims of the bar's master. Welcome to Quindecim, where Decim, arbiter of the afterlife, awaits!
Death Parade expands upon the original one-shot intended to train young animators. It follows yet more people receiving judgment—until a strange, black-haired guest causes Decim to begin questioning his own rulings.
22. March Comes in Like a Lion
This drama anime is about Having reached professional status in middle school, Rei Kiriyama is one of the few elite in the world of shogi. Due to this, he faces an enormous amount of pressure, both from the shogi community and his adoptive family. Seeking independence from his tense home life, he moves into an apartment in Tokyo.
As a 17-year-old living on his own, Rei tends to take poor care of himself, and his reclusive personality ostracizes him from his peers in school and at the shogi hall. However, not long after his arrival in Tokyo, Rei meets Akari, Hinata, and Momo Kawamoto, a trio of sisters living with their grandfather who owns a traditional wagashi shop.
Akari, the oldest of the three girls, is determined to combat Rei's loneliness and poorly sustained lifestyle with motherly hospitality. The Kawamoto sisters, coping with past tragedies, also share with Rei a unique familial bond that he has lacked for most of his life.
As he struggles to maintain himself physically and mentally through his shogi career, Rei must learn how to interact with others and understand his own complex emotions.
21. The Tatami Galaxy
This drama anime starts in One autumn evening at a mysterious ramen stand behind the Shimogamo Shrine, a lonely third-year college student bumps into a man with an eggplant-shaped head who calls himself a god of matrimony.
Meeting this man causes the student to reflect upon his past two years at college—two years bitterly spent trying to break up couples on campus with his only friend Ozu, a ghoulish-looking man seemingly set on making his life as miserable as possible.
Resolving to make the most out of the rest of his college life, the student attempts to ask out the unsociable but kind-hearted underclassman Akashi, yet fails to follow through, prompting him to regret not living out his college life differently.
As soon as this thought passes through his head, however, he is hurtled through time and space to the beginning of his years at college and given another chance to live his life.
Surreal, artistic, and mind-bending, Yojouhan Shinwa Taikei chronicles the misadventures of a young man on a journey to make friends, find love, and experience the rose-colored campus life he always dreamed of.
20. The Wind Rises
This drama anime starts Before the Great Kanto Earthquake of 1923, before the great war that tore Japan asunder, Jirou Horikoshi lived in a world of dreams – dreams of flight, and dreams of making the world a better place.
Kaze Tachinu is the story of the man who created the Mitsubishi A6M Zero fighter, the most famous airplane in Japanese history. From his childhood in Fujioka, Jirou dreamed of designing flying machines like his hero, Italian aviation pioneer Giovanni Battista Caproni.
Through disaster, romance, war and loss, Jirou continues to chase that dream – learning along the way that once released into the world, dreams can take on a very different shape.
19. A Country Doctor
This drama anime is about A hapless country doctor describes with breathless urgency a night-time summons to attend a young patient. Events soon take on a surreal aspect as "unearthly horses" transport him instantaneously to the bedside.
The doctor, preoccupied with personal distractions and grievances against those he is employed to care for, fails to find what is revealed to be a vile, fatal wound.
He is humiliated by the villagers, who are "always expecting the impossible from the doctor," and doomed to an endless return trip, losing everything.
18. Garden of Words
This drama anime starts On a rainy morning in Tokyo, Takao Akizuki, an aspiring shoemaker, decides to skip class to sketch designs in a beautiful garden.
This is where he meets Yukari Yukino, a beautiful yet mysterious woman, for the very first time. Offering to make her new shoes, Takao continues to meet with Yukari throughout the rainy season, and without even realizing it, the two are able to alleviate the worries hidden in their hearts just by being with each other.
However, their personal struggles have not disappeared completely, and as the end of the rainy season approaches, their relationship will be put to the test. 
17. Mawaru Penguindrum
This drama anime is about the Takakura family, destiny is an ever-spinning wheel, pointing passionately in their direction with equal tides of joy and sorrow before ticking on to the next wishmaker. With their parents gone, twin brothers Kanba and Shouma live alone with their beloved little sister Himari, whose poor health cannot decline any further.
On the day Himari is given permission to temporarily leave the hospital, her brothers take her out to the aquarium to celebrate, where the family's supposed fate is brought forth with her sudden collapse. However, when Himari is inexplicably revived by a penguin hat from the aquarium's souvenir shop, the hand of fate continues to tick faithfully forward.
With her miraculous recovery, though, comes a cost: there is a new entity within her body, whose condition for keeping her fate at bay sends the boys on a wild goose chase for the mysterious "Penguin Drum."
In their search, the boys will have to follow the threads of fate leading from their own shocking past and into the lives of other wishmakers vying for the Penguin Drum, all hoping to land upon their chosen destiny.
16. Spice and Wolf
This drama anime is about Holo is a powerful wolf deity who is celebrated and revered in the small town of Pasloe for blessing the annual harvest. Yet as years go by and the villagers become more self-sufficient, Holo, who stylizes herself as the "Wise Wolf of Yoitsu," has been reduced to a mere folk tale.
When a traveling merchant named Kraft Lawrence stops at Pasloe, Holo offers to become his business partner if he eventually takes her to her northern home of Yoitsu. The savvy trader recognizes Holo's unusual ability to evaluate a person's character and accepts her proposition.
Now in the possession of both sharp business skills and a charismatic negotiator, Lawrence inches closer to his goal of opening his own shop.
However, as Lawrence travels the countryside with Holo in search of economic opportunities, he begins to realize that his aspirations are slowly morphing into something unexpected.
Based on the popular light novel of the same name, Ookami to Koushinryou, also known as Spice and Wolf, fuses the two polar genres of economics and romance to create an enthralling story abundant with elaborate schemes, sharp humor, and witty dialogue.
Ookami to Koushinryou is more than just a story of bartering; it turns into a journey of searching for a lost identity in an ever-changing world.
15. Kids on the Slope
This drama anime is about Introverted classical pianist and top student Kaoru Nishimi has just arrived in Kyushu for his first year of high school. Having constantly moved from place to place since his childhood, he abandons all hope of fitting in, preparing himself for another lonely, meaningless year.
That is, until he encounters the notorious delinquent Sentarou Kawabuchi. Sentarou's immeasurable love for jazz music inspires Kaoru to learn more about the genre, and as a result, he slowly starts to break out of his shell, making his very first friend. Kaoru begins playing the piano at after-school jazz sessions, located in the basement of fellow student Ritsuko Mukae's family-owned record shop.
As he discovers the immense joy of using his musical talents to bring enjoyment to himself and others, Kaoru's summer might just crescendo into one that he will remember forever. Sakamichi no Apollon is a heartwarming story of friendship, music, and love that follows three unique individuals brought together by their mutual appreciation for jazz.
14. Your Name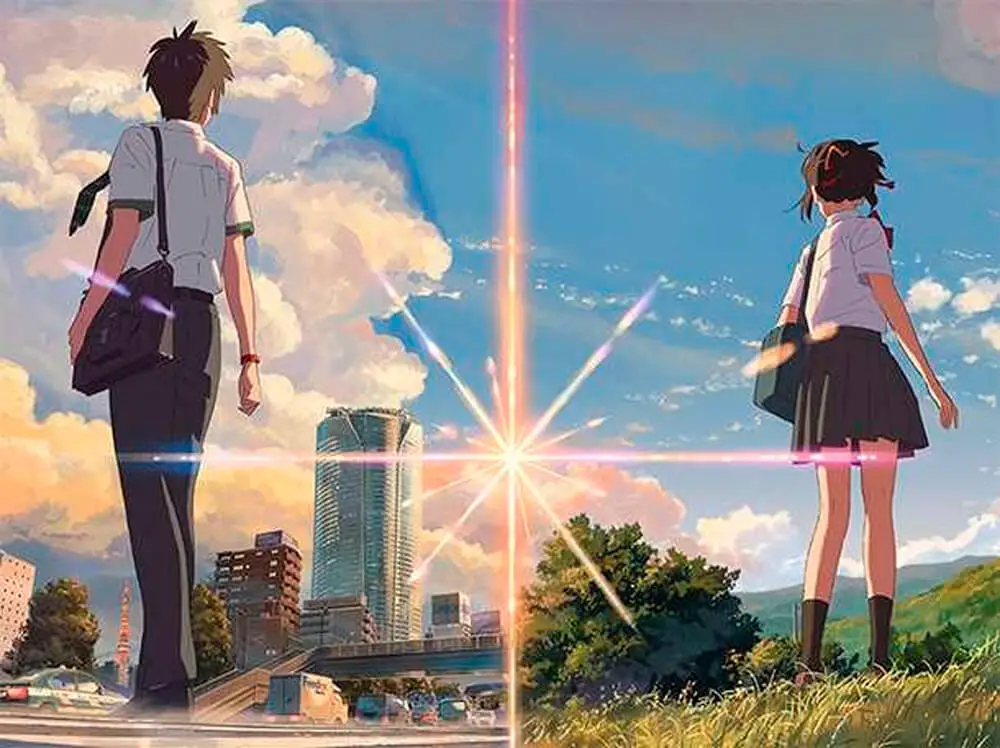 This drama anime is about Mitsuha Miyamizu, a high school girl, yearns to live the life of a boy in the bustling city of Tokyo—a dream that stands in stark contrast to her present life in the countryside. Meanwhile in the city, Taki Tachibana lives a busy life as a high school student while juggling his part-time job and hopes for a future in architecture.
One day, Mitsuha awakens in a room that is not her own and suddenly finds herself living the dream life in Tokyo—but in Taki's body! Elsewhere, Taki finds himself living Mitsuha's life in the humble countryside. In pursuit of an answer to this strange phenomenon, they begin to search for one another.
Kimi no Na wa. revolves around Mitsuha and Taki's actions, which begin to have a dramatic impact on each other's lives, weaving them into a fabric held together by fate and circumstance.
13. A Silent Voice
This drama anime about a wild youth, elementary school student Shouya Ishida sought to beat boredom in the cruelest ways. When the deaf Shouko Nishimiya transfers into his class, Shouya and the rest of his class thoughtlessly bully her for fun.
However, when her mother notifies the school, he is singled out and blamed for everything done to her. With Shouko transferring out of the school, Shouya is left at the mercy of his classmates. He is heartlessly ostracized all throughout elementary and middle school, while teachers turn a blind eye.
Now in his third year of high school, Shouya is still plagued by his wrongdoings as a young boy. Sincerely regretting his past actions, he sets out on a journey of redemption: to meet Shouko once more and make amends.
Koe no Katachi tells the heartwarming tale of Shouya's reunion with Shouko and his honest attempts to redeem himself, all while being continually haunted by the shadows of his past.
12. Beastars
This drama anime starts in a civilized society of anthropomorphic animals, an uneasy tension exists between carnivores and herbivores. At Cherryton Academy, this mutual distrust peaks after a predation incident results in the death of Tem, an alpaca in the school's drama club.
Tem's friend Legoshi, a grey wolf in the stage crew, has been an object of fear and suspicion for his whole life. In the immediate aftermath of the tragedy, he continues to lay low and hide his menacing traits, much to the disapproval of Louis, a red deer and the domineering star actor of the drama club.
When Louis sneaks into the auditorium to train Tem's replacement for an upcoming play, he assigns Legoshi to lookout duty. That very night, Legoshi has a fateful encounter with Haru, a white dwarf rabbit scorned by her peers.
His growing feelings for Haru, complicated by his predatory instincts, force him to confront his own true nature, the circumstances surrounding the death of his friend, and the undercurrent of violence plaguing the world around him.
11. Welcome to the NHK
This drama anime starts Twenty-two-year-old college dropout Tatsuhiro Satou has been a hikikomori for almost four years now.
In his isolation, he has come to believe in many obscure conspiracy theories, but there is one in particular which he holds unshakable faith in: the theory that the evil conspirator behind his shut-in NEET (Not in Employment, Education or Training) status is the Nihon Hikikomori Kyokai (NHK)—an evil and secret organization dedicated to fostering the spread of hikikomori culture.
NHK ni Youkoso! is a psychological dramedy that follows Tatsuhiro as he strives to escape from the NHK's wicked machinations and the disease of self-wrought isolation, while struggling to even just leave his apartment and find a job.
His unexpected encounter with the mysterious Misaki Nakahara might signal a reversal of fortune for Tatsuhiro, but with this meeting comes the inevitable cost of having to face his greatest fear—society.
10. Ping Pong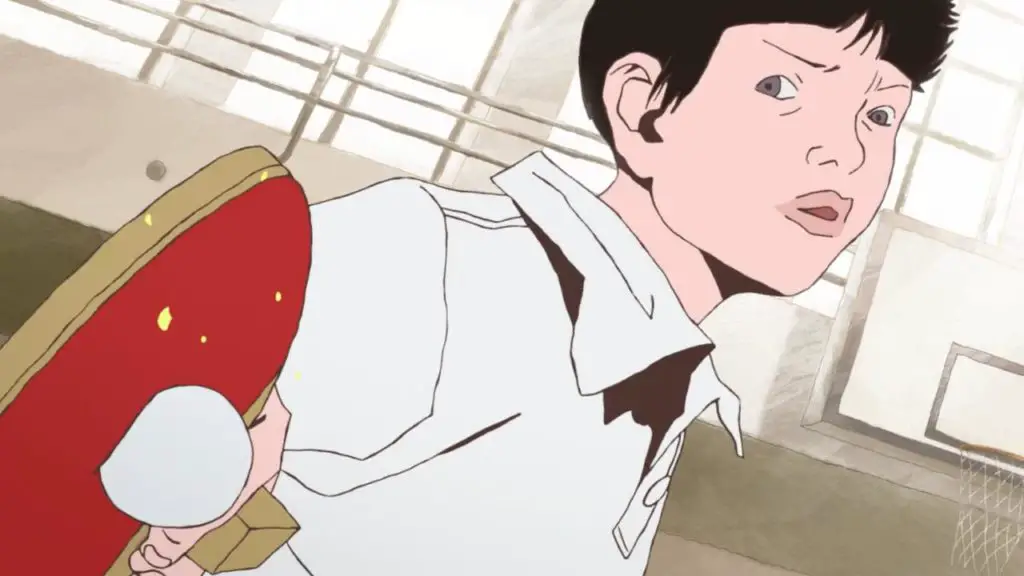 This drama anime is about "The hero comes. The hero comes. The hero comes. Chant these words in your mind, and I'll surely come to you…" This mantra is what Makoto Tsukimoto repeats as a source of motivation when he fights through the stress of not only grueling ping pong matches, but also in situations of his life.
Makoto doesn't fight alone; he and his friend, Yukata Hoshino, nicknamed Smile and Peco respectively, are two boys who have grown up playing ping pong together nearly every day.
Peco, brimming with confidence, aims to be the best table tennis player in the world; Smile, on the other hand, shows little ambition. Nevertheless, the two have always stuck together, with a bond built upon their mutual love for this sport.
Every year, students from all across Japan gather for the inter-high table tennis competition to achieve national and international stardom. Through intense training and competition, only the very best persevere.
From the avant-garde director of Tatami Galaxy, Masaaki Yuasa, Ping Pong The Animation serves a tale of ambition with its fair share of bumps along the way. Whatever the odds, Peco and Smile will face them together. 
9. Whisper of the Heart
This drama anime is about Shizuku Tsukishima is a free-spirited and cheerful 14-year-old girl who is currently enjoying her summer vacation. She loves spending her free time at the local library where she notices that the books she reads are often checked out by a boy named Seiji Amasawa. One day while riding the local train, Shizuku notices a strange cat sitting near her.
Why would an ordinary cat ride a train? Curiosity may have killed the cat, but it can also seriously harm a young girl. Shizuku decides to follow the mysterious cat to see where it goes, and soon stumbles upon an antique shop run by a violin maker named Nishi, the grandfather of the mystery boy who shares her taste in literature.
Seiji and Shizuku soon become friends and while Seiji is sure of his dreams and how to follow them, Shizuku is still unsure of her own talents. However, when she sees a strange cat statuette, "The Baron," in the shop, it seems as if that statuette whispers something to her, tugging at her heart and giving her the inspiration she so desperately needed.
One voice pushes Shizuku further than she could have ever imagined, changing her life forever.
8. Clannad
This drama anime is about Tomoya Okazaki is a delinquent who finds life dull and believes he'll never amount to anything. Along with his friend Sunohara, he skips school and plans to waste his high school days away. One day while walking to school, Tomoya passes a young girl muttering quietly to herself. Without warning she exclaims "Anpan!" (a popular Japanese food) which catches Tomoya's attention.
He soon discovers the girl's name is Nagisa Furukawa and that she exclaims things she likes in order to motivate herself. Nagisa claims they are now friends, but Tomoya walks away passing the encounter off as nothing. However, Tomoya finds he is noticing Nagisa more and more around school.
Eventually he concedes and befriends her. Tomoya learns Nagisa has been held back a year due to a severe illness and that her dream is to revive the school's drama club. Claiming he has nothing better to do, he decides to help her achieve this goal along with the help of four other girls.
As Tomoya spends more time with the girls, he learns more about them and their problems. As he attempts to help each girl overcome her respective obstacle, he begins to realize life isn't as dull as he once thought.
7. Nana
This drama anime is about Nana Komatsu is a helpless, naïve 20-year-old who easily falls in love and becomes dependent and clingy to those around her. Even though she nurses ambitious dreams of removing herself from her provincial roots and finding her true calling, she ends up traveling to Tokyo with the humble reason of chasing her current boyfriend Shouji Endo.
Nana Osaki, on the other hand, is a proud, enigmatic punk rock vocalist from a similarly rural background, who nurtures the desire to become a professional singer. Putting her career with a fairly popular band (and her passionate romance with one of its former members) firmly behind her, she boards the same train to Tokyo as Nana Komatsu.
Through a fateful encounter in their journey toward the metropolis, the young women with the same given name are brought together, sparking a chain of events which eventually result in them sharing an apartment.
As their friendship deepens, the two attempt to support each other through thick and thin, their deeply intertwined lives filled with romance, music, challenges, and heartbreaks that will ultimately test their seemingly unbreakable bond.
6. Toradora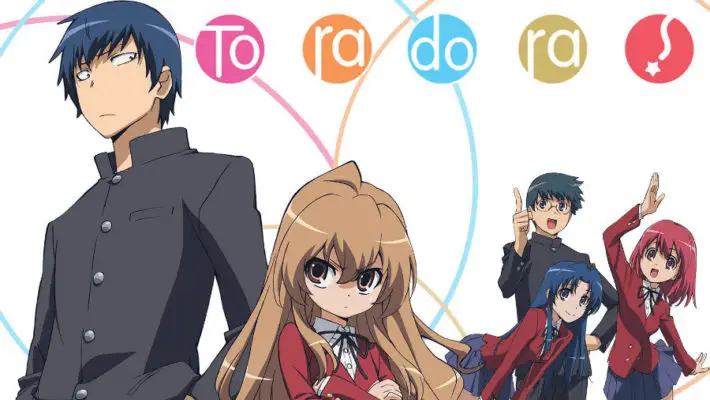 This drama anime is about Ryuuji Takasu is a gentle high school student with a love for housework; but in contrast to his kind nature, he has an intimidating face that often gets him labeled as a delinquent. On the other hand is Taiga Aisaka, a small, doll-like student, who is anything but a cute and fragile girl.
Equipped with a wooden katana and feisty personality, Taiga is known throughout the school as the "Palmtop Tiger." One day, an embarrassing mistake causes the two students to cross paths.
Ryuuji discovers that Taiga actually has a sweet side: she has a crush on the popular vice president, Yuusaku Kitamura, who happens to be his best friend. But things only get crazier when Ryuuji reveals that he has a crush on Minori Kushieda—Taiga's best friend!
Toradora! is a romantic comedy that follows this odd duo as they embark on a quest to help each other with their respective crushes, forming an unlikely alliance in the process.
5. Aku no Hana
This drama anime is about Kasuga Takao is a boy who loves reading books, particularly Baudelaire's Les Fleurs du Mal. A girl at his school, Saeki Nanako, is his muse and his Venus, and he admires her from a distance. One day, he forgets his copy of Les Fleurs du Mal in the classroom and runs back alone to pick it up.
In the classroom, he finds not only his book, but Saeki's gym uniform. On a mad impulse, he steals it. Now everyone knows "some pervert" stole Saeki's uniform, and Kasuga is dying with shame and guilt. Furthermore, the weird, creepy, and friendless girl of the class, Nakamura, saw him take the uniform.
Instead of revealing it was him, she recognizes his kindred deviant spirit and uses her knowledge to take control of his life. Will it be possible for Kasuga to get closer to Saeki, despite Nakamura's meddling and his dark secret? What exactly does Nakamura intend to do with him? 
4. Monster
This drama anime is about Dr. Kenzou Tenma is a renowned brain surgeon of Japanese descent working in Europe. Highly lauded by his peers as one of the great young minds that will revolutionize the field, he is blessed with a beautiful fiancée and is on the cusp of a big promotion in the hospital he works at.
But all of that is about to change with a grave dilemma that Kenzou faces one night—whether to save the life of a small boy or that of the town's mayor.
Despite being pressured by his superiors to perform surgery on the mayor, his morals force him to perform the surgery on the other critical patient, saving his life and forfeiting the mayor's. A doctor is taught to believe that all life is equal.
However, when a series of murders occur in the surgeon's vicinity, all of the evidence pointing to the boy he saved, Kenzou's beliefs are shaken. Along his journey to unravel the true identity of his little patient, Kenzou discovers that the fate of the world may be intertwined with the mysterious child. 
3. Shouwa Genroku Rakugo Shinjuu
This drama anime is about Yotarou is a former yakuza member fresh out of prison and fixated on just one thing: rather than return to a life of crime, the young man aspires to take to the stage of Rakugo, a traditional Japanese form of comedic storytelling. Inspired during his incarceration by the performance of distinguished practitioner Yakumo Yuurakutei, he sets his mind on meeting the man who changed his life.
After hearing Yotarou's desperate appeal for his mentorship, Yakumo is left with no choice but to accept his very first apprentice. As he eagerly begins his training, Yotarou meets Konatsu, an abrasive young woman who has been under Yakumo's care ever since her beloved father Sukeroku Yuurakutei, another prolific Rakugo performer, passed away.
Through her hidden passion, Yotarou is drawn to Sukeroku's unique style of Rakugo despite learning under contrasting techniques. Upon seeing this, old memories and feelings return to Yakumo who reminisces about a much earlier time when he made a promise with his greatest rival.
Shouwa Genroku Rakugo Shinjuu is a story set in both the past and present, depicting the art of Rakugo, the relationships it creates, and the lives and hearts of those dedicated to keeping the unique form of storytelling alive. 
2. Grave of the Fireflies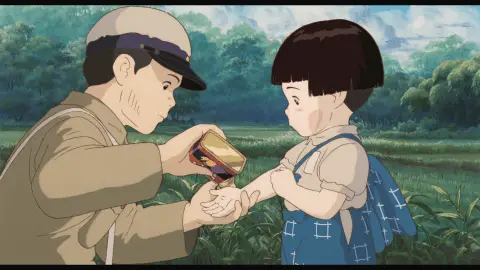 This drama anime starts from World War II reaches its conclusion in 1945, Japan faces widespread destruction in the form of American bombings, devastating city after city. Hotaru no Haka, also known as Grave of the Fireflies, is the story of Seita and his sister Setsuko, two Japanese children whose lives are ravaged by the brutal war.
They have lost their mother, their father, their home, and the prospect of a bright future—all tragic consequences of the war. Now orphaned and homeless, Seita and Setsuko have no choice but to drift across the countryside, beset by starvation and disease.
Met with the apathy of adults along the way, they find that desperate circumstances can turn even the kindest of people cruel yet their youthful hope shines brightly in the face of unrelenting hardship, preventing the siblings from swiftly succumbing to an inevitable fate.
1. Legend of the Galactic Heroes
This drama anime starts from 150-year-long stalemate between the two interstellar superpowers, the Galactic Empire and the Free Planets Alliance, comes to an end when a new generation of leaders arises: the idealistic military genius Reinhard von Lohengramm, and the FPA's reserved historian, Yang Wenli.
While Reinhard climbs the ranks of the Empire with the aid of his childhood friend, Siegfried Kircheis, he must fight not only the war, but also the remnants of the crumbling Goldenbaum Dynasty in order to free his sister from the Kaiser and unify humanity under one genuine ruler.
Meanwhile, on the other side of the galaxy, Yang—a strong supporter of democratic ideals—has to stand firm in his beliefs, despite the struggles of the FPA, and show his pupil, Julian Mintz, that autocracy is not the solution.
As ideologies clash amidst the war's many casualties, the two strategic masterminds must ask themselves what the real reason behind their battle is.
Hope you like these drama anime comment below which of these drama anime make you cry share this drama anime list with your friends and don't forget to bookmark MOW.