What do you think about your favorite Japanese city being infested by human-eating monsters who hide in plain sight?
Tokyo Ghoul is a story about Ken Kaneki, a loner, a nerd and kind of a timid high schooler which if you ask me doesn't seem so strong right? Well go through this list and find out!
When we're talking about an anime with ghouls, of course, there is gonna be many strong characters.
So let's explore all the strong ghouls in the anime.
15. Yakumo Oomori (Jason)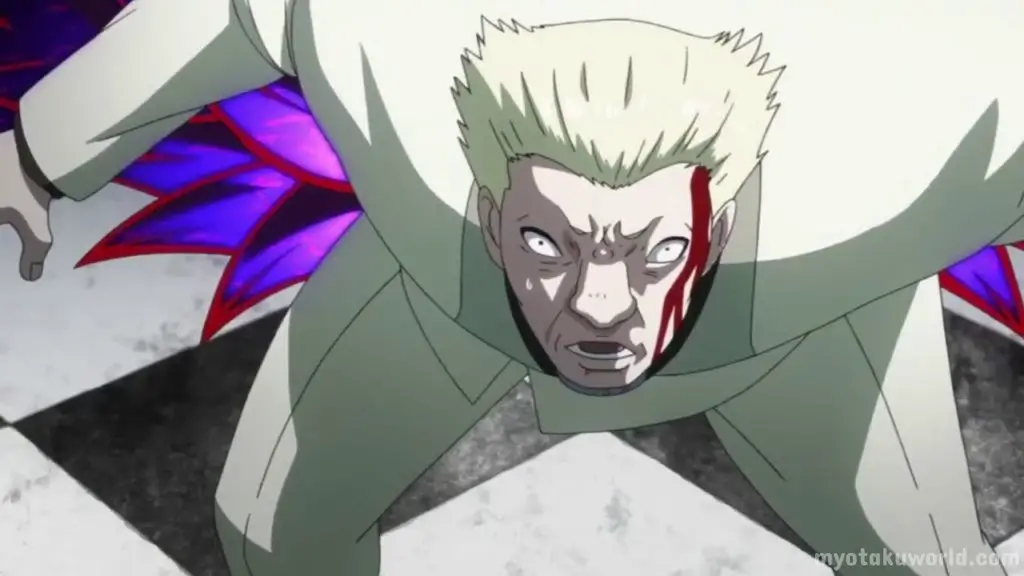 This guy is the definition of a scary monster. Yakumo "Jason" Oomori, famously known as Jason because of the mask he wears which is kinda inspired by the Hollywood inspirational horror "Friday the 13th" and a white three-piece suit with a blue tie.
His hairstyle is kinda cool. Jason is known for his torture techniques and the famous line, "What is thousand minus seven?" Oh, that line still gives me the chills.
One of his favorite torture techniques is to pull the nails of the ghouls, since they heal quickly he can pull them off over and over again and again.
14. Juuzou Suzuya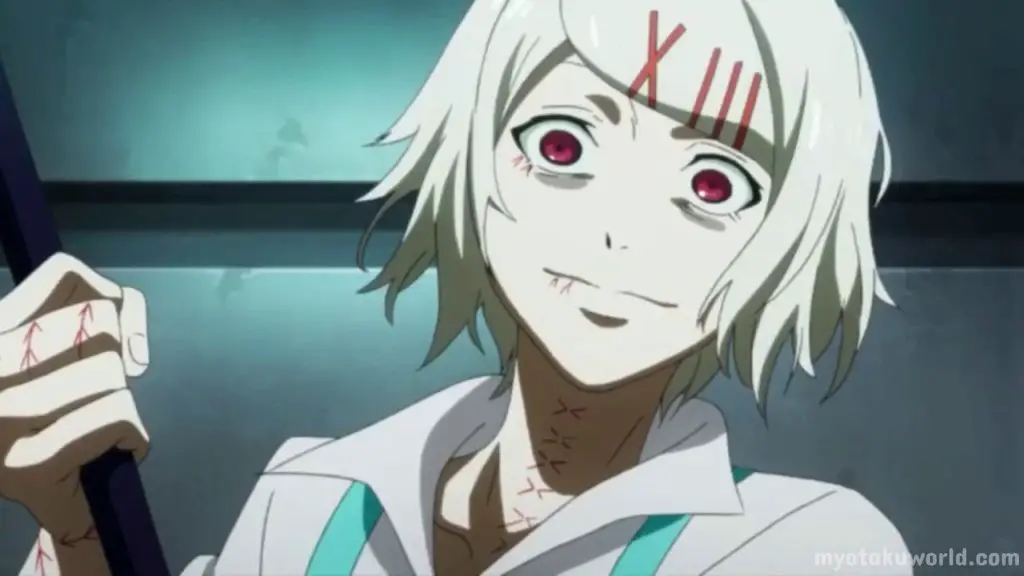 On number 14, we have one of the coolest characters from the series.
There is one Juuzou scene that I absolutely love and I think everyone who has watched the anime(first season) knows this scene and what I'm talking about, I mean he's just so badass on the bike and the submachine guns.
Juuzou is a Ghoul Investigator and the leader of the Suzuya Squad. He has a cool scythe for a weapon with red and black colors, sometimes he also uses guns.
Juuzou seemingly has a tough life and a brutal past, as viewers we do get a glimpse into his past and he has one hell of a back story.
13. Touka Kirishima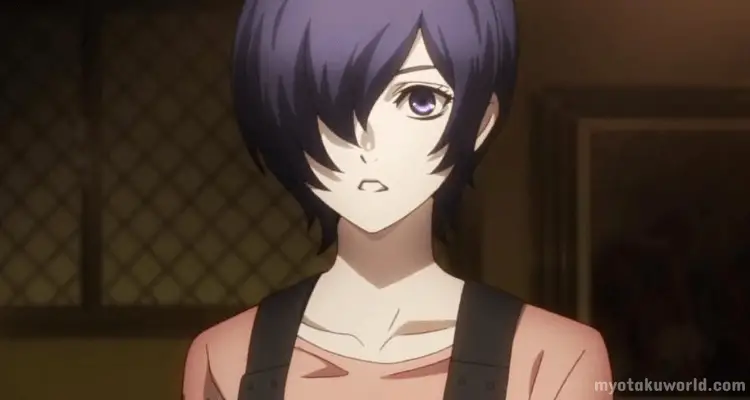 Next up we have Touka Kirishima, all the Tokyo Ghoul fans hail her as the best girl in the anime.
Well, apart from her cuteness there is the powerful desire in her eyes, her sense of justice, and of course her spirit of revenge.
She is a fierce ghoul with short purple hair who poses as a waitress at the coffee shop run by the old man.
Touka's kagune is known as Ukaku Kagune which gives her a beautiful wing that she can control at will.
Her kagune is one of the prettiest in the anime, the wing almost makes her look like a demon-angel.
12. Koutarou Amon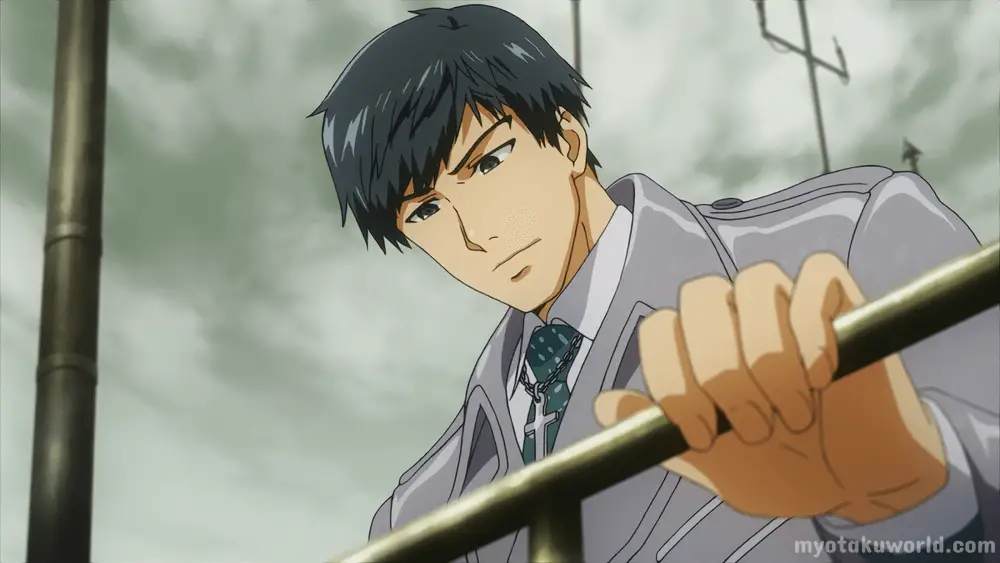 Starting off our list with Koutarou Amon a badass Ghoul Investigator, Koutarou Amon.
He first appears as the new partner of Mado, Kureo, another old ghoul investigator who hunts ghouls for fun, Amon, on the other hand, is a well-disciplined man with ethics and accountability.
He is a tall man with broad shoulders and a well-built muscular body.
He can be seen wearing a formal white shirt and black pants over which he pulls over a grey long coat mainly due to the cold climate of Tokyo, I would guess.
Amon's quinque, Dojima is basically a club but soon develops and changes altogether after some repairs.
11. Ayato Kirishima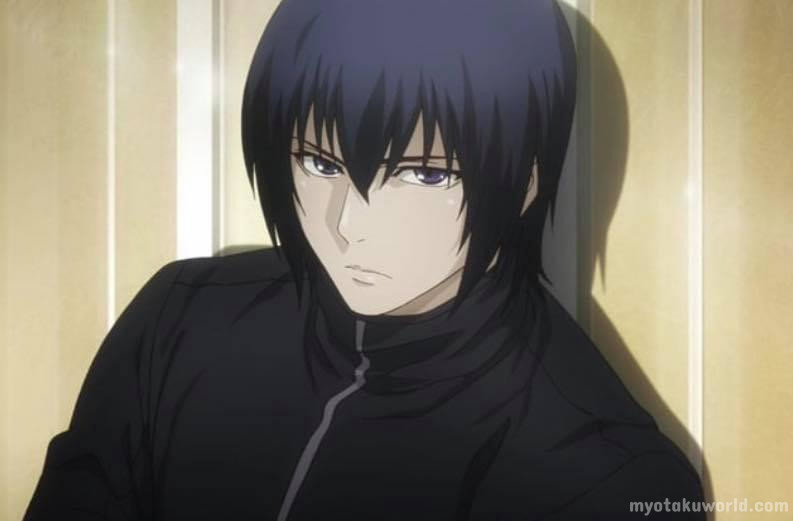 Ayato "Black Rabbit" Kirishima is actually Touka's younger brother.
Ayato who grew up with Touka, left the district to wander Tokyo.
He is kinda like the once happy child turned to the dark side.
He associates himself with the Aogiri Tree and has the same kagune called Ukaku.
He has purple hair in the anime just like his sister and mostly wears a hoodie and looks kinda intimidating.
His attitude is also kinda similar to his older sister, he is arrogant and hot-blooded.
What I liked about him most is the menacing smile, which is so scary yet kinda enjoyable.
Let's get to the top 10 on our list!
10. Hinami Fueguchi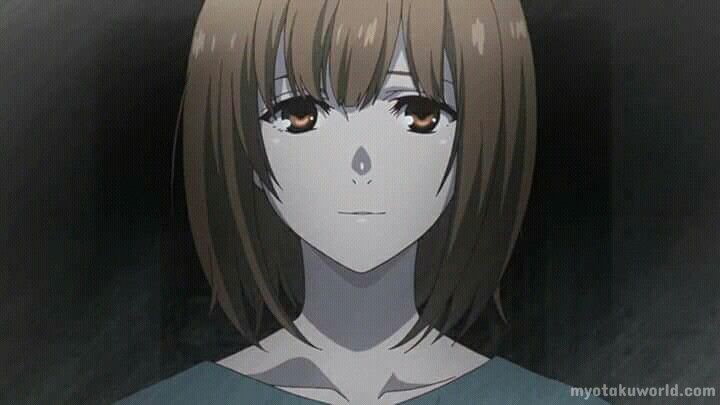 Hinami is the kawaii ghoul of the anime but doesn't get fooled by her cuteness or she'll literally eat you up like steamed momos.
Hinami's kagune is the actual combination of both her mother's and father's kagune.
Hinami, with the Koukaku on her shoulders and the Rinkaku on her waist she is more powerful than other ordinary ghouls.
She has an unfortunate backstory and I was extremely saddened when I saw that episode. She has shorts brown hair and her personality is kinda kawaii.
She likes to read books and short stories but has trouble understanding some kanji so she always asks Kaneki and he helps her out, that is so kawaii.
They have a cute brother-sister relationship.
9. Iwao Kuroiwa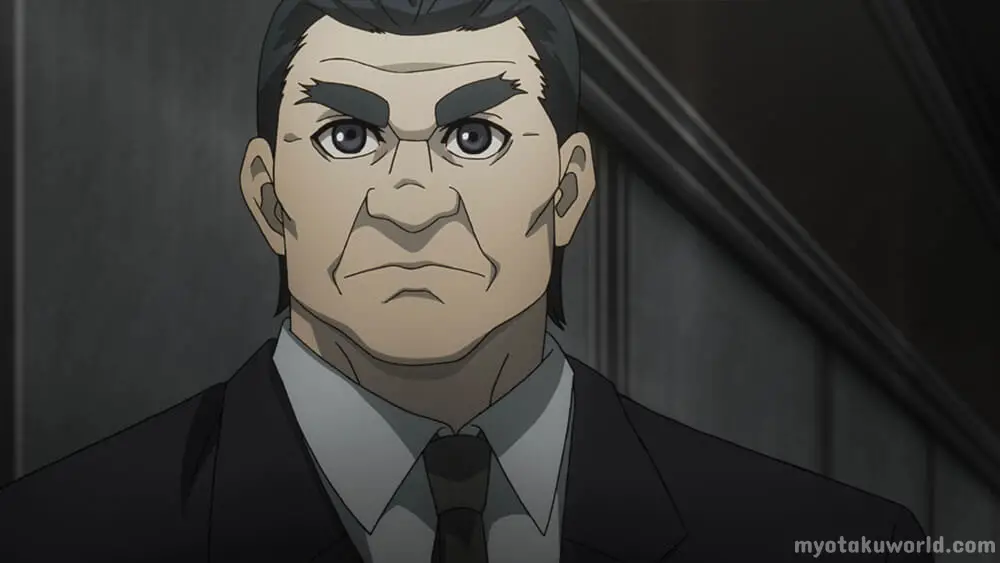 Next up on number nine we have, Iwao Kuroiwa nicknamed "Iwaccho" by Yukinori Shinohara is a ghoul investigator. He is a special class investigator and also the vice commander of the 11th ward.
I think anyone who starts this anime should keep an eye out on the "Kuroiwa Special" it is so badass. It is a rinkaku type quinque specially designed for Iwao.
It resembles a shield that Iwao wields along with his Arata armour, which I personally call God Armour, I mean come on he fought against Eto in that armour!
Iwao resembles a responsible and accountable general in the field of battle.
He is a man of tactics and always keeps a cool head except when he furiously attacks his opponents, he never shows mercy for his opponents.
8. Uta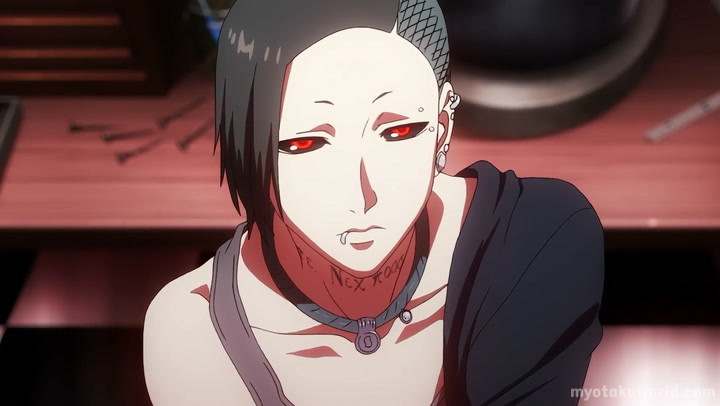 On number 8, we have Uta with his cool mask art and badass tattoos.
Well, this power estimations is only speculation because unfortunately we never get to see Uta and his kagune in full power but I think he definitely is worthy of the spot.
He is quite powerful even without the Kagune, he doesn't even need to use it while fighting other ghouls.
We can also estimate his power to be great cause we know he was the leader of the 4th ward, you gotta be pretty bold and powerful to lead a squad.
In the anime, we see him for the first time when Kaneki needs a mask designed for himself.
Uta has such a cool hairstyle, with the short straight black hair and the left side shaven off, and need I to remind you of the piercings and badass tattoos all over his body.
7. Matasaka Kamishiro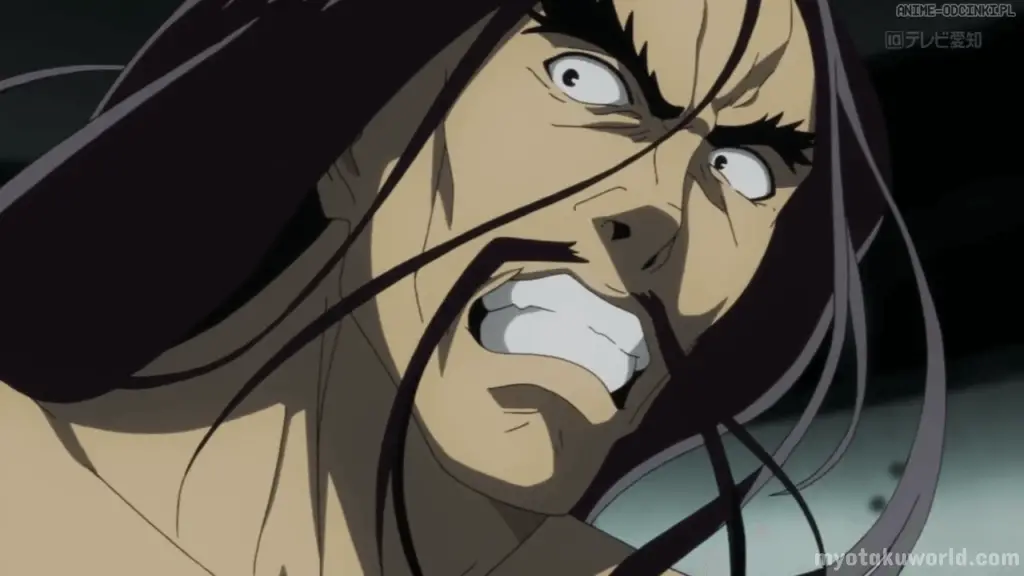 Matasaka is literally the combination of an MMA fighter and a vicious ghoul.
Matasaka, in the anime, is the former leader of the 6th ward, and as I have said before you obviously don't just get this position and authority willy nilly.
Matasaka has one of the most muscular bodies ever seen in the anime and with that, he is an SS-rank ghoul, which if you ask me is a deadly combination.
He associates himself with the Aogiri Tree after he broke free from the detention center for ghouls.
6. Ken Kaneki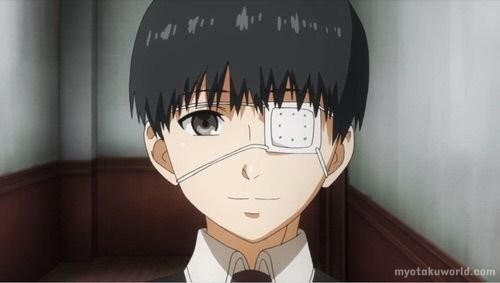 There are some series and some fantasy worlds where an overpowered protagonist is the way to go but in my opinion, Tokyo Ghoul isn't one of them.
I mean the world of Tokyo Ghoul is such that if the protagonist was overpowered he would face no adversities and no obstacles which is kinda the gist of Tokyo Ghoul.
Kaneki, at the start of the anime, is a pushover, a nerd, a timid loner who is forced to change, is forced to look at the ugly corners of the world if forced to learn selfishness and by the end of the first season he turns over a new page.
Kaneki has black hair for most of the first season which turns white in the last episode, kinda a symbolism.
His kagune is the same as Rize Kamishiro's rinkaku style kagune with the four red tentacle-like attachments on his lower back.
5. Noro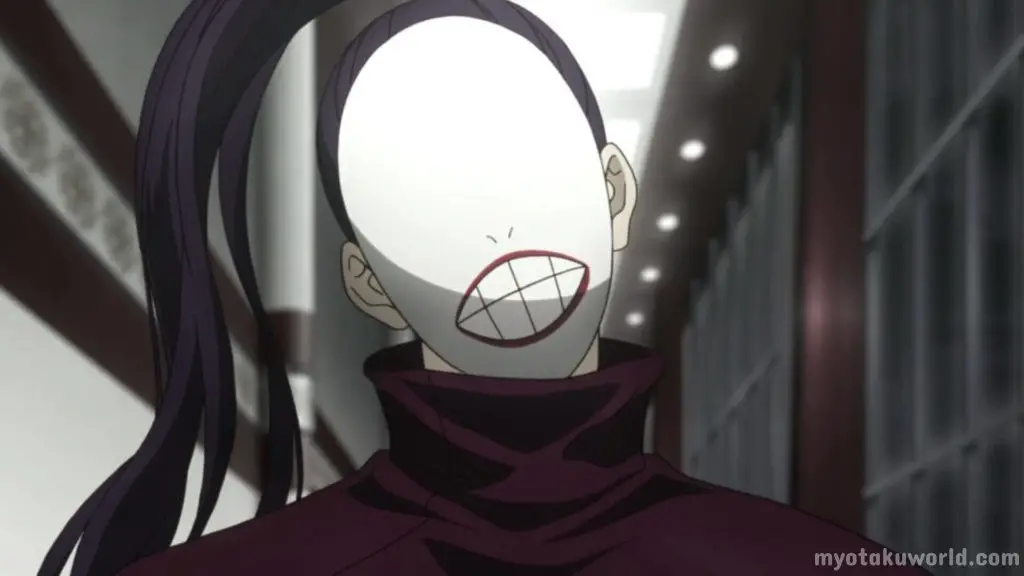 Noro, the answer to, "Which Tokyo Ghoul character is most likely to give little children nightmares for life?", I mean come on just look at this guy's mask.
Wouldn't you run the heck away from a guy with a menacingly creepy smile on his mask with no eyes and that stupid ponytail?
Noro is actually a direct underling of the suspicious One-Eyed King. Noro has a bikaku kagune which looks like a long muscular arm with a vicious monster mouth at the end of it.
He is a tall built man, wears a long overcoat that comes up to the neck, kinda badass right?
4. Tatara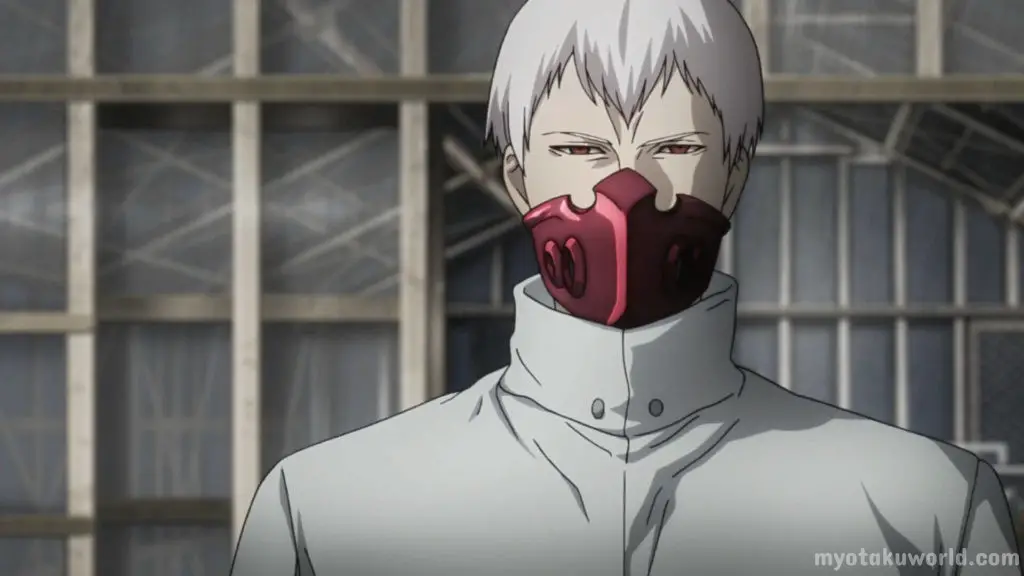 On number four after Noro, we have another direct subordinate of the One-Eyed King.
Tatara is like one of those cool and composed villains in anime, he kinda knows he's powerful.
He is proud and loyal to the Aogiri Tree. He actually used to be a part of the Chinese ghoul organization, "Chi She Lian".
Tatara wears a cool red mask that covers the bottom half of his face.
His kagune is a thick, red tail covered in blood and he actually has a Kakuja which is basically a strong muscular armour, which I think is the most badass armour in the anime.
3. Yoshimura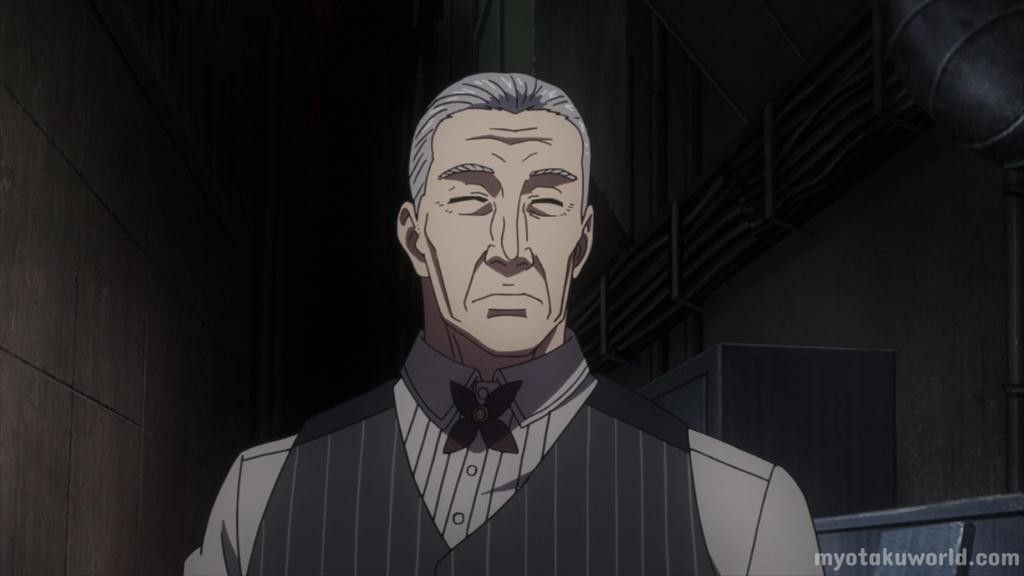 On the number three spot, we have, Yoshimura or as I refer to him, "old man", he is crazy powerful.
Appearances are truly deceiving, Yoshimura was given the name of, "One-Eyed Owl" a triple S ranked ghoul, definitely one of the strongest in the anime.
The old man is later called the "Non-Killing Owl" by the ghoul investigators.
Yoshimura manages a cafe in the 11th ward which doubles as a safe haven for all the ghouls in the ward.
I would describe the old man as a beautiful soul, he is a peace-loving ghoul who only fights when it's absolutely necessary but when he does, I don't think he shows any mercy to his opponents.
He is a generous person. He takes in non-functional ghouls who don't know what to do with themselves and teaches them about functioning peacefully as ghouls alongside humans.
2. Eto Yoshimura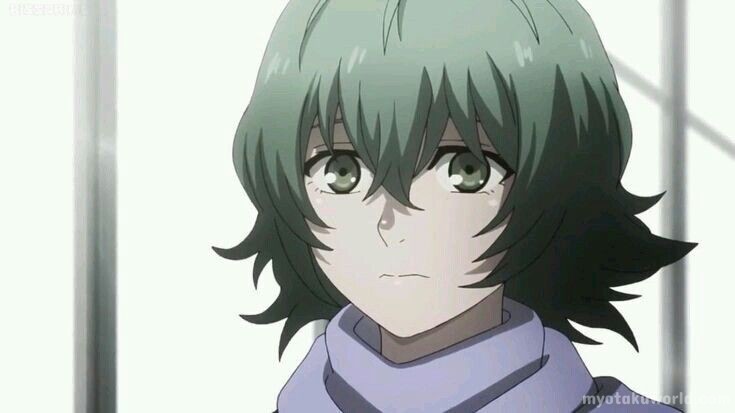 Coming in at number two is Eto, a triple S ranked ghoul with the badass nickname, "One-Eyed Owl". She is the most powerful ghoul in the anime.
By now, you must have noticed her name, yes, she is the daughter of Yoshimura.
She is also the founder and leader of Aogiri Tree, now that's a position of power, probably the most powerful in the anime.
She has the Ukaku kagune, which takes the form of multiple appendages stemming from her back.
She can transform these appendages into the shape of the mouth, ears, etc. She also has a cool Kakuja but I'd not spoil that for you!
1. Kishou Arima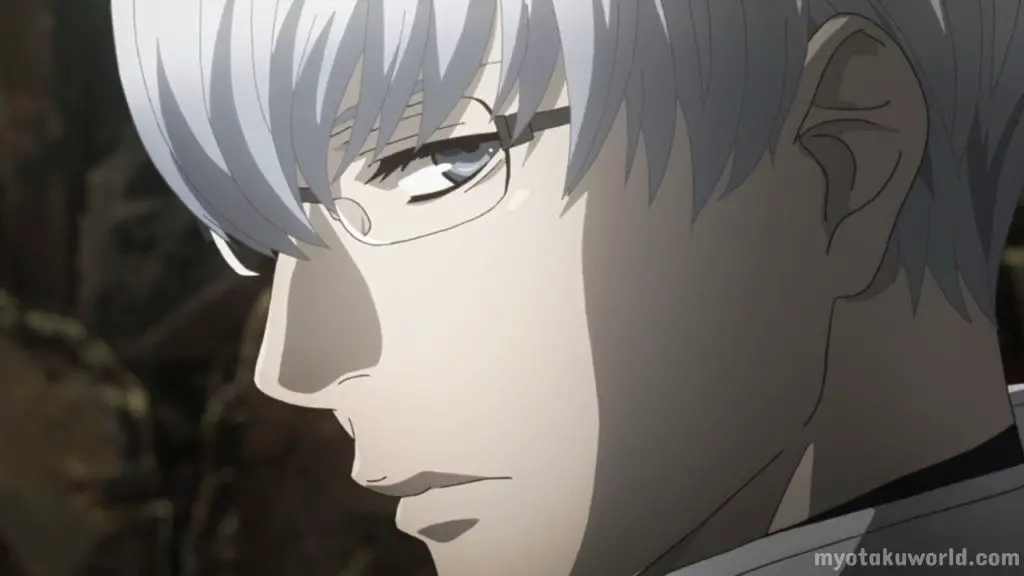 Who else could be at the top other than the undefeated Reaper of the CCG? Kishou is a special class ghoul investigator.
He is unbelievably strong. Imagine not being lost a single time against a ghoul, a ghoul is a monster, Kishou is just human.
Although, he isn't exactly a human. Watch the anime to find out. Kishou is a good looking tall man with white hair and slim stature. He wears a long white coat and sleek transparent glasses.
His quinque in the early days was a long sword, he is a master swordsman and has superhuman agility.
If I say more I would be definitely robbing you of the experience of watching him fight.