Although the popularity of anime has increased, there are still some episodes that should not be watched in the presence of kids.
There's a good chance you wouldn't allow your 5-year-old nephew to watch Elfen Lied, and there's an even bigger chance you wouldn't let your grandma see Kill la Kill.
However, what about anime that is appropriate for the whole family? How about some Kid-Friendly Anime that would be appropriate for kids of all ages to watch?
That's why we've created this list of rankings. There is an anime that is enjoyable for everyone in the family, from young children to adult members.
27. Kono Oto Tomare!
The establishment of school clubs has been a recurring theme in many anime depicting school life. But, in reality, you've probably never heard of koto club being a central plot, have you?
Kono Oto Tomare's concept itself reminds me of anime such as Chihayfuru. That anime evolved into a rare breed that capitalized on a one-of-a-kind competition. For the first few episodes, Kono Oto Tomare follows a similar path.
Takezou Kurata, the president of the koto music club, is introduced right away. The timid young man possesses no distinguishing characteristics.
His love for koto music is obvious as the sole member of the Koto club, despite his club's struggles to become a sensation.
26. Tari Tari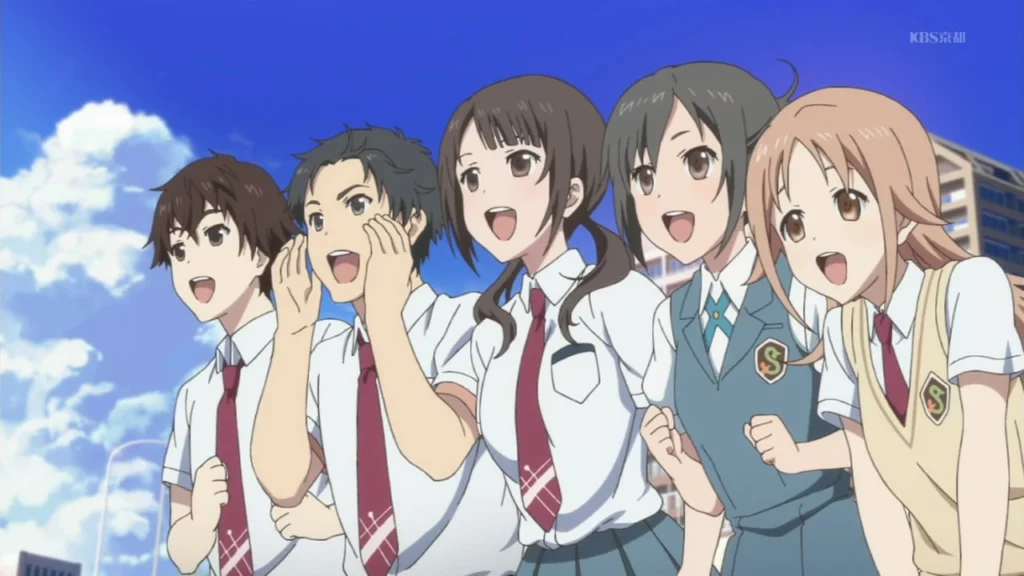 Tari Tari, as a member of the traditional genre of high school drama, is no stranger to this pattern.
Wakana and her pals Sawa and Konatsu are in their final year of high school when the narrative begins.
After receiving a scolding from the stern vice principal, Konatsu decides to leave the singing club and form her own with the help of her friends, as well as the eventual addition of two male characters: Taichi, a dedicated badminton player, and "Wien," an odd transfer student from Austria.
Of course, things do not go as easily as Konatsu had hoped, as she receives an initially angry reaction from Wakana, who accuses her of playing games and treating music as a hobby.
25. Howl's Moving Castle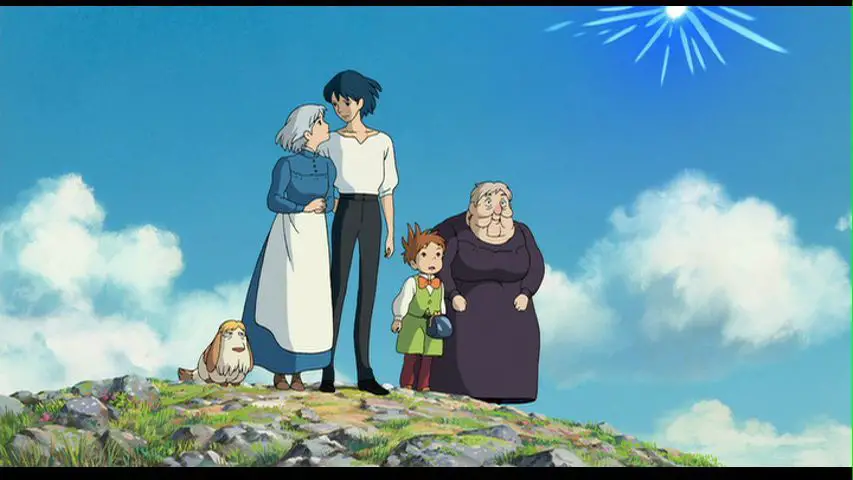 The dreamy, imaginative animation has an old wise wizard who is walking around in a fantastical castle and a wise woman who is actually an 18-year-old hat maker transformed by an unsavory witch. 
There's also an emaciated scarecrow with a twisted face and a negotiating demon.
Kids might not understand all the intricate character growth, but they'll delight in every minute.
24. Spirited Away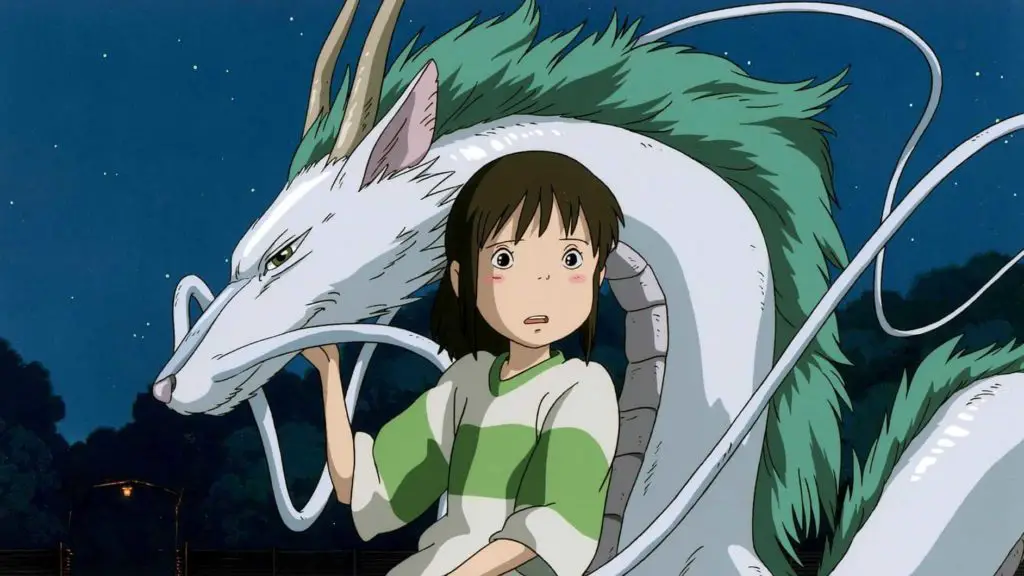 I'm going to begin by introducing Spirited Away. 
However, in the end, any Ghibli movie (besides perhaps Grave of the Fireflies) is a sure choice.
I picked Spirited Away in particular because the universe continues to be awe-inspiring.
When I first saw it as a child, I was in love with the intriguing characters. I even imagined living with them.
Now, as a bigger child, I take a look at all the themes in the film and the ways they are tied to actual situations.
To many people, this film is Ghibli's greatest work. 
It is highly recommended to bring it up during your next movie night with the family.
23. Sailor Moon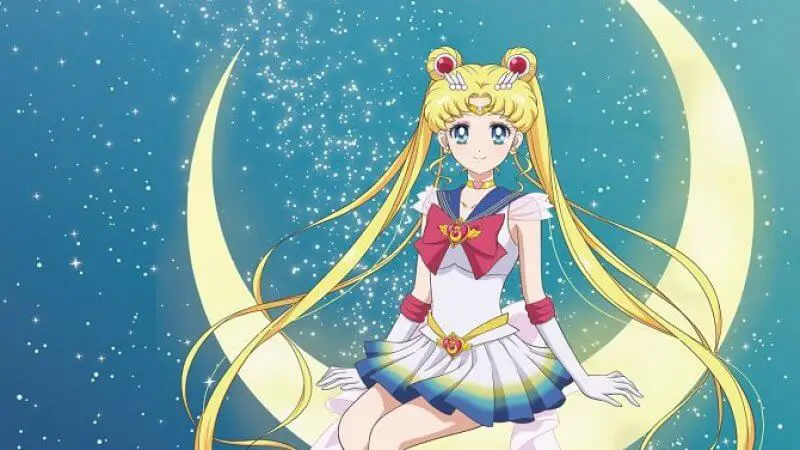 Although the uncut edition of the program does have some moments, it's the American version that's a favorite with an enormous portion of viewers. 
This is due to the popularity Sailor Moon gained when it was part of Cartoon Network's Toonami schedule.
The story is inspired by a well-known manga that belongs to the Magical Girl genre. 
Its protagonist is Usagi Tsukino, a teen girl who finds out she can transform into a superhero. 
She joins with other girls, referred to as the "Sailor Soldiers," to fight against the dark forces. 
Sailor Moon is a combination of comedy, magic, and family scenarios that anyone can identify with.
22. Haikyu!!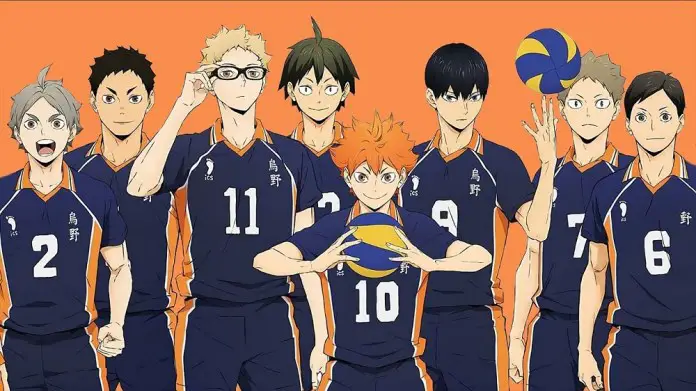 Sports anime is yet another secure bet as both old and young are familiar with the thrill of winning a big game.
Since Haikyu can also be described as a bit more realistic and tame in the way the story is told (and the way that the games unfold), even older people will appreciate the effort that was put into the production.
Additionally, there's a humane story to tell behind it all.
It's not like you're watching the Monday football game with your old friend.
There's something for everyone.
21. Sweetness And Lightning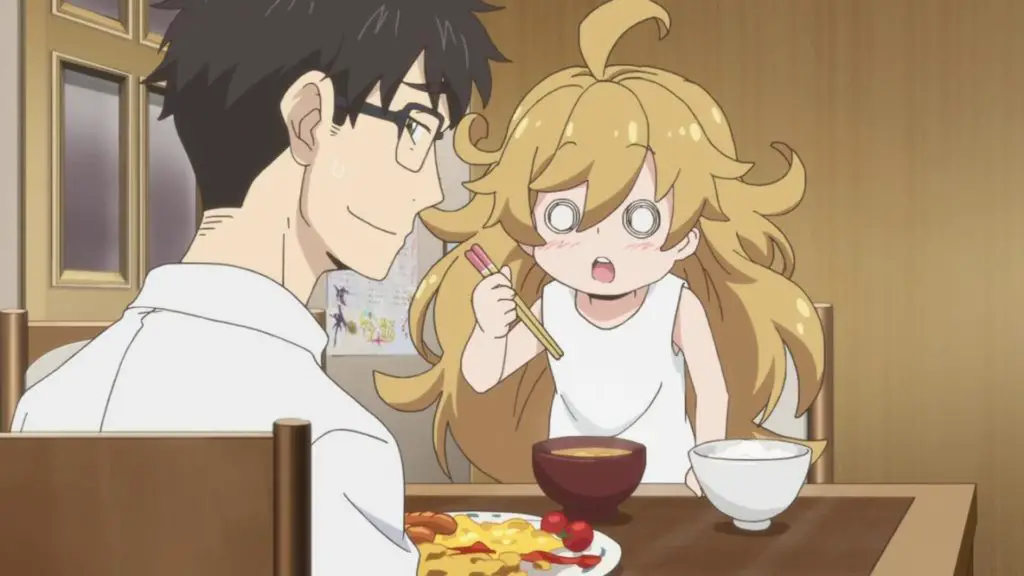 If you've ever thought of combining their love for anime with food, Sweetness and Lightning is the ideal recipe. 
The majority of the show concentrates on the recipes Kohei, the widower's dad, cooks for his daughter Tsumugi. 
Viewers who are watching the show could do the same by themselves to cook easy food items.
The remainder of Sweetness and Lightning is based on the relationship between Kohei and his child in kindergarten. 
The show focuses on how they manage to solve problems without any help from their mother. 
As with other anime that do not have a power system, it captures the emotions and tribulations of family relationships.
20. Natsume's Book Of Friends
Let's face it, kids learn a lot about their character traits and values early on from the shows they're watching.
The Natsume Book of Friends should be as popular as the anime Bible in this regard since I believe it teaches crucial life lessons and is extremely entertaining to enjoy.
While your son learns about notions that liberty is, then you also get to watch the tsundere cat while he gets another jealousy-filled freakout. 
Everyone wins in this show.
19. Snow White With The Red Hair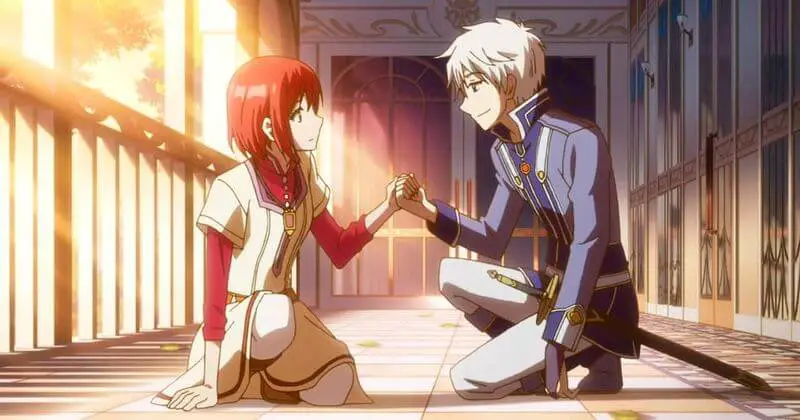 The Disney film Snow White is more sinister than it appears. 
The witch of the night tries to kill the innocent princess without any reason that is remotely relatable or sympathetic. 
In the meantime, Snow White herself needs to traverse a threatening forest to reach the home of the dwarves.
Snow White with the Red Hair isn't quite as dark. 
Also, it doesn't have dwarfs. In reality, Snow White in this family drama is Shirayuki a herbalist who has rare red hair. 
She flees her home when she is made the concubine of Prince Raji. 
Although there's an apple that is poisoned it's not an integral aspect of the story. 
In addition, the character development is more extensive in the sequel to Snow White than in the original.
18. K-On!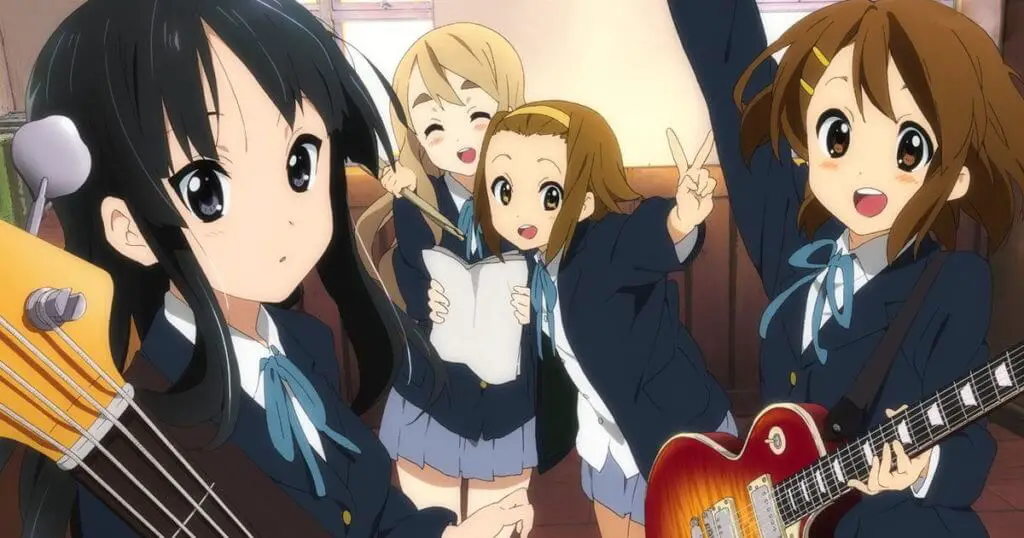 While your parents may be a bit irritated even if you're when you're in your 30s or 40s, this is an absolute blast to enjoy with your younger brother or your nephew.
It's the formula that has been patented adorable girls doing cute things that are appealing and relatable characters and a rousing music track.
It's not risky also. It's not often seen in anime of high school because of some reason.
And the subjects the show tackles aren't too explicit or serious for an audience of children. 
All things considered, I'd say that it's a safe choice for children!
17. ReLife
What if a chance was offered to revisit their past to repair the mistakes they made up? 
Would they accept that risk with the possibility that something else might happen in the new version that makes it worse than the one before? 
This is exactly what 27-year-old Arata Kaizaki is doing within ReLife.
Through a course at the ReLife rehabilitation center, Arata becomes 17 years old again and can go back into high school. 
Arata is here to discover the reasons for what happened during his time. 
While it's not the best choice, an ideal choice for young children, ReLifeis an excellent show for parents and older kids to watch together.
16. My Hero Academia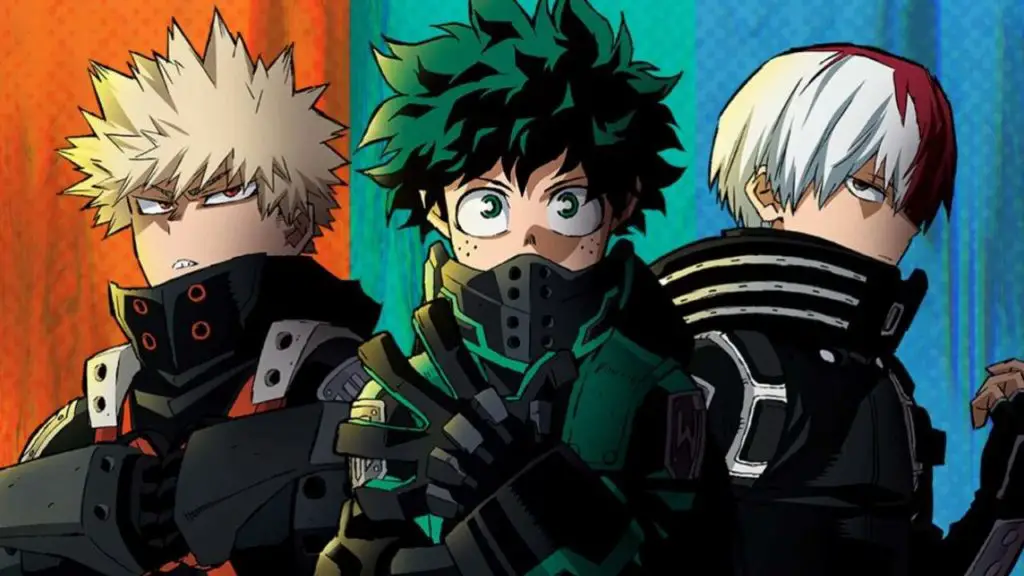 MHA has found itself in a strange place. 
There are some quite serious scenes, for instance, the death of a particular character, but I believe it's still suitable for the wider public.
Anyone who was a child of cartoons about superheroes will tell you that, even the odd serious scene isn't too difficult If it's not too obvious or constant.
And, my Hero Academia is, for the most part, entertaining and clean.
It also has crucial morals on friendship, hard work, and helping others. Therefore, I'll give it a pass on an occasional battle injury.
Keep your kids away from Mineta because Mineta isn't the role model that one should look up to.
15. Tamako Market
What made shows such as The Office and Parks and Recreation so popular was their portrayals of everyday life. 
In the end, viewers were able to connect with the characters they liked. 
They are the ones who ought to enjoy the slice-of-life animated series, Tamako Market.
It's a light-hearted show about a teenager who works in the store with her parents to create Mochi, a Japanese food called Mochi. 
There's no Gundam or mysterious girls. 
It's about Tamako and her first year at high school and how she manages her work and life.
14. Little Witch Academia
I envision Little Witch Academia as the modern Sailor Moon in certain ways.
It is a predominantly female group of girls, all of whom are striving to be the best Hogwarts-lite edition, all with the aim of to become a renowned witch.
Her character, in particular, is new to magic and is struggling with her class. 
However, with a bit of perseverance and a bit of luck, she's able to catch up with others in a matter of minutes.
A good moral stance, captivating images, a good story, and soothing music. What else could you want?
13. Flying Witch
Flying Witch is an adorable and fun slice-of-life anime that has beautiful animation and memorable characters. 
The series follows Makoto Kowata, who is a curious young witch who has a cute, tiny black cat who is her companion.
She moves to a brand new area to commence her education as a witch and improve her skills. 
Through the course of her journey, she meets new acquaintances and encounters the various challenges of being a witch. 
This is a fantastic choice for those who love all things magical creatures and fantasies.
12. Barakamon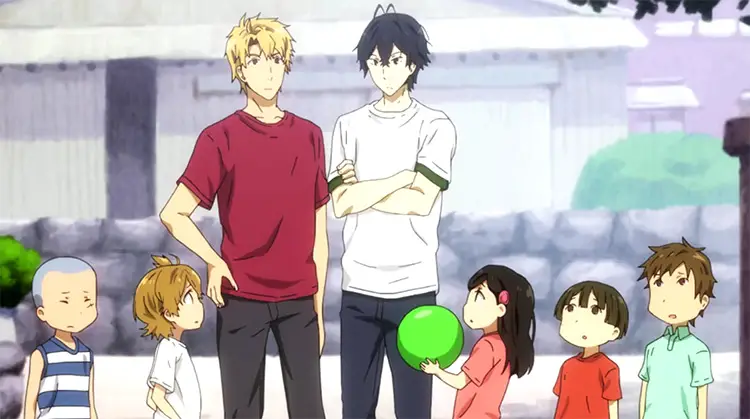 The show has two central characters: an adult and a child. 
You can understand why I recommend it to an all-encompassing public.
While children might be cheering at Naru or the remaining kids while they play in the shell.
More mature viewers may be able to understand Seishun in his struggles shed the norms of society and become truly compassionate and imaginative.
It's among my top shows ever. It's one that I strongly recommend watching either on your own or with some company!
11. Pokemon
Pokemon has been the longest-running series that has entertained kids as well as adults since the early '90s. 
The series is packed with adventure and lore, as well as love and friendship that is enjoyed by all the family. 
And that's not even counting the huge amount of gaming and video associated with it.
The series follows the continuous journey that follows Ash Ketchum and his friends as he prepares his Pokemon and faces off against the bizarre and numerous foes in his path. 
This series is not only healthy to enjoy with the members of the family but, it's addressed serious issues in a manner that everyone young and old enjoys.
10. How to Keep a Mummy
I'm giving this show my highest recommendation due to it being just too cute to ignore.
It's all about a boy known as Sora who gets hold of the most adorable, tiny Mummy that anyone has ever encountered.
Mummy is really an infant at heart, and is always avoiding terrifying situations, or even cries when she's left unattended.
It's true, this show is so innocent and cute that there's not any person on Earth who wouldn't love watching this ball of bandages swaddling around.
9. Your Name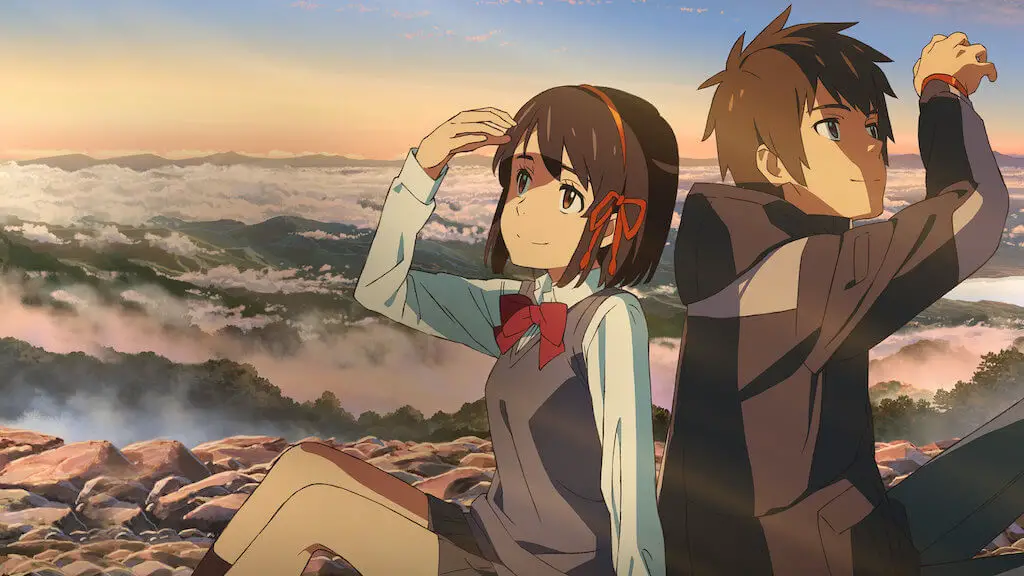 Your Name is a wonderful film that explores the love of adolescent girls as well as the occasional twist between time and distance.
It is a winning combination Doesn't it?
The show set record-breaking records at the time it debuted and with good reason.
The characters are likable, the animation is stunning, and the writing offers something for everyone.
While adults think about the fateful red string that set everything in motion, children will be laughing at the hilarious dynamic between the characters.
Everyone will be amazed by the beauty of the landscape.
8. Dr. Stone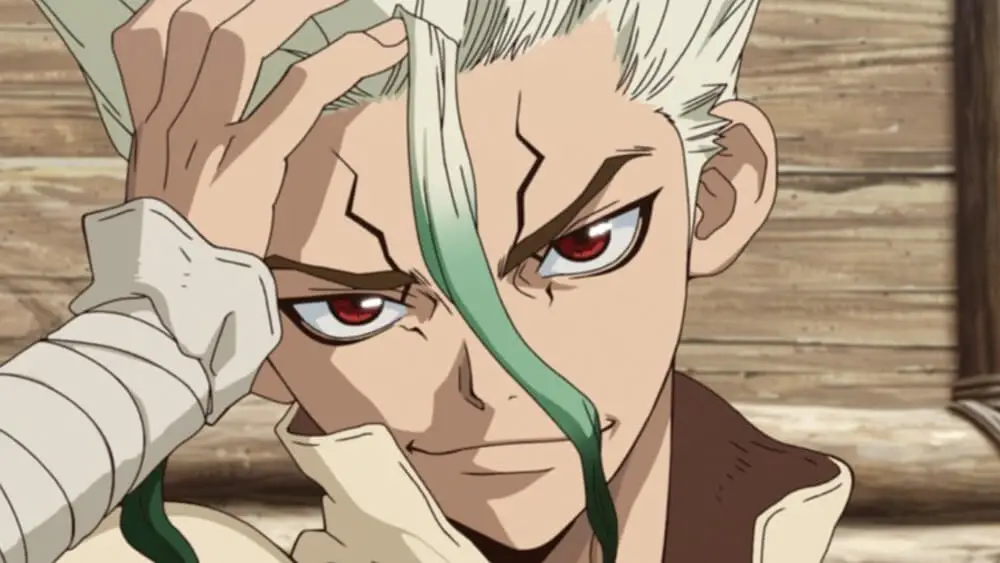 Being a fan of Dr. Stone is the same as watching Bill Nye the Science Guy but with more visuals.
While it's set in a somewhat post-apocalyptic setting, however, the show is about scientific research and how everyday objects are constructed.
Something as simple as discs suddenly become an epic adventure. I'd lie if I claimed that I didn't gain anything through the program.
Additionally, they are humorous and cartoonish. 
Even if science is boring until death with boredom, you'll likely be captivated by the characters and their funny hilarious antics.
7. One Punch Man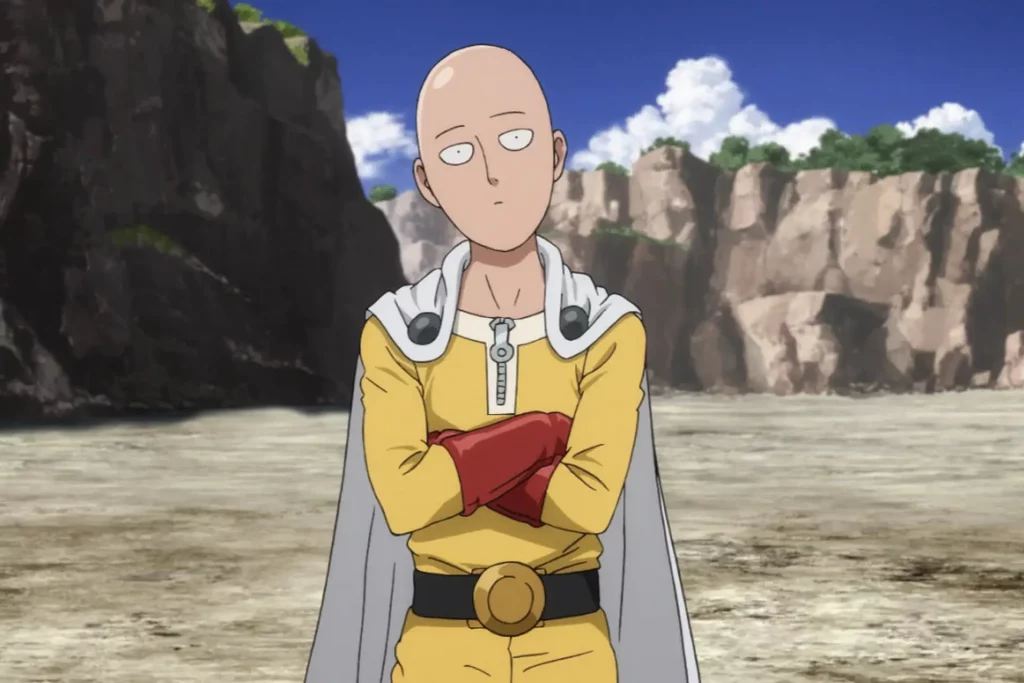 The debut episode of One Punch Man is an absolute masterpiece according to me. 
Everyone will surely enjoy it in some way or the other.
In contrast to My Hero Academia, there aren't any real stakes in this series, nor do good characters ever go down.
The show has amusement with superheroes' tropes in which the main character shoots every enemy that crosses his path, and is then frightened because he didn't make the huge sale at the supermarket.
The animation is amazing in that it's sure to keep old and young viewers alike riveted to the screen. 
This does not even include the incredible soundtrack and the brilliant writing.
6. The Disastrous Life of Saiki K.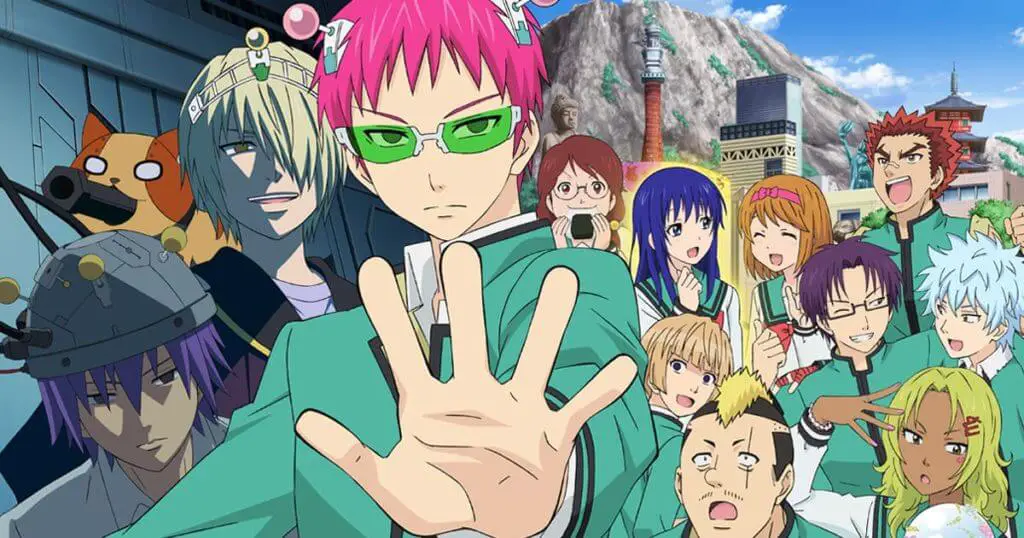 We're already in the world of comics, so I may consider bringing Saiki into the mix.
This show is incredibly reminiscent of cartoons on Saturday mornings because there's a lot of serialization and the vibe is always optimistic.
The show offers a nice mix of slapstick comedy and well-thought-out jokes, so it's pretty much a good fit for all ages in terms of laughing at you.
The episodes are extremely dense, too. 
They also have very little open air, which makes them ideal for binge-watching episodes or just watching occasionally with your children.
5. Laid-Back Camp
And now we're back to pretty girls and cute activities.
Laid Back Camp is exactly as it's supposed to be Laid Back Camp is a laid-back and cozy comedy about a group of girls who decide to go camping.
The primary attractions of the program are the way women interact with each other and the tranquil scenery.
While adults may find some strange peace while watching the show, children might be pestering you to take a trip camping. 
Therefore, let your kids watch on your own at risk.
4. A Place Further Than The Universe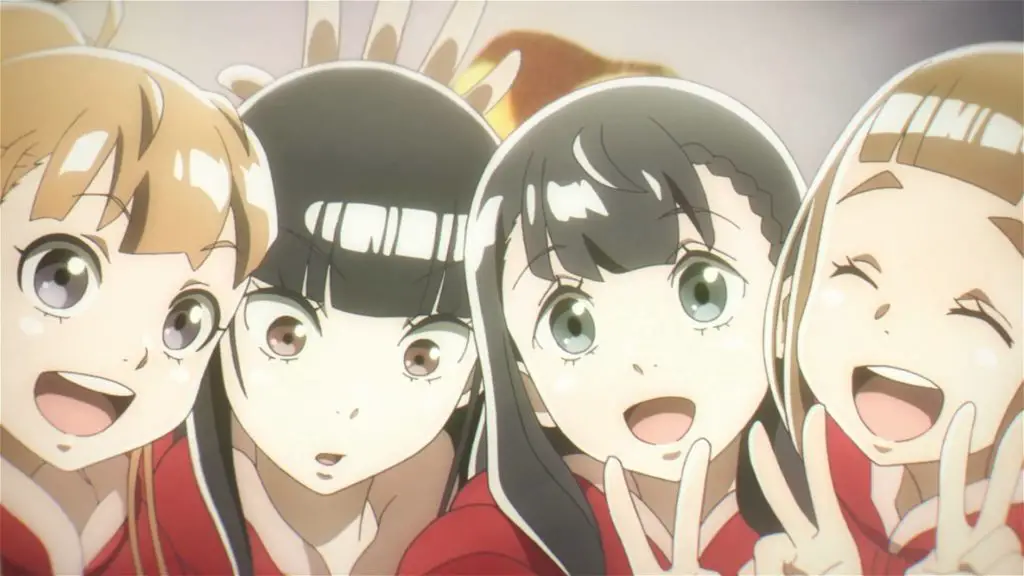 If you're in search of a show that narrates great adventures, with highly likable characters and gorgeous scenery, A Place Further Than The Universe is worth checking out.
The story centers around four girls who decide to head to Antarctica to spend their childhood together, and to locate the missing mother of one of them.
The show is filled with incredible writing. I'll bet you a penny if you don't feel like you're part of the story by episode three.
The story gets a little more complicated in the final section of the show. However, I believe that it's suitable for all audiences.
3. Those Snow White Notes
A lot of the shows I've mentioned so far are mainstays in the world of anime. So you may have seen all of them already.
So I want to add Those Snow White Notes, which is a more current series.
It's about a young man who gets lost for a while and is then sent to school, where he finds his love of music again.
The instrument in question is also the Shamisen, which is a nice change from the uke or acoustic guitar, especially if you like Asian culture.
So far, it seems like a very relaxing show with a lot of important lessons.
2. Ascendance of a Bookworm
Okay, this is probably the only isekai show I would suggest to people outside of the genre, for reasons that are obvious if you like isekai.
Ascendance is a real treasure.
Even though the main character dies at the beginning, she is quickly taken to a new world where she can share her love of books.
Since her new house is from the Middle Ages, books are important. She will have to do her best if she wants her old love to shine brightly again.
It's very good, and it might make you want to read a book too. Win-win.
1. Love, Chunibyo & Other Delusions
Imagination and innovation are two things that both kids and adults need more of in their lives.
And that's the point of this show.
The cast is just made up of people who don't want to deal with the harsh truth of their lives, so they make everything into a fun little adventure right out of a fantasy book.
The figures are funny and likeable, so I have no doubt that kids will enjoy watching them act silly, while adults will feel like they're back in elementary school.
This is a great anime for kids and for the whole family to enjoy.