Everyone thinks about what will they do in a post apocalyptic anime situation. Most of Hollywood movie are made up on this concept like resident evil or 2012.
So we have some anime for these kind of entertainment fans you want to watch what kind of anime are created with in this post apocalyptic anime situation.
So today we are creating a list of post apocalyptic anime situation.
23. Blue Submarine No. 6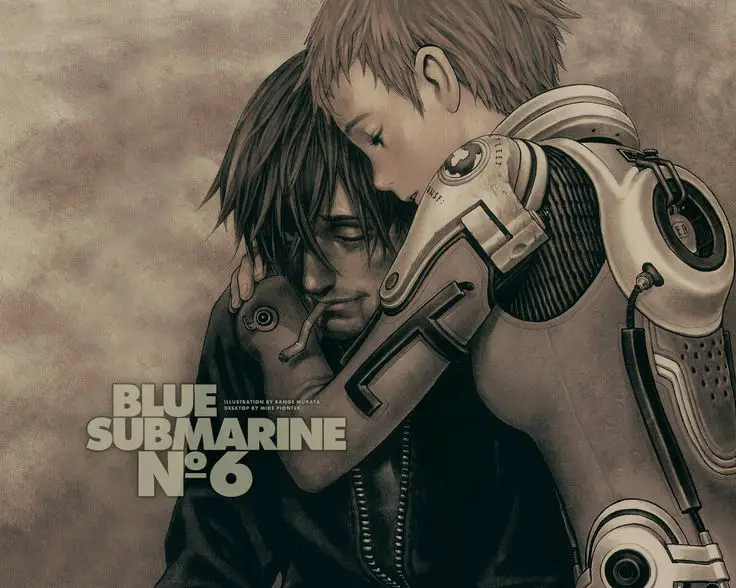 The once famous and well-respected scientist Zorndyke has bred a new genre of living being, one that thrives on the oceans and lives to destroy humans.
Zorndyke believes it is time that the humans were relieved of their rule of the earth. It is up to Blue Submarine No. 6 and the rest of the Blue fleet to put an end to Zorndyke's madness and creations.
22. Now and Then, Here and There

Shu is a typical Japanese boy but has an unbeatable, optimistic and determined attitude. However, when he sees a mysterious girl with strange eyes named Lala-Ru up on a smokestack, he is soon pulled into a strange desert world.
Shu soon discovers the true terrors of war, which includes genocide, brutal torture, hunger, thirst, and child exploitation.
Now Shu is trying to save Lala-Ru, as well as his hard earned, and often reluctant, new friends from the insane dictator, Hamdo.
Whether Shu can possibly accomplish saving those he cares about while still holding up to his values remains to be seen.
21. Gurren Lagann
In a far away future, mankind lives underground in huge caves, unknowing of the world above with a sky and stars. In the small village of Jiha, Simon, a shy boy who works as a digger discovers a strange glowing object during excavation.
The enterprising Kamina, a young man with a pair of rakish sunglasses and the passion of a fiery sun, befriends Simon and forms a small band of brothers.
The Gurren Brigade, to escape the village and break through the ceiling of the cave to reach the surface, which few believe exist.
20. Tokyo Magnitude 

The premise of the project is the 70% possibility that a magnitude 7.0 earthquake will occur in Tokyo in the next 30 years. The anime depicts what would happen if an 8.0 earthquake took place.
The story centers on Mirai, a middle school freshman girl who goes to Tokyo's artificial Odaiba Island for a robot exhibition with her brother Yuuki at the start of summer vacation.
A powerful tremor emanates from an ocean trench, the famed Tokyo Tower and Rainbow Bridge crumble and fall, and the landscape of Tokyo changes in an instant.
With the help of a motorcycle delivery woman named Mari who they meet on Odaiba, Mirai and Yuuki strive to head back to their Setagaya home in western Tokyo.
19. Wolfs Rain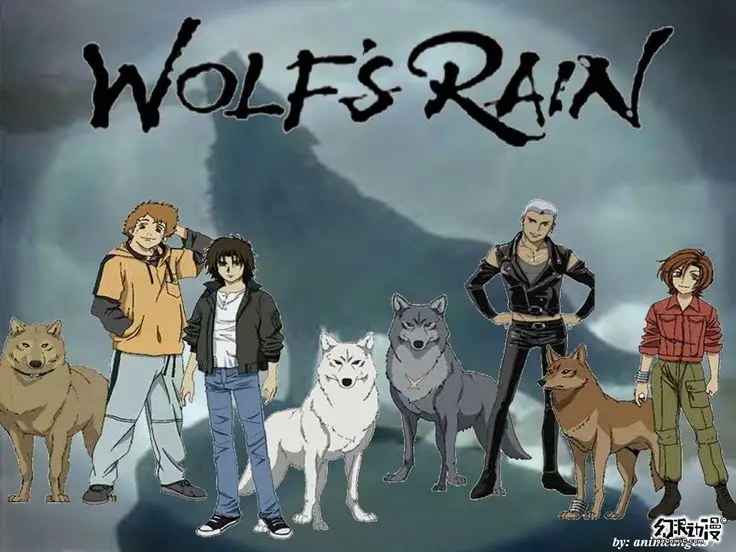 In some distant future, it's common knowledge that all wolves have been extinct for 200 years. However, it seems this is false as wolves have not disappeared but rather have taken human form.
Kiba, a lone wolf, wanders into a city, trying to sniff out the Lunar Flowers that are supposed to lead whoever follows the scent to paradise.
The source of the smell is Cheza, a girl who sleeps in what appears to be suspended animation in a lab.
She and the wolves are drawn to each other, and Kiba hopes to find paradise once he finds the source of the scent of Lunar Flowers.
However, once Kiba finds Cheza, she is kidnapped by a mysterious person called Darcia, and his search begins anew. Before he leaves the city, he meets 3 other wolves, Tsume, Hige and Toboe.
18. Knights of Sidonia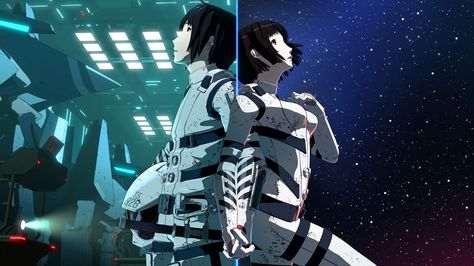 It's been a thousand years of the post apocalyptic anime since the Gauna, a strange alien race with no known method of communication, destroyed the solar system.
A portion of humanity managed to escape using enormous "seed ships" like the Sidonia, which have allowed them to maintain the population while drifting through space.
Nagate Tanikaze is a young man who has been raised deep in the bowels of the ship.
When he goes into training to pilot the huge robotic weapons known as Gardes, Nagate is entrusted with piloting the legendary unit known as Tsugumori.
Nagate and his fellow pilots put their lives on the line against the Gauna, in the ultimate battle for the survival of humanity!
17. Casshern Sins

In the distant future of this post apocalyptic anime, where cyborgs and humans struggle to survive after the war which destroyed the world, a being in white suit awakens. His name is Casshern and he remembers nothing of his own past.
In barren and dark dystopian world, where every being alive seems to hate his existence and the evil from his past wants him dead, Casshern, haunted by the flashes of his past memories has to survive and figure out who or what exactly he is and how he got to where he is now.
But he does not know that he might not like the horrible truth of the past, hidden deep inside his mind…
16. Black Bullet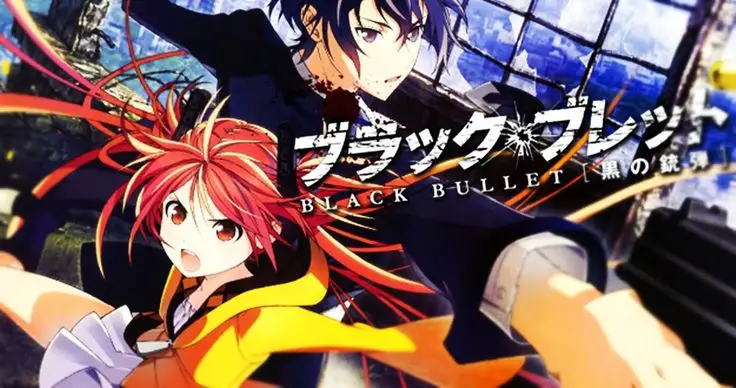 In this post apocalyptic anime near future, where humans have been defeated by the viral parasites named Gastrea. They have been exiled into a small territory and live in despair, side-by-side in terror.
Rentaro, a boy living near Tokyo and member of the "Civil Security"—an organization specializing in fighting against the Gastrea—is used to accomplishing dangerous tasks. His partner is Enju, a precocious young girl.
They fight thanks to their peculiar powers until one day, when they receive a special assignment from the government. This top secret mission is to prevent the destruction of Tokyo…
15. Akira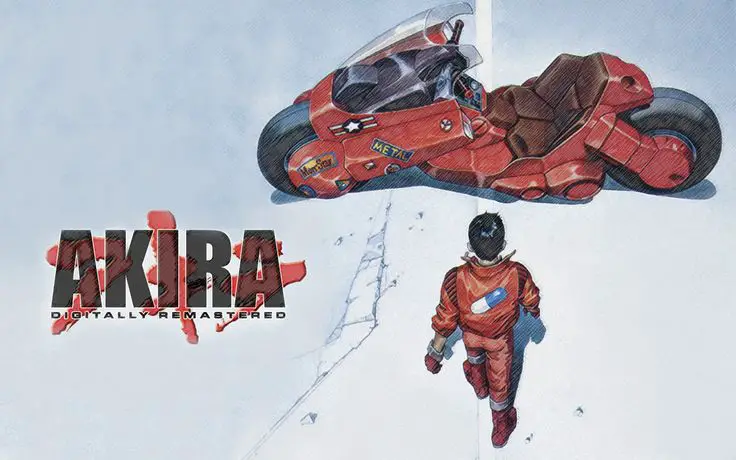 In this post apocalyptic anime the year 2019, thirty-one years have passed since the start of World War III.
A top-secret child with amazing powers of the mind breaks free from custody and accidentally gets a motorcycle gang involved in the project.
This incident triggers psychic powers within one of the gang members, Tetsuo, and he is taken by the army to be experimented on.
His mind has been altered and is now on the path of war, seeking revenge on the society that once called him weak.
14. Desert Punk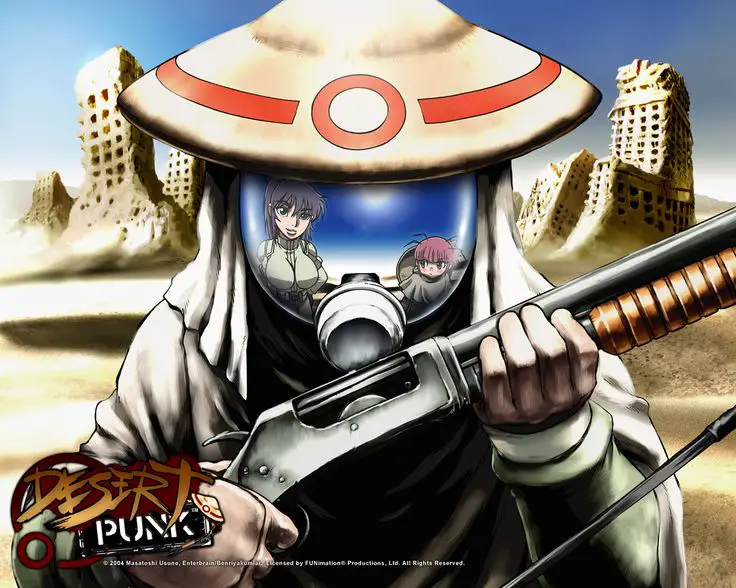 In the future, Japan is a wasteland. In the Great Kantou Desert, scattered humans seek out a living in the hot sand. Among them, a short man they call "Sunabouzu" makes a living as a bounty hunter.
Like a demon of the sand, he seems unbeatable. Yet, like all men, he has a particular weakness for the opposite s*x.
13. Chrome Shelled Regios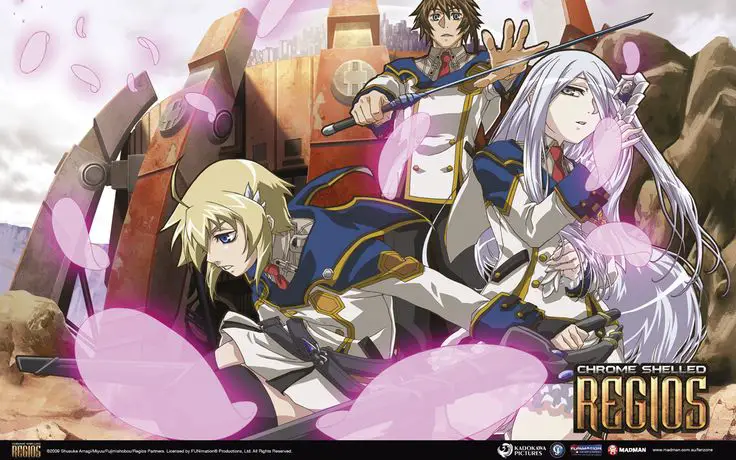 In a post apocalyptic anime world overrun with mutated beasts called Limbeekoon or Filth Monsters, humanity is forced to live in large mobile cities called Regios and learn to use special weapons called Dite, by harnessing the power of Kei to defend themselves.
In the Academy City of Zuellni, Layfon Alseif is hoping to start a new life and forget his past.
However, his past has caught the attention of Karian Loss, the manipulative Student Council President and Nina Antalk, a Military Arts student and Captain of the 17th Military Arts Platoon.
Who instantly recognizes his abilities and decides he's the perfect candidate to join her group. However, with a secret past that won't leave him alone and unknown powers beyond normal, Layfon just might not take it.
12. No.6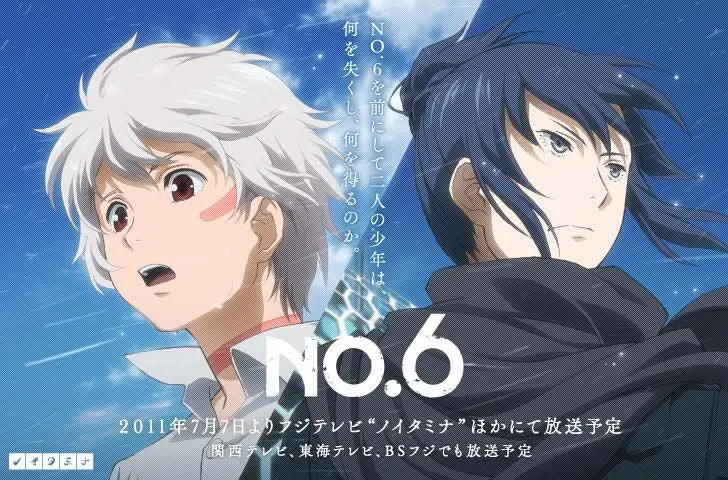 In a near future world, after post apocalyptic anime the last great war, most of mankind lives in a handful of city states. There, for the privileged elite, life should be perfect.
But for young Shion, the only thing perfect has been the nightmare his life has become since letting a strange boy called Nezumi spend the night in his apartment.
Banished to the outskirts of the city and stripped of all privileges for helping the mysterious stranger who has since disappeared.
Shion now finds himself in even worse danger as his inquiry into a new series of mysterious deaths results in his being arrested on suspicion of murder!
11. Hokuto no Ken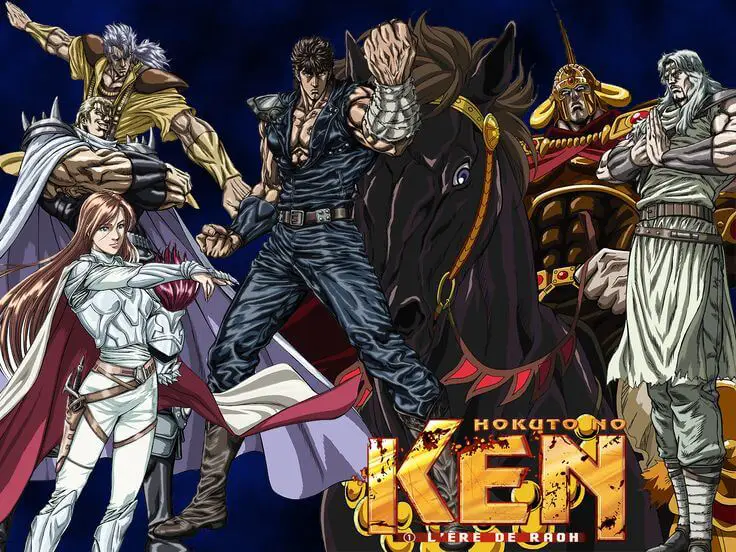 In the post-nuclear apocalyptic future in 199X, in the post apocalyptic anime the human race has regressed. Weak villagers are reduced to slavery.
While genetically enhanced giants rule the world. Gunpowder seems only a distant memory, and the martial arts is the only weapon a man can count on.
Two schools face one another in the battle for dominion: Hokuto Shinken and Nanto Seiken.
The series begins when the Hokuto successor, Kenshiro, travels the desert to confront Shin, a member of the Nanto Roku Seiken, their six ruling stars, who has taken his fiancee Yulia.
10. Highschool of the Dead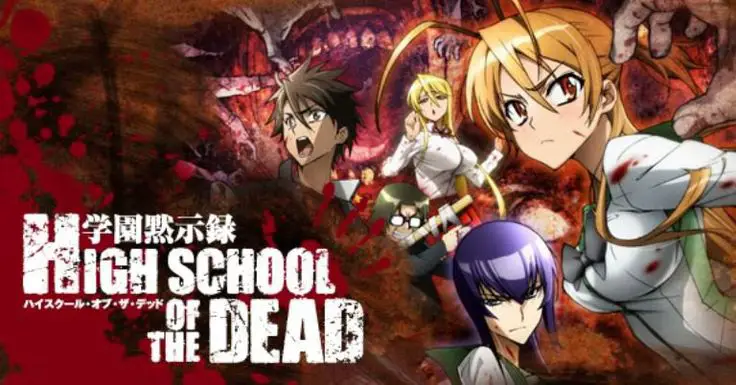 In a post apocalyptic anime the mysterious, lethal disease is on the loose worldwide, resulting in a catastrophic death rate of humanity, and the increasing rise of attacks, caused by the living dead.
In Japan, several high school students and a school nurse have banded together to escape Fujimi High School shortly after it was attacked by zombies.
The group now attempts to figure who or what was responsible for this plague, and in the meantime, attempt to survive the present apocalypse.
The story is initially narrated through the eyes of Takashi Komuro, one of the students who had survived in the initial outbreak.
9. Code Geass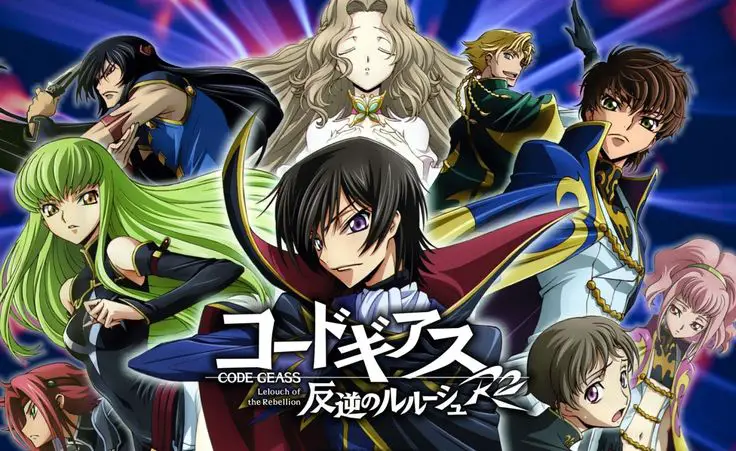 On August 10th of the year 2010, In this post apocalyptic anime the Holy Empire of Britannia began a campaign of conquest, its sights set on Japan.
Operations were completed in one month thanks to Britannia's deployment of new mobile humanoid armor vehicles dubbed Knight mare Frames.
Japan's rights and identity were stripped away, the once proud nation now referred to as Area 11. Its citizens, Elevens, are forced to scratch out a living while the Britannian aristocracy lives comfortably within their settlements.
Pockets of resistance appear throughout Area 11, working towards independence for Japan.
Lelouch, an exiled Imperial Prince of Britannia posing as a student, finds himself in the heart of the ongoing conflict for the island nation.
Through a chance meeting with a mysterious girl named C.C., Lelouch gains his Geass, the power of the king.
Now endowed with absolute dominance over any person, Lelouch may finally realize his goal of bringing down Britannia from within!
8. Suisei No Gargantia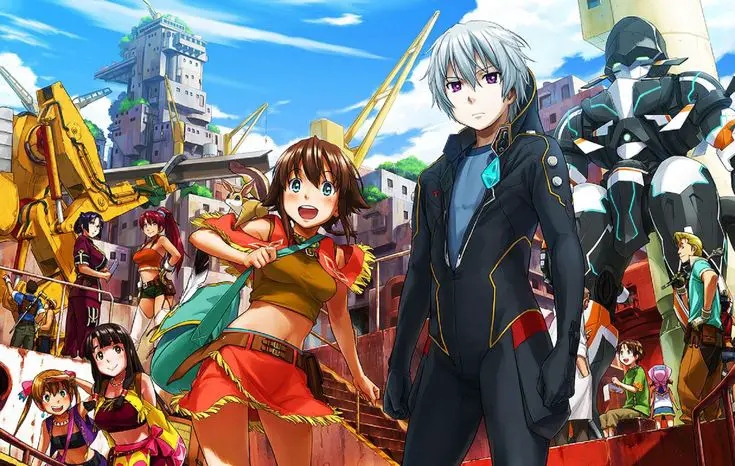 The story begins in post apocalyptic anime distant future in the far reaches of the galaxy. The Human Galactic Alliance has been constantly fighting for its survival against a grotesque race of beings called "Hidiaazu."
During an intense battle, the young lieutenant Ledo and his humanoid mobile weapon Chamber are swallowed up into a distortion of time and space.
Waking from his artificially induced hibernation, Ledo realizes that he has arrived on Earth, the planet on the lost frontier.
On this planet that was completely flooded by the seas, people live in fleets of giant ships, salvaging relics from the seas' depths in order to survive.
Ledo arrives on one of the fleets called Gargantia. With no knowledge of the planet's history or culture, he is forced to live alongside Amy, a 15-year-old girl who serves as a messenger aboard the Gargantia fleet.
7. Shinsekai Yori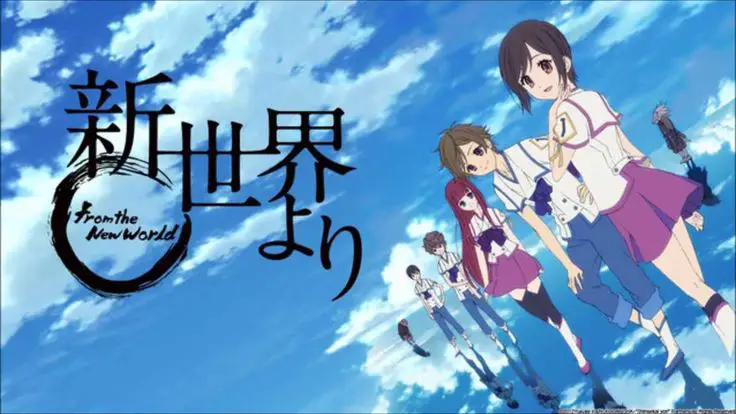 A millennium from now, in Japan, exists a utopia. In post apocalyptic anime the protagonist, Saki Watanabe, lives in an idyllic village barred from the outside world.
Her world is ruled by the people who possess the "gods' power" of psychokinesis. After finally obtaining her own powers, Saki enters the Zenjin Academy to train along with five other children: Satoru Asahina, Maria Akizuki, Mamoru Itou, Shun Aonuma, and Reiko Amano.
Not all is as it seems, however. In this utopian village, strange rumors about a monstrous cat that abducts children circulate, and students are said to disappear from the academy.
The world and its history are much darker than they appear and humanity is on the verge of collapsing.
6. Cowboy Bebop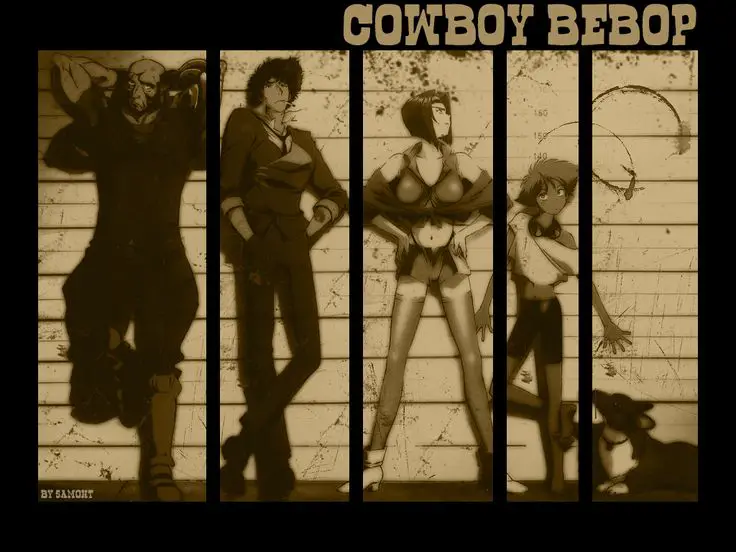 The year 2071 A.D. in post apocalyptic anime That future is now. Driven out of their terrestrial Eden on Earth due to cataclysmic events, humanity chose the stars as the final frontier.
With the section-by-section collapse of the former nations, a mixed jumble of races and peoples came.
They spread to the stars, taking with them the now confused concepts of freedom, violence, illegality, and love, where new rules and a new generation of outlaws came into being. People referred to them as Cowboys.
Meet Spike and Jet, a drifter and a retired cyborg cop who have started a bounty hunting operation. In the converted ship The Bebop, Spike and Jet search the galaxy for criminals with bounties on their heads.
They meet a lot of unusual characters, including the unusually intelligent dog, Ein, and the voluptuous and vexing femme fatale, Faye Valentine.
5. Guilty Crown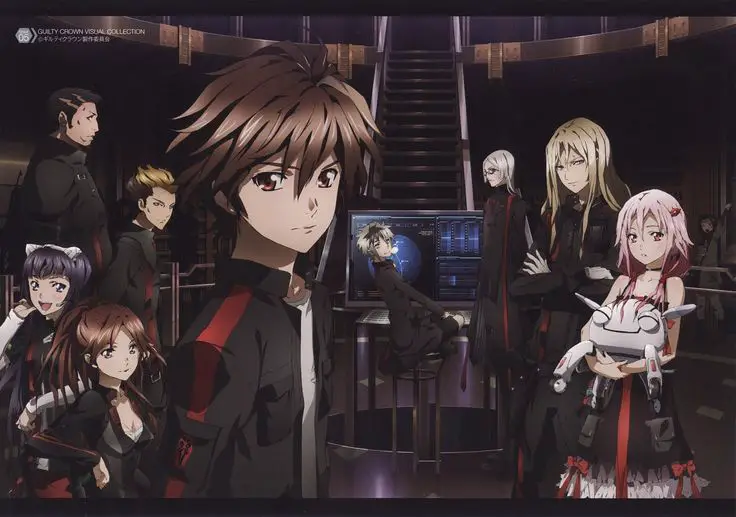 The story takes place as post apocalyptic anime in Tokyo in 2039, after the outbreak of the "Apocalypse Virus" during what became known as the "Lost Christmas" of 2029. Since then, Japan has been under the control of the multinational organization called GHQ. 
Ouma Shu is a 17-year-old boy who mistakenly obtains a rare and great power. He can use this power, "The Right Hand of the King," to extract "voids," or tools/weapons that are the manifestations of peoples' hearts.
He has been rather shy since a childhood tragedy, but both his personality and life change forever when he meets a girl named Yuzuriha Inori, a member of the rebel group called "Funeral Parlor," whose members seek the restoration of self-government in Japan via the ousting of GHQ.
4. Neon Genesis Evangelion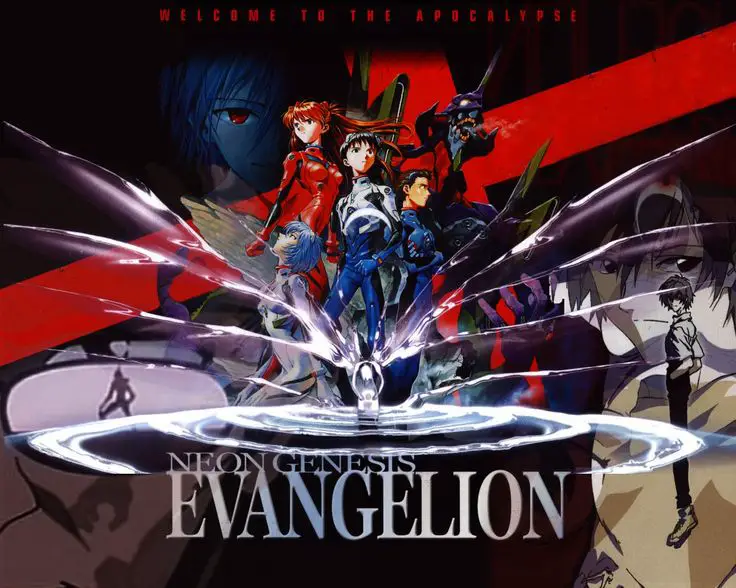 In the year 2015 in this post apocalyptic anime, the Angels, huge, tremendously powerful, alien war machines, appear in Tokyo for the second time.
The only hope for Mankind's survival lies in the Evangelion, a humanoid fighting machine developed by NERV, a special United Nations agency.
Capable of withstanding anything the Angels can dish out, the Evangelion's one drawback lies in the limited number of people able to pilot them.
Only a handful of teenagers, all born fourteen years ago, nine months after the Angels first appeared, are able to interface with the Evangelion.
One such teenager is Shinji Ikari, whose father heads the NERV team that developed and maintains the Evangelion.
Thrust into a maelstrom of battle and events that he does not understand, Shinji is forced to plumb the depths of his own inner resources for the courage and strength to not only fight, but to survive, or risk losing everything.
3. Attack on Titan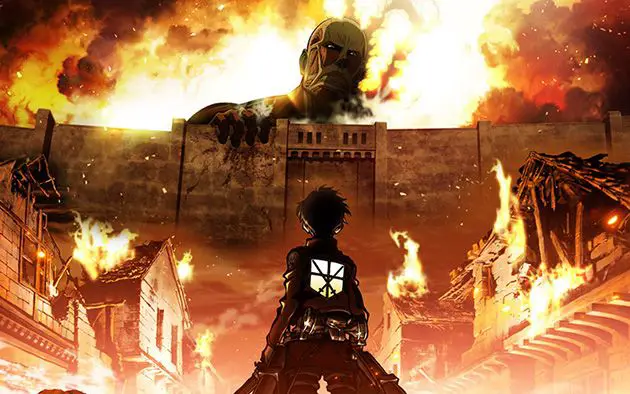 Several hundred years ago in this post apocalyptic anime, humans were nearly exterminated by titans. Titans are typically several stories tall, seem to have no intelligence, devour human beings and, worst of all, seem to do it for the pleasure rather than as a food source.
A small percentage of humanity survived by walling themselves in a city protected by extremely high walls, even taller than the biggest of titans.
Flash forward to the present and the city has not seen a titan in over 100 years. Teenage boy Eren and his foster sister Mikasa witness as the city walls are destroyed by a colossal titan that appears out of thin air.
As the smaller titans flood the city, the two of them watch in horror as their mother is eaten alive. Eren vows that he will murder every single titan and take revenge for all of mankind.
2. Trigun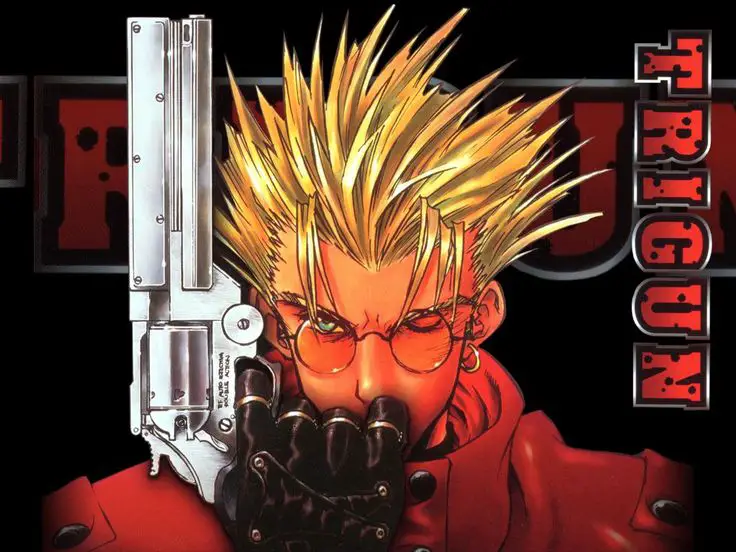 Vash the Stampede is a wanted man with a habit of turning entire frontier towns into rubble. The price on his head is a fortune, and his path of destruction reaches across the arid wastelands of a desert planet.
Unfortunately, most encounters with the spiky-haired gunslinger don't end well for the bounty hunters who catch up with him; someone almost always gets hurt—and it's never Vash. Oddly enough, for such an infamous fugitive, there's no proof that he's ever taken a life.
In fact, he's a pacifist with a doughnut obsession who's more doofus than desperado. There's a whole lot more to him than his reputation lets on—Vash the Stampede definitely ain't your typical outlaw.
1. Ergo Proxy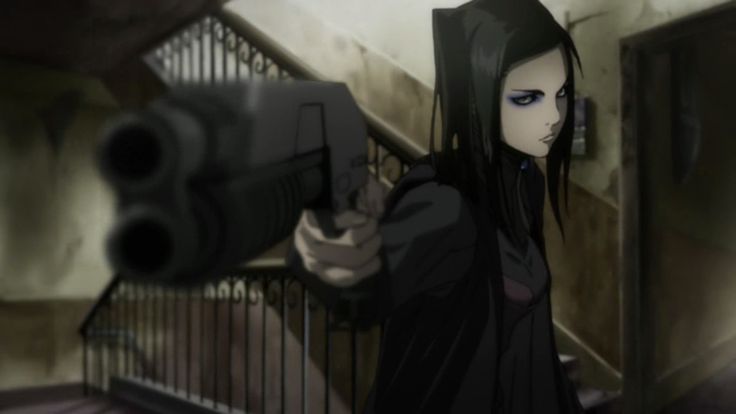 After the explosion of the methane hydrate layer in this post apocalyptic anime, the remaining members of mankind are forced to live in isolated domed cities scattered across the arid and inhospitable planet.
They live in a controlled society and are assisted in daily life by autonomous robots called AutoReivs.
In one of these cities, Romdo, Inspector Re-l Mayer, granddaughter of the regent, leads an investigation concerning AutoReivs that have gone mad after being infected by the Cogito virus.
In the process, she comes in contact with a monster called Proxy. Elsewhere in the city, immigrant Vincent Law is on the run after being framed for involvement in several Cogito cases.
Together, along with the adorable child-AutoReiv Pino, they set out on a journey to the dome city Mosk in order to unravel the mystery of the Proxies.