The universe of anime and BL anime is vast, and all we are doing is merely existing within it. It combines elements from a wide range of genres to create stories that are both original and epic in scope.
One example of this type of fiction is yaoi, often known as boys love.
The anime that features this type of music has garnered the admiration of millions of fujoshi and fudanshi, who are always yearning for more of it to watch.
As a result, we have compiled a list of the top 15 best gay and BL anime available on Crunchyroll, often known as Yaoi anime, which you should start watching as soon as possible or else you will be really losing out.
15. Merman in my Tub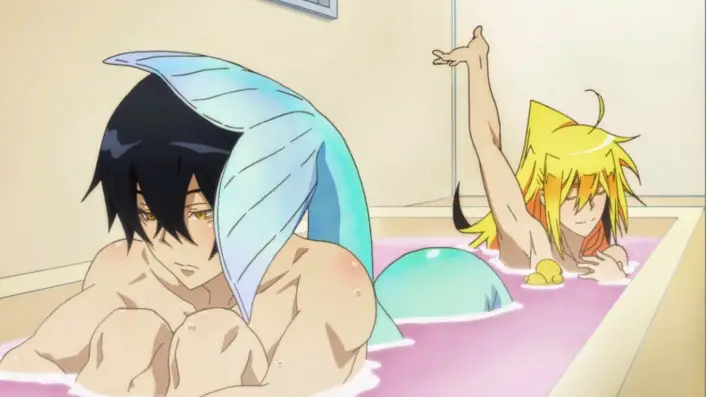 The 2014 anime version was written by Itokichi and has short episodes. Even though this BL anime is old, the animation and art style are good, so this yaoi anime on Crunchyroll is not to be missed. This show is mostly about laughter, a slice of life, and yaoi, of course.
The tale tells the story of Tatsumi, a high school student who is just like everyone else and has a busy life.
One day, when he saves Wakasa, a very beautiful merman who is almost dying of thirst by a river. Tatsumi lets him move into his bathroom, and he gets used to being around him over time.
Watch as the two give us both funny and heartwarming moments of love. This anime is for you if you like quick BL anime shows with interesting plots.
14. Fairy Ranmaru
This short anime series, which was written by Masakazu Hishida, is very underrated. Do not miss this Yaoi BL anime on Crunchyroll if you like good stories, dirty jokes, and pretty people.
The story is mostly about the supernatural, a slice of life, and action. It first played in 2021.
The plot is about five fairies who dress up as high school boys so they can complete a task on earth. Their world needs good feelings to stay alive, so as their hearts heal, they must collect "attachment" from humans.
But in order to do this, they need to be allowed to "steal their hearts" as money for their services. So, they meet a lot of people at their high school, and the story that comes out of that is full of romance and love.
13. The Night Beyond the Tricornered Window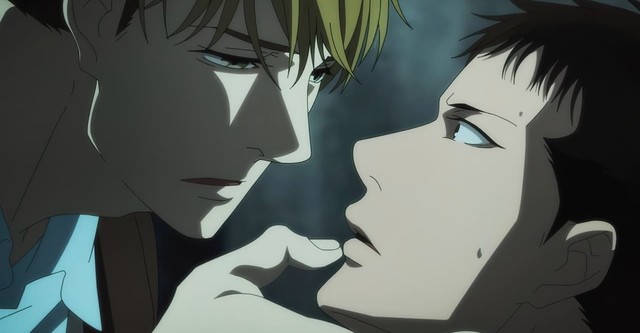 This BL anime was shown in 2021. It was written by Tomoko Yamashita.
The main theme of the story is a mix of the supernatural, mystery, and Yaoi. If you like scary stories with ghosts, exorcisms, and necromancy, this anime is the one for you.
In the story, Kosuke Mikado is a young man who has always been able to see ghosts. Kosuke meets Rihito Hiyakawa, a calm and brave exorcist, while he is working as a book worker.
Rihito finds out that if he takes Kosuke's body, he can easily see and get rid of ghosts. So, he demands that he work for him as an assistant.
Kosuke is afraid of seeing ghosts all the time, so this is a good chance for him. Working with Rihito might help him deal with his ability.
So, the two started working together and got to know each other well, which led to the start of their relationship.
12. Yes, No, or Maybe?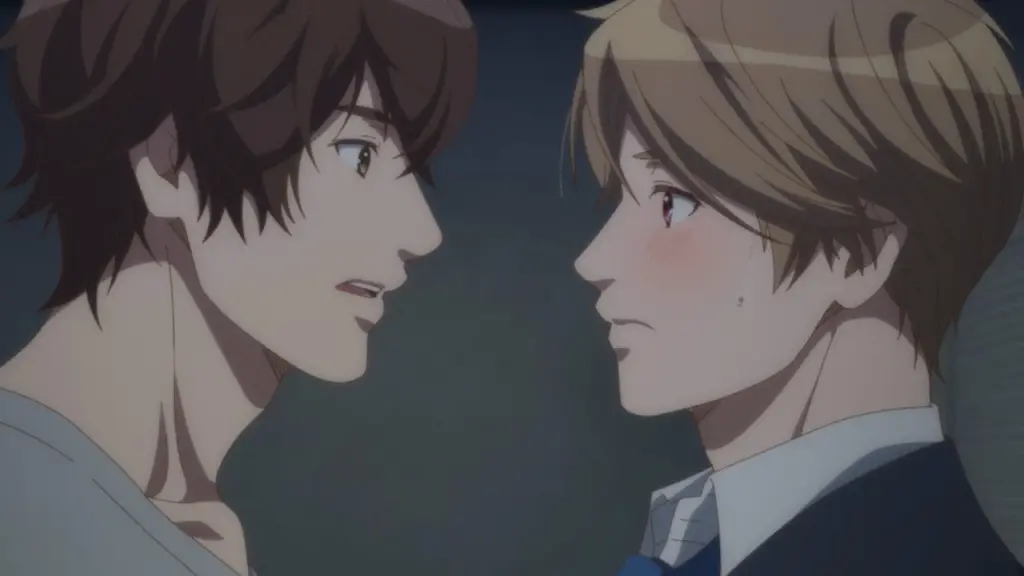 This BL anime movie came out in 2020. It was based on a light book by Michi Ichiho. The main types of stories in the story are Josei, Yaoi, and slice of life.
The story is about a well-known TV host named Kei Kunieda who has a secret. He meets Ushio Tzusuki, a motion artist who gets hurt by a careless biker.
But the problem is that he has to take care of Ushio until he gets better. So, while he is with Ushio, Kei has to hide the fact that he is a well-known TV host and keeps his secret safe at all times.
As they get to know each other better, Ushio comes to love Kei for who he is, while Kei tries hard to keep his secret to himself.
Watch as the two learn to accept themselves and each other as their feelings for each other grow deeper.
11. Loveless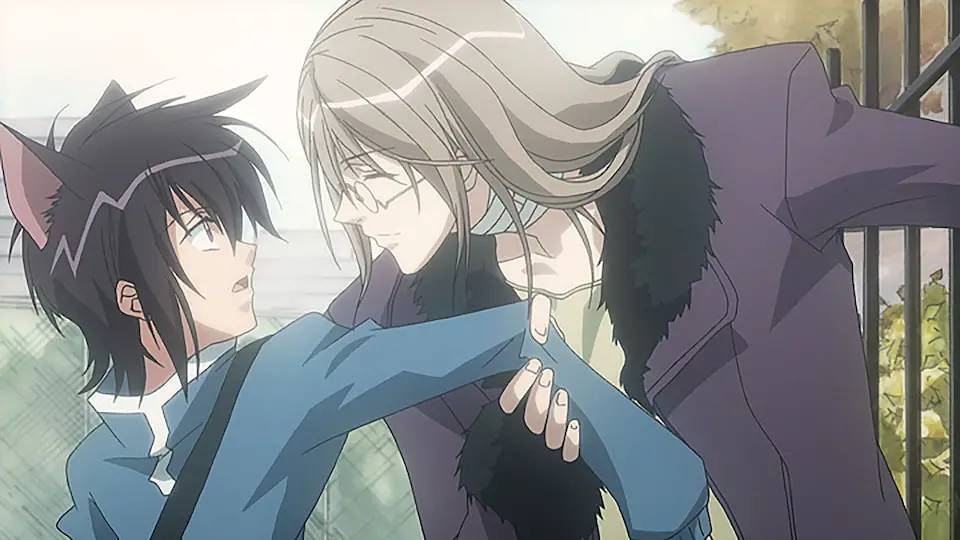 This BL anime version, which was written by Yun Koga and first aired in 2005, has only one season so far.
This Yaoi anime stands out because it has a kemonomimi theme and the main characters are of different ages at first.
Because of this, all of the figures have tails and ears like cats. Mystery, the supernatural, and romance are the major types of stories in this series.
The story is about Ritsuka Aoyagi, a 12-year-old boy who is still sad about the death of his bigger brother two years ago.
Ritsuka meets Soubi Agatsuma, a mysterious 20-year-old guy who says he is his brother's friend.
As Ritsuka looks through his brother's things, he finds out that his brother worked with Saoubi to fight against Septimal Moon, a shady group.
Ritsuka must now become Soubi's partner to fight Septimal Moon using magic and other supernatural elements that have just been introduced.
10. Kamigami no Asobi
Play of Gods is an otome game that was turned into a BL anime called Kamigami no Asobi. The game is also based on the visual novel series by Nippon Ichi Software and Broccoli.
The anime has only had one season so far, which aired in 2014. The main types of stories in the story are shounen ai, action, reverse harem, and supernatural.
Yui Kusanagi finds a secret in his father's shrine, which is the center of the story. This sword takes her to a world based on Greek mythology and full of gods.
Yui must now find her way through this world to spread love and kindness and save the ties between humans and gods that are getting weaker.
There are several pairs in the story, so you'll get to see many different kinds of romance and relationships.
9. Dakaichi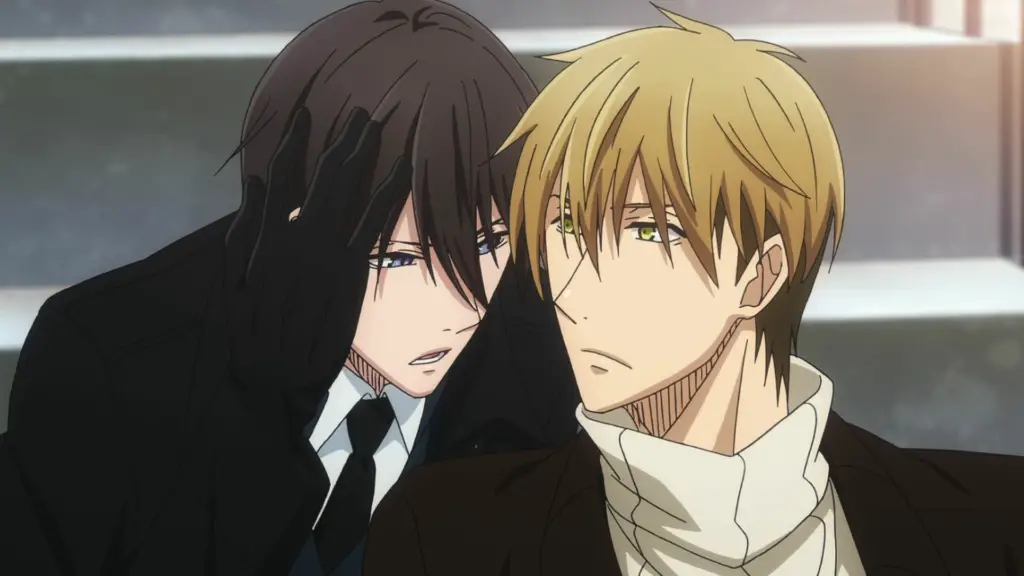 Daikachi started airing in 2018 and has one season and a movie so far. It was written by Hashigo Sakurabi. The story is mostly about Yaoi, rom-com, and funny things that go wrong.
Daikachi is a must-see Yaoi anime on Crunchyroll. It was made by none other than Cloverworks.
The plot is about the funny and heartwarming love story between Takato Saijo and Junta Azumaya, two artists who are in competition with each other.
The twist is that Takato has been the "sexiest man of the year" for five years until Junta replaces him, even though Junta is a newcomer.
Another twist is that Takato thinks of Junta as his competition, but Junta loves him very much. Watch as the two artists get involved with each other and take their time to figure out how they really feel.
8. The Stranger by the Shore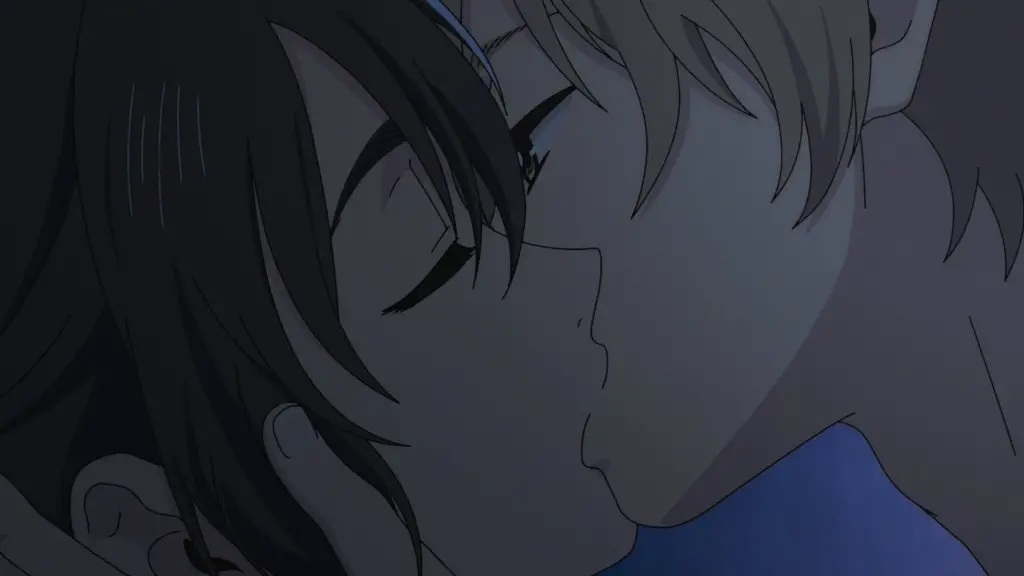 If you haven't seen this beautiful Yaoi film BL anime on Crunchyroll yet, you should go there right away.
The Stranger by the Shore does a great job of showing how lonely, sad, and alone we all feel at some point in our lives.
The story is about a relationship between Shun Hashimoto, a writer who is out as gay, and Mio Chibana, a high school student who is sad about the death of his parents.
Shun's parents kicked him out when he told them he was gay, so he now lives in a quiet neighborhood by the sea in Okinawa.
The sound of the waves brings them together, and soon they talk about how hard their lives have been.
But, as in every story, when Mio leaves the city to go to school, their peace turns into a tragedy. As Shun swears to come back, Mio only asks him for one thing: to wait for him.
So, will they finally meet again, or will they just move apart, leaving their feelings unreturned? To find out, you have to watch this BL anime.
7. No. 6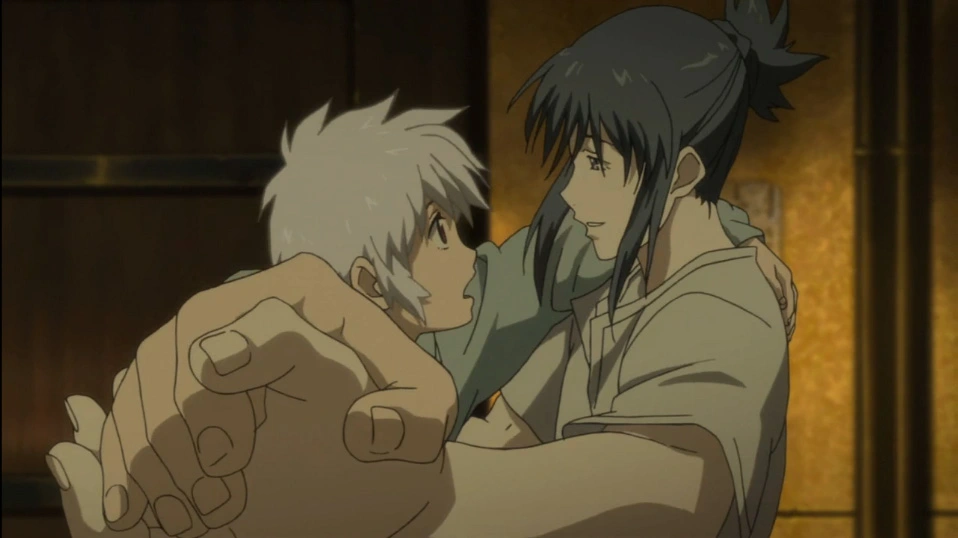 This BL anime version, which was written by Atsuko Asano and started airing in 2011, has only had one season so far.
The main genres of the story are mystery, sci-fi, dystopia, and Yaoi. The story is interesting and has a unique mix of different types of stories.
You should check out this Yaoi anime on Crunchyroll for sure. The story takes place in a future time when rich and poor people live next to each other but are kept apart by a huge wall. Shion is a boy who grew up in a wealthy part of the city.
He gets interested in a strange boy from the other side of the city and gives him a place to stay.
Shion soon becomes close to him, even though she doesn't know anything about him. Dangers and secrets are all around them.
6. Love Stage!!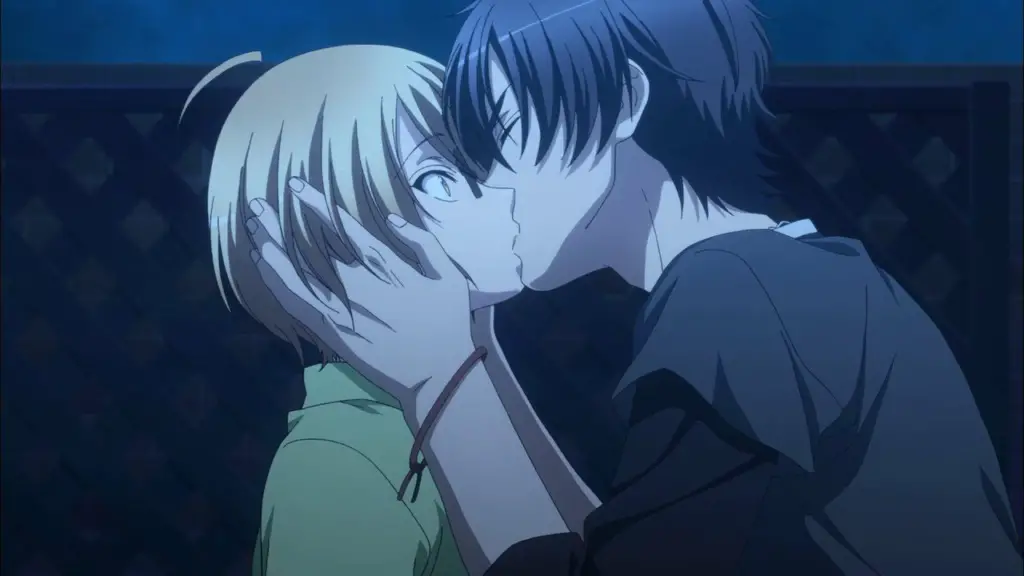 The show started airing in 2014 and has had one season so far. It was written by Michiko Yokote and made by JC Staff.
The series also has an Original Video Animation (OVA) and a live-action picture. The main types of stories in the story are romance, comedy, and yaoi.
Since the show is pretty old, the art style is almost retro, with warm colors and sharply drawn characters.
The story is about a young person named Izumi Sena who wants to be a mangaka. Because his whole family works in the entertainment business, he ends up with Ryouma Ichijou, an actor with whom he did a commercial a few years ago.
The secret is that Ryouma has loved Izumi since the first time he met him. Another twist is that Ryouma thinks Izumi is a beautiful girl because he has features of both men and women.
Even worse, Izumi desperately tries to hide his name because he messed up the shoot the first time, which was embarrassing, and he still does the same thing now.
As the story goes on, Ryouma still loves him even after finding out Izumi is a boy.
5. Junjo Romantica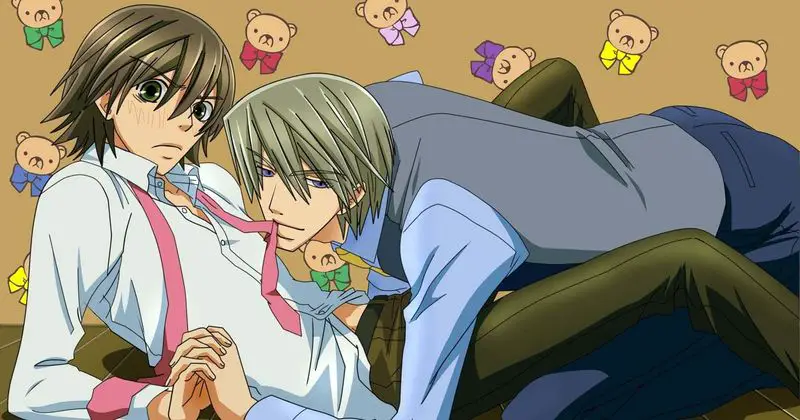 Junjo Romantica is one of the famous BL anime that aired in 2008. It was written by Shungiku Nakamura. Since the series is pretty old, the characters are sharp, thin, and long, and the colors are not very bright.
But the series is still well-known and loved by many people today. Three couples in the story are linked in some way, like being friends, neighbors, or siblings.
Misaki Takahashi and Akihiko Usami are the main characters, and the story starts with them. Misaki is a normal high school student who runs into his bigger brother in an awkward situation with a famous author.
But because Akihiko is friends with his bigger brother, he is often around and ends up being his tutor. Misaki finds out that Akihiko has written a lot of BL books, and she doesn't know what to do with him.
Watch as the two get closer as they learn more about each other and finally start to feel something for each other. At the same time, the stories of the other pairs are shown, too in this BL anime.
4. GIVEN The Movie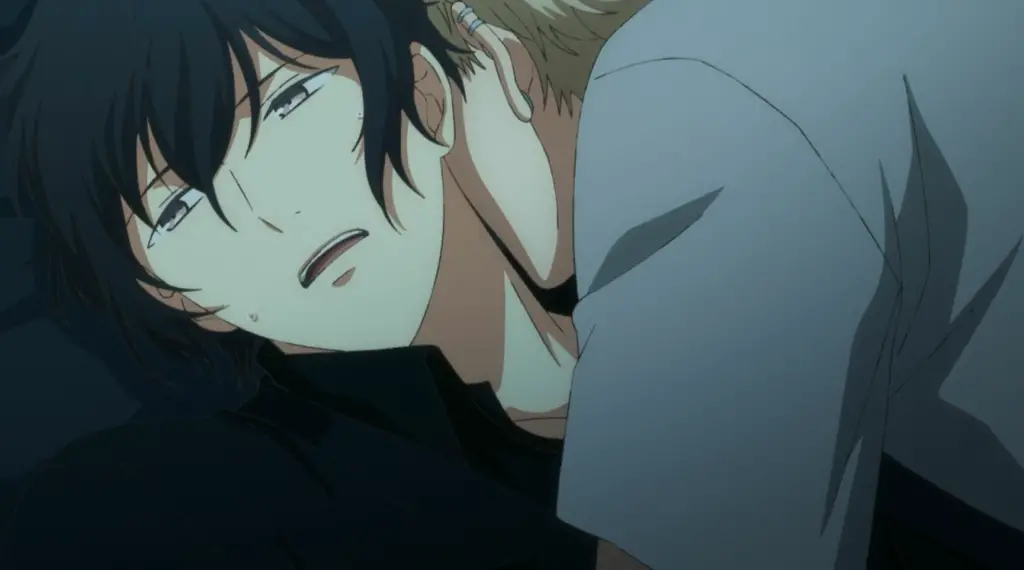 Given The company, Lerche made the movie, which became a huge hit just like the anime. So, we couldn't just leave it off the list.
So, if you've already seen the famous Yaoi anime, don't miss this amazing movie that serves as the ending arc. You can watch it on Crunchyroll.
The story is more about Nakayama Haruki, Kaji Akihiko, and Murata Ugetsu, who are the other members of the band.
It shows what happens to them and their relationship after they get to the Countdown-fes Amateur Contest. It also talks about how Mafuyu and Ritsuka changed as people.
3. Sasaki and Miyano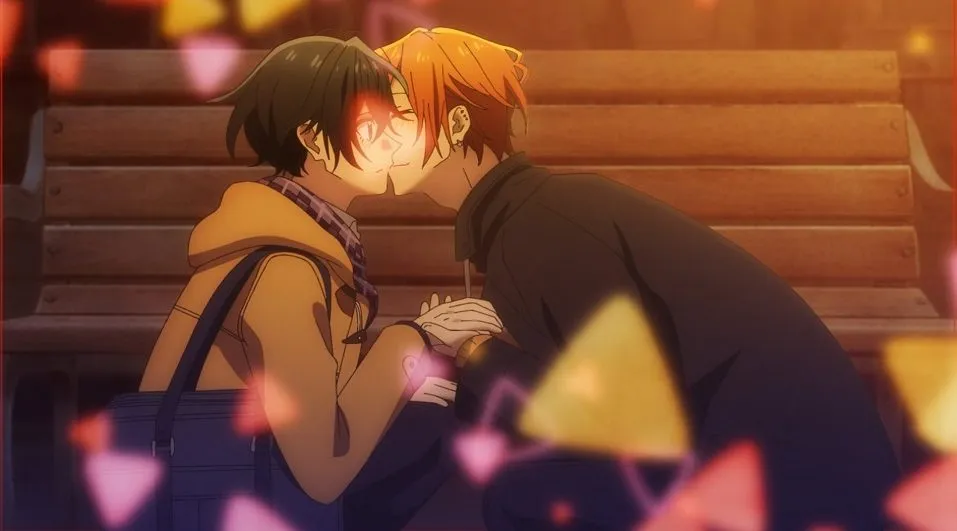 Written by Sho Harusono and first shown in 2016, Sasaki and Miyano only have one season so far. The comic is also short, and there are 9 of them.
This anime is the one to watch if you want a short and great show to watch. In the story, a high school bad boy named Sasaki falls in love with his junior, who is a secret fudanshi.
Miyano tries to live a quiet life and read BL comics and books until he ends up in the wrong place at the wrong time.
And that's how he gets Sasaki to pay attention. Sasaki is interested in Miyano, so he takes every chance to get into his quiet, hidden life and get closer to him.
2. Given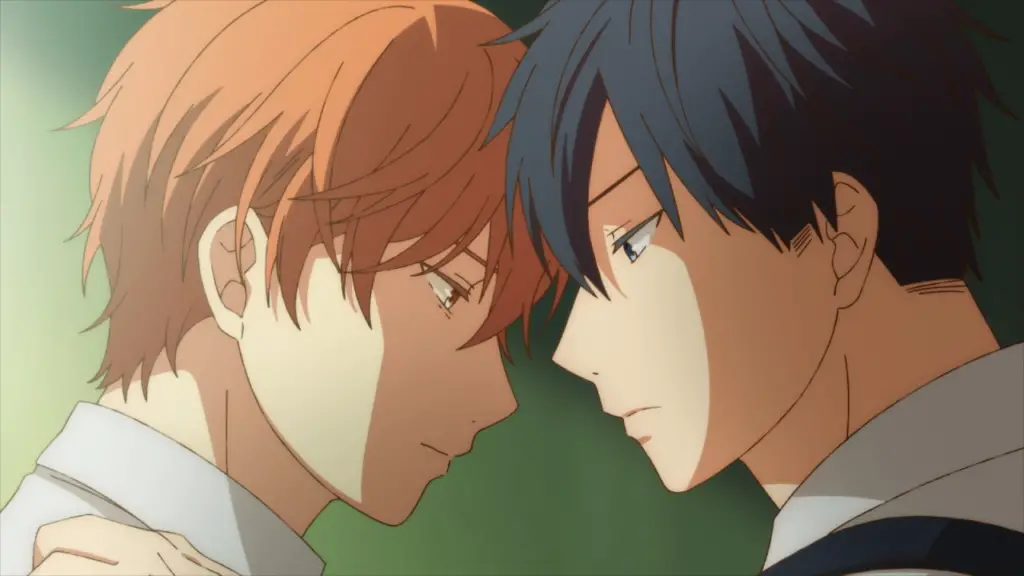 Natsuki Kizu both wrote and drew the book Given. The romance, great OSTs, and well-written characters made the anime a huge hit.
You're really missing out if you haven't watched this amazing Yaoi anime on Crunchyroll.
The story is about Ritsuka Uenoyama, who likes Mafuyu Sato's voice and falls in love with him.
Ritsuka is already in a band, so he asks Mafuyu to join as a singer, making his band complete.
So, they start out as "Given."
But the story is full of both sad and happy romance at the same time. The plot tells about the sad and painful things that happen to the characters when it comes to their feelings.
1. Yuri!!! on Ice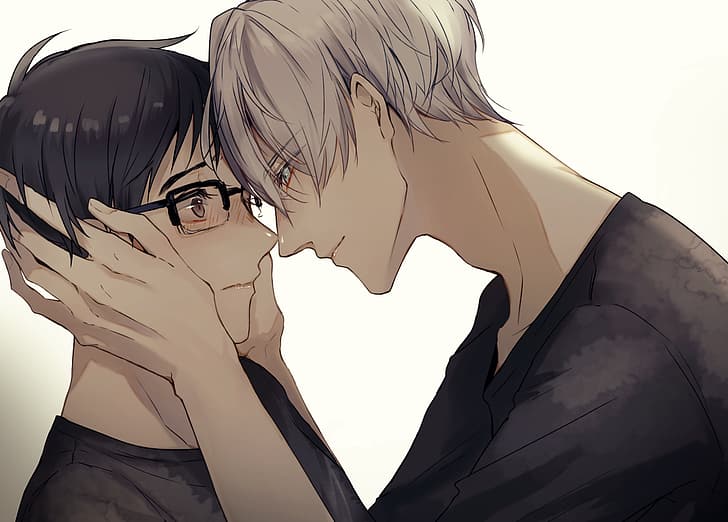 Yuri on Ice is an award-winning BL anime series with epic opening and ending themes and animation. It was written by Sayo Yamamoto.
This amazing Yaoi anime on Crunchyroll is not to be missed at all. The main themes of the story are sports and Yaoi. All of the figure skaters in the show do unique moves that are amazingly choreographed.
The story is about 23-year-old figure skater Yuri Katsuki, who puts his bright career on hold after losing a few matches. But when he just skated around his neighborhood doing a move by his idol, the famous Russian figure skater Victor Nikiforov, his video went viral.
So much so that Victor hears about it and decides to teach him no matter what it takes. But that's not the only reason he wants to go see him. When they start their journey as figure skaters together, they end up falling in love with each other.
So, now that we're at the top of our list, this will be the end of the piece. So, feel free to look through the other pieces and enjoy them.