Romantic comedy anime of as many say rom com anime are the best series to watch if you want to have a good time with your better half .
Rom Com anime are the perfect blend of romantic drama and comedy situations and some of them are all fun and games.
So today we are going to talk about these rom com anime that you can enjoy to have a good time.
Lets dive into the list of best rom com anime you need to watch.
28. The Devil is a Part-Timer
While sucky reboots and trashy sequels keep spreading their vice like grip among people who haven't breathed outside air for a long time, Hataraku Maou Sama is the odd kid in the block. It has a totally new concept which totally works for its genre.
While most other stuff still don't know their true identities after 10 episodes, this anime knows where its comedy lies and executes it very well. It may not send you into hysterical fits of laughter, but rest assured you will be having a loony grin plastered on your face while watching it.
The best word to describe this rom com anime will be 'Delightful'. And it has a pretty decent story as well. Being 11 episodes only it will be a short journey though. But at least its a memorable one.
27. Saekano: How to Raise a Boring Girlfriend
The story of this rom com anime is kicks off on a sunny spring day in which the wind blows the hat off of a fair maiden, which of course Tomoya was there to pick it up for her, and give it back.
That event was what inspired Tomoya to make a dating SIM, he also envisioned that, that exact event would serve to be a flawless opening scene with the maiden as the main character.
And as far as we know the "perfect girl" doesn't exist, because Tomoya later finds out that in reality the maiden wasn't very "fair," in fact, apart from her beauty, she's just about the most ordinary girl ever. She was so ordinary that Tomoya didn't realize that she was in his class.
The plot is centered on our protagonist Tomoya Aki and his associates, the busty, but intelligent Utaha senpai, the flat but ill-mannered Eriri Spencer, and of course the ordinary girl, Katou Megumi. Saekano takes a slow start, as it takes several episodes for Mr. Aki to convince his unwilling companions to aid him in making his game.
But after that the pacing of the anime is quite steady. It's sad that this anime is limited only to 12 episodes, which for me is definite con, because there could've been so much more character, and plot development.
26. Yamada-kun and The Seven Witches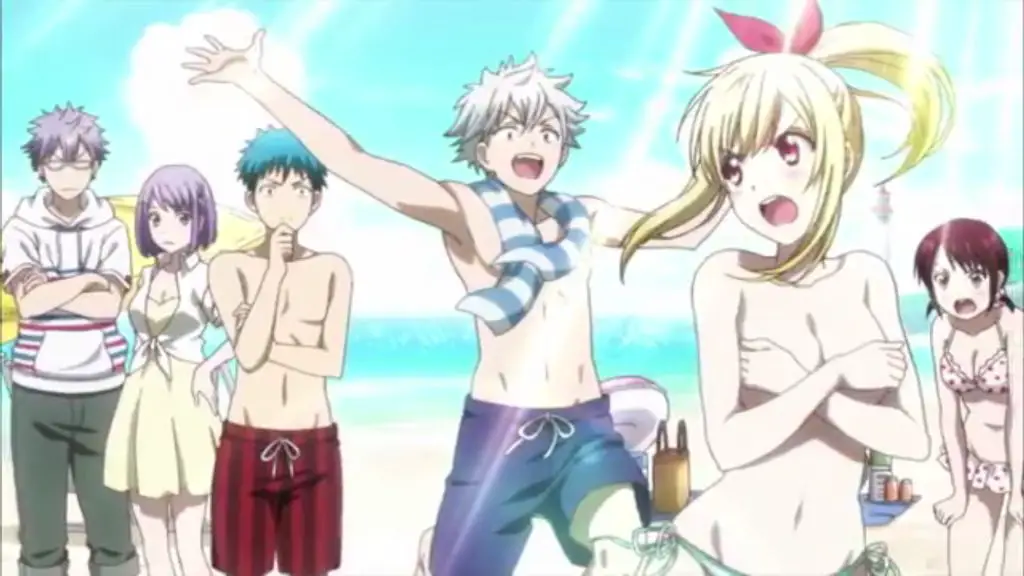 Yamada-kun to 7-nin no Majo is a rom com anime story about Ryuu Yamada, a second-year Suzaku High School student, who one day accidentally kiss a girl and later he finds out that he has Witch's power that is activated with a kiss. Beside Yamada, there are still other witches with various powers in the school to be encountered.
The story of this rom com anime and the concept were kinda unique to me. As i went through episodes, it became more interesting. In the middle episode of the anime, i started to read the manga. The adaption was really great.
But like others said, it was rushed compared to the manga. They skipped and changed some scenes from the manga. Gladly they only skipped the minor parts, so it didn't really affect the storyline. The ending also was pretty good and well-executed, definitely it won't dissapoint you.
25. The World God Only Knows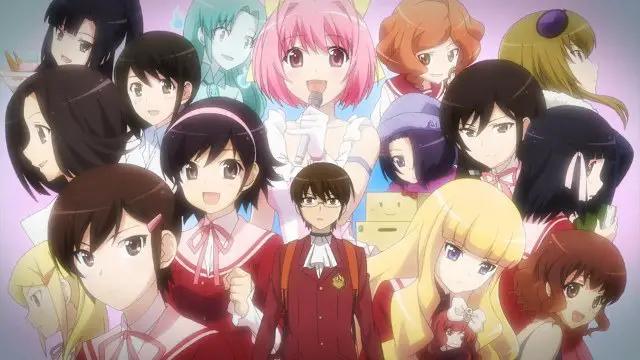 What I would like to announce, this is not your regular average harem rom com anime. It has a good plot and idea to it, actually and it does make sense in the world it was created into!
The way that the main character has to wear consequences and plan out his actions is just entertaining (as are the dialogs) and it definitely made me sit down and read/ watch.
KamiNomi does not try to be more than what it is and keeps going at it's own pace, always introducing different situations and new challenges the main characters have to face.
24. Gamers!
Keita Amano is a typical high school gamer living out an average student's life. One day, however, he has an unexpected meeting with the cutest girl in school that makes him want to disappear without a trace!
This girl, Karen Tendou, is an exemplary student who is proclaimed to be the school's idol. She discovers that Amano is a gamer, and this newfound knowledge incites a passionate desire within her to recruit him into the game club. Upon visiting the club, Amano is forcefully made aware of a side to gaming wildly different than the one he loves so dearly.
Tendou's interest in Amano begins shaking up what was once an uneventful life, filling it with spontaneity, awkwardness, and a little bit of mayhem. As a result, every day becomes a comical battle for Amano's sanity as he tries to adapt to these wild, unexpected changes.
23. Nana
On board the train to Tokyo to meet her boyfriend Shoji, Nana Komatsu happened to sit beside Nana Osaki who was traveling to Tokyo to fulfill her dreams of becoming a musician.
The vocalist for her punk band Blast Nana aims for a major debut for Blast in Tokyo where her boyfriend, Ren, is the guitarist for a popular band Trapnest.
Sharing the same name Nana both girls quickly form a bond of friendship. Their paths cross again when they encounter each other while searching for accommodation in Tokyo.
Eventually they decide to live together in the same unit and this further strengthens their bond as the two Nana go through their love lives and career.
22. Skip Beat
Bright, diligent, and yet naïve 16-year-old Kyouko Mogami works hard to support the career and dreams of her childhood friend, crush, and rising pop icon, Shoutarou Fuwa.
Toiling endlessly at burger joints and tea ceremonies, the innocent Kyouko remains unaware that day in day out, all her tireless efforts have been taken for granted, until, one day, she finds out that her beloved Shou sees her as nothing but a free servant.
Shocked, heartbroken and enraged, she vows to take revenge on the rookie star by entering the ruthless world of entertainment herself. As she steps into this new life, Kyouko will face new challenges as well as people who will push her out of her comfort zone.
Based on the best-selling shoujo manga by Yoshiki Nakamura, Skip Beat showcases the growth of a young woman who slowly unlearns how to work herself to the bone for the satisfaction of others and takes her future into her own hands instead.
21. One Week Friends
Isshuukan Friends is about a girl named Fuijimiya Kaori who has post traumatic stress disorder, and her memories reset every Monday. One day, she meets a boy named Hase Yuuki who wants to be her friend, and the story starts from there.
As Fuijmiya continuously forgets who Hase is, Hase tries to keep their friendship alive, or start their friendship anew, again and again by asking Fuijimiya to be his friend.
In this friendship/rom com anime, there's no love triangle, violence, or anything crazy like that. It's about making friends, maintaining friends, and going through problems with friends until the end. Very touching and well-written plot, I thought. A very innocent and pure story.
20. Honey and Clover
Yuuta Takemoto, a sophomore at an arts college, shares a cheap apartment with two seniors—the eccentric Shinobu Morita, who keeps failing to graduate due to his absenteeism, and the sensible Takumi Mayama, who acts as a proper senior to Takemoto, often looking out for him.
Takemoto had not given much thought to his future until one fine spring day, when he meets the endearing Hagumi Hanamoto and falls in love at first sight.
Incredibly gifted in the arts, Hagumi enrolls in Takemoto's university and soon befriends the popular pottery student Ayumi Yamada. Ayumi is already well acquainted with the three flatmates and secretly harbors deep feelings for one of them.
Hachimitsu to Clover is a heartwarming tale of youth, love, soul-searching, and self-discovery, intricately woven through the complex relationships between five dear friends.
19. Kimi ni Todoke
The rom com anime story is simple and relishes in its simplicity. There are no contrived melodramatic shticks , or unnecessary drama to test one's patience, or any other kind of forced devices creators use to plod the plot along.
This series has a focus and sticks to it. This doesn't mean that it's not slow however. The pacing is relaxed; giving time to the characters to fully explore the situations, themselves, and each other.
Many have complained about the gradual nature of its progression, but it's undoubtedly one of its strength.
18. Special A
The rom com anime story isn't the most original story ever, relying on the interaction of the seven members of the Special A (SA from now on) class and not involving many other characters.
While somewhat predictable, it still manages to be entertaining most of the time if not frustrating because of the general lack of development between the main couple's relationship.

The art style is pretty normal for your typical shoujo. The character models are somewhat odd in their unusually elongated limbs, but it's nothing that should ruin the show for you.
The scenery and colors are good, if nothing fantastic, and I particularly liked the animation of the romance scenes where they would employ a pastel like color scheme which enhanced the scene.
17. My Little Monster
The rom com anime story could seem generic, boy meets girl, he falls for her, they start a romance, well is nothing like that, is about this boy Haru Yoshida who doesn't like to go to school because he can't make friends which prompts to one of his classmate, namely, Shizuku to be sent the homework to him.
They meet and she starts to like him and even feeling love (?) but he rejects her because in that moment he didn't saw her like that, and as the days go by she loses interest on him but he starts to love (?) her, she rejects him, she finds out that he is the best student of the school and starts studying even more to beat him.
She starts to be indiferent with him, like if he was nothing to her, but Haru still loves (?) her and gets jealous to the point he could be considered a Yandere.
Both of them are a rollercoaster of indecisions and this can be annoying as f**k, their relationship goes nowhere, i screamed WHYYYY! for f**k sake and the ending was just FUUUUU*K! it was so freaking open and you will be mad.
16. Haganai: I don't have many friends NEXT
 So like, Kodaka, as you should already know is part of the Neighbors Club, they're always embarking on funny -and sometimes extremely weird adventures with each other.
The rom com anime story itself seems pretty normal, but the way it's shown is NOT, it has enough comedy in it to keep me entertained the whole time, laughing my ass off, yet enough plot to keep me hooked on the damn show – something a lot of animes fail at.
Horse Heads, Blonde Wigs, Meat, Bald Wig-thingy, and even a Mayo Chiki! references are all included in this anime, I'd say that with all of these things it really.
15. Golden Time
Due to a tragic accident, Banri Tada is struck with amnesia, dissolving the memories of his hometown and past. However, after befriending Mitsuo Yanagisawa, he decides to move on and begin a new life at law school in Tokyo.
But just as he is beginning to adjust to his college life, the beautiful Kouko Kaga dramatically barges into Banri's life, and their chance meeting marks the beginning of an unforgettable year.
After having a glimpse of college life, Banri learns that he is in a new place and a new world—a place where he can be reborn, to have new friends, fall in love, makes mistakes and grow.
And as he begins to discover who he was, the path he has chosen leads him towards a blindingly bright life that he will never want to forget.
14. Fruits Basket
The rom com anime story starts with Tohru Honda, your as average-as-you-can-get japanese girl who has lost her mother in an accident and was living alone in a tent in the Sohma's property.
Of course she wasn't aware of that until they told her, to her surpirse they take her in in exchange for her doing all the housework (it was her who suggested not staying in the house 'for free').
It's when she's there that she discovers the family's biggest secret… The family has been cursed by the vengeful spirits of the Chinese Zodiac animals and when they are hugged by a member of the opposite sex they transform into the animal they were cursed by.
When Tohru comes in their life they all learn to open up their heart more and realize that not all the people in the worlds are bad; this girl affects each one of them in a unique way.

It's a beautiful Anime with heart-touching subjects, there is much you can learn from it and definitely worth buying if the chance should present.
There is just about everything in this series:bishonen, angst, drama,comedy, romance, shounen-ai hints and a light-hearted, kind bishojo showing us the way.
13. Itazura Na Kiss
The rom com anime plot for Itazura na Kiss is no different than your standard shoujo romance.
A plain and stupid, but cute girl Kotoko has fallen in love and secretly pined for school idol and uber smart Naoki Irie. She finally gathers to courage to write him a love confession letter but he flatly refuses to even accept or let alone read it stating that he doesn't like "stupid" girls.
Of course in a plot twist that can only happen in shoujo, Kotoko's house is destroyed due to faulty construction and she and her father are forced to move in with his old friend, who just happens to be Naoki's father! Hilarity and hijinks ensue.
12. Ouran High School Host Club
Ouran High School is one of the best reverse harem anime series I have watched. The first episode really made an impact. It did not start as to be draggy but rather it easily showed the main idea of the story which started when they have discovered that Haruhi is a girl.
The rom com anime story was quite shallow at first which was just showing the different themes of the club and how they entertained the guests but when you continue with the later part of the series, you'll realize that behind all the smiles of the characters, there is a bitter past.
The flow of the story is also good. It starts with the story of a certain character, followed by an episode just for enjoyment, them the story of a certain character and so on which promoted the balanced flow of the story.
11. Lovely Complex
The rom com anime story is about the tallest girl and the shortest boy in class and their search for love in high school. It turns out they're both kooky, funny and energetic.
They're also perfect for each other… too bad they don't see that. The story isn't complicated or new, but it was told so well that it crawled into right into that soft spot in my heart.
The romance is built slowly over time and by the end, you're head over heels for them because the creators did such a great job of laying down the foundation and actually showing you how their feelings grow over time.
It's not like a lot of shows where all of a sudden in a haze of fuzzy lighting and rose petals, love magically sprouts out of nowhere. Instead, you see a friendship begin, a moment happens, interest blossoms, awareness grows… the whole nine yards.
You really get to know Koizumi and Otani over the course of the show and I was rooting like crazy for them.
10. Eromanga sensei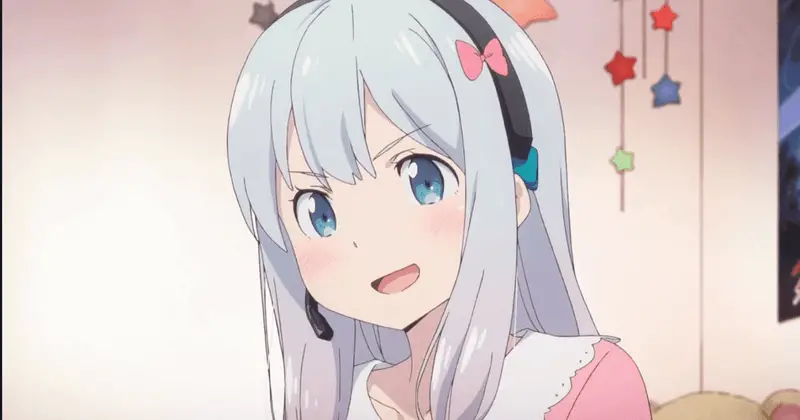 One year ago, Sagiri Izumi became step-siblings with Masamune Izumi.
But the sudden death of their parents tears their new family apart, resulting in Sagiri becoming a shut-in which cut her off from her brother and society.
While caring for what's left of his family, Masamune earns a living as a published light novel author with one small problem: he's never actually met his acclaimed illustrator, Eromanga-sensei, infamous for drawing the most lewd erotica.
Through an embarrassing chain of events, he learns that his very own little sister was his partner the whole time
9. A sister's all you need
Itsuki Hashima is a light novelist obsessed with little sisters, strictly focusing on them when he writes his stories.
Despite his personality, he is surrounded by a tight circle of friends: Nayuta Kani, a genius yet perverted novelist who is in love with him; Haruto Fuwa, a fellow male author whose work has seen considerable success.
Miyako Shirakawa, a good friend that he met in college; and Chihiro, his perfect younger step-brother who takes care of the housework and cooking.
8. Nisekoi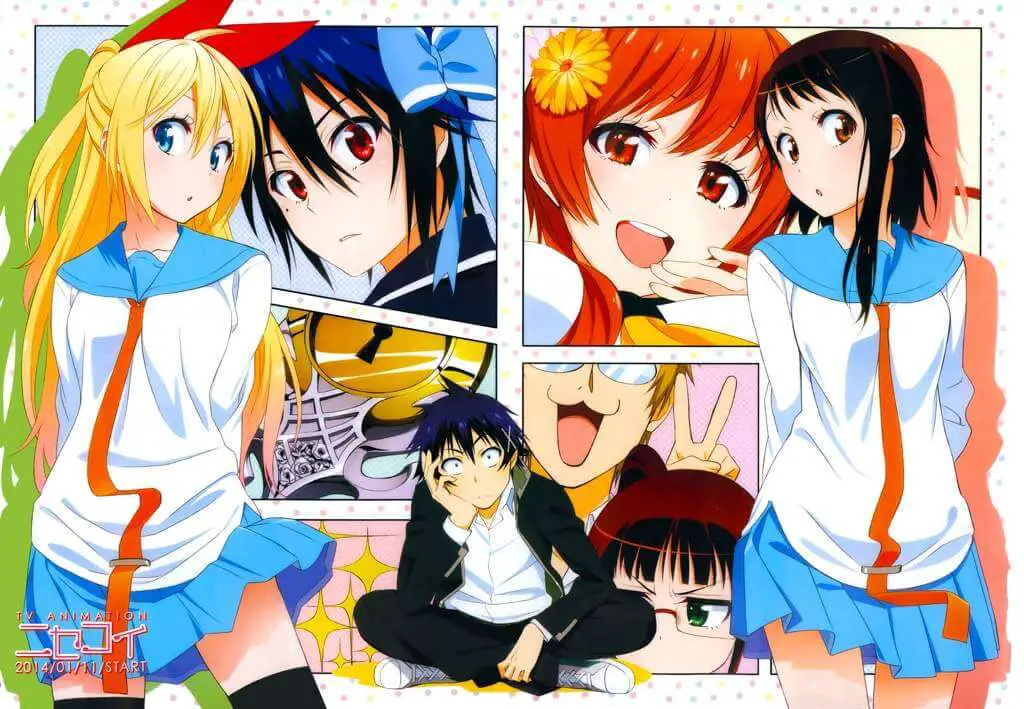 Raku Ichijou, a first-year student at Bonyari High School, is the sole heir to an intimidating yakuza family. Ten years ago, Raku made a promise to his childhood friend.
Now, all he has to go on is a pendant with a lock, which can only be unlocked with the key which the girl took with her when they parted.
Now, years later, Raku has grown into a typical teenager, and all he wants is to remain as uninvolved in his yakuza background as possible while spending his school days alongside his middle school crush Kosaki Onodera.
7. Chuunibyou demo koi ga shitai!
Everybody has had that stage in their life where they have thought themselves to be special, different from the masses of ordinary humans.
They might go as far as seeing themselves capable of wielding mystical powers, or maybe even believe themselves to have descended from a fantasy realm.
This "disease" is known as "chuunibyou" and is often the source of some of the most embarrassing moments of a person's life.
6. Tsurezure children
Young love—it takes many unique and fascinating forms that flourish as children begin to mature into adults.
From being unable to confess to not knowing what real love actually feels like, various obstacles can arise when learning about romantic attraction for the first time.
But underneath all that, young love is something truly beautiful to behold, leading to brand new experiences for those young and in love.
5. Monthly Girls' Nozaki-kun
Chiyo Sakura is a cheerful high school girl who has fallen head over heels for the oblivious Umetarou Nozaki.
Much to Chiyo's confusion, when she confesses to her beloved Nozaki, he hands her an unfamiliar autograph.
As it turns out, the stoic teenage boy is actually a respected shoujo mangaka, publishing under the pen name Sakiko Yumeno! A series of misunderstandings leads to Chiyo becoming one of Nozaki's manga assistants.
4. Oregairu
Yahari Ore no Seishun Love Comedy wa Machigatteiru.
Zoku picks up immediately after the events of the first season, continuing the adventures of the Volunteer Service Club—the dispassionate Hachiman Hikigaya, the cheerful Yui Yuigahama,
And the competitive Yukino Yukinoshita—as it dedicates itself to helping any student with issues that they may face.
3. Sakurasou no pet na Kanojo
When abandoned kittens and his good conscience force second year Sorata Kanda to move into Suimei High School's infamous Sakura Hall, the satellite dorm and its eccentric, misfit residents turn his life upside down.
The decidedly average Sorata finds it difficult to fit in with the bizarre collection of dorm residents like Misaki, an energetic animator; Jin,
A playwright playboy; Ryuunosuke, a reclusive programmer; and Chihiro, the dorm manager, art teacher, and party girl.
2. Toradora!
Ryuuji Takasu is a gentle high school student with a love for housework; but in contrast to his kind nature, he has an intimidating face that often gets him labeled as a delinquent.
On the other hand is Taiga Aisaka, a small, doll-like student, who is anything but a cute and fragile girl.
Equipped with a wooden katana and feisty personality, Taiga is known throughout the school as the "Palmtop Tiger."
1. Clannad
Tomoya Okazaki is a delinquent who finds life dull and believes he'll never amount to anything. Along with his friend Youhei Sunohara, he skips school and plans to waste his high school days away.
One day while walking to school, Tomoya passes a young girl muttering quietly to herself. Without warning she exclaims "Anpan!" (a popular Japanese food) which catches Tomoya's attention.
He soon discovers the girl's name is Nagisa Furukawa and that she exclaims things she likes in order to motivate herself.
Nagisa claims they are now friends, but Tomoya walks away passing the encounter off as nothing.