Baseball is probably the most popular game in the sports genre of anime. That why we get to see so many baseball anime in the past some years.
Baseball is popular in the U.S., but hardball is also popular in other places.
Even though baseball never caught on in Europe, it has had a big effect on places like Japan, and that has made its way into Major League Baseball.
So it makes sense that there are a lot of baseball-themed stories in the world of anime. Some, like American baseball movies, are about the game itself and all of its little details.
Several others, on the other hand, focus on the people in and around the game, as well as the common sports tropes of overcoming obstacles, beating the odds, and even using sports as a way to talk about society.
Some have many seasons and a lot of stories that go in depth.
So lets begin the list of some of the exciting baseball anime of the all times that you should watch.
35. Tamayomi: The Baseball Girls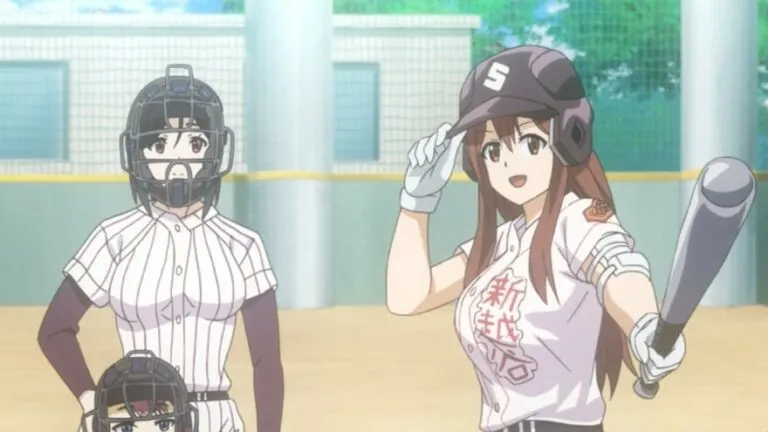 Tamaki Yamazaki and Yomi Takeda have been best friends since they were young, and they have always loved baseball very much. As kids, they promised each other that they would always love baseball.
Tamaki would go on to be a good catcher, but Yomi never did much on the field and chooses to stop playing baseball.
Yomi meets up with Tamaki again at Shin Koshigata High School and chooses to try baseball again.
With the help of Ibuki and Yoshino Kawaguchi, who are twins, the two old friends try to get more people to join the baseball team and rebuild it.
Yomi and Tamaki will work together to help their team get to Nationals and win the whole championships.
34. Cinderella Nine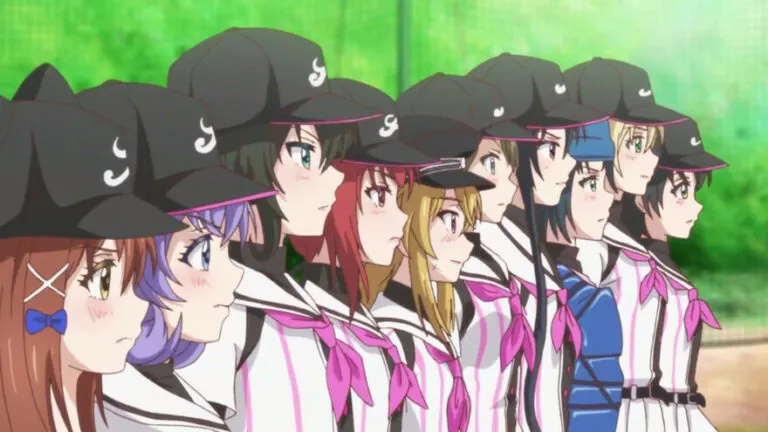 Tsubasa Arihara is shocked to find out on her first day at Rigahama Municipal High School that they don't have a baseball team!
She ends up going out of her way to start the Girls' Baseball Club!
One problem is that the only girls who want to join are those who have never played baseball before.
Tsubasa doesn't know what she got herself into, just like girls who quit baseball and join just for the challenge.
Tsubasa is still driven to make her new team work, though.
Will the Rigahama Girl's Baseball Club be able to stay together even though they clash and fight with each other?
33. Batsu & Terry
High school students Bats and Terry are at the center of this movie.
Both of them are known as tough guys at school who don't take crap from anyone and will fight with anyone.
They're not all bad, though. They'll guard anyone who needs it and stand up for what's right.
But you either love Bats and Terry or are afraid of them.
Oh, and one more small thing: the best pitcher and catcher on their school's baseball team are these troublemakers.
32. Azusa, Otetsudai Shimasu! (Azusa Will Help!)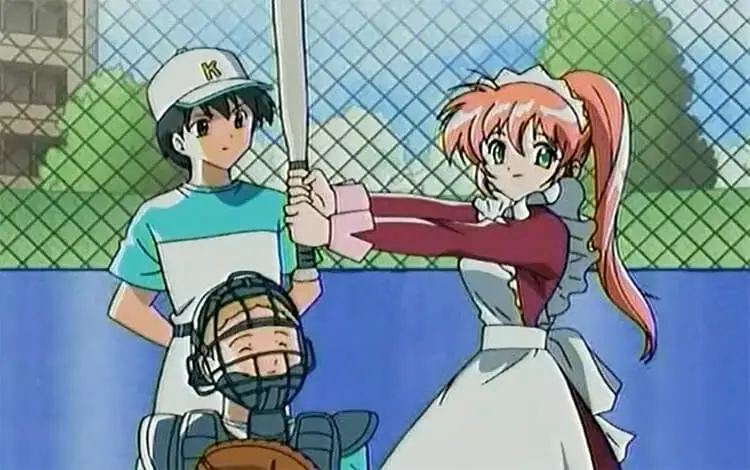 After losing badly in their last game, the baseball team at Karugamo High School loses all of their players and can't play anymore.
Shunpei Harumaki gets a baseball robot to save his baseball team because he has no other choice.
Shunpei buys a maid robot named Azusa with the little money he has to take the place of his partner. Azusa was made to cook and clean, but she was not meant to play baseball.
When Azusa plays against other skilled baseball players and robots, his strange past might come to light, which could help his baseball team win the championship.
31. Neko Pitcher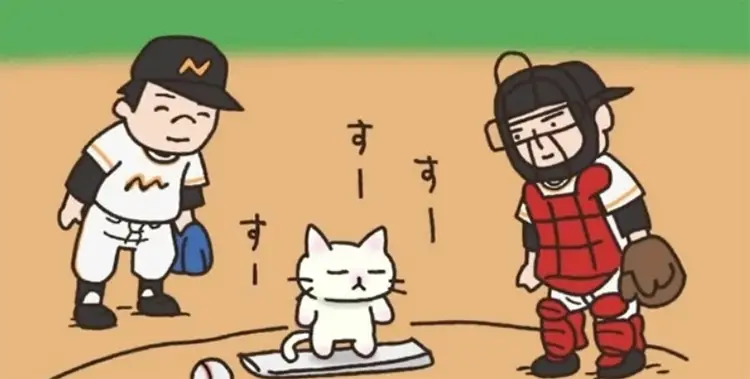 For a change, let's try something funny.
From 2014 to 2016, the TV show Neko Pitcher showed a cat throwing in the Japanese Baseball League.
Yes. That's what happens. And even though it looks simple, it works!
Each episode of this show runs for about 2 minutes. This is plenty of time to show how cute this cat is.
But there's more to it than just jokes.
There is baseball information in each episode of Neko Pitcher, which makes it a good choice for learning about how baseball has changed Japan.
30. Miracle Giants Doumu-kun
Everyone knows that 10-year-old Dome Shinjo sings the song of the late Yomiuri Giants baseball player.
So it shouldn't be a surprise that Dome loves baseball like his father did and was born with special skills.
Dome also has the magical shot that his father taught him as his last present. When Dome gets his dad's old glove, he can use the "magic shot," which gets the attention of the Giants.
The Giants would become unbeatable after Dome took over.
But when he loses to the captain of the Dragons, he realizes he needs to make his own special shot or he'll never be able to help the Giant win!
29. Samurai Giants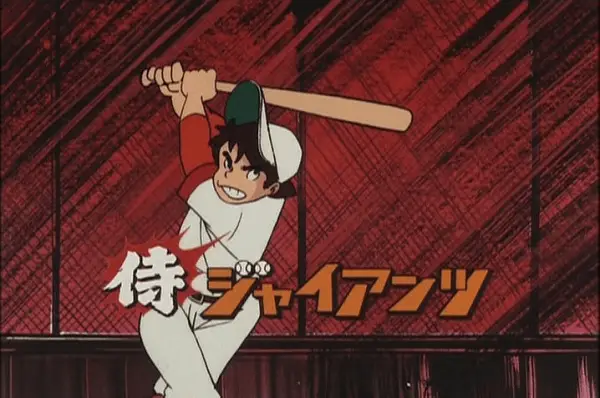 Ban Banjou grew up alone in the rough seas of southern Japan.
He has always been a wild child. Ban ends up in Tokyo for some reason.
Now, though, he plays baseball professionally for the Tokyo Yomiuri Giants.
Ban is a pitcher who is known for his fastball, which is very fast and hard to control.
Every match will bring new obstacles and opponents, so Ban will have to work hard to improve his skills.
28. Little Busters!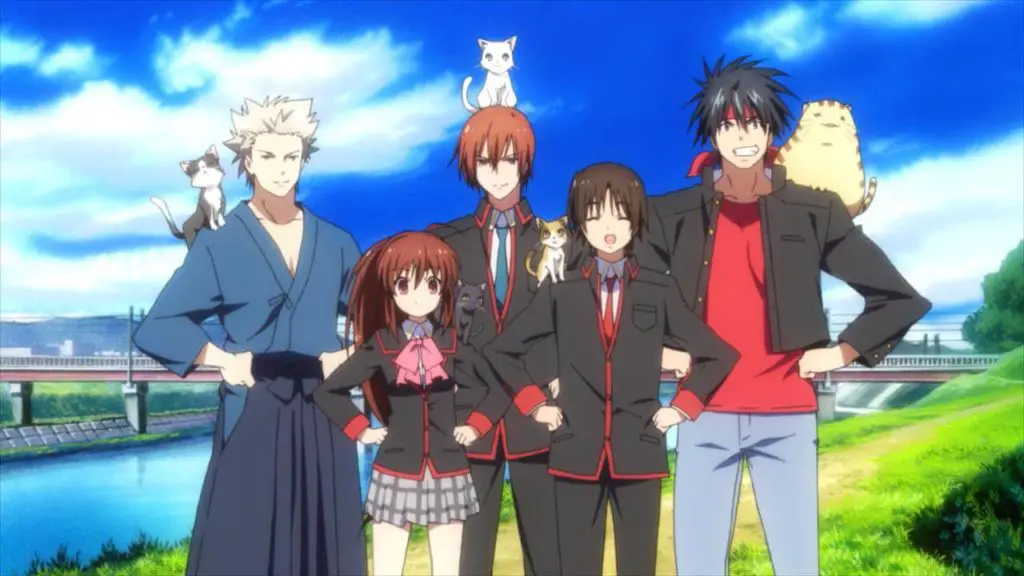 Baseball is a sport for teams. So it makes sense that an anime show would focus on friendship, which is an important part of any team.
Little Busters!, which came out in 2012, is about a group of good people who enjoy life to the best.
When their leader Kyosuke says he's going to leave school soon, the rest of the group chooses to make the most of his last year.
They do this by putting together a baseball team. It's a simple story, but it's really interesting.
And isn't that exactly what you want from baseball?
Baseball is a sport that is enjoyed in the moment, not because of fights or what might happen in the future.
27. Shippu! Iron Leaguer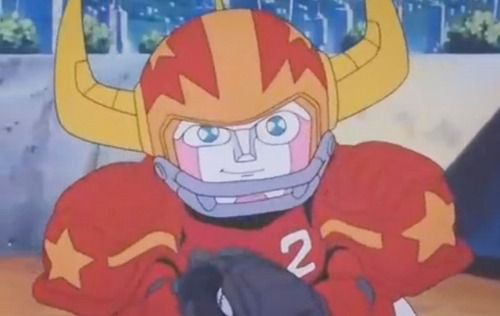 This baseball anime is about The Iron League: a place where teams of robots, under individual "owners", play various sports and duke it out in tournaments.
Mach Windy is a member of Dark Prince, a team that doesn't play fair and fights dirty to win.
Unsatisfied with the actions of his teammates, he defects against the will of Dark Prince's nefarious owner and joins Silver Prince: the weakest team in the league.
Alongside faithful companions such as Magnum Ace and Bull Armor, Mach Windy and Silver Prince will battle against Dark Prince in games of soccer and baseball, and aim for the top! 
26. Ippatsu Kanta-kun
Do something if you really want to get something done.
Even when it seems like everyone is against you. For a comedy/family anime, it's pretty cool that sports are the main way this idea gets across.
Kanta Tobase's mother tells him he can't play baseball, so he does everything he can to sneak into the game.
Kanta is finally able to play because of what's going on around him, which wins his mom's support.
It's easy to understand, funny, and sad at the same time.
Another reason to watch this show from 1977 is that this is where the well-known Mamoru Oshii made his first appearance as an episode director.
25. Princess Nine: Kisaragi Joshikou Yakyuubu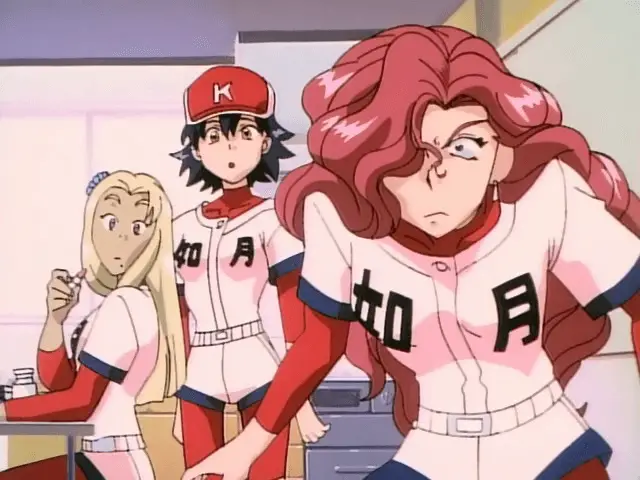 Nine girls from Kisaragi School for Girls make a baseball team so they can play against the boys' team in the National High School Baseball Championship.
They hope to play just as well as the boys' team.
All of the girls on the team want to win at the Koshein Stadium, which is where the best teams play.
They are led by a great pitcher named Ryo Hayakawa, whose father was a famous pitcher who was banned from baseball.
This gives Ryo a chip on her shoulder.
24. Gurazeni: Money Pitch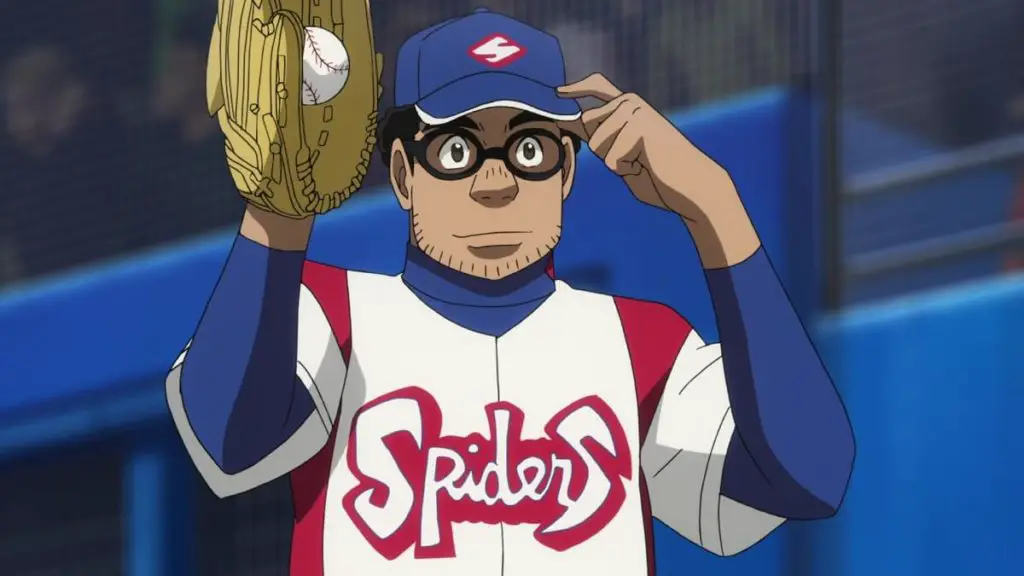 Natsunosuke Honda plays professional baseball. He has been a starter for his team, the Spiders, for eight years.
The player's pay is based on how well they play, and Natsunosuke is one of the best paid players.
Natsunosuke looks at how much money a player makes, not how good they are or how rare their skills are.
Natsunosuke worked hard to get where he is now. He doesn't plan to give up, and he won't let anyone take his position.
Will Natsunosuke get a wake-up call, or will he always think in the same narrow way?
23. Dokaben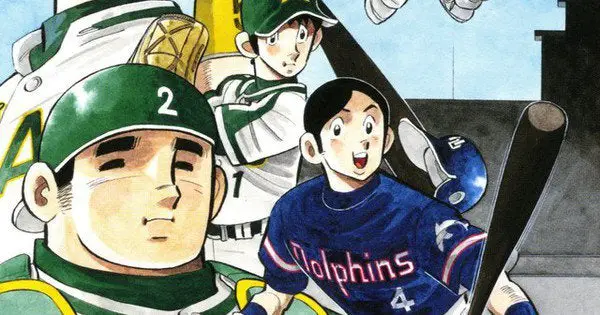 Tarou "Dokaben" Yamada did judo in middle school, and he wanted to keep doing it in high school.
When he started at Meikun High School, he was attracted to the baseball players Masami Iwaki, Kazuto Tonoma, Satoru Satonaka, and Santaro Hohoemi.
Dokaben's special sports skills from judo and his quickness as a hard hitter will help him and his new friends make Meikun the best baseball team in the whole country.
22. Play Ball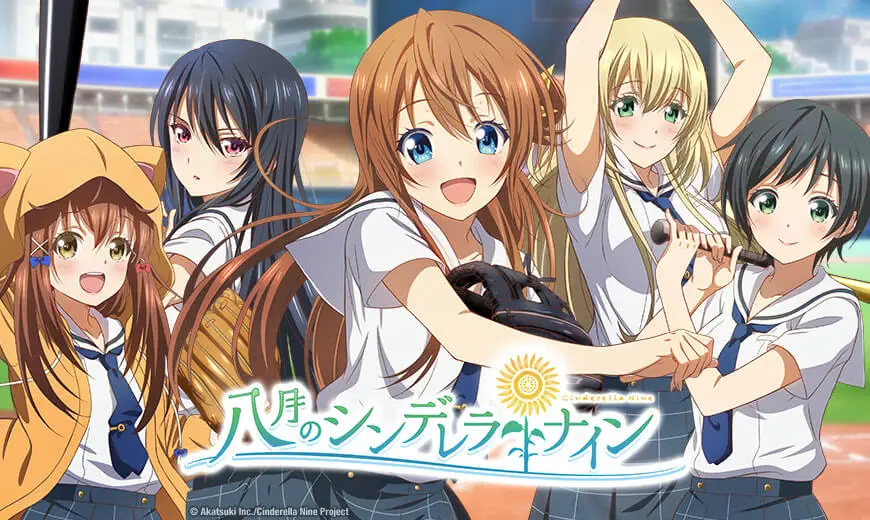 Takao Taniguchi, a junior in high school, broke his finger and can't play baseball anymore.
When he starts high school at Sumitani High School, it's almost torture to stand on the bench and watch the baseball team when he can't join them.
But since both of his legs are fine, Takao decides to try out for the soccer team. The truth is that he wants to get back on the baseball team.
Takao has to start over from scratch, and when he does, he finds his competitive spirit and makes new friends.
But he can't let go of baseball, which was his first love, so he plays baseball in secret.
Which love will win: his old love of baseball or his new love of soccer?
21. Ganbare!! Tabuchi-kun!!
This anime was first shown in 1979.
It has two interesting themes: funny gags and a story about a real Japanese baseball player named Koichi Tabuchi.
As entertaining as the series is, I think it's great that Tabuchi was up for this kind of treatment.
After all, he's one of the best homerun hitters in the history of Japanese professional baseball!
20. Kurokan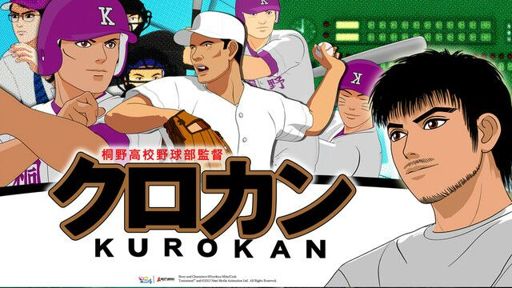 Most of the time, sports anime is told from the point of view of a star player.
Kurokan gives an interesting look at this sport from the coach's own point of view.
Sure, the motion might be a little stiff. But Kurokan does have a nice way of handling the game itself.
The 100th anniversary of Koshien Stadium is coming up soon, so baseball teams are doing everything they can to train and maybe win the title.
And that brings us to Kurokan. Why does he tell his players to train in such a strange way?
Does he really care what will happen to them?
How do we know?
The episodes aren't too long, so you'll probably finish this quicker than you think.
19. Meimon! Daisan Yakyuubu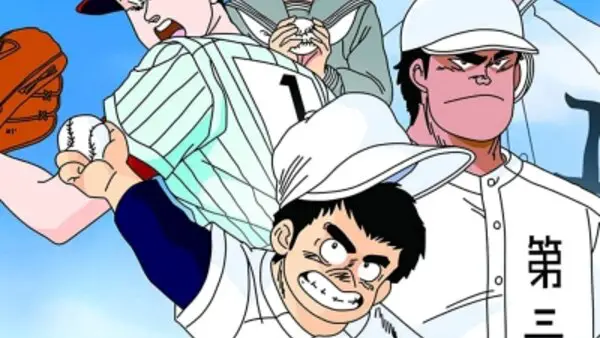 This baseball anime is about Keiko Himuro, Chairman of the Kisuragi School, puts together an all-girl baseball team led by Ryo Hayakawa, daughter of a legendary pitcher, in hopes of proving that girls can compete just as well as boys.
Their goal: Koshien Stadium, where only the best teams get the opportunity to play. 
18. H2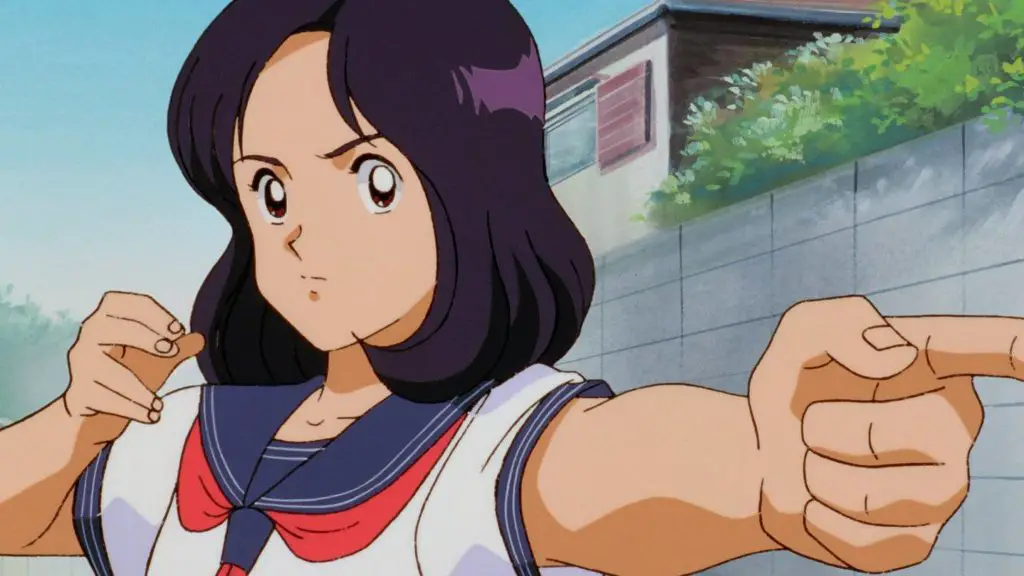 H2 is another popular manga by Mitsuru Adachi. It tells the story of some best friends who are stuck in the middle of baseball and love.
Hiro Kunimi stops playing baseball after hurting his elbow. He goes to a school that doesn't have a baseball team.
Hikari Amamiya and Hideo Tachibana, two of his childhood friends, go to a different school where Hideo can be a baseball star.
Both of them wish Hiro wouldn't give up on baseball, so when they find out he's joining a soccer team instead, they're disappointed.
But Hiro meets Haruka Koga, the head of a private baseball club at Hiro's school, through soccer.
When the baseball team invites the soccer team to a game, it could be just what Hiro needs to get excited about soccer again and switch teams.
17. Slow Step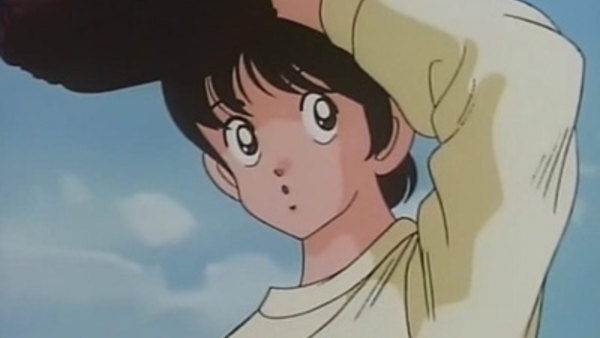 Minatsu Nakazato, a softball player, is in the middle of a love triangle.
She's always had to deal with boys and even her male teachers giving her unwanted attention.
Shu Akiba has feelings for his classmate Minatsu, and Naoto Kadomatsu has feelings for a mystery girl named Maria.
Naoto doesn't know that Maria is one of Minatsu's disguises that she used to get away from men who wanted to date her.
Who will win Minatsu's heart? She didn't expect Shu, Naoto, or someone else.
16. Touch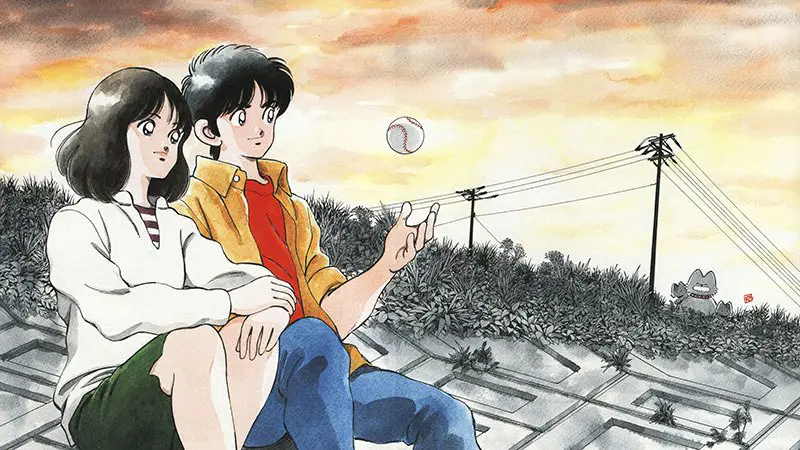 Kazuya and Tatsuya Uesugi are twins, but they couldn't be more different. Kazuya is a very good bowler at his school.
Tatsuya is a slacker who has given his brother Kazuya the attention for a long time, even though he is more talented.
Minami Asakura is the next-door neighbor and childhood friend of Kazuya and Tatsuya. Everyone thinks she should be with Kazuya.
Tatsuya is ready to do anything for his brother, but he can't get over his love for Minami.
Tatsuya moves out of Kazuya's shade and is ready to show everyone, especially Minami, how good he is. This could change the way the twins feel about each other for good.
15. Nine: Original Han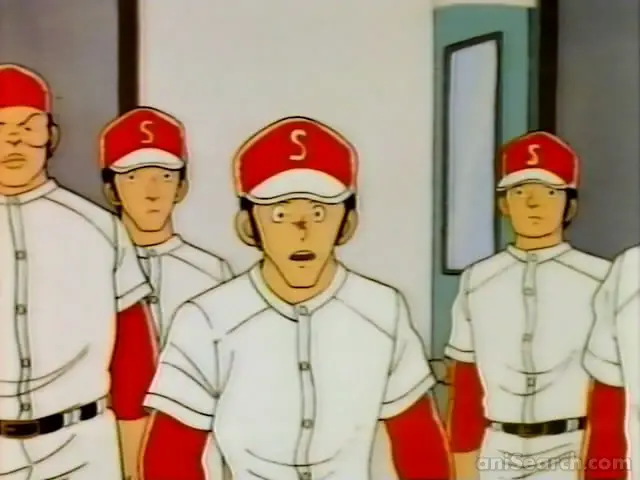 The boys decide to join the team and improve it in order to make her smile.
This baseball anime series follows the three, as well as pitcher Eiji Kurahashi, as Niimi and Karasawa learn about baseball.
And what it means to be one of nine players on a team, as they work together through high school make it to Kōshien.
14. Taisho Baseball Girls
This baseball anime looks at the problems women face in sports that are mostly played by men. For example, in 1925 Japan, only men played baseball.
After a player told Koume and Akiko that the sport wasn't for them, they decide to start their own team, going against cultural norms and showing that anything is possible with hard work and drive.
Even though Taisho Baseball Girls shows baseball more as a slice of life, it never loses its focus, which makes it a fun show for baseball fans to watch.
13. Mix: Meisei Story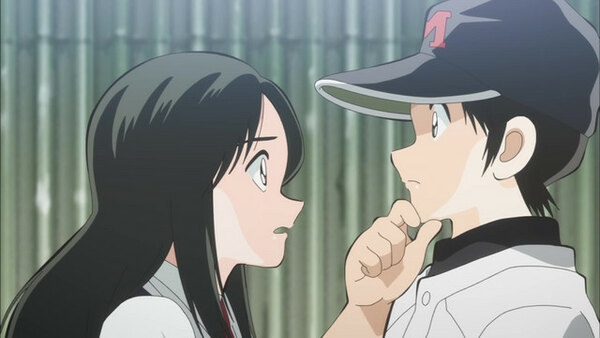 With his baseball team, Tatsuya Uesugi put Meisei Academy High School on the map. After 26 years, the baseball team has long since lost its glory and fame.
Souichirou and Touma Tachibana are middle school students and stepbrothers. They want to win National and bring Mesei Academy back to its past glory.
Souichirou is a good catcher and batter, and Touma used to be a good thrower but stopped all of a sudden.
As they start high school, the two stepbrothers help each other get their baseball team to the National High School Baseball Championship!
12. Kyojin no Hoshi (Star of the Giants)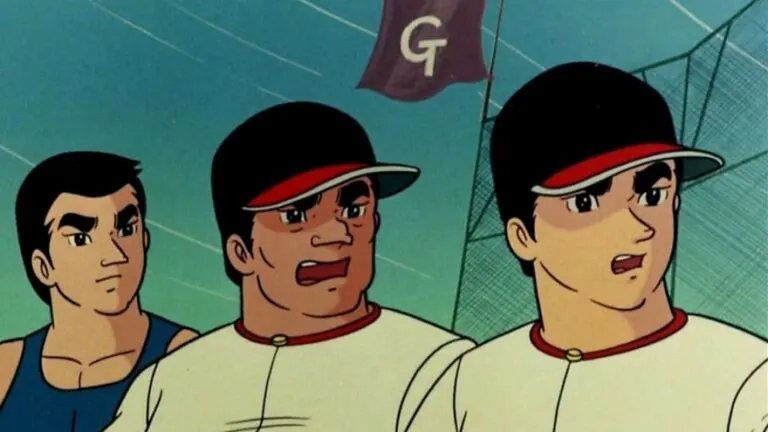 Hyuma Hoshi wanted to become an ace pitcher like his father, who played baseball professionally.
Hyuma's dream weighs heavy on him because he knows he will also make his father's dream come true. After being hurt in World War II, Hyuma's father had to give up baseball.
Hyuma joins the Giants, a well-known baseball team, but he feels like he needs to be the best player on his new team right away.
Hyuma's competitors are also trying to get to the top. Will he be able to make his and his father's dream come true or will he give up?
11. Yakyuukyou no Uta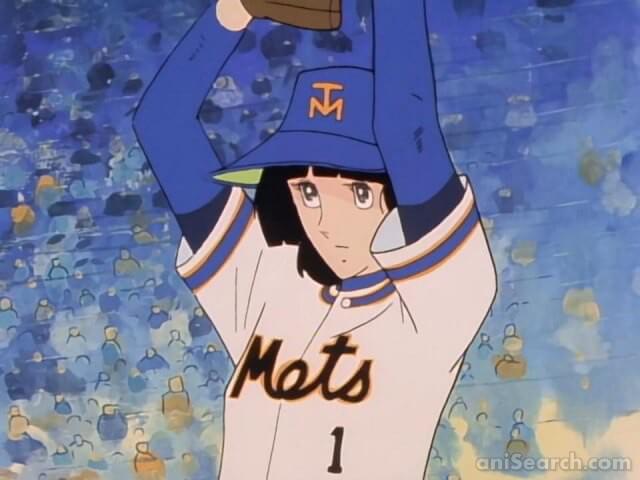 Yakyuukyou no Uta, which first aired in 1977, was the first anime to use the idea of empowering women, which is now a common theme in anime.
Or, in other words, girls rule!
In this story, Yuki Mizuhara, a college student who tries to play baseball, is the main character.
This baseball anime is worth watching because it has great baseball scenes and a progressive message about equal rights for men and women.
Especially for the women out there who like sports and anime (which is a strange mix, but they are out there!)
10. Apache Yakyuugun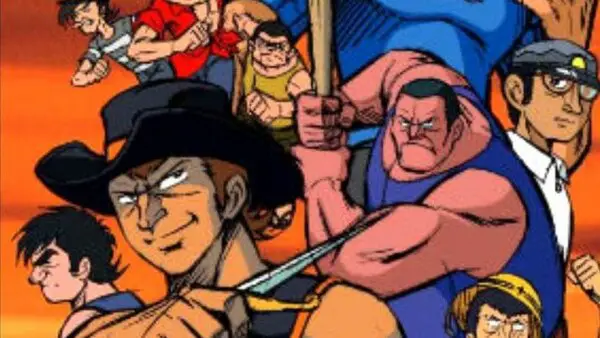 Apache Yakyuugun is one of the first anime to be about baseball, and it shows a really creative way that this sport could be shown on TV.
Apache Yakyuugun has a simple and short story (there are only 26 episodes), but it makes good use of the time it has by showing one of the best lessons learned from sports: it's all about the people you hang out with.
When a former professional baseball player becomes a teacher, his team learns more important lessons. And he learns some things along the way!
It's one of the first slice-of-life shows, and it does its job very well.
Also, the late Studio Ghibli director Isao Takahata was in charge of this series.
9. Kenritsu Umisora Koukou Yakyuubu-in Yamashita Tarou-kun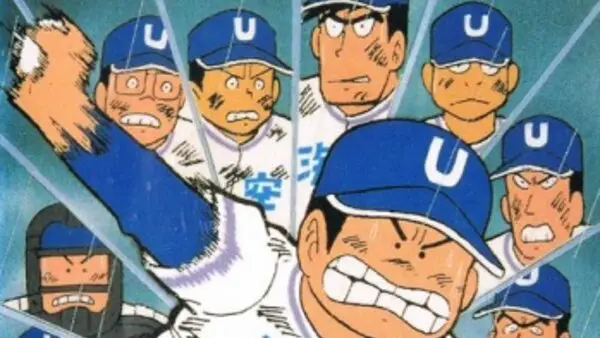 In most sports shows, the main character is usually pretty good at sports from the start.
In some stories, the main character has a secret move that helps him win almost every time.
Well, this anime from the late 1980s didn't go that way.
Our main character, Tarou Yamashita, is different from other heroes because he really stinks.
But Tarou and his friends keep going because he loves the game and wants to get better.
Even when everything was against them. Quite moving, in fact.
8. Go-Q-Choji Ikkiman (Battle Ball)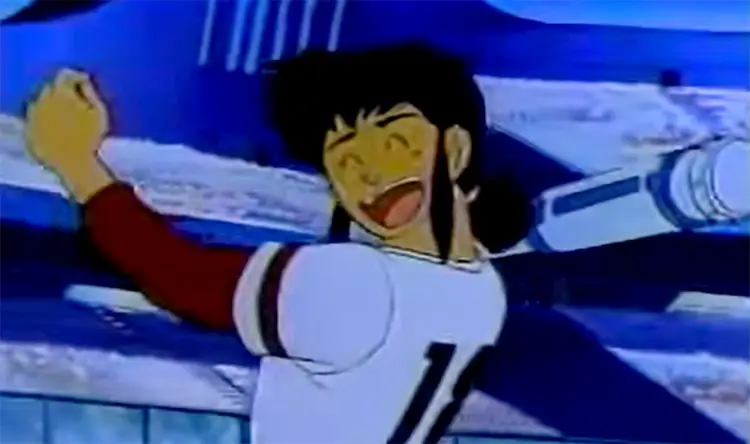 Let's play some baseball in space for a change.
This favorite from 1986 may be hard to find.
Battle Ball is an instant anime favorite for those who have seen it or have a copy.
The styles of the characters look like a mix of different types of Saiyan armor. For example, if you hit the orb on the chestplate of the armor with a baseball, the player can't move.
Also, the Earth's team is made up of several top players from different sports.
The main character is part alien, which is just what our world needs.
It might not be as true to life as other books. But if you like science fiction, Battle Ball is a really fun show, even if you don't like baseball.
7. Battery
If you don't know a lot about baseball terms, "battery" does not mean the device that gives energy to so many of our gadgets.
It's the word for how close a pitcher and his catcher are to each other. Some might even say they are related.
Two Japanese kids work and learn together on the pitch and behind the plate, which is a great metaphor for life. A lot of teams want to sign the pitcher, Takumi Harada, who is known as a talent.
Gou Nagakura, the catcher, shows up a little later in the story, but he is the one who brings out the best in Takumi and, of course, the worst in him.
Takumi can't leave his small-town family life, so he's stuck throwing on a team where no one else is as good as him, especially when it comes to catching his unique pitches.
Then Gou saves the day—and the team—and the two of them become great battery mates while learning even more about life.
6. One Outs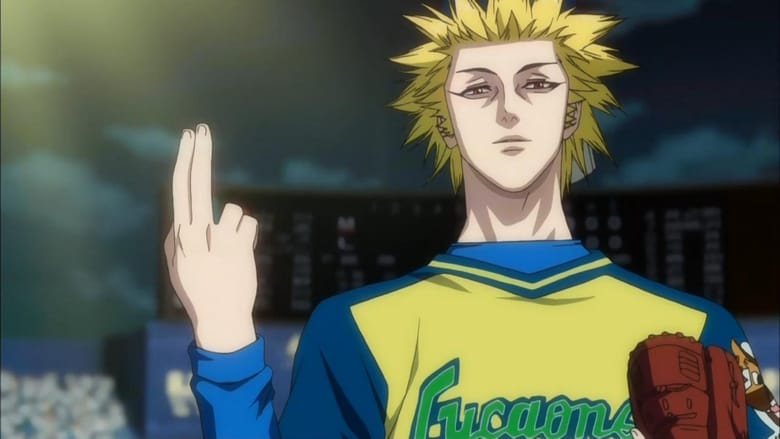 This is a different kind of sports or baseball story. It's about a character named Toua Tokuchi, who is a gambler and careless.
The main team in the story, the Saitama Lycaons, wants to win a title so badly that they go out to find the best players, which is how they meet Toua.
Toua seems to have a supernatural ability when it comes to throwing, since he doesn't have the best fastball but still manages to win a record 499 straight games in the street game version of baseball in the anime One Outs.
It's a great thing to watch if you want to see a different side of almost everything to do with baseball and anime.
5. Cross Game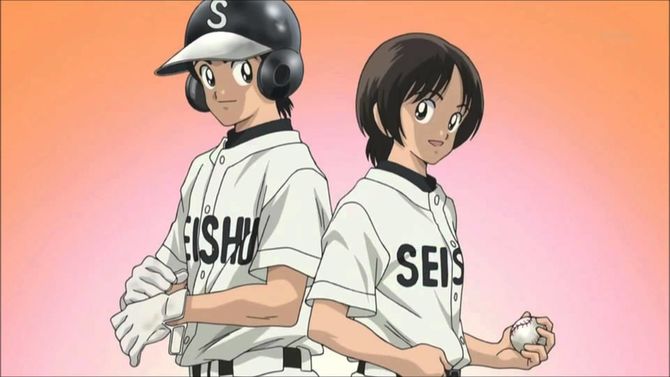 A great sports story, like many romantic comedies, is about more than one character. These characters have different personalities, ideas, and even ways of doing their jobs, which is a microcosm of how they live their daily lives.
Cross Game does a great job of balancing its two main characters, who show a lot of what we see in professional and amateur players around the world.
There is the very talented player who takes things for granted, doesn't work hard, and gets by most of the time on his or her ability alone.
On the other end of the spectrum is the scrappy, gutsy, determined player with the heart of a winner who works harder than everyone else to stay in the game but doesn't have the natural gifts and talents that more athletic players have.
Aoba Tsukishima and Kou Kitamura play these parts, and even though they are different, they are tied together by a love interest who is also their brother.
Aoba is the outsider who works hard and proves himself again and again. Kou, on the other hand, has all the skills to be one of the best, but he doesn't work hard enough to get better.
And Wakaba, Aoba's sister, is related to Kou, which brings the two together in the end.
4. Ookiku Furikabutte (Big Windup!)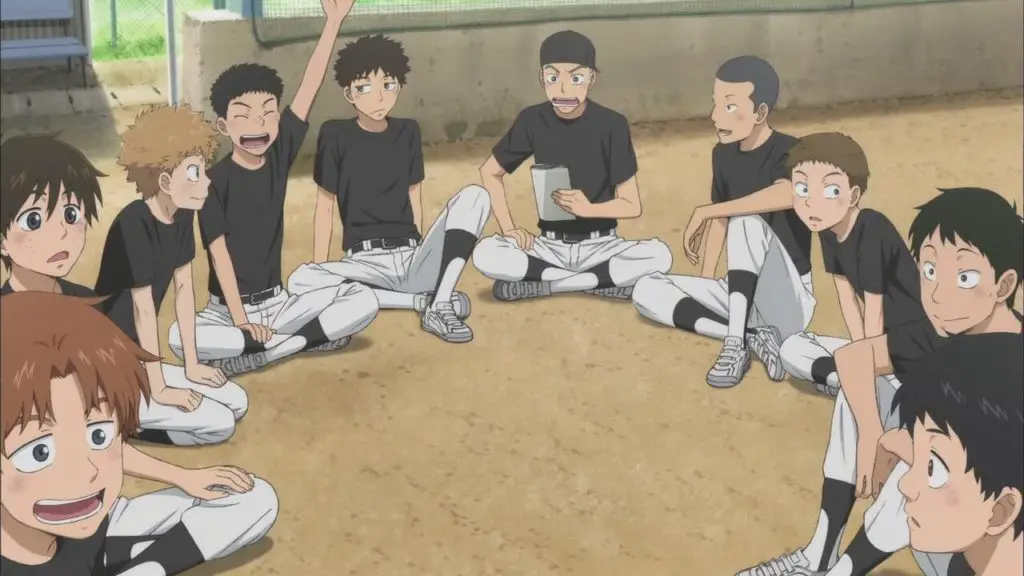 Bullying. A topic that is often talked about in anime.
But what if the people you're meant to trust are the ones who are bullying you?
This baseball show starts out like this.
Ren Mihashi is good at baseball, but he doesn't think much of himself. His friends don't want to win games very much. Some even begin to say that Ren is to blame for their loses.
Ren chooses to leave his school and go to a different one. When his new school's team quickly asks him to join, it's no surprise that he's pulled back into the world of baseball.
Will this be the start of Ren's getting better at baseball? Big Windup is worth a look. and try it out for yourself!
3. Moshidora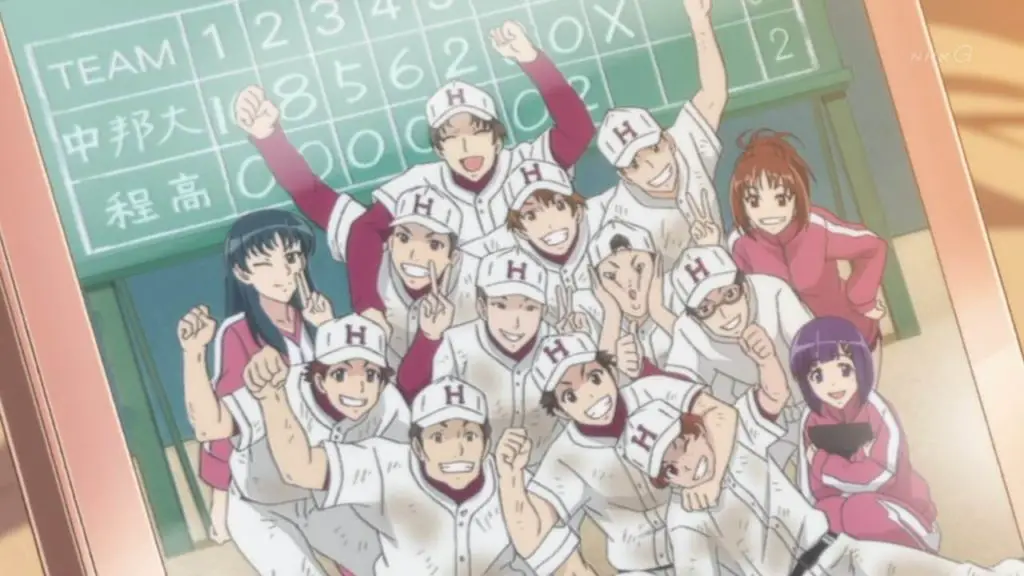 After her best friend Yuuki Miyata gets sick and has to go to the hospital, Minami Kawashima takes over as boss of the baseball team at their high school.
Minami doesn't know what to do, though.
She goes out to find a book about how to manage a baseball team, but instead comes home with a book about how to manage a business. Excellent start.
Minami can't return the book, so she reads it anyway and chooses to take a more business-like approach to taking care of her new baseball team and pushing them to win the Nationals.
2. Diamond no Ace (Ace of Diamond)
The funniest anime have a great sense of humor, and if you like baseball, this will give you everything you want.
We follow a young main character through loss, feeling unworthy, and being overwhelmed, but he still fights against the odds to follow his dreams (and, since it's anime, get revenge).
The stories follow more than just Eijun Sawamura, though, so the audience can cheer for more than one person—or against them, depending on the situation.
1. Major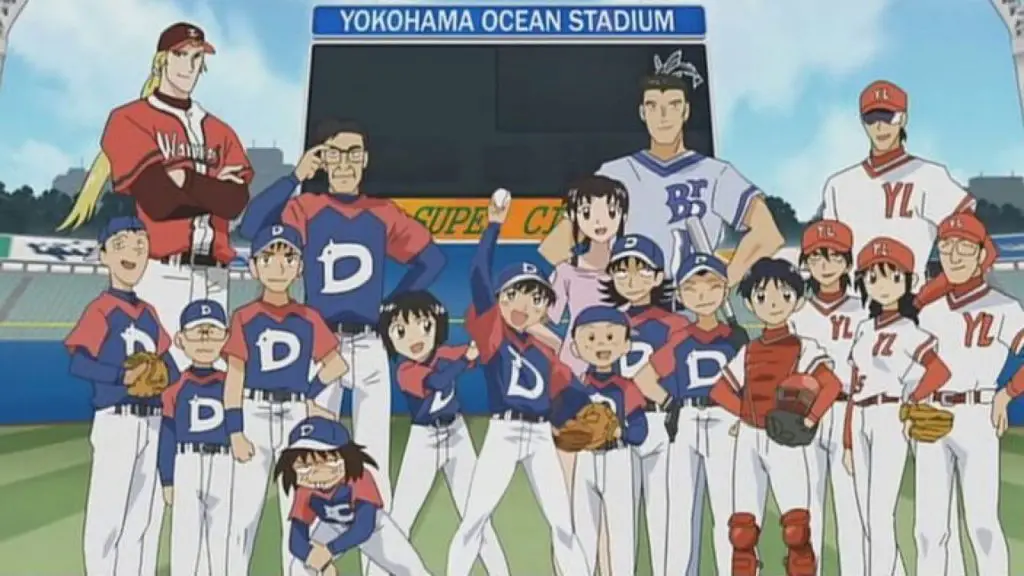 This softball series might be one of the most well-known in Japan, and it might also be the best one ever made.
What makes Major a good show is how much its characters change and grow.
Major's commitment to telling a beautiful story for that long, over 6 seasons and several movies, should be praised.
The show is about a man named Goro Honda. We watch him grow from kindergarten to the professional teams.
Goro's journey toward his dream is full of problems (and also of things he does well). We get to see all of them.
In the long run, Goro's desire to be the best does earn him praise. And it's a great story that baseball fans all over the world can learn from.
Not only that, but you can watch another anime called Major 2nd after you finish this one.
Hope you like this list of baseball anime comment below which baseball anime do you like the most share this list with your friends and bookmark MOW.