Today I bring some traditional content for all the anime fans out there. As we all know Kimono is perhaps the most traditional cloths of Japan.
This attire is very elegant as well as full of simplicity. But you know what's make it more interesting apart from everything.
The Anime characters that wear all type of Kimono which suits their personality and you know a character or two that is identified for their traditional Japanese Kimono. And that's not even limited to female characters. 
So, I prepared a list of 11 anime girl in kimono, and this list I want to share the absolute rock in kimono. Without further ado, enjoy the list!
11. Nozomi Toujou From Love Live! School Idol Project – 139 Votes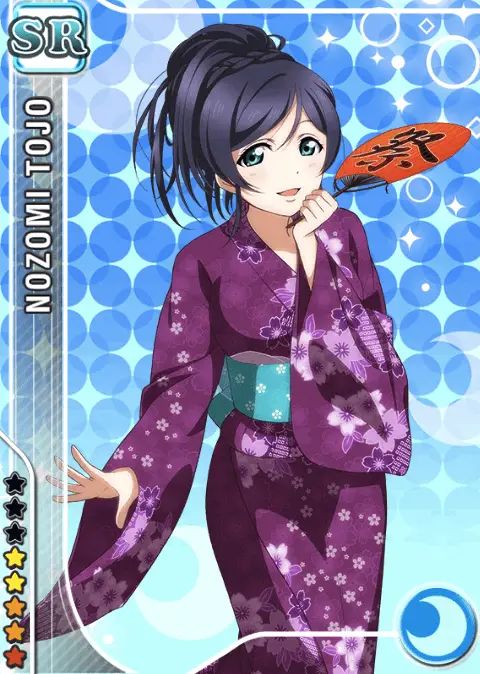 Nozomi Tojo is one of the main characters in Love Live! She is a third-year student at Otonokizaka High School. She is a member of lily-white, a sub-unit under μ's.
She appears pretty wise, a mature girl with her kimono-style dress make her gloomier and more refreshed in the series with her perfect fit to the character.
10. Yuuko Ichihara From xxxHOLiC – 147 Votes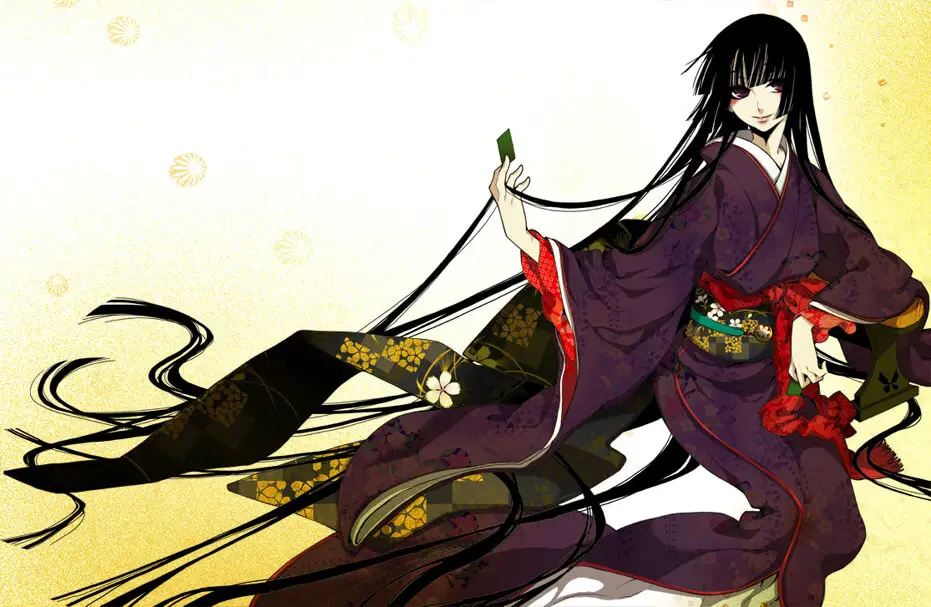 With her classic appearance in the series dressing up in a kimono sparkle my eyes. Almost every time she appears in her simple and regular dressing but feels like a different person every time.
And physically her traditional dress is a part of her character approached a different vibe with nice contracts.
9. Isumi Saginomiya From Hayate no Gotoku! – 158 Votes
Isumi is shown to be wearing a pink kimono. In the manga, Isumi was wearing a floral kimono.
She is rich however she is soft-spoken, kind, and very good at cooking.
Her wearing style of kimono with different color and different design makes her look cute and She often puts her kimono sleeve (hand) up in front of her mouth.
8. Tsukihi Araragi From Monogatari Series – 179 Votes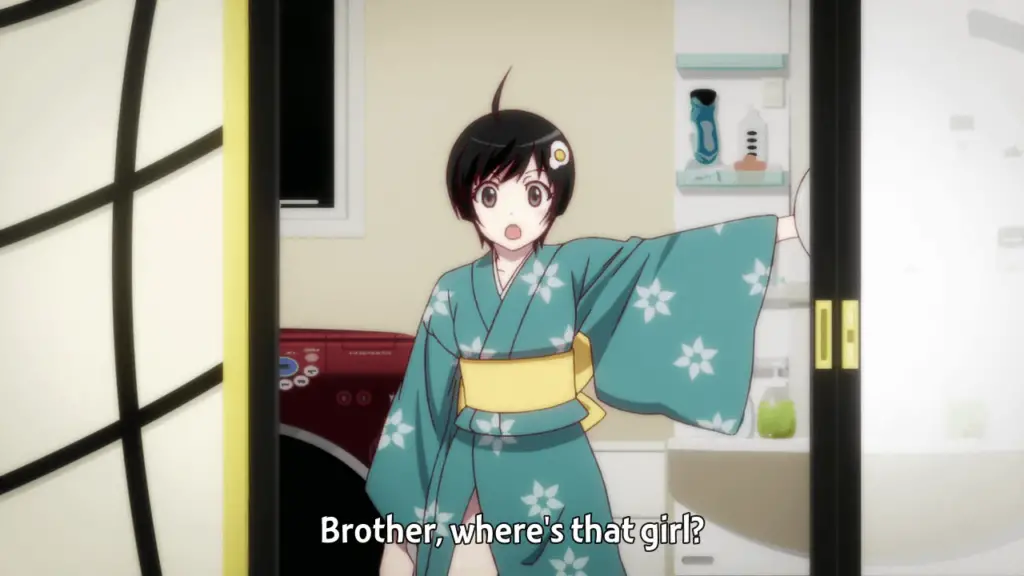 Youngest Araragi family's Fire Sisters. She doesn't have any reason behind wearing kimono. She wears kimono of every style, no matter what the season.
Regardless of whether it is her lighter and more limited yukata for summer or a more traditional one for the colder months.
You can be certain that she would quite often wear a splendidly hued kimono befitting of her actual character during her appearances.
7. Sae Kobayakawa From The [email protected] Cinderella Girls – 213 Votes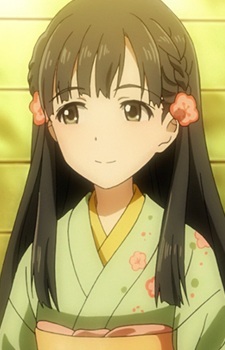 With her gentle nature from Kyoto who speaks the traditional accent. 
She follows the perfect picture Japanese woman, wearing kimonos and acting very considerate towards her partners and producer.
She plays a pro Idol role in the series. Raise in a strict family and carries herself with grace and dignity. 
6. Umi Sonoda From Love Live! School Idol Project – 220 Votes
She is also one of the main characters of Love Live. Student of Otonokizaka High School. She is the leader of lily-white, a sub-unit under µ's. She is vice president of the school.
Her quality makes her stand out differently from others with her appearance of a proper traditional Japanese lady with her traditional style of wearing kimono.
She is extremely disciplined, very intelligent but shy and lazy too.
5. Ai Enma From Hell Girl – 251 Votes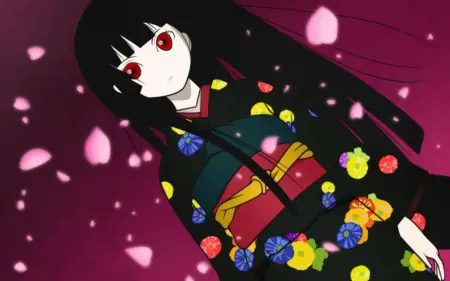 Enma our main character of the Hell Girl. She prefers to wear simple clothing but while performing she always prefers to wear kimono.
And in every season her kimono changes but not her appearance. In season 1, it was a black kimono with large flower patterns.
In season 2, the kimono has flowery petals covering most of it.
In season 3, it carries pictures of fans and toy air balloons, the patterns of which appear to be moving.
In season 4, it is black but mostly covered with flowers, butterflies, strings, and roses, it's obi's color is golden and is decorated with flowers. 
4. Dia Kurosawa From Love Live! Sunshine!! – 326 Votes
One more main character of Love live is a member of AZALEA, a sub-unit under Aqours.
She is president of the school council and shares a strong bond with her sister.
Wearing different types and styles of kimono is her hobby that makes her look different.  
She is mature, polite, and speak formal Japanese with anyone.
3. Sakura Shinguji From Sakura Wars – 357 Votes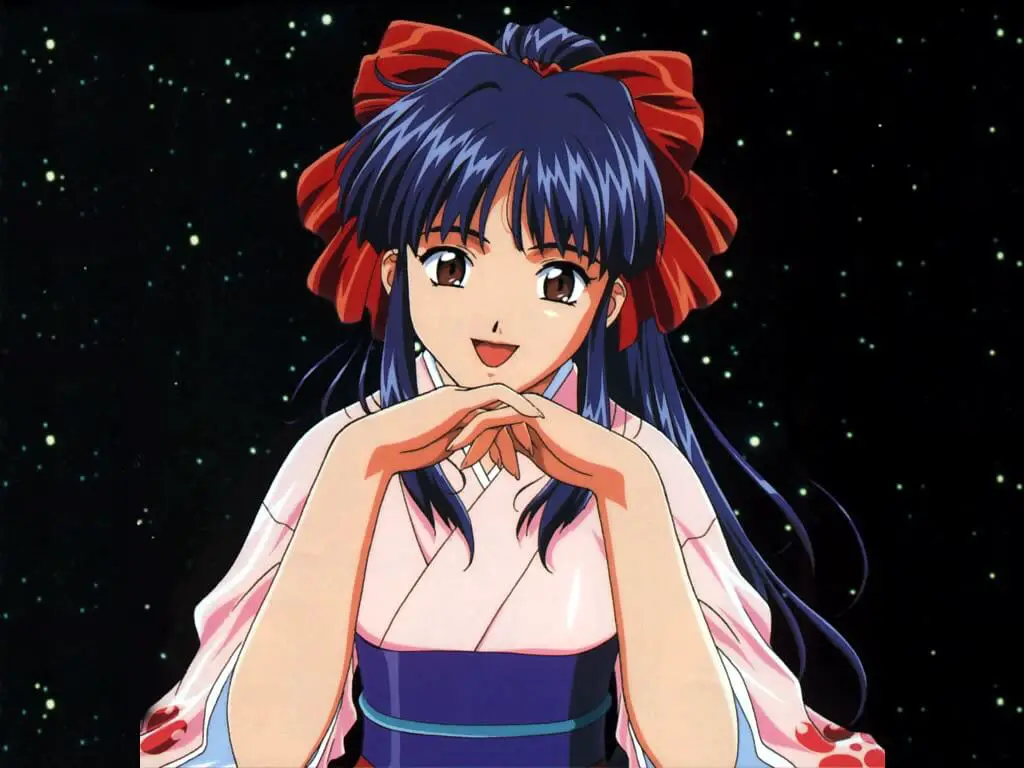 Sakura is a video game character From sakura wars and fans voted her with 357 votes for this list.
Sakura's iconic hakama-type kimono and her pink koubu's Eastern style swordplay, has become one of the symbols of 90's era anime.
2. Chiya Ujimatsu From Is the Order a Rabbit? – 405 Votes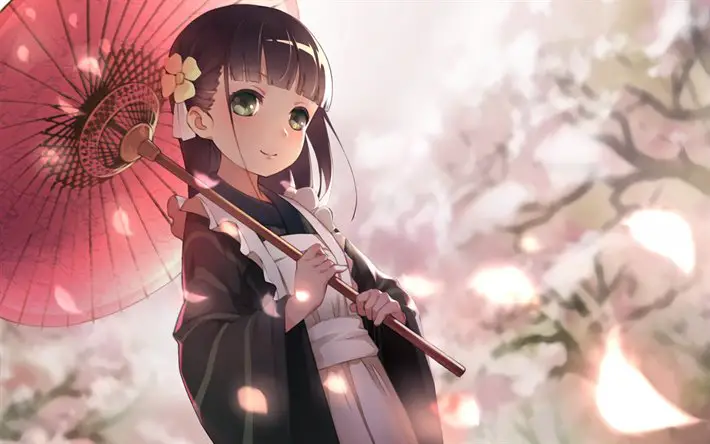 Chiya Ujimatsu is the main character of Is the Order a Rabbit.
Normally Chiya wears her work outfit, which is a dark green kimono with vertical stripes and a long white frilly apron over it. Her family-owned café.
A gentle, calm young girl, and she is very soft-spoken.
1. Shiki Ryougi From Kara no Kyoukai – 462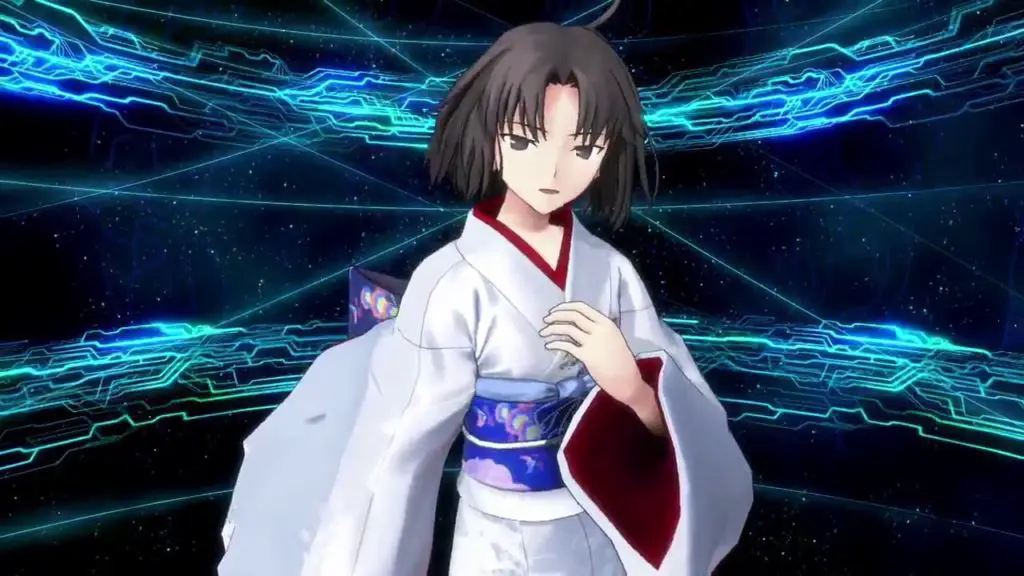 Her wearing style of Kimono makes her look presentative and also suits her main character appears in the series Karo no Kyoukai.
Her Kimono come under luxurious item she has a wide variety of traditional kimonos ranging from colorful to high quality.
For every different season, she has something different style of wearing kimono.