Put on your line-girding pants and open your modifications folder if you want to give your Sims a fantastic adventure or if you take a lot of images in a fantasy setting in TS4.
Since I am in possession of the mother of all fantasy-themed CC.
I looked at anything from CAS goods that transform your Sim into a Satyr or Centaur to three distinct ways to construct three different Sirens (or, more generally, Sim-sea-creature hybrids).
Because I love fantasy like crazy, and working with all these concepts in The Sims was a blast.
21. Familiar Interactions by simsmodelsimmer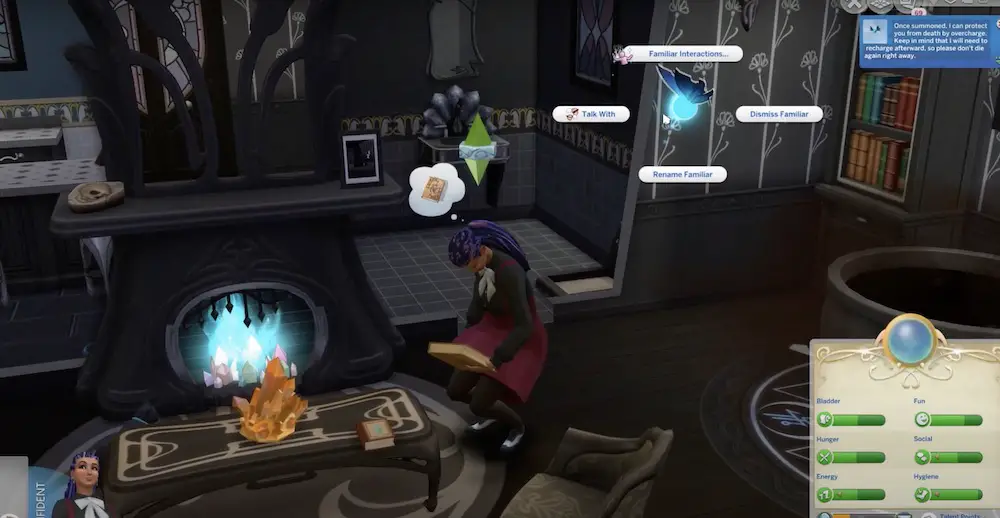 Familiars were a cool addition to Realm of Magic, but what the hell do they exactly do? This mod expands on the use of your familiars and lets your Sims interact with them.
You can now talk to your familiar as they can offer magical advice and teach your Sim new spells, without the risk of increasing your spellcaster charge. 
This mod helps bring clarity to the game by asking Familiars for advice (i.e. they can recommend spells or provide other helpful tips like what you should do next).
The recent update works for pets who you've bound with as familiars. 
20. Fish King M/F Costume by Natalia-Auditore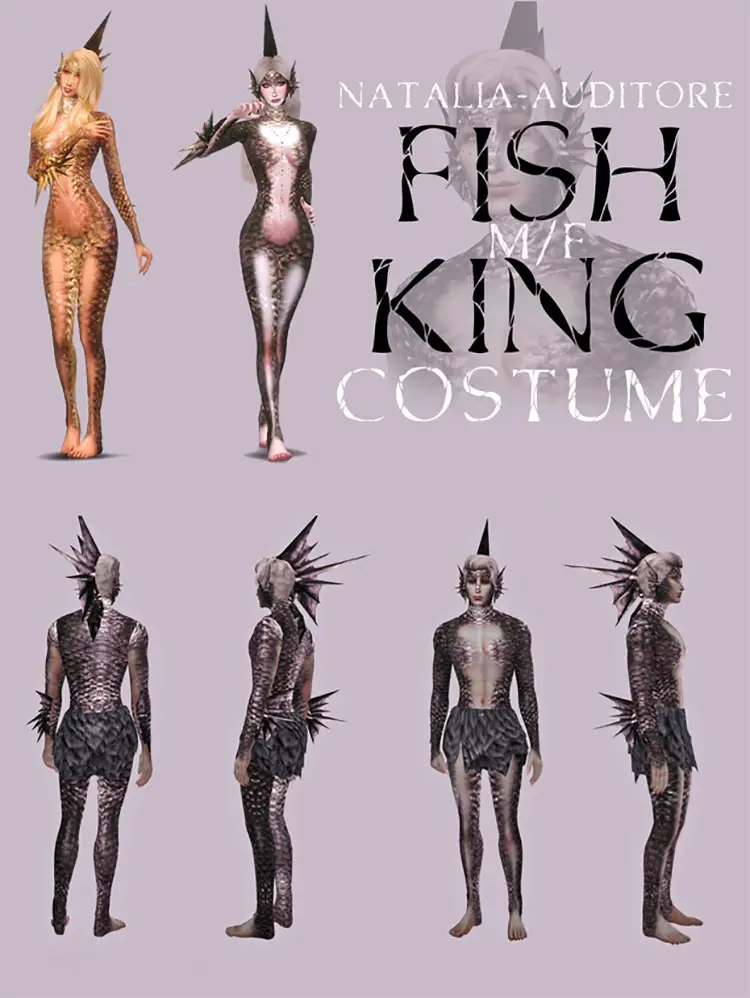 It is also OK to completely abandon all attempts at subtlety.
Simply embrace your inner "Creature from the Black Lagoon" and accept the consequences.
Natalia-Auditore, one of my favorite Sims CC developers, made this fanciful, medieval, and gorgeous custom outfit for me to wear.
Weepingsimmer's Nenps Fish Scales and tekri's Siren Ears come together in this outfit to produce a spiky, spiny, scaly fish-human hybrid with fins, feet, and whole lotta chutzpah.
All eyes will be on you when you put on this one-of-a-kind costume, thanks to its stunning color scheme, exquisite attention to detail, and flawless in-game implementation.
There's a certain sophistication and peril about it. That special sort that lives in the dark, deep places of the ocean and nowhere else.
In a lovely manner, it chills you to the bone.
Put some of these on a couple of the locals and see how they transform Sulani society!
19. Nenps Fish Scales Recolor by weepingsimmer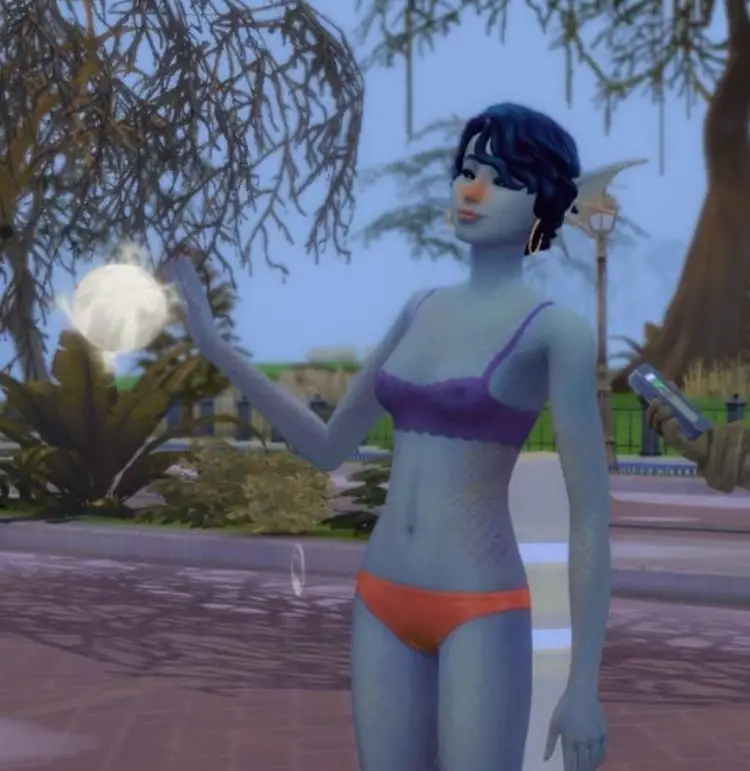 If your Siren doesn't need to stand out as much as tekri's Siren Ears do. Okay, Sim, how about a fake tattoo? The same goes for body art.
Because, from a CAS perspective, these are just scales.
Body scales are cosmetic items that may be used in place of Tattoos or as Face Makeup to transform your Sim into a stunning half-sea, half-human beauty.
Scales are gorgeous, shimmering, understated skin details that pop up beautifully on those with darker complexions (as you can see in the preview photo).
I can vouch that they are just as beautiful (if not more so) on those with lighter skin.
My Siren! Sim, who was originally a light blue, got a makeover when I gave her some gorgeous purple scales.
Because the scales may function as eyeliner, eyeshadow, blush, and facepaint, the designer thoughtfully provided many downloadable.package files.
It is crucial to consider the other cosmetics that you intend to combine them with.
The tattoo.package file is required for the scales to function, so please download it in addition to the.package file of your choice.
18. Siren Ears by tekri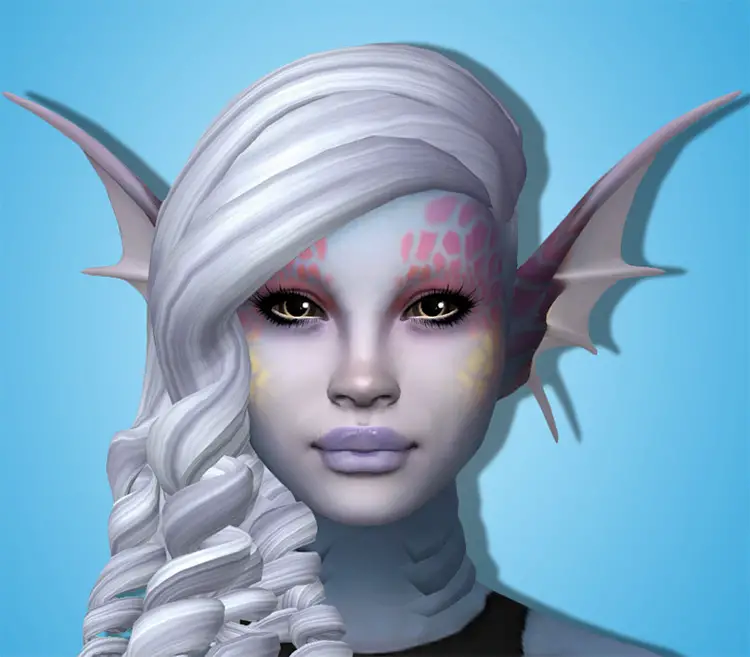 I love how Mermaid Sims can switch between human and mermaid forms, and how those forms may have quite distinct appearances.
It's great that not all Sims desire to look like Ariel, so even the default mermaids in TS4 may be sharks, sirens, or truly terrifying sea monsters.
Some people aim to resemble the sirens of legend, the women who lure sailors to their deaths.
These unique ears are a great addition to your modifications folder if you want to give your fish-human hybrid a more fishy appearance.
Like the fins of an angelfish, they are beautiful and graceful, but also strong and practical.
A bare and pierced version of tektri's CC set is available.
The jewelry makes the pierced ears appear a bit more wild and majestic, while the unpierced ones have a more innocent beauty (as natural as mermaids can be, anyway).
The designer ensured that they would be a good fit for your Sim's skin tone. However, it is not known if insane recolors or custom skins would be supported.
If you're a human, you may also make use of the supplementary (but recommended) CC that they've provided.
The Sim's ears are clearly seen through the Siren earmuffs. All of the relevant links may be found in the description.
17. Star Skin Skintones + Facepaint by ratboysims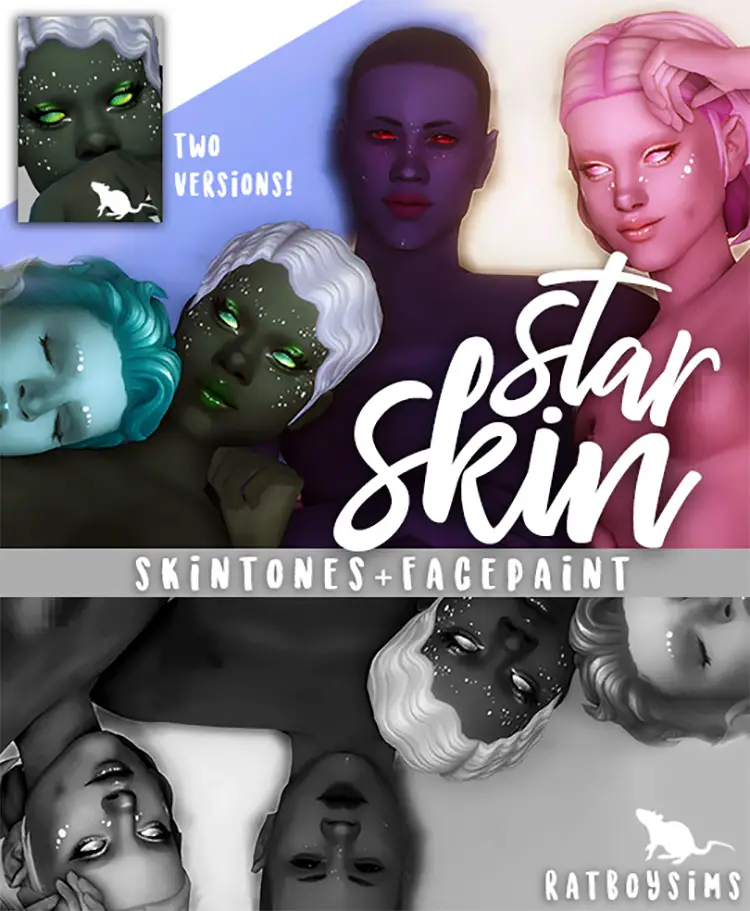 Looking to give your extraterrestrial Sims that extra-terrestrial feel?
Star Skin Skintones + Facepaint by Ratboysims is the solution.
The 18 new skin tones and 4 facepaint items in this CAS collection will allow you to give your Sims an otherworldly appearance.
You seek extraterrestrials with a wide range of backgrounds, right? You'll meet an array of extraterrestrial races.
The reason is that depictions of Martians with green skin and space invaders with blue skin are so dated.
There are "Eclipse" skin tones in this custom skin pack with dark, rich colors and "Pluto" skin tones with lighter, brighter, more saturated colors.
In addition to the fresh skin, the "Cluster" cosmetic set is also available.
You may use this overlay or Face Makeup item to give your interstellar Sim a sprinkling of stars and little galaxies. Each of the four designs has two iterations: a fading version and a whiter, crisper, more apparent version.
The stars, in my opinion, are especially beautiful when contrasted against the deeper Eclipse skin tones. However, this does not preclude them from looking absolutely lovely when wearing Pluto skins.
Take a look at the sneak peeks. It's gorgeous.
16. Pose Set "Yennefer and Stuffed Unicorn" by Satterly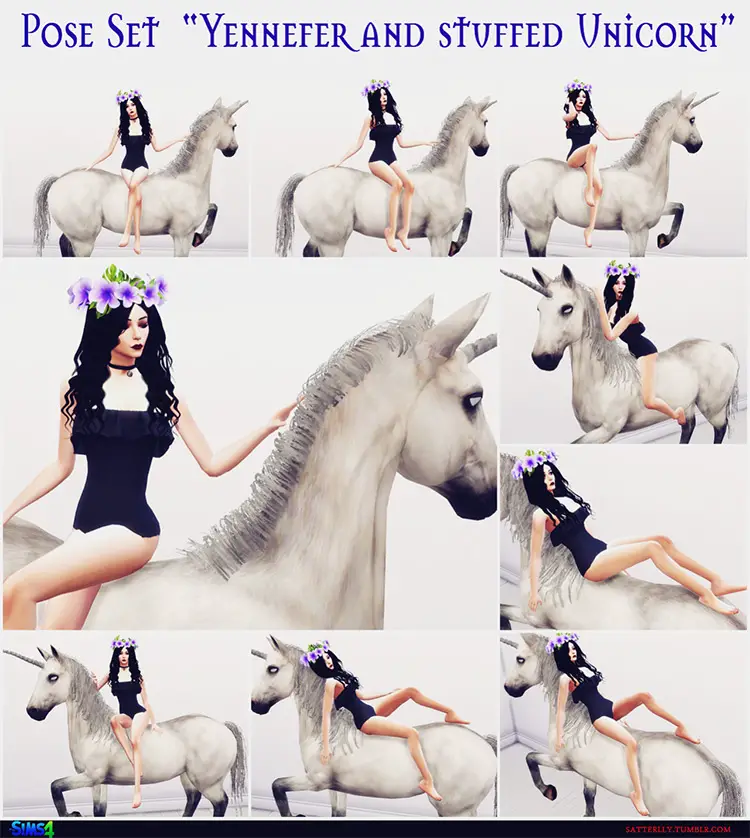 I've never played games or watched TV shows, so I'm not really sure what the designer means when he or she says, "Yes, that unicorn."
Perhaps you can shed some light on the matter for me.
Whatever the case may be, the stuffed unicorn is a fantastic example of taxidermy in The Sims 4. And it's a brilliant method to add unicorns to your game without messing around with Pets modifications and sliders (I have difficulties downloading mods that can transform my Sim's dog into a gorgeous, thoroughbred beast, so I've never tried to add unicorns). Not sure why. I guess I wasn't intended to see a unicorn.
The actual positions are beautiful as well.
Different moods may be projected from a Sim depending on their attire.
The whole effect is one of celestial drama. Creator's snapshot of Sim, the model, has a really kind, sophisticated vibe. Sends out forest-friend feelings like crazy.
When I tested them out with my fully armored Sim, the results looked more like a "famous warrior taking a break from their next expedition."
Whatever your goal may be, I suppose it depends on how you define success.
15. Fantasy Forest CC Set by Severinka_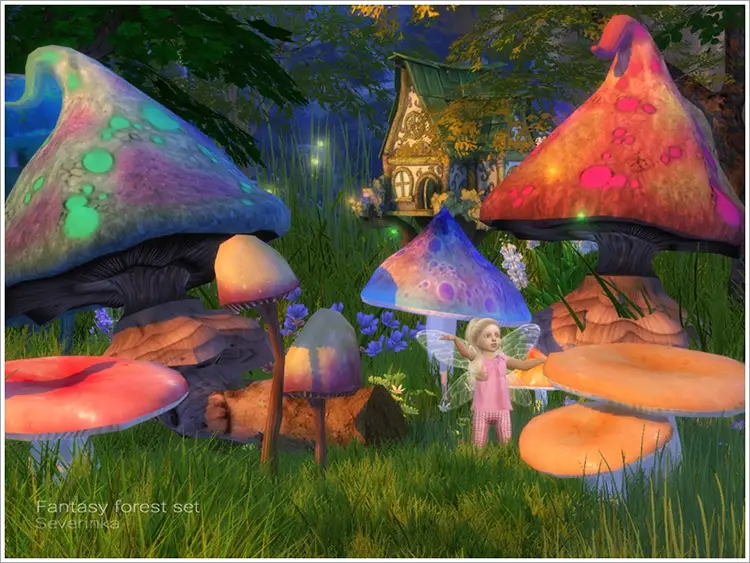 SeverinkaFantasy 's Forest features mushrooms that may easily fit in either Wonderland or Neverland.
They are brightly colored and strikingly beautiful, with rounded, pillowy heads that appear as if they might easily accommodate fluttering, ankle-biting babies.
The maker claims as much, and I can confirm that it delivers.
Due to the extreme saturation, I was afraid they might have a trippy appearance. In any case, I needn't have worried. In-game, they are stunning.
Moreover, I'm relieved the designer kept them quite a little, as that does provide some variety for the gamers.
They may be expanded into a magical forbidden forest (the sort where people get seduced into entering and disappear forever) or left at their standard proportions to make a portable faerie forest.
The second option gives the impression that your Sim is providing free housing for thumb-sized faeries in their backyard.
14. Dragon Queen Set by Natalia Auditore
Although it took some time, I was able to determine the source of inspiration for this outfit.
This is only one of the numerous suits of armor owned by Alexstrasza, the Dragonqueen of World of Warcraft.
This is the (hum) more conservative one of her two.
If I'm not mistaken, though, she often sports a scorching blood-red version.
However, I was convinced by the preview photographs, and now I'm beginning to believe I could enjoy it just as much in emerald green.
With or without history, this armor is ridiculously royal.
The detail is quite amazing, thus I assume extraction and conversion went smoothly. There's a lot going on here, from the intricate patterns on the armbands to the huge epaulettes (which don't look particularly practical, but we're not giving points for practicality here) to the attractive gold lines on the large chest piece.
What a lot of stuff, and I still can't believe it's all free.
Do not even begin to explain the robe and horns to me.
Additionally, while it is designed for female Sims, male Sims may also use it.
13. Gossamer – Fairy Stuff by Pyxis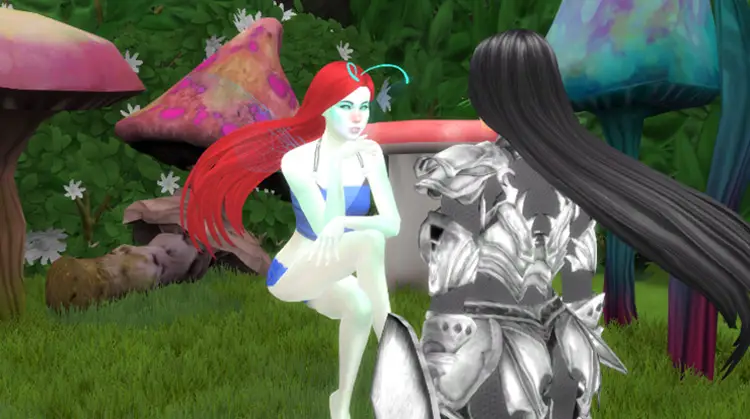 A lot of the CC CAS packs, including this one, have piqued my interest.
I was pleasantly surprised by how nicely Gossamer by Pyxis, which features fairies, was written.
The developer aimed for an appearance that was less reminiscent of Disney's Tinkerbell/Ferngully-type little people and more akin to magical, dazzling "otherworldly insects."
In my opinion, they hit the nail on the head.
The description of bug-like or insect-like matches to a T with the proper skin tones, clothing, setting, body type, and other bespoke CAS items.
Fairy dust and feathery wings are nothing out of the ordinary.
But then you see the complex eyes with many lenses and the antennae and you're like, "Damn. That's an unusual approach.
And that is the case.
You'll find five brand-new CAS elements in this set, including a blush-like skin gradient, lipstick and lip highlights, compound "bug" eyes, moth and butterfly antennae, and gossamer wings.
The eyes and antennae are my favorite new features.
Their cuteness and one-of-a-kindness shine through in-game.
12. Owl Shoulder Acc by Natalia-Auditore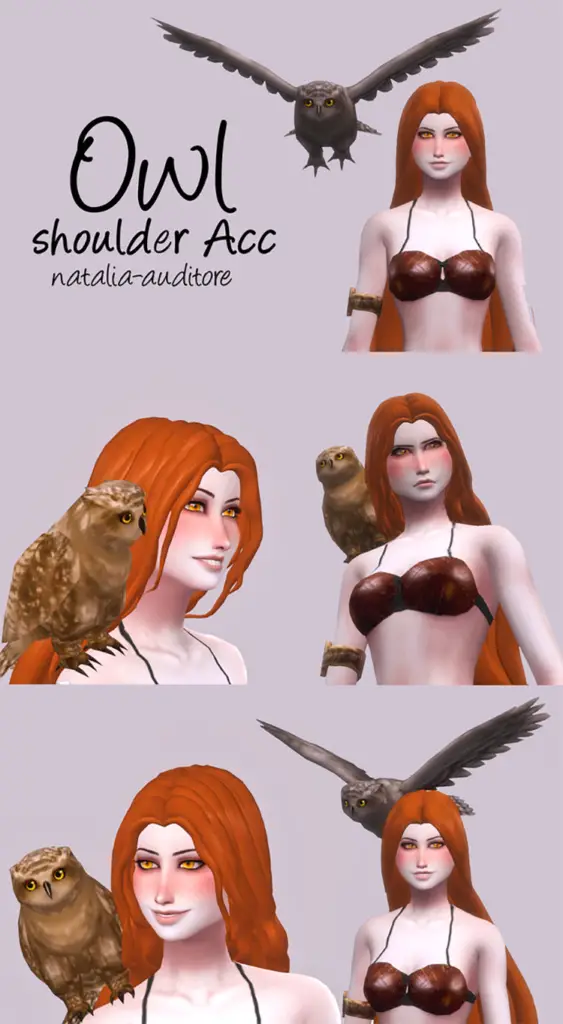 Here's another audiobook by Natalia-Auditore. This is such an original and ingenious idea, I had no idea it was even possible!
Pets as fashion accessories? The use of modifications may be preferable if interactivity is desired.
But what if you simply wish to capture some fantastical images?
Absolutely brilliant!
This Owl accessory is ideal for your Sim who is a druid with a faithful animal companion, a stealthy warrior of the woods, or even just an Elven ranger (since those men usually seem to have bird buddies for passing messages).
Have a look at the sneak peek images (and at my disgruntled Champion). Having a computer-generated, immobile owl swoop just over their shoulder creates a fantastic visual impact.
Perhaps the flying owl's play seems a little off (what with it being in midair all the time), but that's to be expected.
But what about the owl that's just chilling on your shoulder? This passes the picture and in-game credibility tests with flying colors.
11. Malygos Crystal Set by lunanelfeah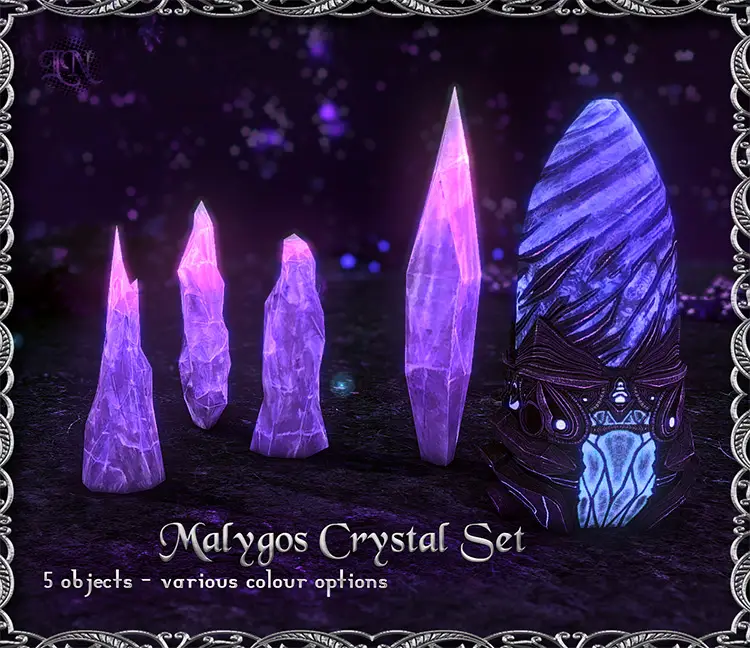 Here's a new set of decorations from lunanelfeah for your Winter Witch's icy castle, in case the ice throne and shard mirror aren't enough.
This set of crystals is perfect for decorating since all but the fifth stone may be purchased in one of eight lovely hues.
Are we supposed to believe that they have some sort of mystical properties? There's nothing in the description to indicate that the crystals have a lightmap that makes them shine faintly in low light, but I'll go ahead and say it anyway.
They might be mistaken for ice crystals due to their multifaceted appearance and the fact that they stand vertically like stalagmites (especially if colored white or light blue).
However, they would also serve admirably as ornamentation for any other fanciful location (caves, alien worlds, crystal lands, etc.)
The fifth variant, which appears like a swirly sundae in an egg cup, may be mistaken for the egg of a dragon or other magical creature.
You may also scatter many of them around the room and let the eerie atmosphere do the talking.
This is all up to you.
10. SnowQueen Castle Objects by Severinka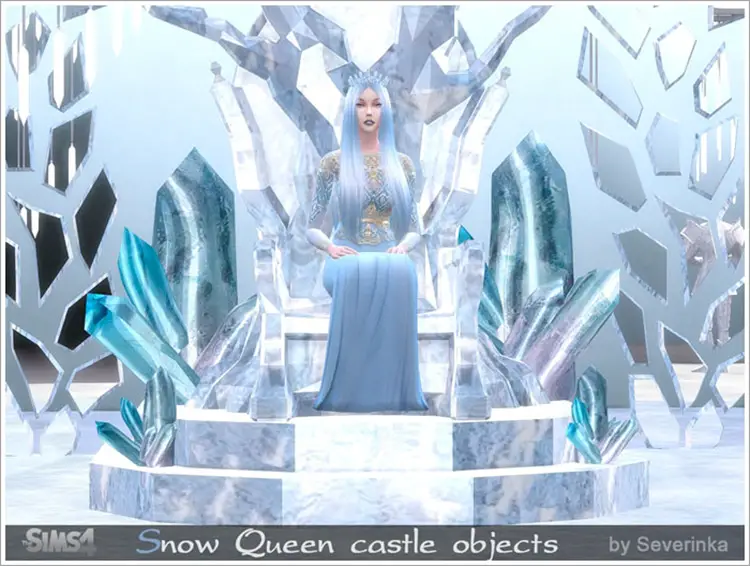 It's best to spare no expense when designing a crystal palace for your Maiden (Sim) of Ice to reign from.
Severinka has two pieces of chilly furniture. Both, though, are rather rare and would seem well at home in the royal room of a shrewd and icy monarch.
One is a stunning throne made of ice, with frozen tendrils growing out of its back (making it way more intimidating than it would be without).
The second one is a tall mirror constructed entirely out of individual pieces of broken ice.
The result is stunning in its potential for harm.
9. Teldrassil: Night Elf Ears (World of Warcraft) by Valhallan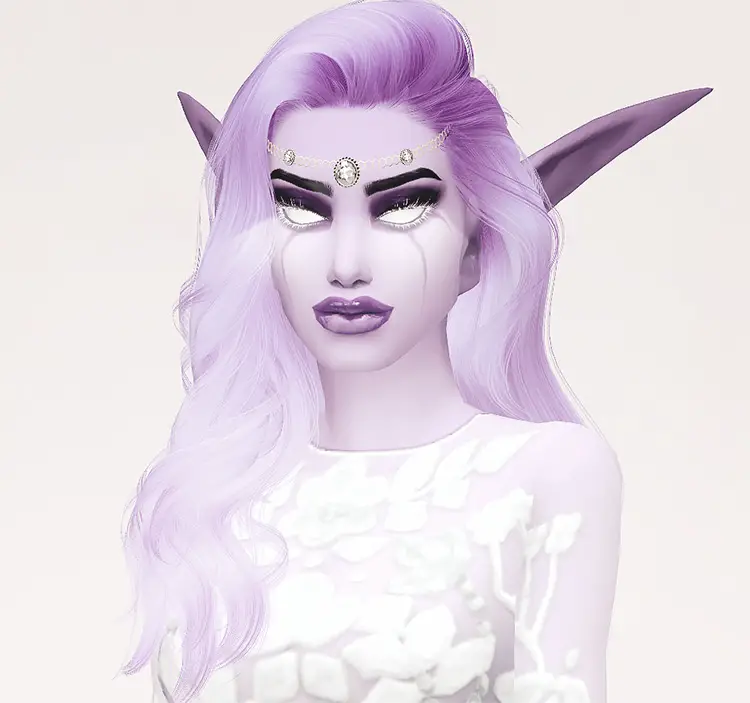 The length of these ears can be… disconcerting to those unfamiliar with the World of Warcraft video game and related property.
Even though I understood what I was downloading, I found them to be a little disorienting in-game as well.
But these bespoke Night Elf ears by Valhallan are wonderful if you're a fan of World of Warcraft or if you just want Elven ears that break the stereotype (I fall into the latter group).
After a while, I adjusted to the length and found that I really loved trying out new hairstyles to complement the new appearance.
Fact: They look fantastic with thick, long hair. The tips protrude in a most spectacular fashion.
At some angles, they can make your Sim appear more Druid than Elf, but either way, they're still really sweet.
8. Medieval Cloaks by Natalia-Auditore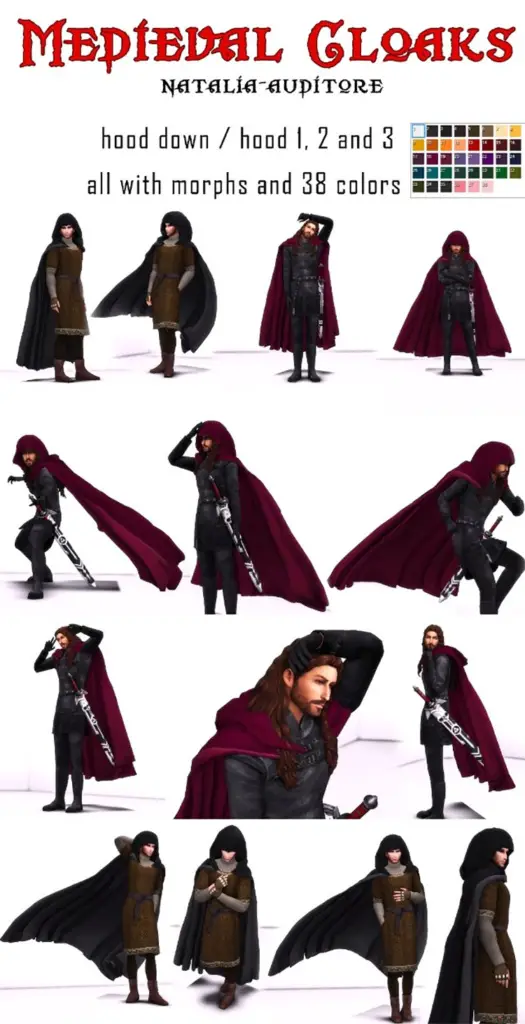 Your Sim can do anything that Luke Skywalker can do, including standing on the brink of a cliff with his cloak blowing about spectacularly.
Actually, I believe that is a standard trait of dramatic and/or morose protagonists, no?
A hood is not required for this windswept robe.
This custom content (CC) by Natalia-Auditore is a cloak with a hood and a thick, textured fabric, perfect for giving your Sim a touch of medieval fantasy flair.
It only seems sensible to complete your Valhallan Champion or Rogue costume with some functional draping if you're going to go to the trouble of installing it.
The cloak comes in a total of 38 colors across 4 distinct styles.
The most noticeable distinction between the various styles is the relative size of the cloak and hood. One option is to wear the cloak with the hood down for a more friendly and accessible appearance, which is my personal preference.
7. Rogue: "The Sims Medieval" Outfit Conversion by Valhallan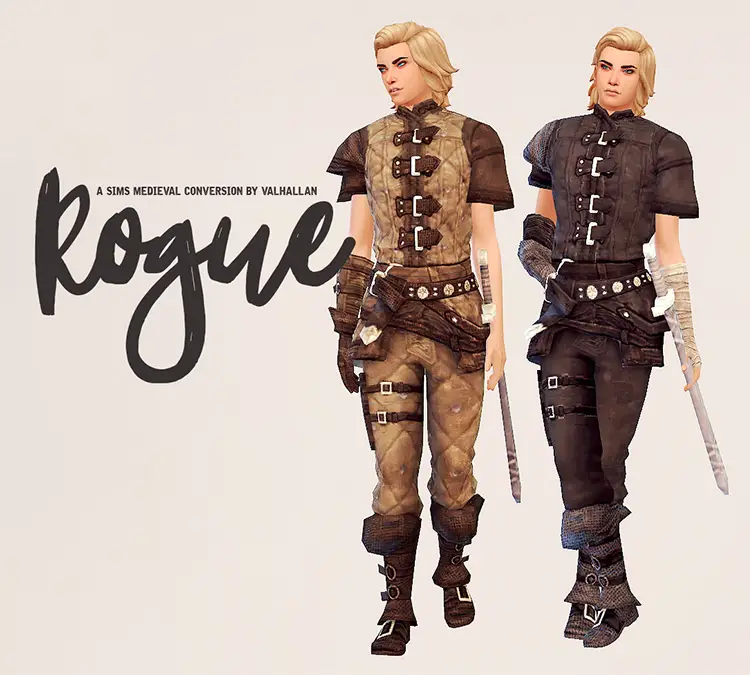 Let's imagine that your Sim is more of a supple worn-leather kind of person than a rigid chain-mail type of guy/gal/non-binary friend.
What can I say, Valhalla has you covered as well.
Like the Champion suit, the mesh for the Rogue was taken from The Sims Medieval expansion.
This conversion, like the previous one, is spot on.
There are seven possible color permutations for this ensemble, all of which are as attractive.
This outfit shines in The Sims 4 because of the many textures and attention to detail. I disabled Laptop Mode so I could take in the full experience of my Sims, and I was not let down.
A slimmer and more acrobatic physique is perhaps best suited to this costume, as suggested by its name and the surrounding circumstances. However, when I slapped it on my muscular Male Sims, they looked great.
6. Champion: "The Sims Medieval" Conversion by Valhallan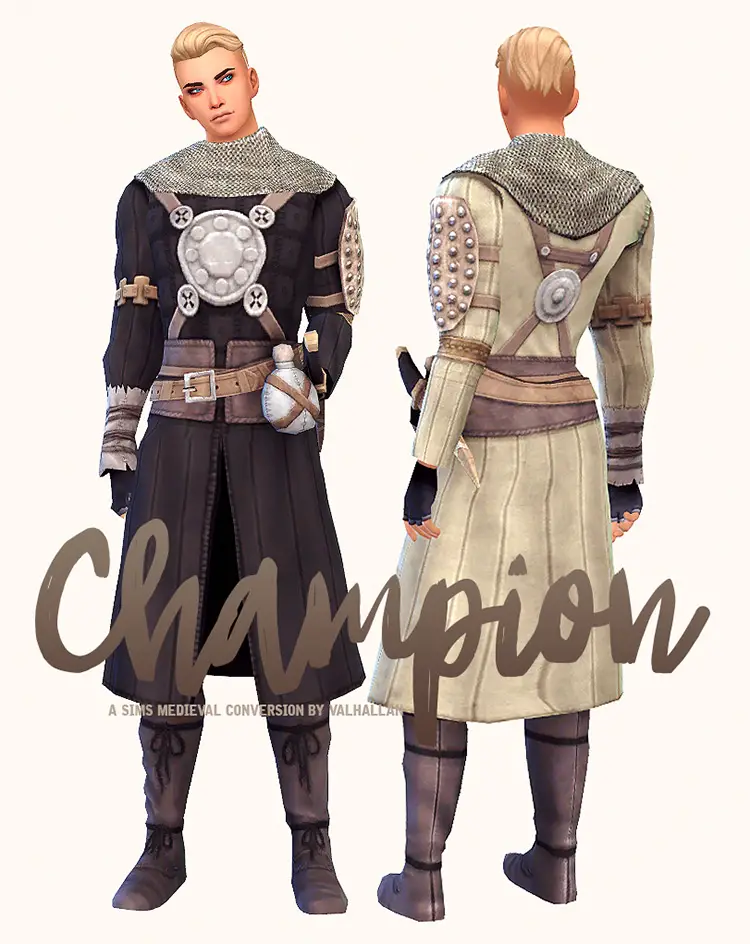 Prepare for a wave of nostalgia if you play The Sims Medieval.
The mesh for this TS4-compatible version of The Champion's costume was taken by Sims CC author Valhallan from the acclaimed 2011 Sims spin-off game.
In-game, it looks clean, detailed, and gorgeous.
Perfect if you're writing a fantasy narrative set in the Middle Ages and need a variety of armor types for your various soldiers, knights, and so on.
This rendition is an accurate representation of the original.
The thick-hide boots and chainmail collar complement each other perfectly.
In addition, you may select from one of seven possible color schemes. Additionally, it may be worn by both male and female Sims.
5. What?! More portals?! by Joseph The Sims 2k5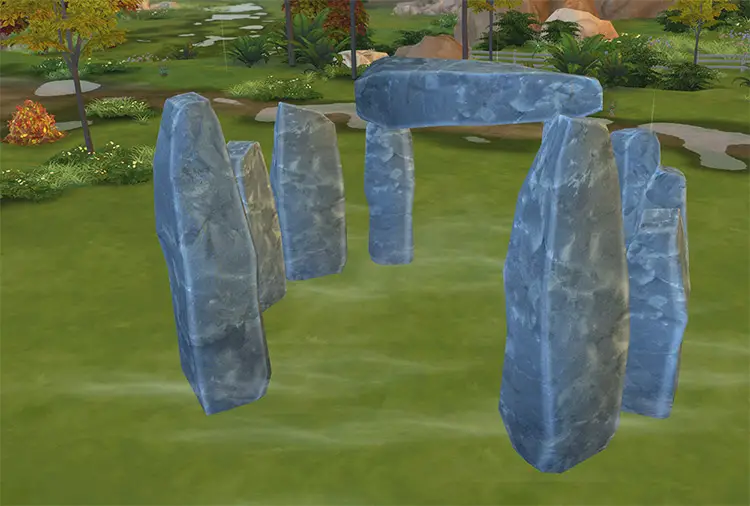 Two new types of gateways to the Magic Realm have been added by this mod.
An enigmatic stone circle enveloped in fog at all times, with a gnarled, glittering tree stump.
For two reasons, I found this to be a really original concept.
The first benefit is that your Sim can reach the Magic Realm in a more… realistic way. Alternately, you may have a more secretive entrance to the Magic Realm.
A large illuminated entrance next to a river isn't exactly understated. If you're looking for it, it's fantastic, but it doesn't make any sense as a hidden place. At least three times a day, locals jog by there.
As a result, it seems like everyone in Glimmerbook can cast spells.
Anyway.
Another benefit is that Sims from outside of Glimmerbrook can visit the Magic Realm.
Even if it's a one-way ticket, all you have to do to get your Sim's newfound talent off the ground is take them there. By going through what appear to be harmless rocks or a glistening tree, they achieve their goal.
4. The Iron Maiden (TES4) by ft19891211-sims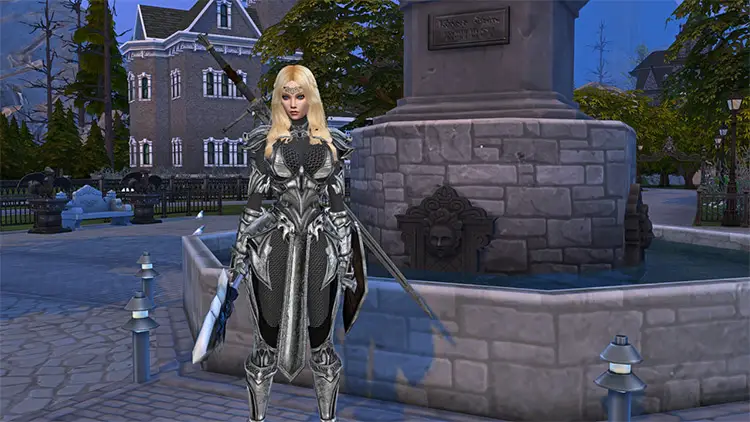 Might I suggest this rough diamond if your powerful warrior girl wants her own "joke's on you; I am no guy!" moment?
The modder made a fantastic job at adapting an Oblivion armor set into a fully playable piece of clothing for The Sims 4.
In the original game, players can wear armor (called a "costume").
However, they haven't reached this degree of badass dom yet.
Let's be serious: it has a shield, fingerless gloves with wrist cuffs, and chainmail below. I think they look wickedly awesome and am a huge lover of the design feature. And if you like the Elder Scrolls series, you'll appreciate this crossover (and probably a lot of the CC on this list as well).
Note that the armor components are not just dispersed across CAS, but also independent from one another.
You might say it's a jumbled-up mess.
Filtering by Custom Content alone will make it much easier to locate any specific article of apparel (Hats, Face Accessories, Body Accessories, etc.).
If you get stuck finding a specific piece of armor in CAS, you may always go to the description, which helpfully provides a map showing exactly where everything is.
3. Fire Genasi Skin Overlay by Zedrael + Tentacles-Head-Fire by Zaneida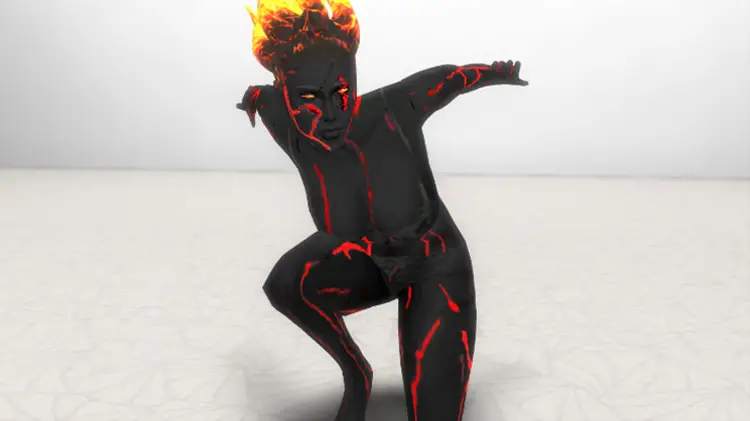 Despite coming from separate authors, I'm counting these two as a single entry here since they complement each other so beautifully.
The Fire Genasi Skin Overlay by Zedrael is first on the list. Coal-black, with fissures of molten magma's red heat visible.
The visual representation of the fire element is spot on, so count me as a fan.
A close second is a tentacles-head-fire hairdo seen in Zaneida and The Sims 4.
Curling flames of light on your Sim's head. It radiates majesty and originality, and it almost seems real in-game. It was a triumphant success once more.
I decided to experiment with the CC things by using them both on the same Sim, and holy crap. Benefits are starting to emerge. Take a look at my blazingly angry Fire Genasi.
The fact that the hair is predominantly black at its roots is a big benefit.
In that case, the skin overlay and the overlay itself might not have merged as well.
These parts can also be used independently. I figured that if I could lump them both into the umbrella term "elemental monster," I'd be getting a lot of bang for my buck.
The eyes are a combination of Zaneida and The Sims 4 content, by the way. In their description of the hairstyle, they include a link to the site; feel free to click over and have a look!
2. Male Centaur + Female Centaur by Natalia-Auditore
You may have noticed that I promote a lot of this one author's work.
If it seems like I'm being dramatic, that's because I am.
I just can't help myself; their fantasy and supernatural The Sims 4 CC items are unparalleled.
Possibly these Centaur buttocks will sway you if the Satyr Legs don't.
As a result, your Sims will spookily resemble real-life centaurs.
Unfortunately, this probably won't work in-game because centaur legs are bottoms (just like a satyr's legs) and don't adhere to the same rules that make a horse walk.
What about pictures, though? Indeed, that's a resounding yes.
I guarantee that your Sims will appear totally royal.
The developer was generous enough to include some additional Centaur-warrior accouterments, and they designed versions for both male and female Sims (a leather chest piece, a quiver full of arrows, and a bow).
In case you were inspired by their centaur models in the teaser images and want to create your own.
1. Satyr Legs by Natalia-Auditore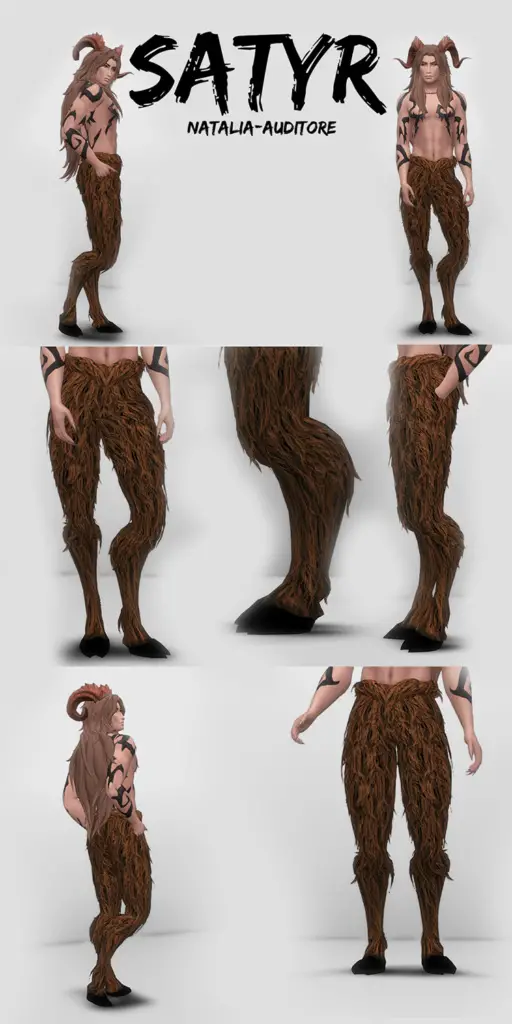 This CC work is brilliant in its execution and stands out as truly original.
Everyone seems to be catering to supernatural beings like vampires, werewolves, and mermaids (all of which are fantastic in their own right).
However, what about the lesser-known animals that live in the woods?
You can't pretend Mr. Tumnus wasn't a major influence on your formative years.
These Satyr Legs by Natalia-Auditore are quite attractive.
They're practical Bottoms that are cleverly made to appear like half a goat's legs.
There is no need for any really convoluted tweaks or settings. Simply save the file to your computer, double-click it, then run the mods folder. Just log in to CAS and put them on like a comfortable pair of pants for your Sim.
Also, you may put these Satyr legs in a different wardrobe category than the rest of your outfit because they are considered to be pieces of clothing. As a result, changing from satyr to human form is as simple as selecting the "Change Outfit" menu item.