Last week, we asked the community to vote for what they felt were the best Sci Fi Anime of all time and these are the results.
I personally like best sci fi anime because these are the anime that gets me excited and anything is possible in these sci fi anime you want to time travel or want to gets mecha robots you name it.
Here are the top 16 Best Sci Fi Anime from the poll!
16. The Girl Who Leapt Through Time – 165 votes
Makoto Konno is in her last year of high school, but is having a hard time deciding what to do with her future.
In between enduring the pressure of her teachers and killing time with her best friends, Makoto's life suddenly changes when she accidentally discovers that she is capable of literally leaping through time.
Toki wo Kakeru Shoujo follows Makoto as she plays around with her newfound power. However, she soon learns the hard way that every choice has a consequence, and time is a lot more complicated than it may seem.
15. Kiznaiver – 165 votes
The anime's setting is a fictional Japanese city named Sugomori City. One day, Noriko Sonosaki tells her classmate Katsuhira Agata, "You have been selected to be a Kiznaiver."
The Kizuna System, which allows Katsuhira to share his wounds, connects him to the classmates whose lives and personalities completely differ from his.
The Kizuna System is an incomplete system for the implementation of world peace that connects people through wounds.
All those who are connected to this system are called Kiznaivers. When one Kiznaiver is wounded, the system divides and transmits the wound among the other Kiznaivers.
Sugomori City is built on reclaimed land, but as the years go by, the city's population is decreasing. The story is set in this town where Katsuhira and the others live.
14. The Melancholy of Haruhi Suzumiya – 181 votes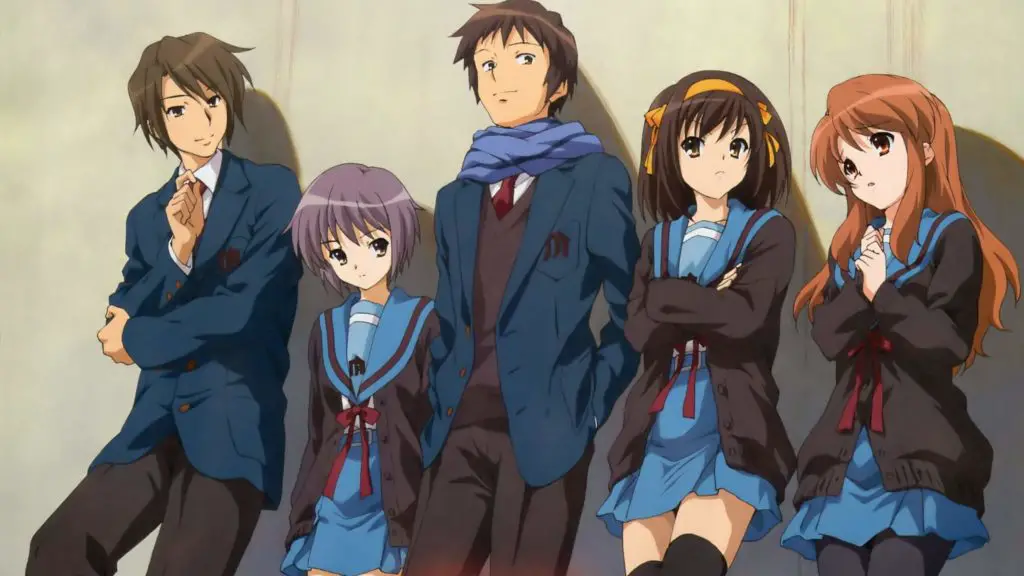 On the first day of high school a beautiful girl named Haruhi Suzumiya introduces herself as having "no interest in ordinary humans". She asks for any aliens, time travelers, sliders or espers to join her.
Watching her weird behaviour is Kyon who sits in front of Haruhi and is the only person who talks to her. When Kyon comments about Haruhi's joining every club in school and then quitting he unwittingly gives Haruhi an idea to start her own after school club.
Thereafter Kyon and several others find themselves dragged, literally, into the Save our world by Overloading it with fun Suzumiya Haruhi's Brigade (the S.O.S. Brigade for short).
13. Ghost in the Shell: Stand Alone Complex – 181 votes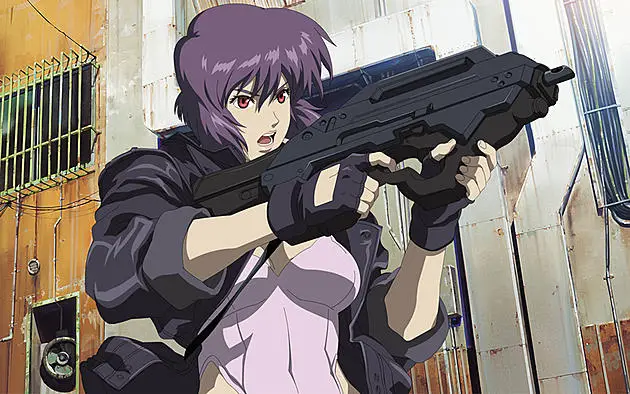 In the year 2027, a year following the end of the non-nuclear World War IV, a bomb has gone off in Newport City, killing a major arms dealer who may have ties with the mysterious 501 Organization.
Public Security official Daisuke Aramaki hires full-body cyber prosthesis user and hacker extraordinaire, Motoko Kusanagi, to investigate.
12. Ghost in the Shell (Movie) – 181 votes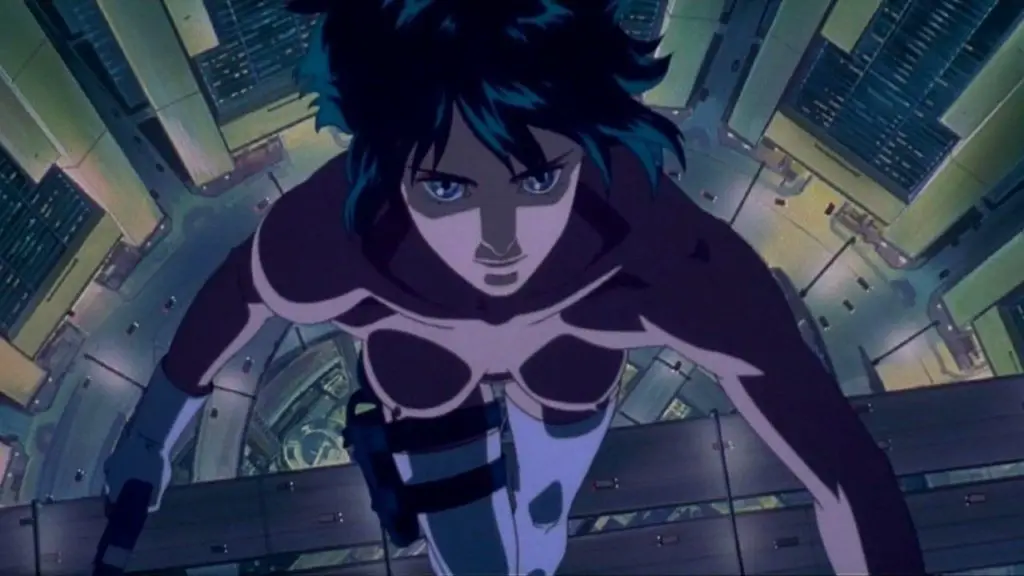 In the year 2029, this sci fi anime world is made borderless by the net; augmented humans live in virtual environments, watched over by law enforcement that is able to download themselves into super-powered, crime busting mecha.
The ultimate secret agent of the future is not human, has no physical body and can freely travel the information highways of the world, hacking and manipulating whatever and whenever required.
11. A Certain Magical Index – 198 votes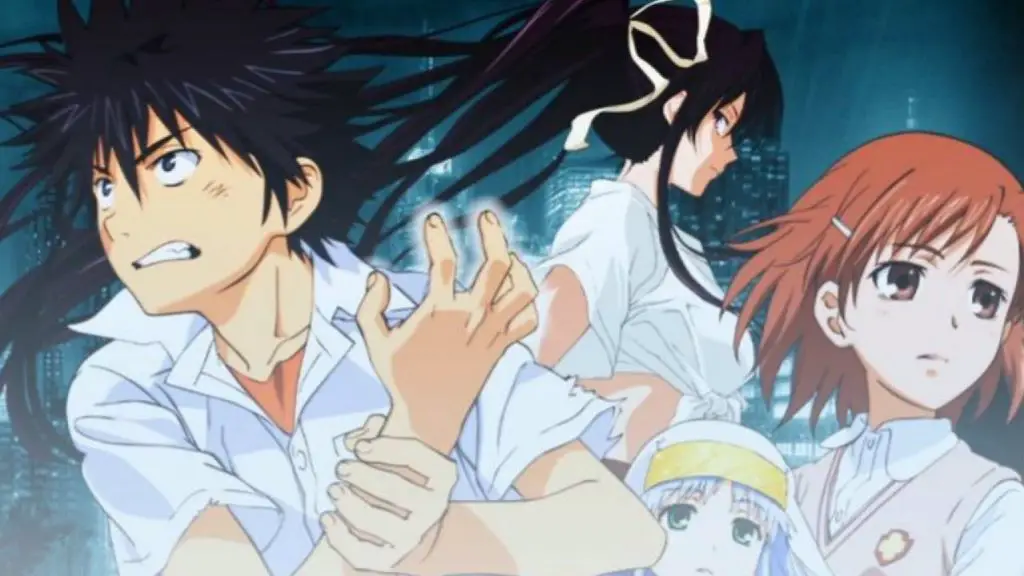 In this sci fi anime world where science clarifies supernatural powers. In a huge college that has power development in its curriculum.
To a resident high school student, Kamijou Touma, a pure white sister appears. She calls herself "Index" and says that sorcerers are chasing her. Thus, Kamijou Touma enters the world of the occult.
10. Guilty Crown – 214 votes
After the outbreak of the unidentified virus "Lost Christmas" in 2029, Japan has been under the control of a multi-nation organization called GHQ. Ohma Shu is a 17 year old boy who has a psychic power in his right hand.
He can use the power "Ability of King" to extract tools or weapons from his friends. He has been avoiding making trouble for others but his life changes when he meets a girl Yuzuriha Inori.
A member of a resistance guerrilla group called "Undertaker", whose members pilot mecha weapons to fight against the government.
9. The Irregular at Magic High School – 214 votes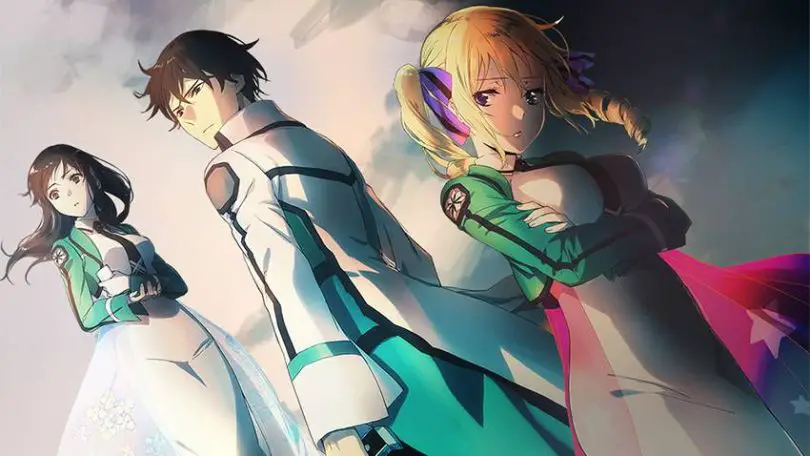 Magic is a product of neither legends nor fairy tales, but instead has become a technology of reality since a time unknown to people.
Supernatural power became a technology systematized through magic, while magic became a technical skill.
A "Supernatural Power User" became a "Magic Technician." Magic Technicians (in short, Magicians) are nurtured through Magic High Schools and Universities.
This is a story about: Tatsuya, a defective elder brother low achiever. Miyuki, a perfect, flawless younger sister high achiever. After both siblings entered a Magic High School, The stage of daily turbulence was unveiled—.
8. Darker than Black – 214 votes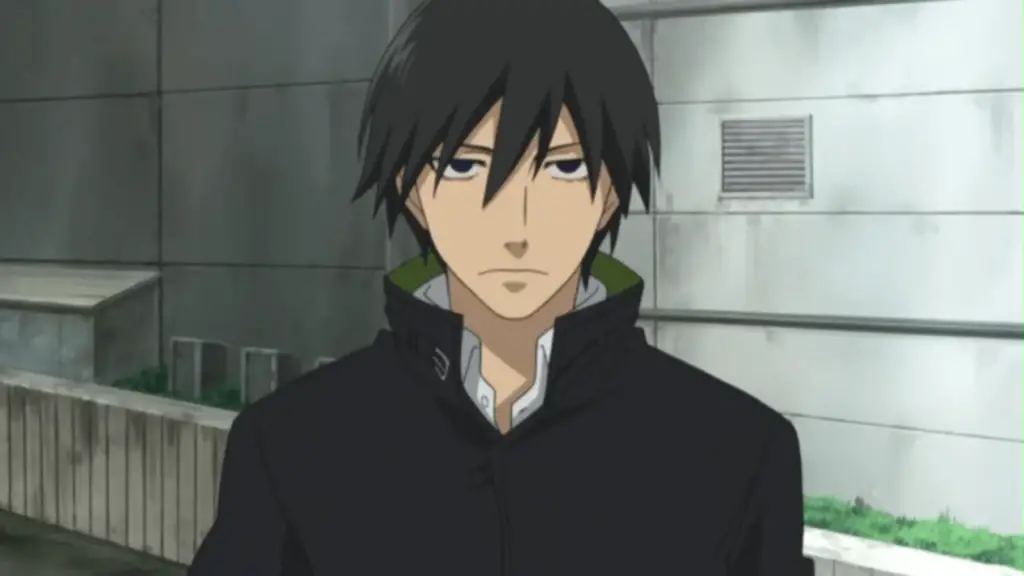 This sci fi anime starts with Tokyo, an impenetrable field known as "Hell's Gate" appeared ten years ago. At the same time, psychics who wield paranormal powers at the cost of their conscience also emerged.
Hei is one of the most powerful of these psychic agents, and along with his blind associate, Yin, works for one of the many rival agencies vying to unlock the mysteries of Hell's Gate.
7. Plastic Memories – 230 votes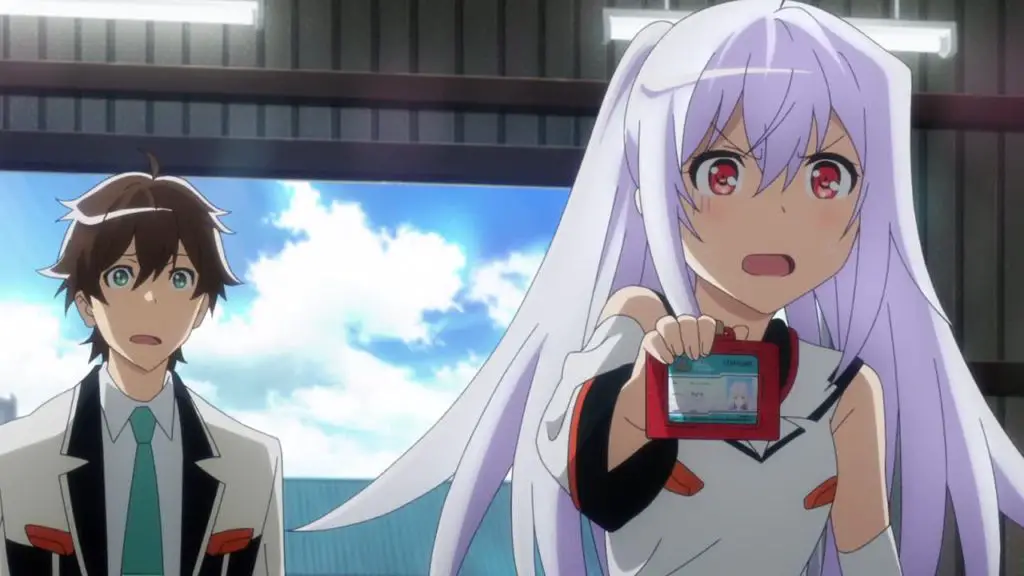 This story of sci fi anime takes place in a future not too far away when androids that look exactly like humans begin to spread across the world.
The android production company SA Corp. produced Giftia, a new kind of android that has the most amount of emotion and human-like qualities out of any other model ever seen.
However, due to problems in technology, the androids have a service life, and once they pass that, they… Well, it gets pretty bad. For this sake, SA Corp.
Creates a terminal service in order to retrieve Giftia that have gone past their service life. A new employee at the terminal service named Tsukasa Mizugaki forms a team with the Giftia Isla to retrieve the other androids.
6. A Certain Scientific Railgun – 230 votes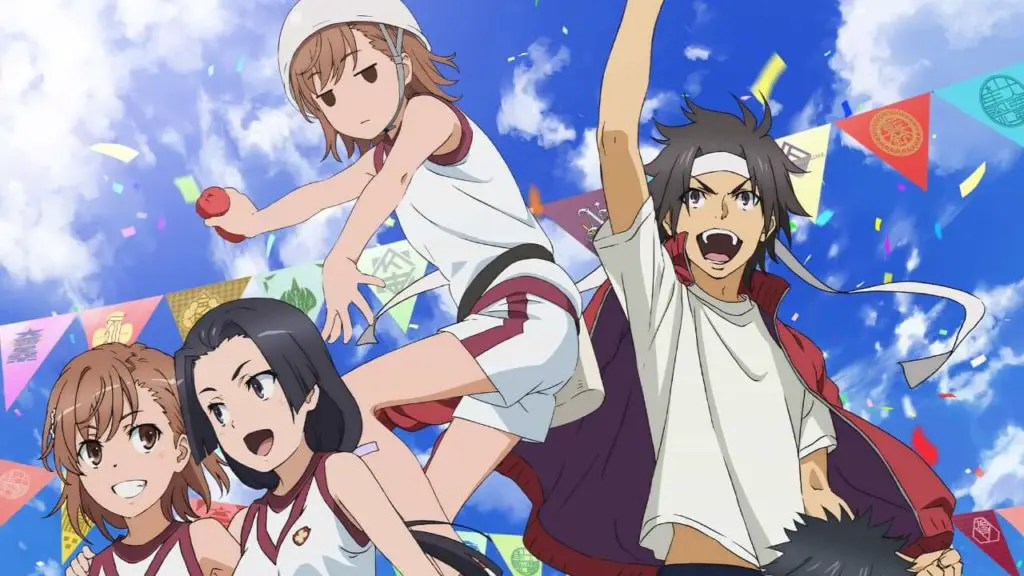 The story of this sci fi anime is set in a world where supernatural powers exist through science, and magic exists through religion.
University City. 2.3 million inhabitants. 80% of the students are active in the 'Brain Development Program' and out of those only 7 are Level 5s.
Meet the civilian protagonist Mikoto and her friend Kuroko, maintainers of peace and order at the University district, as members of the 'Judgement.
5. Sword Art Online – 247 votes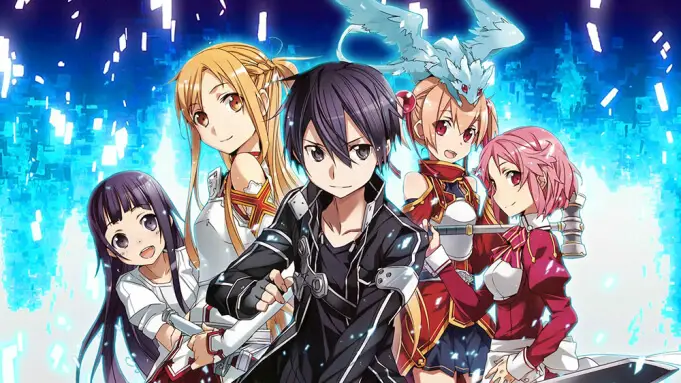 This sci fi anime only way to escape is to 'clear' the game. Death in game means actual 'death' —- The ten thousand who have logged onto the as of yet mysterious game 'Sword Art Online' using their Nerve Gear have been forced into this perilous death game and are trapped inside.
Protagonist Kirito, one of the many gamers, has greeted this 'truth'. He plays as a solo player in the giant castle that is the stage for this game —- 'Aincrad'.
To meet the conditions of clearing the game and leaving this twisted virtual world, he must get through all 100 floors. Will Kirito have what it takes to clear the game, or will he die trying?
4. Cowboy Bebop – 280 votes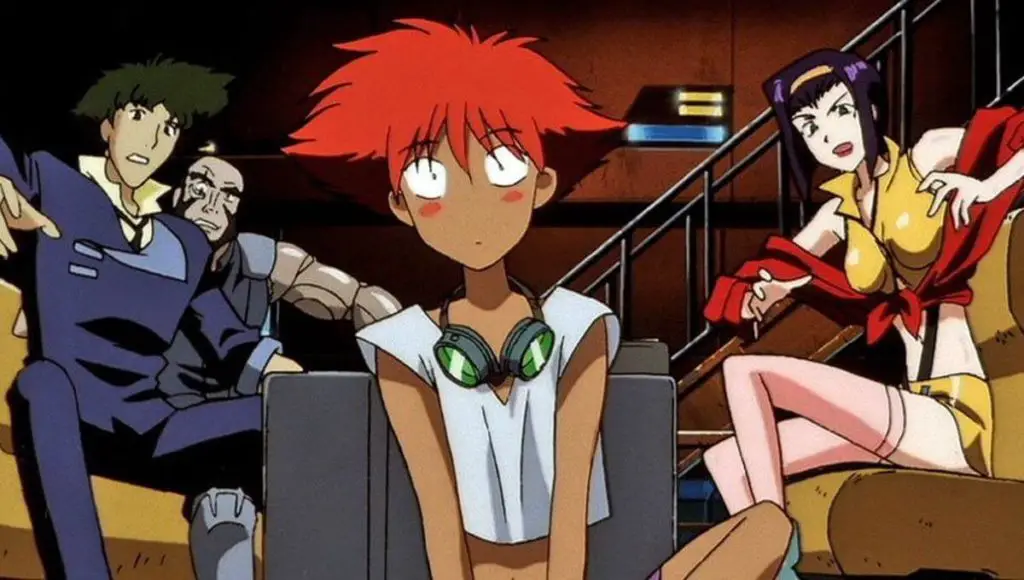 Spike Spiegel, a bounty Hunter with a dark past, lives on bounty to bounty, barely making it each time, or not making it at all.
His partners Jet Black, Faye Valentine, Ed and Ein the dog all help him in his adventures from planet to planet.
3. Parasyte -the maxim- -296 votes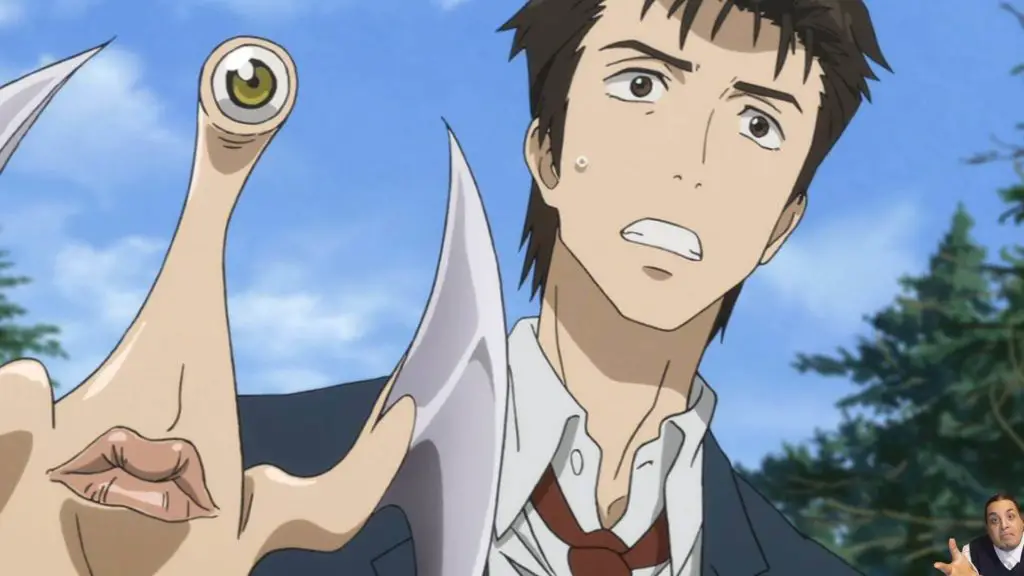 The 17-year-old Izumi Shinichi lives with his mother and father in a quiet neighborhood in Tokyo. One night, worm-like aliens called Parasytes invade Earth, taking over the brains of human hosts by entering through their ears or noses.
One Parasytes attempts to crawl into Shinichi's ear while he sleeps, but fails since he is wearing headphones, and enters his body by burrowing into his arm instead, taking over his right hand and is named Migi.
Because Shinichi was able to prevent Migi from travelling further up into his brain, both beings retain their separate intellect and personality.
As the duo encounter other Parasytes, they capitalize on their strange situation and gradually form a strong bond, working together to survive.
This gives them an edge in battling other Parasytes who frequently attack the pair upon realization that Shinichi's human brain is still intact.
Shinichi feels compelled to fight other Parasytes, who devour humans as food, while enlisting Migi's help.
2. Psycho-Pass – 395 votes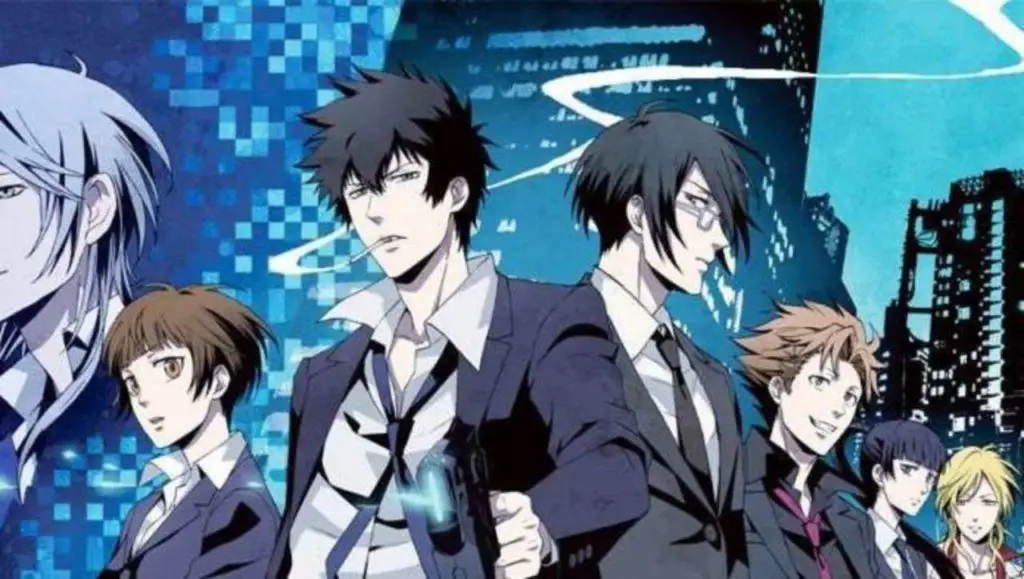 In this sci fi anime, it is possible to quantitatively measure a person's emotions, desires, and every inclination. In this way, it is also possible to measure a person's criminal tendency factor, which is used to judge criminals.
This is the story of a team of policemen dedicated to maintaining public order. Some of them work in the Enforcement Division, responsible for the apprehension of criminals, while others belong to the Supervisory Division which oversees their colleagues in Enforcement.
1. Steins;Gate – 790 votes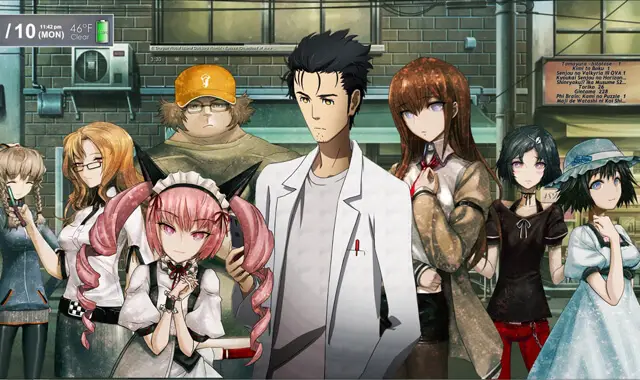 The story of this sci fi anime is Steins;Gate takes place in Akihabara and is about a group of friends who have managed to customize their microwave into a device that can send text messages to the past.
As they perform different experiments, an organization named SERN who has been doing their own research on time travel tracks them down and now the characters have to find a way to avoid being captured by them.