Who doesn't love the thrill and mystical nature of mythological beings? Perhaps you're a fantasy geek (like mine).
If we had the chance to we would most likely take a break from our boring, routine life as humans and opt for being able to fly, have special abilities, and, yes you guessed it that's Horns.
Maybe you simply love making Fae, fantasy, occult, and other ethereal Sims in the CAS.
Whatever your situation you're seeking the ideal pair of antlers or horns for the TS4. We don't have enough interesting accessories for a supernatural style.
The fangs fins and zombie skins are pretty and stylish… But what are our options for those more savage?
Here's the list.
26. Horns Pack Valhallansim Mesh Edit from Gerbithats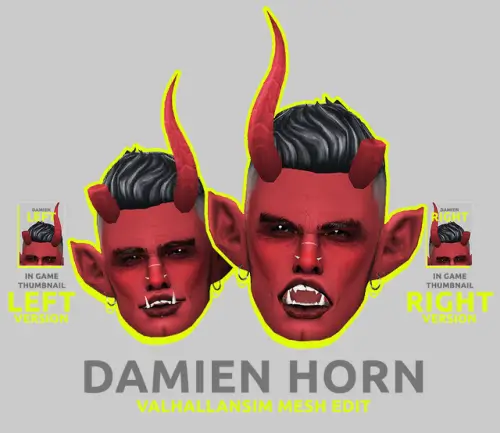 This mesh version that Valhallan's World of Warcraft Demon Hunter Horns offers players unique choices for our damned demon, fae, or amazing Sims.
The concept of these horns is believed to be "asymmetrical".
It's also something I can easily get behind.
There are four variants that are all included: Bune, Petrus, Lucius, and Damien.
Bune and Damien have two additional categories: Right and Left.
Based on the option you choose which one you prefer, the left horn's tips are cut off. Hence, asymmetrical.
I would say either is great to give your Sim some personality.
Damian is a man with curved horns that extend out from above the head.
The Bune Horns are smaller, sharper, and sit slightly higher.
25. Horns for small Dogs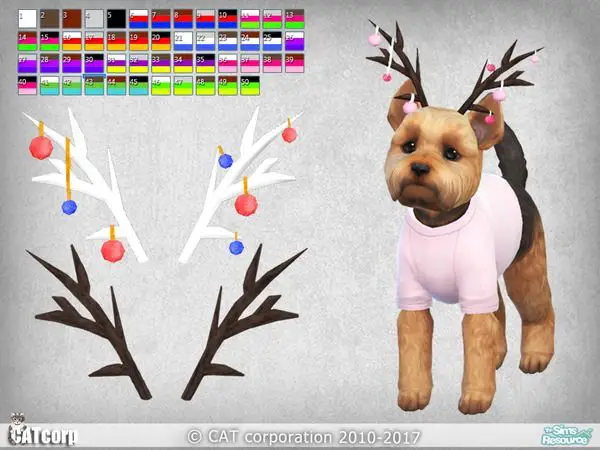 Beginning our list with a bang today, we've got an option that can transform your ordinary, tiny dogs into something truly amazing! 
Through The Horns for Small Dogs by The Kalino, the pets can be transformed into diverse animals, including a ewe or a ram.
Great for those who love animals or a farm you could want to incorporate into the game or to mix things up whenever you feel that your Sims already have had every pet the Sims offers before.
24. Lifebinder Alexstrasza Horns by Valhallan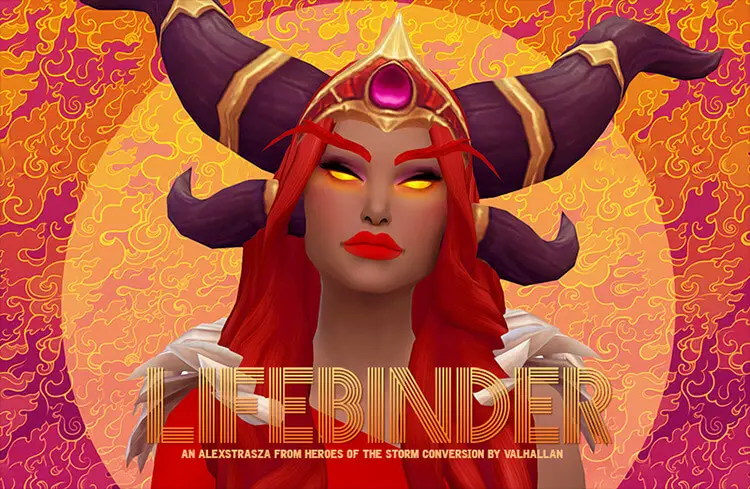 It's probably a sure assumption that Valhallan is just a rock star at making Horns to The Sims 4.
In all likelihood, she's accountable for nearly a third of the items listed on this list!
This particular pack isn't really a specific horns package. It's actually a complete character (or at the very least, the clothes of the character) conversion, especially Alexstrasza of Heroes of the Storm.
If she's a familiar face, she has a stunning pair of horns. You'd expect nothing less from a woman of power who has the ability to transform into the form of a dragon whenever she wants you think?
Right.
The complete CC pack features her famous ears, elegant tiara, and an eye-catching red Cloak.
The whole package is a .zip file, too. This means you can put on the horns and tiara with no cloak. If your Sim does not feel like playing cosplay, I'm talking about it.
Color Options 1 color as the default
Mesh Required Mesh Needed: No
Available for both male and Female | Teens – Elder
23. Unicorn Horn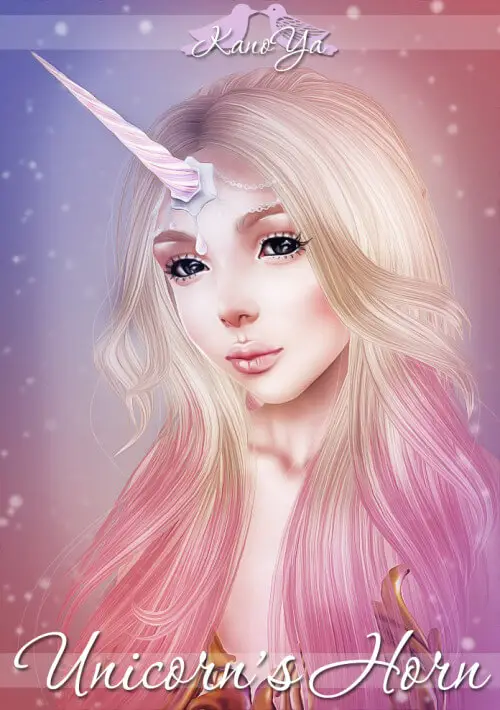 Are you aware of a few years ago when the entire world was amazed by the notion of magical unicorns dancing all over the world? 
A few of us enjoy the concept of unicorns but aren't quite ready to let this era and since they're magnificent, mythical, and beautiful, which is exactly what we all require from time to time.
If you'd like to channel that magical energy into your engagement, adding a unicorn horn to your Sims appearance is the best option to make them appear young and spirited What more can you want?
22. Horns by Decayclownsims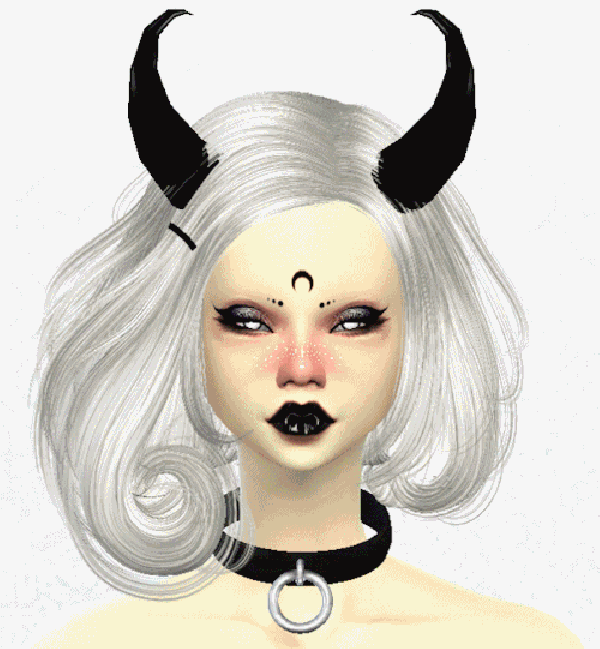 A lot of us as we imagine horns don't imagine cute creatures that live in the woods. Instead, we think of a dark, devilish feeling from the word which is what I'm talking to you about.
The horns look like the classic devil horns. The horns are lengthy, slightly curled upright, gorgeously textured, not to mention that they are available in a range of dark shades.
These Horns made in the hands of Decayclownsims are ideal for any Sim who could be an actual spawn of Satan his demons.
21. Bloodtotem WoW Cenarius and Highmountain the Tauren Horn from Valhallan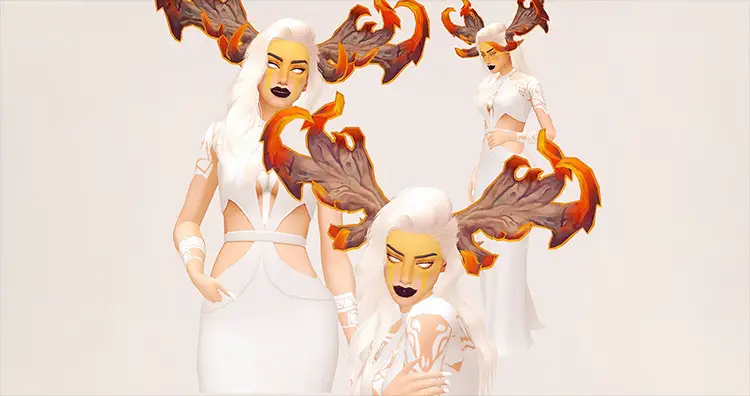 In fact, it is the best part of this collection.
A goddess who is the protector of animals. The forest's protector.
The most striking of hairpieces with horns.
Valhallan's Bloodtotem Horns are extremely well-designed and very terrifying.
They extend across to the edges of the head of the Sim, like powerful, dazzling wings. The words can't describe how majestic impressive, powerful, and straight-up majestic these objects are.
They're similar to antlers from the earth. They're just fewer deer, plus Goddess from the Forest.
There are two kinds of these Bloodtotem Horns: ones with borders that are colored and ones with tips that are colored.
Both have their own charm. There are 26 color choices each.
Color Options Color Options
Mesh Required There is no need for mesh.
Available For: Male and Female | Teens – Elder
20. Hathor Headband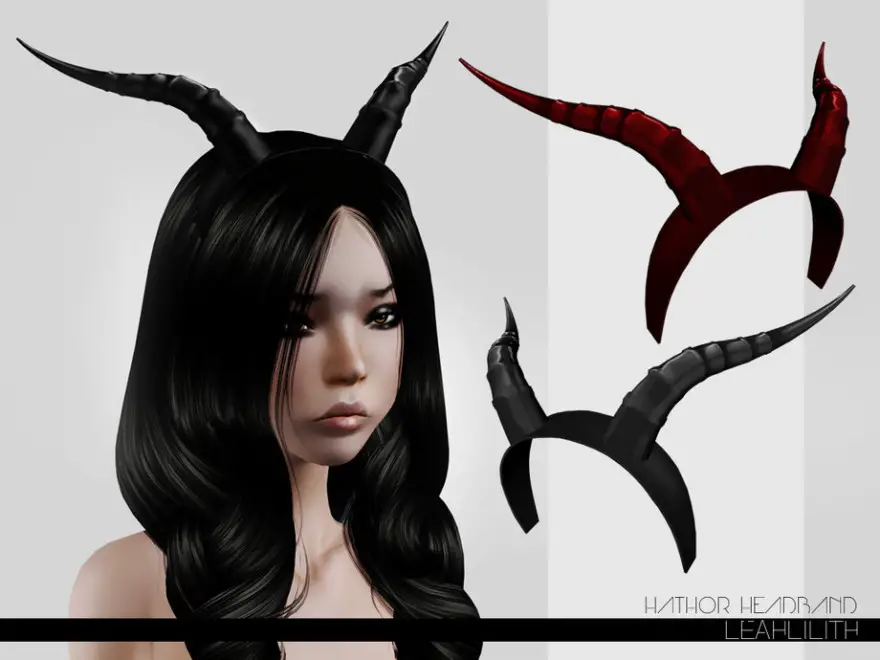 The Hathor Headband is a set of Horn's, but without the pressure to make your Sim appear as if they came from another planet.
The Hathor Headband is a charming simple accessory that gives your Sim a distinctive style.
Halloween celebrations parties, costume celebrations, or even for an in-game costume idea, you won't be wrong with a headband that has horns.
19. Flapjack's Ribbed Horns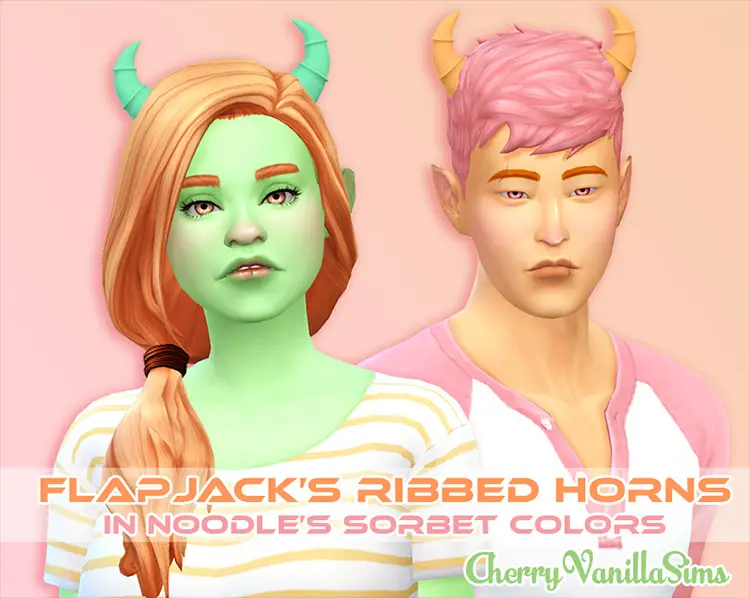 the Flapjack's Ribbed Horns are a fantastic option for those who believe that creatures sporting horns don't have to be terrifying and vicious. 
Their tiny shape, delicate texture, and, of course, adorable colors are ideal for the gentle Sims who were born with horns on their heads.
The horns are modified to reflect what the creator describes as a component within"the "sorbet palette".
This means that no longer are you required to settle colors for boring neutrals, or traditional red huesMix the colors and experiment with colorful hues!
18. Horns Pack of Azentase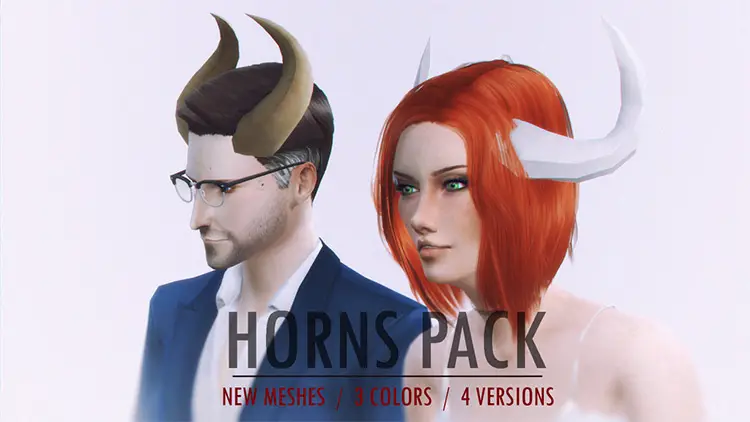 The horn CC pack is similar to Valhallan's Qunari Horns, having different forms and a more uniform texture.
There are four variants: Panic, Bambous, Kleptomania, and Maniac.
They're all different degrees of "curved" and "swept back," which honestly makes these hairstyles look stunning with hairstyles that are in the same style.
Personally, I believe they look beautiful when paired together with Alpha CC hair (instead of Maxis Match styles).
Each model comes with three colors, however, these are neutral. They're a good match with all hair colors.
You can install each version on its own should you wish to.
17. Little Demon Horns the Rotteneyed Cerberus-Sims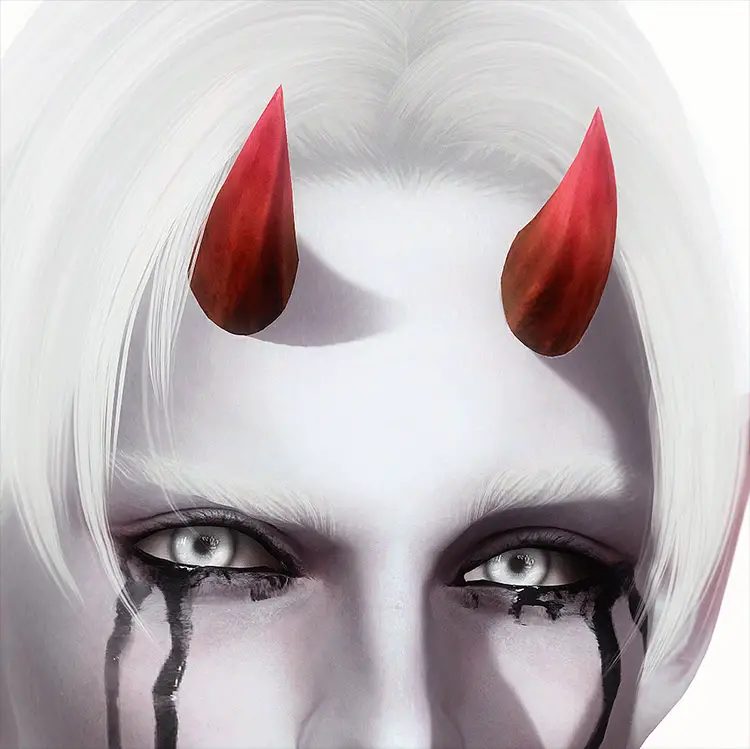 If you thought the Goop Horns were too bright for the Sim's colors and Flapjack's ribbed horns were a bit big for their story, these Little Demon Horns may be just what you're seeking.
They're among the most compact Horns on this list. Literally, they're nubs.
They are also placed across the front (instead of being on the top of your head).
It's quite cool that there are four variants here You can also combine up to two different variations for up to four Horns.
The perfect gift for the little monster who would like to be different from the rest. Maybe.
The color options are custom-designed, with 40 to choose from in all with 20 of them having dual-toned.
If you opt to gift Sim the four-horned symbiosis, you won't be able to blend the colors. The top horns are exactly the same color as the bottom horns and vice versa.
A pretty versatile set, regardless. Worth a shot!
Color Choices: 40 colors to choose from 20 swatches with two-tones
Mesh Not Required Mesh Needed: No
Available for both male and Female
16. Fantasia Headdress by Suzue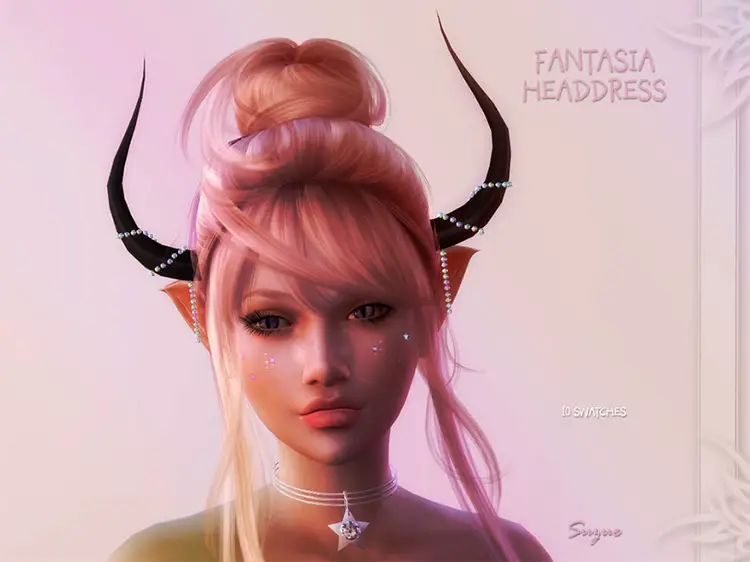 Similar to Capricorn Horns by Screaming Mustard This Fantasia Headdress is basically horned with some bling.
Similar to Capricorn Horns, these appear delicate and elegant. They're slim, long, and they drop just at the right angle at the tip.
Instead of earrings, these are adorned with glass beads. Each horn has only one strand of glass that is wrapped twice on the back of the base.
There are 10 colors that can be customized that are available for this package. the colors of the beads depending on the hue of the horns.
Color options: 10 customized colors; 1 two-tone Swatch
Mesh Required There is no need for mesh.
Available for: Male and Female | Teen-Elder
15. Capricorn Horn Accessory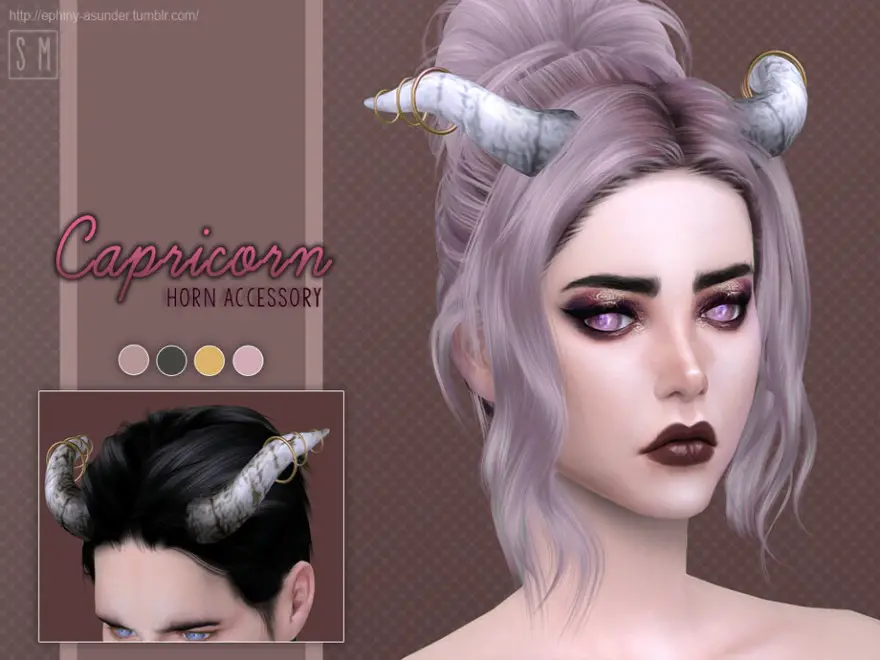 Where are my fellow zodiac-loving friends? Are you sure that your Sim an absolute Capricorn? It's likely not if they don't already have these horns already! 
The Capricorn Horn Accessories are ideal for those who have an affinity for Capricorns however, their style attracts anyone else!
Rings that sparkle to add some flair and a delicate marbled look You and all of your friends from Sims will look stunning. Sims will look gorgeous with their horns out.
14. Flapjack's Small Horns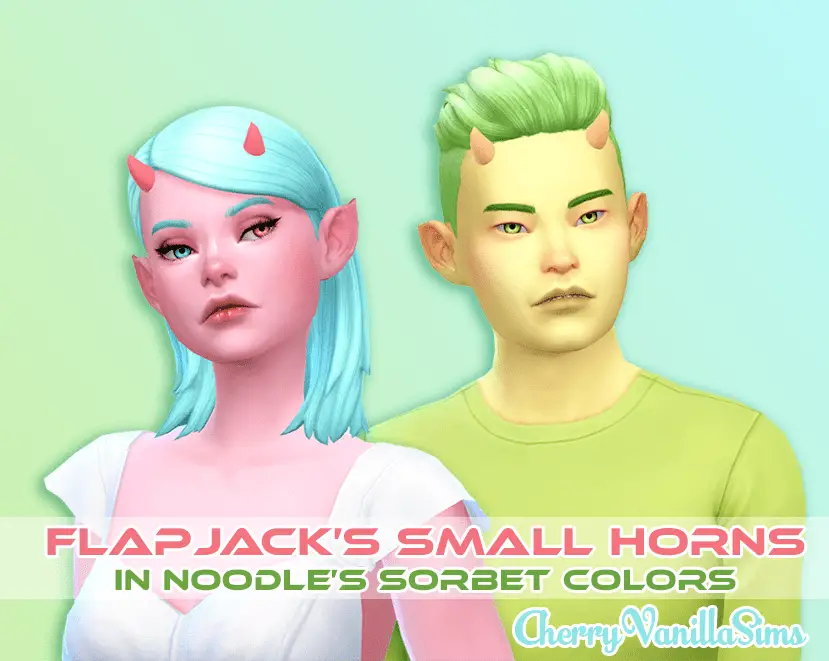 Horns do not need to be huge and flashy. For our Sims who like to play the main attraction at a gathering, These are the horns suitable for you.
Small Horns like those are adorable because they are tiny, and come in a sorbet-colored palette similar to Flapjack Horns we have discussed before.
They are an excellent option to add a unique accent to any of your Sims from your household.
13. Rein Headband made by Blahberry Pancake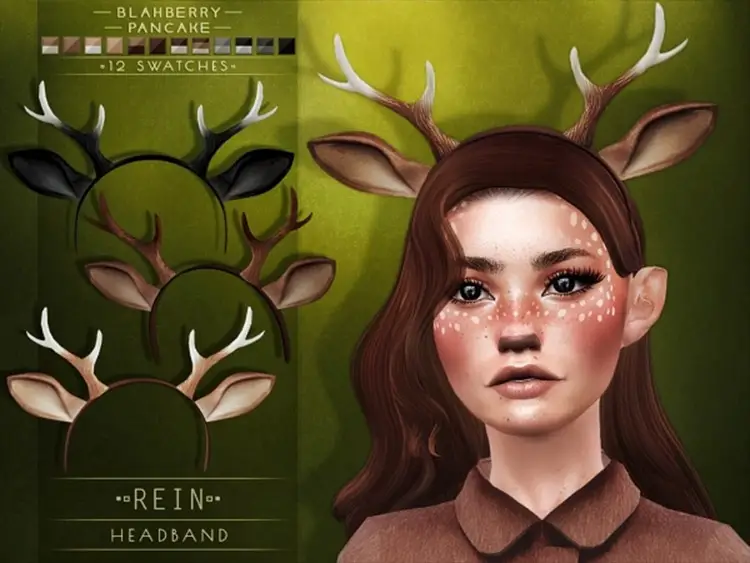 The previous model is more suited to realistic deer hybrids The present Rein Headband CC made by Blahberry Pancake is better for Holiday Costume Parties.
It's made to look like a headband that has antlers and ears of deer. It also shows.
But it's adorable, it's distinctive, and is the perfect thing for your ugly Winterfest photoshoots with sweaters.
12. World of Warcraft Demon Hunter Horns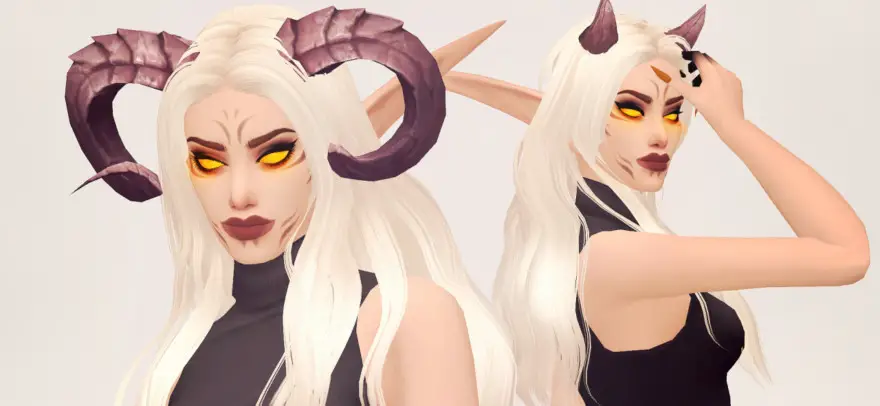 Is anyone here a lover of World of Warcraft? Even in the absence of a fan case, these unique horn designs are able to meet nearly any horn needs.
There are 6 possibilities to choose from with these horns. There are also 25 different colors available once you have found the right pair to match your Sims fashion. 
Pick from extravagant and big to subtle and simple. This selection of W.O.W-inspired Horns is certain to include all you need and more.
11. Trapping's Antlers from Deetron Sims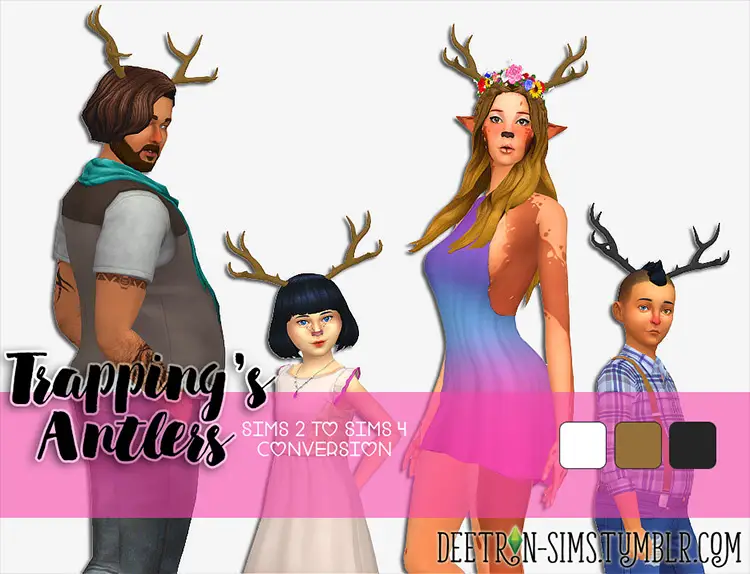 Here's a cute and quick break from antlers and antlers.
In particular, the antlers have appeared in the CC.
If you're creating a deer-human hybrid, or you're looking to tell the story of the druid that can't change shape to the fullest extent… Deetron Sims"Trapping's Antlers" works well in both scenarios, and more.
These are simple and straightforward antlers resembling deer that rest on top of your Simmy head.
They're also available for kids too. This means you can be a complete family if you wish.
10. Demon Horns V2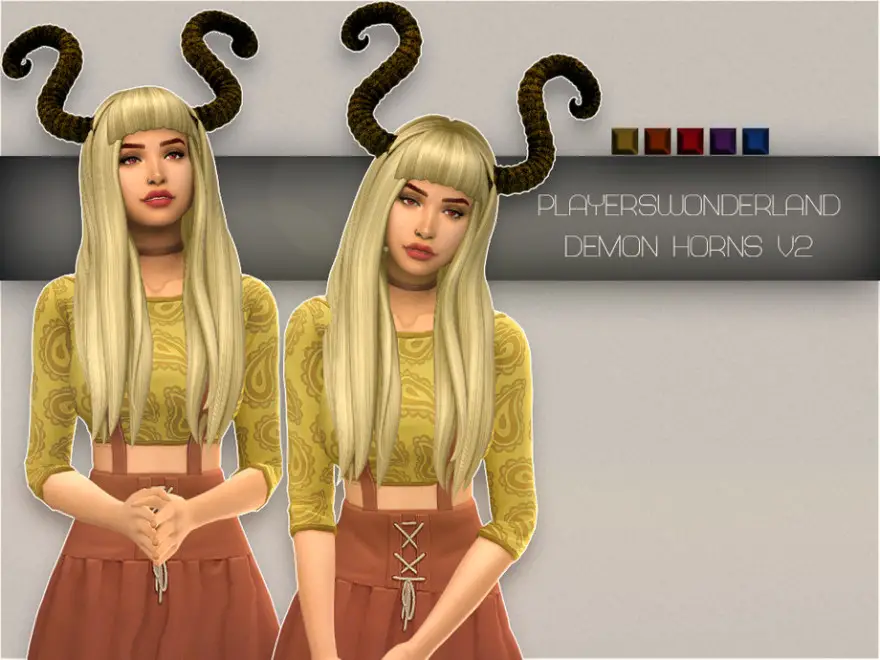 The demon horns in this game are one of the most unique items you can find for your Sims. 
What makes these horns distinct is their intriguing design, standing tall and long, with a gorgeous texture that looks so good, you'll forget they're for demons.
They come in five colors that you can pick from with a brown hue for a natural-looking look and even a purple shade for something slightly more playful with the exact style you've been searching for.
9. Halloween Demon Horns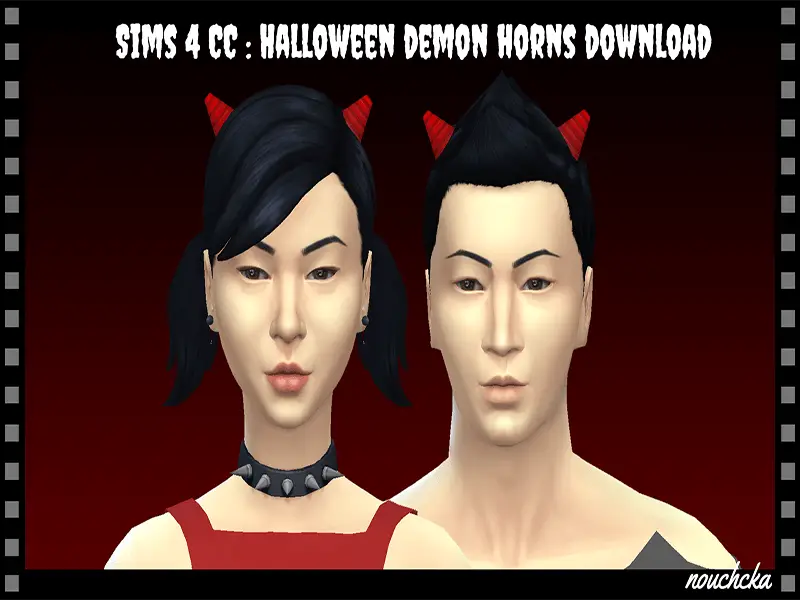 While Halloween is over and gone in real life This set of Halloween Demon Horns is a great option all year long or at the next Halloween celebration to which your Sim is invited. 
The horns are one of the most popular in terms of the devil horns' capabilities and they're the classic red color that many of us associate with and come in adorable little nubs that you can put over the top of your Sims head.
Allow your Sim to showcase their sinister side The horns are certainly designed to do just that.
8. Crown of Horns by Nolan Sims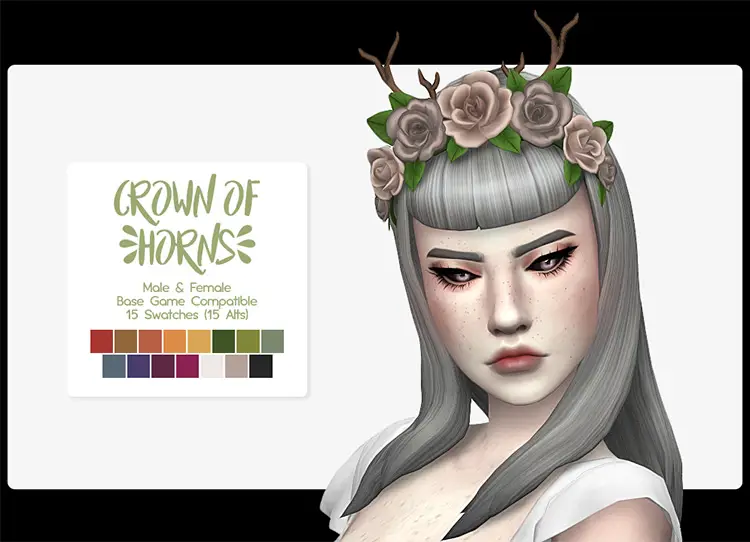 Let me hear you out. Technically, I can tell that this is a headpiece accessory that has horns, but not actual horns or antlers.
The way it looks is so stunning, I had to share it!
The placement of the crown's horns appears to suggest that they are emerging from the actual head of your Sim. This is the aim, right?
If you can spin the right story you could be the Horned Sim wearing a flowery headband.
The Horns (or "twig Horns" according to the designer who created them) aren't color-changing. However, you can change the color of the flowers to fit your personal style.
7. Maleficent Horns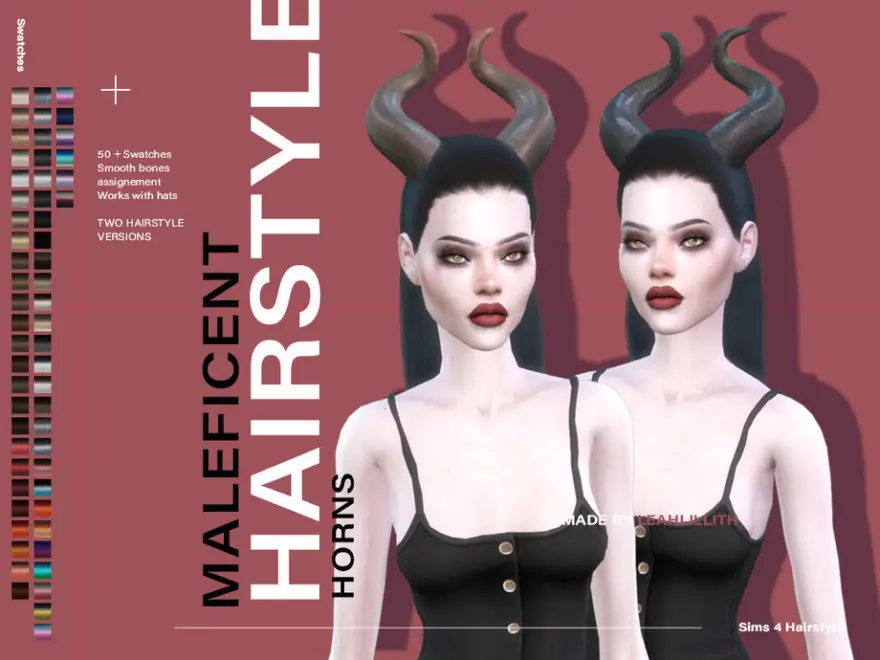 An iconic Disney character is attainable to play within the Sims game! Maleficent your design could be complete without her distinctive hairstyle.
And what could be more awesome than this? Yes, these aren't just hairstyles, but they're the entire hairstyle of her!
Disney fans and lovers of the idea of putting horns on your character to the end of time.
The Maleficent Horns from Leah Lillith will be the perfect icing on the cake in the event that you decide to put a curse on your new princess.
6. Devilia Horns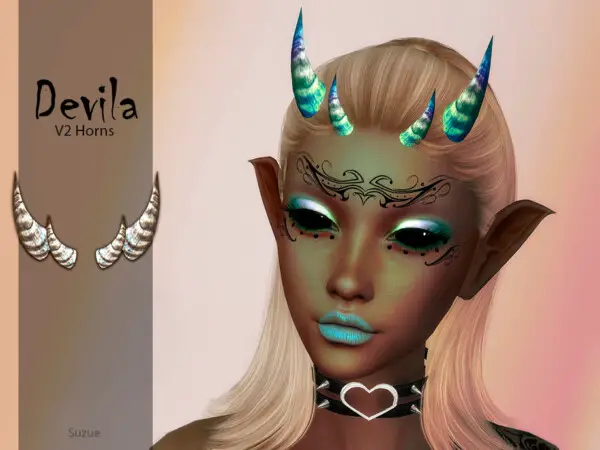 The fun part of discovering new content can be found in finding the most original item that you can find within an area. It's a fact in the case of The Devil's Horns!
Get rid of the conventional concept of having only two horns. Instead this quartet of four, including two large and two small with a dazzling color scheme that can be used to create any kind of creature you're looking to create, even fairy tales and the mermaids!
5. Goop Horns by Blahberry Pancake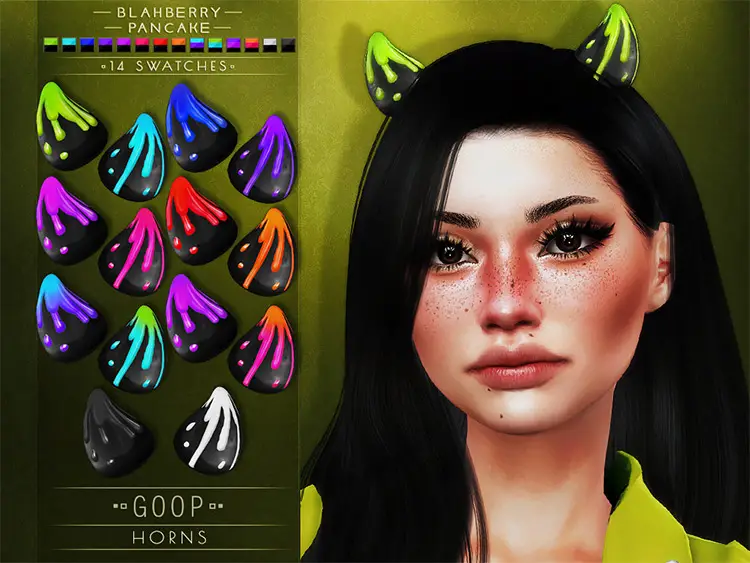 In keeping with the "small and delicate horns" trend The latest horns to join the trend are Blahberry's The Goop Horns of Pancake.
The cute little nubs rest at the upper part of the Sim's face and they're absolutely adorable.
I'm thinking they're referred to as goop due to the multi-colored lava on their tips resembling the word.
And I'll add that the bright neon colors and the smooth edges sort of remind me of pastries.
They're adorable. Find them.
The link to download leads to a downloading page that will allow Sim Teens up to elders and a separate download page for children.
4. Chain Horns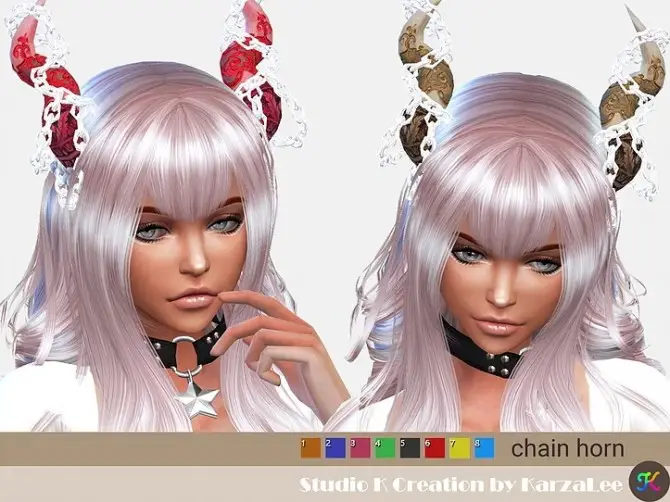 If the horns you have aren't enough for your needs, take a look at horns with an additional piece of jewelry to make them more interesting. 
Like the Capricorn Horns mentioned earlier, these horns come with, yes you read that right chains.
A more industrial-looking look as opposed to the horns that were embellished before, would be well for Sims who don't want to appear cute and elegant. 
Pick from eight different colors that will give your Sim the perfect look to fit their personality and personality.
3. CherryVanillaSims Recolor of Flapjack's Ribbed Horns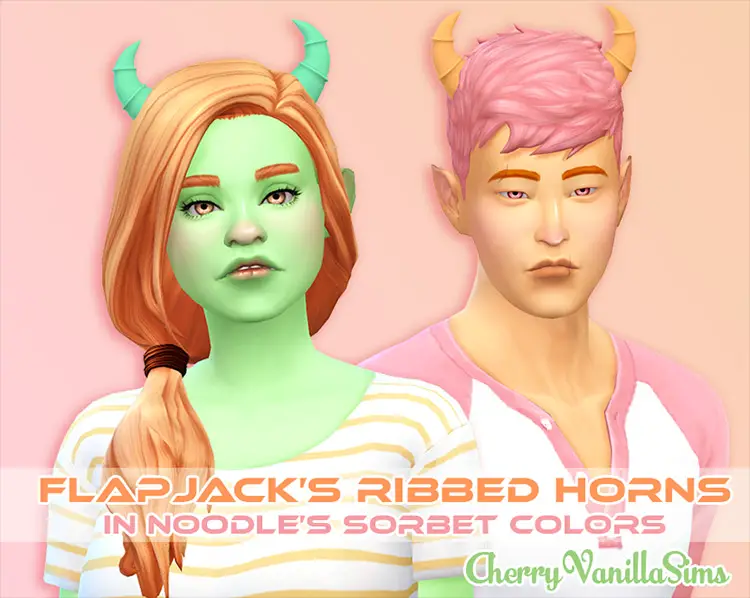 For those who aren't averse to demons, devils, and horned races who do not wish to display their accessories, Flapjack's unique mesh comes with four basic (yet elegant) designs of horns:
Ribbed
The smaller (if you really want subdued demon horns)
Thiccc, and
Thicc (forehead)
Each has its own distinct charm absolutely. However, they're not available in numerous color choices.
Enter CherryVanillaSims' recolor. It's not just to match the "ribbed" style of horns the recolor introduces the possibility of 66 different colors to experiment with.
Honestly? I like the brightly-colored orange Horns.
Color Options Custom Colors: 4 shades (original) 66 custom colors (CherryVanillaSims Recolor)
Mesh Required: Flapjack-Sims Horns for Sims 4
Available For: Male and Female | Teen-Elder
2. Quinari Horns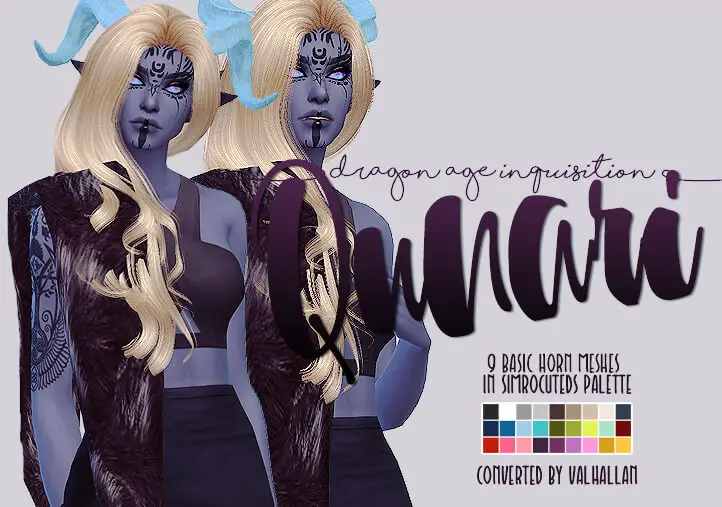 We have another set of horns to give your Sim All distinct from each other and appear to be like they were inspired by the horned animals that we all recognize and admire. 
The Quinari Horns Collection provides nine different horn styles and shapes, so you can build a family that has horns an integral part of their heritage.
The horns were designed to look similar to Dragon Age: Inquisition, the horns are perfect for those who want to bring their love to their Sims and even for people who, generally believe that having horns is cool.
1. Horns Pack Vol 1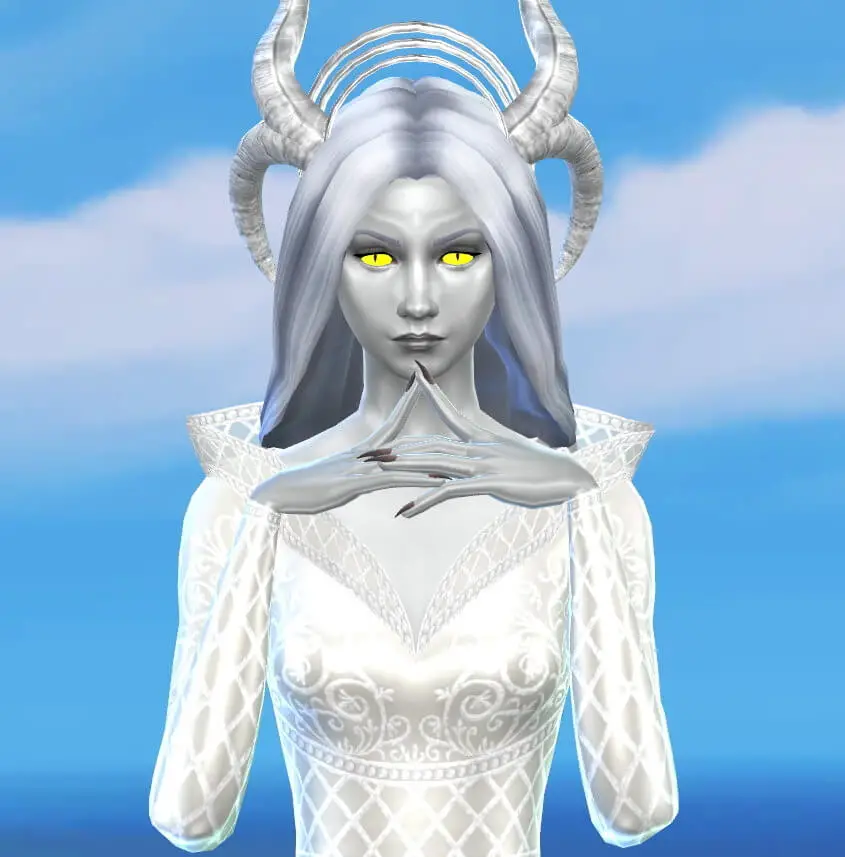 The collection of horns to select from, we've got an assortment of horns from The Horns Pack Vol 1 created by the Tumblr user Zanedia and the Sims 4.
The headpieces look as if they're from a different world that is full of fantasies that are left to your imagination to come up with your own!
Furthermore, this option comes with a skin-like detail to make your work appear more authentic than horns alone could have achieved.