Do you want to swiftly stock your cc folder with wonderful apparel cc of the highest possible quality?
It's all taken care of by me! A list of over 30 of the top custom content clothes packs for The Sims 4 can be found here.
It should come as no surprise that simmers adore cc packs.
Naturally, they do what you ask! CC packs make it incredibly simple and quick to add a variety of high-quality user-created content to your game all at once.
In this post, I won't be sharing any old content, so everything you see here will be BRAND NEW to this website (and, hopefully, new to you as well!).
The following is a list of the best Sims 4 CC clothing sets.
30. Maxis Match Male CC Clothes Pack for The Sims 4 by FerdianaSims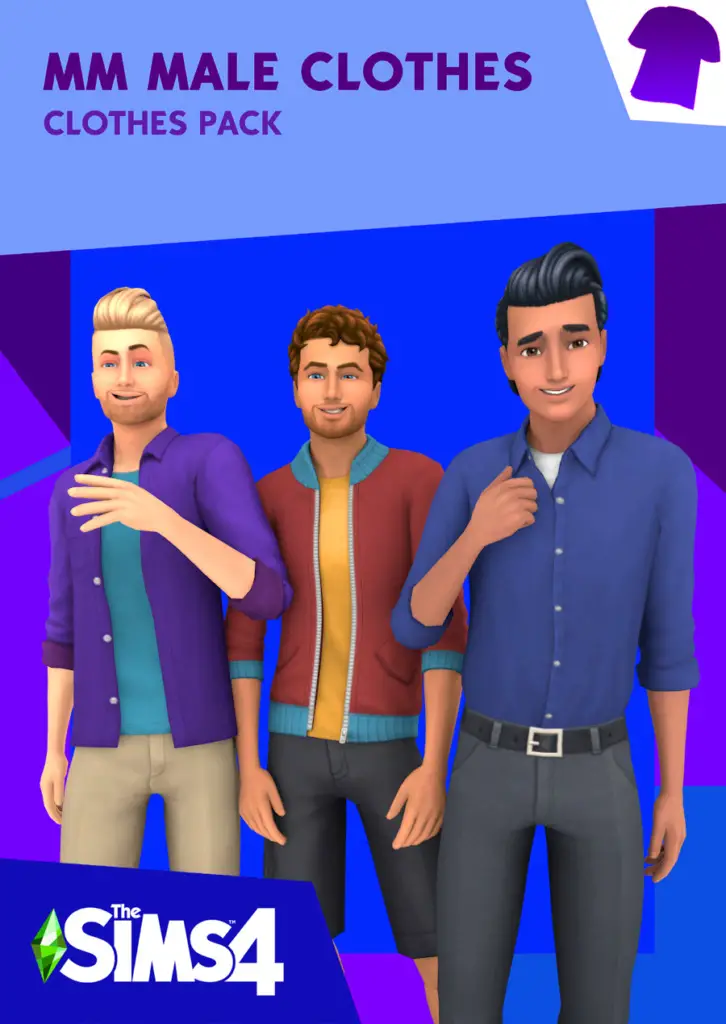 I couldn't contain my joy when I found out that this set was available.
A complete CC pack that is only for use with male Sims.
And not just adult male Sims, but even Sim children and Sim toddlers! It really is rather fantastic.
You just cannot avoid downloading this pack if you are in the market for additional masculine cc—and let's face it, who isn't?
29. Sims 4 Denim CC Pack by Solistair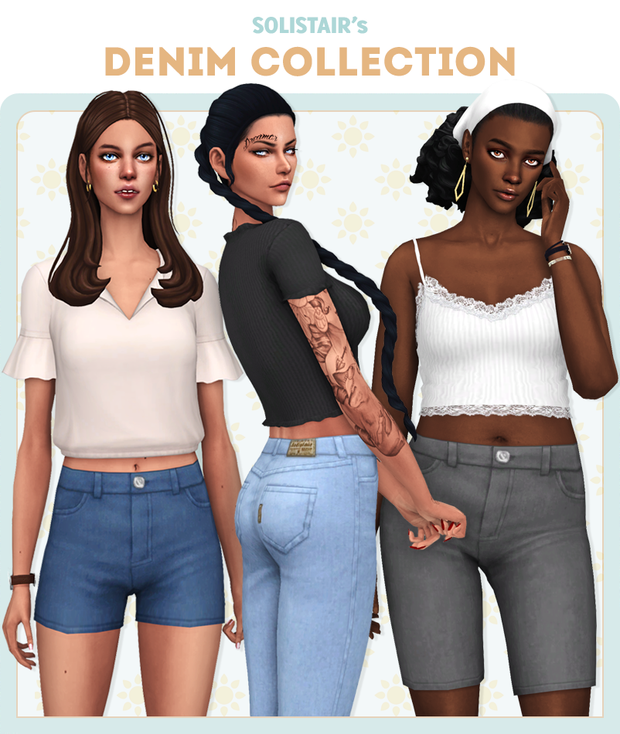 This fantastic denim cc pack comes with five different styles of bottoms, ranging from shorts to flared jeans and everything in between.
They each have a sample of 12 different colors. There is even a black sample available for each of them, which is an absolute requirement for me.
28. Hologram Sims 4 CC Clothes Pack by myshunosun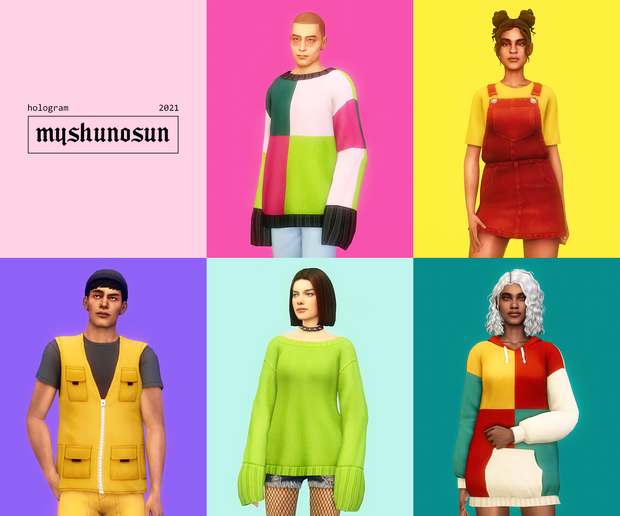 Another unusual cc collection from myshunosun. They have swiftly risen to the top of my list of all-time favorite Sims 4 custom content providers.
This collection features five colorful and eye-catching CAS items that may be worn by either male or female Sims.
27. Hawthorn Sims 4 CC Clothes Pack by oakiyo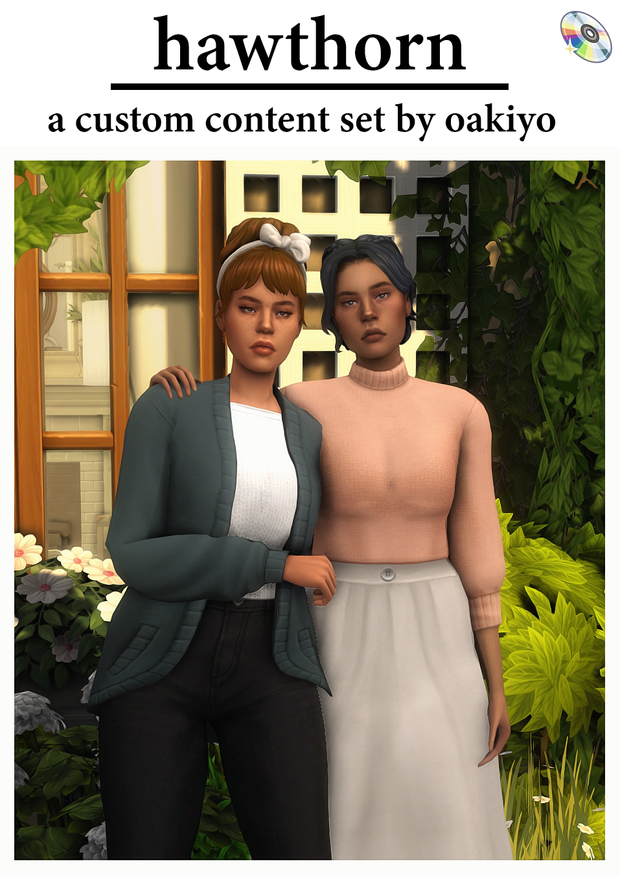 This Sims 4 custom content bundle comes with a variety of CAS objects, many of which you will find yourself using frequently without even recognizing them at first.
This download comes with three different blouses, jeans, a dress, a jumpsuit, and four different hairstyles.
They are, in every sense of the word, basics, which makes this pack an absolute requirement.
26. Sims 4 Wardrobe Essentials CC Pack by casteru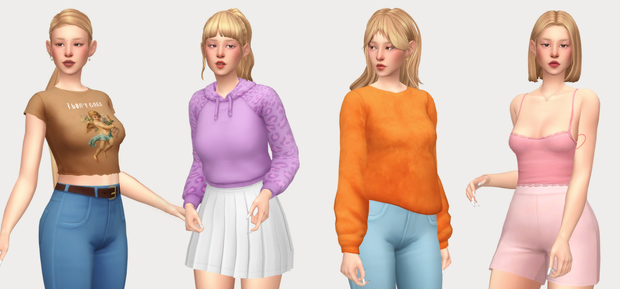 A lovely collection of Sims 4 custom content fundamentals that are required for your game.
You will receive two pairs of pants, a skirt, shorts, a sweatshirt, a sweater, a lace tank top, and the CUTEST ruffle baby t-shirt in this collection.
I just adore these pieces, and the color scheme is very sweet!
25. Comfy Loungewear CC Set by myshunosun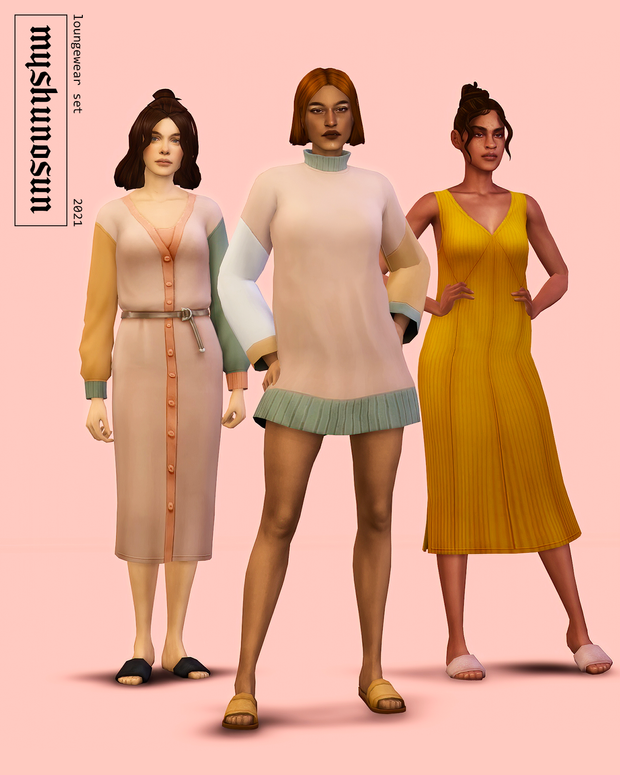 My cc pack is SO different from anything else out there, and I adore it so much that I just had to include it on this list.
The three pieces that are included in the collection are all examples of loungewear that are cozy and comfortable and have a hint of an Asian influence.
Out of the three, my top pick is the knitted mini dress with short sleeves.
Can we take a moment to discuss the color scheme utilized in this particular cc though? How incredibly stunning!!
24. Summer Flow Sims 4 CC Clothes Pack by JolieBean X SimsTrouble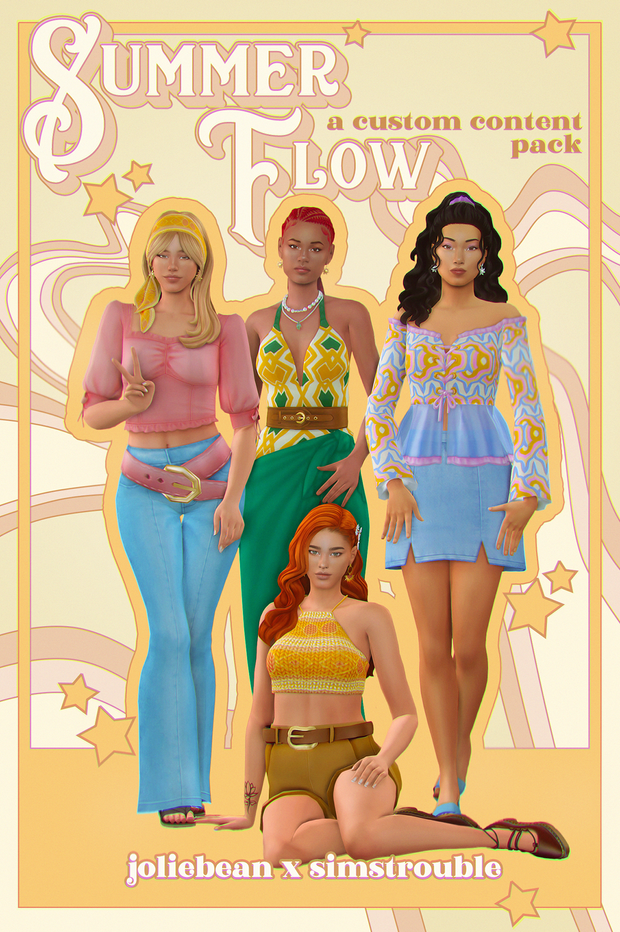 This summer cc pack was inspired by the 1960s and 1970s and has a ton of pieces that are enjoyable to play with.
Despite the fact that they were designed to look vintage, I believe that many of these CAS products can be incorporated into the creation of fashionable outfits that are now in style.
For instance, a jean skirt paired with a lovely top and some trendy shoes would make for an adorable look in this day and age.
Those flare jeans with the big belt are everything you need in your wardrobe right now.
It's fun to give them to my Sims who are musicians.
My impression is that it lends them an air that is both hip and unpretentious.
23. Sims 4 Formal CC Clothes Pack by Oakiyo x QICC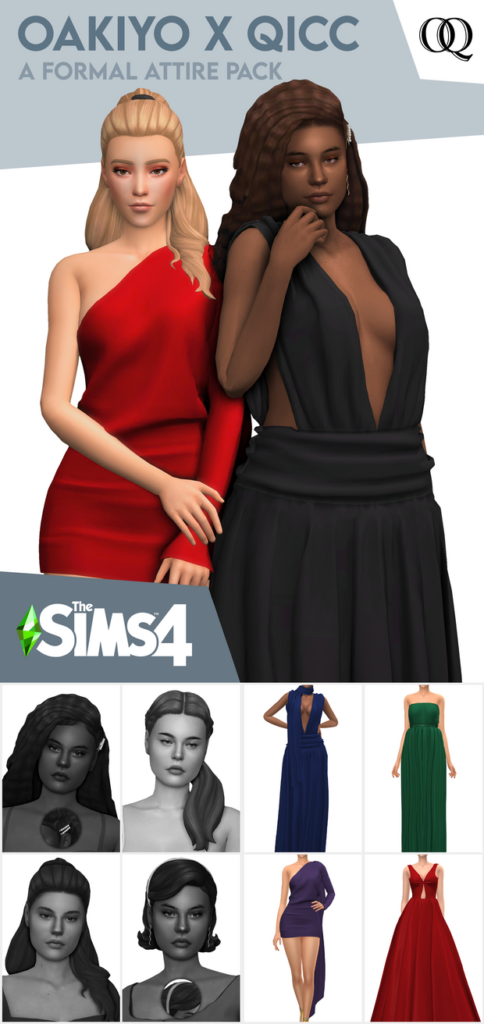 Is it just me, or has everyone else grown tired of the fancy clothes that come included with The Sims 4?
They are not in any way endearing.
Fortunately, this small pack of formalwear will come through for us in the clutch.
This is a two-part collection, with the first portion featuring only cc hair and the second part containing four formal costumes.
CC hair is included in both parts.
It brings me so much joy to use these gowns for my Sims who are famous or very wealthy.
22. So Casual Teen Sims 4 CC Clothes Pack by aretha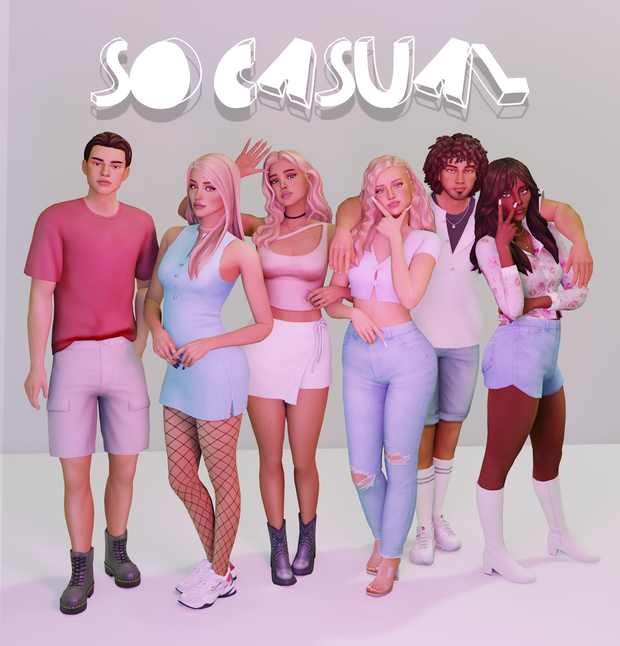 This cc set for your teen Sims is the prettiest one available!
One of my all-time favorite pieces of Sims 4 custom content is the 'Elena' top because of how freaking cute it is.
The complete set comes with thirteen brand-new CAS items, all of which are compatible with the base game.
If you want to design hip adolescent sims, you are going to require this cc kit.
21. Sims 4 Dresses CC Pack by myshunosun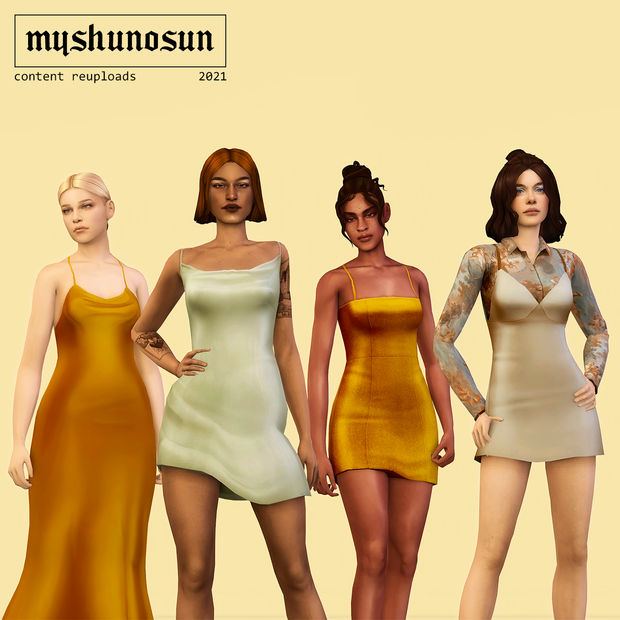 This collection of cc gowns is really STUNNING! The various styles. The various hues. The many textures.
There is not a single thing that could be improved. These gowns are an absolute necessity for your game.
20. Underwear Basics Sims 4 CC Pack by grimcookies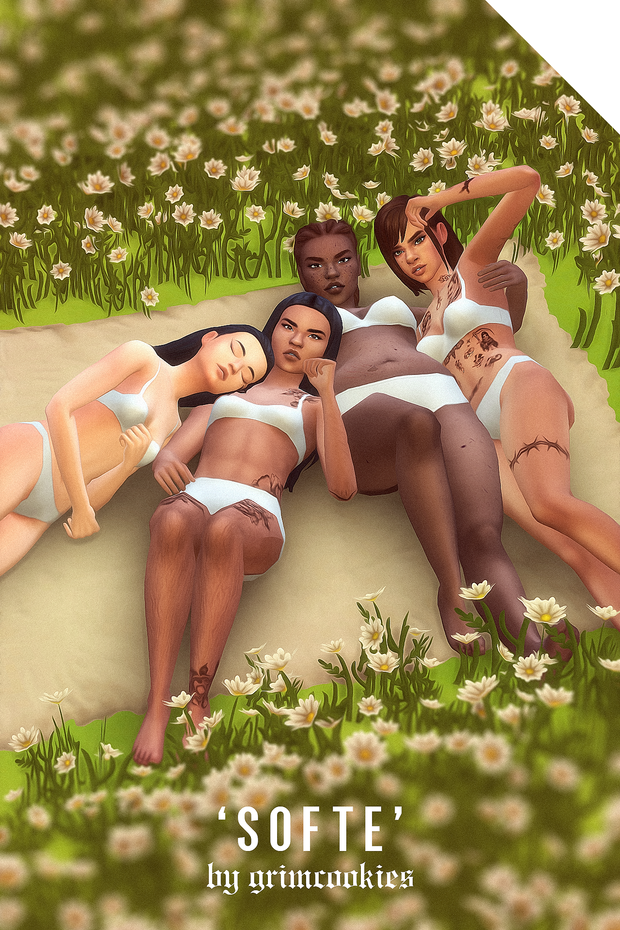 A CC pack for The Sims 4 that includes every type of basic underwear you may possibly require!
They are appropriate for use by adolescents, adults, and even senior citizens.
There is a wide variety of underwear, including tops, bottoms, and bras, all of which are designed to look well on a variety of body shapes.
The color swatches feature a plethora of tones that are suitable for people of all different complexions, as well as some fun hues like blue, purple, pink, and red.
The nicest feature of this pack is that it has a default replacement option.
This means that you can finally get rid of the unattractive underwear that is included with The Sims 4 by default!
19. Cold Weather Sims 4 CC Pack by Quirky Introvert CC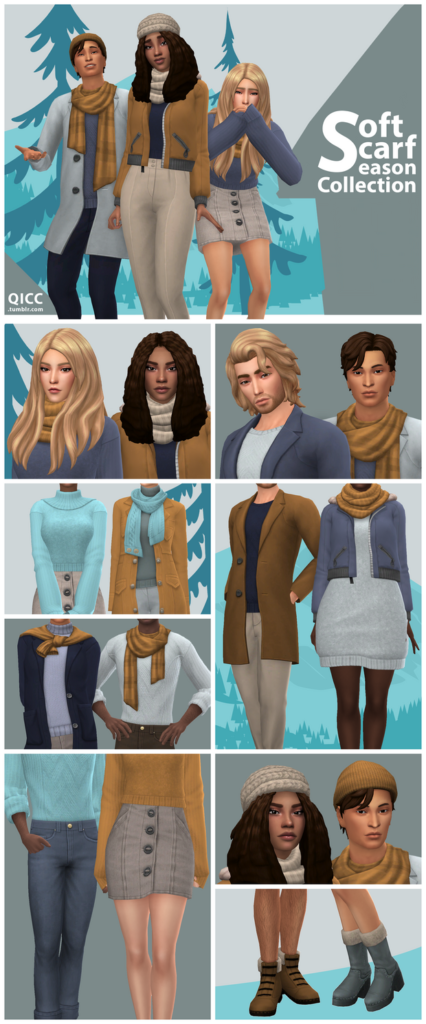 This Sims 4 custom content clothing bundle is an absolute must because it features over 30 winter weather CAS pieces.
This custom content pack makes up for the fact that The Sims 4 Seasons did not come with a sufficient number of clothing appropriate for chilly weather.
If you want a winter look but don't have Seasons, this is the perfect pack for you because the entire thing is compatible with the original game.
In addition to this, you will receive about the same number of things for male sims as you will for female sims.
18. Bohemian Sims 4 CC Pack by Serenity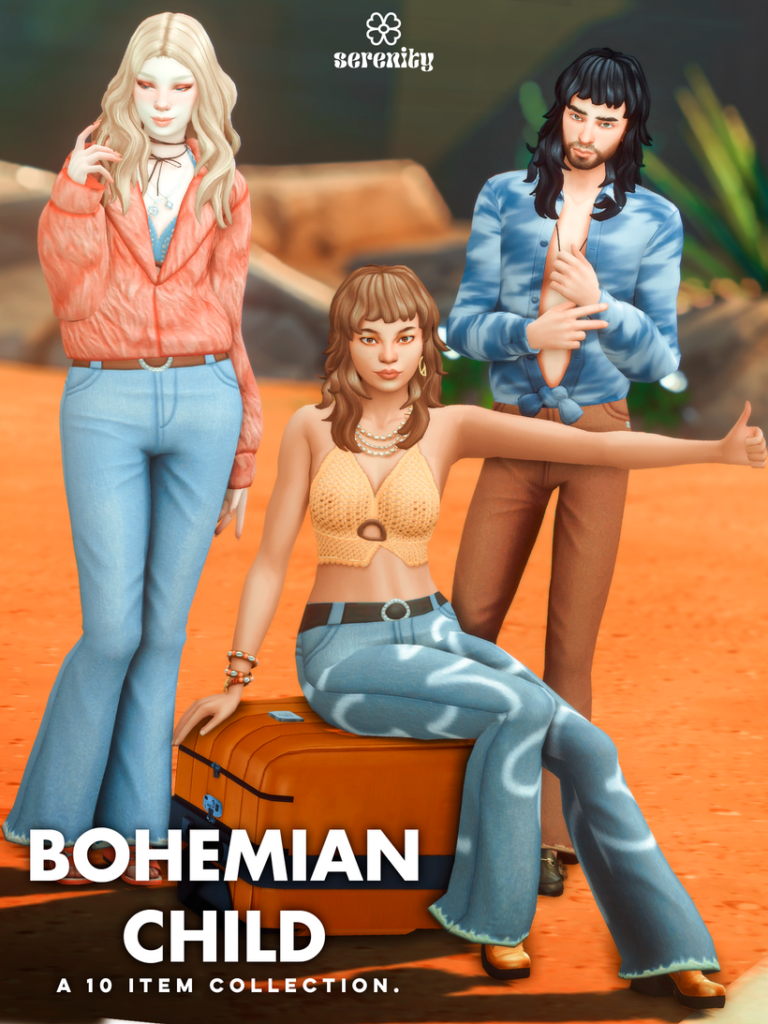 This cc pack brings back fond memories of the Solistice Collection, which was featured higher on this list, and it's just as much fun!
The Bohemian collection comes with ten CAS items, one of which is an irresistible mullet in the style of Miley Cyrus that you may use in-game.
17. July 2021 CC Collection by Sentate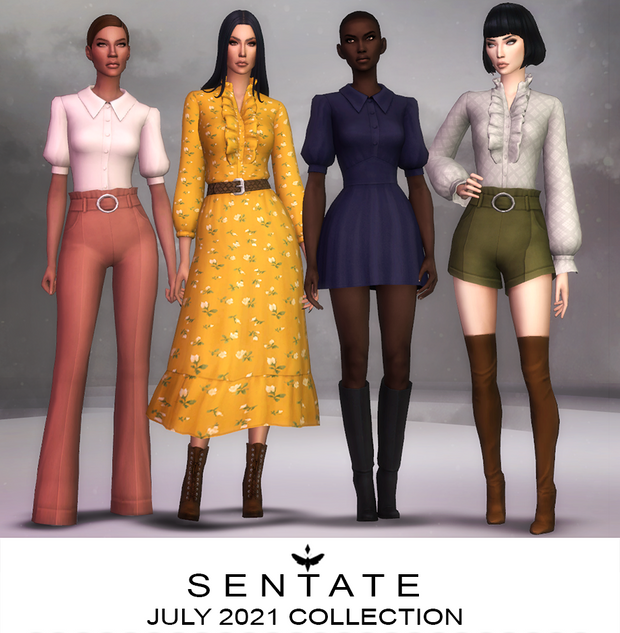 If you want to enjoy this Sims 4 custom content collection, you definitely need to have an appreciation for ruffles and puffy sleeves.
Fortunately, I do, and I hope the same is true for you!
Two dresses, two blouses, a pair of pants (which I LOVE!) and a pair of shorts are included in the July 2021 set. In addition to that, they are offered in a plethora of different color swatches.
16. Archive Sims 4 CC Pack by Ridgeport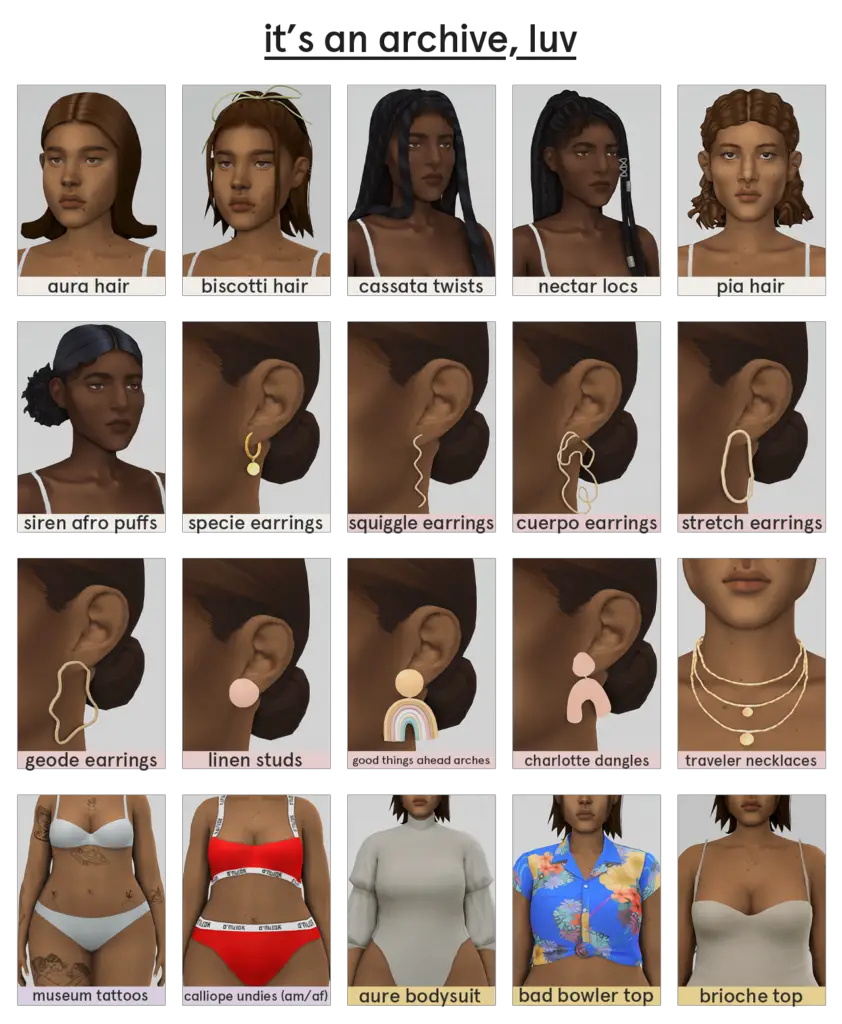 Therefore, we cannot really classify this as a standard cc pack. It is a repository of Ridgeport's Sims 4 custom content from prior years.
This means that you will need to download each component separately from their Google drive; but, believe me when I say that the effort will be TOTALLY WORTH IT.
You will receive much more in addition to everything that you see on this page.
This only accounts for a third of what is available for download.
This entire collection of Sims 4 custom content is completely free, maxis match, and of good quality. You absolutely must look into it!
15. Sims 4 Road to Nowhere CC Pack by clumsyalien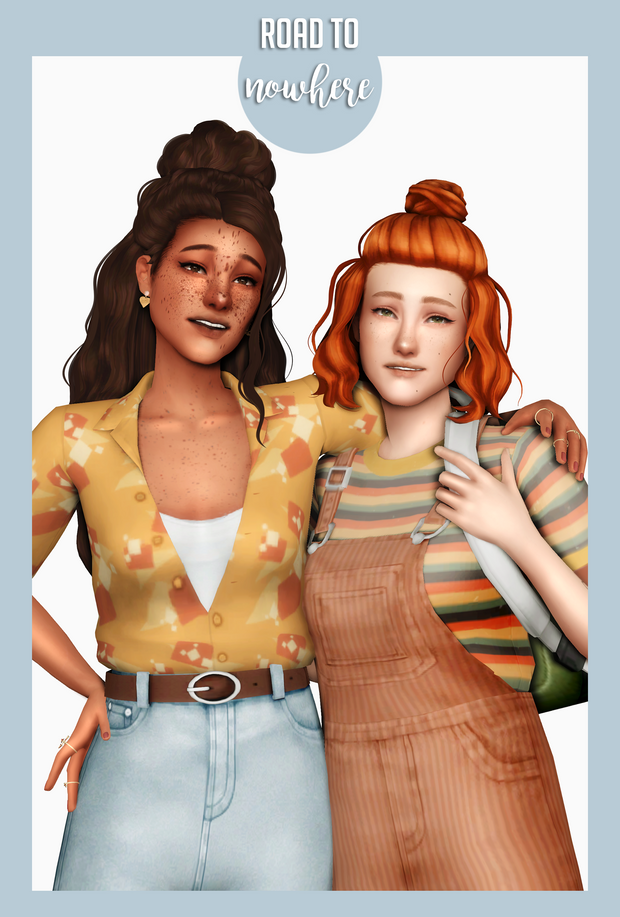 This collection is proof that Clumsyalien creates some of the cutest custom content for The Sims 4, including some adorable clothing options.
The Road to Nowhere cc pack comes with not one but TWO shirts, a pair of jeans, a pair of overalls, hair, and a BACKPACK! So cool.
This cc pack is one of my favorites to use on my teen sims who are also hipsters. It has such a great energy!
14. Sims 4 Casual Basics CC Pack by divinecap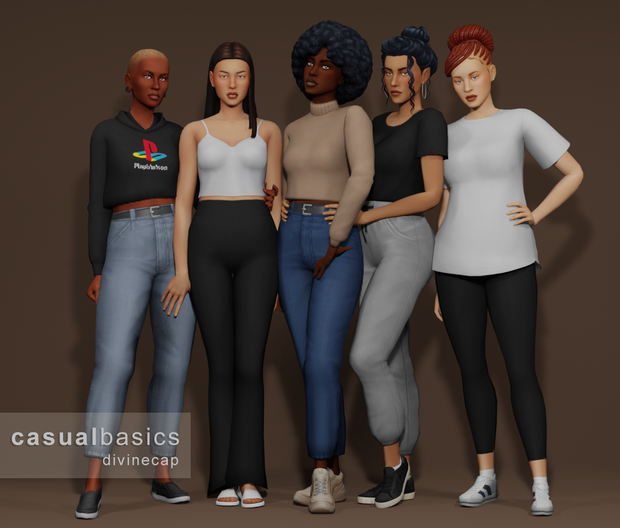 This Sims 4 custom content clothing pack is fantastic since it contains a TON of basic items that can be combined and matched with the in-game content included with the base game or with other Sims custom content.
The Trinity sweater is one of the pieces that particularly stands out to me.
It's such a sweet little thing!
It is my go-to material whenever I need an outfit suitable for chilly weather, especially for the clothes my Sims wear to school.
13. Sims 4 Male CC Pack by Kiwisim4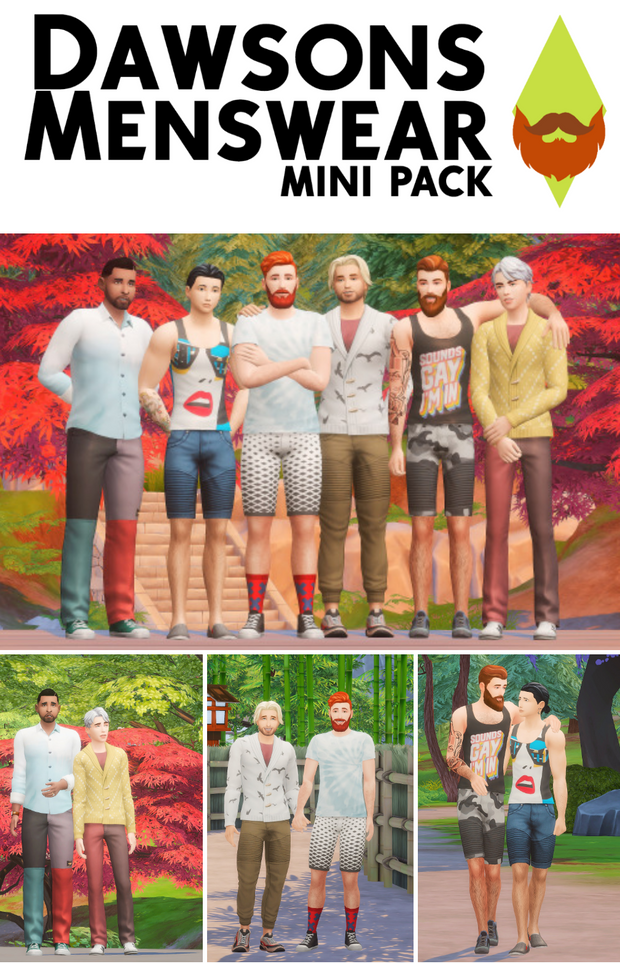 Yay! Another cc pack geared specifically toward our masculine Sims!
This one comes with a wide variety of CAS things that, when added to their attire, will make it appear less frumpy and more on-trend.
The Dawson's menswear pack comprises eight different pieces of clothing articles, each of which comes in a cool and current color scheme.
12. 70's Inspired Sims 4 CC Pack by Aladdin-The-Simmer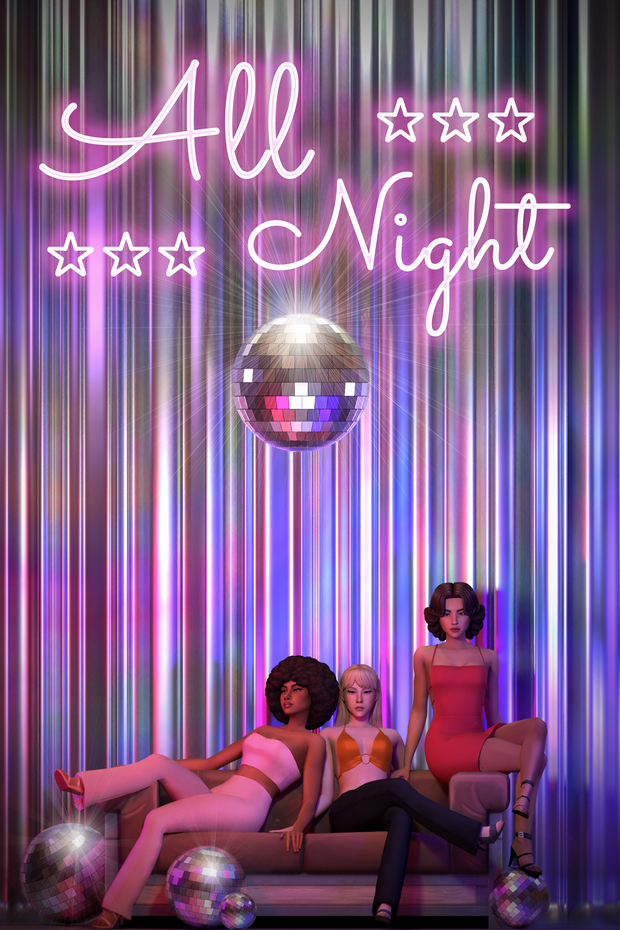 This custom-content clothing set for The Sims 4 is a lot of fun.
It is a disco pack with a 1970s vibe that comes with a dress that is as figure-flattering as heck, three beautiful blouses, and two pairs of groovy pants.
Plus, you'll get access to three other hairstyles from the past!
The hairstyle that is modeled after Farrah Fawcett is undeniably one of my favorites.
11. Sims 4 Flower Market CC Pack by nuagelle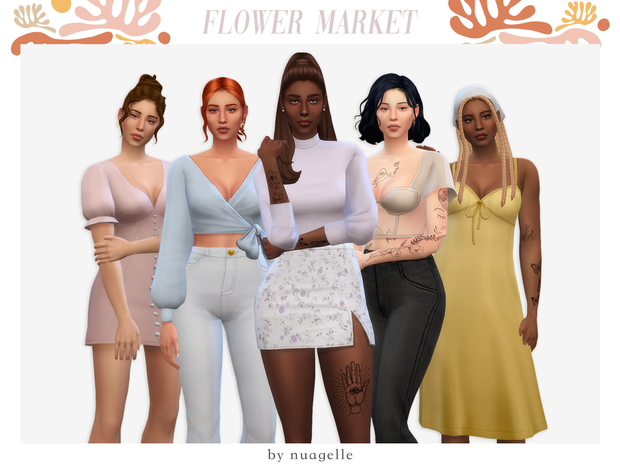 This cc set has me completely captivated!
All of them are pieces of clothing that I wish I had in my closet at this minute.
The pieces are understated but on-trend, and they are offered in an attractive color palette.
You will also receive the 'Cheri' bun cc hair as a complimentary gift from us (as seen on the red-headed model.)
10. Sims 4 Sporty CC Set by grimcookies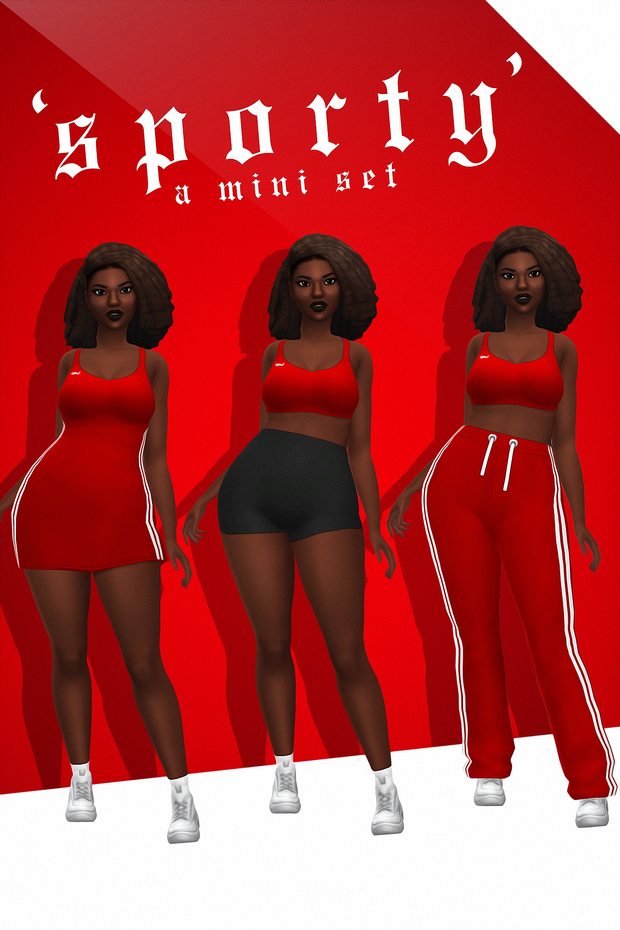 This multifunctional athletic clothing cc pack may be used for a variety of purposes, including working out and creating fashionable streetwear ensembles.
A dress, a sports bra, track trousers, and cycle shorts are all included in the capsule collection. What an amazing shade of red is it!
9. Sims 4 Teen CC Pack by luumiasims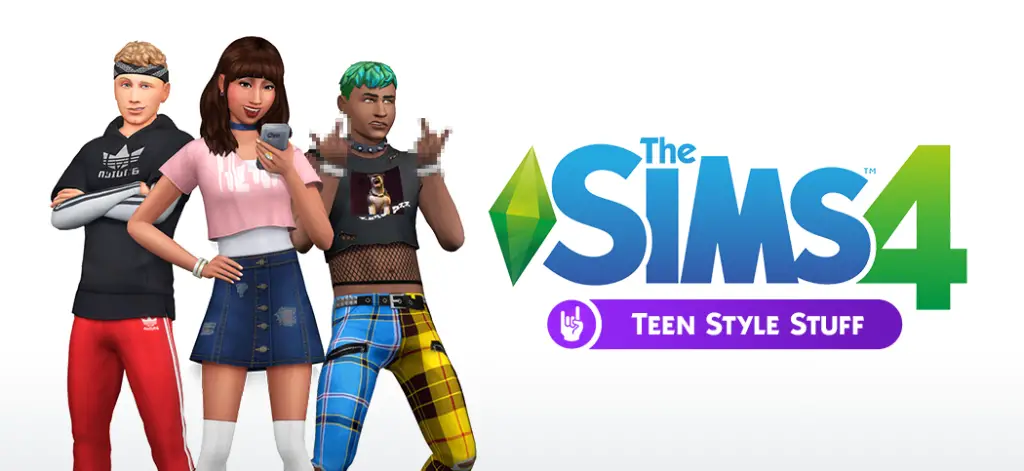 I absolutely adore this pack since it successfully gives my teenage Sims the appearance of genuinely being in their teenage years.
The athlete, the it girl, and the punk child are the three archetypes that are represented in this Sims 4 clothing CC bundle.
Each variety includes a top, bottom, shoes, and hair to go along with it. A complete and utter must for your teenage Sims!
8. Sims 4 Athletic CC Pack by Solistair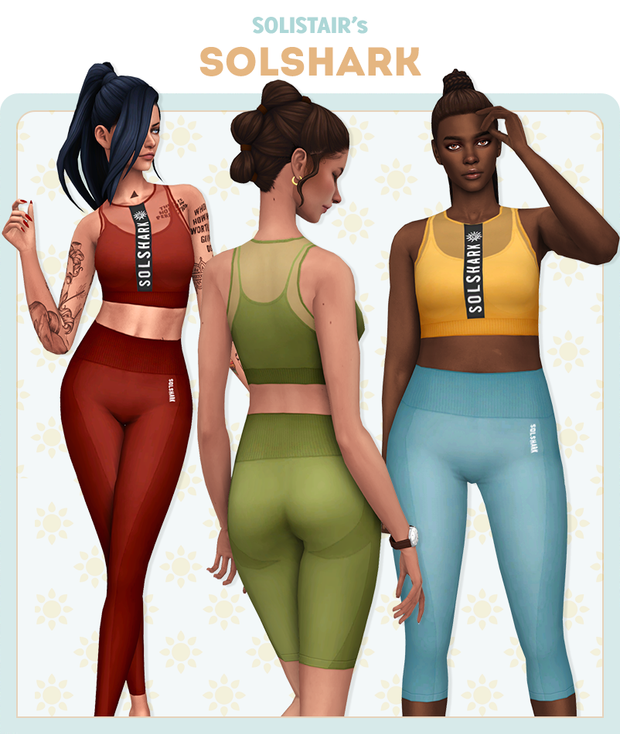 You can never have too many pairs of running shoes or workout clothes!
At least, that's what I tell myself when I'm actually living my life, in the vain hope that I will one day wear workout clothes to the gym instead of just lounging about the house in them.
Anyway, this is a lovely little athletic clothing cc pack that includes three pants, as well as a sports bra.
You can purchase it here. All of them appear quite realistic, and they make me feel like I'm in the Gymshark!
7. Sims 4 Maxis Match Clothing Set by Mary Sims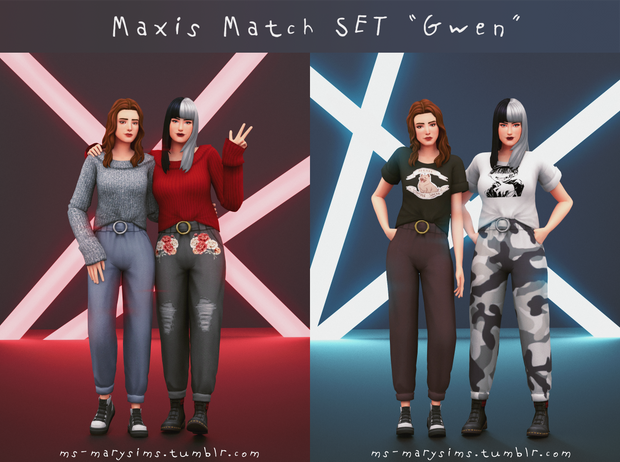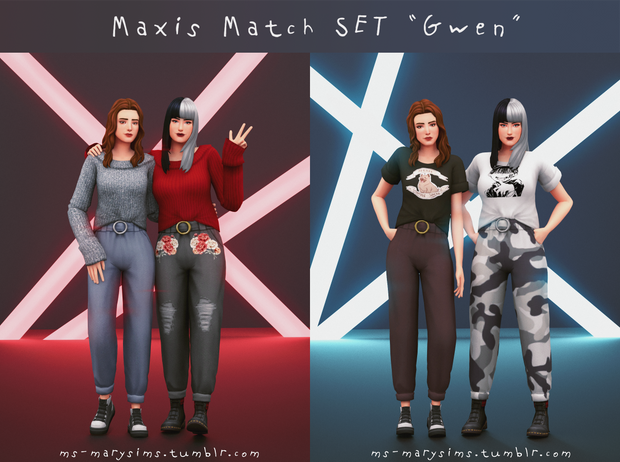 You won't be able to live without the CAS pieces that come with this Maxis Match CC set because they are so versatile.
They are cute despite their laid-back and comfortable style.
The set consists of three separate garments, which are a pair of slacks, a sweater, and a t-shirt.
And each one of them is available in a GENEROUS number of colorways, even camo pants in a variety of hues!
6. Solistice Sims 4 CC Clothes Pack by greenllamas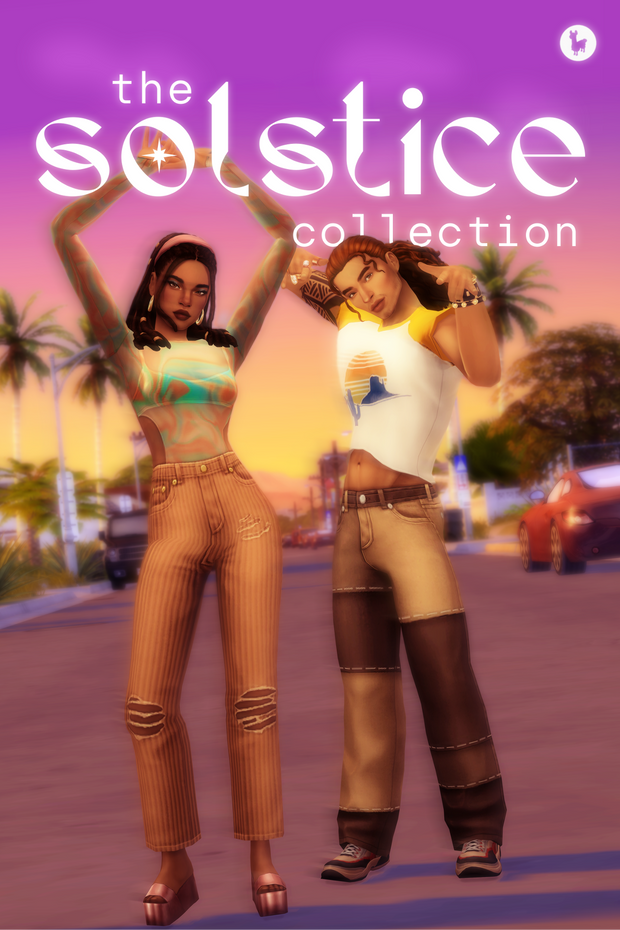 This Sims 4 custom content clothing set is so much fun! Because the pieces are of such high quality, it is difficult to imagine that they are from the Maxis Match CC collection.
This collection is comprised of a total of ten different pieces.
Five for males and five for females. In addition to that, you will receive a variety of color samples for each item.
5. Sims 4 Date Night CC Pack by Trillyke + JolieBean + Oakiyo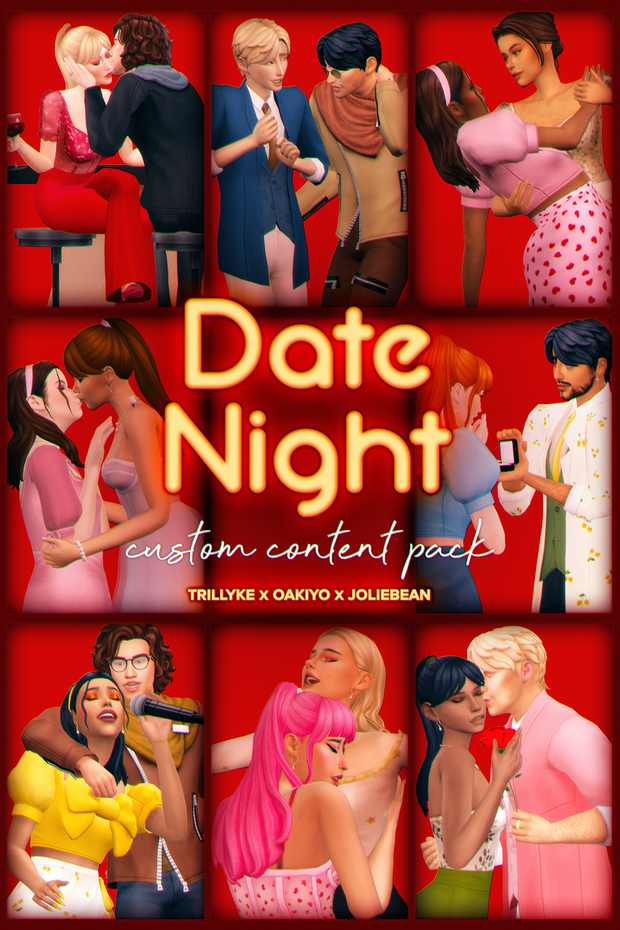 I AM IN LOVE WITH THIS SET! This collab cc pack is an absolute necessity for your collection.
If you download all three pieces, your Sims game will be updated with 27 new items, including 25 different color swatches.
The Mayra bodysuit is my top pick from the entire collection, and it is my favorite garment overall. It looks INCREDIBLY nice in the game. You can't avoid seeing it!
4. Sims 4 CC Clothes Pack Collab by Deligracy x grimcookies
Because Deligracy and grimcookies have a history of collaborating to produce outstanding Sims 4 custom content, downloading this pack is a no-brainer.
This collection of garments includes 16 upscale CAS outfits that can be worn by either a man or a woman.
The fact that the apparel is so uncomplicated contributes to its overall awesomeness.
The components are ones that I find myself reaching for again and again.
3. Sims 4 CC Clothes Pack for Male Sims by dyoreos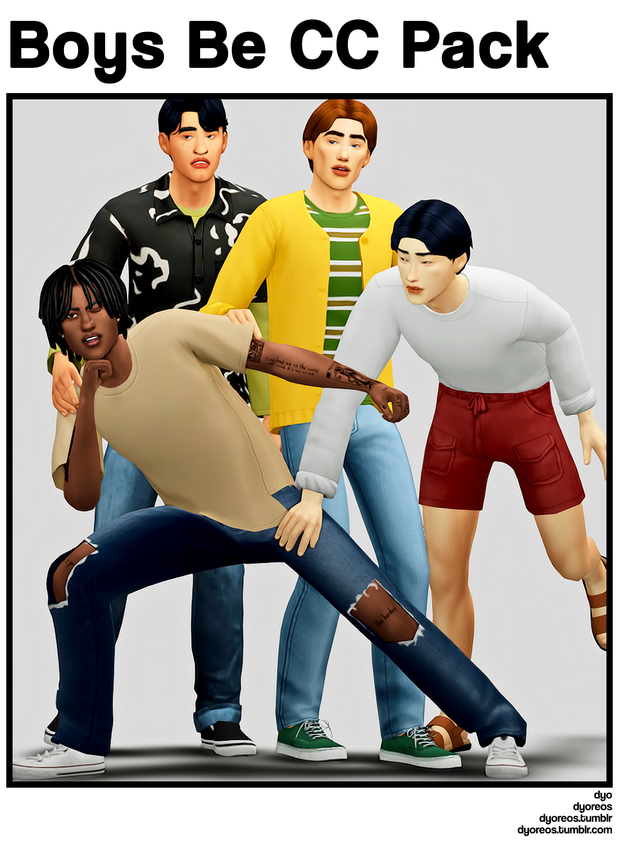 When it comes to user-created content, male Sims aren't given nearly enough attention as their female counterparts.
I've said it before, and I'll say it a million more times. This Sims 4 CC clothes set tries to change that, providing five CAS pieces as well as a hair option for male Sims.
In addition to that, a guy group pose pack will be sent to you when you purchase this CC! Ideal for forming a boy band or a family consisting of brothers!
2. January 2021 CC Clothing Pack by Sentate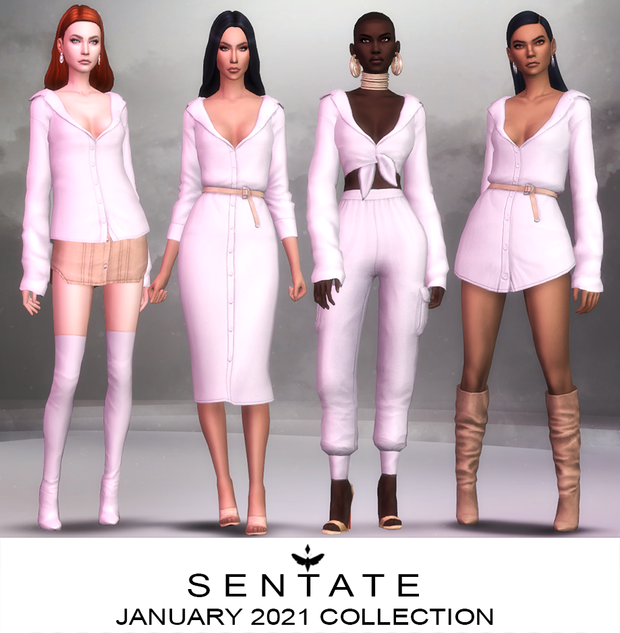 This set of clothing for female Sims comes with two different dresses and two different tops.
They are each available in a plethora of different shades, which makes it simple to match them with virtually any outfit.
1. City Adventurer Sims 4 CC Pack by Serenity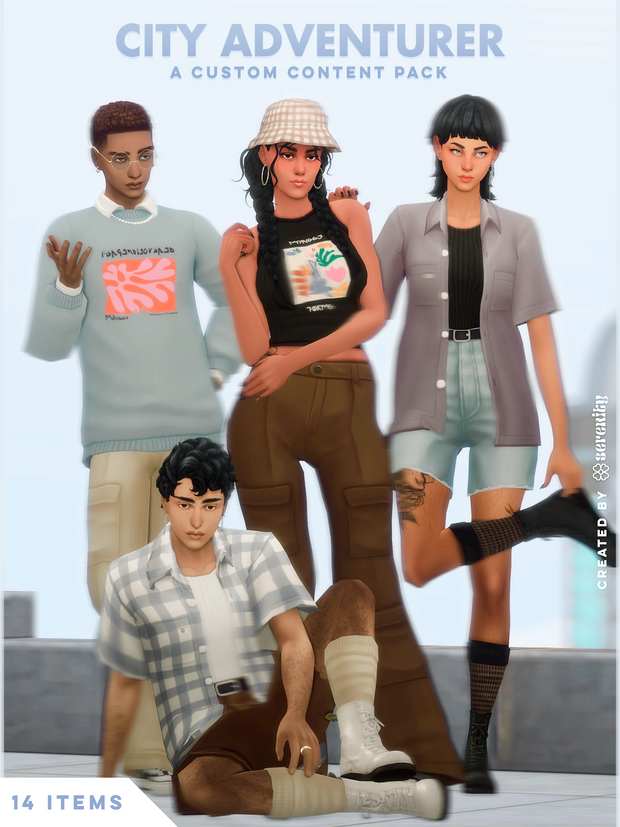 Even though almost all of Sentate's Sims 4 CC collections are essential purchases, this particular collection is my absolute favorite.
The tops and dresses have just the right amount of seductive cut into them, and the pieces can be worn in many different ways.