Fans of The Sims franchise have excelled at creating unique content.
To a certain extent, one can change their furniture, clothing, or haircut.
However, only a skilled artist can design truly stunning cosmetics.
In the first Sims game, there was a character named sloppy Bob Newbie, and you might recognise him.
He's the first person you meet in the lesson, and he doesn't exactly set the bar high in terms of good looks.
Finally, Bob's wife Betty Newbie showed up.
I also made a hotter Sim based on Bella Goth.
You can call me vain, but I've been playing God with Sims since 2000, and now my entire existence revolves around controlling every aspect of my Sims' lives, from their appearance to the toilet they use.
I just want an attractive Sim to play with as I improve their lot in life to make it better than mine.
For instant micromanagement clout, one of the best things you can do is download a makeup pack CC.
It includes everything you could want, from eye shadows to blushes to glosses to even beauty marks.
If you wanted to give your Sim a nice appearance, you could even give them freckles.
Whatever they look like from now on in their programmed lives (or until you drown them in a pool) is all up to you.
So, make it count!
25. Quartz Sims 4 CC Highlighters by Twisted Cat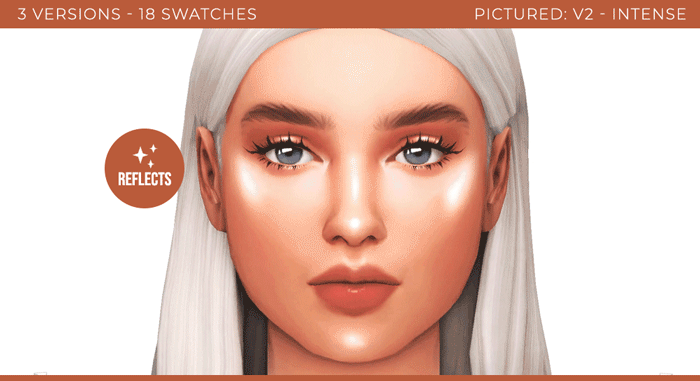 The gorgeous highlighter will put a smile on your sim's face and in their heart.
The fact that you may choose between a muted sheen, a bright sheen, or no sheen at all is a very cool feature of this freebie.
Alternatively, you can download all three and give them a try to see which one works best for you.
These downloadable CC cosmetics sets for The Sims 4 each provide 18 different colour options.
24. Sims 4 CC Lipstick & Eyeliner by emmibouquet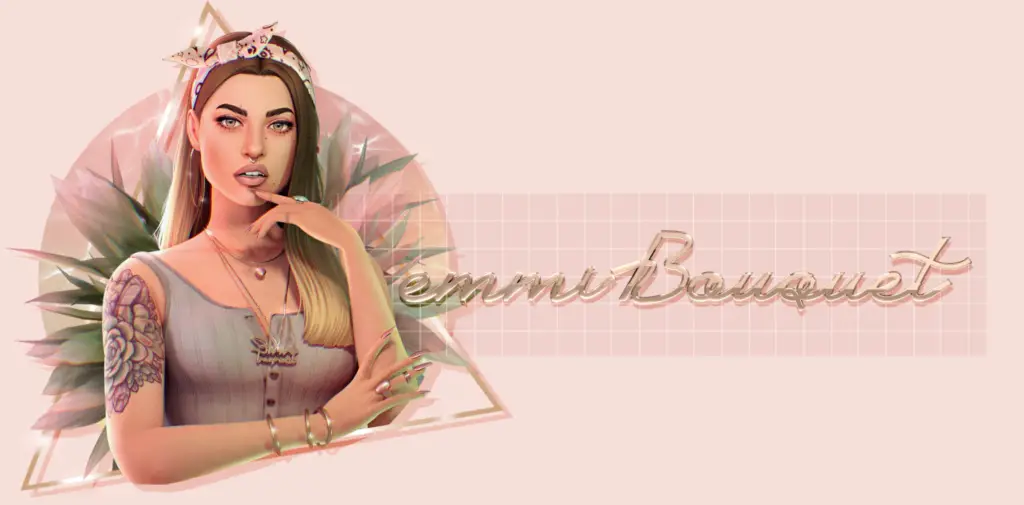 Intense Lipstick Wear: Me!
As the author considered sims of various skin tones, the eyeliner and lipstick look fantastic on sims of all shades.
There are 10 shades of lipstick and 5 shades of eyeliner to choose from.
A hue slider allows you to fine-tune the colour to your liking.
23. Sims 4 Glistening Makeup Collection by Plumbhead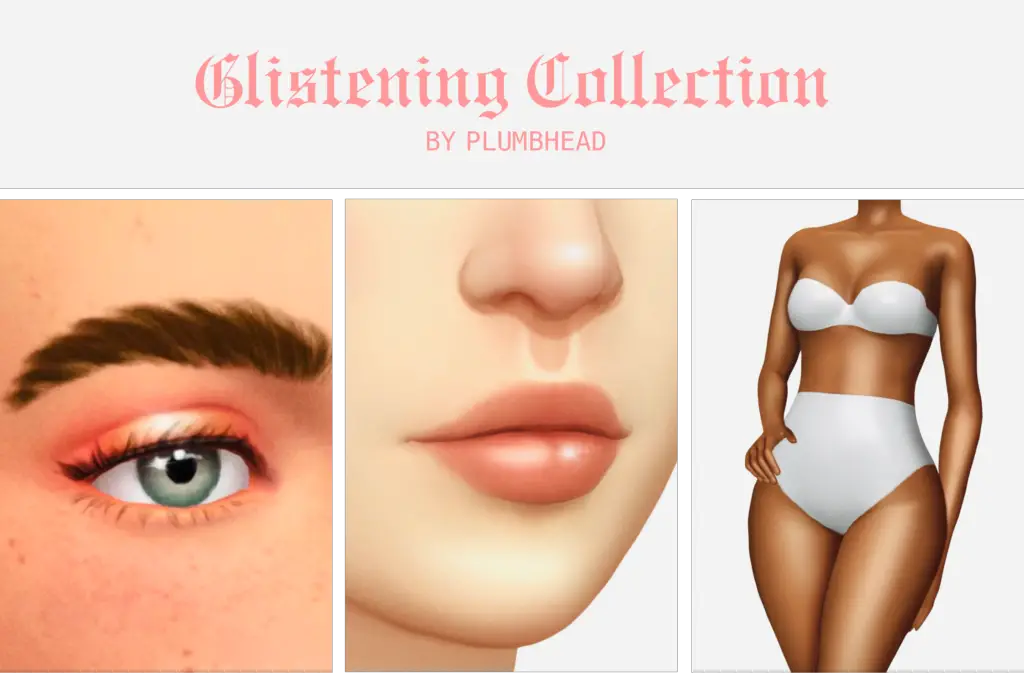 This cosmetics set for The Sims 4 lives up to its name.
The Glistening Collection features a wide variety of shimmering colour palettes and customization possibilities for your sim.
Eyeshadow, lipstick, and a body overlay with 8 colour options are all included in the download.
22. Sims 4 Modern Renaissance Eyeshadow Palette by crypticsim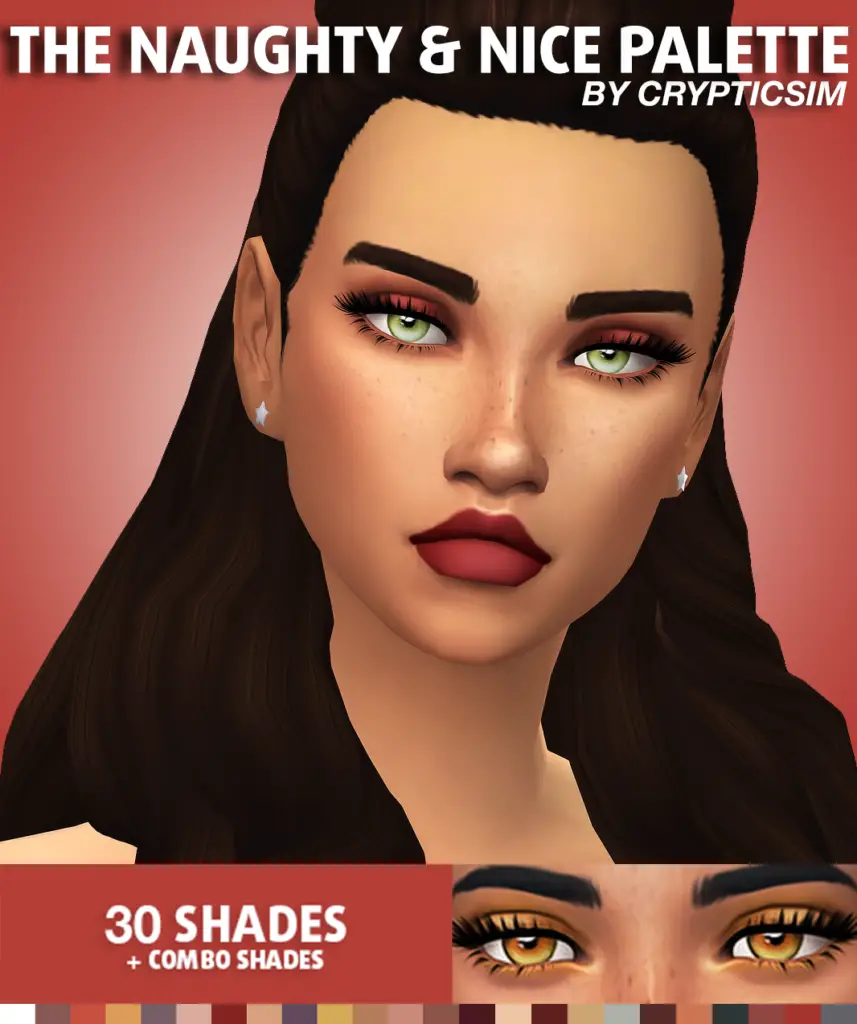 As a gamer, it thrills me when developers incorporate authentic elements like this one.
The Anastasia Beverly Hills Modern Renaissance palette for The Sims 4.
It's a palette of makeup colours that I've used frequently in both real life and The Sims.
Even though it was published in 2017, it remains one of my all-time favourite books.
Each of the 30 colours in the Subculture palette may be found in this free download.
21. Florence Sims 4 Makeup Set by kumikya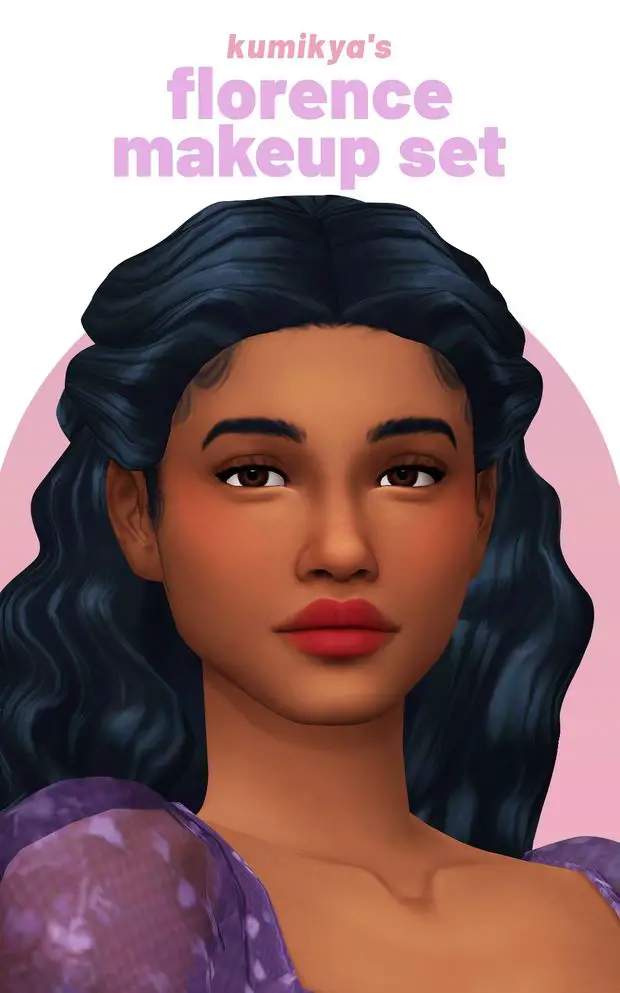 To kick off this list, we have a genuine victor.
This is my go-to cc set from maxis match.
To achieve a more subtle appearance, lower the opacity of the colours in CAS and apply a matte lip product.
The complete package is refined and flawless.
There are ten different shades of lip colour, five of blush, and three of eyeliner to choose from.
20. April Eyebrow Pack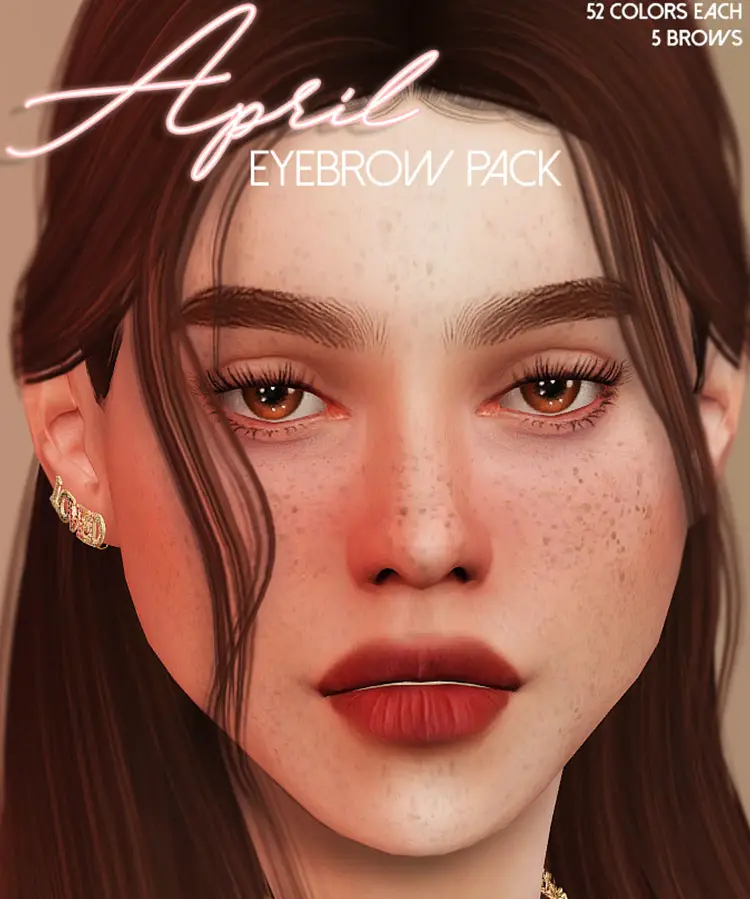 Being able to fake not having eyebrows is difficult unless you have a particularly favourable facial structure.
Hair frames our faces and has the potential to convey more emotion than eyes alone.
Keeping your eyebrows in good condition can be a pain.
One need to install the appropriate eyebrow mod for their Sim.
One of the most attractive eyebrow CCs I've seen online is this set by Pralinesims.
There are 52 colour options and 5 different eyebrow shapes to choose from.
Everyone, from young children to the elderly, both sexes, can benefit from it.
The slight feathering in the eyebrows will make them stand out as the best on your Sim.
19. Willow Rose Blush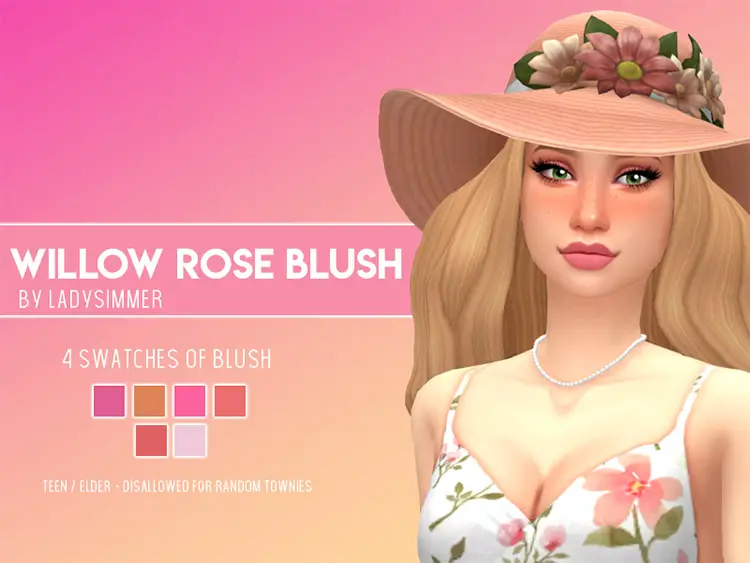 Blushes help the face look even more radiant.
Your Sim might seem like something out of a springtime fantasy with the help of the correct hue and application technique.
However, if you use too much, your Sim will have a bloodied, battered appearance.
The Willow Rose Blush created by LadySimmer94 is a beautiful enhancement to a Sim's otherwise featureless face.
The cheeks can be flushed in the middle of the face or just below the eyes.
There are six different tones available to make your Sim look natural.
In addition, this blush's subtle hue makes it ideal for day or nighttime application.
18. Universal Contour + Highlight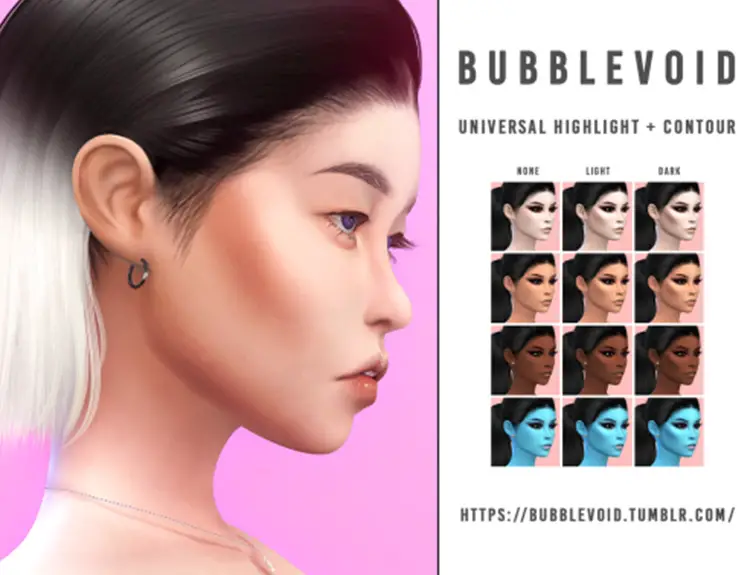 When it comes to the face, if eyebrows are the frame, then contour makeup is the edge.
When used in conjunction with a highlighter, it can make the face appear slimmer and add a beautiful sheen to otherwise flat skin.
In practise, correct contouring can be challenging.
Yet, in The Sims, you won't require the services of a professional cosmetician to get a chic appearance.
The universal contour and highlight from Bubblevoid is available in 2 tones to work with every complexion.
This set has you covered whether or not your cheeks are already an alien skin tone (in luscious colour and glitter).
17. Cheek & Nose Glow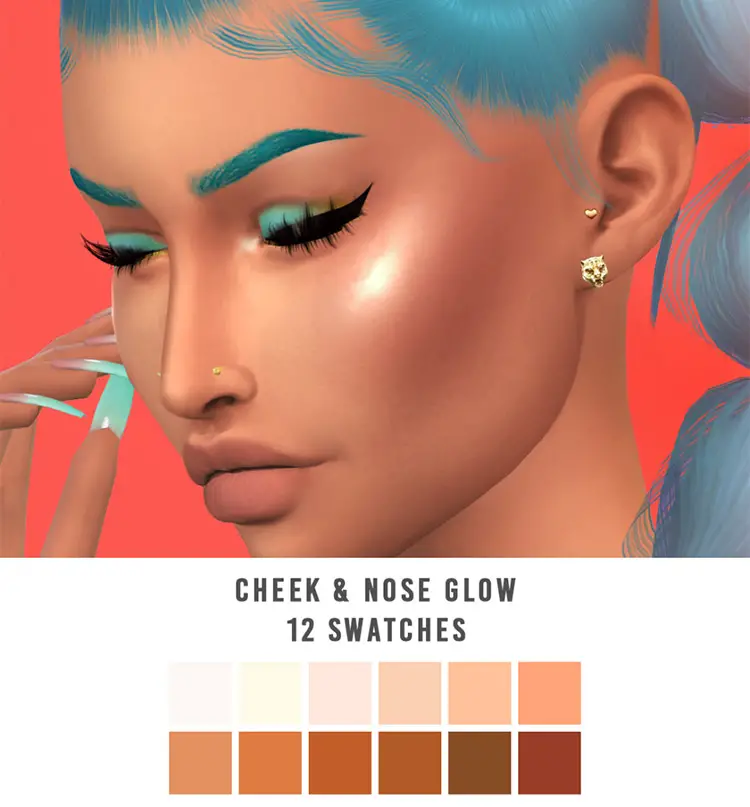 If you can't be in the spotlight, then take it upon yourself to put yourself in the spotlight.
This reflecting highlighter comes in 12 different colours and will give your Sim's makeup a dazzling boost.
If you find that you simply cannot get enough of that shine on your cheeks, you can also apply it on your nose.
Be a ray of light for those players who are still on the fence about trying out cosmetic CCs by becoming an example.
16. Jeffree Star's Blue Blood Palette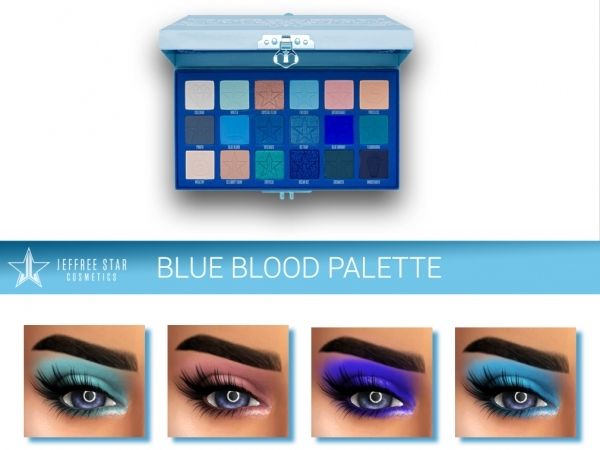 Jeffree Star is regarded as a legend.
This CC is a spot-on recreation of his well-known and beloved Blue Blood Palette, which features 18 different colours.
If you are unable to purchase the item in the real world for the price of $52, you can give it away to your Sim for free instead.
This highly pigmented palette features vivid tones of blue, mint, and peach all in one convenient package.
You should give this place a shot if you're interested in finding someone with androgynous and daring looks like Jeffree.
15. Fresh Makeup Set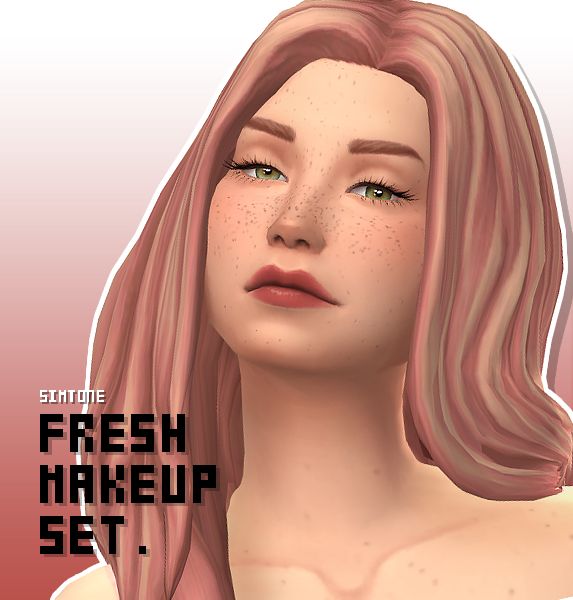 As promised, here it is.
The answer to all of my freckled beauty needs in a single Fresh Makeup Set.
When your Sim isn't going out to clubs and is content staying at home, it's excellent to let the face rest by applying cosmetics that isn't very noticeable.
Freckles, five blush colours in varying intensities, and thirty-five different lipstick hues are included in this box.
Do you have any idea how many different combinations of blushes and lipsticks you could create using just this one pack?
No?
Your inability to access it stems from the fact that you have not yet downloaded it.
14. Kehlani Nude Lipsticks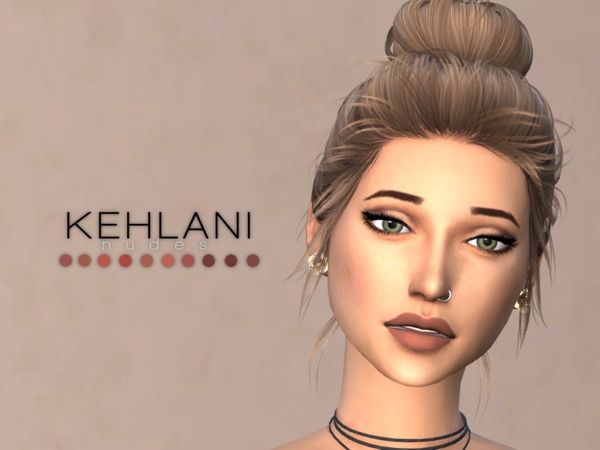 Having a collection of naked matte lipsticks is mandatory.
It's versatile and gives off an air of effortless sophistication, no matter your skin tone.
If you're getting tired of tweaking your Sim's upper face, a nude lippie will do the trick.
Finding the perfect lip colour after collecting all of the CCs on this list can be challenging (yes, you will probably grab them all).
Believe me when I advise that a makeup with a neutral colour palette is your best bet.
13. That's So Fetch!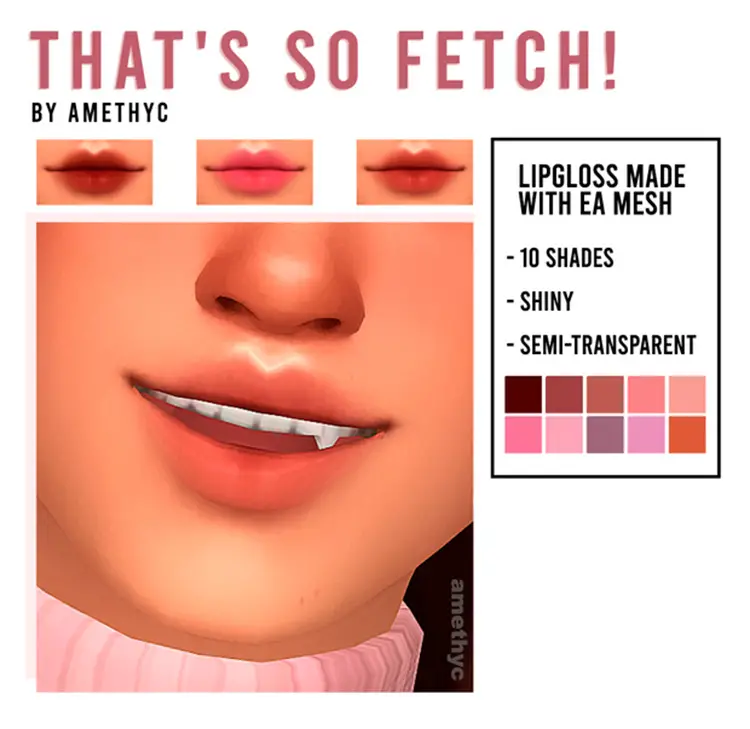 This glossy custom content from Amethyc implements a trend that is prevalent in the Korean beauty industry into the world of The Sims.
The ombre lips and gradient lips give the appearance of having just chewed on a strawberry popsicle, which is a sultry yet energising feel to the face.
You will have no trouble finding a stunning lipstick to use for the rest of the game thanks to the ten different tones that are available.
12. The Angel Collection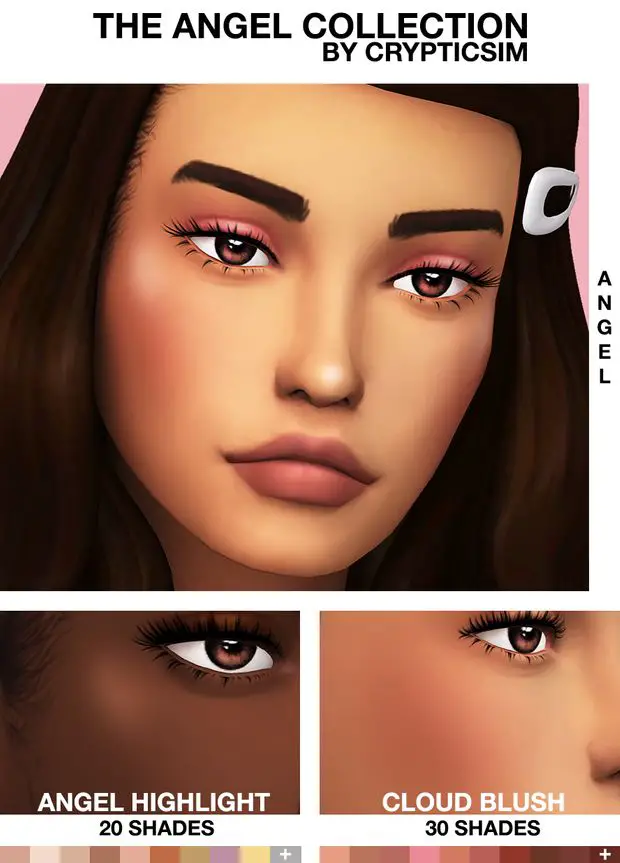 Cyrpticsim has one of the largest collections of maxis match cosmetics for The Sims 4, which can be seen on their website.
His masterpieces, beginning with the Angel Collection, have my complete and utter adoration.
It comes with 30 different tones of cloud blush and 20 different shades of angel highlighter.
You can use either one of these on its own or combine them.
But to be really honest, why would you feel the need to divide it?
Be a good angel and download this content update if you need evidence that your Sim was conceived in heaven.
11. Passionfruit Liner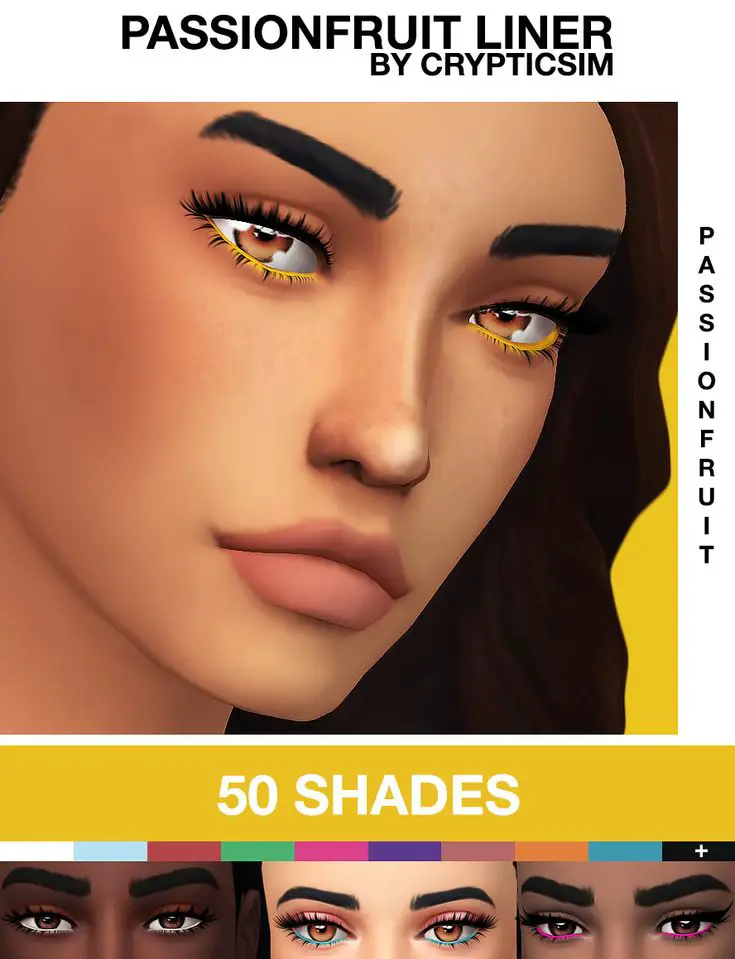 A lively explosion of colour is displayed by this Passionfruit Liner, which has an incredible fifty different tones.
Who would have guessed that a waterliner could look so lovely when it was coloured magenta?
Or in cyan?
Or, more generally speaking, in any other colour save black?
This makeup set is a treat for the eyes because it is both ingenious and elegant.
10. Rocket Pop Lipstick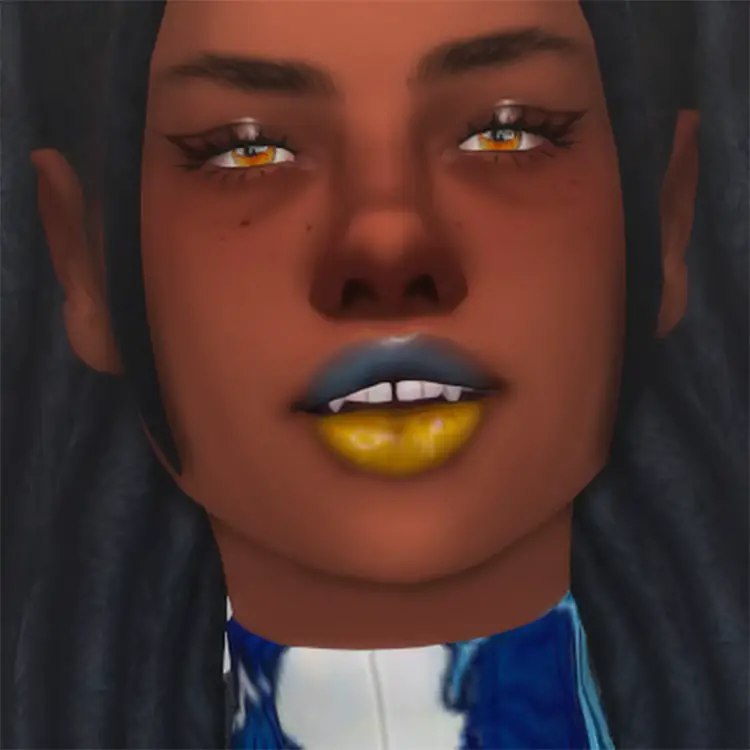 You thought we were done talking about lipsticks, did you?
I've got one more "I-just-sucked-a-popsicle"-inspired CC that went out of its way to provide us not one, not two, but 50 different shades of grey!
The Rocket Pop Lipstick from Bunffy features lippies with two different colours that can be separated into their respective halves.
How creative!
You no longer need to be concerned about choosing just one colour because you may now have both.
Is that the case?
9. Retro Future Palette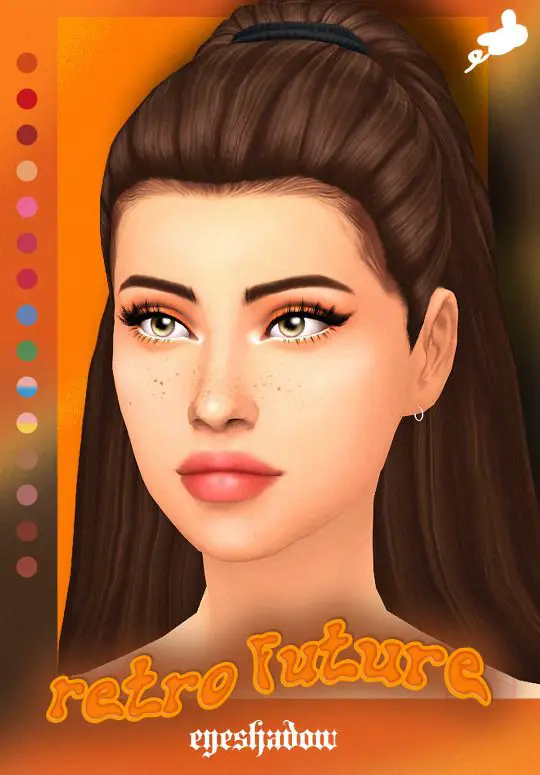 The courageous are rewarded by the eyeshadows in this CC, which are subtle but vibrant.
Makeup with a vintage aesthetic could appear archaic.
However, if it is executed properly, it has the potential to be a striking look for any contemporary occasion.
You may also highlight your eyes by using the Passionfruit Liner that was mentioned earlier in conjunction with this palette.
8. The Dark Magic Palette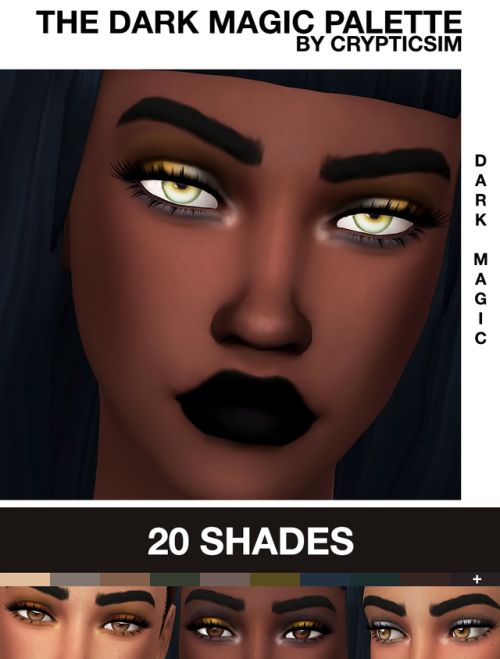 What kind of witchcraft is this? Is Crypticsim working on yet another breathtaking makeup CC?
This Dark Magic Palette, which is part of the Jaclyn Hill x Morphe Vault collection, is like a fairy godmother that showed up and killed it.
This pack packs a significant punch because to its abundance of glittering colours.
If appearances could be fatal, then this CC would be an absolute miracle.
7. Spring Eye Makeup Trio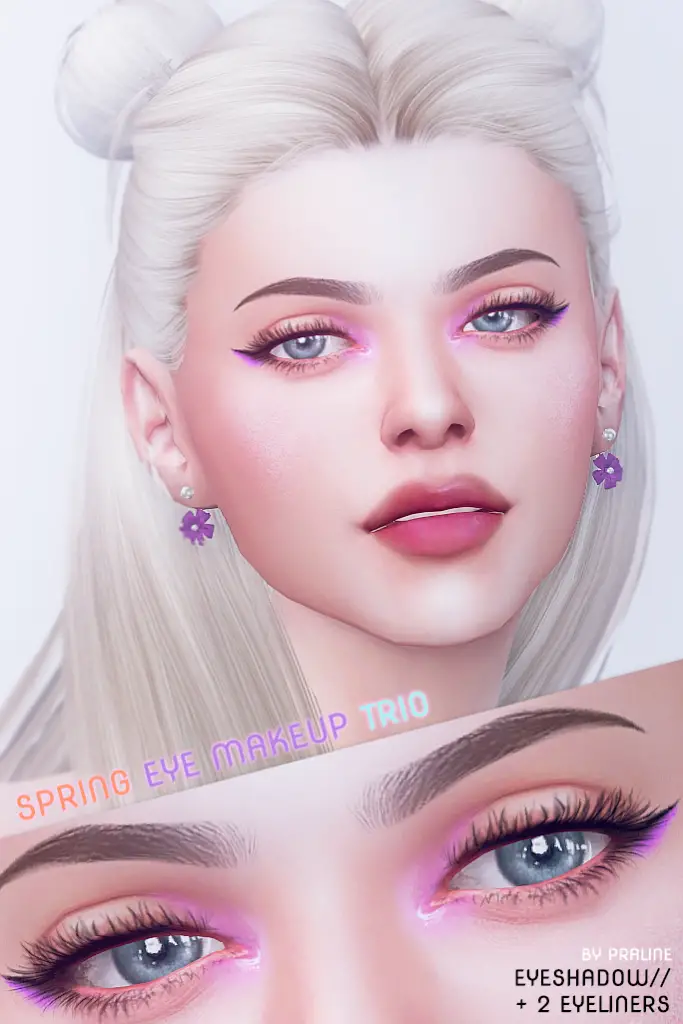 The face of a Sim makes for an excellent canvas for artistic expression.
Painting refers to the process of applying so many CCs to something that it eventually turns into a work of art.
But Pralinesims has made a comeback on our list so that you can support your creativity with just one makeup kit while still being completely satisfied.
The Spring Eye Makeup Trio comes with two distinct eyeliners that have a combined total of sixty different tones and eighty-five different eyeshadow colours.
That's a lot of bold colours to combine and contrast with one another.
You best start painting.
6. Melanin Magic

For Black History Month, four content creators joined forces to compile this extensive archive.
Included are four different hairdos and four different hair accessories, as well as a lipstick and eyeliner palette in the manner of Fenty Beauty.
Whew!
One can expect nothing less than greatness from a collaborative Creative Commons collection created by a group of seasoned content developers.
What else could there possibly be?
5. The Bronze Palette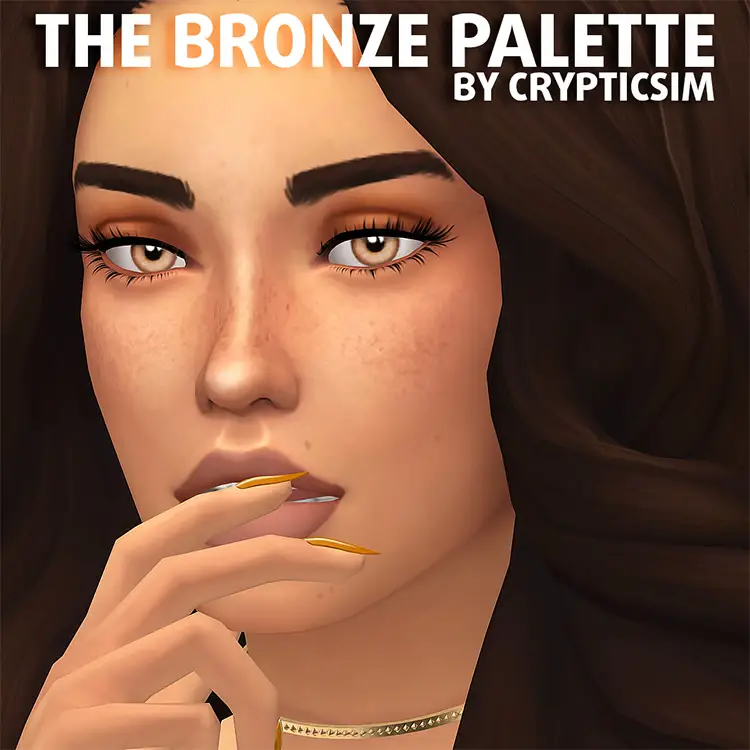 I think a lazy Sim would look fantastic in this warm eyeshadow hue.
Simple, all-natural, and incredibly palatable.
The 25 different colours of this makeup set will help your Sim feel like a true diva.
I would definitely purchase this cosmetic item for myself.
I always wondered why I wasn't a Sim from birth.
4. The Blossom Collection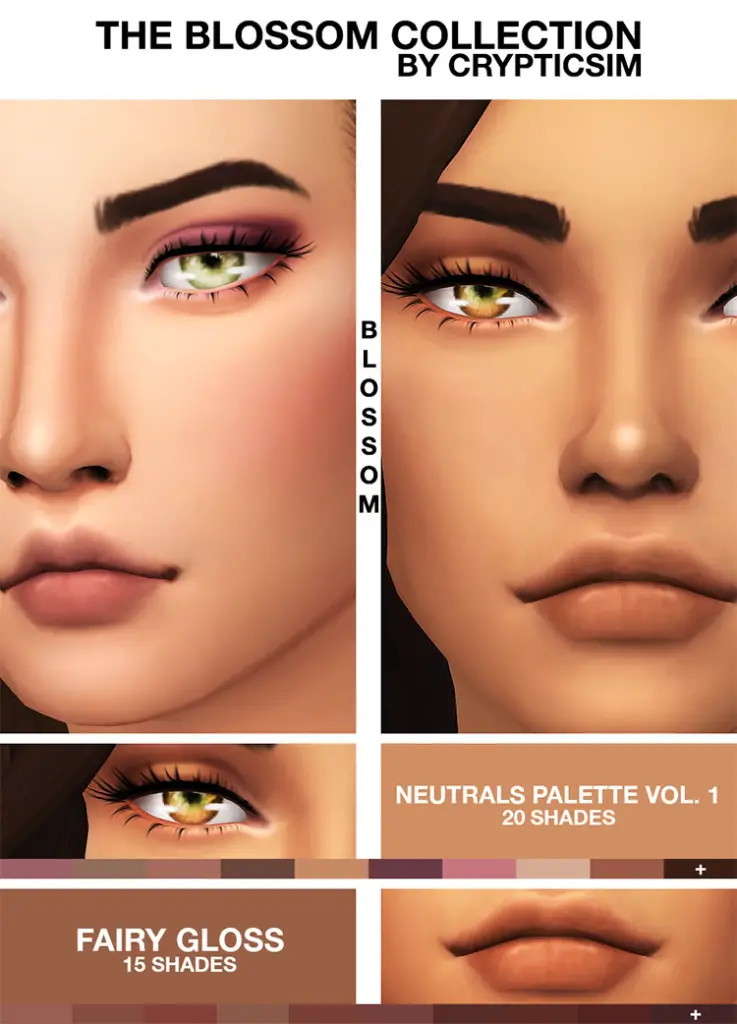 Aside from including 15 fairy glosses in nude tones, this set would have tied with the Bronze Palette for second place.
I have a soft spot for lipstick nudes.
It's also quite identical to the last palette, with the exception of the shimmery highlighter for the inner corner of the eye.
The Blossom Collection will make any Sim appear beautiful without trying too hard.
3. The Sailor Moon Palette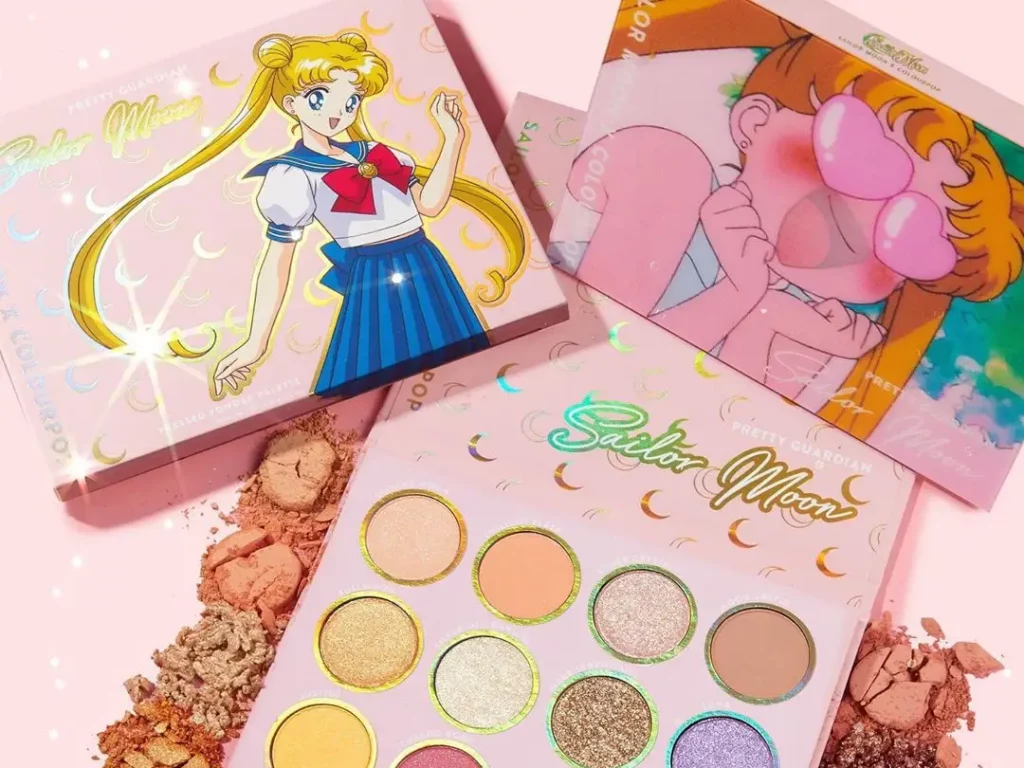 Eventually, Crypticsim Mother lost it and created a Sailor Moon colour scheme.
As a matter of fact, I couldn't be happier about it.
The kit features 14 multi-shade cosmetics named after each major Sailor Moon character, including Luna and Artemis (the cats)!
It's a little WTF that there's a Sailor Guardian in The Sims' universe.
However, if you are a true fan who has followed the show from the beginning, I have no doubt that you will find a way to make it work.
2. The Goddess Collection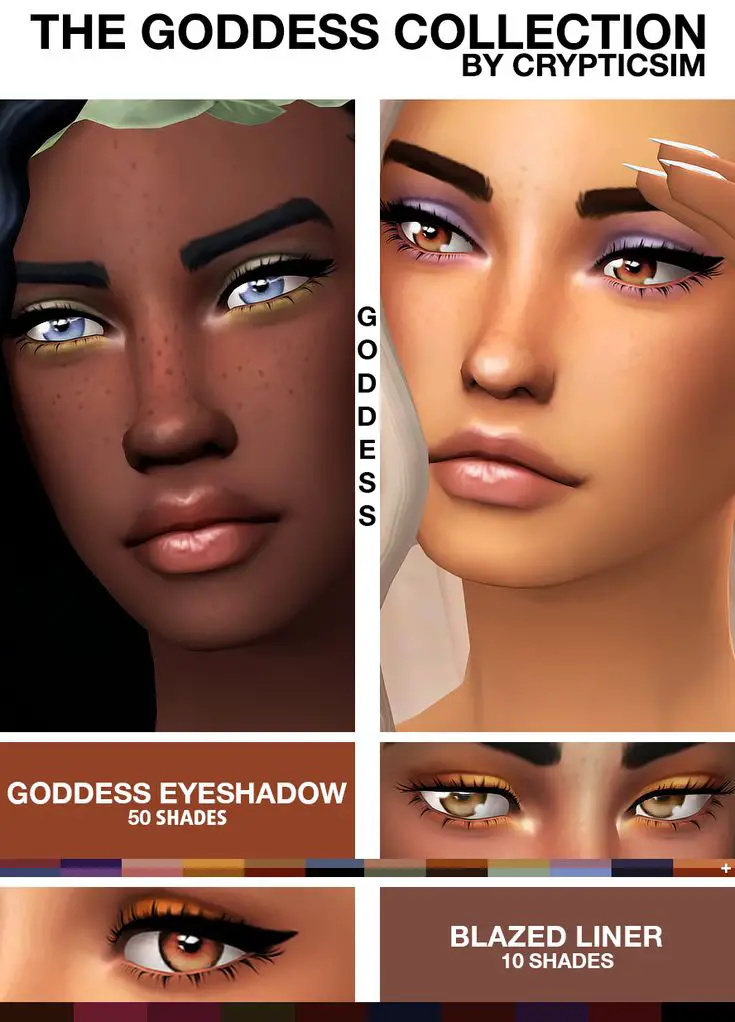 To say "oh my god" is inadequate; to say "oh my goddess, it's so freaking wonderful" is an entirely different matter.
The 50 goddess eyeshadow colours and 10 blazing liner shades in this palette were inspired by Ariana Grande's song "God is a woman."
May I have an amen?
1. The Nala Palette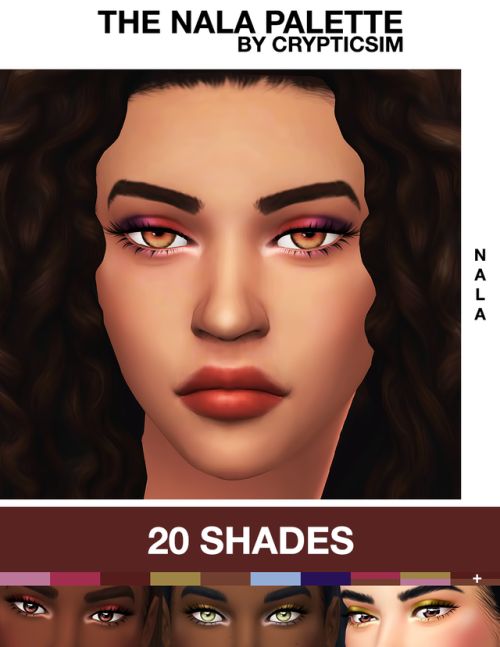 You've reached the point in the list where you definitely must read this text in order to understand why I ranked this particular makeup kit as the top option for The Sims 4.
Okay, I guess I can just skip the explanation. Consider it.
In other words, that's all there is to it.
And if that's not it, I've got a large list of possibilities up there to explore!