Katekyo Hitman Reborn! The manga was written and illustrated by mangaka Akira Amano, the series was first published as a one-shot (single chapter) released by Shukan Shonen Jump magazine in 2003.
The manga was used as a test for the manga, which was scheduled for publication in May 2004 by the magazine mentioned above.
The series was completed on the 12th of November 2012, which saw an entire 408 chapters released. 
The anime adaptation debuted on the 7th of October in 2006, produced by Arland studio under the direction of Kenichi Imaizumi. Arland studio, under the guidance of Kenichi Imaizumi.
To put it mildly, Tsunayoshi Sawada is a dreadful player. He's clumsy, lacks the skill, and has a crush on Kyouko Sasagawa, the popular girl at school who's well out of his league.
In the eyes of his peers, he is the epitome of failure disguised as an eighth-grader, earning the moniker "Loser Tsuna."
Tsuna's mundane existence is turned upside down when he meets the enigmatic Reborn, a hitman… and a kid!
Reborn, a Mafia enforcer sent from the most powerful family in Italy, is tasked with the difficult task of training the uninteresting middle schooler to succeed the ninth Vongola family leader, who is about to retire.
Despite his lack of talent, Loser Tsuna may be able to reach greatness with the assistance of his new criminal associates and his eccentric home teacher.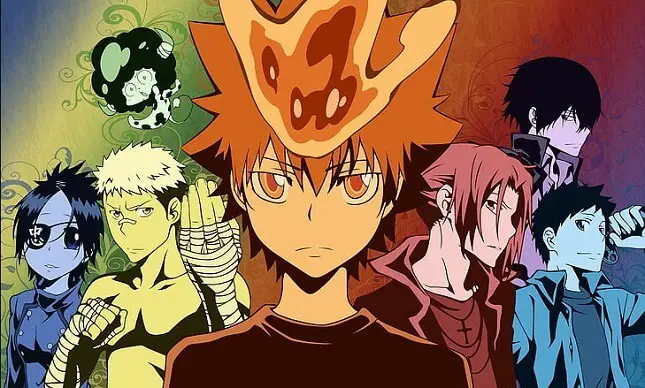 Watch Katekyo Hitman Reborn! Filler Free
To make it simpler for you to read Katekyo Hitman Reborn! Without padding. .
It provides you with a listing of chapters you must avoid, so that you don't spend your time reading meaningless chapters, or simply get bored of episodes that don't contribute anything to the main story. 
This Chapter list Katekyo Hitman Reborn! No padding. 
It is based on the comparison between anime and manga. 
The article outlines exactly the time that you should not watch or avoid the most, that are most specific.
Manga Canon Episodes:
1-55, 57-96, 98-118, 120-140, 156-176, 191-200, 202-203
Mixed Canon/Filler Episodes:
141, 155, 190
Filler Episodes:
56, 97, 119, 142-154, 177-189
SEASON 1 (2006-2007)
001. "What !? I'm the tenth generation of a mob boss !?"
002. "The end of school"
003. "Shock! Cooking with love and terror!"
004. "Hahi! Destroy the hearts of the girls!"
005. "The ovation of boredom of the leader of the discipline committee"
006. "Ni-hao fist of gyoza!"
007. "To the limit! Passionate brother!"
008. "The feelings of your family of the superior chief lord"
009. "Life shortened by skull disease"
010. "Gahaha! The explosive bento!"
011. "The Gyoza of love and death"
012. "Training teacher! Strengthening program"
013. "New Year! The 100,000,000 Yen game!"
014. "First date !? The zoo of hell"
015. "Survival to the battle in the snow"
016. "Escape from the mountain of death!"
017. " Be silent when you go to the hospital"
018. "The chocolate of love has poison"
019. "100% accuracy? Sorting everything!"
020. "Abrupt attack"
021. "Injured Friends"
022. "The unexpected demonic leader"
023. "The Last Shinukidan"
024. "Everyone's counterattack"
025. "We want to win! Instant awakening"
026. "The end and from there"
027. "Celebration of promotion eating sushi"
028. "Lie! Have I killed?"
029. "Is the boyfriend a broccoli?"
030. "Hidden in a haunted ship"
031. "Welcome to Mafia Land"
032. "A shark in the public pool"
033. "Summer vacations ruined by loans?"
SEASON 2: Vs. Varia (2007-2008)
034. "The Varia Arrive!"
035. "The 7 Vongola rings"
036. "Guardians, go ahead"
037. "Student and teacher meetings meet"
038. "The disappearance of the selfish child"
039. "The goal of the invisible enemy is"
040. "Start the battle of the rings!"
041. "The feelings of the sun guardian"
042. "The power to return adversities"
043. "Thunder falls 20 years later"
044. "The stolen sky ring"
045. " Furious waves of the battle of the storm"
046. "A reason to fight"
047. "The invincible and more powerful sword style"
048. "The place of the fight"
049. "Rain Requiem"
050. "The guardian of the fog arrives !?"
051. "Illusion vs. Illusion"
052. "The truth of the fog"
053. "A little anxiety"
054. "The cloud keeper attacks"
055. "Determination"
056. "The story of Gokudera"  * Filler
057. "Start the battle of heaven!"
058. "Flames of Wrath"
059. "Relieving everyone"
060. "Final will, advance at zero point"
061. "Advance at zero point"
062. "Betting"
063. "Freezing flame"
064. "The truth about anger"
065. "Conclusion!"
SEASON 3: The Daily Living (2008)
066. "The trembling ghost"
067. "Father's Day Vongola style"
068. "Happy? Marriage"
069. "The unthinkable crime of the three brothers Siblings"
070. "The calamity of Shoichi Irie"
071. "Battle of vigor! The absolutely evil fist"
072. "Expulsion Crisi"
073. "The day to thank mom"
SEASON 4: The future (2008-2009)
074. "The world ten years later"
075. "Base"
076. "Guardian Search"
077. "Flame of Determination"
078. "The track of the past"
079. "First test"
080. "Dissonance"
081. "Combination"
082. "The strongest guardian"
083. "The information given"
084. "The road home"
085. "Where is the base?"
086. "The most fearsome tutor"
087. "Succession"
088. "7³ (Tre ne Sette)"
089. "Piano of sadness"
090. "Rain owl"
091. "Those who believe"
092. "Selection of trust"
093. "Level D emergency alert"
094. "The true nature revealed"
095. "Determination"
096. "X Burner"
097. "Great persecution"  * Filler
098. "Declaration"
099. "Last test"
100. "Moving on last night"
101. "Night Attack"
102. "Start the operation"
103. "The first obstacle"
104. "The Troubled Magician"
105. "Repentance"
106. "Student growth"
107. "Desperate situation"
108. "Man's box weapon"
109. "Confinement"
110. "The secret of the Melone base"
111. "The enemy is octopus head"
112. "Boomerang trap"
113. "The lightning comes back"
114. "The guardian of the storm rises"
115. "CAI System"
116. "Difference in determination"
117. "Storm Counterattack"
118. "The decision of the princes"
119. "Interval in battle"  * Filler
120. "Virtual space"
121. "Two fights"
122. "The most powerful swordsman"
123. "Lessons of the emperor of the sword"
124. "Fog blocked"
125. "More intruders"
126. "The strongest vs. the strongest"
127. "Mystical flower"
128. "Here comes the leader of the disciplinary committee"
129. "Operation X"
130. "Determination and irritation"
131. "Rampage"
132. "The last block of defense"
133. "A movement to total change"
134. "The knight of hell"
135. "Arrival !!"
136. "Truth revealed"
137. "Main battle in Italy"
138. "Two princes"
139. "Roar of Wrath"
140. "Another heaven"
141. "Meeting"
SEASON 5: Arcobaleno (2009)
142. "The 7 most powerful"  * Filler
143. "Test number 1"  * Filler
144. "The stamps of the arcobaleno"  * Filler
145. "Fight between guardians, cloud vs. fog"  * Filler
146. "Prototype of the weapon box"  * Filler
147. "Catching the wind"  * Filler
148. "Two successors of heaven"  * Filler
149. "The Reborn Test"  * Filler
150. "Road closed"  * Filler
151. "When the rainbow is completed"  * Filler
152. "The determination of the boss"  * Filler
153. "The last seal"  * Filler
SEASON 6: The choice of the future (2009-2010)
154. "To the next fight"  * Filler
155. "The true 6 funeral wreaths"
156. "Encouraging friends"
157. "Holidays in Namimori"
158. "A warm place"
159. "For my friends"
160. "Getting mobility"
161. "Aerial motorcycle"
162. "The Vongola sky box"
163. "Terror! Great conflict at the base"
164. "Vongola boxes, start training"
165. "Boycott declared"
166. "With the same heart"
167. "Day of the battle"
168. "Start the election"
169. "Leone di cieli Ver. Vongola"
170. "Confrontation intended"
171. "Revenge"
172. "The attack of Kikyō"
173. "The election concludes!"
174. "The truth of the future"
175. "Uni is coming"
176. "Escape"
177. "After the battle"  * Filler
SEASON 7: The Family of the First (2010)
178. "The First's family arrives!"  *Filler
179. "Succession: Starts"  * Filler
180. "The mission of the guardian of the rain"  * Filler
181. "Violent thunder"  * Filler
182. "Silent Storm"  * Filler
183. "Distant cloud"  * Filler
184. "Sunny, then cloudy"  * Filler
185. "The trap has been set"  * Filler
186. "Fascinating fog"  * Filler
187. "Memories of a betrayal"  * Filler
188. "The will of Cousin"  * Filler
189. "The determination of the family"  * Filler
SEASON 8: The decisive battle of the future (2010)
190. "The attack of the true six funeral crowns!"
191. "The killing box is opened"
192. "The wives of Alaude"
193. "Demon Spade's Devilish Lenses"
194. "The final battle begins"
195. "The arc of G"
196. "The lanpō shield"
197. "The maximum break of Knuckle"
198. "The last of the six true funeral crowns"
199. "Ghost Awakens"
200. "A sky full of desires"
201. "All precious moments"
202. "[Sea] [Shell] [Rainbow]"
203. "Towards a new future"