Furudate is finally releasing the final issue of Haikyu!! on November 4th 2020. The well-known shounen manga ended with a total of 402 chapters. 
This anime series was a hugely acclaimed success from both Japanese fans as well as those from overseas. 
Haikyu is a story of incredible sportsmanship, development and the ferocious hearts of those who want to be the top player. 
This manga on volleyball has given us many amazing characters, one being Oikawa Toru.
The article includes some spoilers in the manga. Therefore, don't continue scrolling in case you haven't caught up!
Haikyuu Manga with many exciting twists. There always was a surprise in the final moments of each fight. The games kept being stretched into deuces, which kept fans in suspense. 
Furudate continued to follow this pattern of revealing big moves as an enthralling reveal until the end to the end of the series. 
In the final issue, Challengers, it is made clear it is revealed that Hinata along with Kageyama have represented Japan during the Olympics and are playing against Argentina. 
What's the real surprise? We see Oikawa playing for Argentina. It's true, Oikawa is the ultimate boss in Haikyuu.
The manga concludes when the final opponent of Kageyama, as well as Hinata, becomes clear. Oikawa was not a quitter in winning against Kageyama and Hinata until the final. 
How did Oikawa make it into the squad of Argentina? Here's the journey of Oikawa as he tries to make himself amid talented players.
Oikawa Toru – A Fan Magnet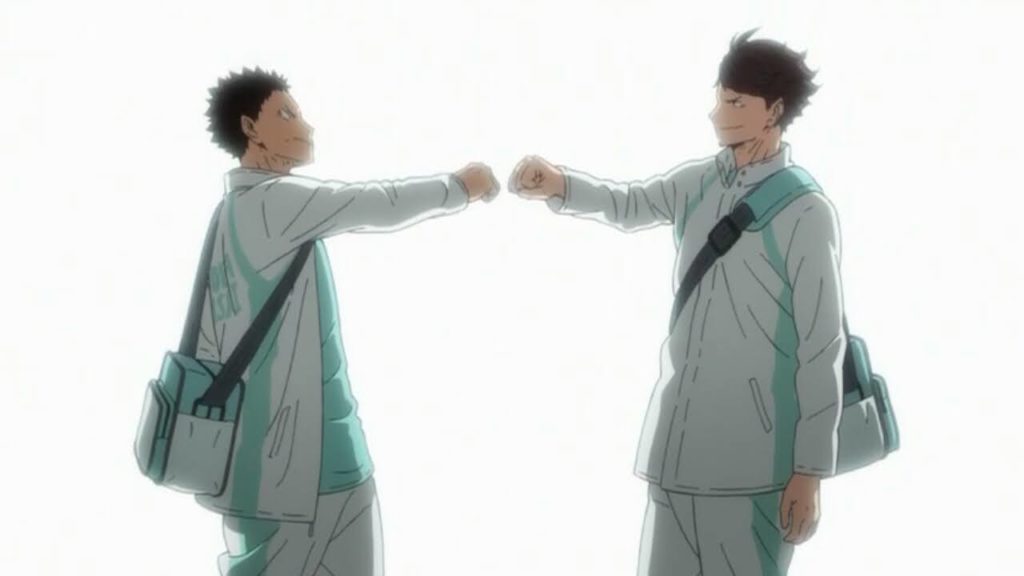 A talent is something that you develop, and intuition is something you polish. – Oikawa Toru.
Oikawa Toru was named the fifth-favourite character in the entire series. 
What is the reason, you ask? It could be because of his extraordinary determination and charismatic appearance or even his formidable ability as a setter. 
To me, it's the ability and determination to take on the most powerful players that makes the character one of my favorite Haikyu characters.
Since his first appearance in both the anime and manga series, he has brought forth an intense moment for us. 
There have been a few instances where he's left viewers in awe. I'd lie if I claimed I didn't have goosebumps every when he fired his spectacular serve.
Oikawa Toru In Elementary School
Iwaizumi and Oikawa have been close acquaintances since they were children. It is evident that Oikawa was an avid player playing volleyball from an early age. It is apparent from numerous instances that he played with Iwaizumi often. 
Around the time that he was in primary school, Oikawa went to the stadium to watch an event of volleyball at the Sendai Stadium. The match was a part of the initial step towards Oikawa's goal of becoming a fan of volleyball.
It was a game of Japan playing Argentina. In the initial set, Argentina's Ace seemed to prosper. He was a young, energetic spiker. But, over time things did not go his way. His game began to deteriorate towards the end of the set. If people believed he'd be dropped in favour of Argentina's team, they instead switched the setter.
The current setter playing on the court was 38-year-old long-time veteran Jose Blanco. His time on the court was not long, but in the end, he was able to turn the tables to the advantage of his team. He gave easy sets to the new Ace who allowed him to get back into the game.
As the crowd screamed for joy at Ace's return Oikawa was captivated by the strength of the setter. He explains that the setter walked off silently after his task was complete, however, no one was aware that the person who was in control at the moment did not was the spiker but the setter Blanco. 
Of course, it was the moment that Oikawa realized that he needed to become a setter since in his opinion setters were the people who controlled the game and the ones who would bring victory.
After the game was over Oikawa decided to sign Blanco's name on a jockstrap as Iwaizumi was using the paper they had purchased together to collect his signature from the player (which is exactly what Iwaizumi would have done!). 
While the autograph is later lost in the wash, it is an incident that may inspire Oikawa to push himself to the limits in order to become the most effective setter. This was the exact moment that the drive to become a volleyball player began.
Oikawa Toru in Middle School
Oikawa attended Kitagawa Daichi Middle school with Iwaizumi Hajime. In the manner that was expected of him his age, he enrolled in the volleyball team. 
Although Oikawa's passion for the sport was certainly unlimited, this is the moment he realizes the truth is that he wasn't an exceptional player. 
Through the years there were people who seemed naturally skilled at their game. Although he had the same enthusiasm for the game that they had, however, he felt as if he was losing.
Oikawa's very first adversary Oikawa's first rival Kageyama Tobio
Oikawa was the top setter at the school, however, with the introduction by Kageyama Tobio to the team, his doubts increased. This was made worse when he was subbed out and was replaced in the place of Kageyama during one of his games.
I'm sure this was among my top stories of Oikawa's. I am awestruck by the way Oikawa is shaped into who is he today. 
When Kageyama entered Kitagawa Daichi, Oikawa feared his growth. He feared the day Kageyama would surpass him and take his position. 
Oikawa has a plan to get better at his craft to a degree where he is able to practice without having to stop. 
The fear of being replaced by his younger counterparts cloud his judgement to the point that when he is close to hitting Kageyama.
Thanks to the intervention of Iwaizumi, Oikawa's rage is calmed down. Iwaizumi obviously cares about Oikawa, despite the mood of grumpiness that he is carrying around. 
In fact, it was Iwaizumi who taught Oikawa volleyball is a sport that is which is played by six people and not one. 
In the future, Oikawa is reputed as a player who brings out the finest of his teammates. This is a characteristic that has made Ushijima beg that he shouldn't have gone to Shiratorizawa.
At the close of his final year at Middle School, he wins the award as the Man of the Game. He begins to trust his team. He continues to treat his spikers with respect during the matches he plays after in Aoba Johsai.
He's not overly fond of Tobio But he is still a bit irritated by Tobio!
Oikawa in High School
Oikawa is enrolled in Aoba Johsai and is also called Seijoh. He is his official setter, captaining the boys' volleyball team. In addition, with Oikawa, the team's setter, as well as Iwaizumi to be their top player Seijoh is ranked as the second-best volleyball club in Miyagi and is followed by Shiratorizawa. 
Oikawa is a popular player among girls, and nearly everyone seems to be a crush on his character (I mean, who wouldn't?!). He is in the company of his female fans who gift him lunch boxes prior to a game.
Oikawa is regarded as a setter who gets 100% out of the spikes he sets for. As we mentioned earlier, Ushikawa wanted Oikawa to become his setter due to the same reason. Oikawa even controlled the brutal Kyotani Kentaro. He also improved his jump serve, which caused every team that was on the receiving side to tremble in fear.
Kageyama acknowledged Oikawa and turns his way for help whenever the stress is too much as the two could not communicate with Hinata. Even though Oikawa dislikes his personality, he recommends his students. He believes that if Kageyama has been trying to adjust Hinata in accordance with his wishes it is best to set according to how Hinata prefers them and then see the results.
Oikawa is a victim of Ushijima. He has a natural ability to play volleyball. In a flashback, someone is in his presence and encouraging him to push the limits rather than give up. 
The person later turns out as Jose Blanco. Oikawa will not quit volleyball, believing that his talent may blossom but he also has the potential to grow by improving his ability. He will be defeated by Karasuno, but his determination to continue to push himself to the limit is never fading.
Oikawa in Rio, Brazil
The manga is set five years in the future following Kageyama and Hinata graduated.
Within the time skip, we can see Hinata getting together with Oikawa. Oikawa on the streets of Rio. Hinata was in beach volleyball and it helps improve his balance in midair. 
The chapter ends 371 and before the start of chapter 371 in the next chapter, we can see Hinata and Oikawa taking photos alongside their old teammates. The photo triggers an elation for all the players.
Oikawa is part of Club Athletico San Juan, an organization in Argentina. The game he watched when he was a child had inspired him. He is still playing the position of a setter. While he was in Seijoh his coach from school was a fan of The Tachibana Red falcons. He introduced Oikawa Jose Blanco. At that time, Oikawa was a coach of the V League.
Oikawa receives guidance from Blanco when his anxieties grew and caused him to be troubled. Being in a team with strong players frequently affected his mood. 
He considered quitting the sport but Blanco always encouraged him to realize that what he really desired was to get better. After graduating high school, Oikawa went to Argentina along with Blanco and started training for C.A San Juan.
At Rio, Oikawa plays beach volleyball alongside Hinata with two other locals. Oikawa enjoys setting the phenomenal spiker (just as every other setter!) and ultimately wins victory over their opponents.
Oikawa Become the Ultimate Boss
In the final game that pits MSBY with Schweiden Adlers, Hinata finally beats Kageyama in a game with a goal that has made Hinata's heart go on fire since the start of Haikyu. 
The unstoppable duo of keen-eyed Wakatoshi Ushijima, as well as the ever-changing Atsumu Miya, along with other great players like Sakusa Kiyomi, Hoshiumi Korai, Bokuto Koutaro, among others, join forces to represent Japan at the Olympics. 
The player they see in the back of the web is the only one who is Oikawa Toru who is the setter for the Argentina Volleyball squad.
Oikawa did not win against any of the players at high school. Yet, on the opposite end of the court, Oikawa becomes the ultimate example of determination. 
Although he had been a defeated player previously in the match, he took on all with the same enthusiasm. 
The result of the game is not known but the fact that Oikawa's appearance on the other side of the field is was one of the more shocking twists Furudate has given us.
Oikawa was almost unnoticed for his volleyball skills throughout his high school career, even though he was a master setter. 
He was often outdone and even believed that his abilities could not be improved more. In the present, he's not just battling all the players who defeated him and also Iwaizumi Hajime.
Iwaizumi isn't one of the players, however, he is the head coach of the Japanese volleyball team. A few years ago, after they'd defeated Karasuno, Iwaizumi and Oikawa formed a group in which Iwaizumi not only acknowledged Oikawa as the best setter but also pledges to take on him in the future should they ever meet.
This match isn't just a game, but an actualization of their commitments. Both sides of the internet have plenty of content online. However, Oikawa is looking to earn his admiration, it is an excuse to say that getting to the very top doesn't need a talent that is born. For Iwaizumi it's an opportunity to fulfil the promise he made a long time ago.
Being able to have Oikawa on the other side was the best plot twist that could end the manga. Oikawa's main rival when he was a child was Kageyama. 
He saw him as filled with gifts while he was developing his game. Oikawa's opportunity to beat his first opponent is an opportunity to reflect on.
Furudate leaves the outcomes of the game to the imagination of the viewer. Perhaps, he'd become in love with the characters he created that he couldn't think of losing any of them!
Oikawa was able to overcome his personal difficulties by working very to get stronger and working hard. 
In the end, he had not just achieved his dream to become a top setter, but also had to face off against players he was once uncomfortable with. 
I believe that the result that he got was stunning and won the hearts of all Oikawa player that is out there.