It's a great honor if you're here reading this. It's a sign that you'll soon be welcoming a new addition to your family.
With or without a first-time parent, there are many tasks to complete before the arrival of your Sim's first child.
If you want your Sim to be ready for the arrival of her first child, she'll need to do everything from reading pregnancy and parenting literature to having a soothing massage for her back troubles.
You may begin the process of becoming a wonderful parent by ensuring that your child has everything they need.
But, if I understand correctly, you have no idea where to begin or what to seek for?
Don't worry, since I've compiled a list of the most essential CC additions for your Sims 4 nursery.
Because you don't have to go out and buy anything, you can simply click the links and download them at your own convenience. My friends, hoarding is encouraged by me. For your virtual baby, especially.
25. Acnassy Nursery Rug
This moon-themed rug from Jomsims is just what you need to spruce up your baby's room.
Color options include blue, pink, and two shades of grey.
The Sims Resource has over 108,000 downloads of this work, which you can get by clicking here.
24. Set Of 28 New Nursery Wallpapers
These wallpapers from Simalicious are ideal for decorating the walls of your nursery.
There are 28 distinct wallpaper patterns in the collection.
On Mod the Sims, this set has been downloaded more than 6,000 times.
23. Bears And Balloons Nursery Walls
SimmerDeb's imaginative wallpaper collection is one of our faves.
It comes in five distinct styles, including a basic one, two with bears, and two with balloons.
This allows you to release your imagination and create adorable designs in your baby's nursery.
This mod has been downloaded more than 4,000 times on Mod The Sims.
22. NURSERY Traditional House
Also on Tumblr, another fantastic pre-made baby room by the talented modelsims4.
You can't help but be awed by its elegance and simplicity.
Remember that you must have all of the CC in order for it to work correctly in your game!
Please use this link to obtain a copy of the file.
21. Princess Nursery
Your young prince or princess will love this new nursery set by Senerinka.
It's meant to evoke the atmosphere of a contemporary castle.
Isn't even the bed a cart?!
The Sims Resource has over 179.000 downloads of this bundle, which consists of 11 unique creations.
You may get it for your children by clicking here.
20. Awesims Broyhill Nursery by Loree
With its technicolor cribs, chairs, and toys, Loree's Awesims Broyhill Nursery Pack perfectly conveys the joy of childhood.
Downloading this pack is an excellent option if you're looking for something gender-neutral but don't like the standard dull hues.
Swatches for everything from the crib (22), chairs (50), and so on are all included in this package.
With this beginning kit, you can't go wrong!
19. Candy Covered by SIMcredible
If you're looking for a little something extra for your nursery, go no further than the Candy Covered tiny item set from SIMcredible.
There's no nursery without toys, gift boxes, and diaper boxes, because…well…you know.
That's all you need: a baby's room.
18. Spinning Joy Toys by SIMcredible!
It's hard to put into words how much fun this set is.
From owls to hot air balloons to planets, the Spinning Joy Toys collection by SIMcredible features 13 diverse and interactive toy designs.
If you have a child in your life, this set would be more suited for them.
It's also a great idea to put the toys on show in the nursery!
Colorful toys are essential for a baby's early development, so why not include them? Because it's only a matter of time before your tiny one grows up to be a toddler. Faster than you can blink!
17. Susanna by Soloriya
Greens, yellows, pinks, and blues in the Susanna set by Soloriya will make your nursery appear like a happy environment appropriate for a growing child.
Aside from its vibrant hues, this set has a variety of educational toys including a multi-colored abacus and a pair of toy blocks.
Creating a nursery isn't the only goal of this kit. Building a fully-equipped preschool is what you've got in mind.
As the saying goes, a child's first school is his or her own house.
16. Heart Kids Room by Severinka_
The Heart Kids Room is designed for families with several children.
Toys, a crib, and a toddler bed are all available.
However, you may instead choose to download a downloadable crib mod that will allow you to transform the nursery into a fully-functioning bed.
For rapid family connection, there is a four-person dining table and chairs.
With this CC pack, your Sim will be able to spend time with their extended family and participate in all of their activities.
15. Nursery Set by Brittpinkie sims
This CC set by Brittpinkiesims is a great choice for a Sim that likes to spoil their child and offer them only the best things.
Why?
Everything you could possibly want is here, including 16 recolorable bassinets, paintings with animal prints, rocking chairs for your Sim to relax in as you wait for your baby to go fast asleep, and even clocks.
This CC bundle and four walls are all you'll need to get started.
Your baby's nursery is done to your satisfaction!
14. Baby Decor – Mini Outfitters + Bebé Orgánicos by Dreamteamsims
Dreamteamsims has put up a fantastic baby decor bundle for your Sims.
You'll find baby bottles, rattles, and even play mats in this bundle.
Never run out of things to chuckle and coo about again with this.
As an added bonus, your Sims will be able to relax as their tiny one plays with the brightly colored trinkets in this fantastic CC set.
With these goods, your baby's room will be a kaleidoscope of colors and toys!
13. Kids Camping Toddlers by SIMcredible
I'm sure this room CC was a childhood fantasy for many of us.
What if your bedroom had a camping theme? There is nothing I would rather do than spend the rest of my life here.
This SIMcredible CC bundle is a must-have even if you're not a fan of the theme. Because it's filled to the brim with rustic and woodsy decor and furnishings that you're sure to like.
And there's this enormous cardboard tree that provides a vibrant, adventurous vibe to the space. As a result, your child will never be bored again (or keep out of trouble).
Even though this is a toddler room and not a nursery, you may still download this and add a bassinet. You don't have to worry about anything!
12. Kalehouse Baby Stuff Set by Novvvas
For a baby's nursery, black isn't usually the hue of choice.
The Kalehouse baby things set by Novvvas are a great option for those of you who prefer a deeper hue of furnishings.
I love how the edginess of black and the pleasure of baby items come together in this combination!
The starkness of nurseries painted in black, gray, and white takes on a whole new meaning.
11. TS4 Kalehouse Nursery Recolor by Riekus13
The previous set by Riekus13 has a recolor for those who don't like black for their babies!
Pinks and yellows have been incorporated into the original magnificent furniture and accessories, like cushions, animal carpets, and fluffy toys.
These recolored things will make for a bright and cheery nursery.
10. Nana Nursery by Severinka_
Nana's nursery is decorated in the manner of Scandinavia.
However, if you're looking to create a serene and pleasant nursery, this specific set is ideal.
It's a terrific choice for a delicate yet beautiful nursery since it combines the simplicity of Scandinavian style with the eccentricity of nursery things.
The crib in this room was initially intended as a piece of decor… However, a little modification will allow the crib to be transformed in a flash! To have a better understanding of this topic, please watch this video.
9. Complete Nursery Sets by 13 pumpkin
13pumpkin's nursery CC pack will change your ordinary drab room into a top-notch nursery, filled with all of the necessities as well as amusing decorations.
In addition to the crib, the carpeting and the cushions of the feeding chair are all in matching colors.
There is also a diaper changing station incorporated, so you can change your baby's nappy in luxury and convenience.
The furniture in this set comes in two color schemes: pink and blue, so you're covered regardless of the gender of your kid.
8. Royal Nursery by Severinka_
The name itself is self-explanatory.
A set called the "Royal Nursery CC" by Severinka certainly lives up to its moniker in every way.
You may pick between yellow, pink, or blue to match your little one's favorite color.
The lamp is porcelain, as are the crib and dresser, which are both coated white for an even more royal appearance.
It goes without saying that nothing less than the best is acceptable when it comes to your most prized possession. In addition to the essentials, the package contains some royal-themed décor, such as a miniature toy carriage, two veils with ribbons, and four oil paintings.
7. Sleepi Nursery by Onyxium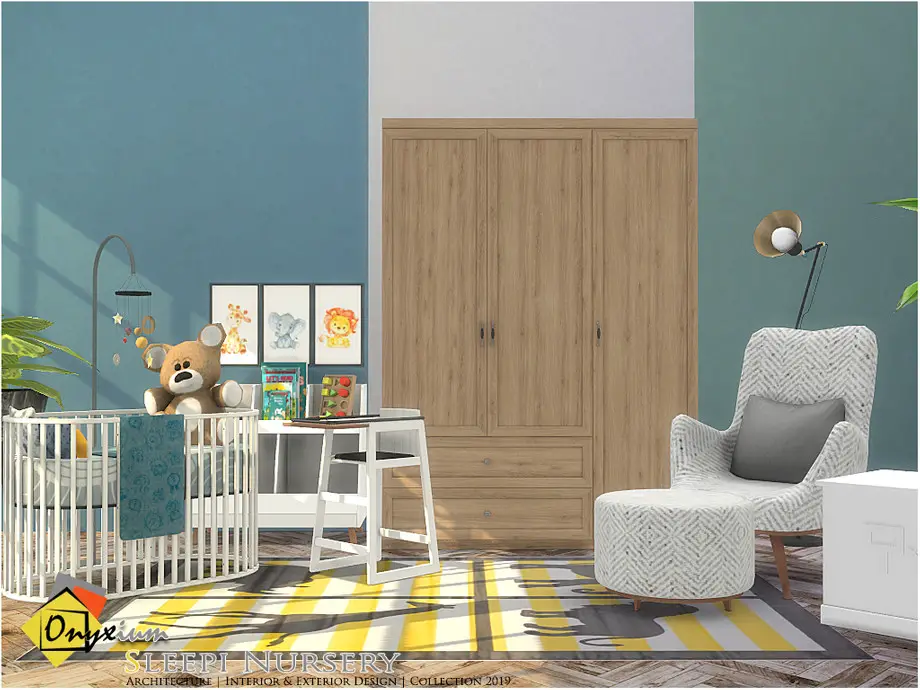 Onyxium's nursery set isn't only for the infant, though. It also takes into account the comfort of the parents (who are no doubt exhausted after a long day's work).
Moms and dads will like the bergère and the pouf, which are fancy phrases for comfortable chairs and stools.
It's necessary to use fancy terms because of the set's aesthetics.
This package includes more than just the essentials for a baby's nursery.
6. Sweet Dreams Nursery Furniture Set by Sanjana Tasnim Rahman
With Sanjana's Sweet Dreams Nursery set, you may relive your own happy childhood memories.
Ariel, Pooh, and My Little Pony are some of the characters we've come to know and adore. Yes, there is a lot of nostalgia to be had!
Furthermore, the furnishings in this room are suited for a modern-day princess.
When you apply the 'Baby Without Crib' mod to the changing table, you get a large crib with a satin canopy and extra fluffy cushions.
Because it features a chaise lounge for mom to relax on as she waits for the baby to fall asleep, she'll feel like a queen too.
5. Acnassy Nursery by Jomsims
Jomsims has released another beautiful and comprehensive nursery set, this time for free.
A rocking crib for your baby's tiny naps as well as a flower-laced canopy to lend beauty to the whole room is included in the package.
Loveseats and rocking rockers are included, as well as toy boxes and drapes!
It's definitely a one-stop shop for the nursery.
The greatest thing, though? It's available in three lovely hues, so you may create the nursery of your dreams by mixing and matching.
4. Victoria Nursery by Severinka_
Victoria Nursery CC is a great choice if your Sims' home is decorated in a cottage or antique design.
In addition to the wooden pony, the crib pillows include a lovely rustic flower design, which will complement your other rustic furniture.
There is a delicate butterfly wall hanging mirror as well.
There are three gorgeous pastel hues available for your young girl's furnishings, décor, and patterns.
3. Aura Nursery by NynaeveDesign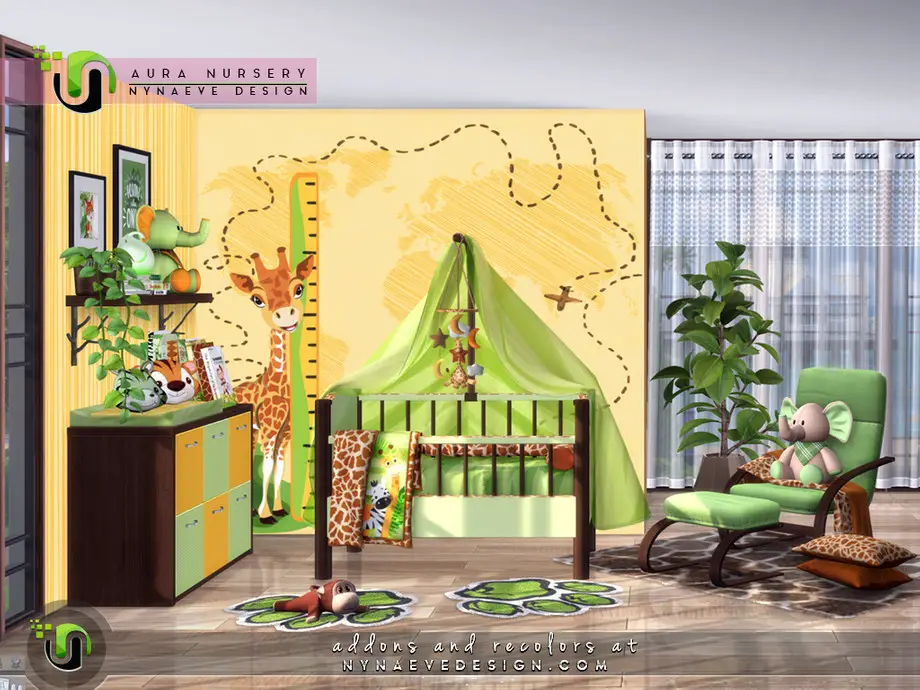 I adore the variety of bright and daring color combinations in this collection.
Due to its safari-themed design,
The collection contains adorable plushies of elephants and tigers, as you might anticipate given the subject matter.
Of course, there's always animal print!
Color themes are available in four various ways, and each one is as charming.
There's also a changing mat, nursing chair, and baby mobile for your Sims to enjoy!
2. Evelina Nursery by Severinka_
In Severinka's mellow pastel, Your young girl will be thrilled with Evelina Nursery.
It's decorated in a way that only the tiniest of newborns and toddlers can appreciate. Also, this set's tent, cushions, balloons, and fairy lights provide hours of entertainment in any room.
Make it for sleepovers or simply some quality time with your mother and daughter.
1. Tiny Twavellers by Harrie-CC
It isn't too late if you aren't happy with the hauls from the previous items on this list.
The greatest was truly saved for last… & Felixandresims and Harrie-CC have provided the Tiny Twavellers CC.
What makes it so great?
67 unique pieces of content have been created just for the game's youngest players.
A baby's nursery is furnished with bassinets, toys, tents, and canopies…
It's impossible to find a better (or more complete) product than this one.
It's a pack that will be there for you as your child grows from a baby to a toddler to an adolescent, and ultimately when they leave the nest.