I'm not exaggerating when I say, "there's probably Sims CC for everything."
There are many talented artists in the Sims community who are capable of producing stunning works of 3D art.
And if you think these artists only worry about things like hair, clothes, and gameplay, you'd be wrong. We Simmers can choose from a wide variety of unique dental options.
I was completely oblivious to the effect that one's toothlessness could have on a game. I didn't believe it until I tried one of these downloads for myself.
18. Maw Mouth And Teeth Detail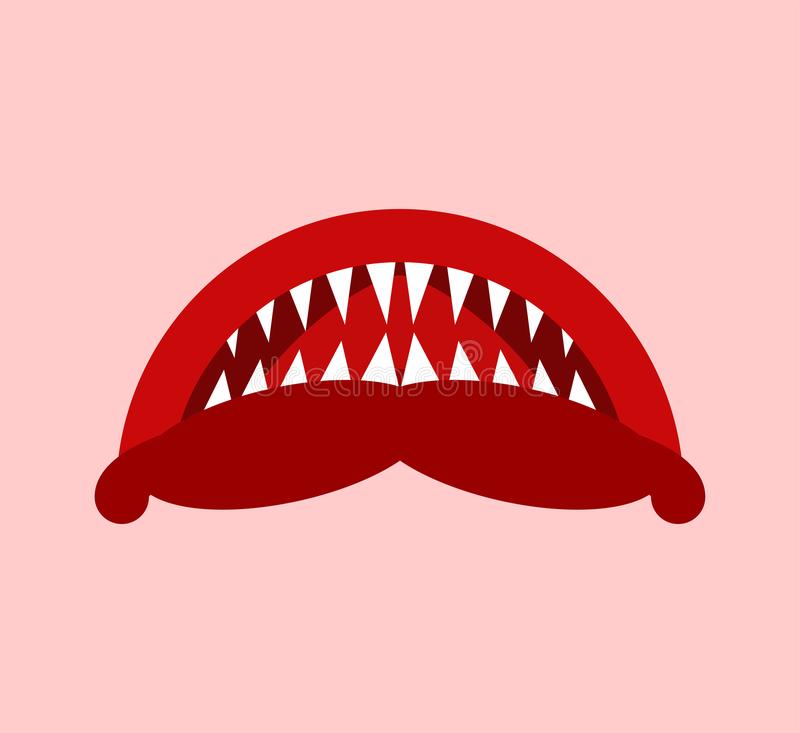 The lips and teeth in this set look extremely dramatic.
There is an air of drama about it.
Useful for a role-playing exercise.
It has costume potential as well.
17. Sims 4 Teeth CC Pack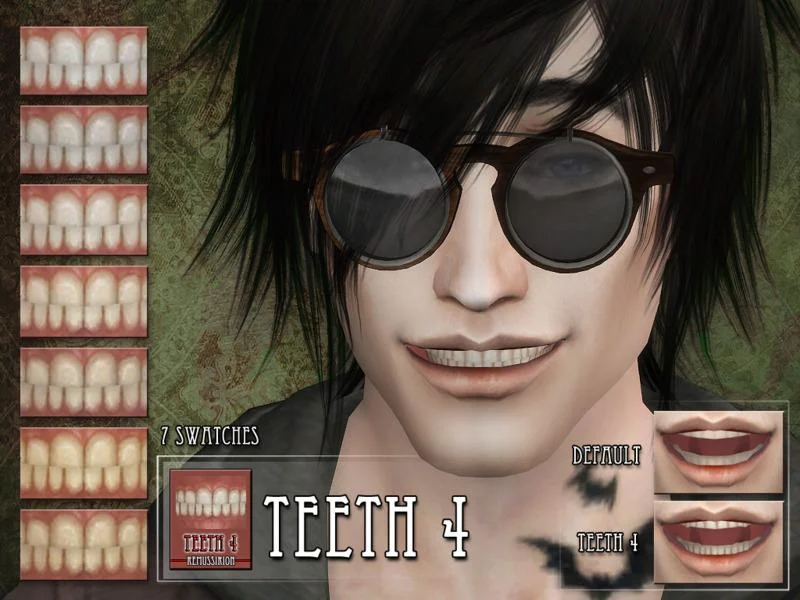 In addition to being aesthetically pleasing, this set of teeth is very regular. There are seven distinct iterations available.
Anyone from a teenager to an adult can use it successfully. The item is gender-neutral, so both your female and male Sims can wear it.
16. Teeth Color Pack (Yellow, Green, And More)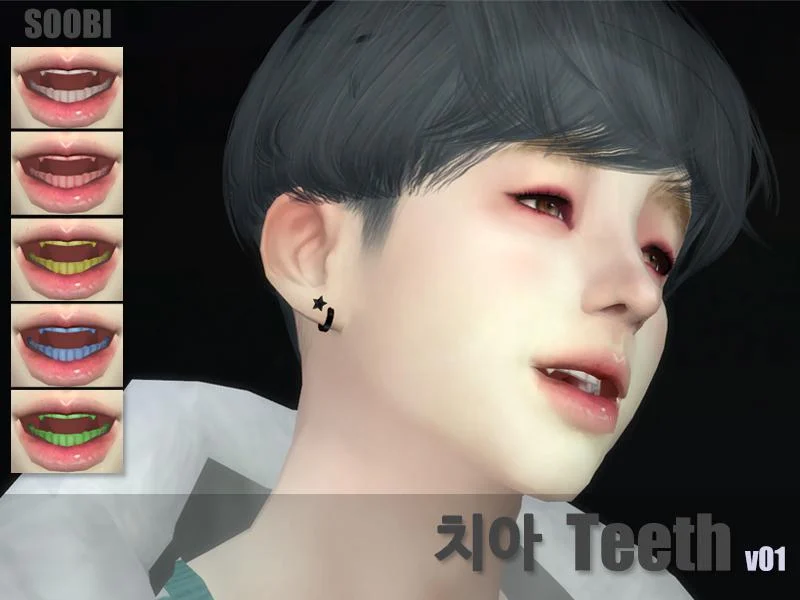 This is an updated set of teeth for use with your Sim. Their appearance is reminiscent of vampire's teeth.
There are five distinct hues to choose from. Everyone, male or female, can wear these with pride.
15. M.I.L.K Gap Tooth
Children missing teeth were given more leeway than was warranted. Despite the fact that I don't have one myself, I admit that I find the appearance of gapped teeth attractive and think they add personality.
Since that won't happen in real life for me, I'll have to settle for giving it to my Sims.
Whether you're going for a dead-on likeness or just want your Sim to have a unique smile, M.I.L.K. Gap Tooth is a great option for customizing your Sim's teeth.
14. Colored Braces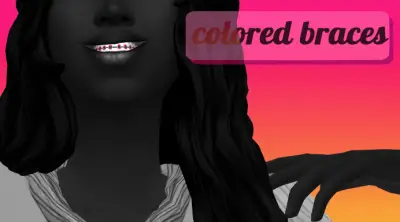 Do any of you guys remember wearing braces? Seeing them on a Sim transports me back to middle school, where the only bright spot was when I got to switch up my uniform's color scheme.
Give your Sims the opportunity to share in the same little pleasures that we did, since it's likely that they, too, dislike visiting the orthodontist.
There are two main benefits that make colored braces the best option for orthodontic treatment.
The first is that it expands the game's color palette by 14 hues beyond what's available in the standard edition. The second is that anyone, regardless of age, can benefit from these braces.
13. Semi-Realistic Teeth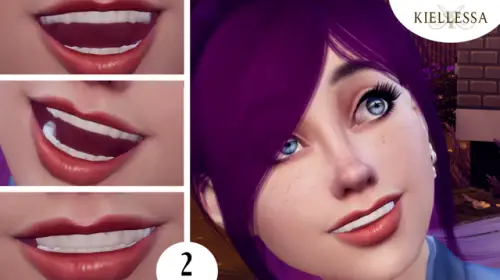 For those who have never considered altering their Sims' teeth, this is an excellent first step in the right direction.
It's something a lot of people don't think about, so it's natural to feel lost when trying to decide what the right look is.
The custom content Semi Realistic Teeth makes it simple by giving your Sims' teeth a slight yellowing, like what you might see in a regular coffee drinker.
It also adds dimension to your Sim's mouth, making it look more natural and less like you painted on their teeth. They're finally ready for their closeup!
12. TS4 Teeth 201901 by S-Club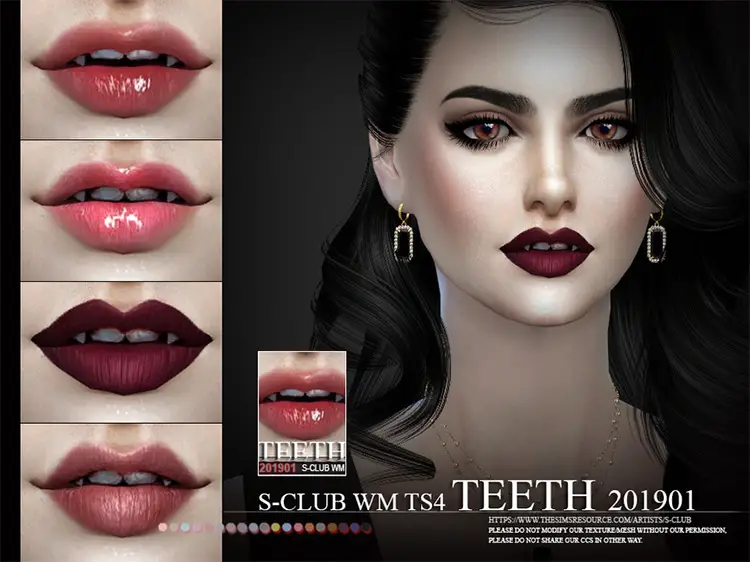 Yes, I admit that I was initially befuddled by this download.
This CC was completely foreign to me, and I had no idea what was going on. Like Pyxis' Beastly vampire fangs, my first impression was that these were simply cosmetic overlays for vampire's teeth.
Possibly they'd take on a subtler, glossier, or more realistic appearance. You see, I wasn't sure. Next, I went ahead and tried out this download.
Unsurprisingly, it had nothing to do with vampires.
You can find these teeth for TS4 by S-Club in the Skin Details menu, but they will have no functional effect on your current default teeth.
What they do is create the illusion that your Sim is smiling by opening their mouth just a crack.
Consists essentially of the same thing as the screenshot on the download page. Although subtle, it is noticeable.
Do you know how models will sometimes pose with their lips just slightly parted when being photographed? What you just read is the gist of this CC.
It made me laugh so much that I had to add it to the list.
11. Monster – Pointed Teeth by Pyxis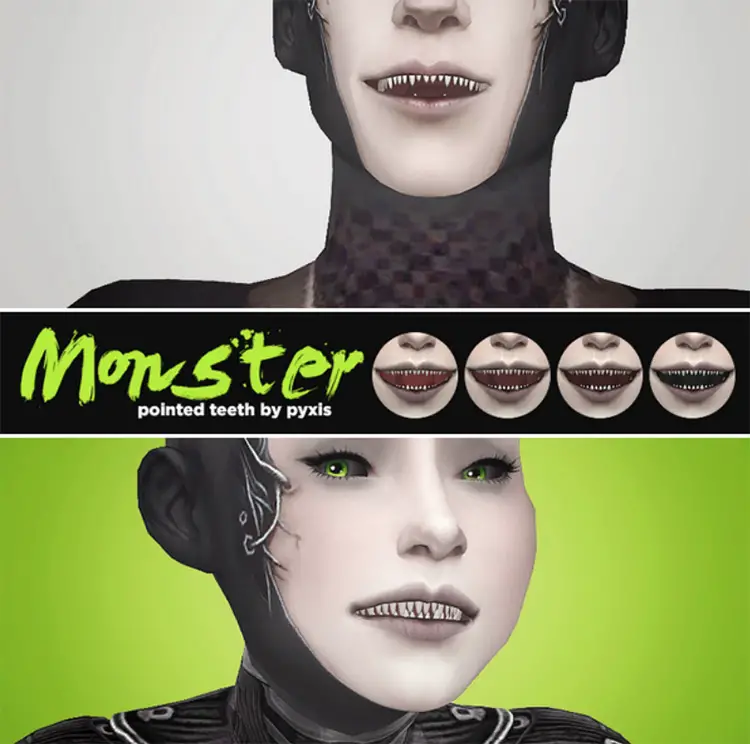 We've already discussed how Pyxis' Unnatural Selection teeth are merely a cosmetic addition (like the vampire fangs and the gun show).
Similar teeth can be found in the previous download; these teeth have simply been meshed and converted into functional TS4 teeth rather than mere cosmetic overlays.
Like the Gun Show CC, these teeth are available in four different meshes. They do not significantly alter tooth color but do control overall mouth darkness.
Customization, once again. To put it simply, I like it.
The type of monster that would be most at home in either Gun Show or Monster is probably the most significant distinction between the two.
Gun Show is an excellent choice for sea witches, werewolves, and other supernatural creatures.
Monster is an excellent choice for shapeshifters or those who are part human and part animal. After all, you get to write the story. It's your choice; they're both excellent.
10. Gun Show – Fangs by Pyxis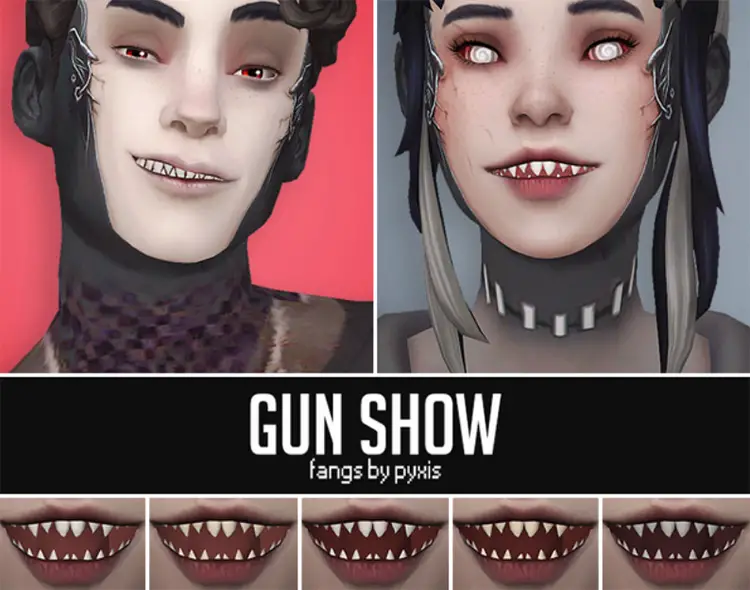 It would be nice if the same artist who made the fantastic vampire teeth overlays also made some for mermaids and monsters.
Instead of completely replacing your teeth, Pyxis' Gun Show – Fangs will use the texture set as your default. You don't have to replace your current files in order to use these amazingly realistic fangs.
What's more, the designer has been nice enough to provide us with five fantastic color options for these fangs. Swatches, that's right.
Midnightpopsicle's Colored Braces were the only other item on this list to include color samples. The fangs can be as white as you like, and the gums and tongue can be any shade you like.
Not what you were hoping for, I take it?
I can't stress how much better this CC is with the additional customization options. The devil is in the details.
9. Beastly Part 2 – Vampire Fangs by Pyxis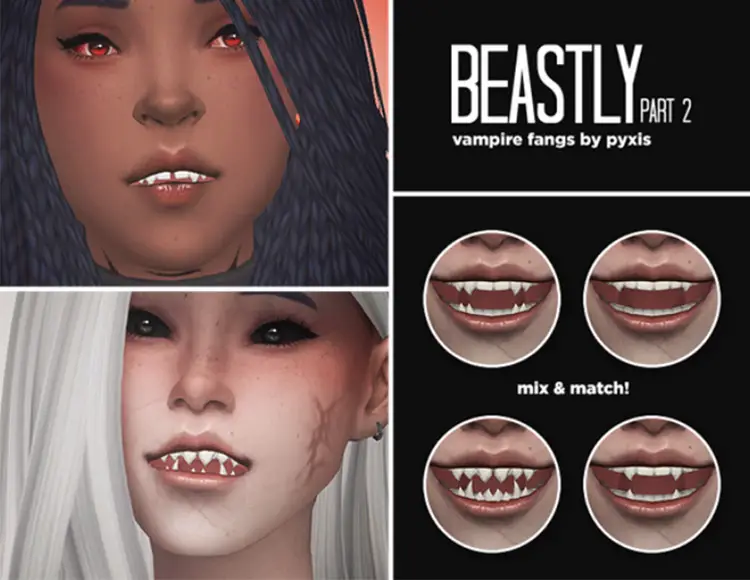 How about a vampire with missing teeth? Or perhaps a vampire with adorable rabbit teeth.
This is exactly what you get with the Pyxis cosmetic vampire fang overlays; the option to give your Sims some pretty sweet vampire teeth without removing their slightly crooked dental setup.
These fangs are fantastic because they are both fashionable and versatile.
They are just an overlay, so they won't change the way your Sim's natural teeth look. All they have to do is add fangs, and they'll take on the shape and feel of your existing teeth.
This CC will not replace the fact that your Sim is wearing braces to fix a minor overbite. When they smile, you can see the metal brackets and porcelain fangs.
Vampires with steel masks? They are going to have a challenging time in high school.
These bad boys are Earrings, and you can find them in the Head Accessories section.
8. Colorful Braces by midnightpopsicles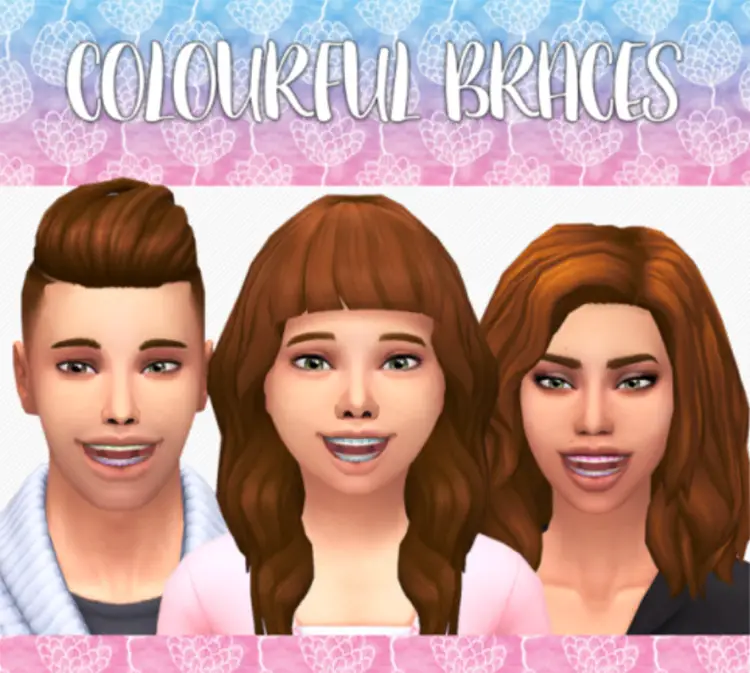 Any kid who has ever worn braces or had buck teeth will tell you that the best part is picking out the different colors and designs.
Choosing the rubber band color was a small thrill considering the alternative.
The addition of braces to The Sims 4's base game is neat, but they could use some color. Consider CP's Rainbow Braces if you're in need of some orthodontic help at midnight.
It expands the number of brace colors available to 30. There are mostly solid swatches, but a few variants in a variety of colors are included for variety.
Some of the shades (especially the paler ones) are gentler and more natural blend with the teeth. Some colors are more vivid and striking than others.
This suggests to me that the color palette is adaptable enough to work with a variety of aesthetic preferences. Excellent CC bundle; strongly suggested.
7. Toddler Teeth by Shysimblr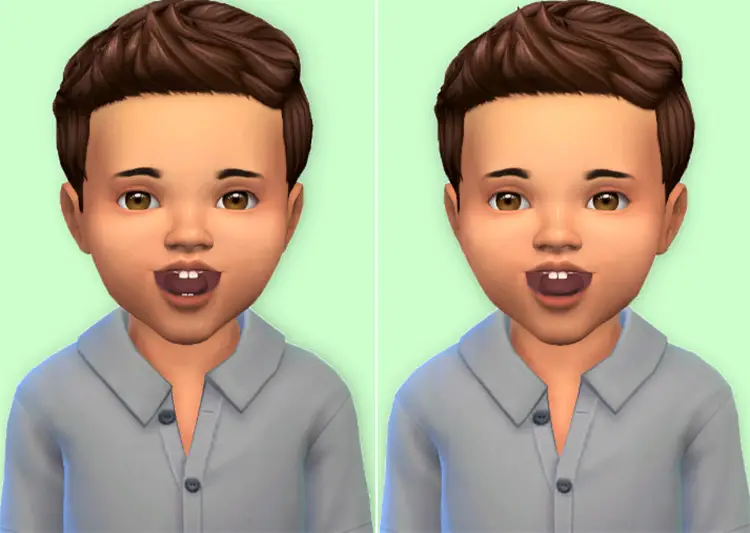 Toddlers here's more for you! Who is to gripe, exactly?
To put it bluntly, I don't think so.
Why should I when this CC makes my already cute toddlers look even cuter? With wide, toothy grins.
The two front teeth of your child will remain in place, unlike the case with Simshini's "Tooth Fairy" teeth for toddlers, which knocked them out.
There seems to be a missing set of teeth in your toddler. Which is reasonable if you consider the alternative. Their eyes are still a work in progress.
The maker of these obviously considered that factor. That's why there's white showing where the gums used to be. To what extent can I overuse the word "adorable" before it no longer resembles a word?
I don't know why, but those are some seriously cute teeth.
Two separate.package files contain the two distinct iterations of this CC. There shouldn't be any conflicts or overrides when you try to install both.
6. Tooth Fairy for Toddlers by Simshini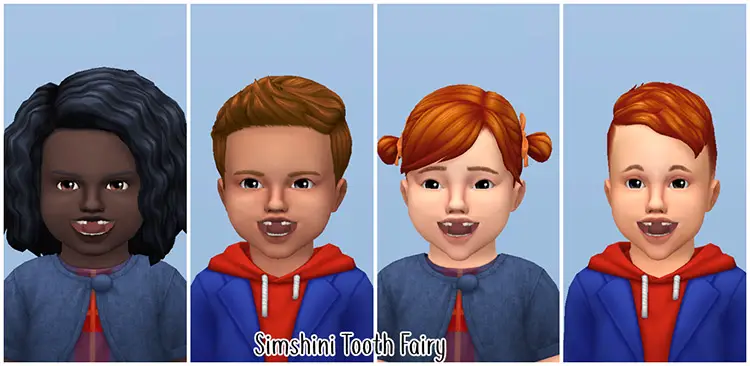 The loss of one's first tooth is a significant milestone for any child. And a big part of that celebration is tucking one of those suckers under their pillow to see if Santa brings them some extra cash.
While I'm on the topic, I think it's important for kids to be able to interact with their beds in video games. EA, please make this a reality.
Time to head back to the command center.
Simshini is a fantastic developer who has given us access to custom content (CC) teeth that we had no idea we needed. The two front teeth of your little Sim will be missing in this adorable pack just for toddlers.
It's endearingly awkward in the best possible way.
Again, it gives us more material suitable for Toddlers and adds a dose of realism to the game. We have been praying to the Sims gods for more toddler content, and it appears they have heard us.
5. Subtle Gap by Simshini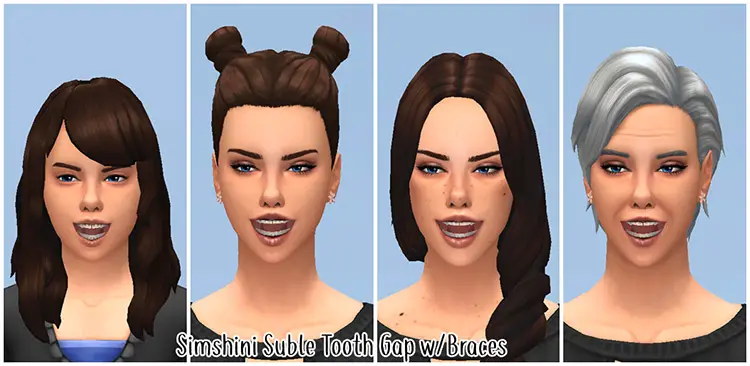 All of the standard teeth variations in The Sims 4 have been given their own refined, less cartoonish counterparts thanks to this mod.
The Subtle Gap Teeth set by Simshini, which includes milder buck teeth as well as simplified snaggle teeth, is an essential addition to this article.
And it's just what it sounds like: a slightly narrower space between your two front teeth.
It's about half a centimeter narrower than the original game's dimensions.
It's not a huge change, but you can see a distinction.
Similar to the buck teeth and snaggle teeth substitutes, this will be found in the Teeth subcategory.
There is a separate.package file for your bunny-toothed Child, but the main.package file is suitable for Teens and up, and even Elders.
4. Perfectly Crooked Teeth by Simshini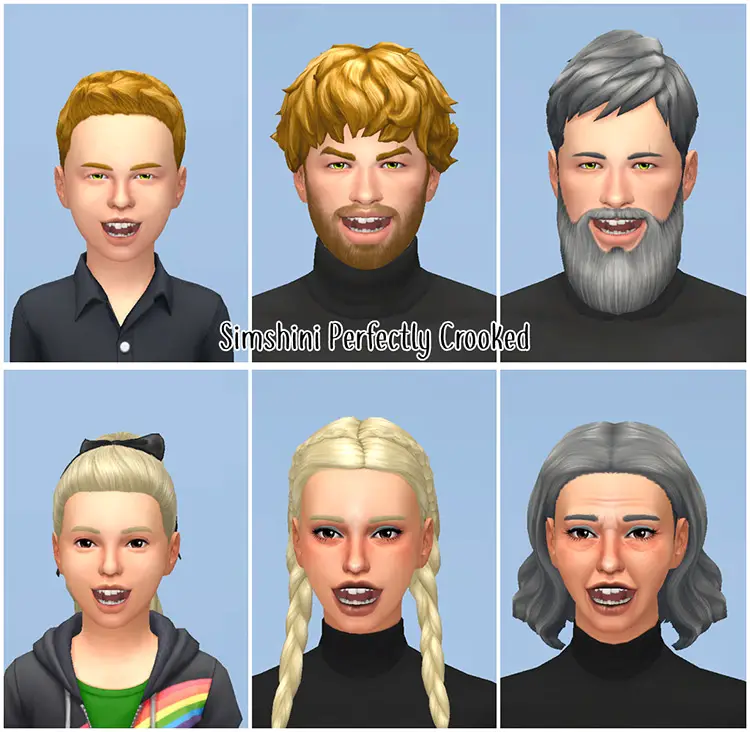 Like the previous item, Simshini's "Perfectly Crooked" mod slightly alters the appearance of the snaggle teeth in TS4.
The bumps are less pronounced, the edges are less jagged, and there are fewer unexpected twists and turns (or teeth, as the case may be).
Personally, I prefer the snaggle teeth as the default instead of the back teeth. However, that doesn't imply that every Simmer thinks the same way.
This download is excellent if you want to make significant changes to these styles. Similar to the previous modification by PickyPickachu, this one increases the realistic elements and decreases the cartoony ones.
In the section labeled "Teeth," you can find these wonderfully twisted teeth. Vampire Sims and Baby Sims each have their own.package file. Everyone from teenagers to retirees can use the same universal.package file.
3. Smoother Buck Teeth by Picky Pickachu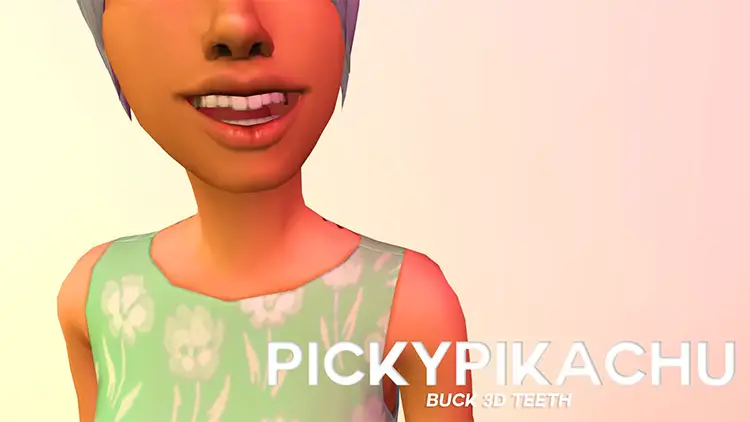 Do you think the buck teeth in TS4 are a bit… over the top?
No, you too?
All right then.
Then, get the PickyPickachu's 3D Buck Teeth overlay. The default buck teeth design in The Sims 4 is smoothed out, and the two front teeth no longer appear to be bursting out of the gums.
It's not that I'm complaining about TS4's visuals; they're a fantastic blend of cartoony and realism.
However, some players may not like the default size of the two front teeth in comparison to the rest of EA's pearly whites. If this sounds like you, the gap teeth CC from PickyPickachu might be the answer.
They are purely cosmetic and will adopt the look of the default teeth you have installed. Nonetheless, you can find them in the "Teeth" section.
2. Genetic Teeth for Buck, Gap, and Snaggle by Nova JY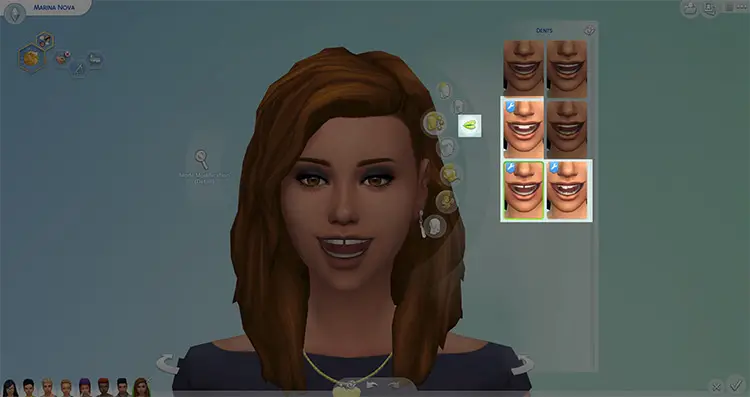 The genetics in your game will be more realistic with this mod.
(As real as The Sims can make it)
Just another replacement mod that lets kids inherit their parents' orthodontic issues and quirks.
This means that baby Sally has a chance of getting both mom and dad's skin tone and Sally's snaggle teeth.
In other words, it's the way nature intended it to be.
When taken seriously, however, the modification is surprisingly realistic.
To give your kid Sims some adorable gap teeth or little bunny buck teeth, you have to restart the game from the beginning in CAS, which has always seemed like an unnecessary hassle to me.
This mod should work harmoniously with any other default replacement teeth mods you may have installed, despite the fact that it alters genetics (a.k.a. randomization).
The teeth variants are available for download separately from the main file.
You can prevent the transmission of any other dental abnormalities while selecting for a buck or snaggle teeth. As such, missing teeth would continue to be an option only in CAS.
1. EA Teeth Begone! – Default Replacement Teeth by Pyxis

This is arguably the most well-liked modification that replaces the teeth in TS4 by default. When you consider that EA's default teeth are hideous, it's easy to see why.
As the old adage goes, "the devil is in the details." And the tooth detailing on EA could use some work. It's not terrible, but it lacks any real depth or excitement.
This is especially true after you've used Pyxis' standard replacement teeth. They have this weird Maxis Match texture that combines 3D and clarified dimensions.
This replacement mod is based on ice-Pearly cream for breakfast's Whites (which are essentially genetic overlays for teeth), but you don't need to download that mesh if you prefer Pyxis' default teeth.
You can choose between the regular file and a file named "PointyTeeth" by clicking the download link. These "Natural Selection" teeth from Pyxis are meant to replace the "gold teeth" that were previously used by EA (which are available individually as a cosmetic overlay, not actual teeth).
Which one you should download is determined solely by how often you use each set of teeth.
Be aware that these teeth mods will replace your existing default teeth (whether they be the game's or your own).
You should remove any other default replacement mods you have installed before trying this one, as they are likely to conflict.