Want to see all of Genshin Impact's grilled fish recipes from 'Yummy! Barbecue Under the Stars?
Finally, after many fishy attempts (with mixed results), here's a complete list of every dish and method for getting grilled fish at an event.
In-game access to the Genshin Impact grilled fish event is available by selecting the special events tab from the main menu.
Good news for new players: this web event is open to anyone with an Adventure Rank of 10 or higher.
Logging in and completing daily missions nets you items like firewood, seasoning, and a variety of fish. When you have everything you need, fire up the grill and get cooking.
A lot depends on the type of fish, the amount of seasoning, and the amount of time you spend cooking it.
If you'd rather not experiment on your own, you can refer to our list of possible grilled fish recipes at the bottom of this page.
Although it's not essential, you gain benefits (primogems, leveling materials, and mora) for each new recipe you uncover.
Here's a step-by-step guide to getting them all!
How to cook fish in Genshin Impact
Grilled fish meals are the focus of this online cooking competition. The state of the meat at the time of cooking is the most important factor affecting the final dish.
You can remove the fish from the grill immediately if you prefer it raw (sashimi, anyone?), or you can keep it on long enough for it to get charred:
No change in appearance yet.
Pink color for a half-done job.
The ideal color is a warm orange/light brown. You'll see some sparkles emerge on your screen; you may have to count these to earn some unique dishes.
To burn is to turn a dark brown or black color.
There is nothing left of it: leave it on the grill and you'll see.
Mild, just right, and hefty are the three spiciness levels available for the seasoning.
All of Genshin Impact's typical grilled fish recipes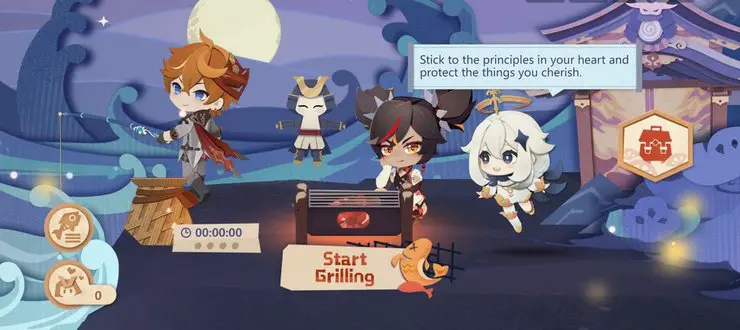 Make an effort to create recipes you've never prepared before as you earn rewards for each new one you learn how to make.
On the web event page, click on the 'Grilled Fish Archive' link to see which recipes you already have.
Just flip the fish over and cook it on both sides for the same amount of time if it's not mentioned in the recipe.
The following recipes will get you Shiki Taishou Friendship Level x20:
Sashimi can be made with any kind of fish, seasoned just right, then grilled until it's 'raw'.
'Heavy' spice, grilling, and sashimi are all you need to make this dish.
It's easy to make Grilled Black Snakehead with any kind of fish and the correct spice.
These dishes will increase your Shiki Taishou Friendship Level by a factor of four.
Simple Grilled Fish: Use any kind of fish, season to taste, and grill until it's "just right."
Any fish can be grilled with mild seasonings and grilled to 'perfect' doneness.
To make 'excellent' grilled fish, use any fish and a "strong" flavor.
Shiki Taishou Friendship Level x50 can be obtained by following the recipes listed below:
You may use any kind of fish, just make sure it's cooked to "half-done."
Use Medaka, 'with just the right seasoning, and grill till 'perfect' to make an exquisite Medaka dish.
The secret to perfectly grilled golden bass is to use the fish, season it to taste, then grill it until it is "just right."
Use Pufferfish and a "just right" marinade for this Wild Style Grilled Bitter Pufferfish.
This recipe is for "burnt" and "perfect" charred grilled fish, which can be made with any fish with a little bit of flavor.
All special grilled fish recipes in Genshin Impact
Shiki Taishou Friendship Level x100 can be achieved using these recipes. Make sure you know that they're a little more difficult to put together (except for the last one). The following should work for obtaining these foods, according to several players:
Use any kind of fish, "just right" seasoning, and grill until the upper side is ideal (four sparks) with the first smoke cloud forming, then serve (another side is burnt).
When it comes to Teyvat's best-grilled fish, you may use any kind of fish, the "just right" flavor, and cook it until it's no longer half-done.
You can take any fish, season it to "just right," and grill it till it's "perfect," but only get one sparkle on each side. Grilled Fish Beyond Space And Time.
If you're looking for an explosive and overloaded grilled fish, you may use any kind of fish, just make sure to apply "just right" spice and grill until one side is "excellent" and the other is "burnt."
You may use any kind of fish, no seasoning, and just leave it on the grill until it's completely demolished.
Enjoy your sparkling new primogems, now that you've officially become Teyvat's best grill master.