Genshin Impact is a free-to-play role-playing game that lets you explore the lovely world of Teyvat while fulfilling quests, defeating foes, and learning about people's secrets.
The Travellers, a separated set of twin twins, are mostly used to do this. Playing as either Lumine or Aether, you'll meet a lot of interesting characters that can join your group as you search for your missing sister.
We have a vast variety of characters to adore thanks to Genshin. Each person has a distinct background as well as special talents and skills.
Since the game's release, more characters have been introduced to the cast, and through in-game events and the Genshin Impact manga, more details about the characters' pasts have been added to the game's narrative.
The fundamental information about each Genshin Impact character, including their birthday, age, and height, is provided in this list. Some of these statistics are best estimations, however, this is noted in each character's entry. The characters are arranged alphabetically.
Genshin Character Statistics Chart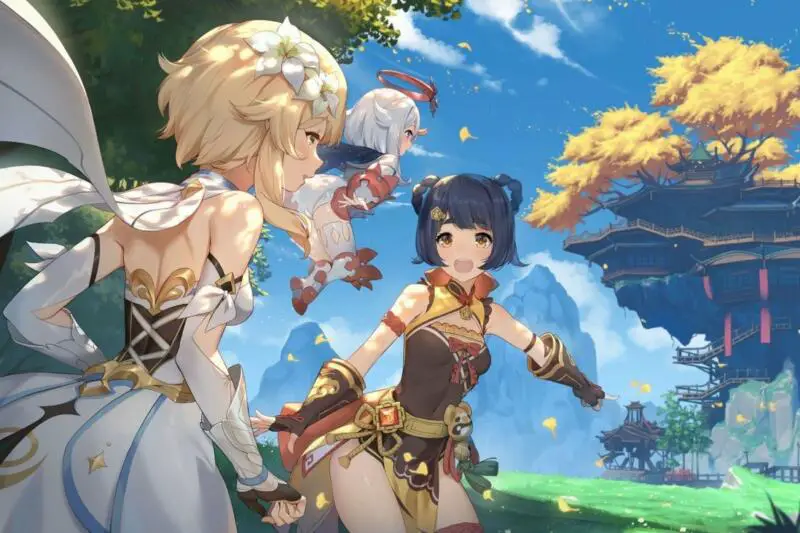 Genshin Impact already has over 40 playable characters, thus the list is getting very long. We've summarized the key points to make it easier for you to discover the information you require.
Based on current knowledge, this chart includes each character's age, birthday, and height, as well as any necessary estimates. Each character's bio, art card, and in-game menu image are listed below the chart.
A few pages are based on player supposition, and the majority of heights are estimated based on in-game comparisons.
The chart's footer includes detailed details.
| Character | Age | Birthday | Height |
| --- | --- | --- | --- |
| Kamisato Ayaka | "Eldest Daughter" | September 28 | 5'1″ / 156 cm |
| Kamisato Ayato | "Eldest Son" | March 26 | 5'11" / 182 cm |
| Albedo | Approx 18¹ | September 13 | 5'3″ / 161cm |
| Amber | 18 | August 10 | 5'1″ / 156cm |
| Barbara | 16-17 | July 5 | 5'2″ / 158cm |
| Beidou | 21-27² | February 14 | 5'6″ / 168cm |
| Bennett | 16² | February 29 | 5'3″ / 161cm |
| Chongyun | 17 | September 7 | 5'3″ / 161cm |
| Diluc | 22² | April 30 | 5'10" / 180cm |
| Diona | 12² | January 18 | 4'7″ / 140cm |
| Eula | Unknown | October 25 | 5'5″ / 166cm |
| Fischl | 16³ | May 27 | 5'2″ / 158cm |
| Ganyu | Over 3000⁴ | December 2 | 5'1″ / 156cm |
| Gorou | "Young man" | May 18 | 5'3″ / 161cm |
| Hu Tao | 19² | July 15 | 5'1″ / 156cm |
| Arataki Itto | "Young man" | June 1 | 5'11" / 182cm |
| Jean | 20-21⁵ | March 14 | 5'6″ / 168cm |
| Kaedehara Kazuha | Unknown | October 29 | 5'3″ / 161cm |
| Kaeya | 22⁶ | November 30 | 5'11" / 182 cm |
| Keqing | 17² | November 20 | 5'2″ / 158cm |
| Klee | 8-10² | July 27 | 4'5″ / 135cm |
| Kujou Sara | Unknown | July 14 | 5'6″ / 168cm |
| Lisa | 32² | August 16 | 5'5″ / 166cm |
| Mona | 19² | August 31 | 5'2″ / 158cm |
| Ningguang | 25² | August 26 | 5'6″ / 168cm |
| Noelle | 15² | March 21 | 5'2″ / 158cm |
| Qiqi | 8 Biologically100 Chronologically² | March 3 | 4'4″ / 133 cm |
| Raiden Shogun | "Adult woman" Vessel of Beelzebul | June 26 | 5'5″ / 166cm |
| Razor | 16² | September 9 | 5'4″ / 164 cm |
| Rosaria | 24² | January 24 | 5'6″ / 168cm |
| Sangonomiya Kokomi | "Young" | February 22 | 5'3″ / 161cm |
| Sayu | "Young woman" | October 19 | 4'6″ / 138cm |
| Shenhe | Unknown, but cut ties with mortality Has spent years under Adepti Tutelege | March 10 | 5'5″ / 166cm |
| Sucrose | 18² | November 26 | 5'1″ / 156cm |
| Tartaglia (Childe) | 19 – 21⁷ | July 20 | 5'11" / 182cm |
| Thoma | Unknown | January 9 | 5'11" / 182 cm |
| Traveler | 15 physically actual age unknown | Your Chosen Date | Aether 5'4″ / 164 cmLumine 5'2″ / 158cm |
| Venti | 15 physically Actually 2600⁸ | June 16 | 5'3″ / 161cm |
| Xiangling | 14² | November 2 | 5'2″ / 158cm |
| Xiao | Over 2000² | April 17 | 5'2″ / 158cm |
| Xingqiu | 16 – 17² | October 9 | 5'5″ / 166cm |
| Xinyan | 16 – 17² | October 16 | 5'2″ / 158cm |
| Yae Miko | An "old friend" of Morax, Ei, and Baal | June 27 | 5'5″ / 166cm |
| Yanfei | "Young woman" | July 28 | 5'2″ / 158cm |
| Yelan | Old enough to run a casino | April 20 | 5'5″ / 166cm |
| Yoimiya | "Young woman" | June 21 | 5'3″ / 161cm |
| Yun Jin | "Young actress" | May 21 | 5'2″ / 158cm |
| Zhongli | Over 6000 | December 31 | 5'11" / 182cm |
This is predicated on the fact that Klee is to him like a younger sister because her mother, Alice, took him in. He is of legal drinking age and is also referred to as a "young man."
Based on conjecture and theories from players.
Based on the main story's description of her having not had a vision in two years and being 14 at the time she first had Electro Vision.
Because she participated in the Archon Wars.
She is said to be a little younger than Diluc, whom she refers to as Senpai because he used to be her supervisor in the Knights of Favonius, according to player speculation.
In the manga, Lisa claims that his father has been deceased for three to four years, but in reality, his father passed away when he was just 18 years old.
Based on his lore upgrade in 1.2, which states that he is now a young adult.
During the Archon War, Venti was an elemental creature who changed into the persona of a young soldier who was killed in action.
Zhongli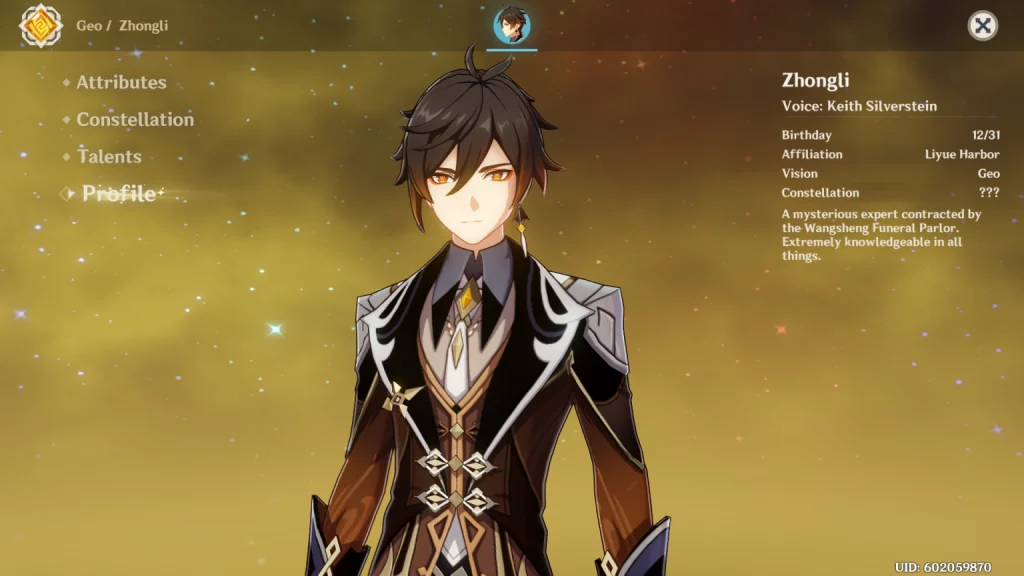 Zhongli, who works for the Wangsheng Funeral Parlor, is consistently portrayed as restrained and composed.
It was later discovered that his extraordinary cultural and historical knowledge of Liyue is a result of his genuine identity.
Zhongli takes life seriously, but he frequently ignores the fact that he is mortal. Despite his willingness to spend Mora at his whim, he is primarily renowned for forgetting his wallet.
Yun Jin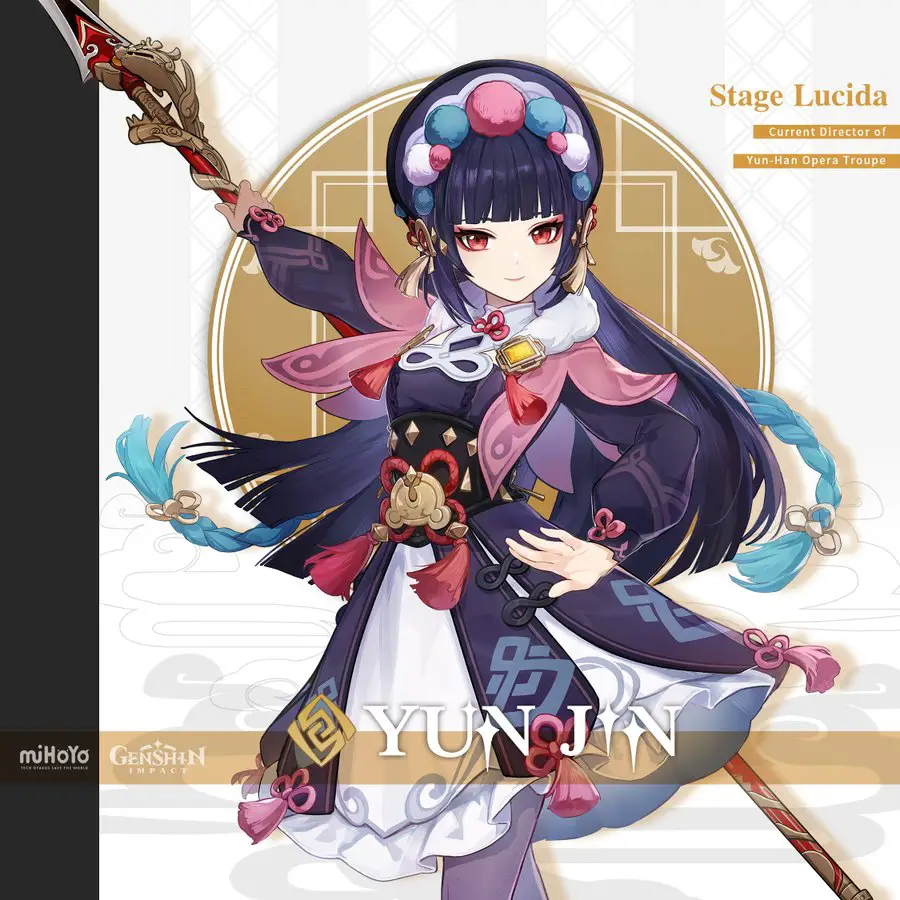 Yun Jin is a talented individual who is known for producing plays for the residents of Liyue. She is also a writer, director, and vocalist.
She is the artistic director of the Yun-Han Opera Troupe and is renowned for taking on any part, her gorgeous singing, and her intricate costuming.
She is close friends with Xinyan and is well known for being exceedingly nice in private. However, when she is out and about in Liyue, she presents a more elegant and polished appearance.
Yoimiya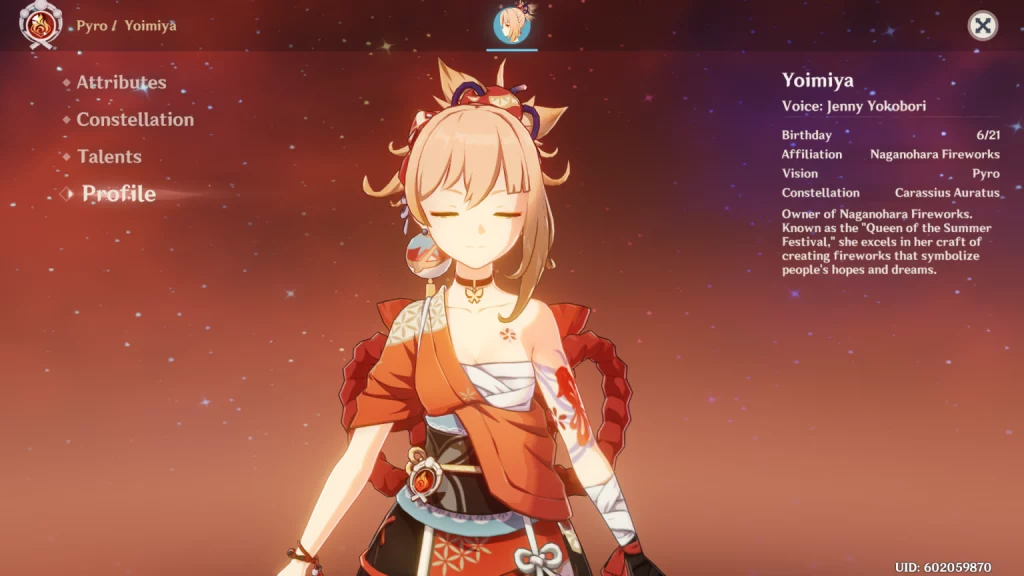 Yoimaya, the daughter of Naganohara Ryuunosuke, is in charge of the family's fireworks company, Naganohara Fireworks.
Even though her father cannot hear, she still enjoys talking to him about the store, which she runs with the same meticulousness that he did.
She is well-liked since she is devoted to her clients and eager to assist them at all times, even when those matters have nothing to do with fireworks.
Yoimaya is renowned for being somewhat unorganized and quite irresponsible, yet she has lots of people who are prepared to assist her.
Yelan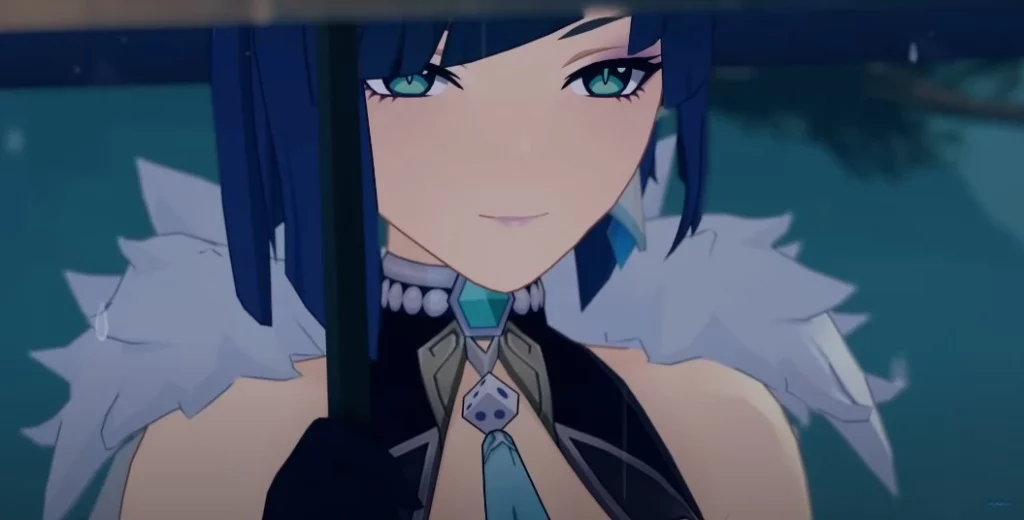 Yelan claims to work for the Ministry of Civil Affairs, but after looking into the previous owner, it is said that she has taken over the Yangshang Teahouse's activities on the side.
The Liyue "tea shop" is inaccessible to gamers and offers shockingly subpar service. It serves as a front for the casino that Yelan is currently in charge of.
Yelan is quite charming and polite in public, but she still exudes concealment. While Keqing is grateful for any assistance she can obtain, Ningguang seems to tolerate her absence because she still contributes to the Ministry and her intelligence is reliable enough.
Yanfei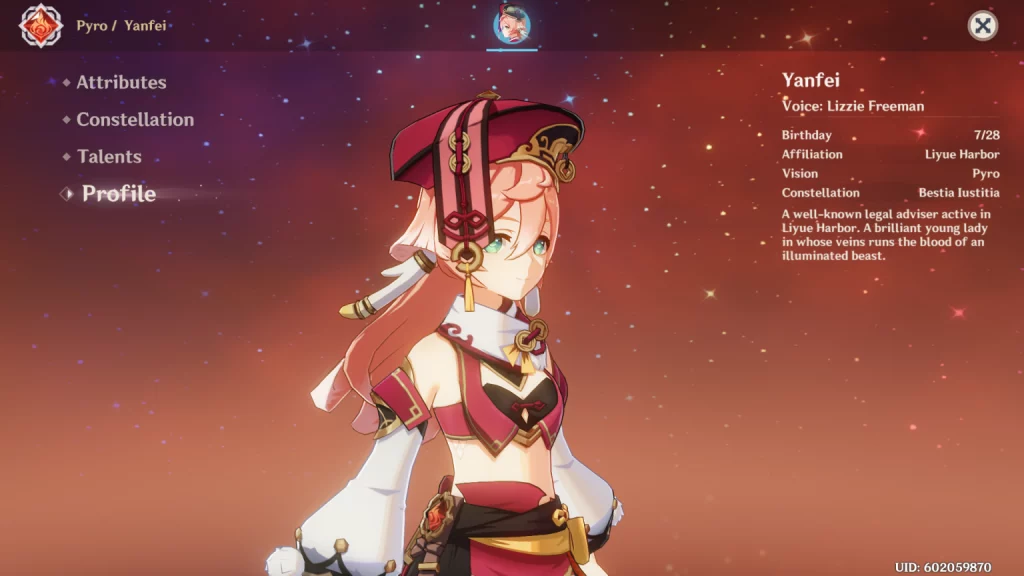 Similar to Ganyu, Yanfei was born to a human mother and an Adeptus father. When she was an adult, her parents left her in the care of Madam Ping, who was familiar with her father, while they went on an excursion.
Yanfei, who now resides in Liyue, has established a reputation for being a highly knowledgeable legal advisor.
Her Adeptus ancestry doesn't seem to have any impact on Yanfei. Due to her birth in a time of peace, she lives in the city like other people and has never signed a contract with Rex Lapis. She has a keen sense of justice and is extremely educated and knowledgeable.
She has studied as much as she can about the law because it is her passion. Although she focuses on Liyue law, she also has legal expertise in other Teyvat regions.
Even Ningguang respects how seriously she takes her work and her legal expertise.
Yae Miko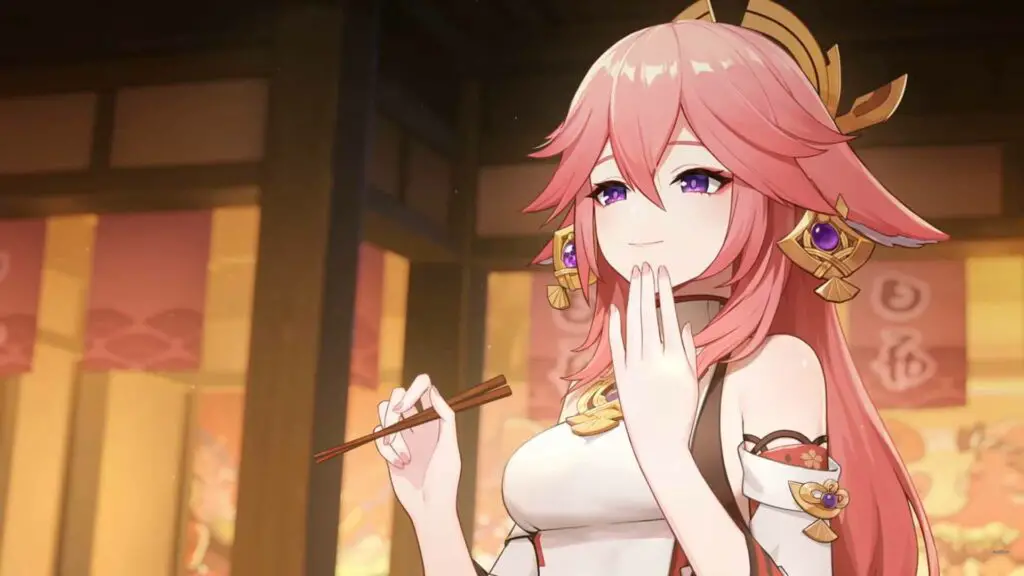 Miko is the Grand Narakami Shrine's Guuji, whereas Yae is the Chief Priest. Although she is mentioned by a number of Archons and is referred to as an "old friend" of both Morax and Baal, it is likely a long time since she first assumed her position.
She is also one of Raiden Shogun's few friends, and they are close enough to share a first name.
When Miko is in charge of the Yae Publishing House, we also get to glimpse another side of her.
Her love of reading and literature, in general, is nourished by this, and she feels happier being here. Even though we haven't yet seen it, she is a Kitsune and does have a fox form.
Xinyan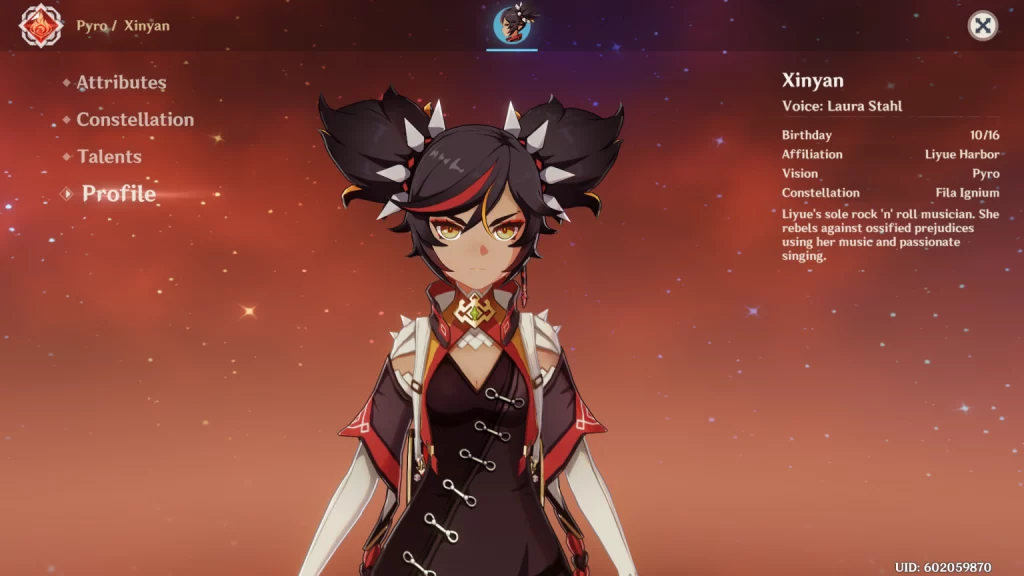 Rock 'n' roll is a style of music that originated in Fontaine, and Xinyan is the only person working to make it popular in Liyue. She usually plays across Liyue Harbor because music is in her essence.
She embodies all the traits of a great rockstar, including being outspoken, resolute, passionate, and rebellious.
One day at a time, she brings her sound to Liyue by performing original songs for everyone who will listen while playing a homemade guitar.
Xingqiu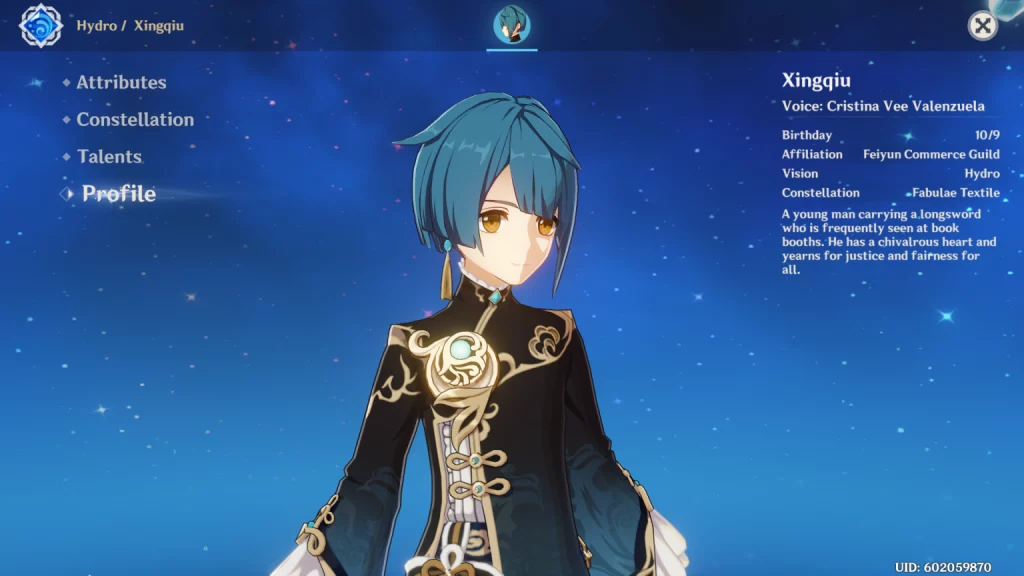 Xingqiu is the manager of the Feiyun Commerce Guild's son, but he favors reading over the business. He is courteous and well-mannered and is frequently seen reading or studying.
In addition to being well-read, this youngster has a naughty side and aspires to be one of the heroes he reads about in the novels he savors.
He has gotten the guild into problems with his pranks, but he always finds a way to talk his way out.
Xiao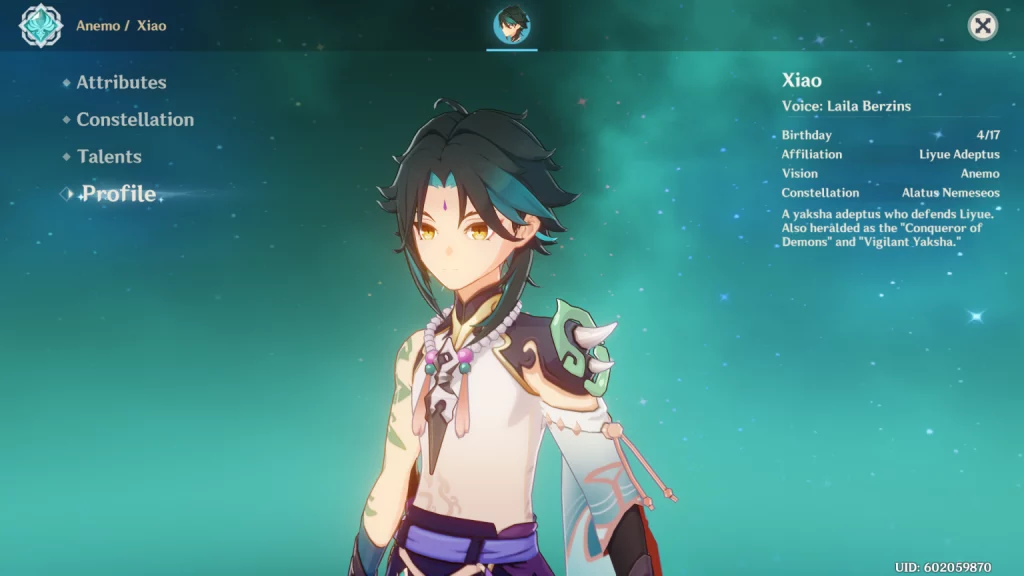 The sole remaining Yaksha of the five entrusted to control the demonic spirits in Liyue, Xiao is an Adeptus and a Yaksha.
Alatus is his Yaksha name, although he is currently living alone at the Wangshu Inn as Xiao. He is respectful and reserved, and he enjoys spending time alone more than with others.
This is because he has chronic suffering brought on by bad karma he accrued while performing his duty and doesn't want to impose on anybody else.
Xiangling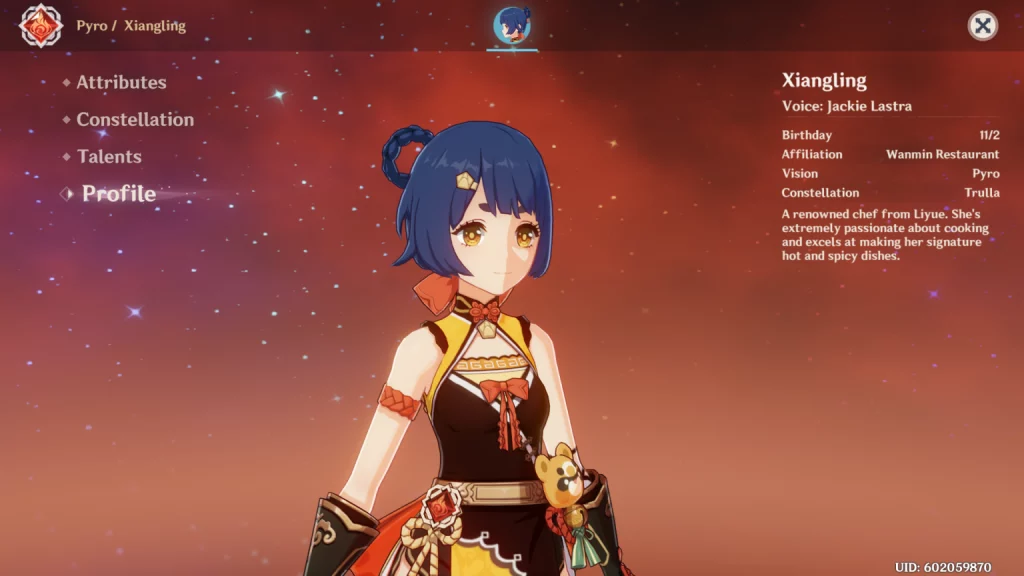 Xiangling excels in the kitchen. Xianling, who is only 14 years old, works as the head cook and waiter at the Wanmin Restaurant owned by her family.
She has a solid reputation among the local's thanks to her talents. She is renowned for eschewing the Liyue traditions of cooking in the Li and Yue styles in favor of employing unusual ingredients and putting taste before tradition.
Venti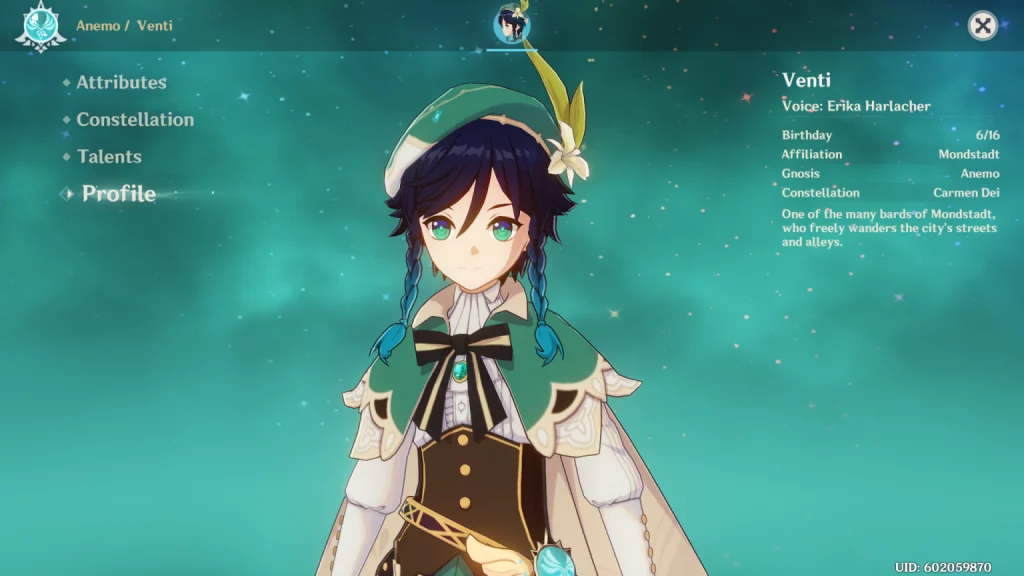 Venti is a wine-loving bard who had the unfortunate situation of showing up in mortal form as a minor. He is truly thousands of years old and is known as Barbatos, the Anemo Archon.
He has extraordinary musical talent and a fondness for rhyming and lyre playing. Because of this, he has grown to be a very well-liked bard who convinces people to buy alcohol in exchange for songs.
Traveler (Lumine & Aether)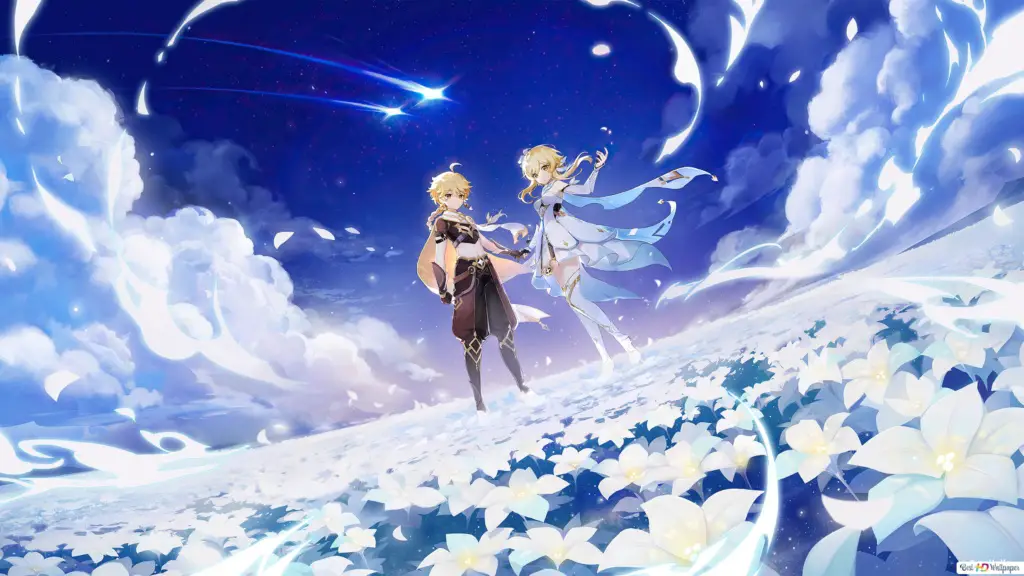 The main character of the game is Traveler, and you can choose to complete story objectives as either Lumine, the female twin, or Aether, the male twin.
Traveler is referred to as both Lumine and Aether throughout the game. Regardless of what you decide, they will be looking for their brother.
Although their exact age is unknown, it has been calculated that they are older than 3000 years.
The twins were split up after battling an ancient deity while attempting to flee Teyvat during a major conflict that is thought to have been the Archon War. Now, both are looking for one another.
Thoma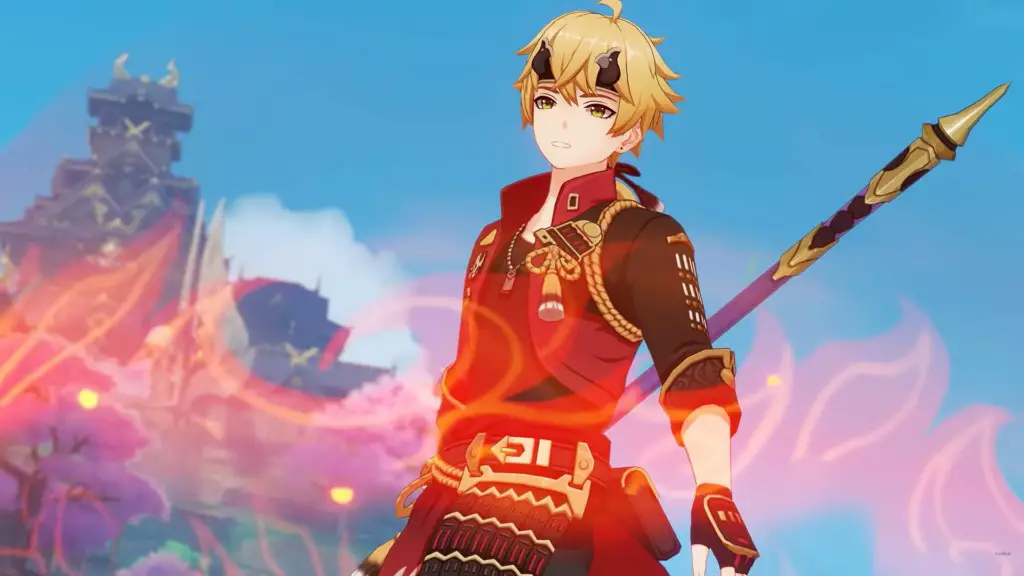 When Traveler arrived in Inazuma, they first met Thoma. He serves as the Kamisato Clan's housekeeper and is a well-known "fixer," as evidenced by the Archon quest chain.
He is quite amiable and blends in well with any group he is with. He is more effective at his job because of his approachability.
He assists Ayaka, but she also views him as a friend. The two get along well since Thoma is highly responsible and has a serious side that complements Ayaka's personality.
Tartaglia (Childe)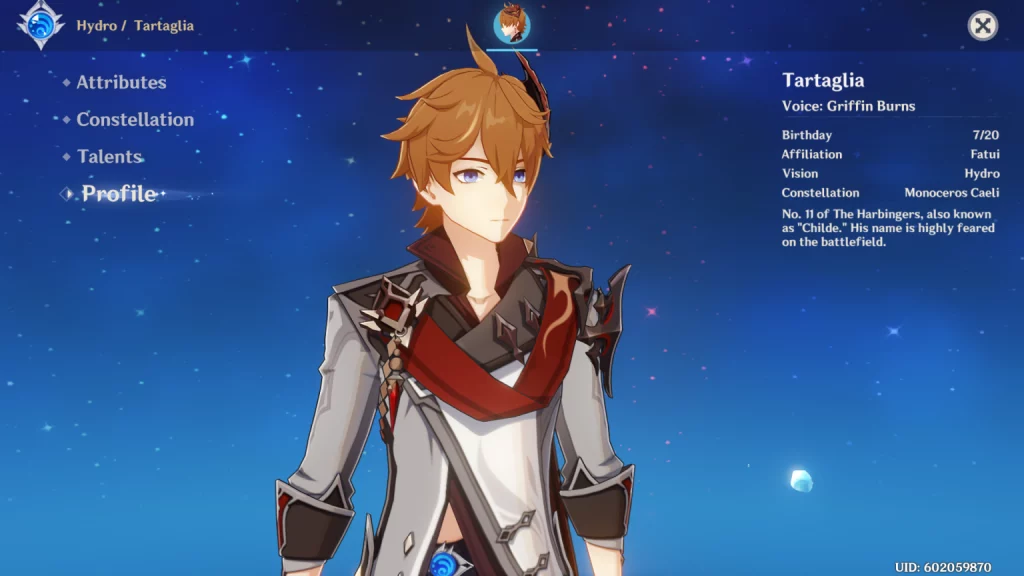 Tartaglia is frequently referred to as Childe. He is regarded as one of the most dangerous of the Eleven Harbingers of the Fatui and is the eleventh.
Childe, who oversees the funds for the Fatui in Liyue, thrives on instability. He exudes a lot of brashness and arrogance and frequently comes off as unexpected and clever.
Sucrose
Albedo's aide Sucrose is an expert in bio-alchemy. She is incredibly curious and wants to use science to better the world.
Jumbo Dandelions are one of the amazing things she has made while living in Mondstadt. She frequently conducts experiments and painstakingly records her results, which are frequently inconsistent in terms of success.
Shenhe
Shenhe was born into a family of exorcists, but her father left her as a sacrifice rather than raising her in this profession. How she managed to survive against the monster she encountered is a mystery.
She would ascend Mount Hulao and observe the clouds before scavenging for food nearby. She attracted the attention of Cloud Retainer, who gave her the opportunity to cut dies with the mortal world.
Shenhe eagerly seized this opportunity and enrolled at Adepti's school. She has now been alone for a number of years, which has made her aloof and uninterested.
Sayu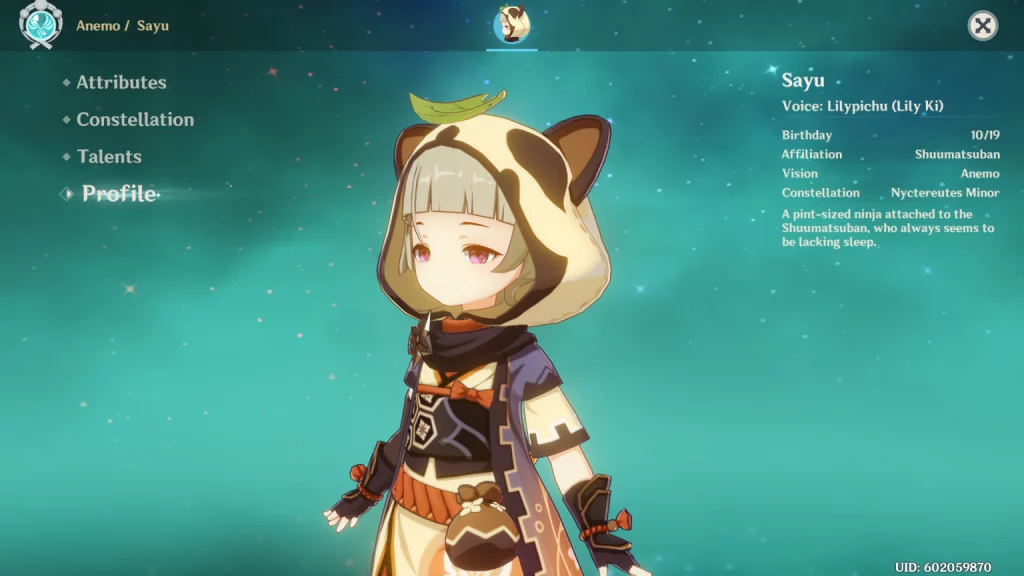 Sayu is a young woman who seems like a toddler because of her little stature and delicate features.
Her vision gives her great strength, enabling her to yield a Claymore—a difficult task for someone so small. She aspires to grow taller, but she is also terribly upset about her height.
Sayu often puts napping before her other responsibilities as Shuumatsuban's resident ninja in an effort to develop, thinking that this is the solution to her issues.
She has acquired a variety of ninjutsu skills while attempting to avoid conflict and take naps in place of battle.
Sangonomiya Kokomi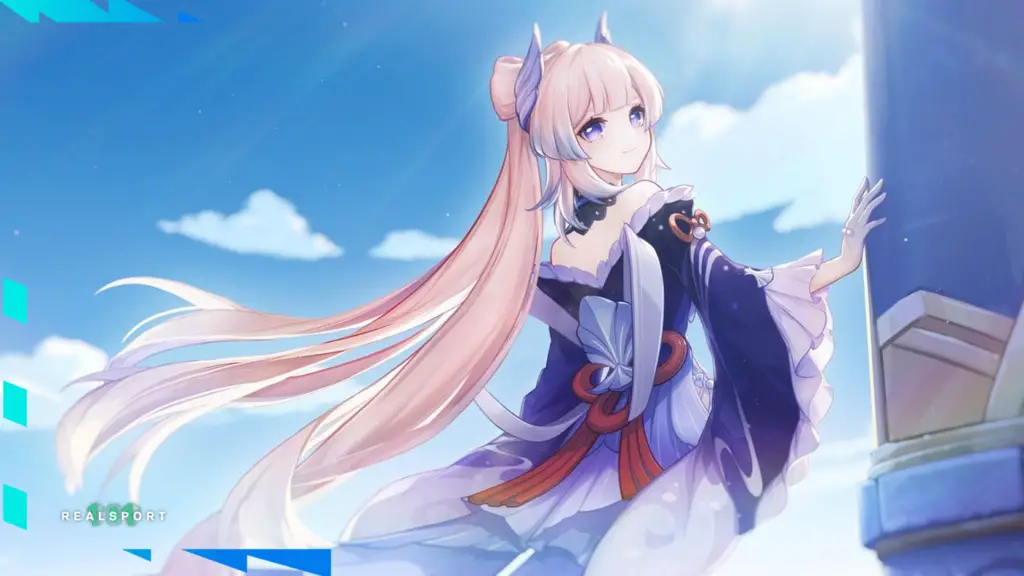 The Divine Priestess of Watatsumi Island in Inazuma is Sangonomiya Kokomi. She is the Sangonomiya Resistance's current leader and a member of the Sangonomiya clan.
Though she is not usually directly involved in Watatsumi's day-to-day business, she is actively working to oppose the Vision Decree. She is a talented strategist.
Rosaria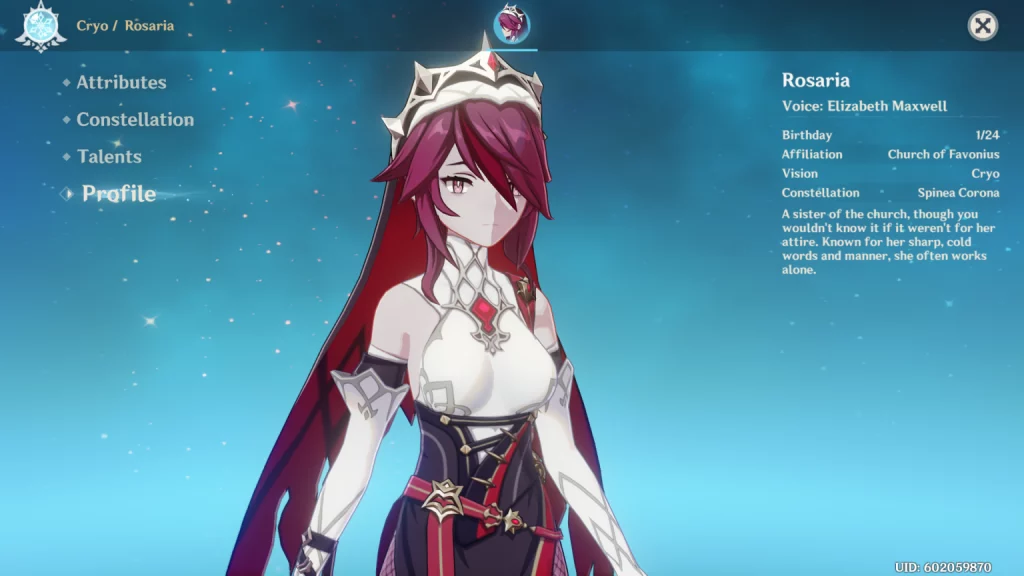 Rosaria is a sister in the Church of Favonius in Mondstadt, but unless you noticed her distinctive take on nun garb, you wouldn't know it.
She is a volatile woman who is frequently viewed as harsh and cold. She doesn't attend choir practice because she finds it "boring," so don't expect to see her there.
Instead, she keeps her attention on the security of the city by removing any risks she notices.
Razor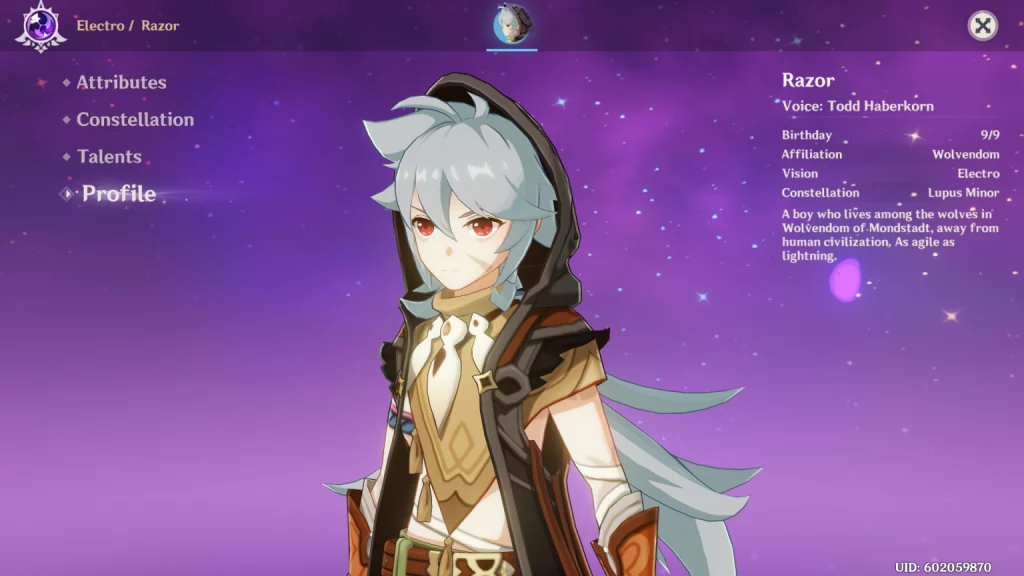 After being abandoned as a baby, Razor was raised by Andrius, the Wolf of the North, and his wolf pack.
Although he has just begun mingling a little more with the people of Mondstadt, he is at home in the wild.
While he will aggressively defend his wolf group, he does regard humans as allies. Despite lacking social graces because of his upbringing, he is trustworthy and protective.
Raiden Shogun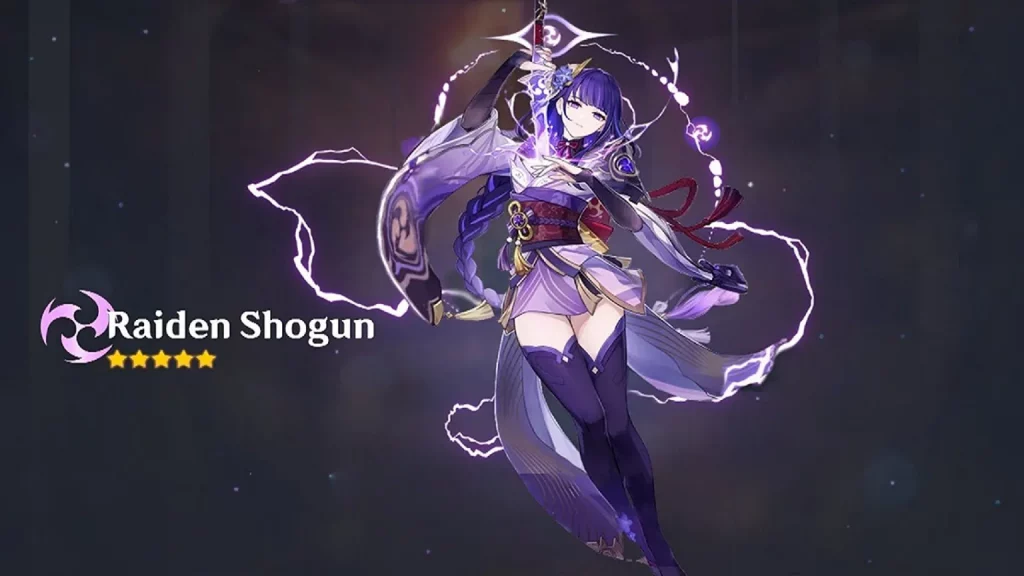 The Electro Archon of Inazuma, Beelzebul, is represented by Raiden Shogun. Actually, a twin, Beelzebul and her sister Baal, who eventually founded the Shogunate, prevailed in the Archon battle.
The people of Inazuma were led to believe that there was only one god, Baal, and Beelzebul became the face of the Electro Archon.
Beelzebul transferred the authority of the area to Raiden Shogun, her "puppet" or "vassel," after experiencing great sorrow when her sister went away. Raiden Shogun now has a firm belief in the idea of Eternity.
She supervises the vision quest decree that is implemented by the Kujou Clan, who regulates security and military activities in Inazuma, in an effort to create a place where everything stays the same, a vision backed by many followers who admire her.
Qiqi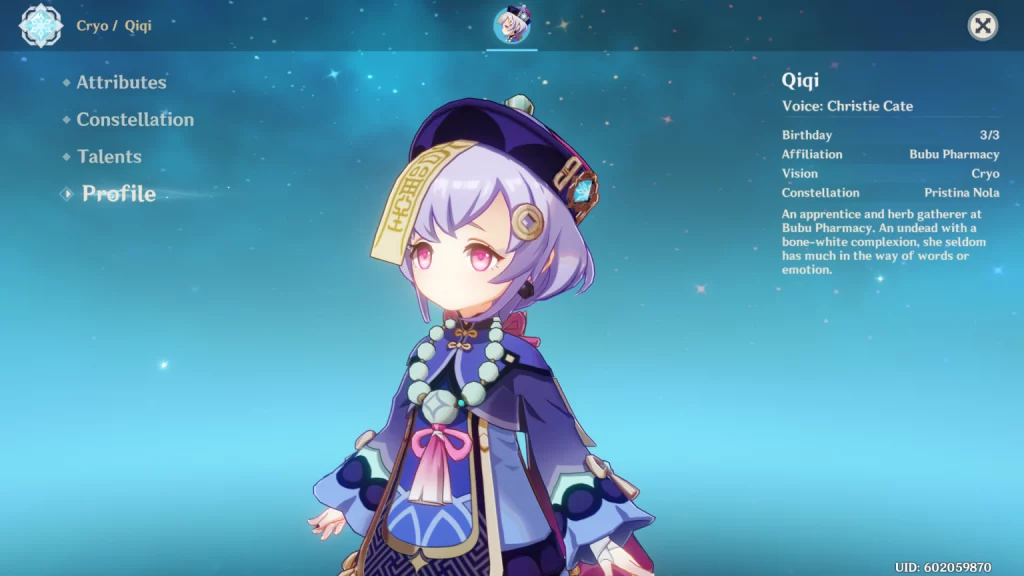 The Adepti resurrected a zombie named Qiqi and gave him a young child's body.
She is currently employed by Babu Pharmacy in Liyue Harbor, under Baizhu's supervision. She has terrible memory loss and has trouble retaining information.
Due to the peculiarity of awakening herself, she also has to command herself to act before she acts.
Noelle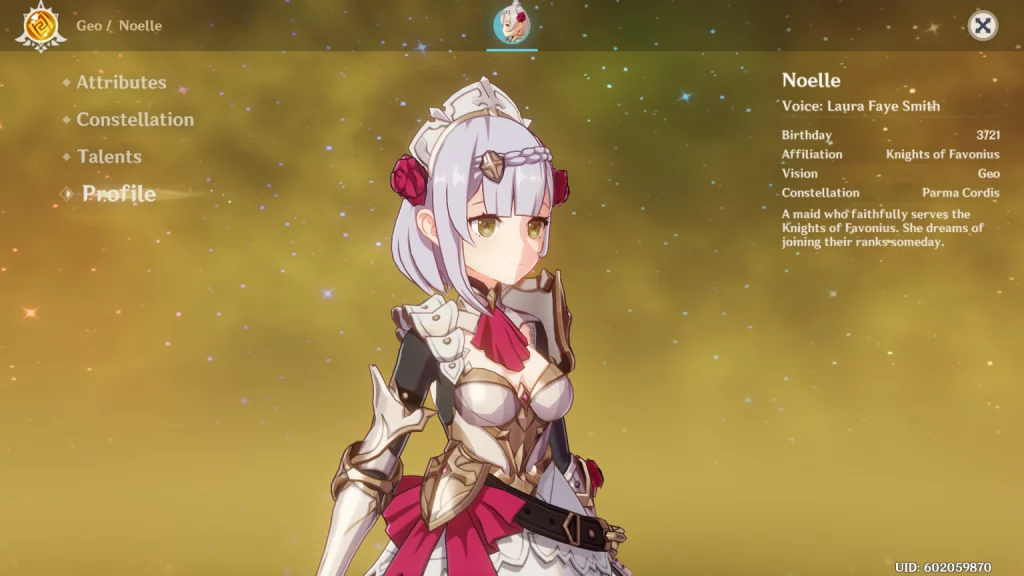 Despite the fact that it is her responsibility as a maid, she genuinely enjoys helping others. Noelle has lofty ambitions and aspires to join the Knights of Favonius, just like everyone's younger sister that everyone can't help but cheer for in life.
Although many others have similar goals to hers, she will undoubtedly succeed because of her unwavering desire to develop and learn. Noelle will make every effort to meet your needs.
Ningguang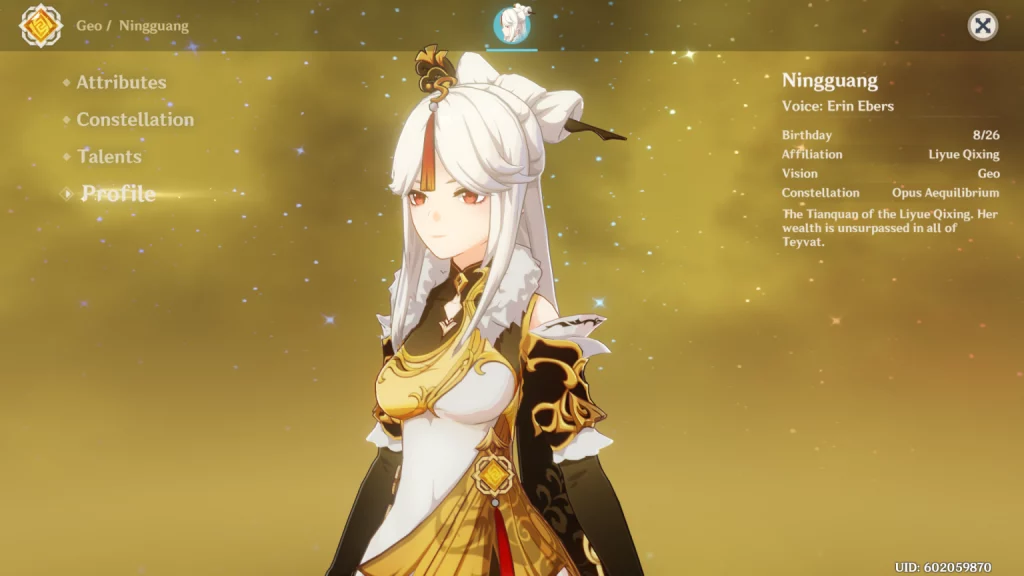 In Liyue, Ningguang is revered as the Tianquan of the Liyue Qixing. She has built herself a sizable personal fortune via diligence and tenacity, which enabled her to construct the Jade Chamber.
Ningguang strikes a balance between keeping Liyue orderly and keeping an eye out for commercial chances. She is incredibly astute and constantly looks for new opportunities.
Mona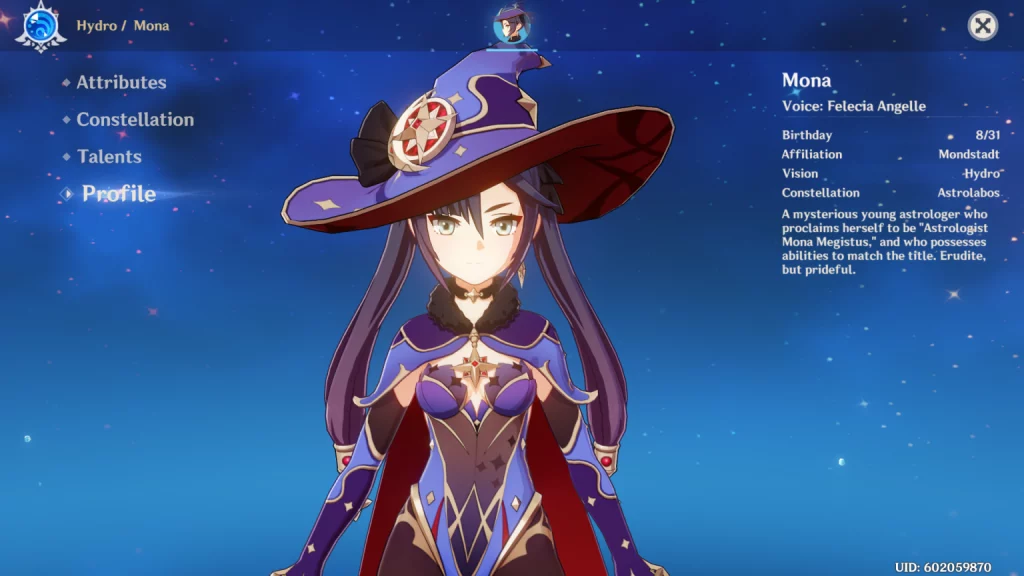 Astrologer Mona, who goes by the name "Astrologist Mona Megistus," is a highly skilled professional.
She doesn't, however, believe in using her abilities to make money; instead, she just provides straightforward fortunes for no charge.
She earns money by contributing to an astrology column. As a result, she leads a thrifty lifestyle, frequently forgoing essentials to spend on research that may further her career.
Lisa
Lisa is a highly skilled witch who was formerly a renowned and esteemed grand magician. Unless your library books are overdue, she comes out as a clever, laid-back, and flirty woman who enjoys napping.
Lisa has a specific interest in the restricted section and takes a personal interest if you don't return anything on time, even though she looks uninterested in many books.
Kujou Sara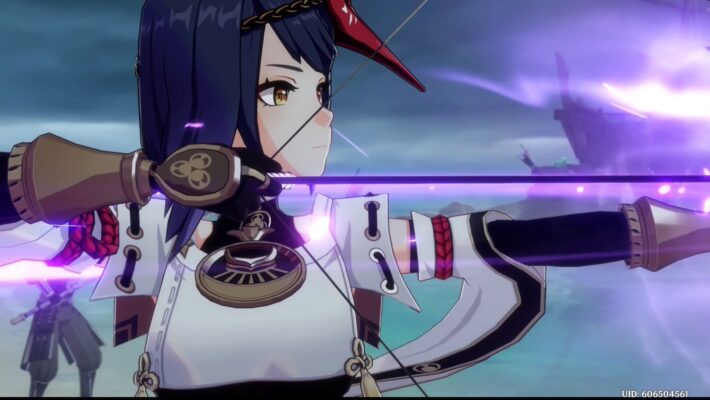 Kujou Sara, a member of the Kujou clan, serves as Raiden Shogun's assistant and bodyguard. She is involved in enforcing the vision decree and has been mentioned in Kazuha's past.
Kazuha's companion was killed as a result of her dueling victory over him, and Kazuha fled from Inazuma.
She is ruthless and devoted, but she abhors dishonorable behavior like torture.
Given that she is loyal to Raiden Shogun, who is oppressing the region with her order on the vision search and the lockdown of the region, Kazuha found this to be difficult to grasp in his dealings with her.
Klee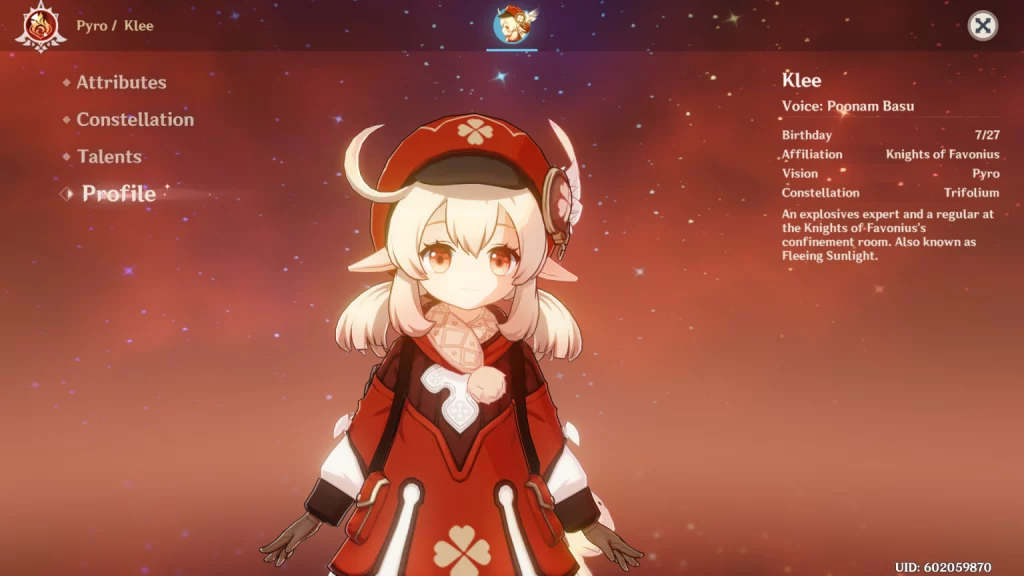 For everyone within a 30-foot radius of Klee, playtime is dangerous. She is a curious child, thus her favorite toy is anything that makes a boom. Her intrepid mother Alice gave her to the Knights of Favonius.
Klee enjoys fish blasting, but Jean frequently sends her to solitary because of this hobby. Other Knights have also started keeping an eye on Klee in addition to Jean.
Albedo loves her and spends a lot of time trying to keep her out of danger. Kaeya has taught her survival guidelines to go by.
Keqing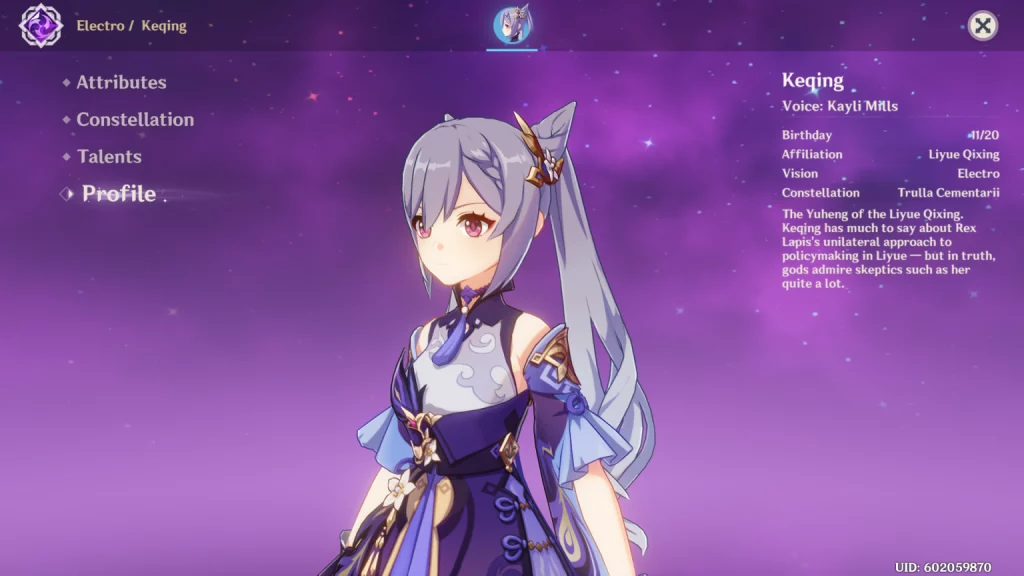 Even the gods themselves like Keqing since he is the world's favorite sceptic.
The people of Liyue really do need someone with her youthful perspective because her unconventional way of living shows others how to forge their own paths in life.
She is the Yuheng of the Liyue Qixing and is certain that the adepti and archons ought to let people decide their own fate.
Kaeya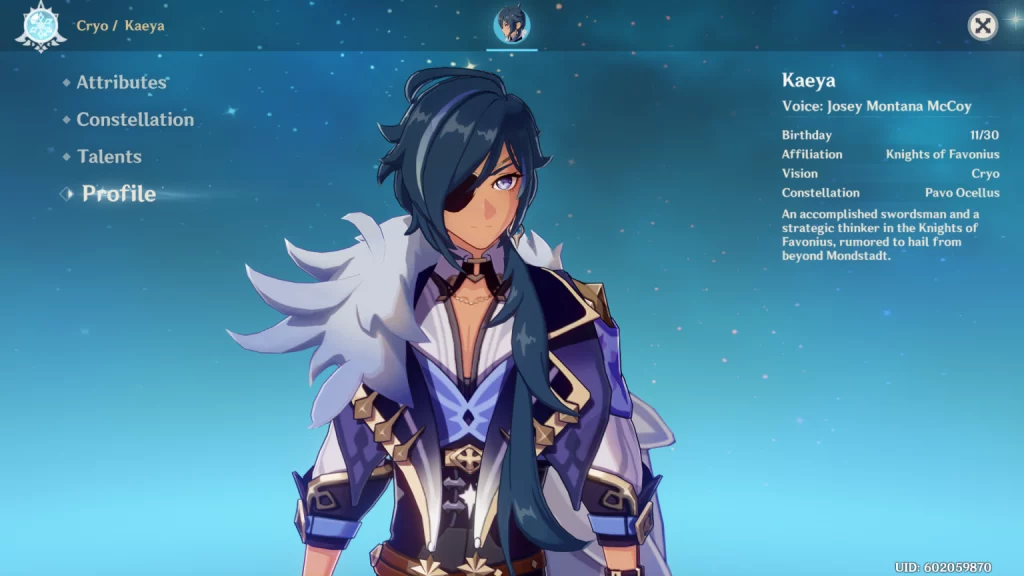 Kaeya, Diluc's adopted older brother, is a really odd individual. He is also the Cavalry Captain of the Knights of Favonius and Jean Gunnhildr's dependable assistant. He had to be thinking of his cunning tongue and methodical approach to missions, after all.
Kaeya utilizes his charm to elicit information from others and to cause them to consider their own values as well as his. He is frequently regarded as the Knights of Favonius' brains.
Kaedehara Kazuha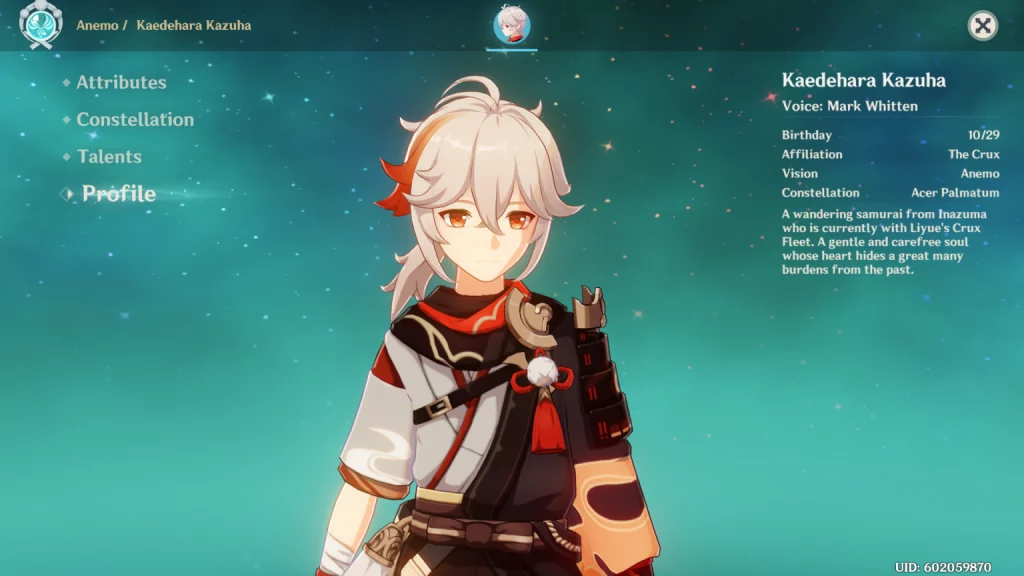 The first person from Inazuma that we met is Kaedehara Kazuha. He is a samurai, a kind man with his own set of morals. Since Beidou took him in, we first meet him on board the Crux.
He resists Baal, who labeled him a criminal and placed him in this predicament. Kaedehara Kazuha has traversed all of Teyvat and developed a sensitivity to the natural world.
Jean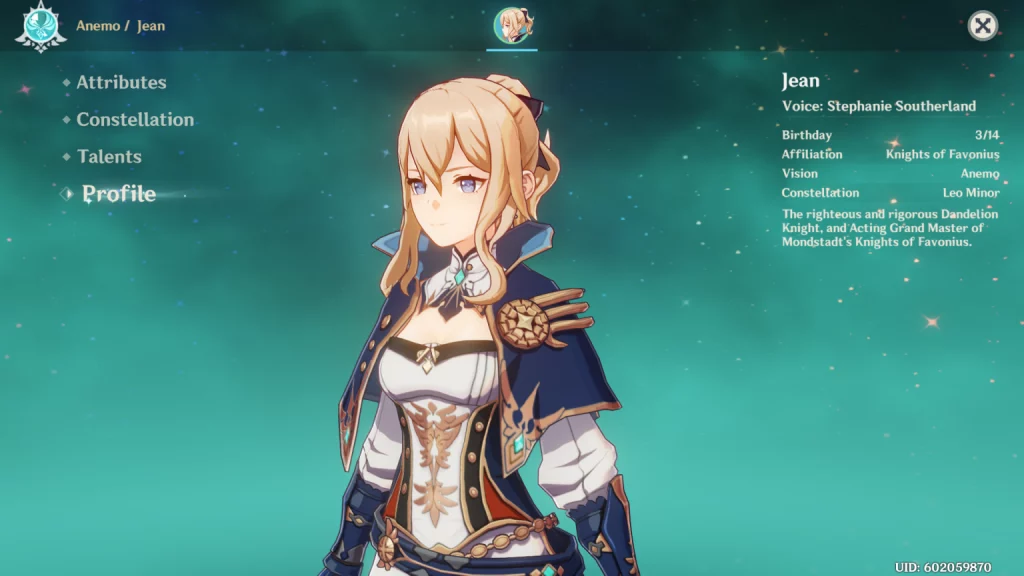 Despite her youth, the graceful and composed Jean Gunnhildr is already the Acting Grand Master.
Although she benefited from the Gunnhildr name and being the eldest child and successor to the most prominent line of knights in Mondstadt, she earned her reputation for dependability through her steadfastness and commitment to defending the city.
She puts in a lot of effort and consistently puts the needs of the people of Mondstadt ahead of her own, frequently to her disadvantage.
Arataki Itto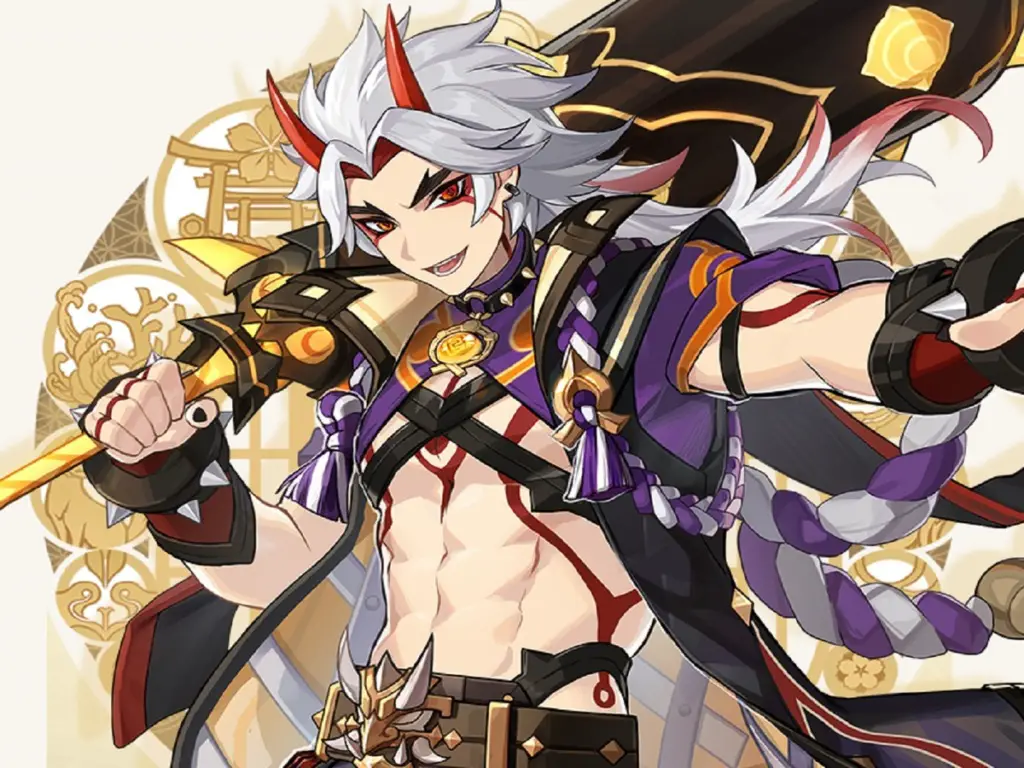 The Arataki Gang of Hanamizaka is led by Itto. Because he is an oni, his forehead is adorned with two red horns.
He also sticks out because of his large stature and powerful voice. He has a commanding presence, but despite this, he is a free spirit with a passion for life and is typically content.
Itto is neither a bad guy nor a law-abiding citizen. Although he frequently gets into trouble, he does have a strong sense of justice and fairness. He enjoys playing games with the kids of Inazuma and they adore him.
Hu Tao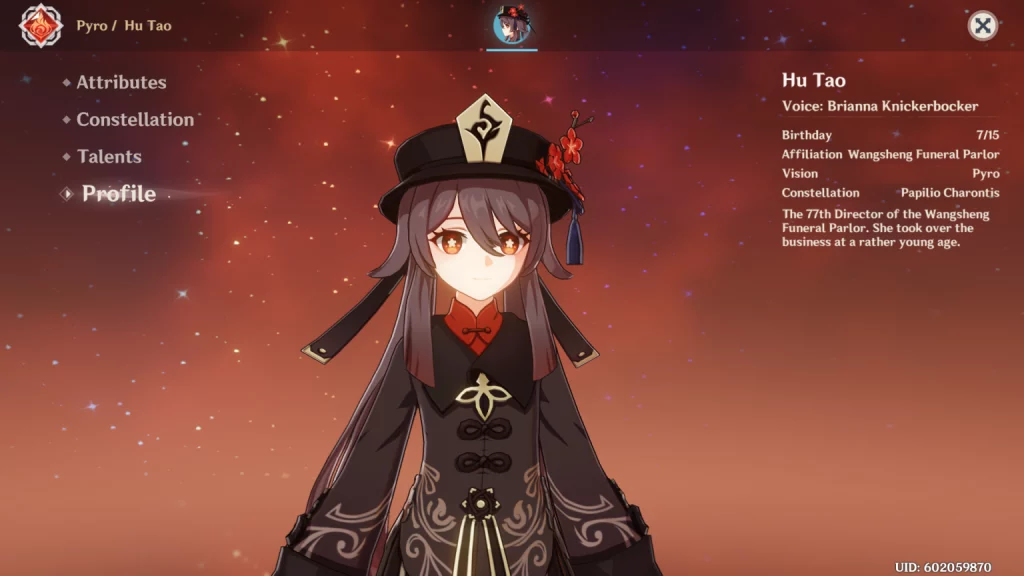 Hu Tao is the 77th director of the Wangsheng Funeral Parlor. She has a peculiar personality and likes to tease people. Hu Tao is frequently said to as eccentric and likes to stay occupied.
Some people, like Qiqi, find her odd nature to be repulsive. Hu Tao appears harsh despite his ease in accepting death.
She merely respects the procedure, which is necessary for her position.
Gorou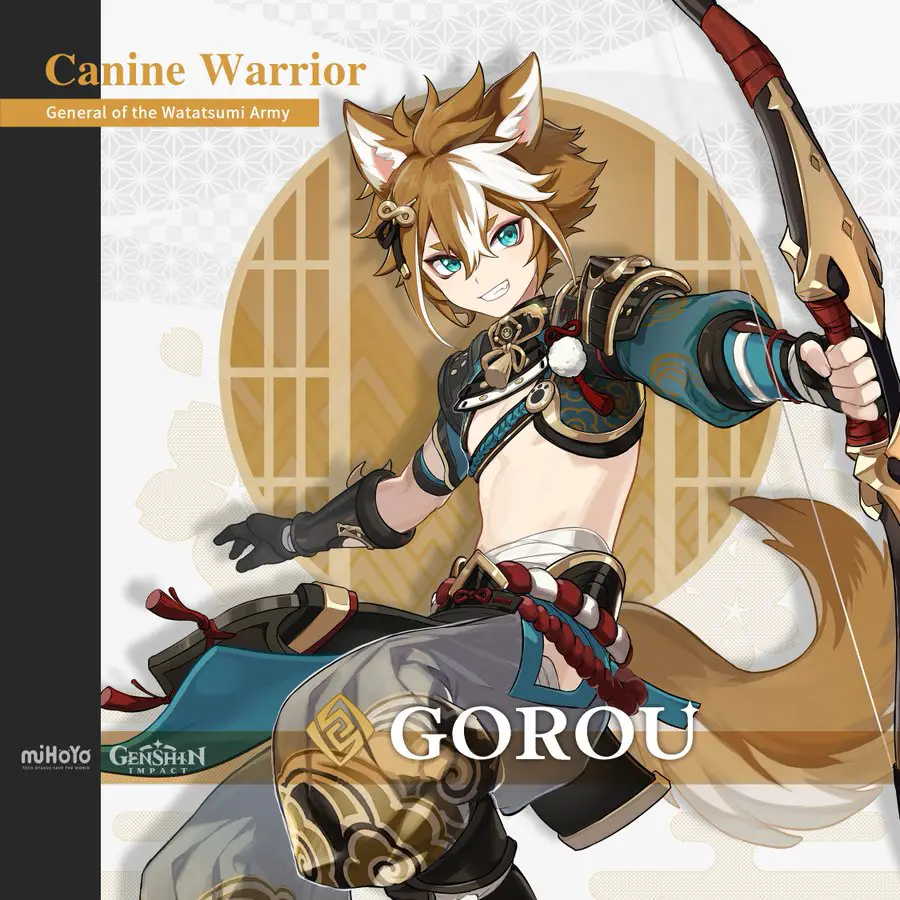 The general and head of the opposition to the Vision Hunt Decree are called Gorou. He is regarded as truthful, dependable, and loyal.
He regularly speaks his thoughts without taking into account the feelings of others, but people are nevertheless drawn to him.
He has the physical characteristics of an animal, such as ears and a tail, thanks to his dog's blood. He is also capable of comprehending dog barks.
Ganyu
The ancestry of Ganyu is half-human, half-Adeptus, and half-qilin. She, therefore, possesses a variety of traits from both humans and gods.
Along with being quiet and reticent, she works hard. As Liyue Qixing's emissary and secretary, Ganyu effortlessly handles an enormous workload.
She also keeps up good ties with other people, including Beidou, who is not much liked by the Qixang as a whole.
Fischl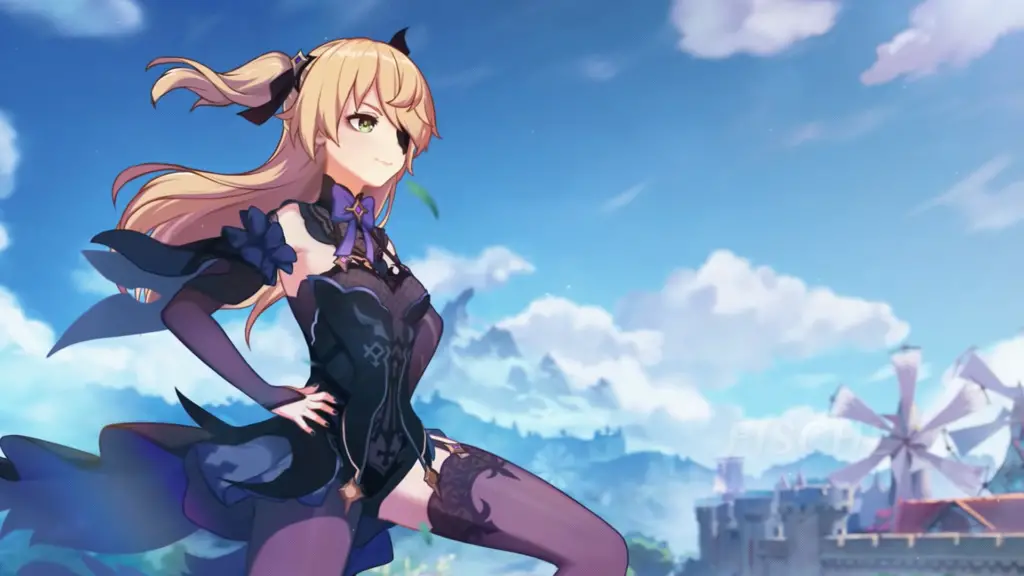 Salmon von Luftschloss After being banished from the otherworld, Narfidort came in Mondstadt and identifies herself as "Prinzessin der Verurteilung." She works as an investigator for the Adventurers' Guild and is frequently joined by her night raven companion, Oz.
She joined the guild when she was 14 and enjoys using longer and longer phrases. This is so common that the Adventurers make fun of the need for a "Fischl Dictionary" to decipher her speeches.
Eula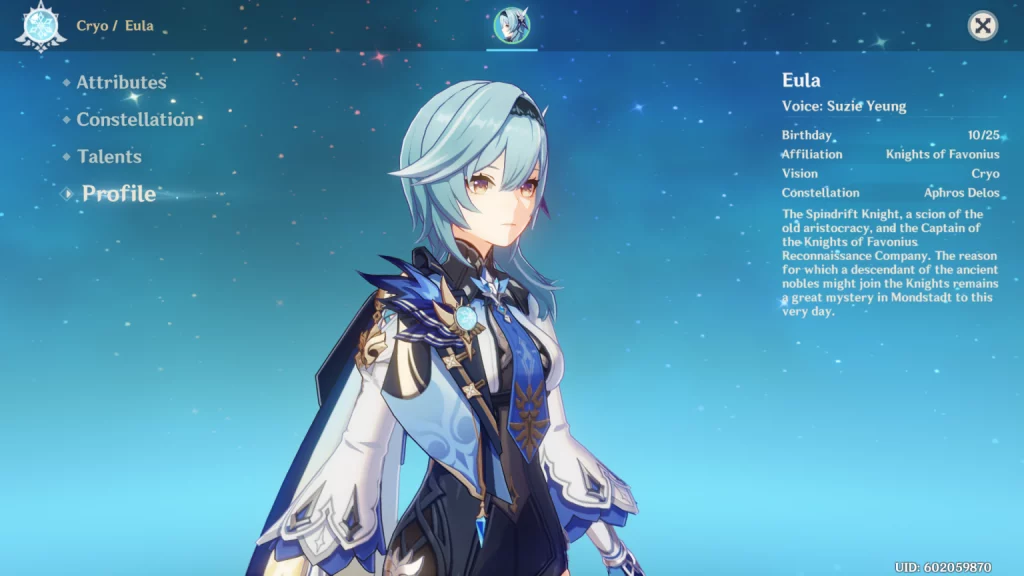 Eula is a member of the Lawrence Clan, which previously had absolute power in Mondstadt.
Although we are unaware of how this came about, she is identified as a distinguished Spindrift Knight and the Captain of the Knights of Favonius Reconnaissance Company.
Despite coming from a noble family, Eula thinks significantly differently from her relatives.
They view her as a traitor because she is one of the few aristocrats who admits that the clan's actions against Mondstadt were warranted. Eula has a free spirit and maybe a dependable friend and ally.
She suffers from being perceived in the same way because many people cannot forget her family history.
Diona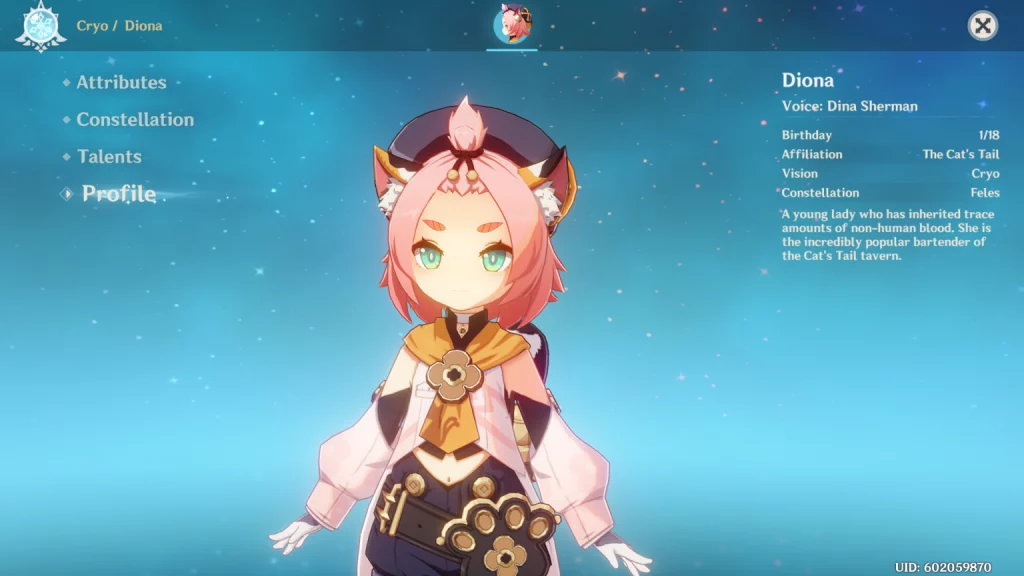 Diona stands out because, while being a well-liked bartender who creates fantastic drinks, she despises alcohol.
She always manages to make the ideal cocktail, which is both a blessing and a burden. Her aversion to drinking is perhaps a result of being ignored by her father Draff while he was intoxicated.
She is fiercely protective of others and possesses little amounts of non-human blood. She longs for companionship and is constantly willing to lend a hand.
Diluc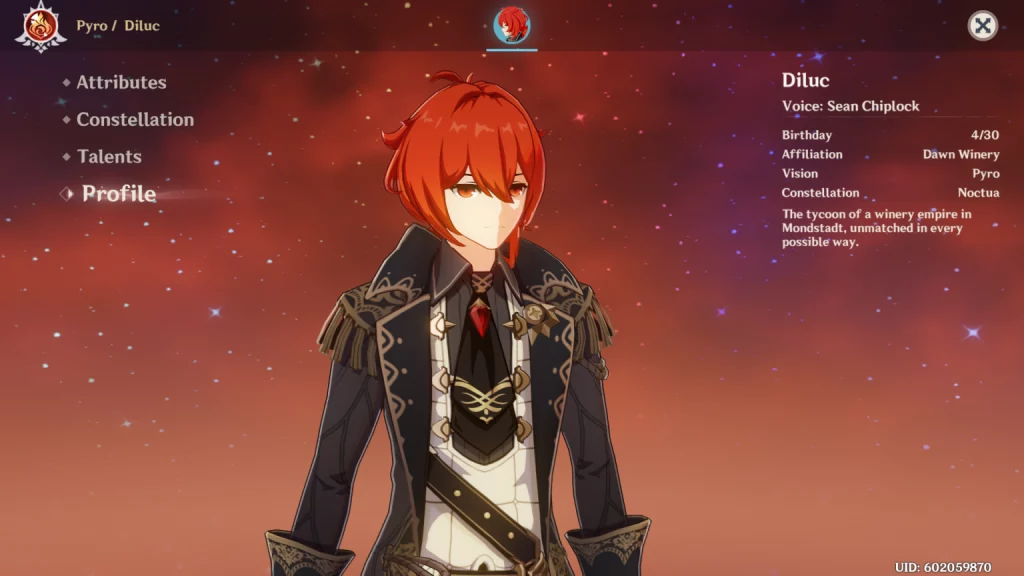 This fiery young man with the short fuse was once a devoted Knight of Favonius. After the careless management of his father's passing when he was 18 years old, his inner flame that had formerly been ardent and determined to safeguard Mondstadt no matter what flickered away.
He has since retired from the knighthood and has taken over his father's Dawn Winery. He still stands up for Mondstadt, but now it's more like a vigilante than a knight.
Chongyun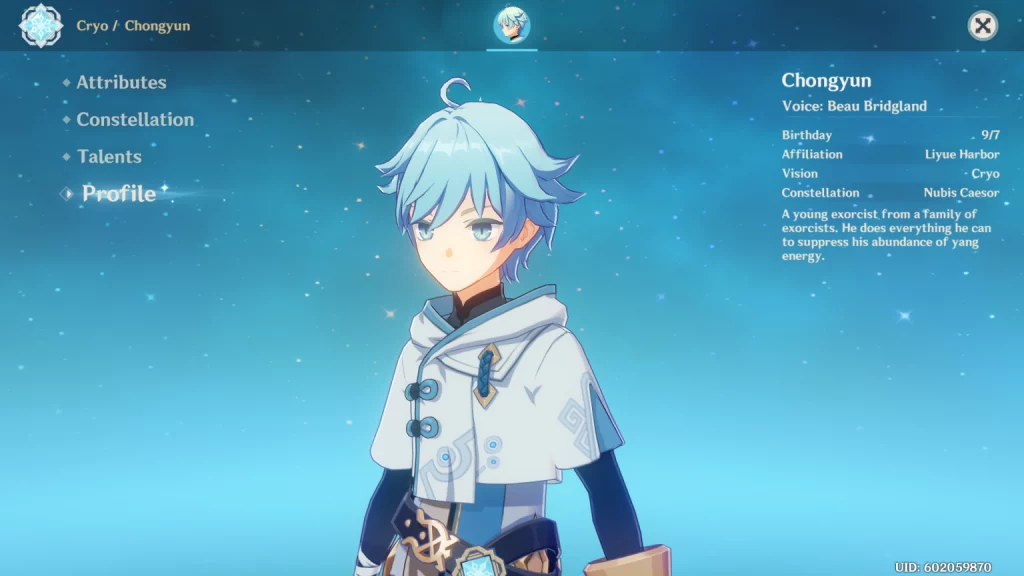 Chongyun is ideal for continuing the family business of exorcism because all he needs to fight off any neighboring demonic spirits is positivism. Although this makes him extremely effective, he also has disadvantages.
He has never truly encountered an evil spirit, yet he would still prefer to meet one to hone his abilities because they run from his natural high spirits.
Bennett
The cherished orphan of the Mondstadt Adventurers Guild is Bennett, everyone's favorite achiever.
Despite bad luck seeming to follow him about like a shadow, he perseveres as the final member of "Benny's Adventure Team."
Fortunately for him To delete the team from the books would break Katheryne's heart.
Beidou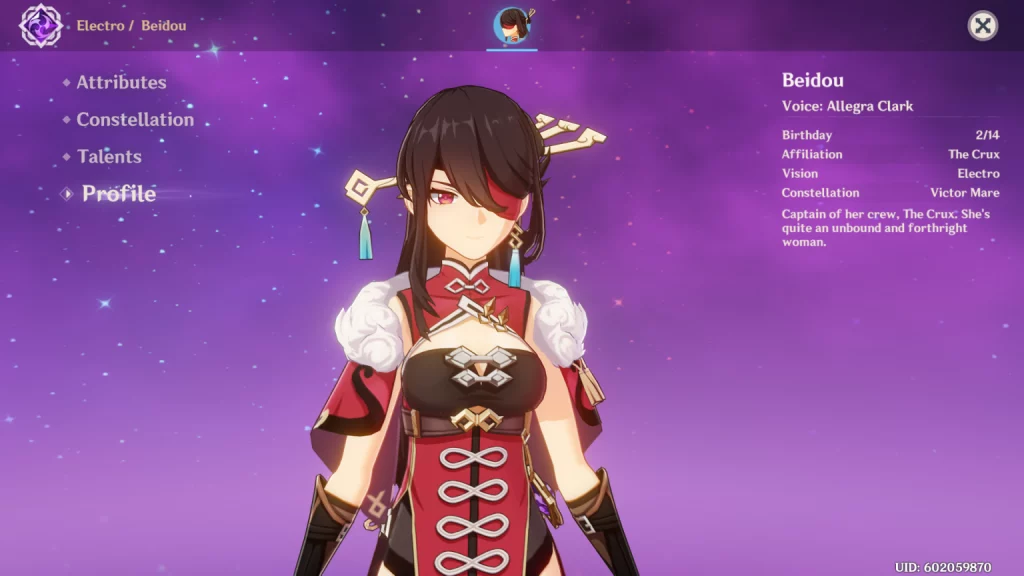 Beidou is the captain of the Crux Fleet, and as one of the older members of the cast of playable characters, he has years of leadership experience.
All of her crew members are confident they can put their lives in her hands because she is rumored to be able to control even the most erratic storms.
She is renowned across Liyue for being unafraid of the Liyue Qixang, Ningguang, and Tianquan.
Barbara
Barbara, Jean's younger sister, aspires to have Jean's talent and height. She promises to improve the emotional and physical well-being of Mondstadt's residents as the deaconess of the Church of Favonius.
She is well renowned for her love of music and is a ray of happiness. She calls herself an "idol," and although it took some time, the public has warmed to her songs.
Amber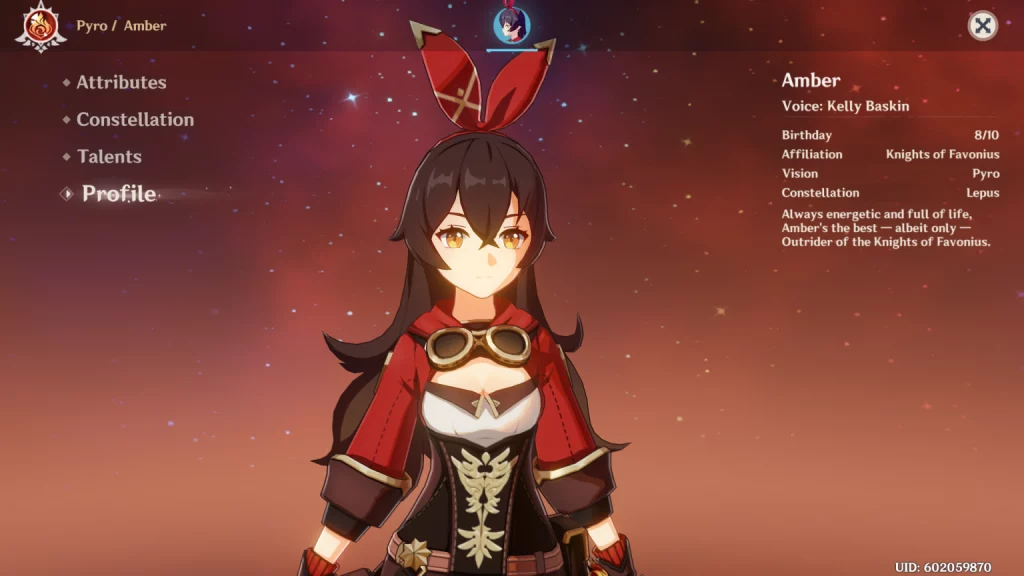 Amber is the last of her type among the Knights of Favonius, carrying the lost art of being an Outrider. She has won the Mondstadt Gliding Championship three times, which is impressive.
She is outgoing and upbeat, enthusiastic about what she does, persistent, and direct. Amber follows the Knights' code and isn't scared to take on any challenge.
Albedo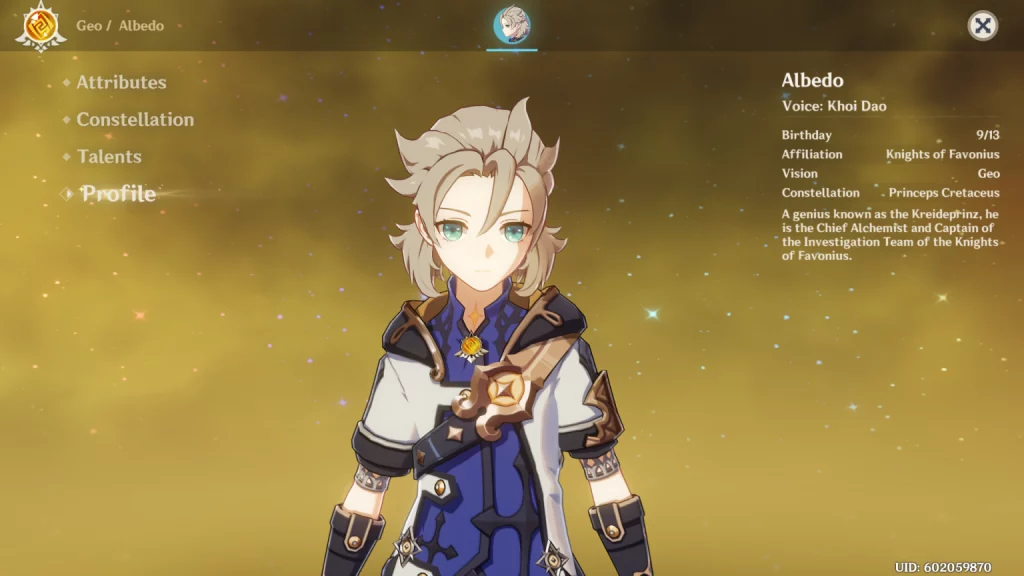 Alchemist Albedo, also known as the Kreideprinz, has a voracious need for knowledge. He is now the Chief Alchemist and Captain of the Investigation Team for the Knights of Favonius in Mondstadt as a result of this.
He enjoys exploring and comprehending esoteric knowledge from previous generations of intellectuals, with the help of Sucrose and Timaeus.
Along with this, he is also an artist, however many of his unfinished works are incomplete. He has illustrated some of Xingqiu's novels. He is supposed to spend most of his energy organizing Klee's chaos.
Recently, it was discovered that he was keeping a significant secret regarding his identity—a secret that would probably have an impact on upcoming plotlines.
Kamisato Ayato
Kamisato Ayato, the eldest son, serves as the Yashiro Commissioner in addition to being the head of the Kamisato Clan. He is Ayaka's older brother and leads a reserved lifestyle, rarely going out in public.
He and Ayaka have many traits, including being responsible, unwavering, and compassionate toward people from all walks of life. Ayoto cherishes fidelity and family because he has already put his life in danger for his sister.
Kamisato Ayaka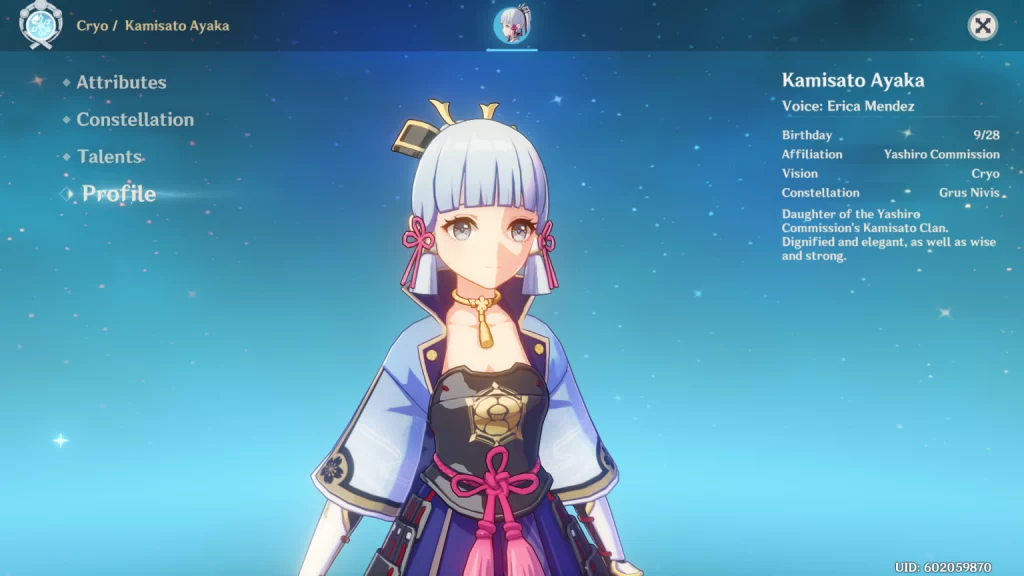 The Kamisato Clan of the Yashiro Commission's eldest daughter is Kamisato Ayaka. She has a high social status, which is evident as soon as we meet her.
She is busy managing both internal and external affairs. She is regarded as being as lovely and exquisite as well as wise and powerful.
She also gives a lot of thought to individuals who are close to her. Thoma is her assistant, but she wants others to know that he's also a buddy.