Hey Otaku, Today we are going to talk about the sports anime genre, and because many fans are into basketball, we decided to talk about the basketball anime series.
We have prepared a list of basketball anime series that follows the never give up principle and Working hard to achieve your goals.
These sports anime series are not just a genre as they cover so many sports while mixing it up with a slice of life, thriller, and zero-to-hero themes.
So here is a recommended list of our best basketball anime series that are fun to watch.
14. Breakers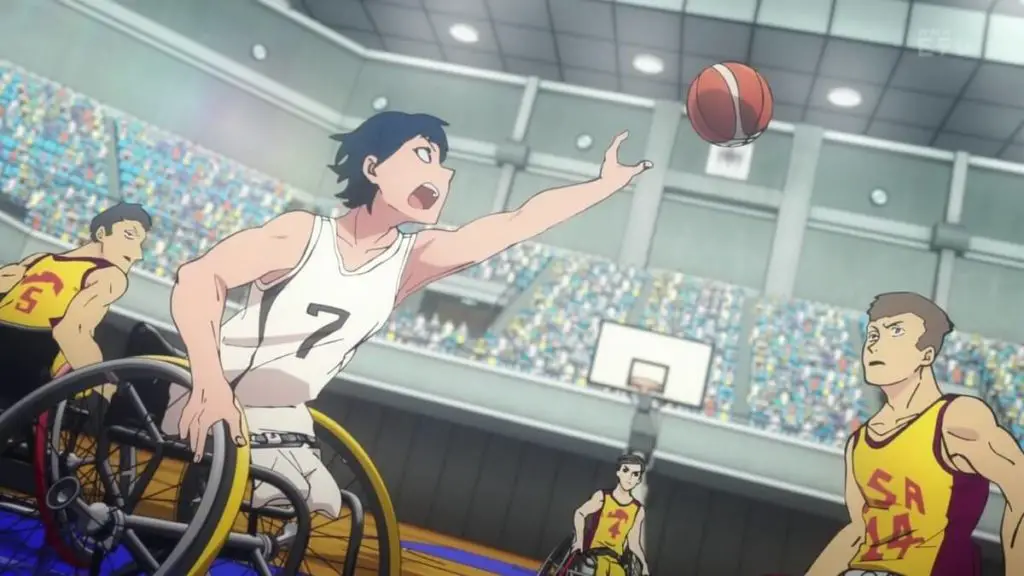 This basketball anime is based on humans having the power to release their potential under various conditions.
Those who break through the wall are named the limit…
That is a para-athlete! Boys and girls who met heretic sports scientist, Narita Ren, got hints from Narita.
As a para-athlete, a hot story that grows by opening the door to potential.
13. Onagawa Chuu Baske Bu: 5-nin no Natsu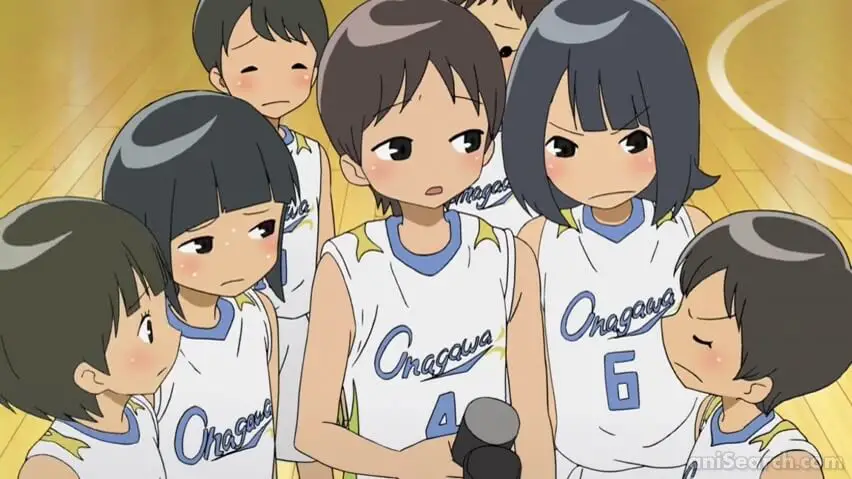 This basketball anime is based on the true story of the Onagawa Junior High girl's basketball team.
The team's numbers and staff are depleted after the Touhoku earthquake, leaving only five regulars.
12. Heong-geuli Beseuteu 5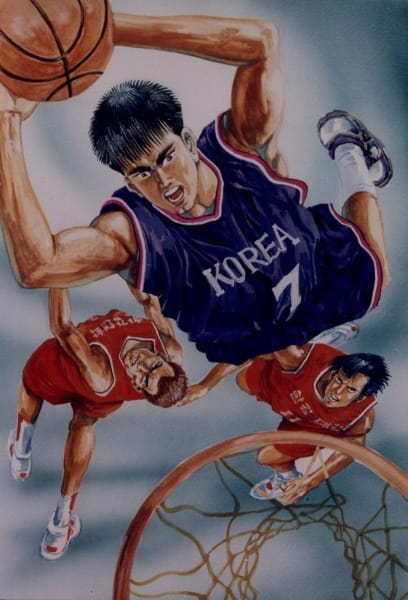 This basketball anime is about Kim Youngwoong, a high school basketball player.
He participates in the junior Asian Cup competition helping Hong King and plays the final match against the Chinese team. His last dramatic shot brings victory to the Korean team.
Chae Yo omi, the Korean consul's daughter can't forget his last impressive shot. Back home, Youngwoong is sought after by every university which has a basketball team.
However, Youngwoong decides to join the least famous team because his very first coach, Kim In, advises him to.
11. Barangay 143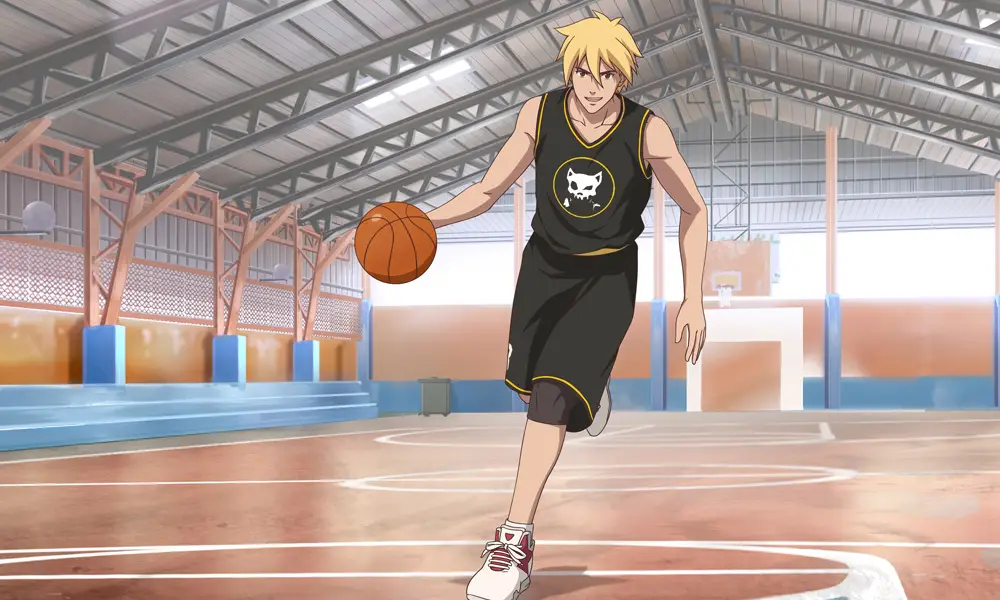 This basketball anime follows the coming-of-age story of a young man in search of a father and how he finds an unlikely family in a team of misfits trying to bring glory to their hometown.
10. Mitsu x Mitsu Drops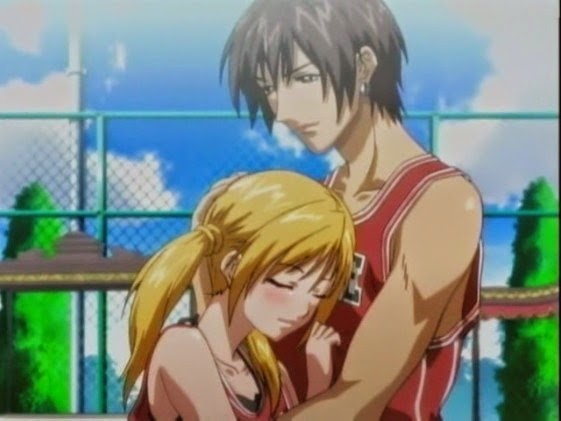 This basketball anime follows Hagino Yuzuru an ordinary girl at Houjou High School.
When she works a part-time job during summer break, she gets into trouble with Renge Kai of the Kuge course which many rich people take.
After the summer break, she finds that she was chosen as Kai's "HONEY".
9. I'll CKBC
This basketball anime is about Two boys, Tachibana and Hiiragi were once brutal rivals in the game of basketball.
Hiiragi soon transfers into Tachibana's school and basketball team.
They begin as teammates, but Hiiragi's family pushes him to play on a better team.
Tachibana and Hiiragi must now play against each other.
8. Dash! Kappei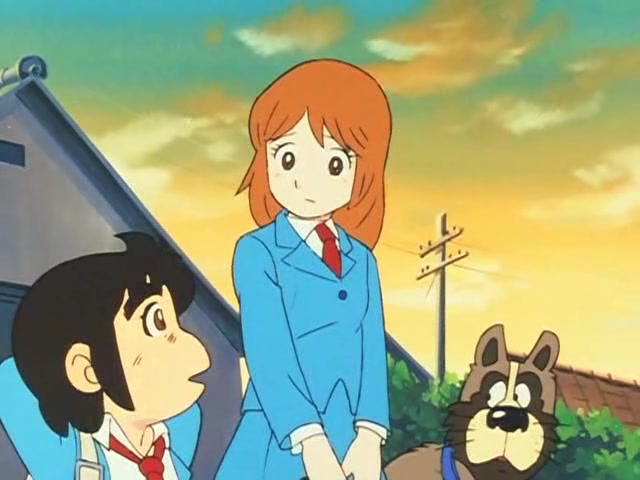 This basketball anime is about Kappei, a dramatically short guy who is a master in every sport.
He lives as a guest in sweet Akane's house, and he's in love with her, but there's a strange rival, her dog Salomone (Italian name), who plans evil traps to encumber Kappei.
But the dog also has another function: he explains all sports rules when a new sport is depicted. Kappei is fond of white female underwear, always trying to lift girls' skirts up.
7. Dear Boys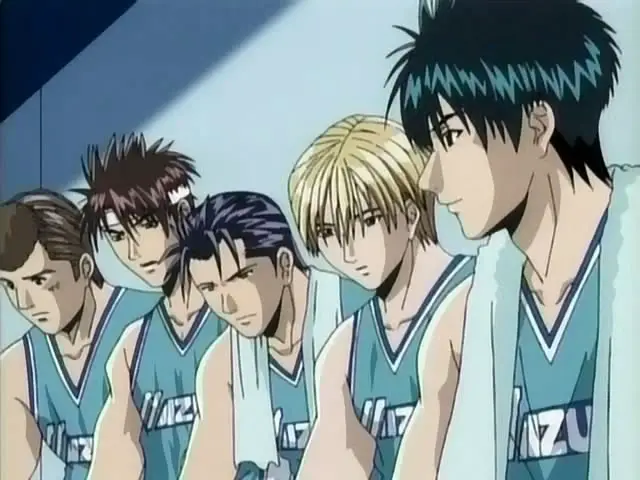 Dear Boy is a story about determination to excel in a sport that you love and also have fun at the same time. The tension is underdogs in the whole prefecture has only five players.
How does this team struggle to win? Setbacks, teamwork, and a purpose in life.
This story relates to our lives as we strive to do our best, not just in sports, and school but also relationships between friends and the ones we love.
6. Ro-Kyu-Bu!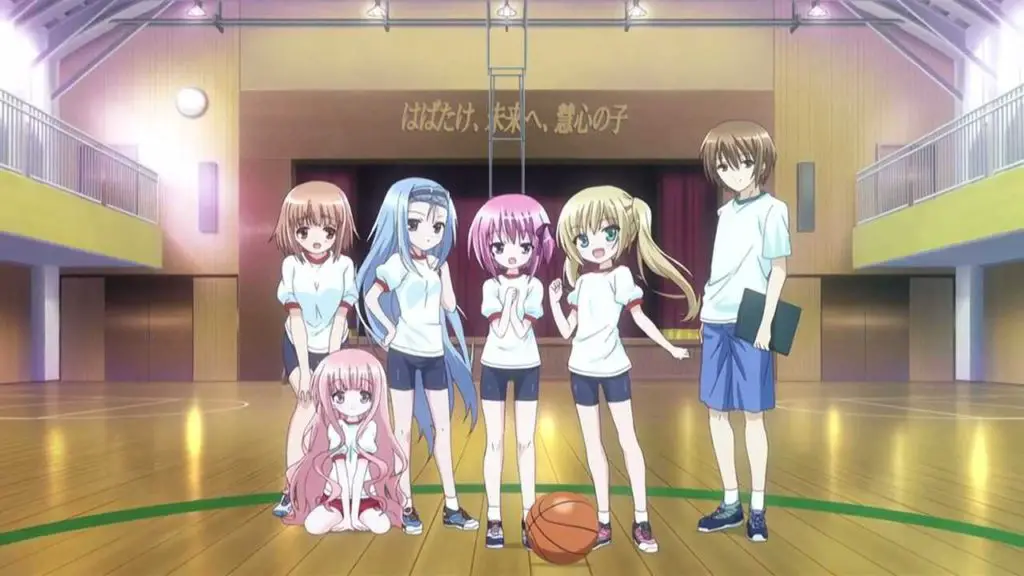 Hasegawa Subaru enters a basketball club at Nanashiba High School, but the activity of the club gets suspended because the club leader falls in love with an 11-year-old daughter of the coaching teacher.
Subaru's aunt asks him to coach a basketball club of elementary school girls.
At first, he is reluctant to teach small girls, but he devotes himself to the club as he knows their complex circumstances of them.
5. Basquash!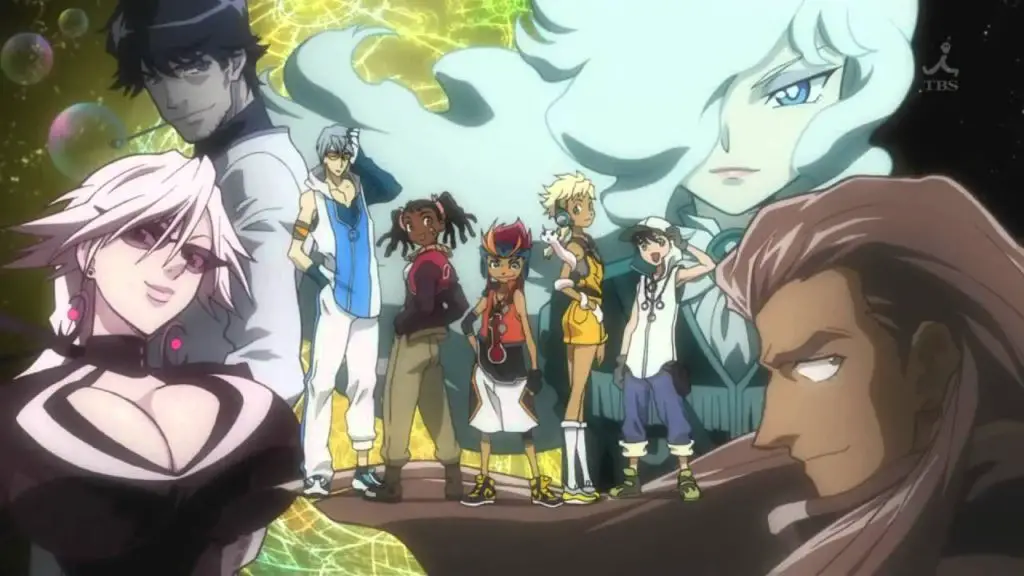 On the planet Earthdash, its inhabitants gaze on its moon and the technologically advanced lunar city of Mooneyes with awe.
Dan JD, a boy living in Rollingtown on Earthdash's surface, gets caught up in Bigfoot Basketball — a fast-paced sport played with giant Bigfoot robots.
4. Buzzer Beater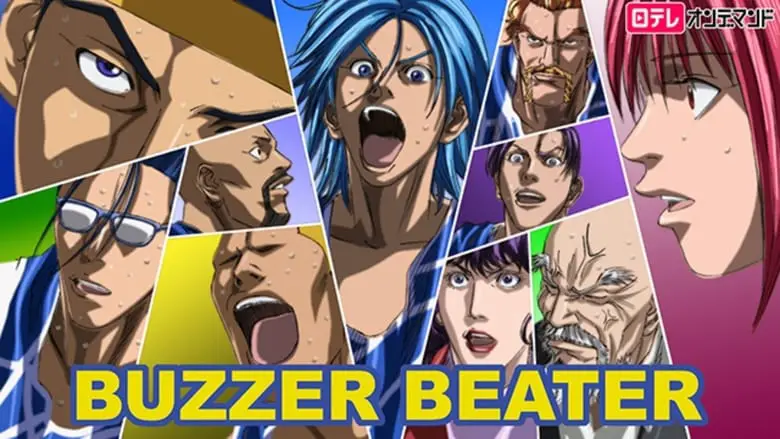 Hideyoshi is a homeless boy living in New York in the near future, who survives by hustling other kids in basketball games.
But now he's been drafted into a pro-team-a pro team with a very unique goal. There once was a time when humans dominated the game of basketball.
But times have changed, and now the physically superior alien players have taken over the game, and there are barely any human players next.
But Hideyoshi's team-the first all-human team to compete in the Space League-intends to change all that, and bring the championship back home to Earth.
3. Ahiru no Sora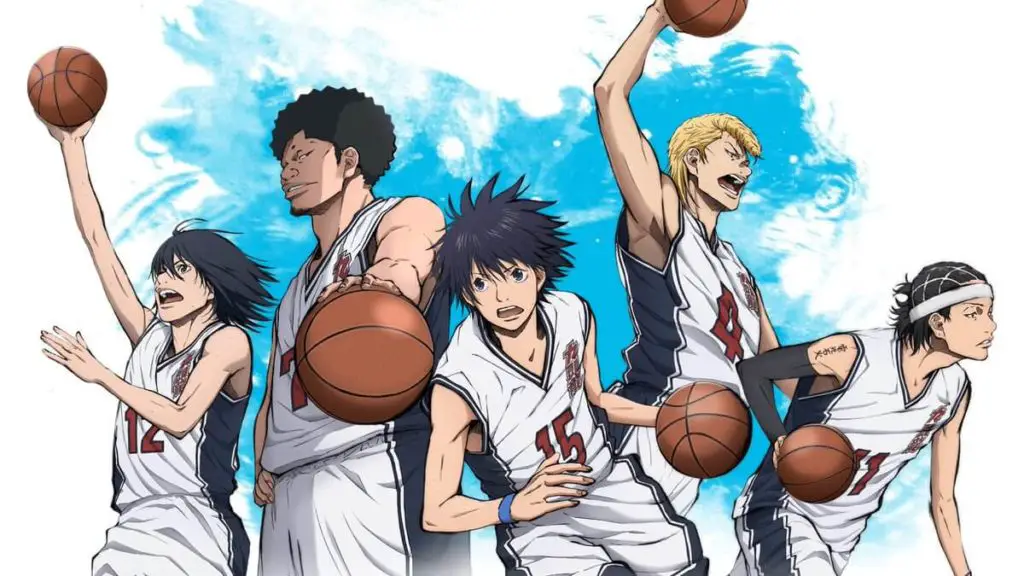 Story Kurumatani Sora made a promise to his mother "I will dominate my first high school tournament".
But as he joins the basketball club after entering Kuzuryū High School, he finds out that it's become a stomping ground for delinquents.
2. Slam Dunk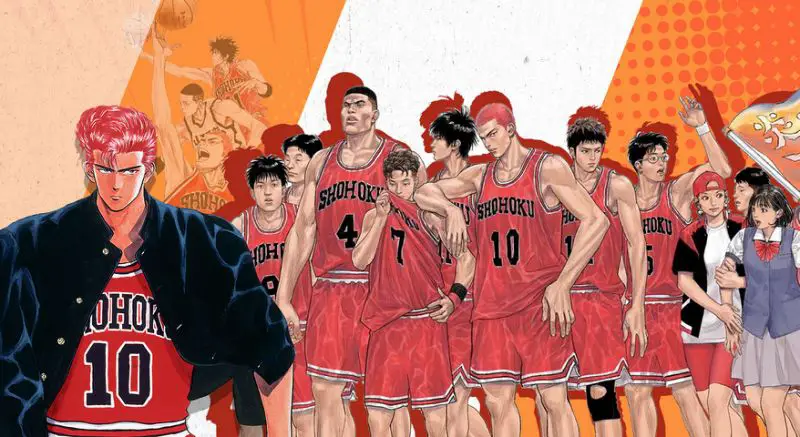 Sakuragi Hanamichi is a junior high punk used to getting into fights and being rejected by girls but upon entering high school he meets the girl of his dreams, Haruko Akagi.
He will do anything in order to win her heart including joining the school basketball team that is aiming to conquer the nation led by Haruko's brother.
The problem is that Sakuragi has never played basketball before, and a freshman sensation is stealing the spotlight and Haruko's affection from him.
Slam Dunk: Shouhoku Saidai no Kiki! Moero Sakuragi Hanamichi (OVA)
Some spoilers are coming up, so if you don't want to know much about the OVA but still want to see Slam Dunk, go look at this instead. I promise it will be good!
One thing that makes Slam Dunk such a great anime is that the good guys don't always win.
So it is with the Shohoku team.
After they lost to Kainan High, Sakuragi was determined to become a better player, which is why he got a haircut at the end of the series.
This 1995 movie tells about the game Shohoku played right after their terrible loss to Kainan.
Coach Anzai's decision to have his team play against another tough opponent may be the best way for Shohoku to get better, given how important it is to build team chemistry, even after a loss.
It also seems to show how much a strong opponent can help you.
In the same way that Slam Dunk did, this movie gives an even-handed look at basketball and life lessons.
Maybe that's why Slam Dunk is so popular in the first place: it's an anime series that almost anyone from any background can relate to.
1. Kuroko No Basketball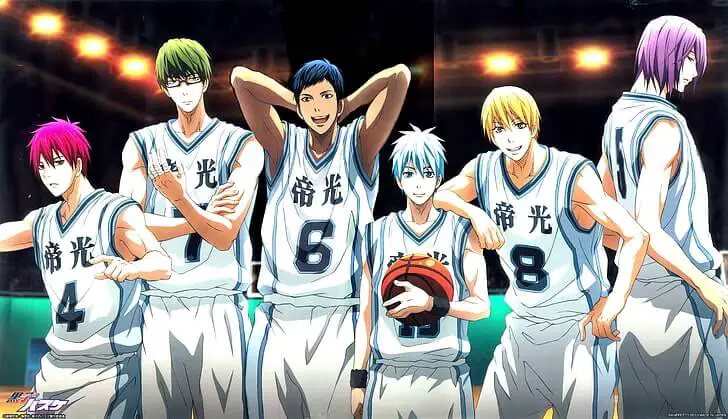 Once upon a time, a team of basketball prodigies rose to the top by demolishing all competition.
This team became known as the Generation of Miracles, as they are all in the same year group and they were considered children of miracles.
After junior high school ended, these five stars went to different high schools with top basketball teams.
However, a fact few people know is that there was another player accompanying the Generation of Miracles, a Phantom Sixth Man.
This mysterious player is now a freshman at Seirin High, a new school with a powerful, yet a little-known, team.
Tetsuya Kuroko, the sixth man formerly with the Generation of Miracles, and Taiga Kagami, a naturally talented player who spent most of junior high school in America, are aiming to bring Seirin to the top of Japan, taking on Kuroko's old teammates one by one.
Kuroko no Basket: Last Game (OVA)
"Last Game" is one of the most well-known OVAs based on the Kuroko no Basket world.
It shows how great it would be if the best people in the series worked together.
And we're talking about the very best!
Kuroko's old team from "Generation of Miracles" and Kagami agreed to play as a single team against a US streetball group that was visiting Japan.
This movie shows what makes Kuroko no Basket famous: the exciting basketball action and weird special moves.
Also, fans do have a great time with Kuroko no Basket: Last Game.
The Generation of Miracles probably won't play together again, so this is a very special time for basketball anime.