There are two things girls want, among other things.
Beautiful hair and thick and long eyelashes.
For some reason, boys get these things without even wanting them.
But since you can do anything with your Sims 4 character, we have compiled, specifically for you.
A list of all the eyelash mods that make sure to keep your eyelash game on point, if not for you, then at least for your Sim!
27. Sims 4 3D Eyelashes V1 by murphy-sims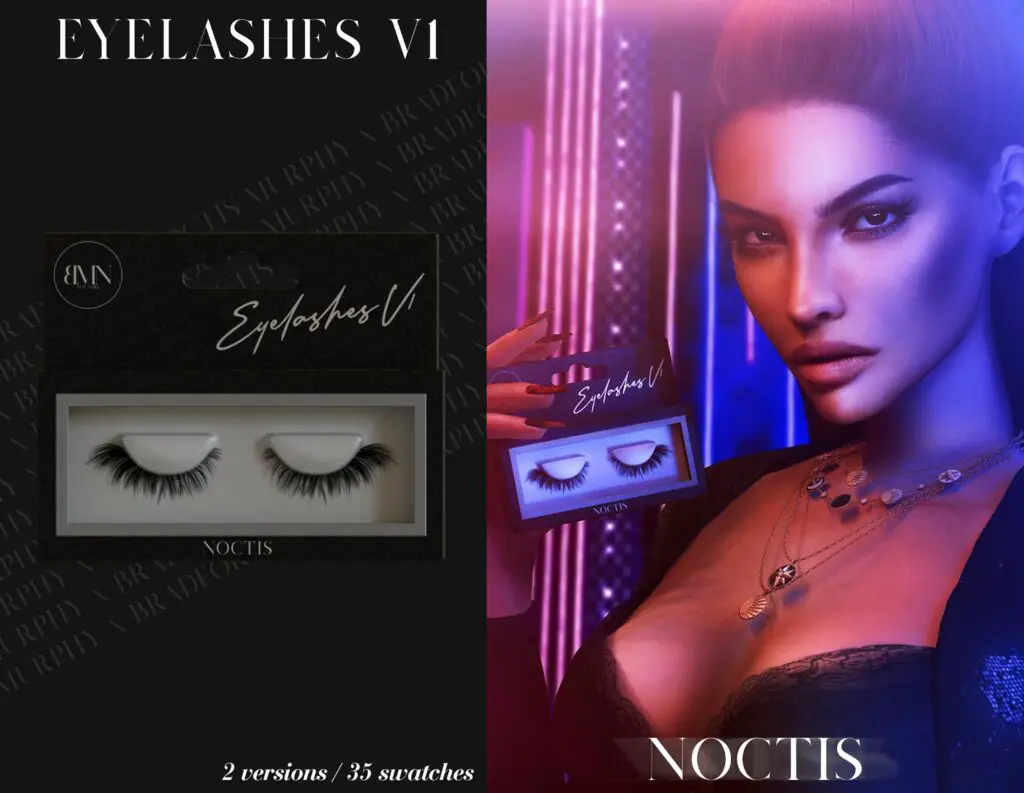 With these sims 4 cc eyelashes, your sims will have beautiful eyelashes.
This set of 35 eyelashes is meant to give the look of false eyelashes.
There are two different versions: one for glasses and one for skin details.
So, if you like to change your Sim's fake eyelashes with each outfit, the glasses version would be best for you.
OR, if you're like me and just want to give your Sim eyelashes and be done, use the skin detail version.
26. Sims 4 Doll Eyelashes by Miiko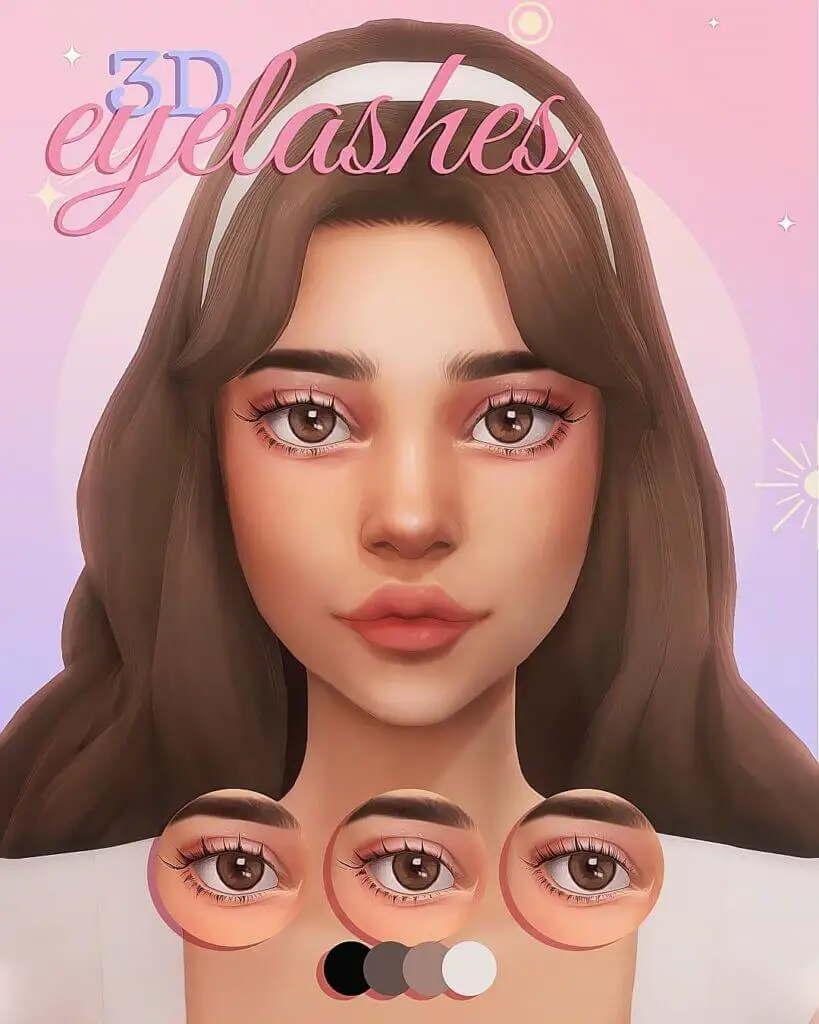 This is the second part of Miiko's collection of sims 4 3D eyelashes.
This collection has three different styles of doll-like eyelashes in four different colors.
According to the person who made them, they have a "wet-lash look" and are spread out.
Again, you can download these for either the glasses or brow ring categories.
25. Sims 4 Baddie Eyelashes by LeahLillith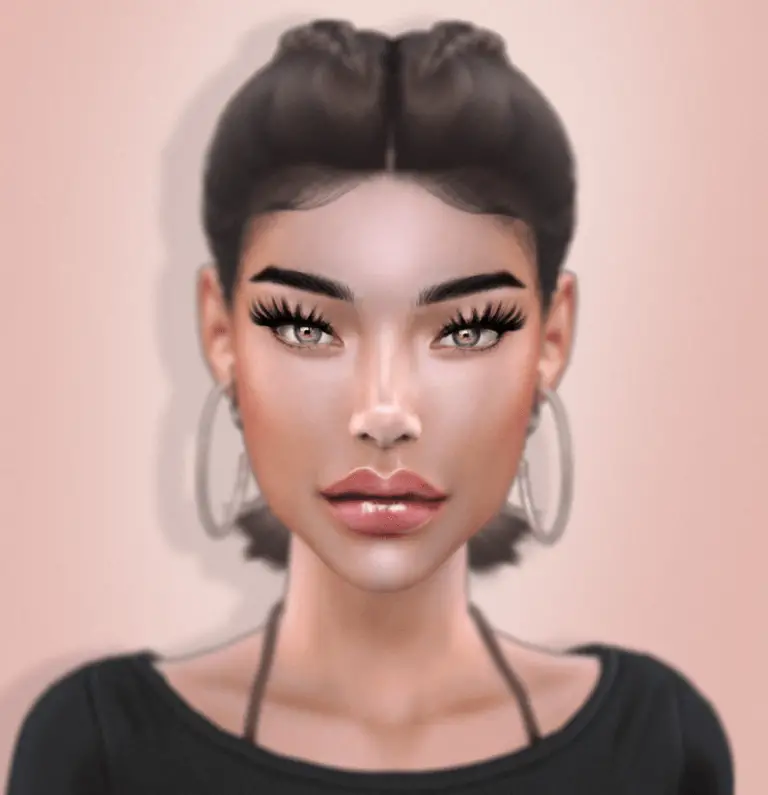 These CC eyelashes by LeahLillith are perfect if you want strong, noticeable lashes.
Another simmer referred to them as "Baddie" lashes, and I thought that was a perfect description.
These eyelashes can be found in the CAS glasses category after downloading.
24. Sims 4 Maxis Match Eyelashes CC by pickypikachu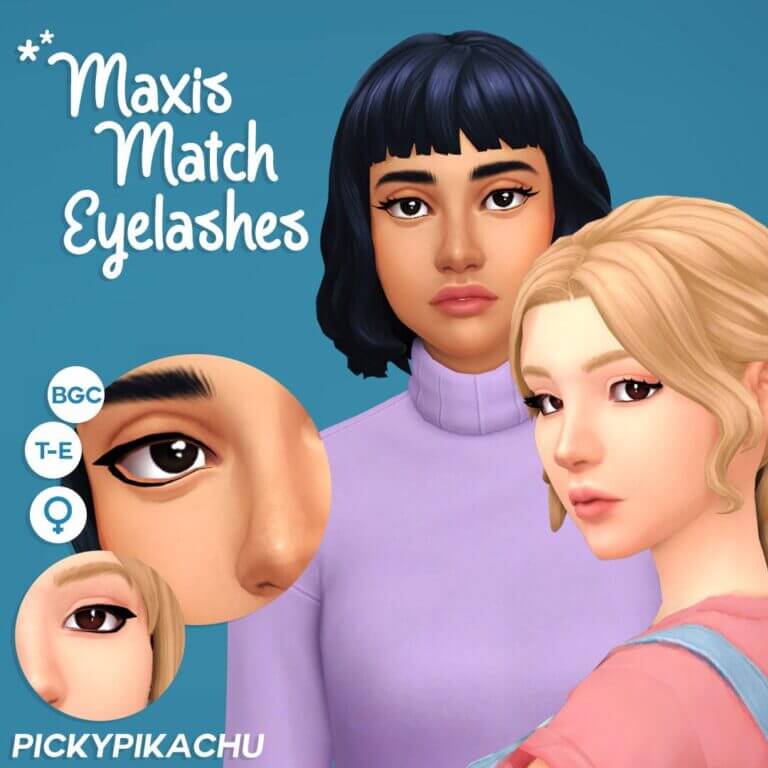 Another pair of maxis match eyelashes is seen here. Like the kijiko lashes, these are a favorite among Sims 4 players.
They come in the Jade and Norma styles. While the Norma style closely matches the EA eyelashes but adds a lower lash line, the Jade type has separated eyelashes.
These eyelashes are ideal for laptop users and those with less powerful computers because they have a low poly count.
23. Dramatic Sims 4 Eyelashes by redheadsims-cc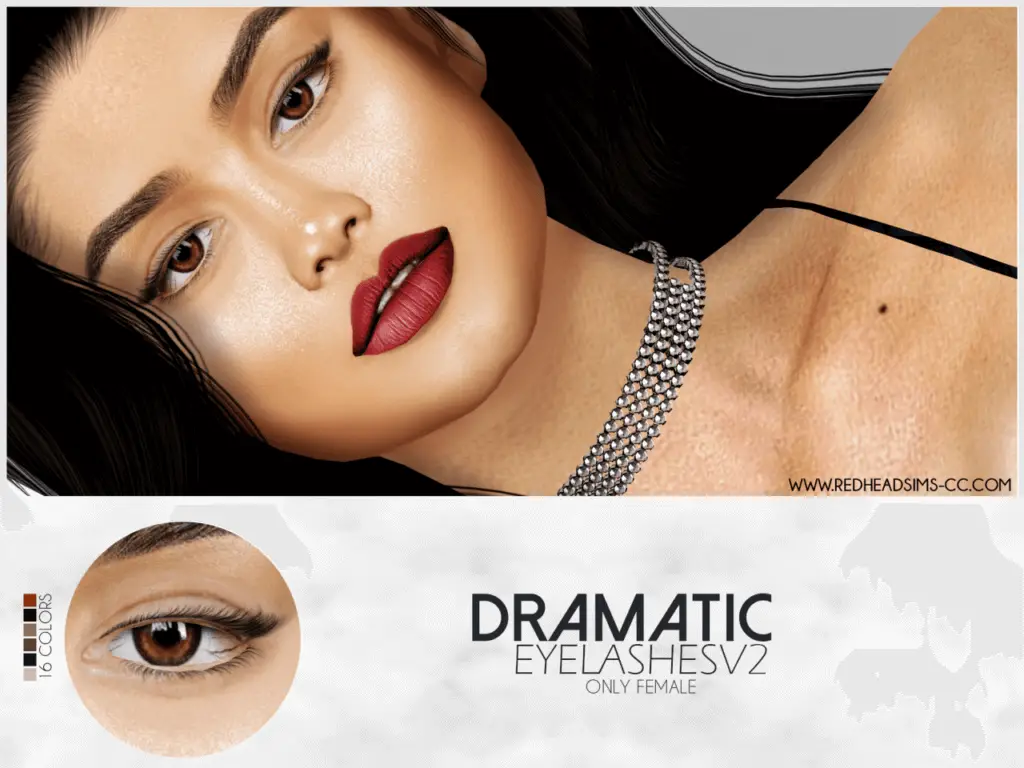 You may get a dramatic eye look by using this set of Sims 4 eyelashes.
Your sims' appearance will be refined and put together thanks to these CC eyelashes.
If you don't enjoy utilizing cc websites like that, you might want to skip these since the only place to download them is on Simsdom (ugh!).
Additionally, bear in mind that only female Sims can use these.
22. Thick Long 3D Eyelashes for Sims 4 by Miiko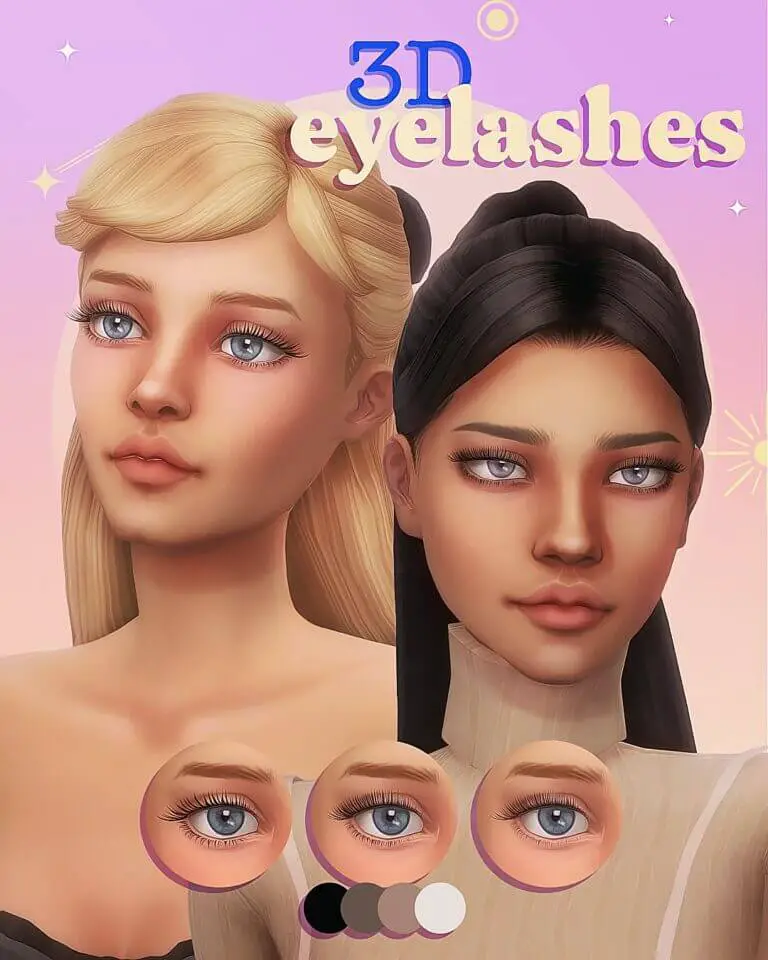 These eyelashes are another one of Miiko's stunning and breathtaking Sims 4 designs.
Their 3D Sims 4 eyelashes are available here for the first time. They are described in hand-drawn "alpha" style as thick & lengthy.
Depending on the version you download, you can find them either under the category for glasses or brow rings.
21. No EA Eyelashes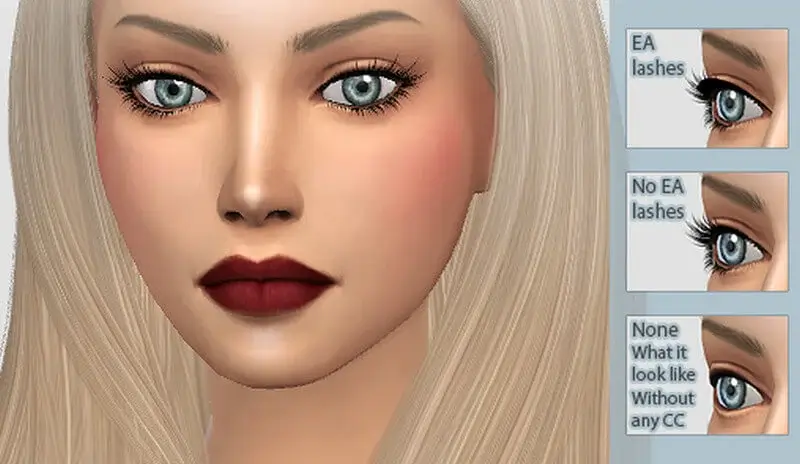 Many eyelash mods allow you to look at the latest version of the Sims 4 C-C lashes, as well as information about skin or eyewear. 
This is the main reason that the Sims 4 CAS doesn't permit you to personalize your Sims C-C lashes, and in the alternative, makes them into the standard Sim version. 
The default options Maxis Kijiko lashes in Sims 4 can be removed with the help of this small mod making the eyes of the Sims unaffected by the pain of 3D lashes.
20. Glaza's Natural Eyelashes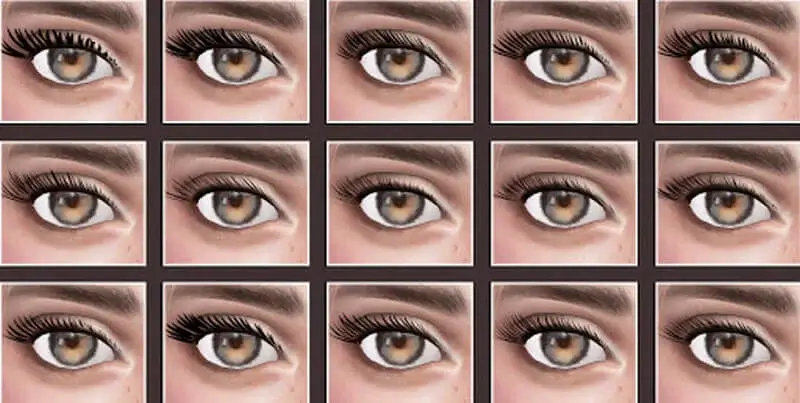 The latest model is that comes with a fantastic set of lashes that have rough. 
These natural-looking lashes can not be missed by anyone and we ought be grateful to Glaza for creating these!
19. Eyelash Pack N07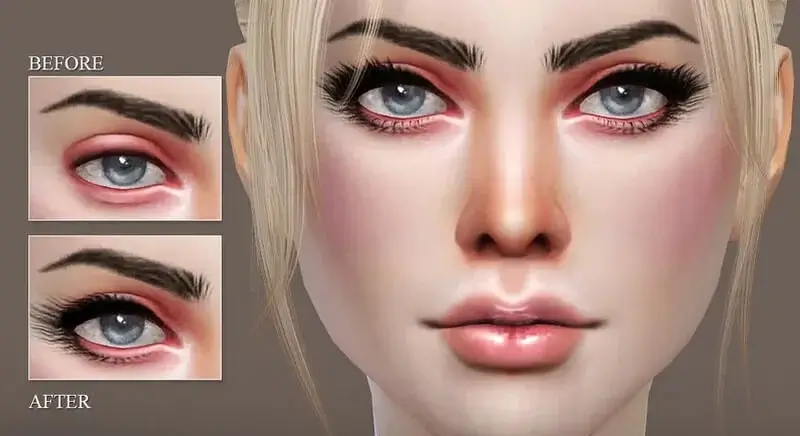 They're a portion of the contour of the eyes, though somewhat curly.
They could be a perfect fit for an eyebrow set with hair. 
The lashes are offered in various shades by PralineSims.
This eyelash bundle is fashionable and is part of your extensive PralineSims catalog and will surely provide your Sims an attractive appearance.
The lashes have been active and are the sparkle in their efforts to tackle the most extreme makeup.
18. 3D Lashes Version 2 by Kijiko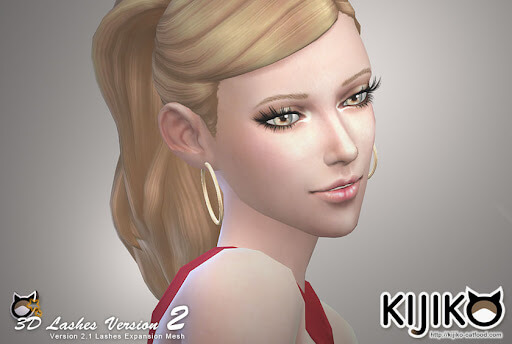 Long. Smooth. Curvy and perfectly balanced between thick and sparse.
These 3D lashes by Kijiko-san, come in the complete set of 45 different eyelashes!
It comes in all varieties, from short and simple for the innocent look to long, luscious, and inviting lashes.
17. Maxis Match Eyelashes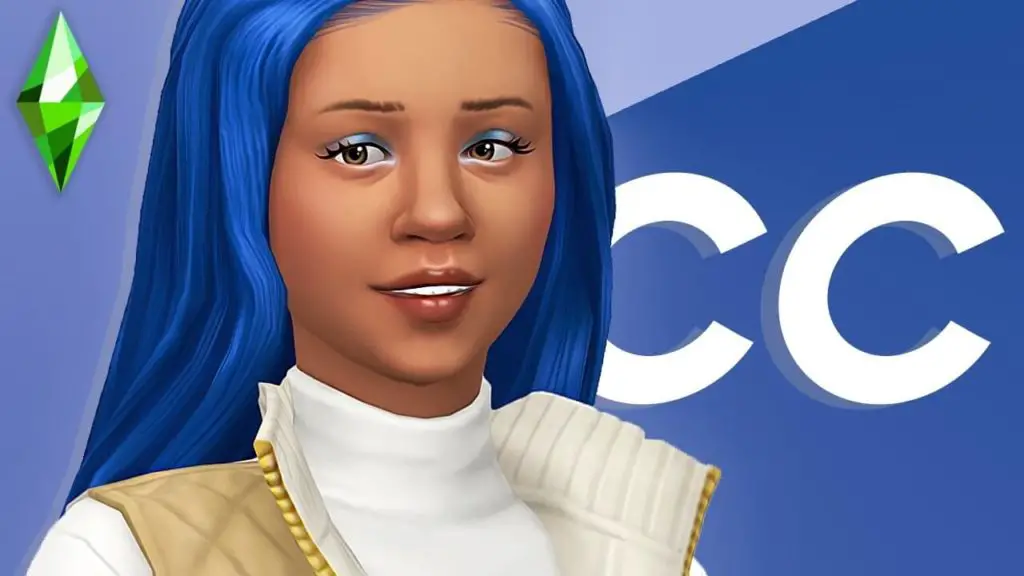 These come in two versions: Norma's lashes and Jade's lashes.
These lashes are meant to bring out of all the beauty of your female Sim!
These come in all the variants that you might like!
Top lashes only?
As your wish.
Top and bottom?
Of course!
Don't like this eye color?
Here, we've got 8 colors to choose from!
16. Daily Eyelashes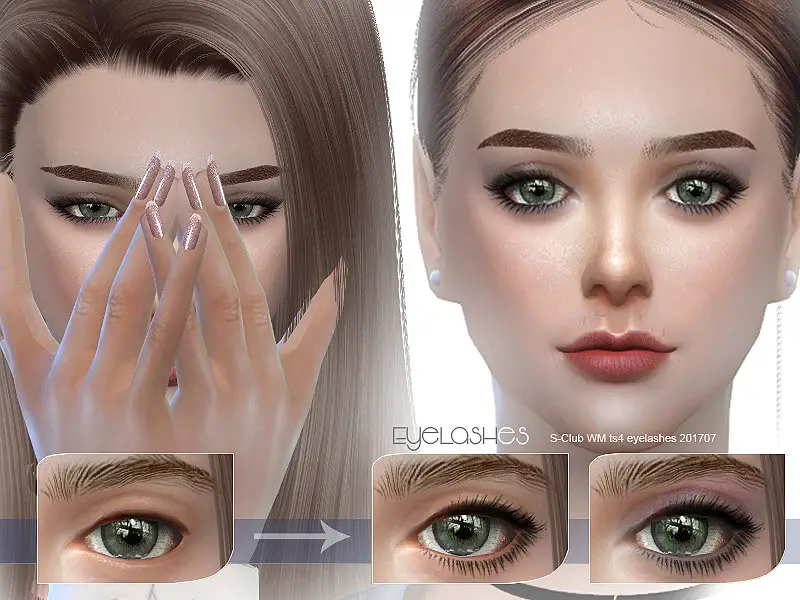 These lashes are the embodiment of a simple dimple with pop to it!
6 different natural re-colors to go along with any outfit, hair color, or fashion style that you might be willing for the day.
Perfect for a simple and elegant look for either your daily work life or even a small get-together or kitty party!
15. S-Club WM TS4 Eyelashes 201710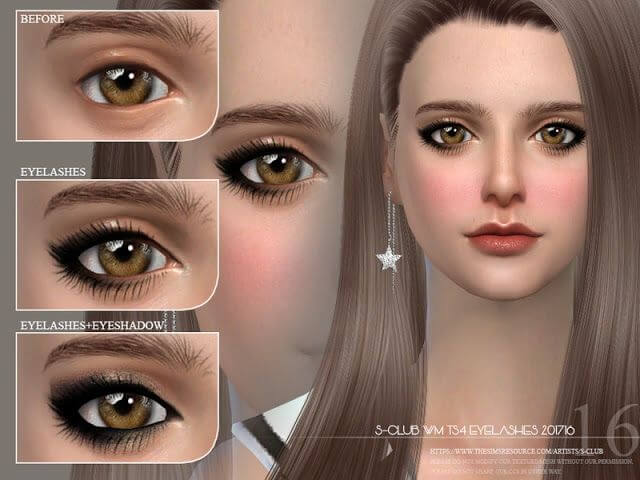 Eyelashes will always, undoubtedly, definitely be accompanied by eyeliner!
These lashes have such an easy and natural feel for the eyes and they just seamlessly blend into any look that you might desire.
They play along with the shape of the eye perfectly bringing out the beauty of the eyes so much more.
They also create a nice focus and attract attention to one of the best features any Sim can have.
14. MMSIMS Eyelash V4 Set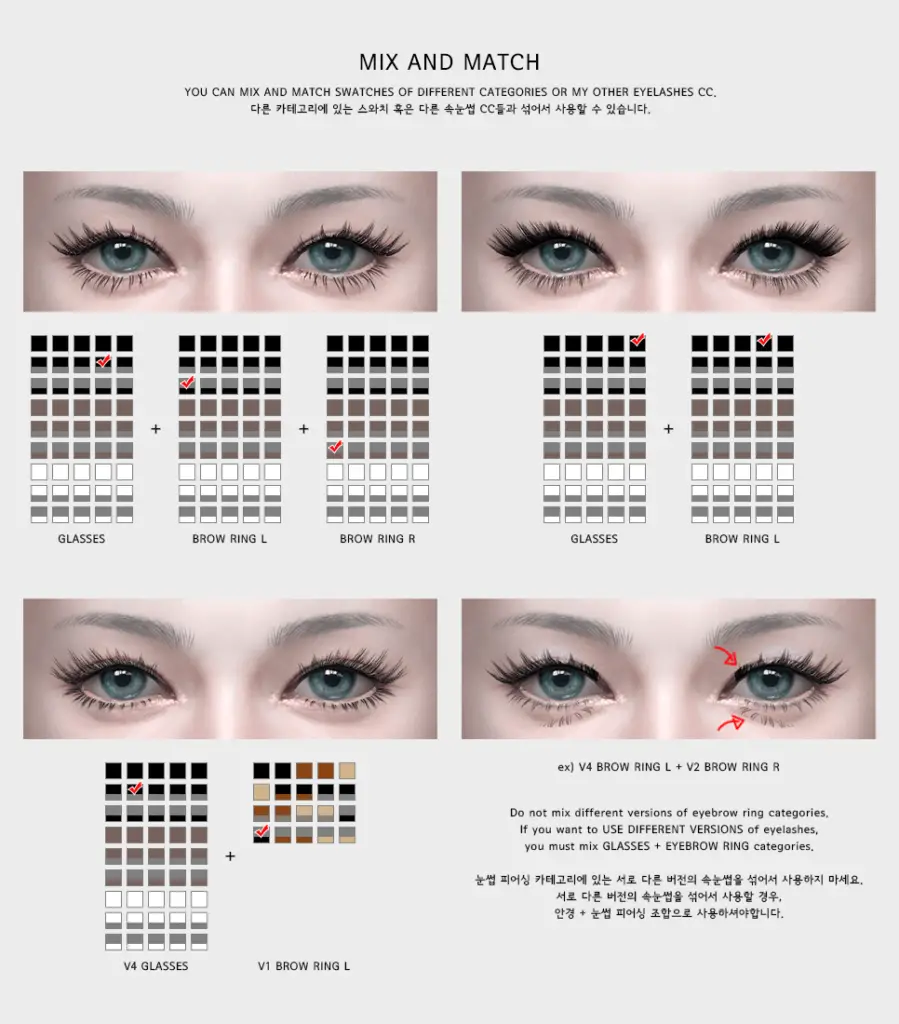 Very often a very subtle lash can make a bold statement and say things non-verbally much better than you can ever verbally.
These top and bottom lashes are perfect for making such a statement.
Gentle, subtle, and yet bold.
They provide eyes with definition and flatter the shape making the eye and the Sim look that much attractive.
13. Eyelashes NB02 by MQSiMS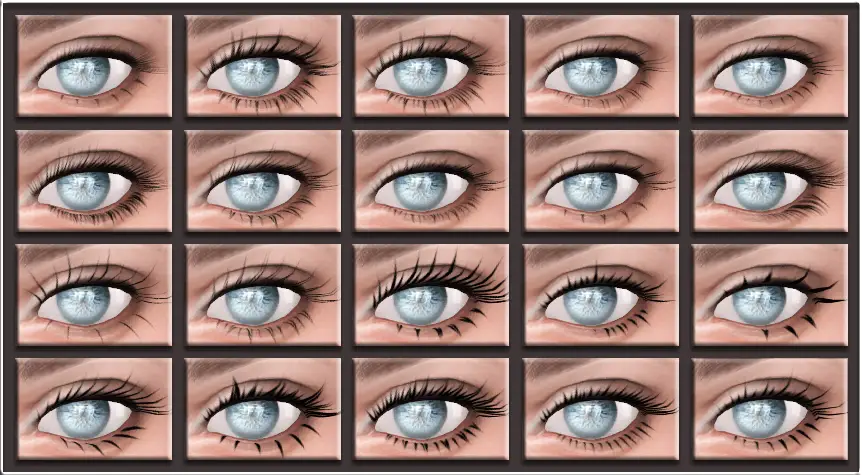 Different types of eyelashes can give your Sim different vibes.
Like a subtle and sparse eyelash indicates an innocent and humble nature, however, a bold and thick eyelash often shows a flirty and playful attitude.
This set of lashes comes with various strengths so you could adjust everything that you would want other Sim to know about you.
12. Skin Detail Lash Pack N01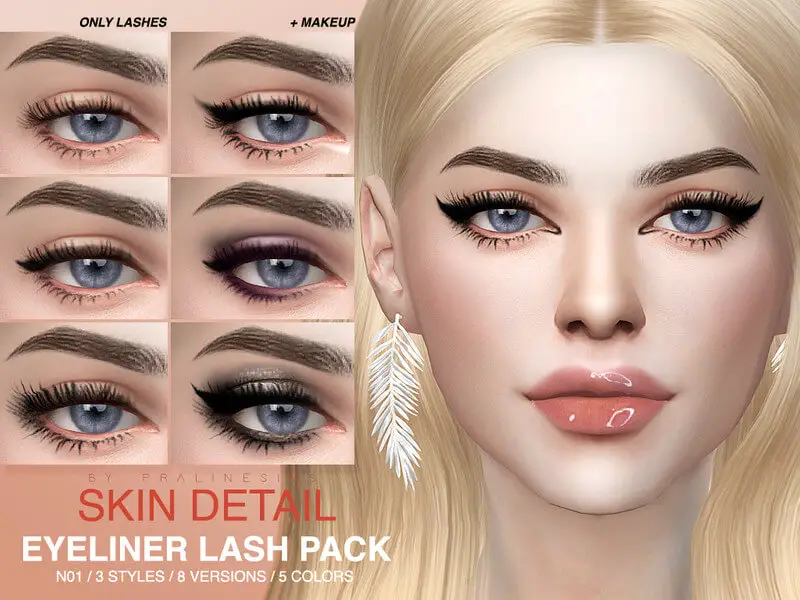 This pack is actually a skin detail pack that includes skin tomes, overlays, moles and freckles and so much more.
The eyelash part sands out brightly among the set as well as when compared to other sets.
It offers more than 50 eyelashes and eyelash and eyeliner combinations!
There is just so much variety that this set will definitely not disappoint anyone.
11. Bobur Eyelashes 19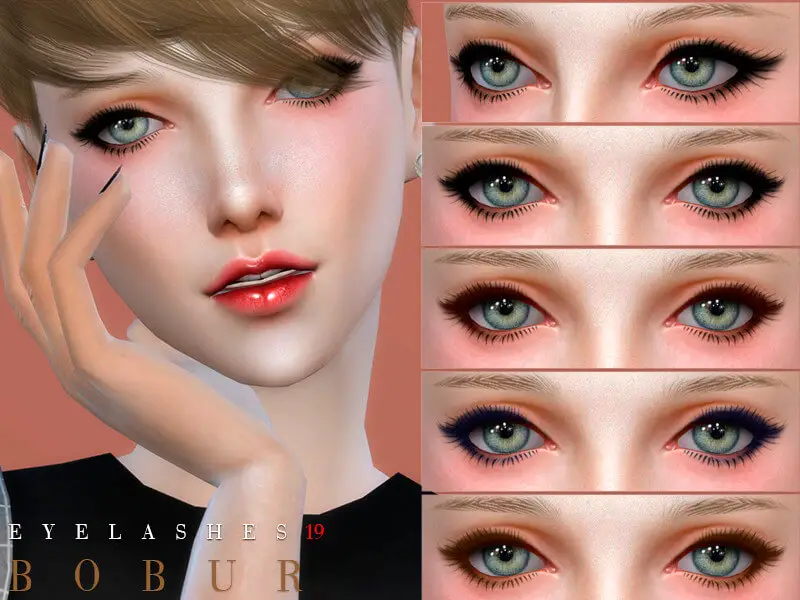 These are noticeable even from under glasses.
Coming also in the blue and brown variants, these lashes make sure to elevate the boldness and impact of your character, adding to the badass factor if you will.
This mod makes sure to bring out all the styles from your alpha or maxis Sim!
10. Sapphire 3D Eyelashes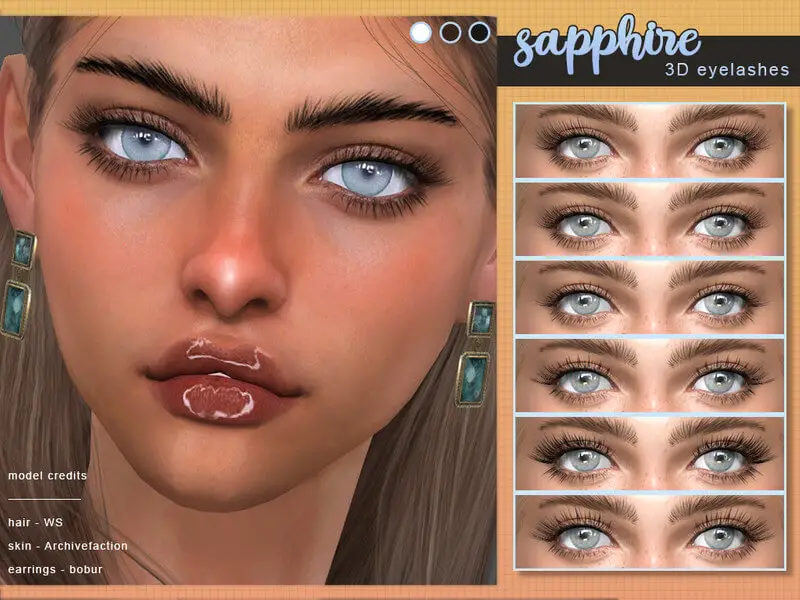 the basic aim of the game is to make your character look as real as possible.
These eyelashes do exactly that!
The colors, strength, variability, versatility of these lashes are absolutely as beautiful as the lashes in real life!
9. LeahLillith Hollywood Lashes
The Hollywood lashes set is meant to bring out the inner beauty of your eyes and soul.
About twenty-one in total, this mod will bring out all the beauty of your sim's eyes and make sure to make a lasting impact!
8. Maggie Eyelashes and Eyeliner №94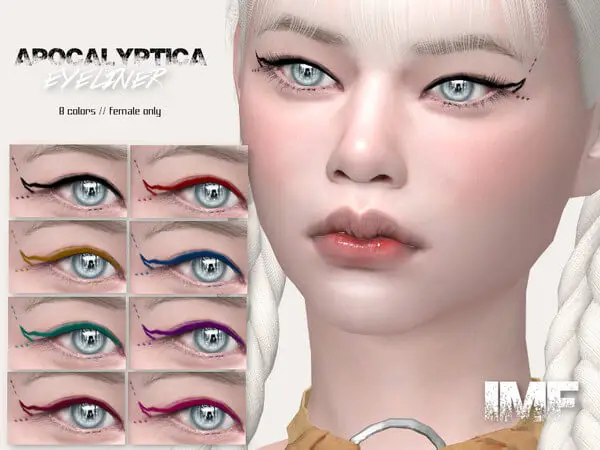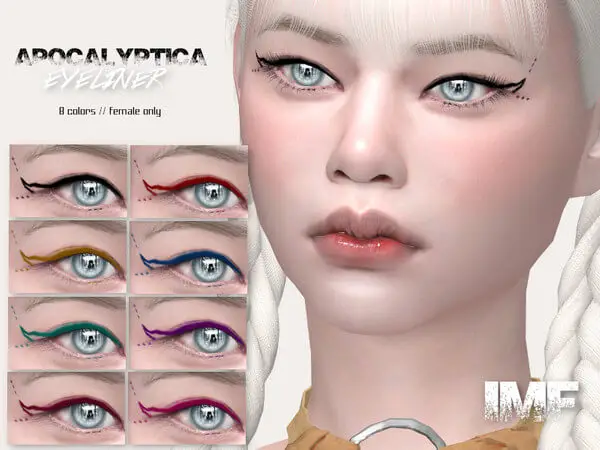 Why choose these lashes?
A simple answer to that.
A Gojo Satoru Cosplay.
These lashes are so flattering in white that you can never go wrong in this Gojo Cosplay!
These lashes have 15 different sets of lashes and liners in them to make sure that all eyes can enjoy the Gojoo Cosplay while simultaneously bringing out the best of the eyes!
7. Male Eyelashes 02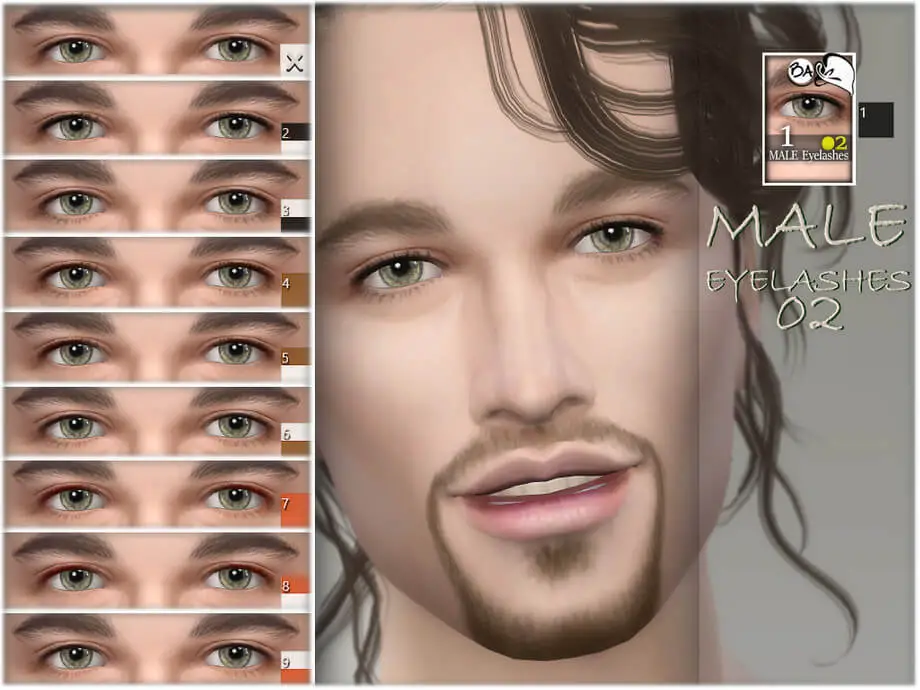 Feminism is about making men and women equal.
Especially, in Sims!
Male Sims don't really get access to the variety that female Sims enjoy as the obvious.
Thus, this set to the rescue.
These are only Male lashes that are minimalistic and realistic in appearance but complement and contribute perfectly to any look that you're going for.
6. TS4 18 New Mesh Eyelashes by Glaza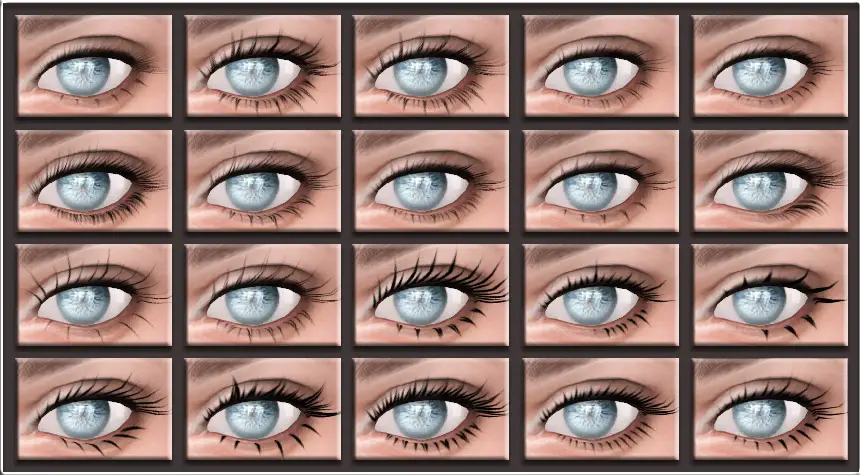 This set aims at variety.
We have those. Large, flashy, and bold ones? Done! Medium ones do not really stand out?
We got you!
These can contribute perfectly to any look from an innocent fashion designer to an assassin in disguise!
This set doesn't restrict you in any manner but provides you with the freedom to be able to play around.
5. Bobur Eyelashes 20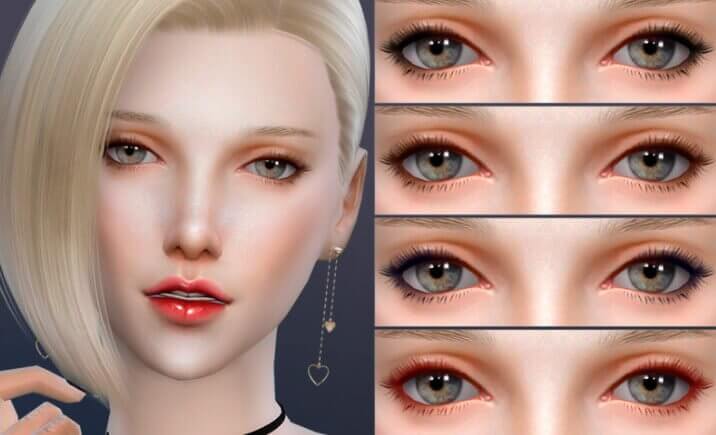 These lashes are beautiful from the ober-the-top statement fashion to the more subtle and settled down innocent fashion!
These lashes go with everything!
The design, density, beauty, and texture all come together so beautifully in order to make this a complete addition to your Sim!
An absolute must-have!
4. Easy Design 3D Eyelashes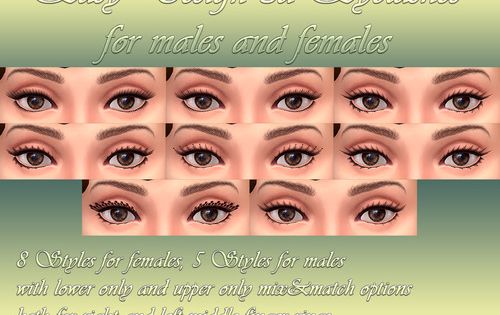 Short, straight, curly, thin, dense!
This set has everything!
What is the best thing in this set is that one can use the top and bottom lash separately creating your very own combinations based on your liking and what works best for your Sim!
This customizability becomes very important in a game like Sim since the entirety of the game is based on being able to make your Sim look the way you want it to!
3. 3D Lashes by Dreamgirl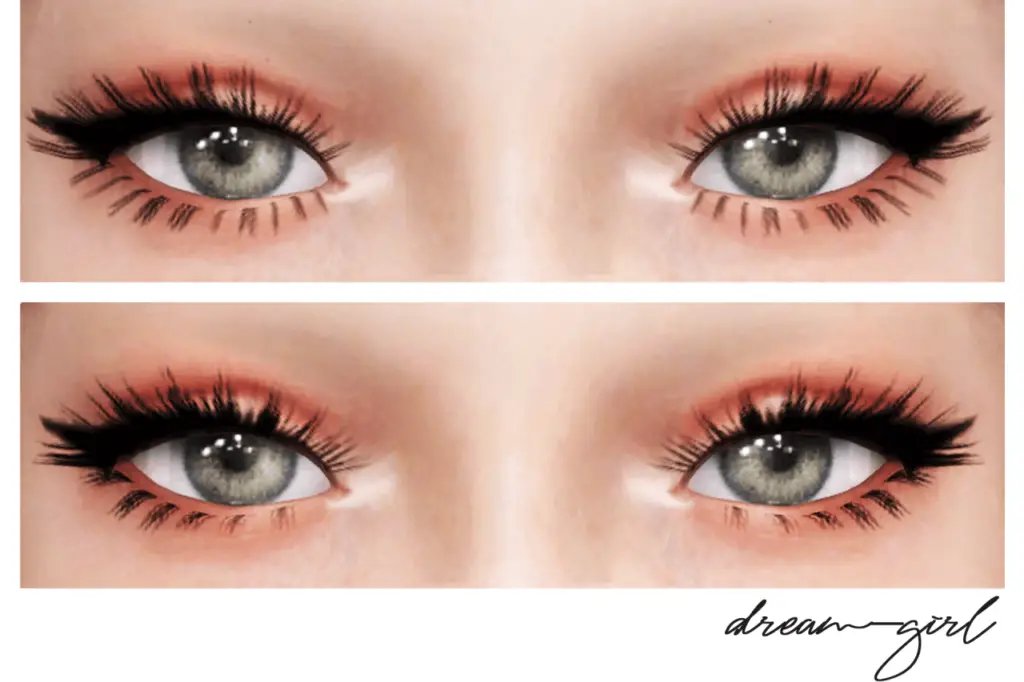 These lashes do not come under the lashes category at all but under the fake lash category!
This allows you to change the style whenever you please!
If you have a tendency to get bored with a single look, these are definitely the ones to go to, since they do provide you with the refreshing change and mobility!
2. TS4 05 Eyelashes by Glaza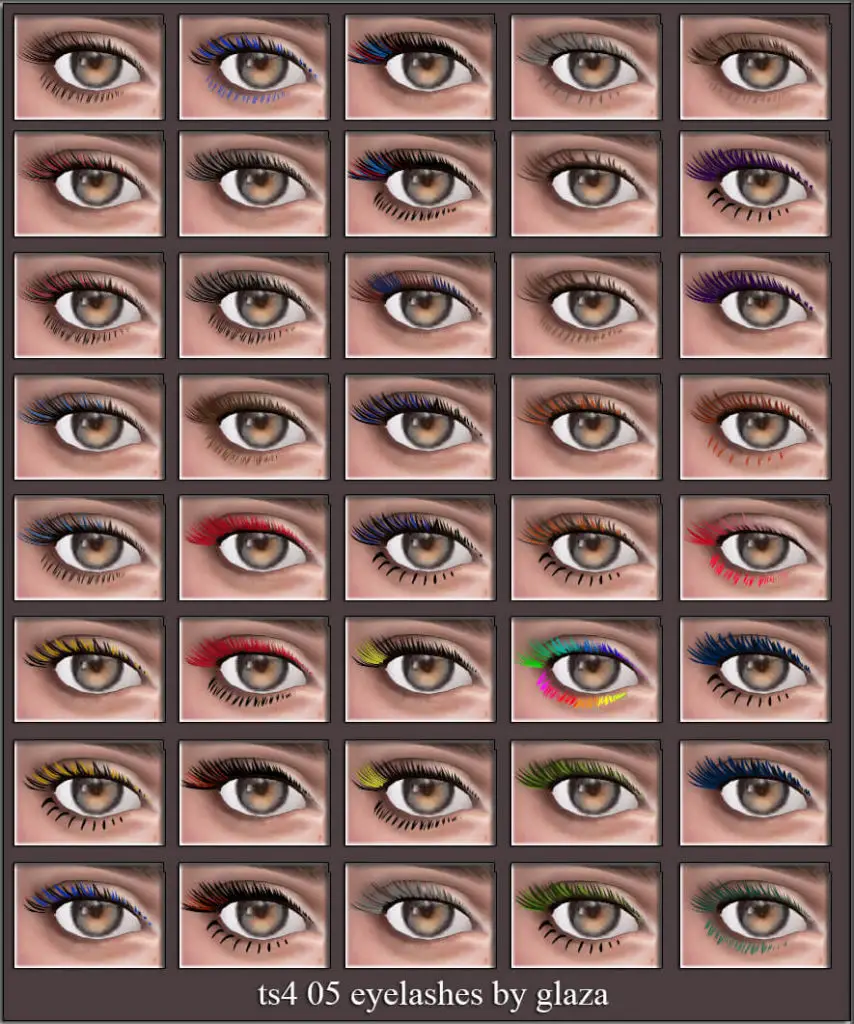 These eyelashes are crazy.
Why do I say that? Blue, red, white, pink and… rainbow!
Rainbow eyelashes! What's crazier and more attention-grabbing than RAINBOW EYELASHES!!!!
They obviously have the natural black and brown options as well, if you choose to go for a more shy look, but do you really want to miss out on the chance to have rainbow eyelashes!
1. Halloween 3D Eyelashes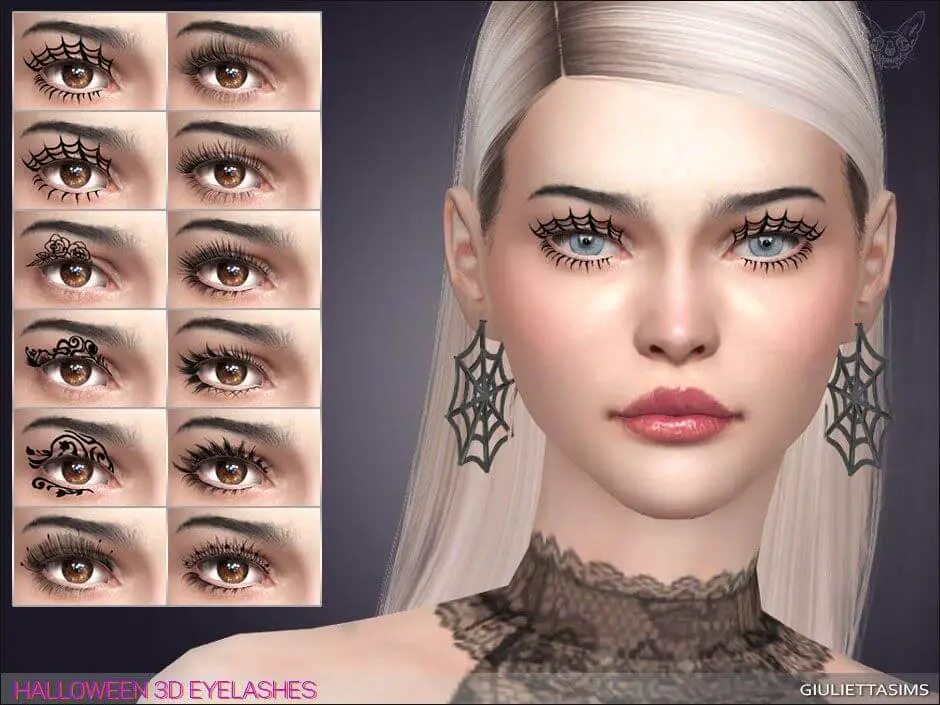 Festive-themed lashes are a must-have and we don't even need to talk about this!
Show of your Halloween spirit with this mod!
Spider web lashes and liners, aesthetic and sleek, these lashes are everything that you desire to complete your bold festive look!
Spider webs? Check.
Roses for vampiric themes? Check.
Marks of an ancient kingdom princess? Check.
Innocent maid lashes? Check.
Sexy librarian? Also check!
I hope that you'll find this brief list of sims 4 eyelashes useful in helping you find the most suitable makeup for your sims. 
What is Eyelashes Enhancers in Sims 4?
Eyelashes Enhancers are basically designed to increase the length and thickness of your lashes inwardly which can affect their health. 
It helps enhance how your eyes appear as well as enhance the overall appearance of your appearance.
FAQ: Frequently Asked Questions :
These are a few of the most commonly asked questions about your Sims 4 Eyelashes. and Mods.
Are eyelashes editable in Sims 4?
There is no way to alter the Eyelashes in Sims 4. There isn't any control over the editing. However, you can download and add the eyelashes to your sim's character.
How can you remove EA eyelashes on Sims 4?
To get rid of all EA Lashes in sims 4 it is necessary to visit the Skin Detail category and apply it on your Sim as a mole. You will need one of the Sims 4 remover mods to eliminate the EA Lashes. Download the mod, and take out the EA eyelashes in a single click without any trouble.
Do you want to damage your eyelashes?
Yes, wearing the eyelashes too long may cause damage, and since they weigh more than lashes with lesser weight which can cause tension on the hair and this can cause natural lashes to fall out for good.
How can you create you Sims be eye-lash-ey?
Follow the steps, open the Sims 4 Studio and choose the eyeliner. Then select "Export Texture" and open the DLL file within Photoshop Then go to the channel Tag and click Aphla > draw the eyelashes and save the DLL file In Sims 4 Studio you can import this new texture.