Virtual families have been the hallmark of the Sims franchises.
I mean, sure, solo Sim households do exist. Many players can fly solo for the entirety of the game. That's totally understandable.
However, a large portion of Sims 4 players prefer a more family-oriented game. 
They begin with one Sim, then they marry another Sim, and before you know it, they have a complete three-tiered family tree.
You can capture the Sim family's daily activities in custom poses.
There are plenty of them, thankfully. Here are a few packs that you can check out if you want to fill up your family albums.
21. Pose Request #98 by Sciophobis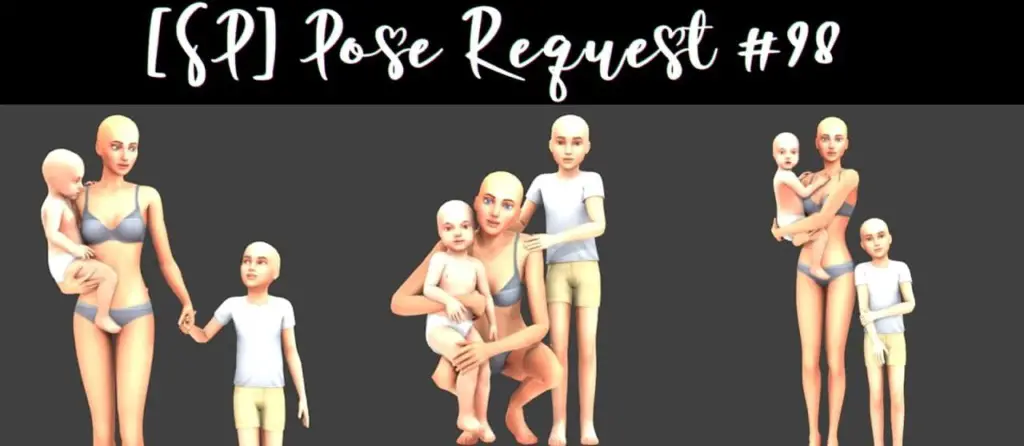 A family of three should have an extremely cute photoshoot. This is why I started this compilation of Sims 4 family photos with this one.
This pack shows a mother and her children posing together. The poses reflect the affection between the family members.
This photoshoot can be done in your backyard to get the best results.
20. Mommy is awesome! Bored Sims Pose Pack-The Sims 4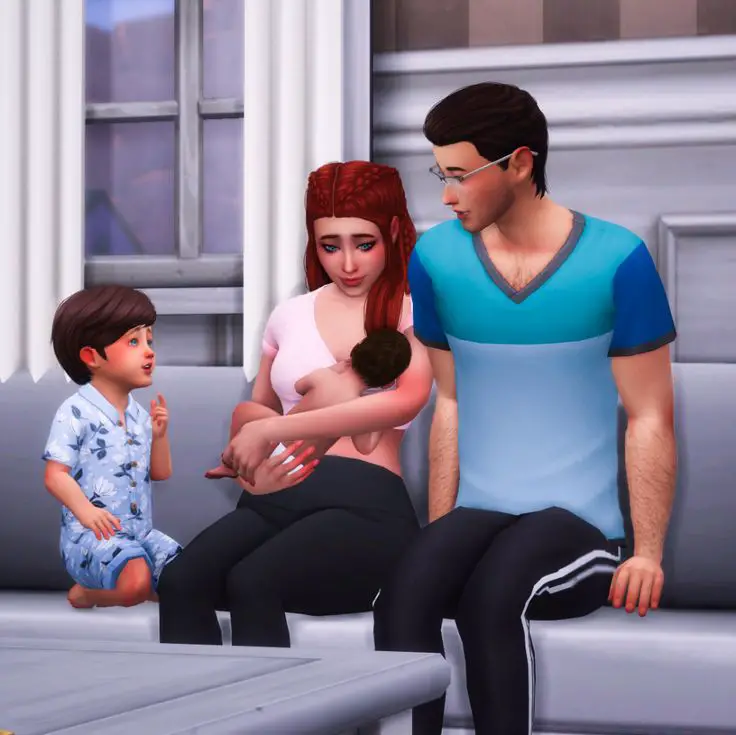 Next, we have the adorable family pose featuring the father, mother, toddler, and newborn. 
This is all about showing the excitement they have for their new baby. 
However, the focus is on the toddler who just realizes how amazing his mommy is.
19. Family is Everything #1 Pose pack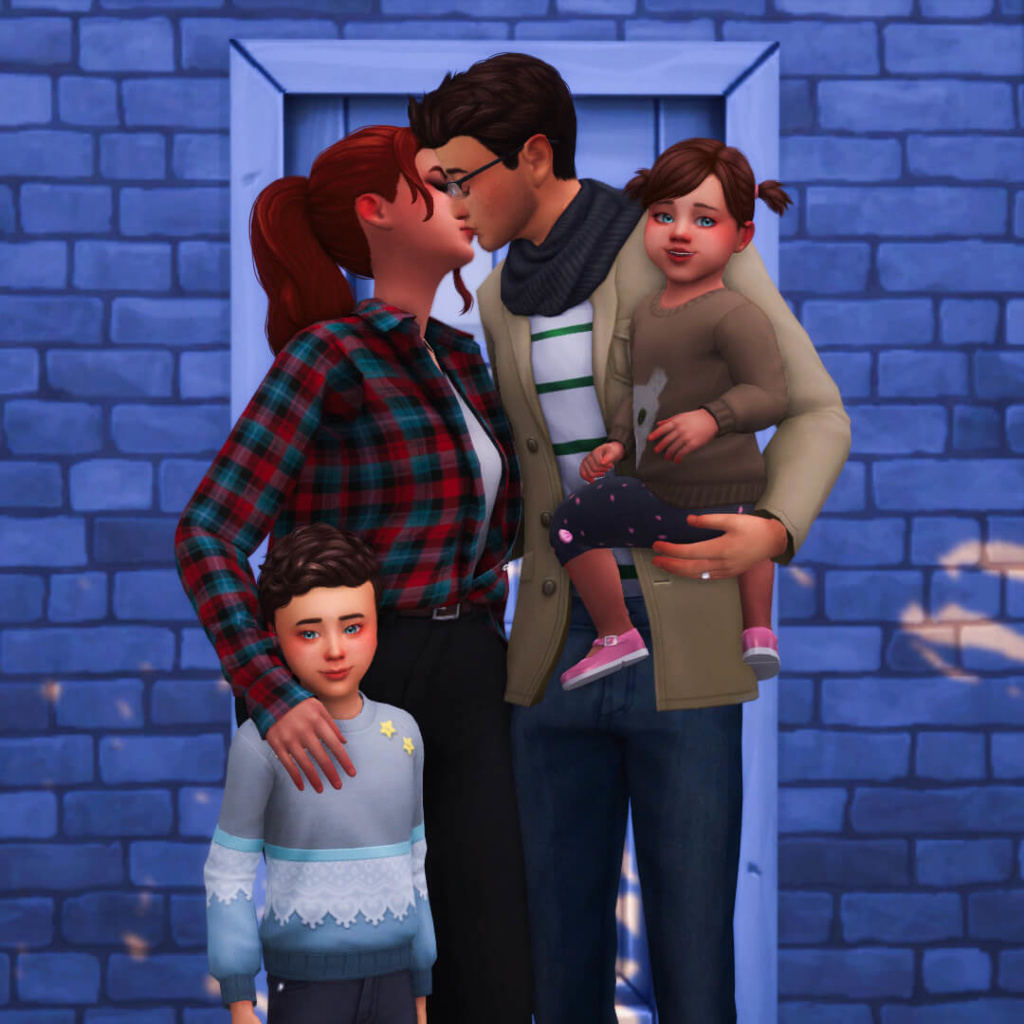 This is my favourite family pose pack for Sims 4. 
This pack features 8 different poses that can be used by all age members of the family. 
Some poses can only be used with 3 Sims, while others require 4 Sims. 
They look real and are fun, regardless!
18. Mothermas Baby Pose Pack by Frxsk0sims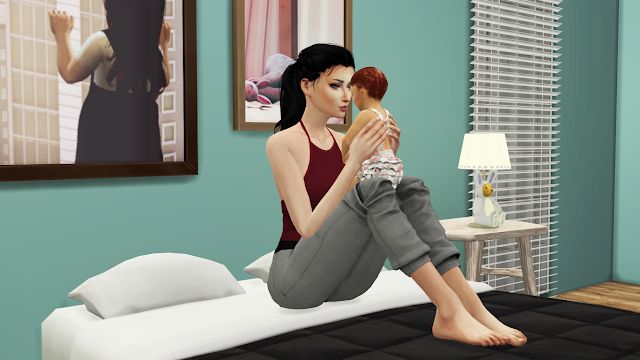 What do modern moms do well? 
Every day, they take amazing selfies with their children! 
These four poses look amazing together! This is so cute!
17. Aquariustrait presents Best Buddies Pack – The Sims 4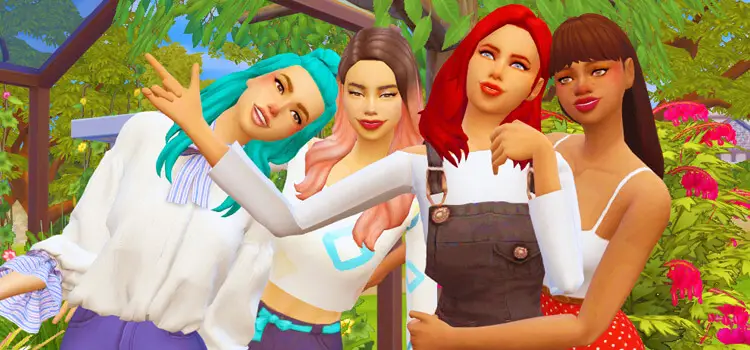 Every parent should be a friend to their children. 
This family pose pack is perfect for Sim if he or she strives to be a friend to their child. 
The pack includes 3 different poses that show dads, daughters, mothers, and sons being best friends.
16. Family Photoshoot with The Sims 4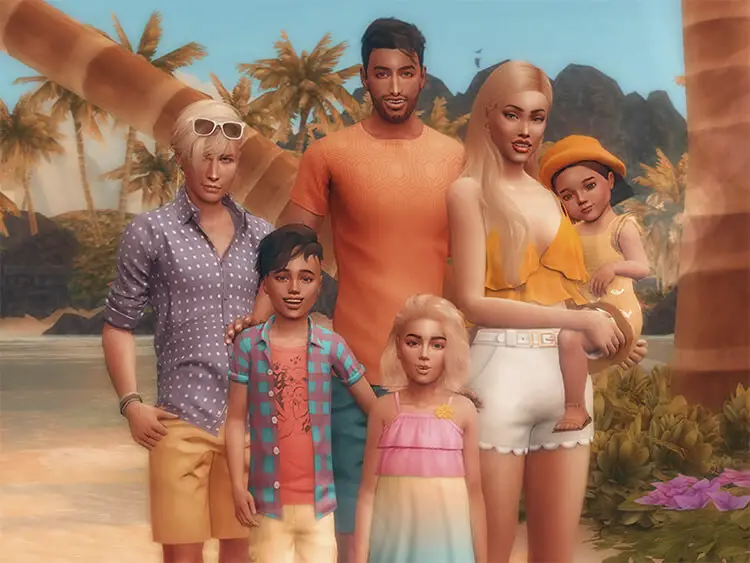 This pack contains the largest family poses for Sims 4. 
There are tons of poses to choose from, and all look stylish and distinguished. 
These poses are perfect for a modern mom, dad and child.
15. Bored Sims #1 Pose Pack: Family is Everything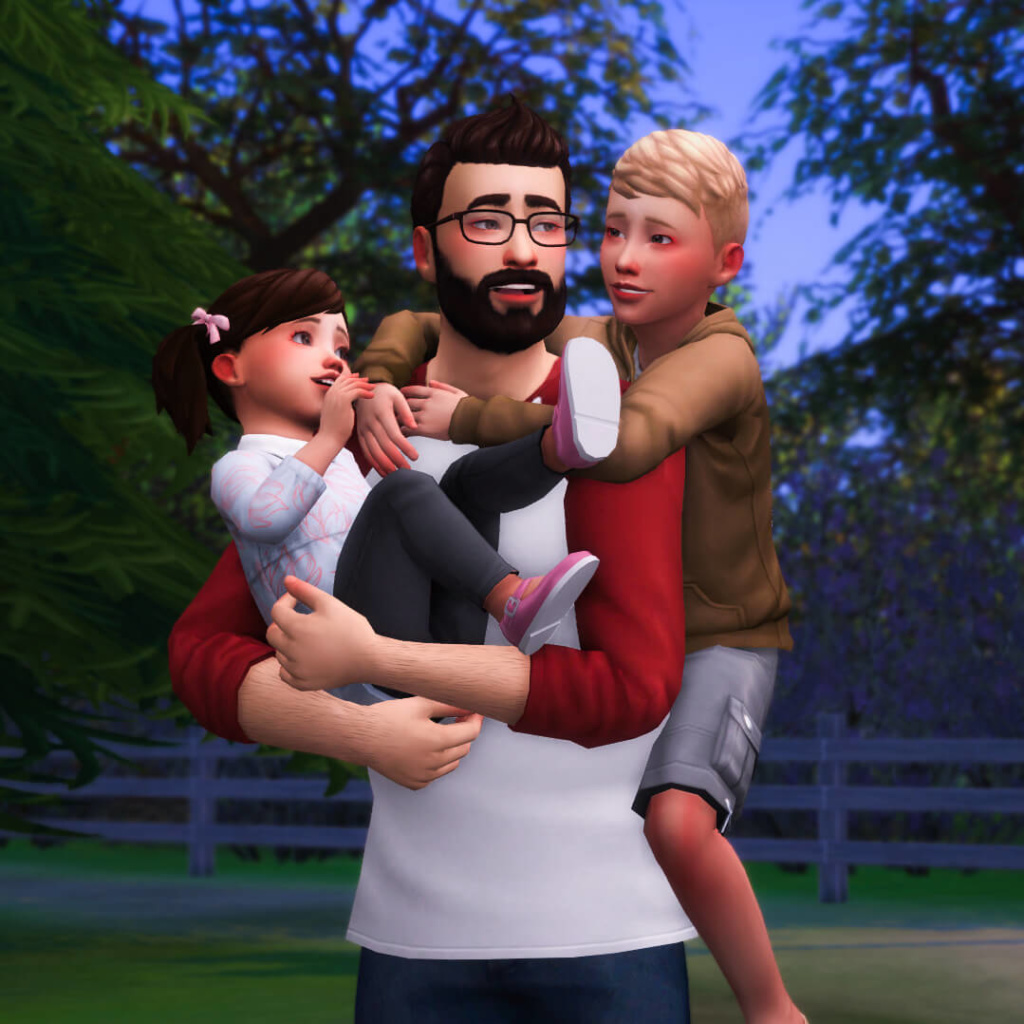 Number Of Poses: 8.
This Family is All pack, which ends this list with a set of happy poses, is probably the most balanced.
There are many poses for adults and children, teens and adults alike, as well as just teens and just adults.
These are mostly posed poses, but I love the candid ones.
Particularly the sixth, where the toddler Sim is being cradled and the child Sim is piggybacking.
These custom expressions are amazing. They made my Sims feel happy. This is a difficult feat, considering that my Sims are essentially potatoes most of the day.
Aside from any jokes, I would describe the vibe of this pack as "gentle and affectionate".
This is a great way to get photos of multiple families or a large extended family in smaller groups.
14. Family Matters by talent type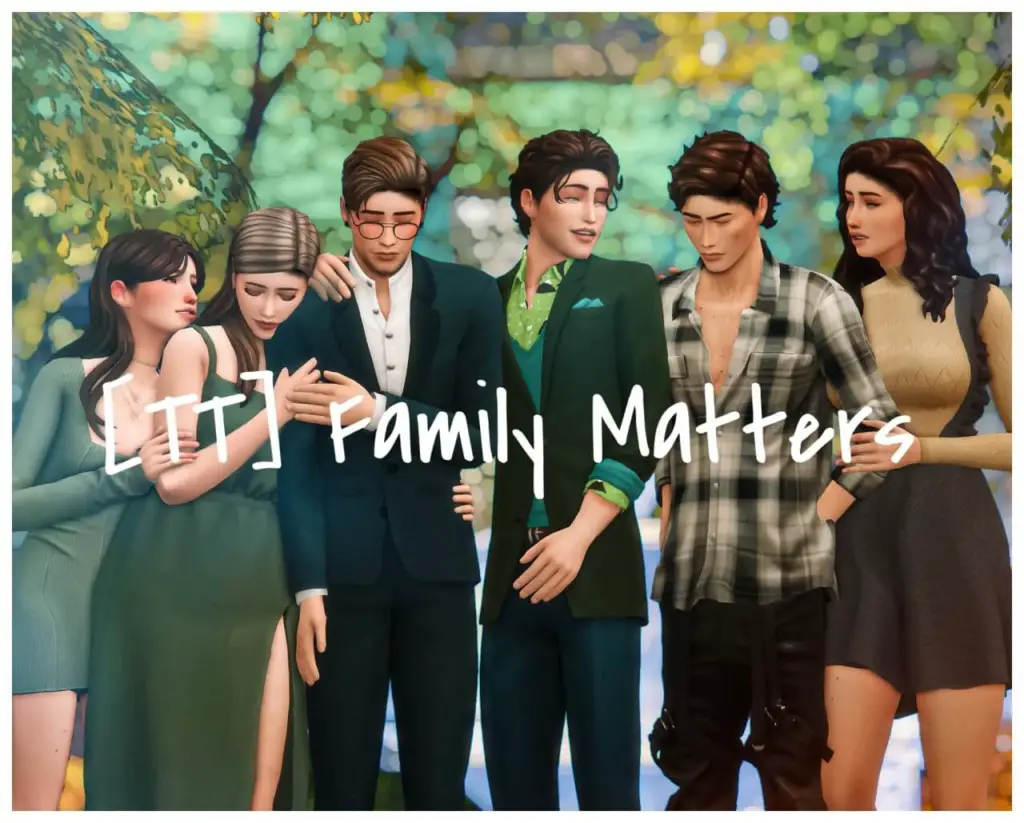 Number Of Poses: 3.
You may be a little surprised to see that these poses do not include a lot of toddlers or children.
The first preview photo and the one that appears in the main preview area are basically for teens or young adults.
There is a reason. I swear.
According to the Sims creator, most of his Sim family members are teens or older. These poses were created to fit their setup.
This pose pack might not work if your Sim family is full of small Sims.
This pack is recommended for adults and teens who live in the same house.
It's great for large families that are affectionate. He doesn't care about personal bubbles.
I think the second pose is an excellent balance between the first and last poses.
By the way, the creator pities you if the third pose is used. The creator recommends that you save the image for future reference. 
After struggling for hours to get the third pose right, I highly recommend it.
13. Once Upon a Time, by Simmerberlin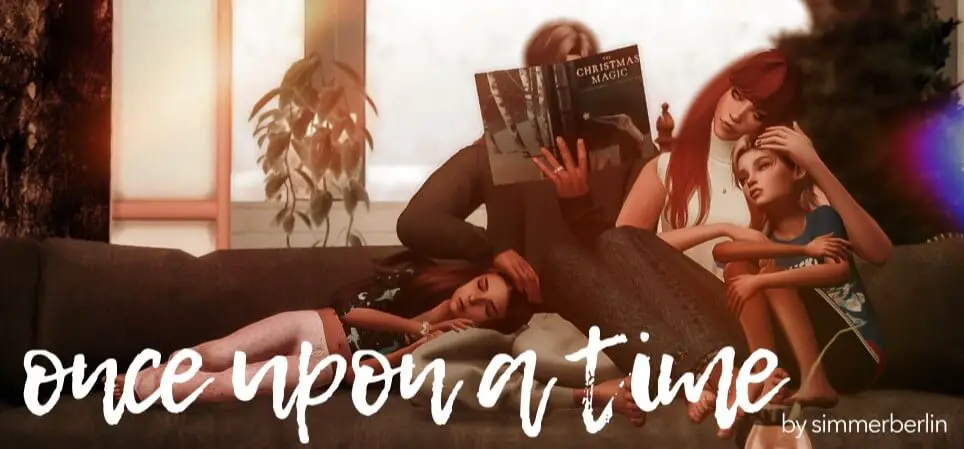 Number Of Poses: 9
These adorable pose packs by Simmerberlin are truly a disgrace to the community.
Another set of custom poses featuring quiet moments in family life is here.
Parents reading to their children at night is a great idea. This is a unique concept in terms of family-oriented poses and has been done almost flawlessly.
The expressions are soft and loving, the features are subtle, but still very emotional, and the positions are just too cute.
The first and second poses are my favourites, with all the Sims just dog-piled on one sofa. The expressions on the faces of adult Sims in each pose, but especially the second pose, are just so fond.
However, I do want to point out that a book accessory can make every pose awkward. So be sure you download the one that simmerberlin has links in the description.
12. Say Cheese at simmerberlin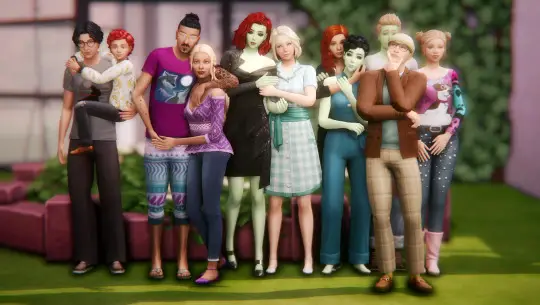 Number Of Poses: 6
Although this pack is not the largest, it has lots of large group photos.
Five of the six options have more than six Sims. One pose requires a staggering 12 Sims to perform.
This pose is perfect for Sims and extended families if you have a mod that allows more than eight Sims to live in one household. 
This pack is best for larger families that have more than two adults/young adult members.
Despite the sheer volume, these poses are just as beautiful and affectionate as the rest of this list.
They mix casual affection with familial love and a touch of playful awkwardness. This is the kind of playfulness that you get when you're comfortable.
This is a great set for large families.
11. Three of Us by Simmerberlin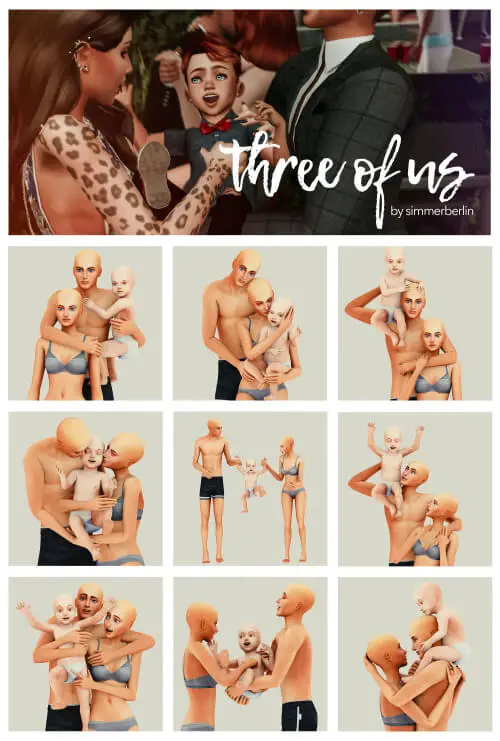 Number Of Poses: 9
While lilalmondsim's A Family of Four sets had a soft, fuzzy, affectionate vibe to them, simmerberlin's Three of Us poses pack is a bit more romantic and possessive.
Don't be afraid, just like the possessive type.
This set is described by the creator as "A little family with that little person who brightens your day."
That was so sweet and true.
These poses are a perfect example of "fairly new parents who are so thrilled over their little nugget," and they work. It's adorable and easy to photograph.
Also, the facial expressions are of a very high standard.
The female model is happy and content. The male model seems enamoured and a bit haughty, but it's still the good type of haughty and the toddler model looks adorable. 
The TS4 toddlers in-game are already painfully adorable, so this was just another double-whammy.
To achieve the desired effect, the creator includes height modifiers in its package file.
This is just for the record: I truly appreciate creators doing that. It saves me from overcrowding my mods folder. The height difference is very extreme.
It could have been just my Sims, but my male Sim looked a bit too stretched. Full-bodied shots were not an option.
It's no surprise that simmerberlin's poses are as beautiful up close.
10. "A Family of Four" by Lilalmondsim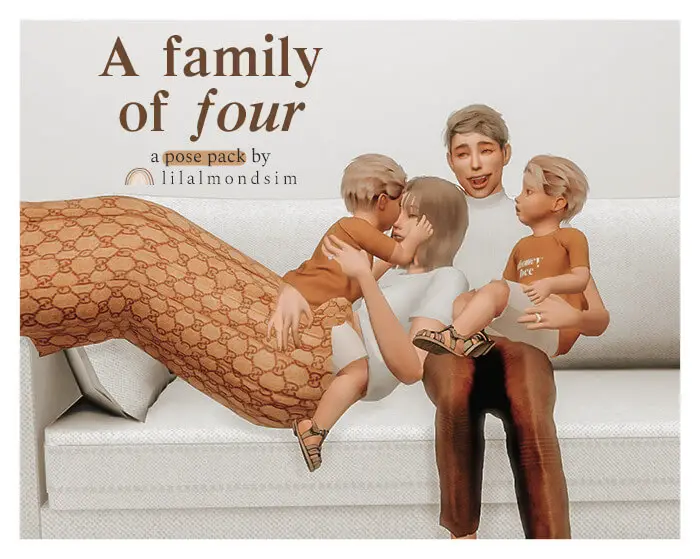 Number Of Poses: 3.
Get ready to hear another overexcited description about a custom pose kit, because this is what I want to talk about.
A Family of Four Set poses by lilalmondsim have some of my favourite custom expressions. Period.
They made my Sims feel all kinds of happy and soft.
These custom poses, which emphasize the facial features in a way that enhances the emotions without making the models appear cartoonish or caricature-like, are a great example of how to make your face look more realistic. They are so affectionate and fond.
You can practically feel the artificially-generated love radiating from the screen.
Do you want teeth-rotting fluff? This is the right pose pack.
Although there are only three poses available, the quality of each one is more than enough to make up for it. 
The first pose is my favourite. Take a look at the preview photos and all the nuzzling. It won't break your heart.
This pack also has a few other things to consider:
Although it wasn't specifically to be used by a pregnant parent, the third pose is for a female (or any Sim that can become pregnant) during the 3rd trimester.
Other poses are fine with or without a baby bump. The third pose, however, looks awkward without the baby bump. It's almost as if the Sim doesn't know what to do. Like they just ate a huge meal.
might consider investing in a pre-pregnancy accessory or post-processing magic.
I tried the poses with my regular Sims, in all of their non-pregnant glory, and was still quite pleased with the results.
9. Family Portrait #4 Poses By Atashi77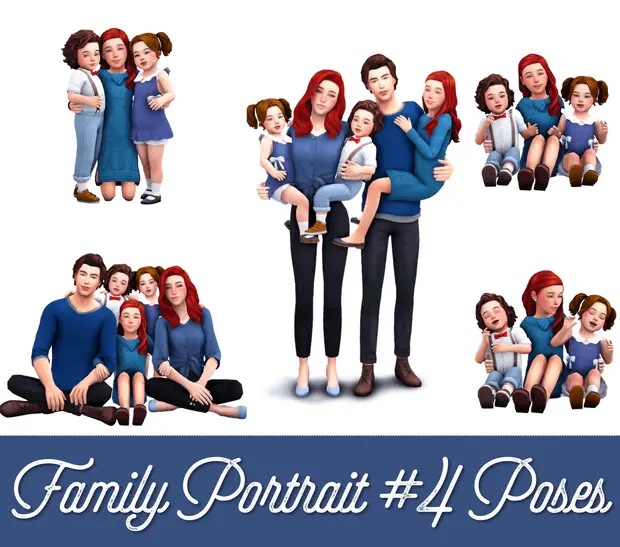 Number of Poses: 5.
Atashi77's Family Portrait #4 pose set has some of our favourite and most adorable poses.
Simple poses and a simple concept allow for easy and quick posing (and snapping) of images.
It's very simple.
This set is designed for a family with five children, including two toddlers and one child. It actually contains more poses for children than for adults. However, there's still one difference!
One candid shot of the toddlers laughing is my favourite. The child looks so happy just looking at them.
This is the perfect gift for the caring sibling who takes their role as the eldest sibling seriously.
8. Cement Family Posepack: "Happy Household"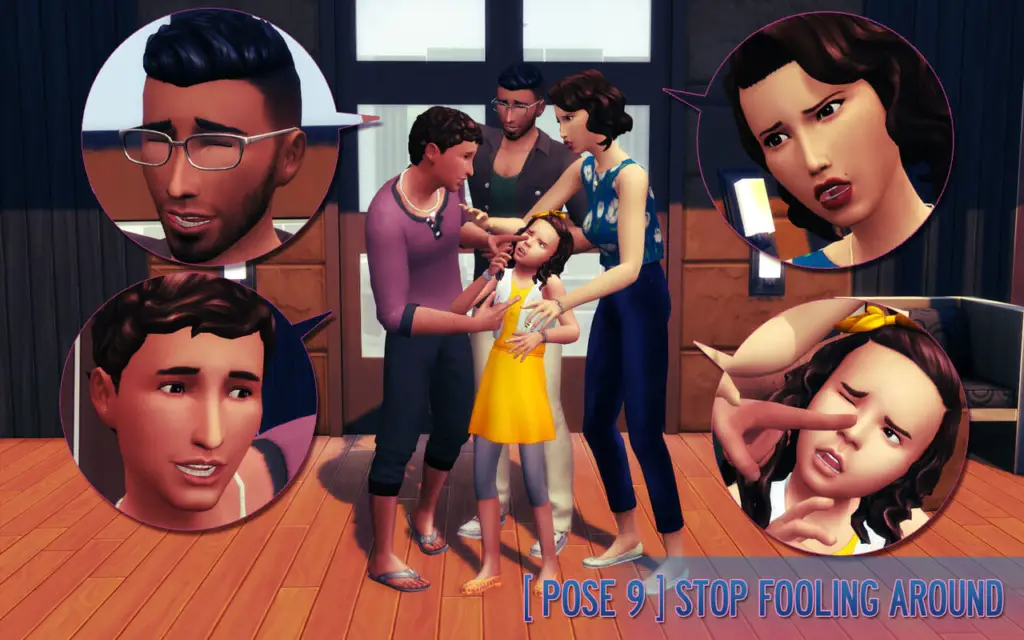 Number Of Poses: 10.
The Happy Family pack from Cement has the perfect set of poses to portray a family of four that is adorable and affectionate.
It's hard to imagine any other set that could execute the same concept as this one.
These poses can be playfully affectionate, quite fond, or hopelessly loving.
One for siblings, one for parents, and two for a mother and her little toddler.
They are also beautifully set up.
There are no awkward limbs or floating hands. You can also make perfect facial expressions. 
There are many emotions to choose from, but there are no awkward puppet mouths or bug eyes.
This pack has a progression or timeline. You start with three parents and one toddler. Then you have four parents and one teenager.
You could use this pose package for a legacy challenge, or "over-the-years" project if you wish.
It can be used for multiple families at different stages of life, but it is not necessary.
7. Chaleara's "Family Portrait" Posepack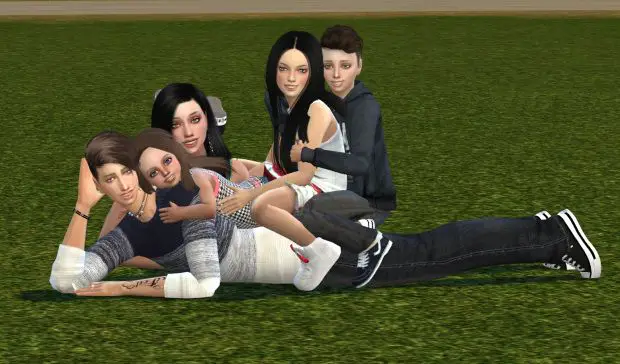 Number Of Poses: 4.
These poses are not "candid," but they seem a bit too casual and careless to be called "posed."
A combination of both.
as if a family who planned an outdoor photoshoot decided to keep it casual. This is the feeling I get when I see the poses. All the models look so relaxed and happy as they smile at me.
These poses are variations on family photo poses, except for the second. There's a little familiarity.
The second picture shows all Sims (except for the female) lying on their backs, looking up at the sky. The female Sim is spread out all over the male Sim.
This set is really great. This set is great for Sims families who are extra cuddly and clingy, as the poses leave little space between their bodies.
6. Sciophobis celebrates our Celebration Set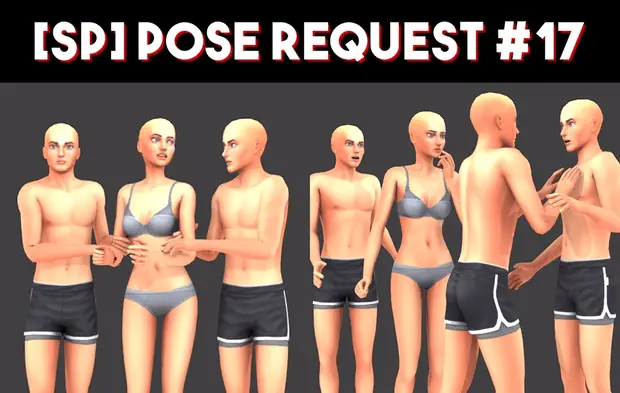 Okay, so. Custom poses that require me to download more than a few props or accessories are not my favourite.
It can be a bit tedious when you are trying multiple poses. Sometimes, it can even get tiresome to have to use CAS to achieve the desired effect.
Sciophobis' Our Celebration Pack almost made it to this list.
It was a great experience and I am so glad I tried it.
These are some of my favourites, the most adorable Christmas poses that I have ever seen.
These are for a picture-perfect, family celebrating a classic storybook holiday. The children have camped underneath a large ole' pine tree, which has sparklers, toys, and toddlers.
These poses are very versatile in masculine and feminine Sims and look just like candid shots that one would take on camera (assuming they had sharp eyes and were trigger-happy).
You can also reuse some poses for a different theme like for New Years' Eve, or even for someone's birthday.
Many accessories can be used to match the preview photos, as we have already mentioned.
To be precise, there are three gift box types: a sparkler, a Christmas tree, and However, I can tell you that the photos will be priceless and worth the effort of downloading the props.
5. Sofi Sparks presents the "Legacy" Pose Pack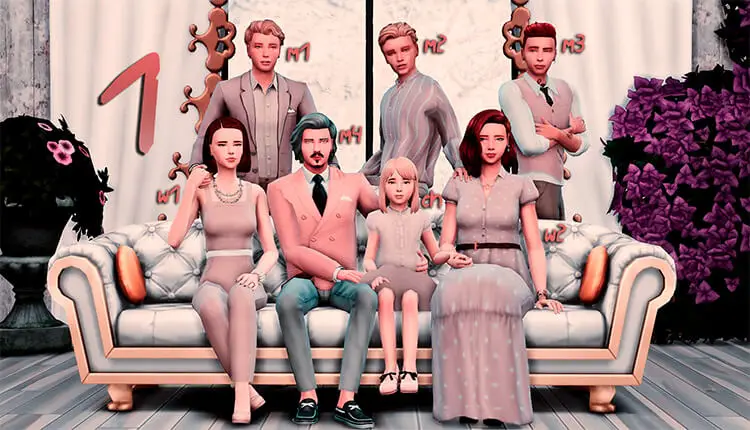 Number Of Poses: 4.
This Legacy pose pack by Sofi Sparks offers a great mix of options to suit different settings and age groups.
The first pose is for adults or young adults who have one child. The second and third poses are suitable for two or more parents with three children. The fourth pose is for toddlers.
The first portrait is a formal family portrait, which reminds me of the Mac Allister poses packed by helgatisha (although slightly less intimidating).
The second shot is more casual but still posed. The third and fourth photos look more like candid photos and are cute.
The expressions and concepts are beautiful.
My only gripe is the lack of thumbnail photos for poses in-game. You will need to close the Sims window occasionally to view the preview photos. It's not a big deal, but it is another step you should be aware of.
This pack is flawless, other than that.
4. Family's Poses Mac Allister, by helgatisha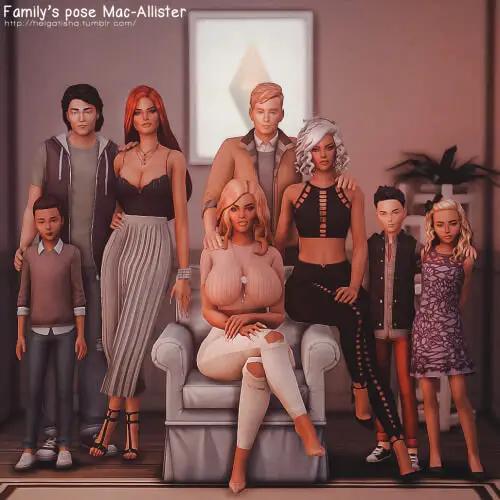 Number Of Poses: 1
This pose is what you should use when you want to impress a family with wealth and power.
It's the family pose that is completely untouchable, and everyone knows it.
It's unclear if this is just a preview photo, or if the Sims in the photo seem to be looking down. But that's what I sensed from the photo. 
A family with the connections and resources to stay ahead of everyone else.
It doesn't help that nobody is smiling in this photo.
The creator deserves a lot of credit. This is a high-quality pose, straightforward and easy to do.
8 teleporters are stacked one on top of another in the middle section of the sofa. bam. Everything just falls into place.
I prefer to capture my Sims' families in more casual, candid photos. However, I understand that there may be situations where you require a formal pose to create a cool portrait of your family.
3. Family Poses #2 by simsgami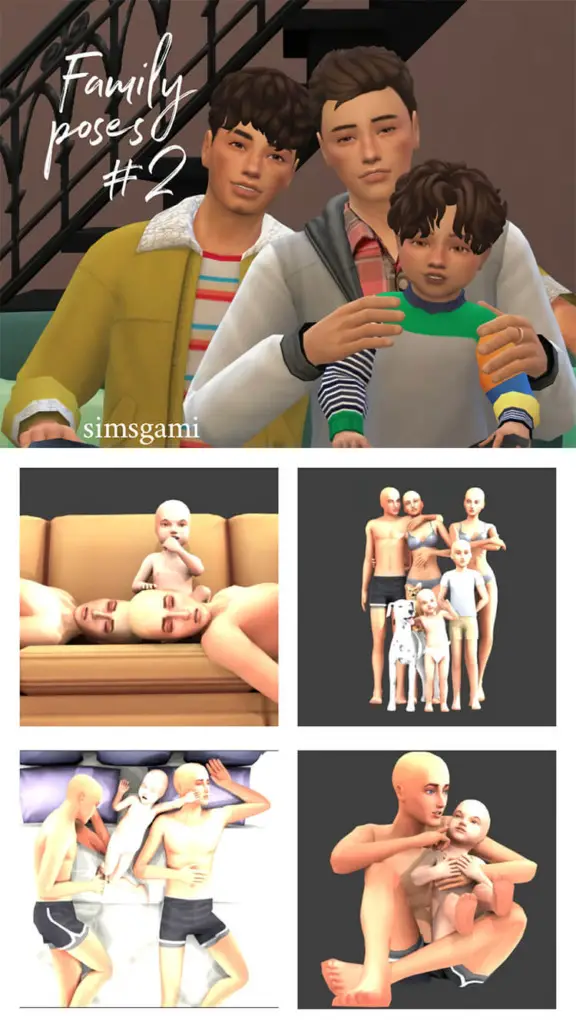 Number Of Poses: 5.
Do you want custom poses that exude familial affection and casual love? It doesn't get any chillier than the Simsgami Family Poses #2 poses pack.
This set includes five poses. They are both candid and posed.
My favourite pose is one where the baby or toddler lies awake and the parents lie down on the couch. It's my personal favourite.
But curled-up-and-cuddling-the-toddler is a close second.
You will need to have a cat or a dog for one of these poses.
You can have the cat, but the toddler will be tremulous about its weight and rely on the dog. 
If you are unable to get a dog into the room, maybe you could take the toddler out so it doesn't look off.
2. Bonfire Night by Lilialmondsim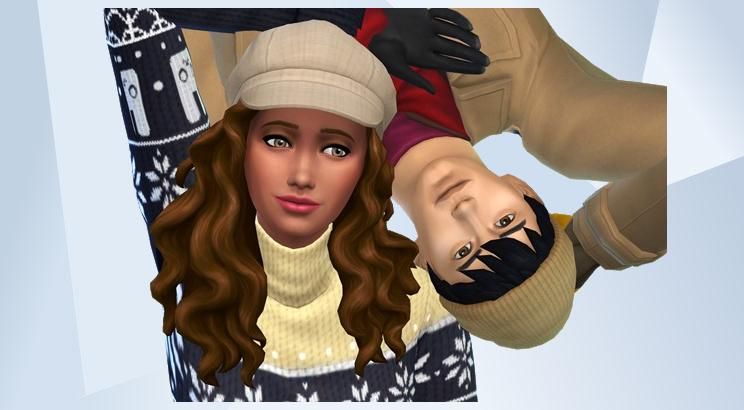 Number Of Poses: 3.
I swear, this custom pose pack can transform the grumpiest cats into the most adorable kittens.
It's adorable, sweet, and well-made. You can feel its warmth through the screen. I was able to, even though I didn't place my Sims next to a fire.
(I placed them on a couch in the middle of the living room to see how they would look. My point is still valid!)
These poses can accommodate more than two adults, two kids, and a toddler. You can turn it into an extended family gathering if you so desire.
The first photo is intended for two children. The second shot is for a Simstagram-worthy family of four. The third is a photo of four adults having fun around a fire while a child watches in wonder as the flames burn.
It's a truly unique idea for a family pack. It's also a well-executed idea.
P.S. P.S. Some poses won't make sense if you don't have the accessory. The third and second poses seem passable to me, but the first one looks strange without context.
1. KatVerseCC Family Portrait Pose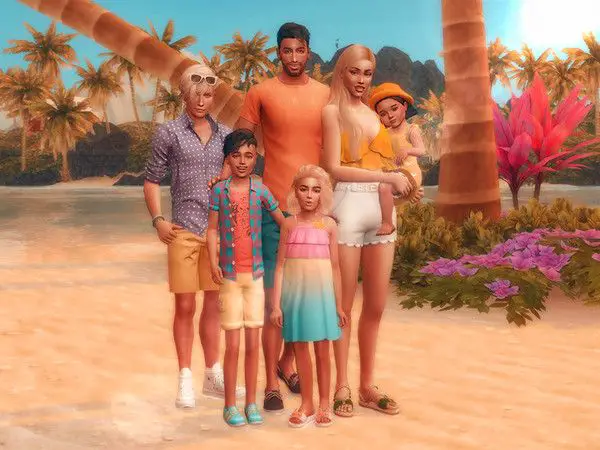 Number Of Poses: 1
Let's begin with something simple.
This custom pose is great for quick portraits of Sims family members.
It is simple to set up and very straightforward. One teen, two adults, two children, and a toddler. This is a fairly standard set of poses, but it's not impossible to make beautiful basic poses.
It's ideal for a happy, positive family who wants to have a great time outdoors or indoors.
It is also clear that the creator used height modifiers to make the age gaps a bit more apparent. The physical changes are subtle too.
Officer, no squashing or stretching is going on here. Keep going.