All mermaid lovers are invited!
How better to welcome summer than by becoming a mermaid? In The Sims 4, everything is possible.
The reason I love The Sims is that I can explore any fantasy world I want, even with all the custom content. 
When I was a child, I loved The Little Mermaid and became obsessed with all things mermaid! I loved to take a dip in the pool or soak in the tub. I wanted to live my best mer-life.
With The Sims, I can now live it out
The Sims Island Life made it so easy to become a mermaid in gameplay. As with all the original content in-game, I wanted more.
Let's look at the amazing world of custom content to see what's available.
35. Sims 4 Mermaid CC Clothes Pack by oydis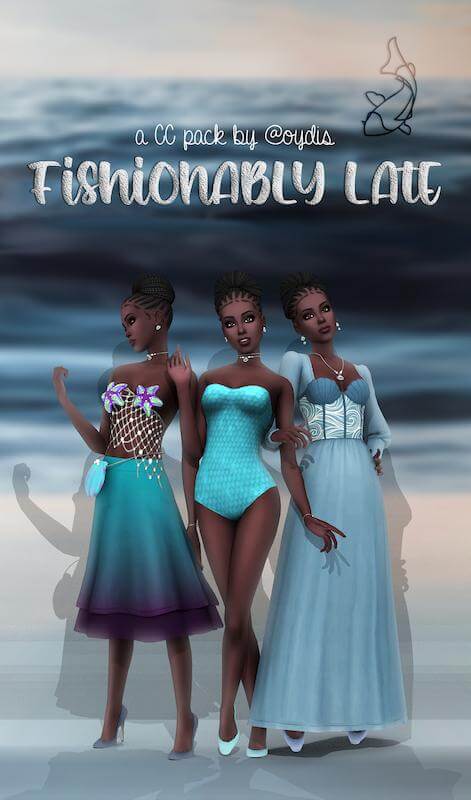 This whole pack is FULL of things that remind us of the sea.
All of them remind me of a "mermaid's night out."
With these fishable items, your mermaid won't feel like a fish out of water, even if she doesn't have a tail.
There are 27 different downloads on the downloads page, some of which are different versions of the same thing.
34. Sims 4 Eyelashes for Mermaids by Giulietta Sims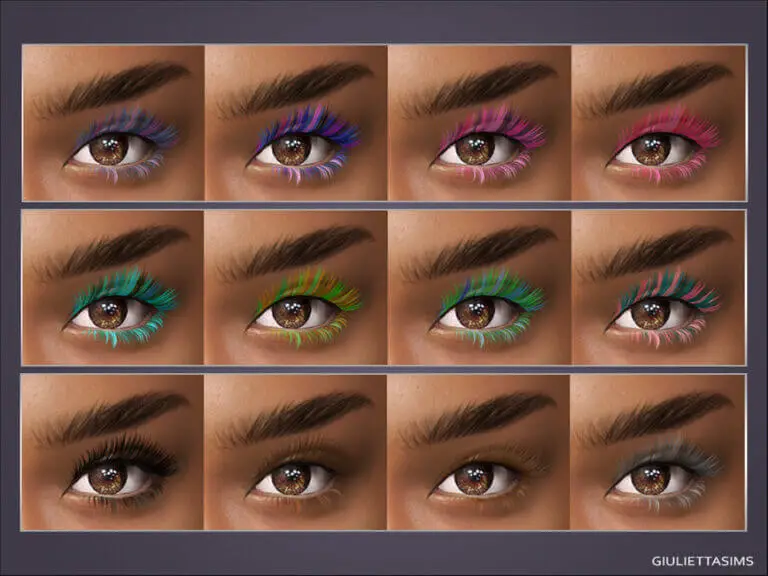 All of these bright colors make me think of mermaids, so I guess the person who made them did a great job.
Because of how great they are, I put these eyelashes on my list of the best Sims 4 eyelashes.
They come in 12 different colors, and the best way to use them is with the highest settings for graphics.
33. Sims 4 Mermaid Pose Pack by mystelise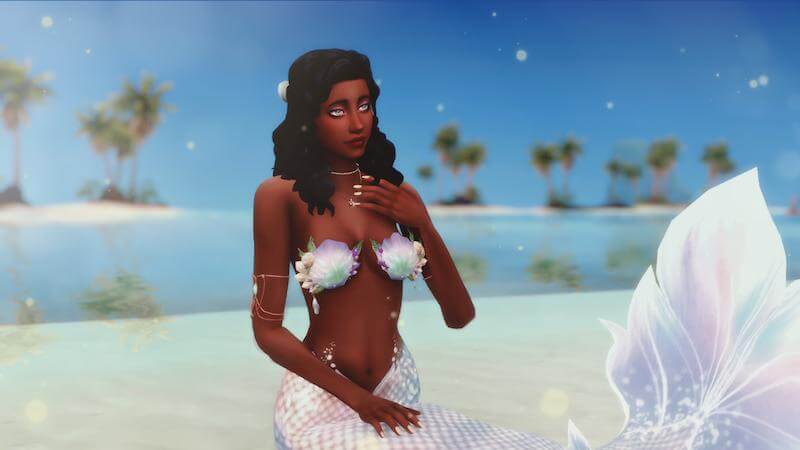 Have you ever thought about how carefree and calm mermaids seem to be?
Maybe because they only have to choose half an outfit at a time…
These Mermay poses capture that feeling perfectly and would be great for their next Simstagram post.
32. Sims 4 CC Mermaid Top by Sims House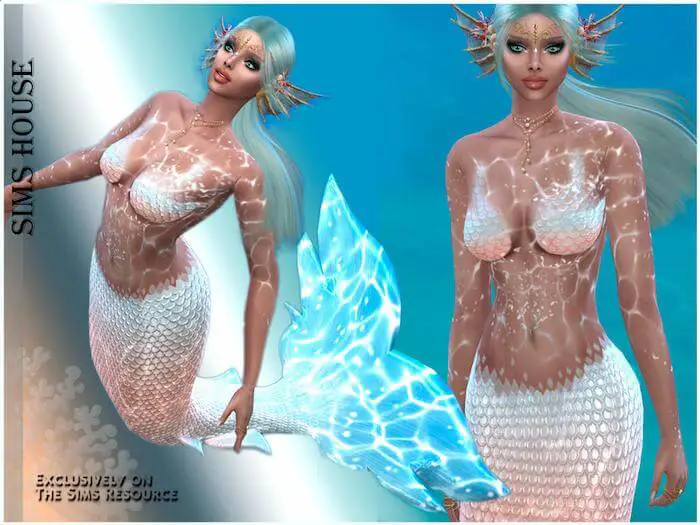 This is the best thing to add to your Mermaid CC mods folder.
The way the light shines off your mermaid makes you feel like you're underwater.
The top comes in 12 different color swatches and can be worn with or without a mermaid tail.
31. Mermaid Gill Overlay Skin CC by Simulation Cowboy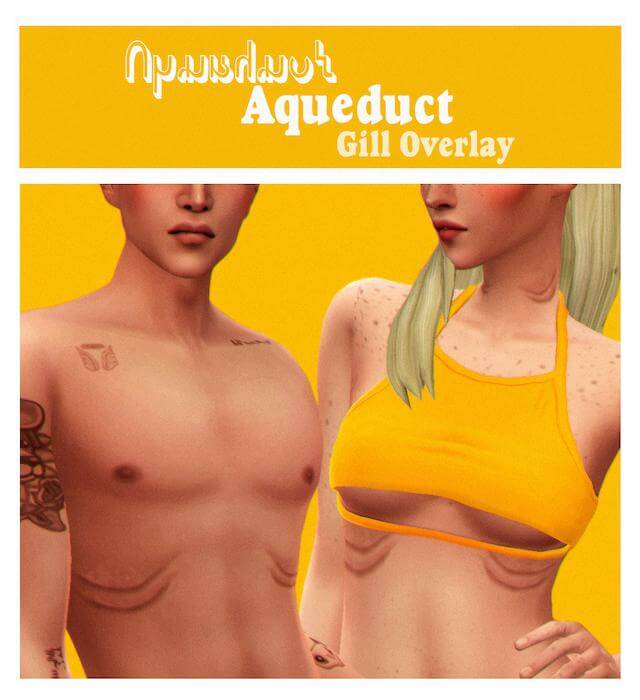 When your swimmy Simmy is underwater, it needs a way to breathe, of course.
These gills are exactly what mermaids need to cover their skin.
It comes in 3 swatches, so you'll have a few choices.
You can also get it as a tattoo or as a skin detail.
30. Mermaid Bedroom Set for Sims 4 by bellassims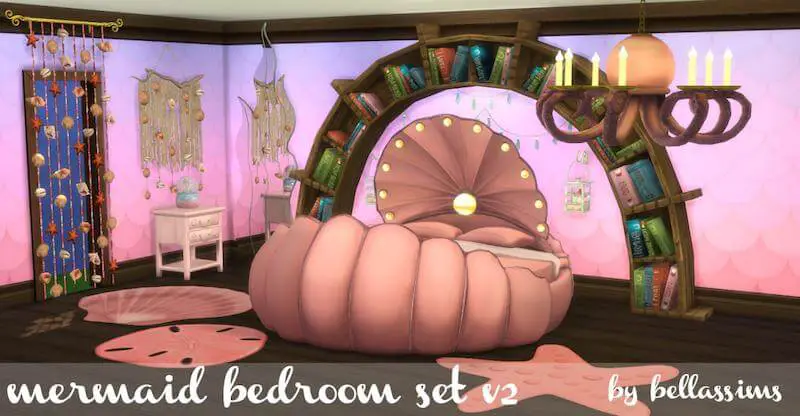 Where does a mermaid hang out when she's not singing to sailors or sunning herself on a rock?
Of course, it's their bedroom!
This sims 4 mermaid bedroom set will make your mermaid sim feel right at home.
This cc pack does a great job of putting together 15 great items in a wide range of colors.
29. Sims 4 Mermaid Tails Recolors by Noodles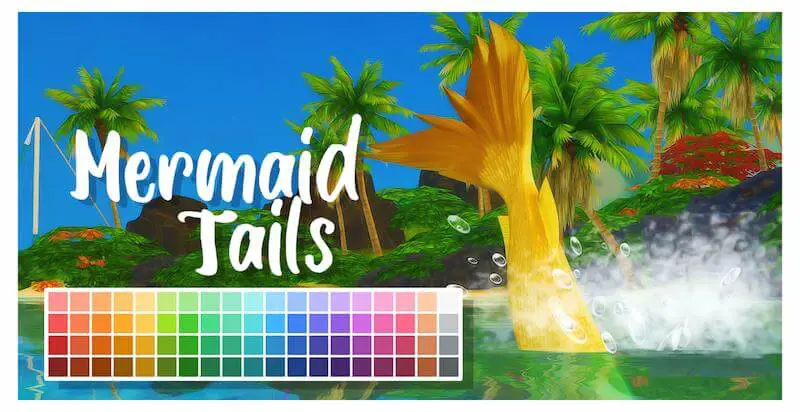 If the standard tail colors that come with mermaids in Island Living are too dark for you, give these recolors a try!
They have been redone in the sorbets remix color scheme, which makes them much brighter than the originals.
But don't forget that you still need Island Living to use these 76 new color swatches.
28. Default Eyes for Mermaids by Aveira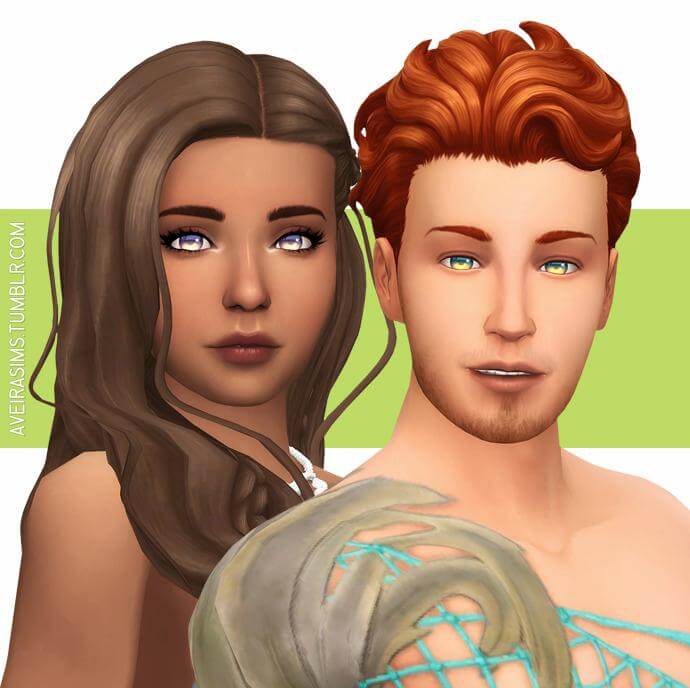 … Sorry… I'm here because these eyes are just so captivating.
There's no doubt that these glassy binoculars are a great way to get people's attention.
This set comes in 9 colors and is the default for mermaids, but it can be worn by any sim who doesn't want it to be.
27. Wavy Sims 4 Mermaid Hair by kamirri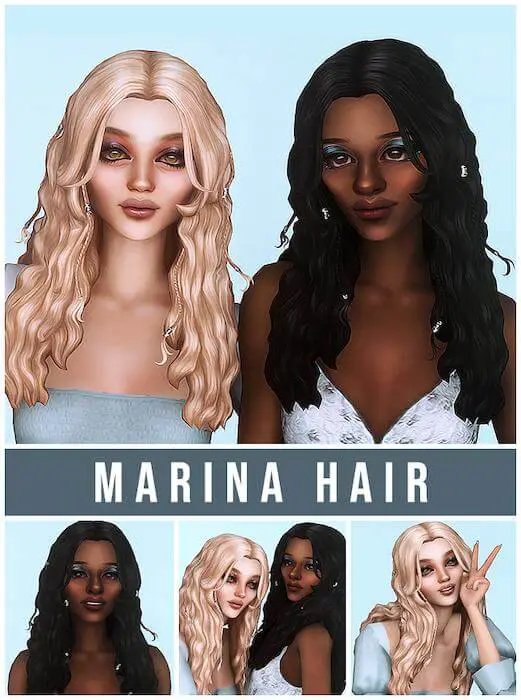 Even after a long day of swimming in the ocean, this sims 4 mermaid hair cc will make you look great.
When I think of the perfect mermaid, I see hair like this with waves and braids.
This beautiful hair comes in all 24 EA colors and two colors made by the person who made it.
26. Sims 4 Mermaid Tail CC Pack by Beeyu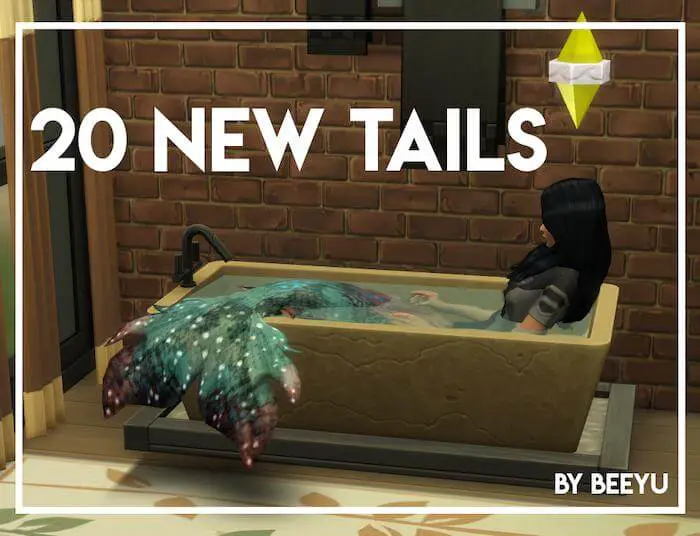 So, you have Island Living and you love being a mermaid, but something about the tails isn't working for you.
You're in luck!
These different colors of mermaid tails will make you want to go swimming in the ocean again.
The download gives your fishy friends 20 new tail colors and patterns that are cool.
25. Mermaid Lagoon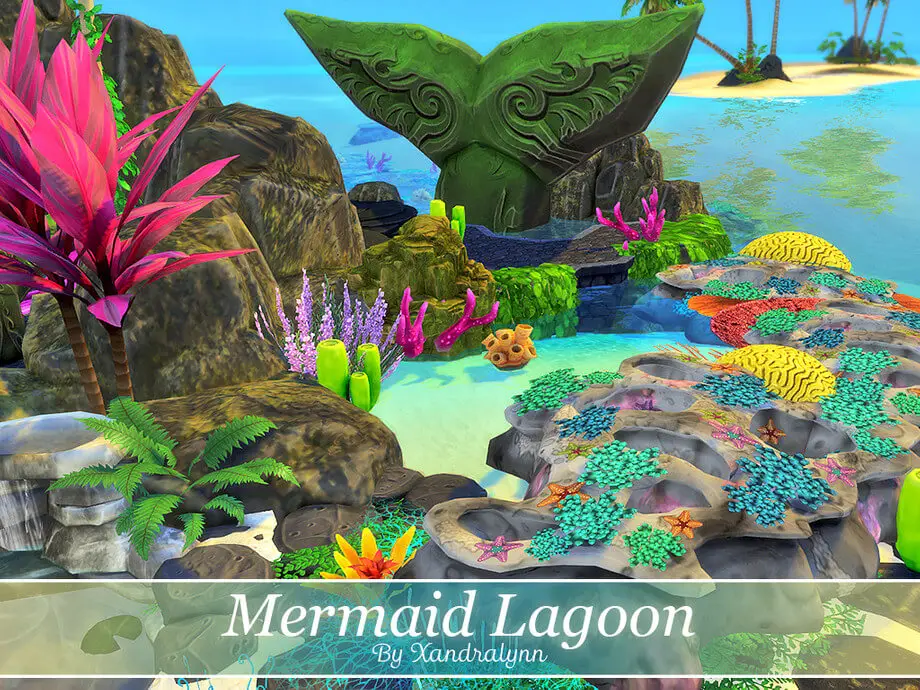 We have created a beautiful mermaid with all the CC, and now it is time for her or him to find the right home. It is not a home but a place where all the merpeople can meet.
The Mermaid Lagoon is an incredible community lot that has many unique details. It can be a frequent spot for mermaids as well as their supporters. 
Look at the amazing views of the ocean, reefs, and rocks! The Mermaid lagoon will be a great place for sims to have fun.
24. Gun Show Fangs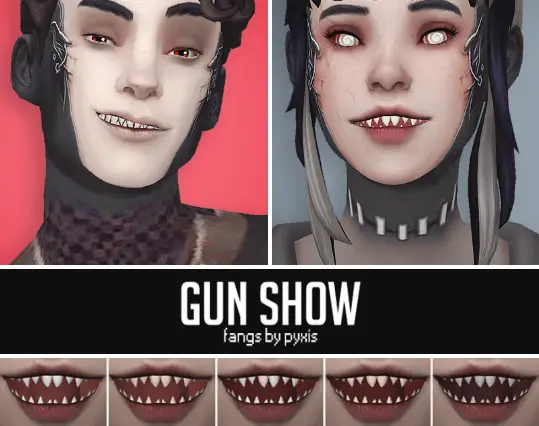 Talk about sirens calling! The siren's magical voice can seem like a fairytale creature, but when she opens her mouth you will see that it is a vicious predator.
The Gun ShowFangs set, which is perfect for all ages, is a true dream come true. 
You can customize your sim by using five different colors of these teeth. These look great on a dark aqua queen, don't they?
23. Heartline Eyes and Skintones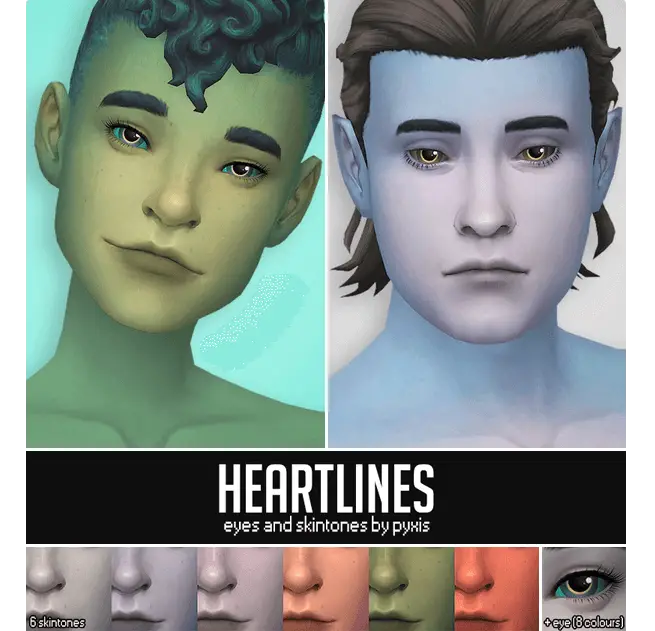 The Heartline set includes beautiful skin tones and eyes that will make your sim a charming sea creature. 
Your babies will look exactly like their parents with their eyes and skin colors.
Your sims will grow from a tiny guppy to an adult member of the merpeople. She looks amazing right out of the water!
22. Supernatural Overlay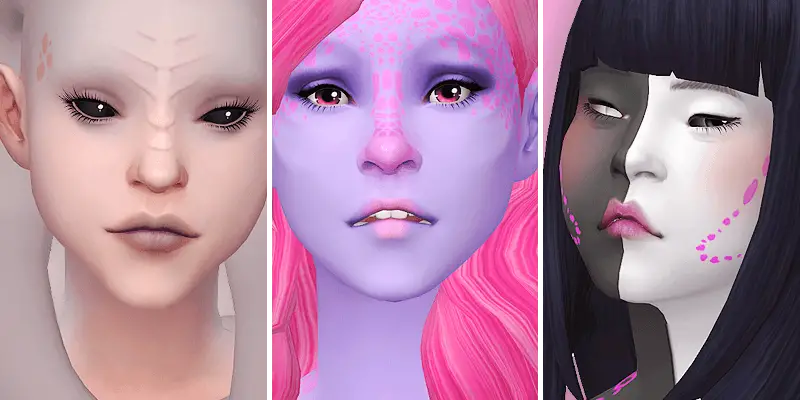 These beautiful skin details are not just for mermaids. It can be used in any supernatural game, but it is especially great for underwater sims.
The supernatural overlay can be used for sirens and fish-like mermaids. 
It will not look great on Ariel but amphibian gameplay with this overlay will be amazing.
21. Mermaid Aspirations

Although the Sims team strives to make the game as enjoyable as possible, sometimes we just need more. 
The Mermaid aspirations add three new life goals to your Sims 4, dedicated to different aspects of merfolk lifestyles.
You can fulfill your first dream and recreate the most famous Mermaid story. It is, of course, a Little Mermaid. 
Be a fish out of the water to find your true love at the shore. It can be difficult, but Ariel's dream of a happy ending is possible.
This second aspiration will give you the authentic Mermaid Experience. This tutorial will show you how to make the most of your mermaid experience. 
This aspiration will bring you closer to your natural calling and nature.
Our last and most appealing aspiration is the Siren Aspiration. This aspiration is perfect for Sims 4 if you enjoy playing with dark mermaid creatures. 
Poor sims are always cheated by dangerous and mischievous sirens.
20. Siren Ears & Gills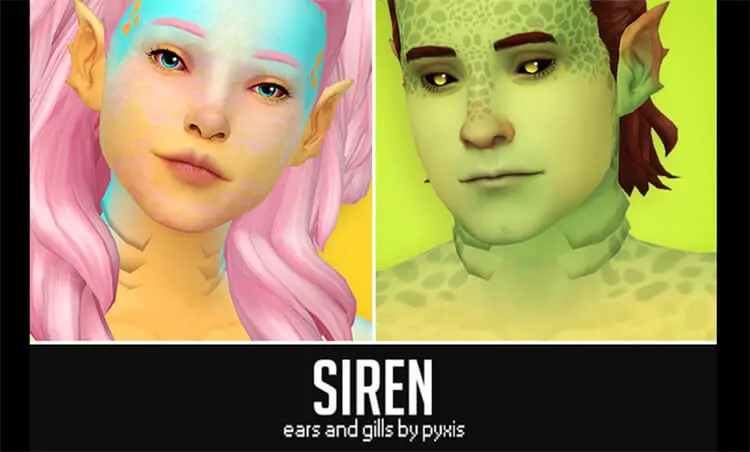 Mermaids are people of the ocean.
Why not give them fish-like features and gills to help them survive underwater?
Pyxis gives your mermaid the perfect underwater appearance with its realistic ears and gills.
The gills can be animated to match your sim's gameplay movements.
This CC can also be used with necklaces, earrings, and other accessories, according to the creator.
Who doesn't like CC that can be customized to match any style?
19. Tropical Island Living Mermaid Tail
What's a Mermaid without her iconic tail?
Radea created this tail as an extension of the original mermaid tale.
This color palette gives you more options for a unique look, while still using the gorgeous colors of a tropical island.
This is the ideal addition to your in-game choices if you are looking for something simple.
18. Mermaid Blush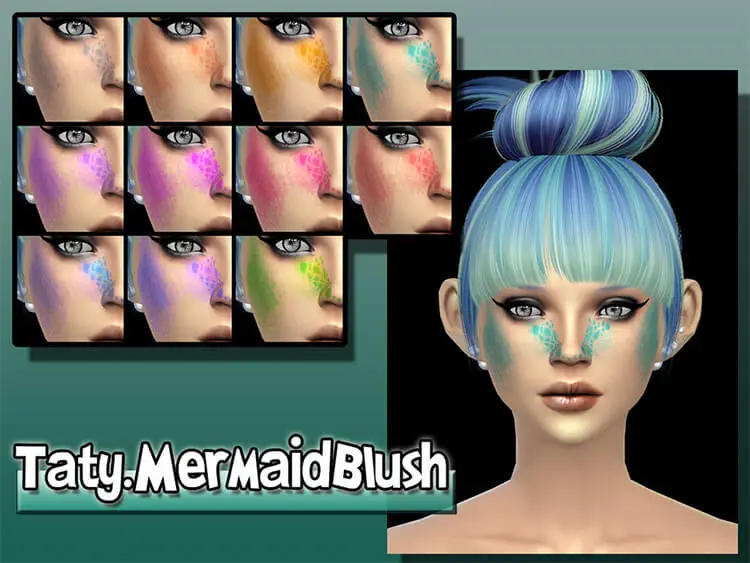 It is a must to find a good make-up palette that I can use with my mermaids.
The makeup color scheme must be both natural and mysterious. Tatygagg did an incredible job creating the exact look I wanted.
This palette creates the illusion of scales, giving you a real mermaid look.
These colors are tropical and metallic, which would look great on any mermaid in an underwater kingdom.
This universal look could be used to create a whole mermaid clan.
17. Mermaid Hairstyle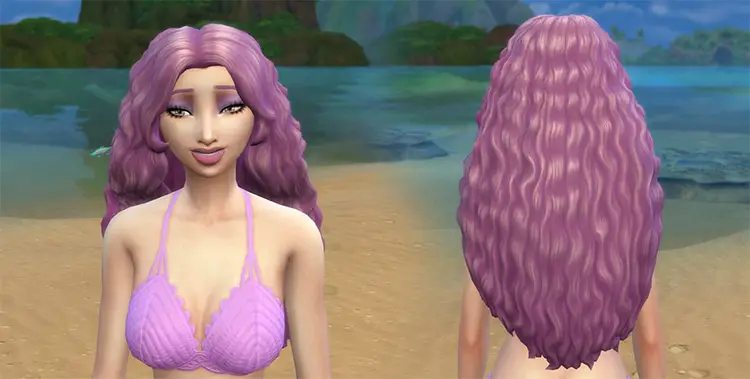 The hair is what I first think about when I imagine a mermaid!
Mermaids are well-known for their long, wavy hair.
This hairstyle by KiaraZurk looks great! You can also customize it with different textures.
The CC is available in 18 colors, and can also be used with hats. Nice!
You can make your Little Mermaid by playing with the red variant.
16. Expanded Mermaids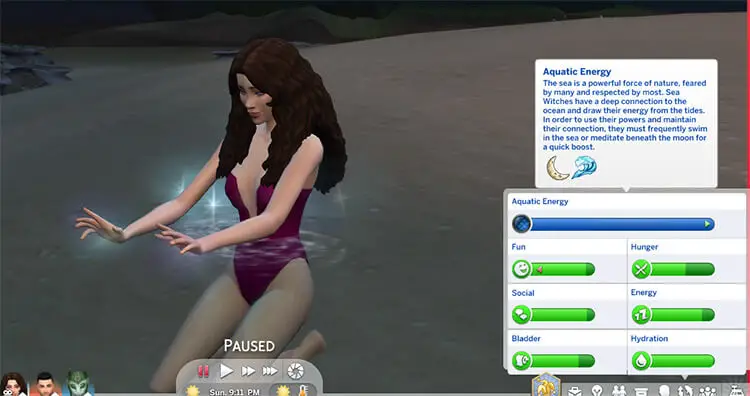 TS4 Mods allow you to create your gameplay.
This mod was created by SpinningPlumbobs.
It is worth the cost, not only because it is constantly updated but also for all of the core features that you get inside.
SpinningPlumbobs' Expanded Mermaid creates new content and interactions for mermaids like sea witches, sea kelpies, or ocean shamans. There's so much to see and do, you'll be hooked!
I guarantee you won't regret it.
15. Mermaid tiles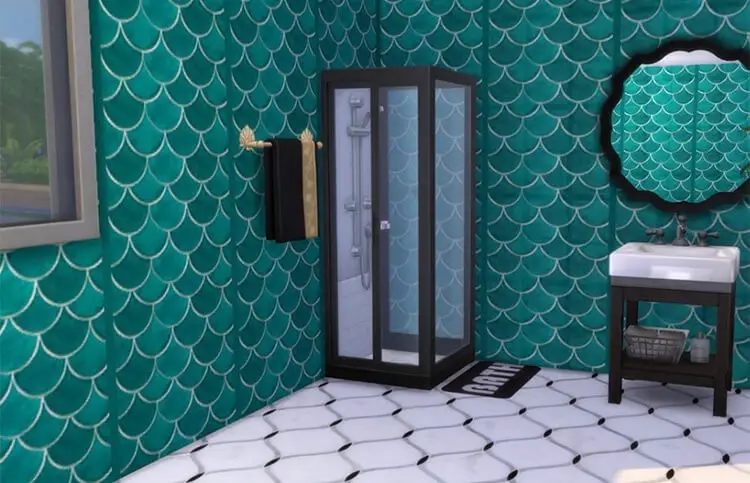 A wall with mermaid patterns is a great idea.
Brandyzomb's Mermaid Tiles are the perfect addition to your island home.
I will be honest, my bathroom would look exactly like this in real life.
These custom wallpaper designs are the perfect addition to your bathroom, no matter where you live your sim is as obsessed with mermaids.
14. All Mermaids Can Change Weather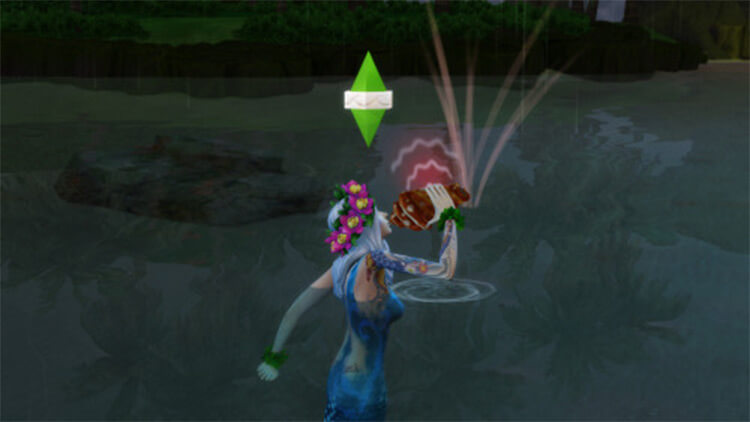 You already know that mermaids can change the weather if you have the Seasons expansion packs.
Certain personality traits are required to summon certain weather conditions.
Petsimk created this mod to allow all mermaids who have any personality trait to summon any type of weather pattern.
Simple, yes. But so enjoyable.
13. Mermaid Bassinet Mod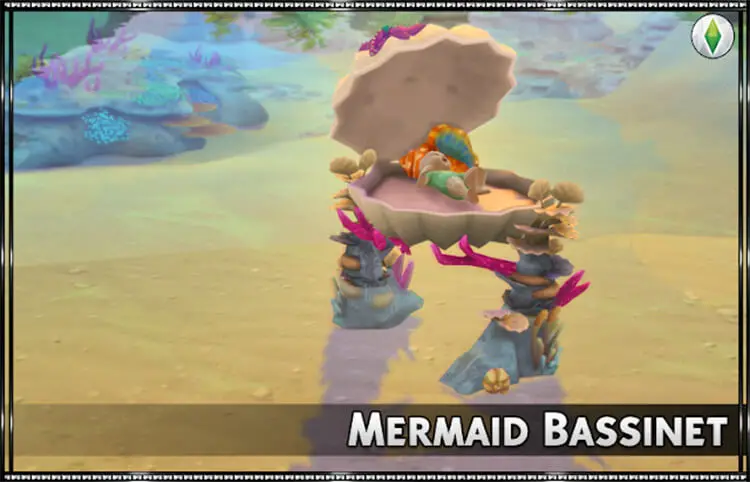 This is my favorite mod for Island Living.
I love to create families in-game. This includes lots of babies.
Although mermaids can have babies, mer-babies do not have a bassinet like the mythical characters.
SrslySims designed a mod for mer-babies.
You can now care for your merbaby like any sim. This brings me to my next CC…
12. Mermaid Toddlers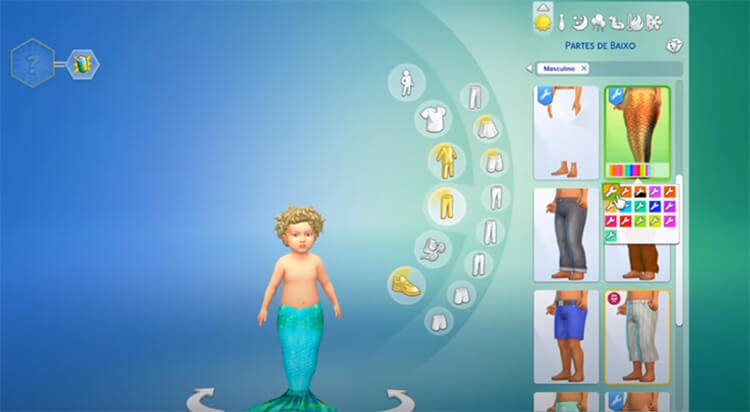 My favorite stage in a sim's childhood is the toddler stage.
These sims can be difficult to teach new skills and build your toddler's motor skills, but they are so adorable. I could cry!
Merman Simmer's toddler mermaid tails allow little mer-toddlers to run (or swim) all day with their tails.
This is so cute!
11. Mythos Skin (Female)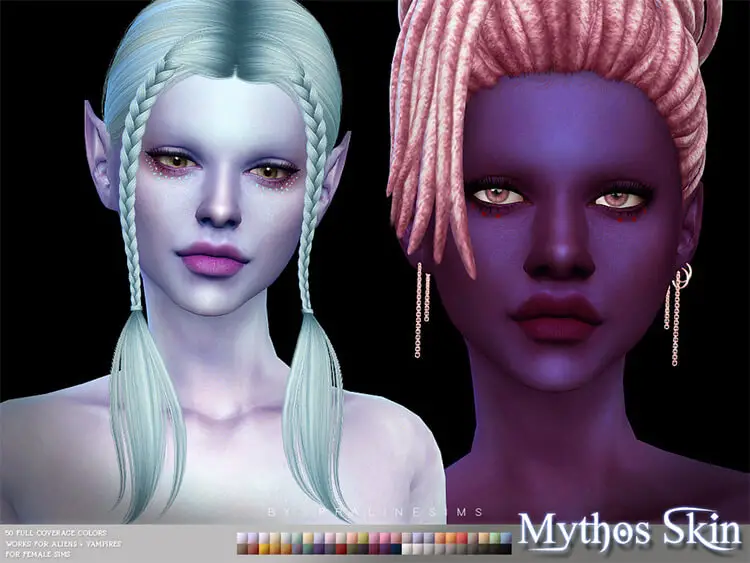 What is a mythical creature (like a Mermaid) that doesn't have a mythical skin color to complete its look?
Pralinesims has created the ultimate skin-toning package for all fantasy sims.
You have fifty color options to personalize your sim and create the mermaid you dream of.
10. DSF Mermaid Tail Phalaenopsis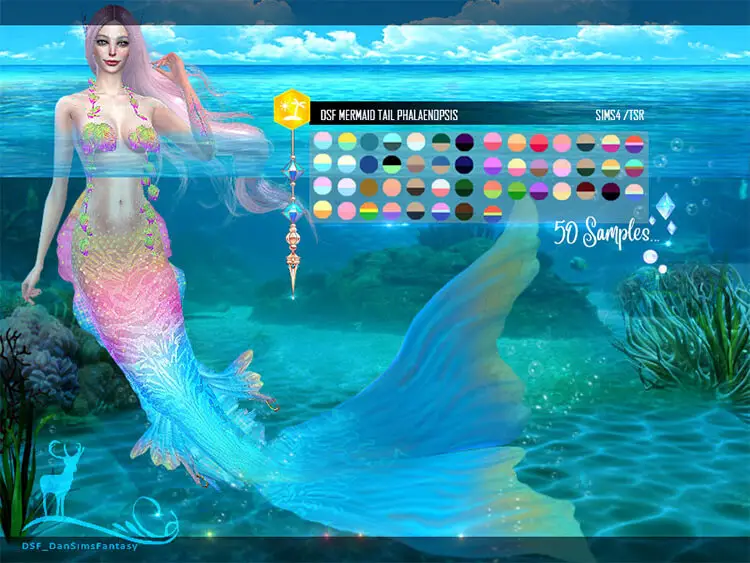 This CC tail has incredible detail.
This custom mermaid tail is inspired by the beauty and elegance of the Phalaenopsis. It comes in 50 colors, as well as 8 color schemes.
This is serious customization.
This is DanSimsFantasy's stunning design of a mermaid tail!
9. Anto – Daya Hairstyle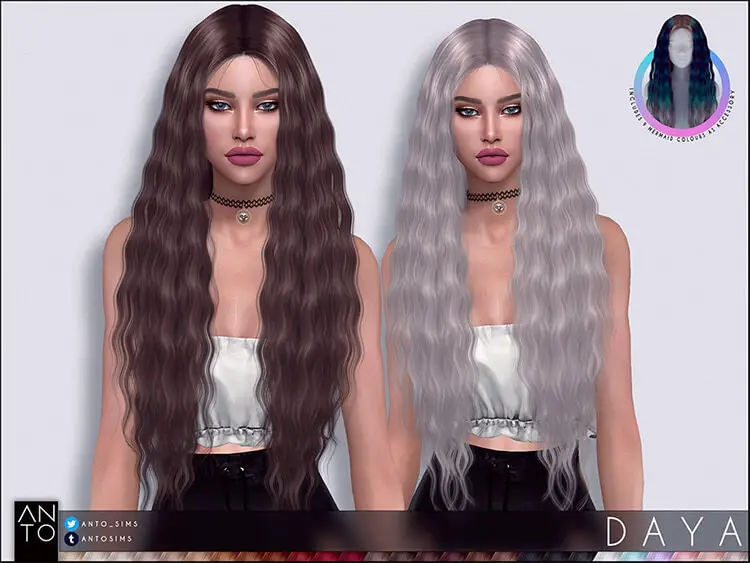 Yes, another mermaid hairstyle is being added to my favorite mermaid's CC. Why?
It is simply stunning!
This style would look great in real life.
If you want a more mysterious look, the hip-length style has 27 hair colors.
Anto's Daya hairstyle is so natural and beautiful that I am just blown away.
This is the perfect sim for both mermaids and regular sims.
8. Mermaid 5 Set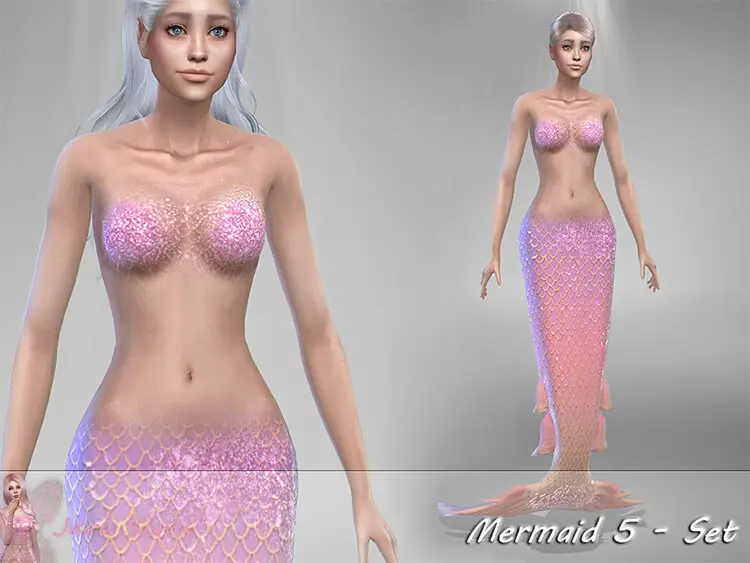 Jaru Sims created one of my favorite mermaid sets online.
This elegant and simple top and tail set to feature 14 pastel colors. It also has a lot of styles.
I love the way the tail and top blend into the skin.
This gives the illusion that you are the ultimate water-based person. This barley-clothed appearance is ideal for a mythical Mermaid.
7. Siren Ears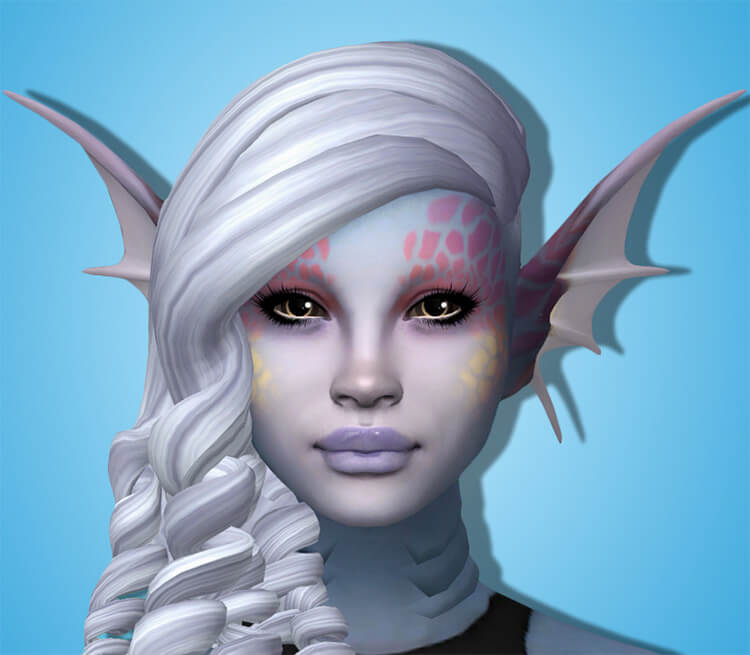 These fish ears are essential if you want to create a mythical creature for The Sims.
These large, spiny ears give your mermaid a fish-like appearance from the ocean's deepest depths.
These ears are suitable for both male and female sims. They can also be worn with many hairlines and beard options.
Creator Tekri offers a way to have your piercings done if that's something you like.
6. The Luminous Water Mermaid Tail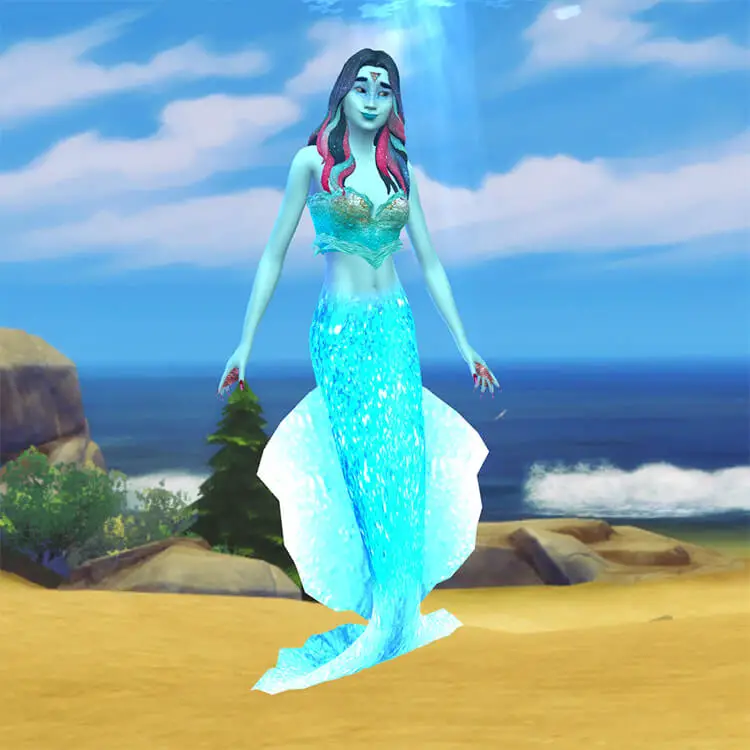 Yes, that's right.
This glowing mermaid tail is a show-stopper!
This cute CC by Zaneida should be on your wish list.
Let your mermaid shine the light of night every time she takes a dip.
There are 4 options for the tail, with each having 5 color swatches. Did I mention that it glows?!
5. Ears of Mermaid (With Lightful Ends)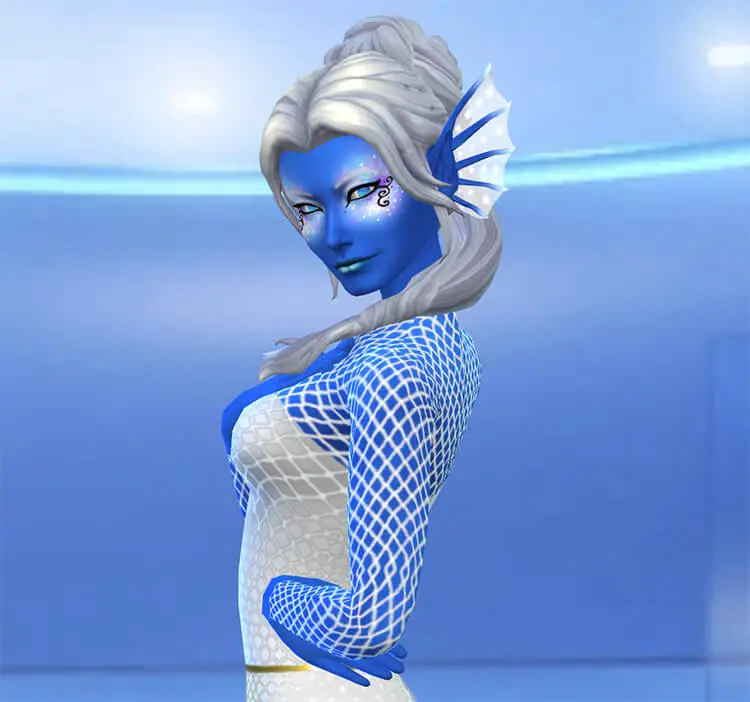 How can you achieve the glowing mermaid tail look?
You can add glowing ears!
Zenaida also adds this CC to the mix, with fish-like mermaid ears and glowing ends.
The glowing adds a mysterious element to the overall appearance of a mermaid. Your sim is known for feeling mysterious.
I would love to go for a late-night swim like this.
4. DSF Accessories Mermaid Opalo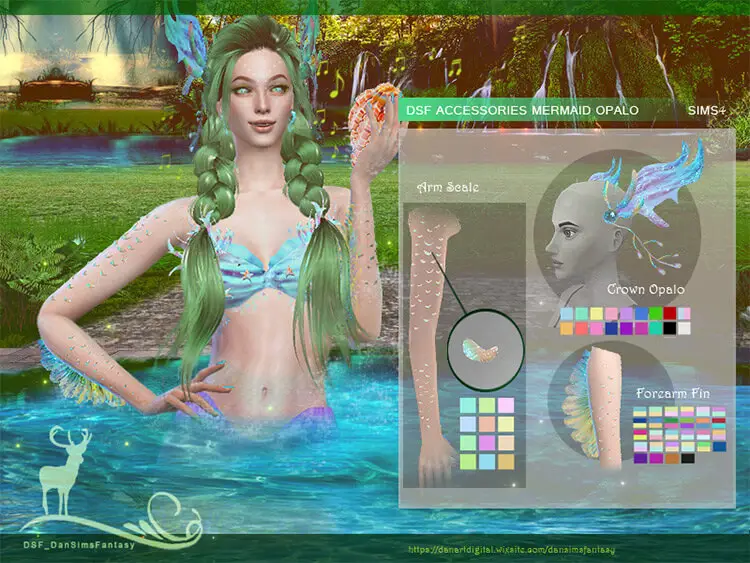 DansimsFantasy's accessories pack makes my mermaid dreams come true.
This CC pack is all I need to create the most mystical look.
You'll find the Crown Opalo, forearm Fins, and Arm Scales inside to complete your perfect mermaid transformation look.
You can customize the underwater look of your mermaid with accessories in a variety of colors.
Do you want to be a mermaid princess living in an underwater kingdom This pack will keep you entertained for hours.
3. Mermaid Shells No1
These mermaid shells will be a hit!
This is the perfect look for mermaids to rock.
The details of the shell design are exquisite, right down to the pearl inlays. This type of craftsmanship is time-consuming!
Creator Tigerlily has 12 colors, making it easy to match your tail design.
The classic shell bra is the ideal complement to any mermaid look. The cherry on top of the sundae.
2. Britney Pastel Rainbow Hair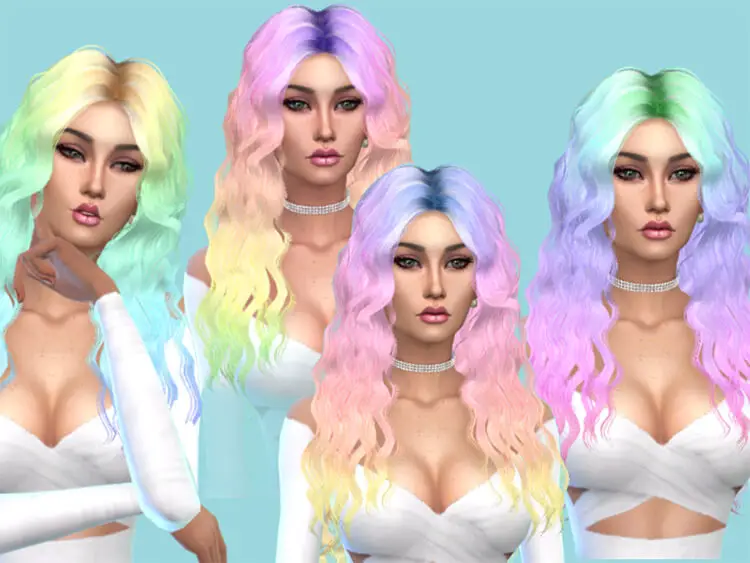 I know, I'm sure. Another hairstyle!
SweetCranberry created this recolored Britney hairstyle, which Sintiklia adapted from Britney. I don't believe I have ever been so obsessed with my hair.
My favorite mermaid hair color is pastel rainbow colors.
This style looks great with any tailor top set and gives your mermaid a beachy look.
You can be sure that I would rock these colors in real life if I had the courage!
For now, let's just keep it all in Sims Land.
1. Fish Scales Tattoo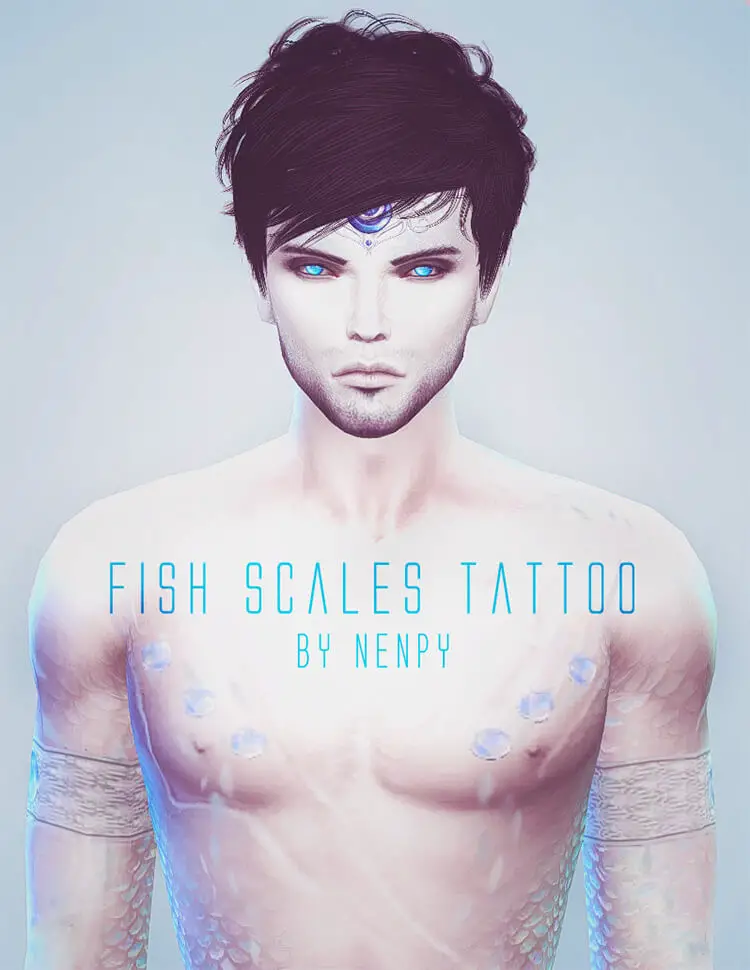 To top it all off, Nenpy's amazing creation of fish scales instantly comes to my mind.
These fish scales are among the most realistic looking I have ever seen in former sims.
This tattoo covers your Mermaid's entire body, giving it the perfect underwater look that blends in with the rest.
There are so many things to love about fish scales: glowing tails, tropical colors, and even fish scales!
It's thrilling to think of being able to customize almost every aspect of my mermaids' in-game. I am astonished at all the creators' imaginations.
We can all give a huge round of applause to the game for allowing us to create our favorite fantasies in-game.
This list is a great starting point for creating an underwater mermaid paradise.