For Sims 4, get the best group poses.
There is a slew of factors to consider while selecting the best group poses for The Sims 4.
To begin, how many Sims will you be photographing a Second?
How would you describe the personalities of these Sims?
Finally, what do you hope to convey through your images – what are your true motivations?
For those who don't have a clue and simply need a few group poses for their Sims 4, we've gathered the greatest ones for you.
If you're like bespoke poses, we've got many to choose from!
Here are a few of my personal favorites.
Let's get started.
The Best Sims 4 Group poses:
25. Sims 4 CC Pack: Dyoreos Boys Be Boys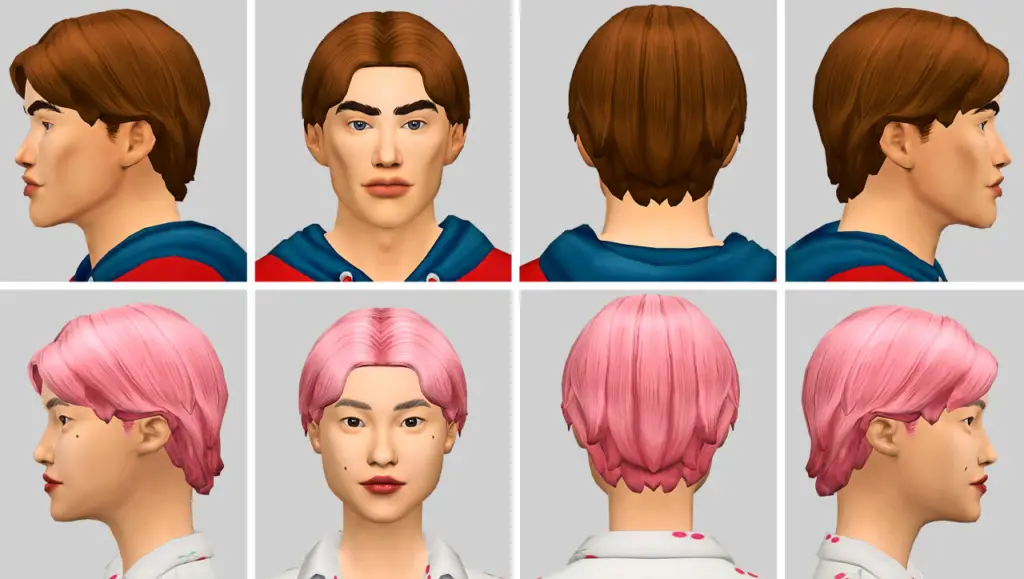 CC Pack is my go-to posture for groups.
This set includes four male Sims and is ideal for getting your Sim in a group photo.
A boy band album cover might be created using this image.
Because of this, you'll get more than you bargained for in one bundle.
Click here to see the download page.
24. Sims 4 Pose Pack Collaborated With Friends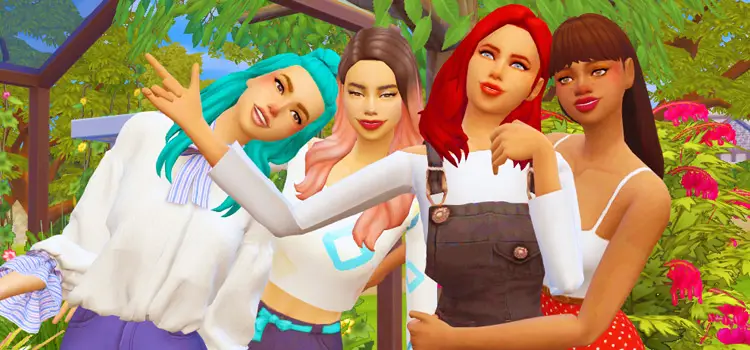 Collaborating with Friends is worth a look.
Group poses for different Sim sizes are the nicest feature of the bundle.
Sims may pose in groups of two, three, or four.
Click here to see the download page.
23. New Year's Eve Party Pose Helgatisha's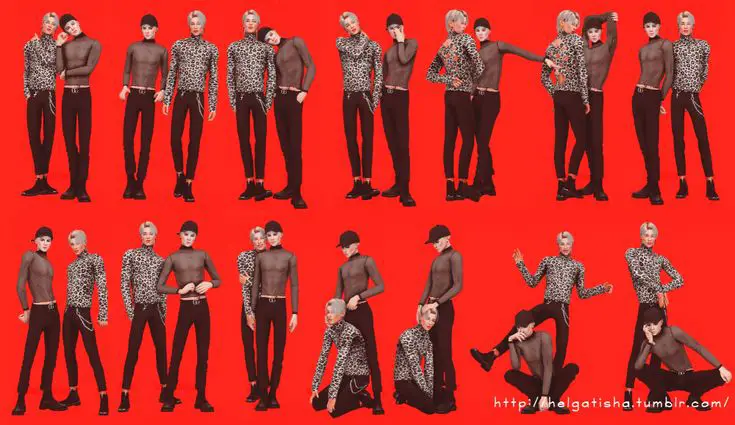 Is there anything better than ringing the New Year with your closest friends?
In addition, this position set enables for a photo that will be treasured for years to come by all of your closest Sims.
Try it out!
Click here to see the download page.
22. Magazine Men V.1 by Roselipa, Issue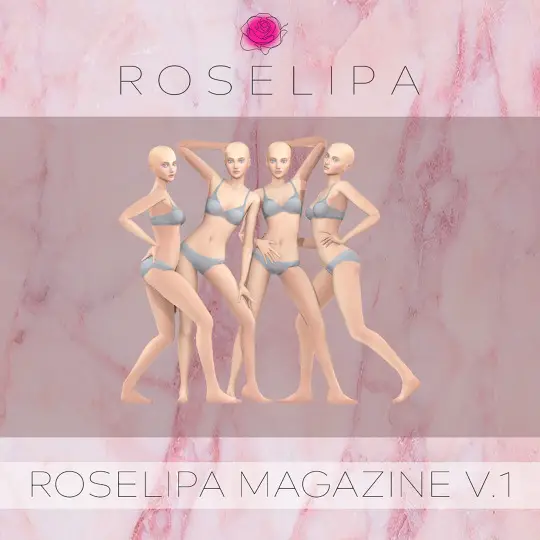 This is the posture you need if you're in charge of a slick Sims 4 staff.
Sims can be dressed provocatively, attractively, and most importantly, fashionably.
Recommendation: 10 out of 10.
Click here to see the download page.
21. Rinvalee's Angry Gang for The Sims 4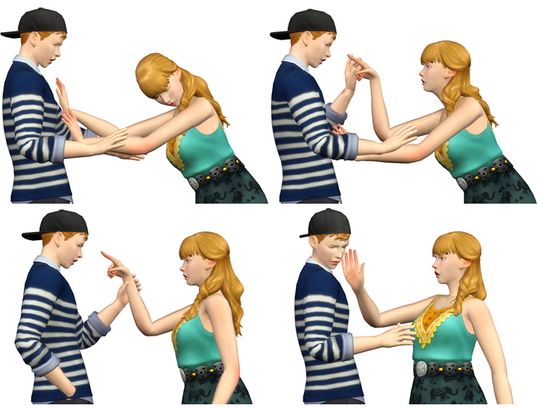 Group poses for the Sims 4 are included in this collection.
The only posture pack that allows you to construct battle scenes in your game is this one.
It's possible for your Sims to appear to be fighting or bickering, which is something that might happen with male friends.
Honestly, that looks like something that might happen!
Click here to see the download page.
20. Beto ae0's 20. FUN Group Pose Pack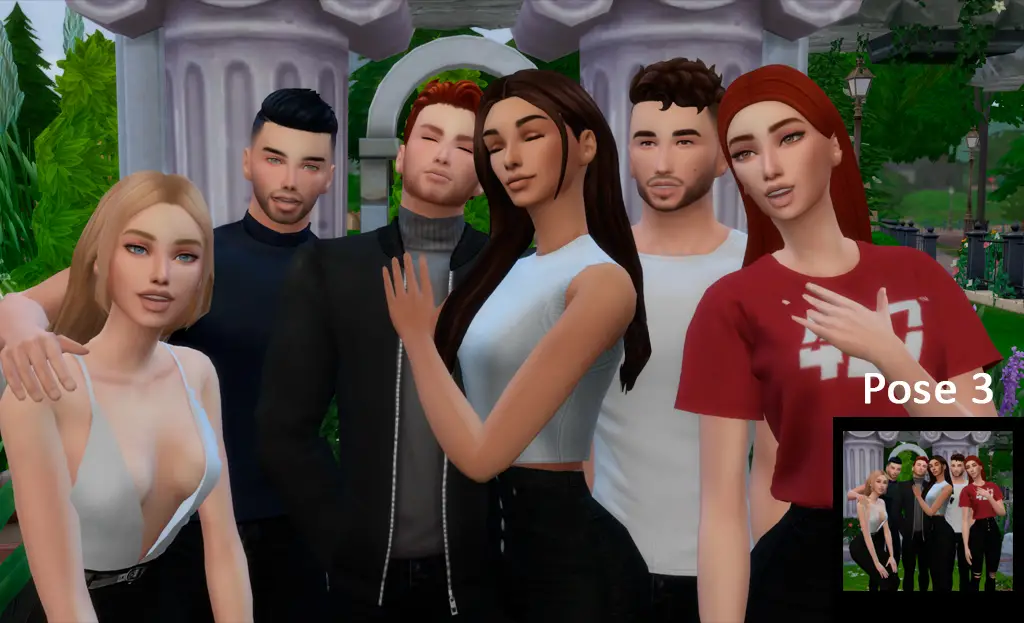 Everyone can benefit from having a diverse range of friends.
All of your Sims' best pals may join in and have fun with these group shots.
Since all of the positions are based on the way people often pose for photos, they're excellent.
Click here to see the download page.
19. It's the best scene of my life whenever I am with you.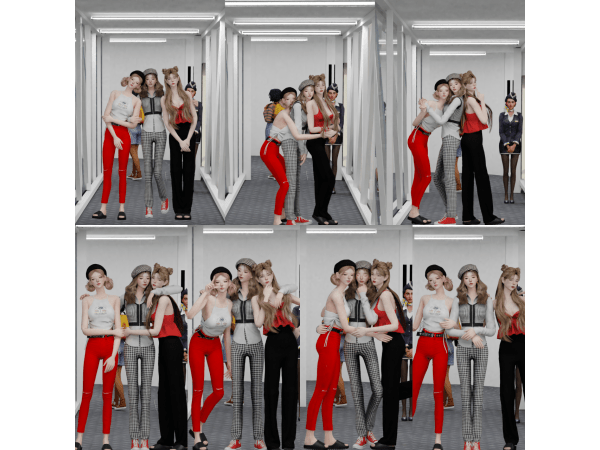 Shopping with female companions is a popular pastime for many women.
Of course, the whole event would be incomplete without a few selfies.
With this add on, your Sims will be able to mimic each other's poses in front of a mirror.
That's just too sweet!
Click here to see the download page.
18. Summer Time Group Poses & CAS Helgatisha's

Even though this is a single group pose, it's incredibly precious to my heart.
The reason is that it portrays the delight of the friendship the Sims enjoy.
So if your Sim has buddies, don't forget to take a picture of them together!
Click here to see the download page.
17. Beto ae0 – Club Night Pose Pack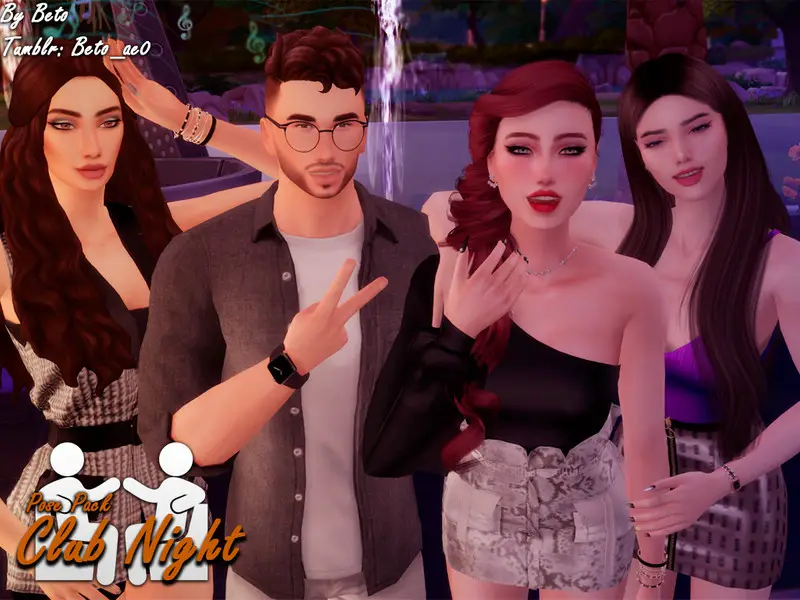 Going out with your buddy group is one of the finest pleasures in life.
And that's what this pose set is all about.
There are a slew of stances showing the types of photos that individuals snap when out on the town or at a club.
And I'm a firm believer in it.
Click here to see the download page.
16. Beto ae0's Beach Girls Pose Pack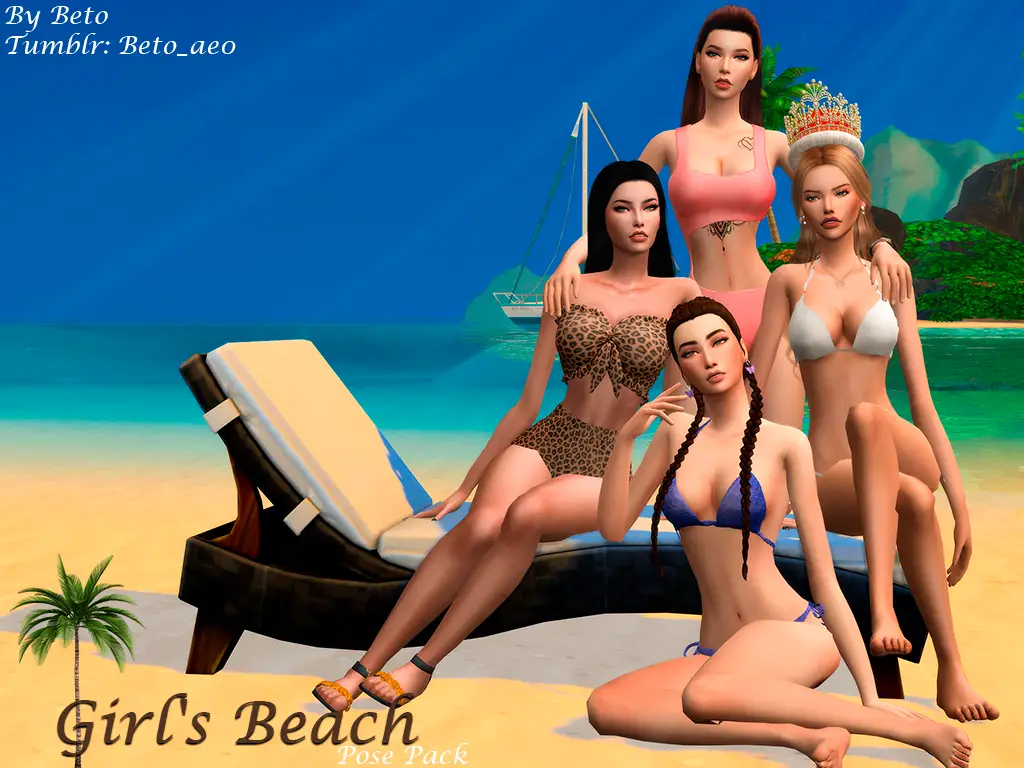 On The Sims Resoruce, this pose pack has been downloaded more than 2 million times.
Considering how amazing all three postures look in-game, this isn't unexpected.
I've come to expect nothing less from Beto ae0, and this stance is no exception.
Click here to see the download page.
15. Film Pose Pack by MST – Not So Interesting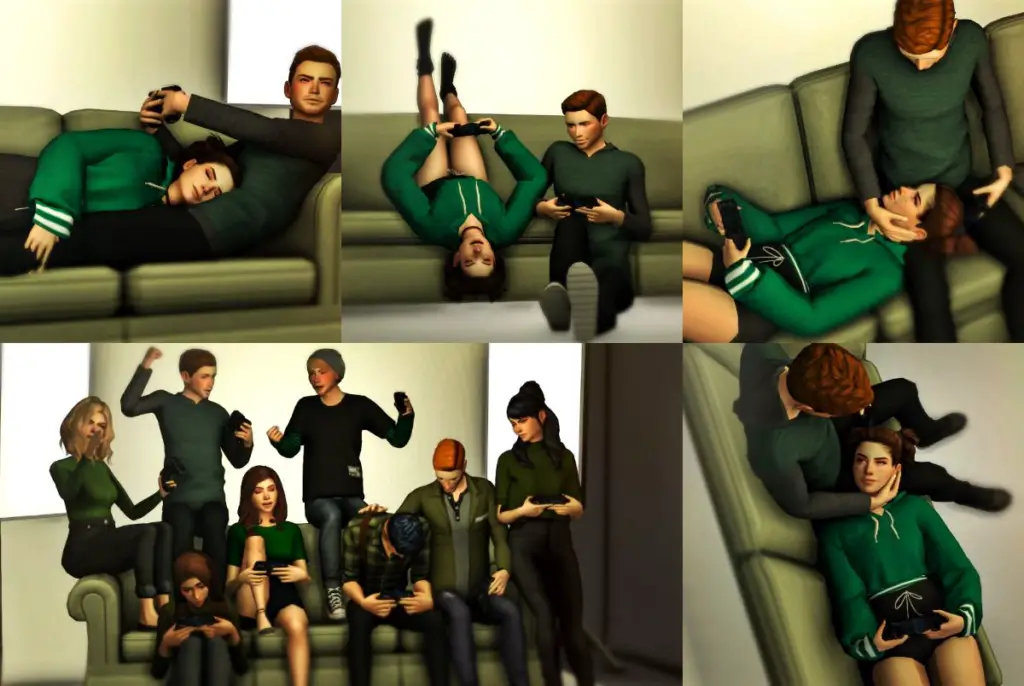 Everyone occasionally benefits from a movie night with their buddies.
As a result of this position, your Sim will be less enthusiastic in watching the film.
As a bonus, this is a great photo op.
Click here to see the download page.
14. There are fourteen Sims 4 group model poses.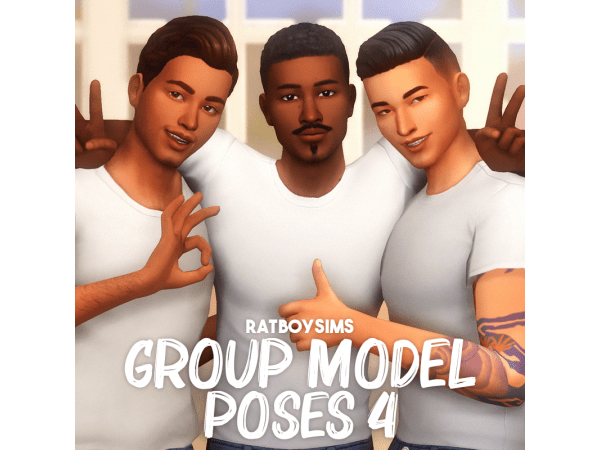 I highly suggest this posture set for any of your male Sims that aspire to be famous.
Here are three sexy male model postures that are sure to be noticed.
These are unusual and distinctive, so give them a shot.
Click here to see the download page.
13. Pose Pack Friendship II by Beto ae0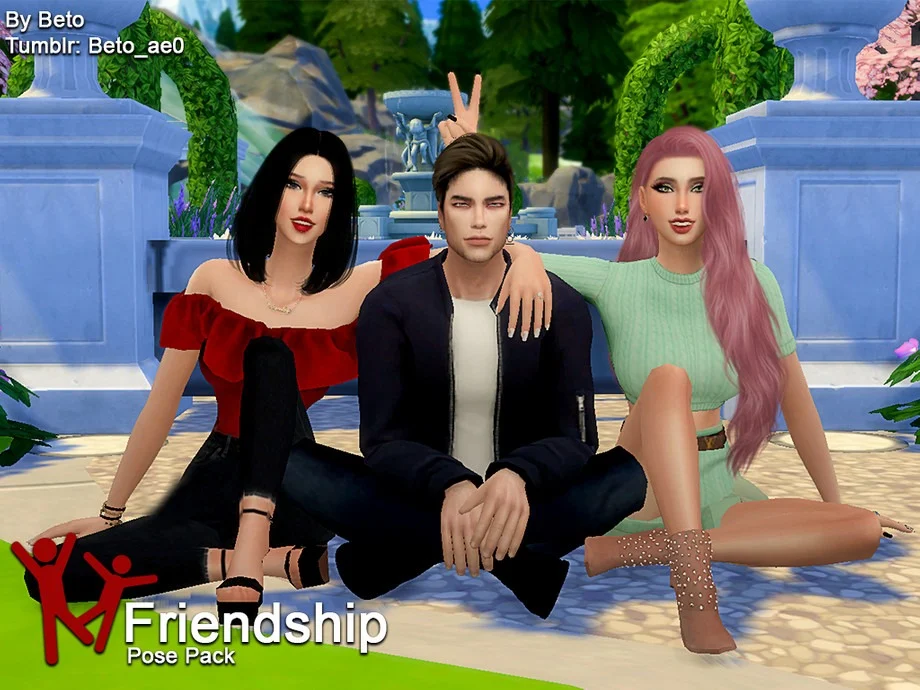 This is the perfect set for a trio of pals (one female, one male, and one female).
There are some unique positions that can only be performed by a group of three Sims.
Sitting to standing up from lying down on the ground Pick the one that's right for you.
Click here to see the download page.
12. Beto ae0's Pose Pack: Fun At The Beach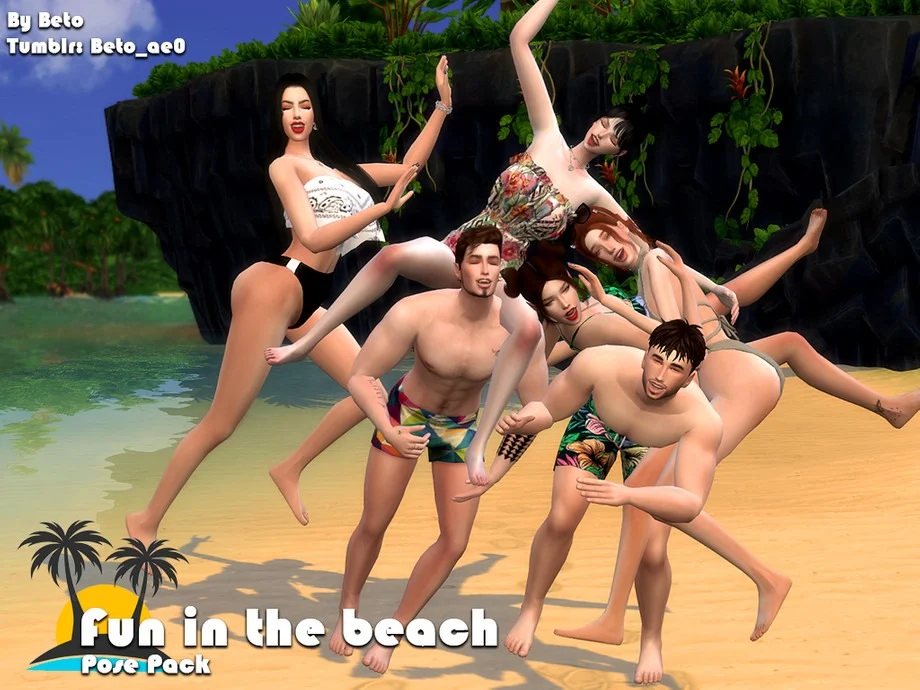 Taking goofy photos with your friends is an important aspect of having a good group of friends.
Even the funny and playful stances of the 4, included in this collection provides excellent photo possibilities for you and your friends.
Your Sims will always be smiling in every stance, which is precisely what you want them to do!
Click here to see the download page.
11. This pack includes eleven poses for your friends.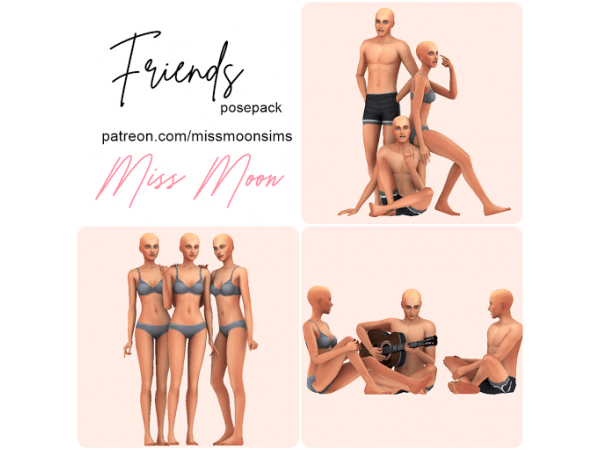 Despite the fact that this is a really easy pose pack, I think it's worth your time.
All three group poses in Sims 4 look fantastic.
They show how close these three buddies are to each other.
Sims of either gender can enjoy it.
Click here to see the download page.
10. Pose Pack for Pool Day by Beto ae0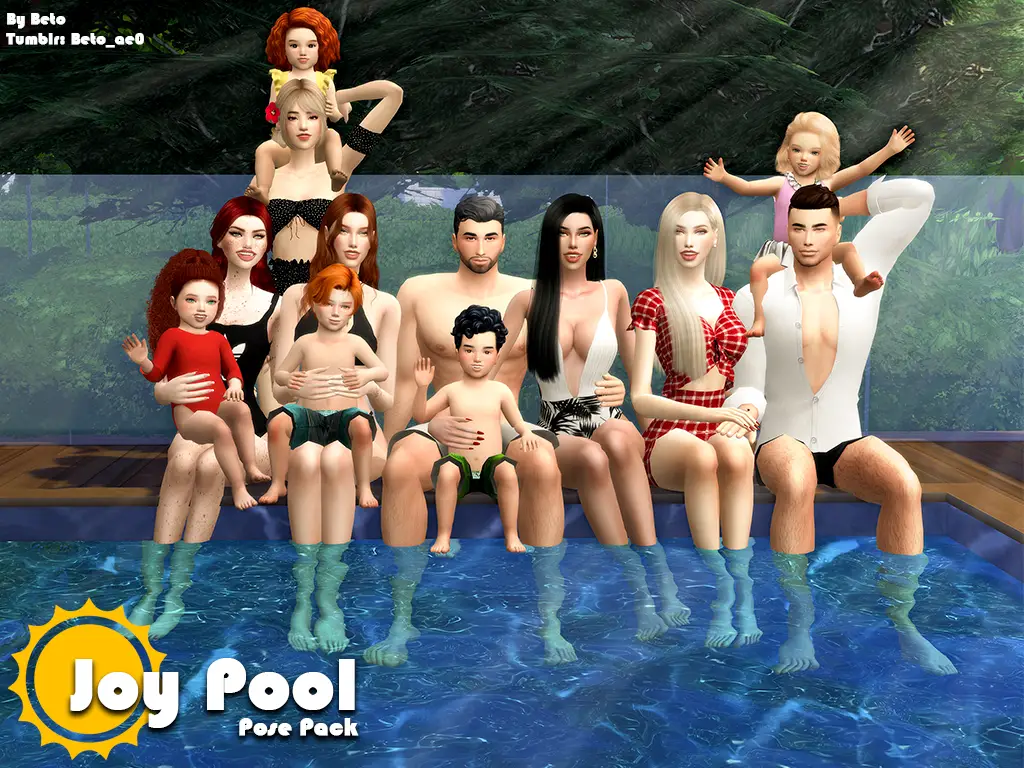 Beto ae0's summer group packs appeared on this list, and we noticed a lot of similar designs.
Here is my personal fave!
There are three group shots of friends relaxing by the poolside together.
And a pool party wouldn't be complete without a few poolside photos.
Click here to see the download page.
9. Relaxlala's Ladders Group Poses For Sims 4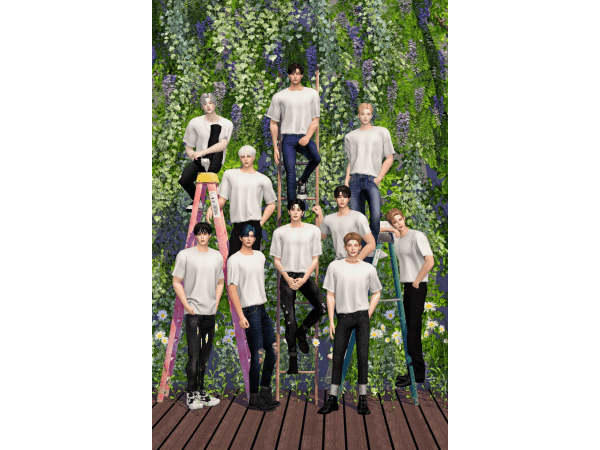 This is an uncommon male stance, which is why we've included it here.
Your Sims can pose on ladders near a wall or a tree with this accessory.
It's more suited to younger males or those who want to dress up.
You should absolutely grab this pose in your game.
Click here to see the download page.
8. Beto ae0's Millennials Pose Pack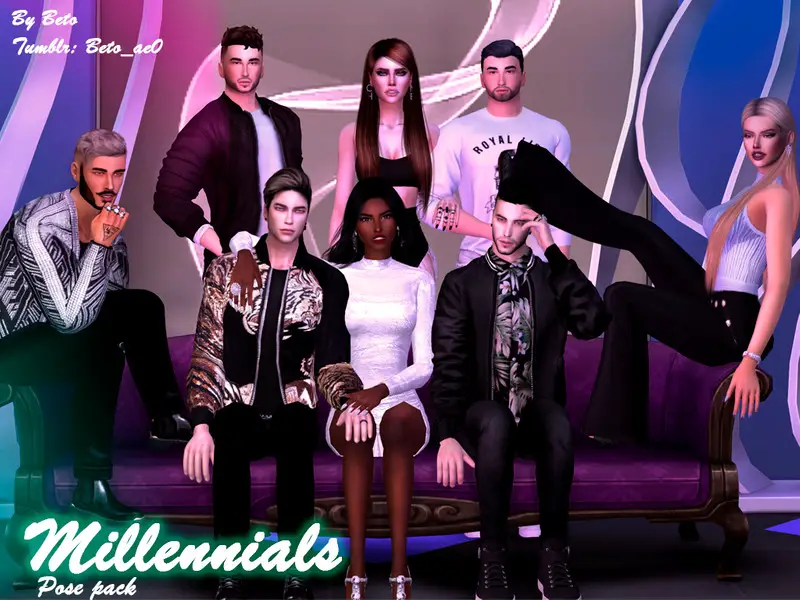 A night out at a club is a certain way to get some great candid shots.
You get two poses that showcase everyone your Sims' friends in this set.
One of them is dead serious, while the other is just ridiculous.
But in-game, they're both fantastic!
Click here to see the download page.
7. Poses of the Blackpink Sims 4 Group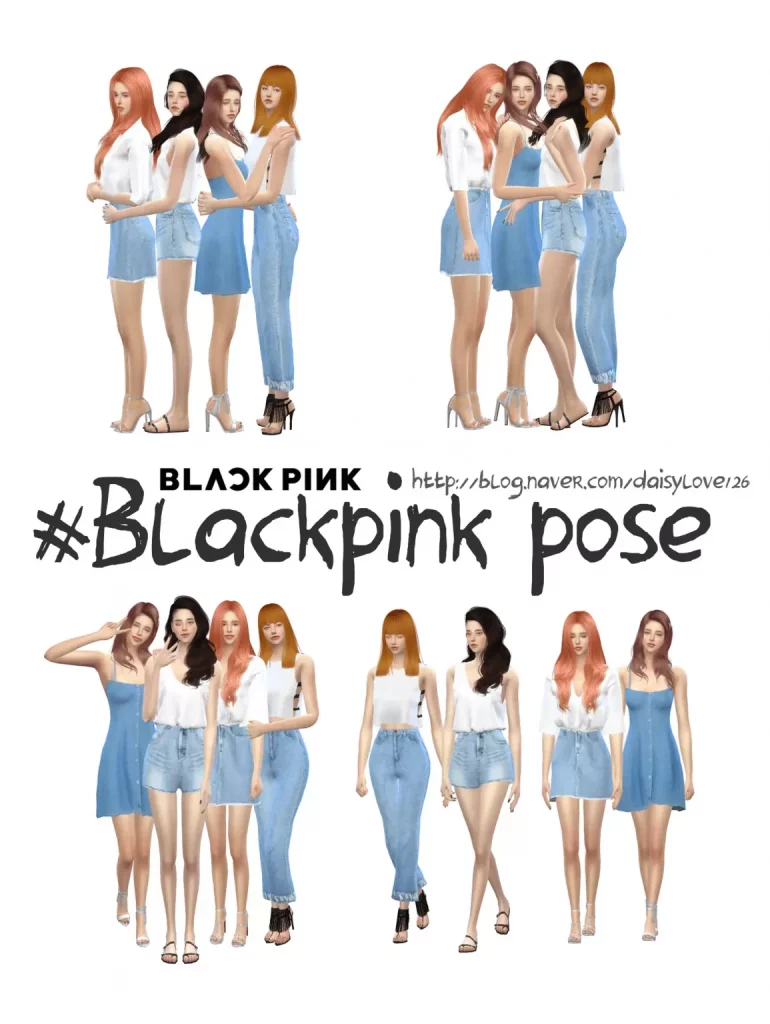 Sims 4 group poses for female Sims that choose cuteness over sexiness are a great fit for you.
These four female Sims strike a serene stance, emphasizing their inherent femininity.
Click here to see the download page.
6. 3rd Generation Boss Family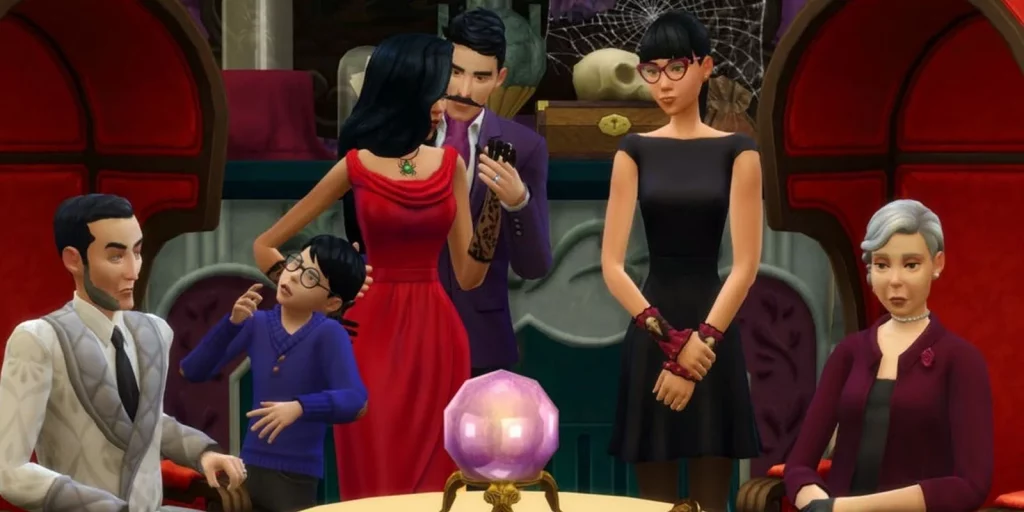 For a powerful and dominant look in Sims 4, this is the position you should go for.
Your female Sims will be lounging about on the couch, making it difficult for anybody to approach them.
Definitely worth it!
Click here to see the download page.
5. Sims 4 BTS No More Dream Pose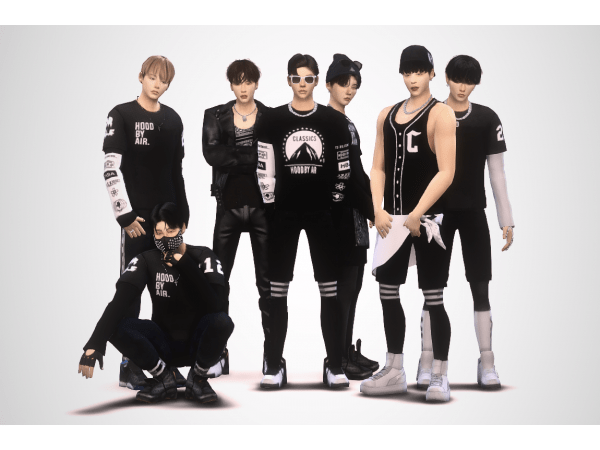 It's not simple to manage a boy band in Sims 4.
But if you do, these group poses are just what you're looking for!
There are 3 different poses in this pack, highlighting the masculinity in your Sims.
Click here to see the download page.
4. One of Maddoxx's most beautiful group shots.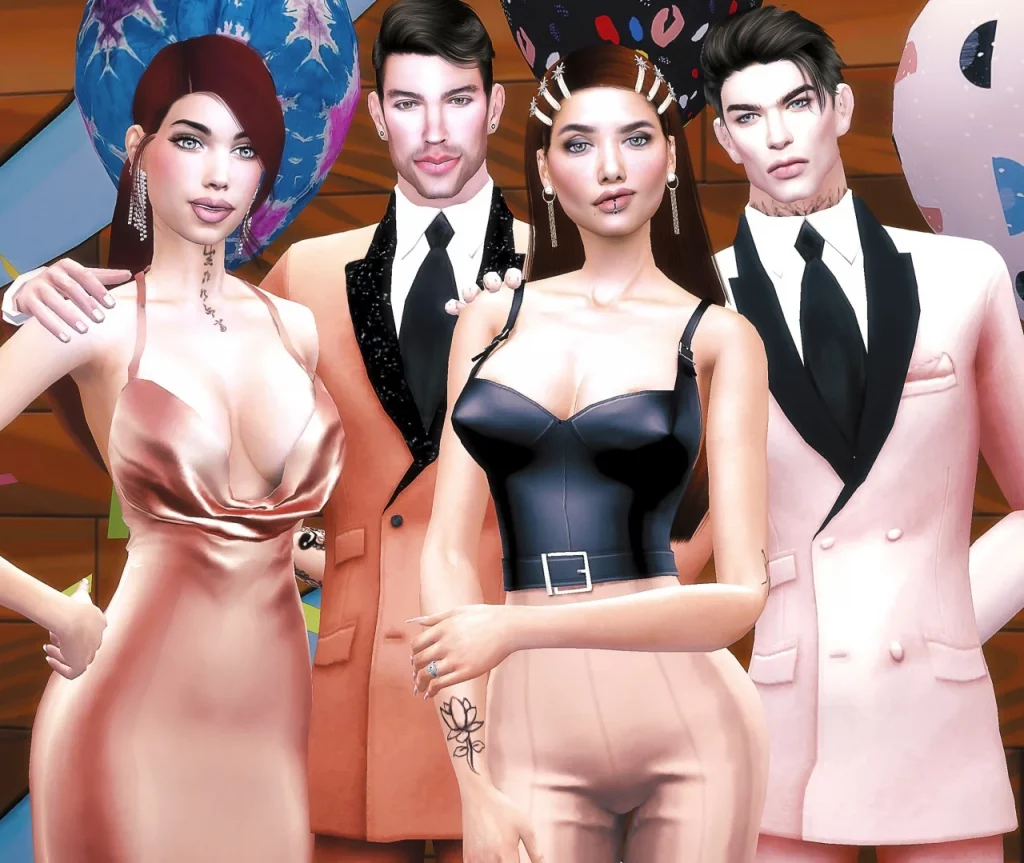 Don't wait any longer if you have two gorgeous couples in the Sims 4 but don't have a suitable posture.
Honestly, I've never seen a more beautiful position including two couples or four close friends in such a way.
If we're going to be fashionable, we may as well look good doing it.
Click here to see the download page.
3. The Sims 4 You Can Count On Me Pose Pack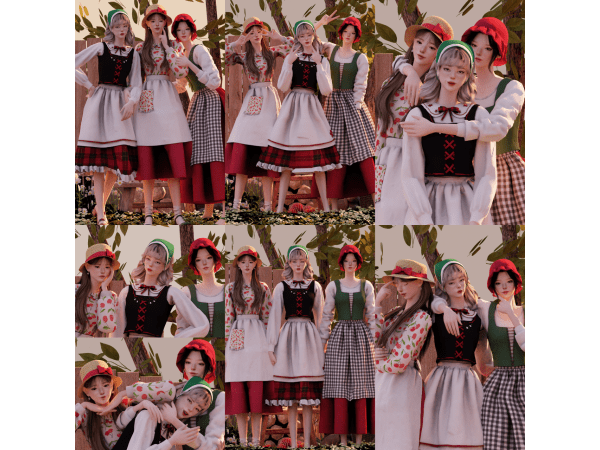 I was reminded of Oktoberfest when I first saw these group poses in the new Sims 4.
However, when I tested them out in-game, I discovered that they're suitable for any get-together with pals.
Sims can embrace and hold each other as long as they desire using this feature.
You'll be able to capture them on camera, too!
Click here to see the download page.
2. Beto ae0's Afternnon Pose Pack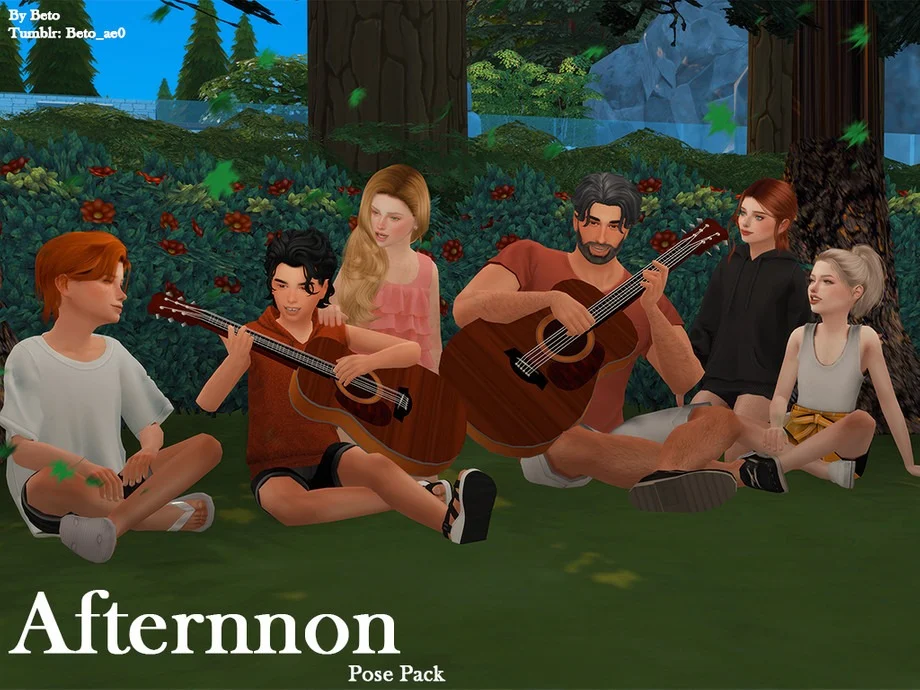 This posture bundle is fantastic since it can be used as a family pose as well.
With any group of Sims 4 pals, though, it works quite well.
Aside from that, the rest of the poses are not connected to the first one.
Click here to see the download page.
1. By the Fireside, Group Poses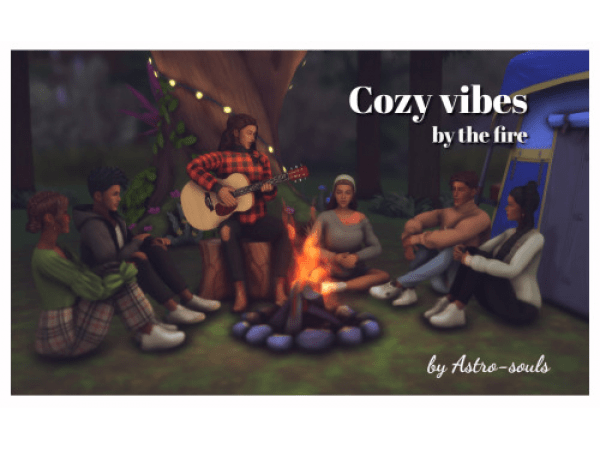 Finally, I'd like to propose the "Cozy vibes" group pose for the Sims 4.
In the end, life is all about spending time with your friends and family.
And I've discovered that this stance is the best way to demonstrate that in the game.
So, don't be afraid to give it a whirl!
Click here to see the download page.
Is there a way to add Sims 4 poses?
Always get The Sims 4 posture packs if you haven't already experimented with group or other positions.
A variety of poses, referred to as "custom content," that may be available all over the web.
The files are added to your Sims 4 Mods folder by extracting and copying them (a folder inside your Sims 4 directory).
To understand more about mods and CC in general, go here.
Installing Andrew's Pose Player tool is the next step in the process.
For that, we've put together a comprehensive tutorial that explains exactly how to use this mod.
Andrew's Pose Player is a mod that enables you to use the additional Sims 4 group poses that you download.
In order to activate the "Pose by…" interaction in the game, you must first click on a Sim.
There are so many different sorts of postures that you can make with it!
Finally, you'll need the Teleport Any Sim mod to get the job done.
The same inventor Andrew has done it again with this excellent utility.
You may "summon" a Sim at any time and location you like.
You don't have to worry about awkward group postures or toddlers in The Sims 4 when you use this.
The Teleport Any Sim mod may be found here.
Final Words
Pose is a matter of personal preference, even when it comes to group poses.
It all boils down to your own preference for a particular stance.
This is the best option if you have a certain objective in mind and your Sim is compatible with it.
Take a look at simsdom's catalogue and play around with a variety of positions in the game to see what works best for you.
The only way to tell if you'll enjoy something is to give it a shot yourself.
Try as many group postures as you can and let us know which ones you liked the most!