If you are someone who likes anime fox girls or you get fascinated by these half-human half fox anime girls then you are in the right place.
Today we have created a list of the best anime fox girls that we can find over the internet.
If we happen to miss your favorite character please let us know in the comments.
Let's begin the list of the best anime fox girls of all times.
13. Senko From Sewayaki Kitsune no Senko-san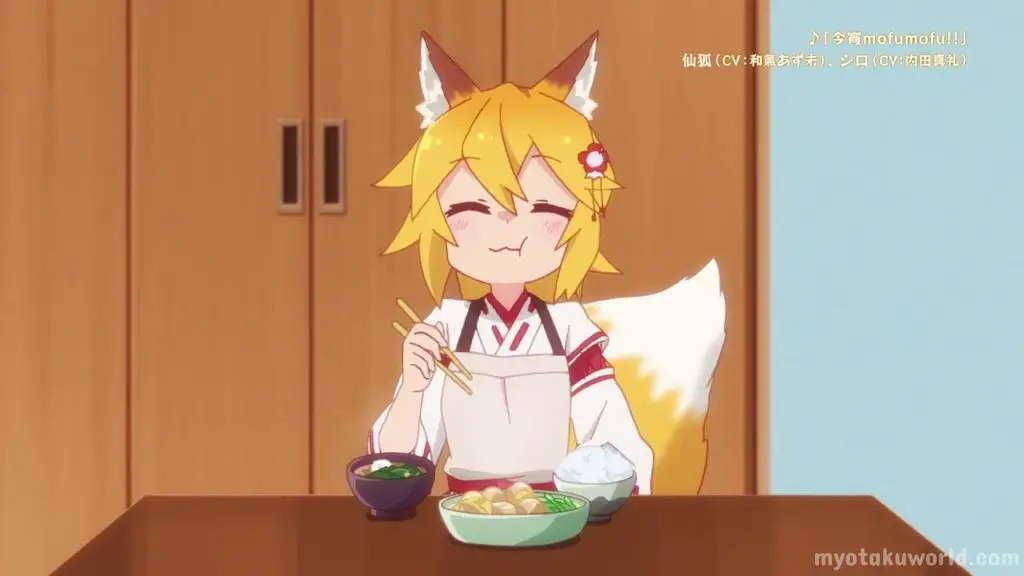 The cute little fox from Sewayaki Kitsune no Senko-san (The Helpful Fox Senko-san) is actually a demigod hailing from Kitsune Heaven.
Appearances are deceiving is a perfect description of Senko-san, despite her child-like appearance, she is around 800 years old. Senko-san helps the main character, Kuroto get rid of the darkness in his life.
She has bright and soft orange fur with a white-tipped tail and brown-tipped fox ears. You can see her wearing an off-white apron over a red top with a knee-long red skirt.
Despite her young appearances she acts her age, speaking like a wise old woman although sometimes she shows her youthful and enthusiastic nature when going out with Kuroto.
If you like a cute vixen with a dash of witty and quirky playfulness, Senko is the one to watch!
12. Yukikaze Panettone From Dog Days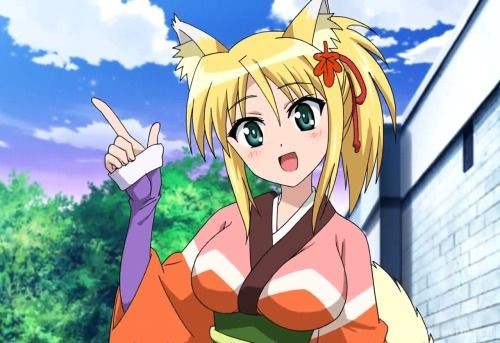 Next on the list is a cute and energetic vixen member of the Biscotti Knights Secret Squad, Yukikaze Panettone.
Yukkikaze, which idiomatically stands for "snowstorm" or "blizzard" is actually a sweet enthusiastic character just like a sweet loaf of bread, as her last name, "Panettone".
She dresses up in a white and blue modified ninja uniform which suits her blue eyes and blonde hair. Yukki is as fierce on the battlefield as she is energetic with her friends.
Check out Yukki in Dog Days for some action-packed vixen with a bucketload of hotness.
11. Bonbori and Hozuki From Otome Youkai Zakuro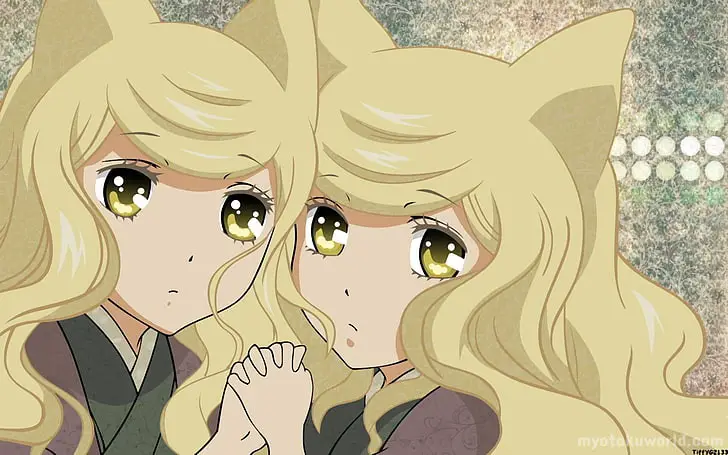 Like in the anime and now in this list, these twin sister never part ways. Bonbori and Hozuki will seduce you with their blonde hair, sweet smile, green eyes and lastly their beautiful pink Yukata.
These fun-loving twins are known for their cheerful nature and playing pranks on people by tricking them with their identical appearance.
The main character, Zakuro means the world to them and they can be seen protecting her many times in the anime. The double-trouble action of Bonbori and Hozuki is a treat to watch!
10. Koto From Yu Yu Hakusho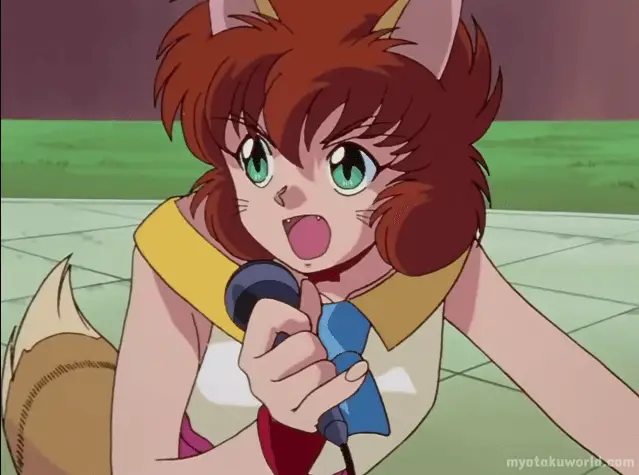 Koto, which literally translates to "Little Rabbit" is actually a pretty brown-haired vixen that can be seen in the famous Dark Tournament Arc of Yu Yu Hakusho.
Her green eyes compliment her perky outfit, her soft peach skin, and her light blonde tail. She acts as the announcer for Dark Tournament and the Demon World Tournament.
Koto can be described as a beauty with the brains, as she has the entire rulebook of the tournament memorized by heart.
She is devoted to her job and can often be seen cheering on both the fighters impartially.
9. Dakki From Senkaiden Houshin Engi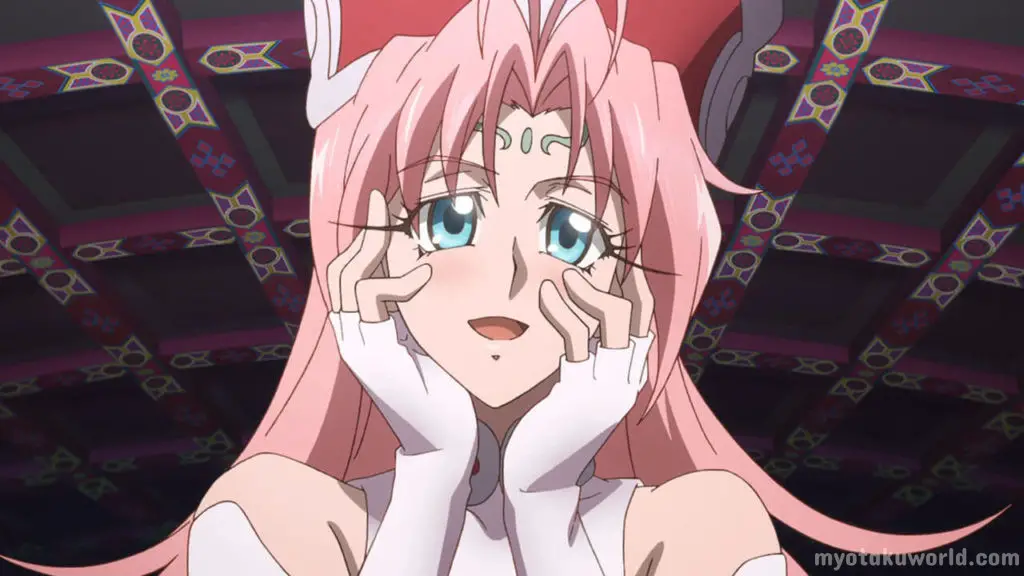 Next up is the antagonist Empress from Houshin Engi, Dakki. In the anime, she is referred to as, "The Genius" because of her over the top intellect.
Dakki has long orange hair and stunning fox eyes, her beauty is exhilarating. She enjoys the torment of other people and has devised several torture machines in order to break people to her will.
The empress only cares about her two overly hot sisters Ou Kijin and Ko Kibi. She is very good at hiding her emotions and desires making her the perfect vixen.
8. Yoko From Inukami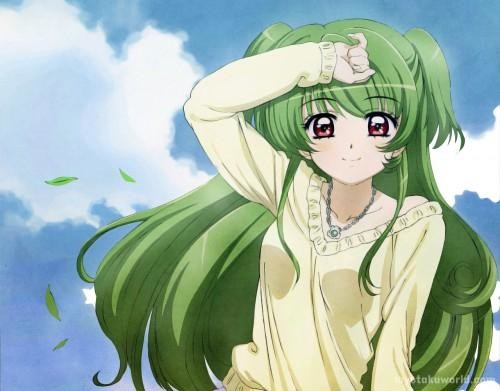 Yoko is an Inukami, which roughly translates to, "Dog Gods". She is Keita's (MC) first Inukami. She loves playing tricks and pranks on Keita, her master/trainer.
She has lush green hair, fair skin, and has a hot petite figure. She is a sneaky and tricky Inukami, she likes to prank Keita to show how much she loves him. Yoko has a huge, huge crush on Keita, made obvious several times in the anime.
She is known to be wise in her own way, but around Keita, she turns into a playful and charming fox girl. She is so fond of Keita that she can sacrifice anything and everything to be with him.
7. Yuzu From Konohana Kitan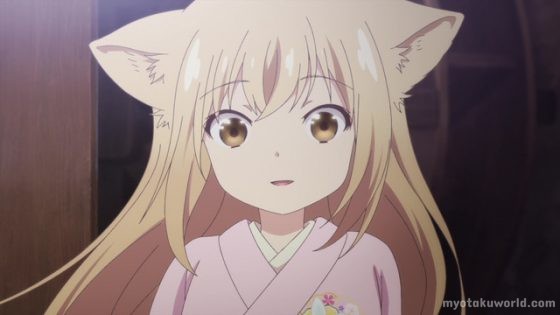 The protagonist of Konohana Kitan, an innocent and loving girl who adores all those around her with her pure heart, Yuzu.
She has a radiant personality as that of a protagonist with her naive nature about the workings of the urban world. She is a young girl with honey dewed brown eyes and light blonde hair.
Her pink kimono with the pretty little flowers is sure to melt your heart. Her clumsy and naive nature lifts the spirits of all the viewers.
Despite her young age, she can be seen as wise and offering meaningful advice to the person in need.
6. Kuugen Tenko From Wagaya no Oinari-sama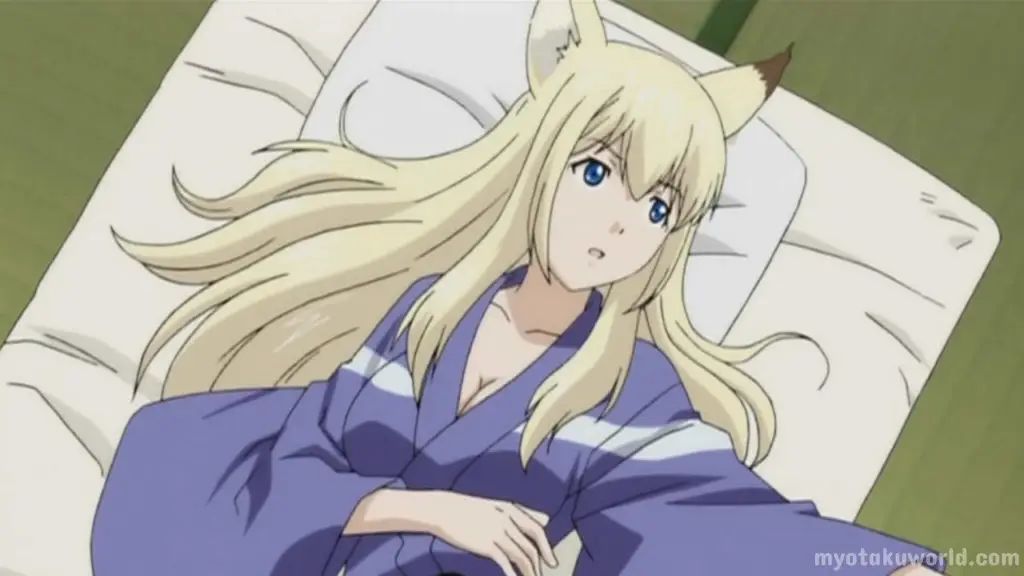 Kuugen, the protagonist of Wagaya no Oinari-sama is a thousand-year-old fox demon.
She is incredibly beautiful, her blue eyes and lush blonde hair and her smoking hot body and her black-tipped foxy ears are sure to arouse lots of viewers.
She wears a long white dress with a red ribbon beautiful bow-tied around her slim waist.
In the anime, she is known to be sealed away due to her mischievous nature.
Although later in the anime, Kuu is old and wise, she has seen everything this world has to offer.
She has mastered all spells imaginable. She posses immense power but she has never used it for evil doings.
5. Shiro From Sewayaki Kitsune no Senko-san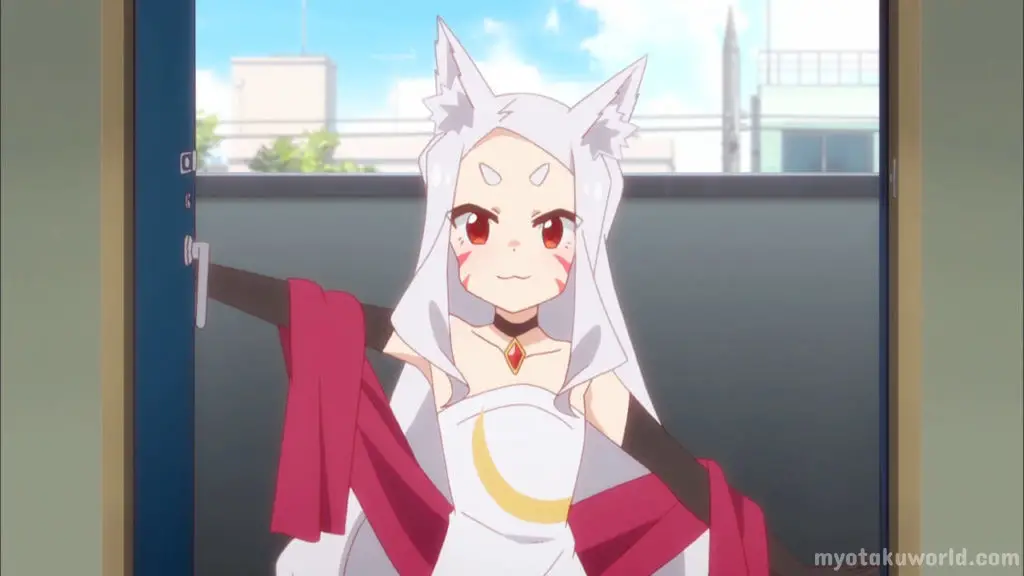 From one of the best Kitsune anime, Shiro or the "silver fox" is a 900-year-old silver-haired demigod from Kitsune Heaven. She has radiant eyes and wears a long white kimono with a crescent moon on it.
Her silver-haired tail and ears stunningly complement the red stripes on her cheeks.
In the beginning, she is arrogant towards the main character, Kuroto, and believes that he should be her servant but as the anime progresses she becomes friends with Kuroto and Senko.
Watch out for the silver-haired vixen or she'll make you her servant!
4. Zakuro From Otome Youkai Zakuro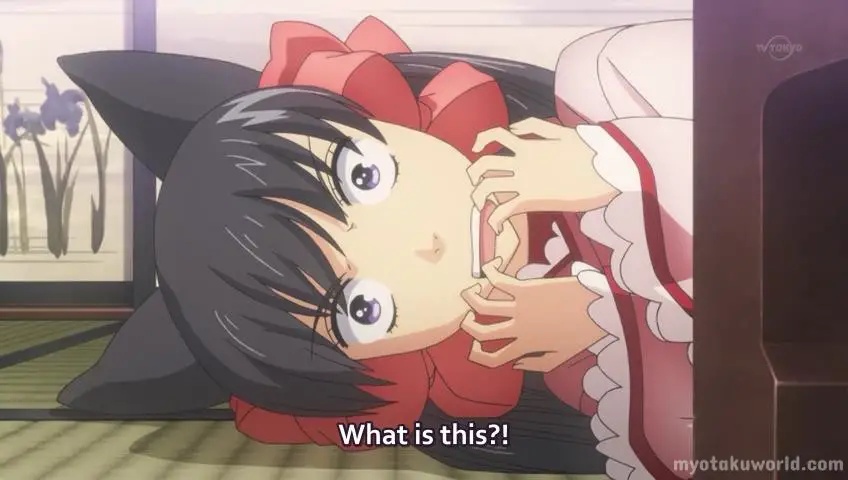 Zakuro, the half-demon vixen is the main protagonist of the titular series, "Otome Youkai Zakuro". She has lush greyish-purple hair which she ties as twin tails with a pink ribbon which forms the famously known bows in her hair.
The half-demon has beautiful purple and dresses in a pink kimono. She is impulsive and quick to form opinions about her likes and dislikes.
She has a crush on Kei, a supporting character but she denies it, even though she can be seen blushing with pink cheeks around him. She is very committed to her friends as is a reliable and strong character on the battlefield.
3. Sakura Bokuseiinmonzeninari From Hyper Police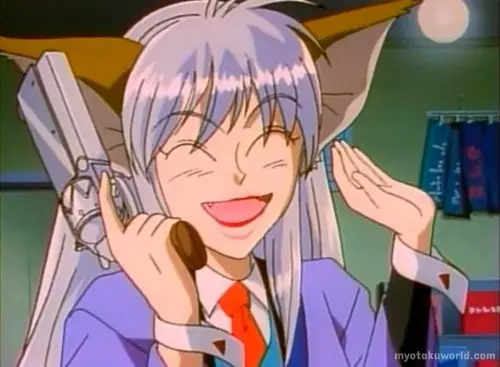 Sakura from Hyper Police is one of the hot and sexy vixens on this list, with her long straight bluish-white hair and brown foxy ears she is one of the most seductive bounty-hunters in all anime and she does put her looks to use for what it's worth.
She can be seen wearing a blue police uniform with tight leggings which showcase her features pretty well. Sakura is 191 years old but claims to be a young 19-year-old because of her looks.
Sakura has human ancestors, due to this she only has 8 and 1/5 white tails instead of all nine tails. She has the power to fly and is an amazing shot with a gun. She has been looking to increase her power and gain all nine tails for several years in the anime.
2. Kiri From Konohana Kitan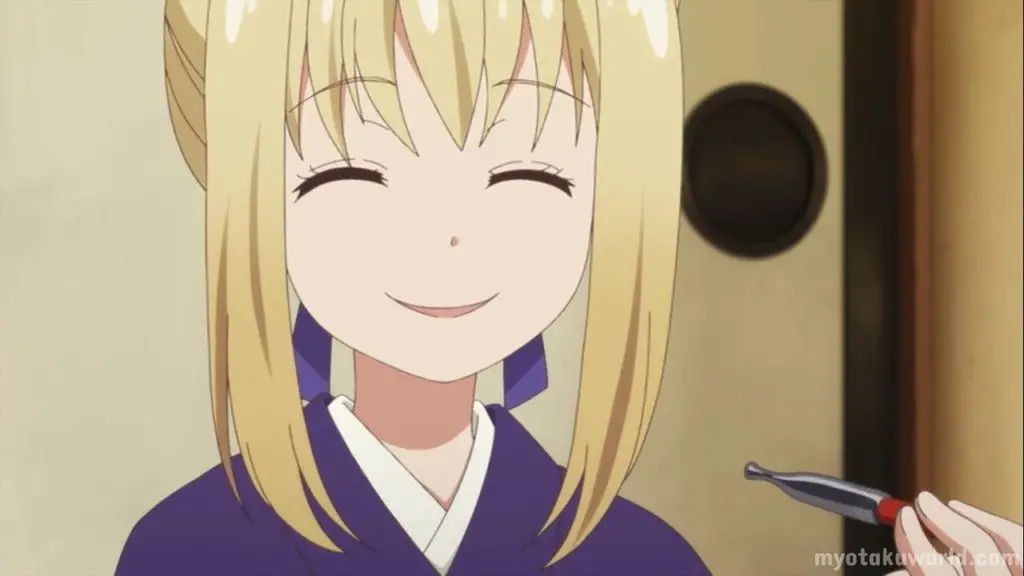 Kiri, which idiomatically signifies a paulownia tree is considered to be an important part of Japanese culture. It is also referred to as "princess tree" which is a fitting name for Kiri. She has blonde hair with blonde kitsune ears.
She has brown eyes and a slender figure, that fits perfectly in her long dark blue kimono with beautiful flower patterns. In the anime, she is a reliable and pleasant attendant at Konohanatei and is in charge of all her juniors.
She is emotionally intelligent and knows how to please people. She also projects a side of her that is always looking out for Yuzu and her other juniors.
1. Chizuru Minamoto From Kanokon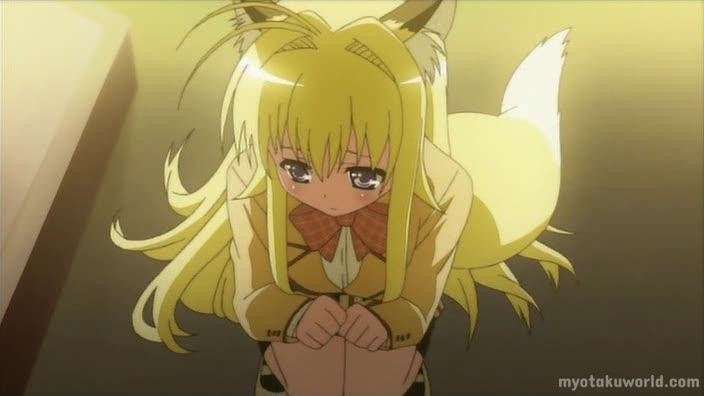 Chizuru, the main character of Kanokon is a second-year school girl. She has long black hair and radiant purple eyes. Chizuru, though appears to be just a pretty teenager is actually a 400-year-old powerful Kitsune.
In her Kitsune form, she has lush blonde hair, a thick white-tipped tail, and pointy fox years always pointing to the sky. She has a sugar-sweet figure and is always seen wearing short skirts exposing her beautiful thighs and long legs.
In the anime, she is always seen hanging around Kouta, who she adores very much. She makes very straight-forward sexual suggestions towards Kouta and wants to be with him. She has a carefree personality and is very cheerful around her love interest.