Sims 4 is undoubtedly the most beautiful game of the series.
Although the environments may not be as open-minded as others, they offer a beautiful new interface that allows us to enjoy a lot of things. 
You can explore new worlds, something its predecessors couldn't even dream of.
Recently, we covered a post about the best worlds of Sims 3.
For this piece, I have compiled a list that compiles all the best Sims 4 towns and worlds where you can live. 
This list does not include University campuses, so it focuses on the most common towns and cities within the game.
Let's get started!
21. Magnolia Promenade (Get to Work)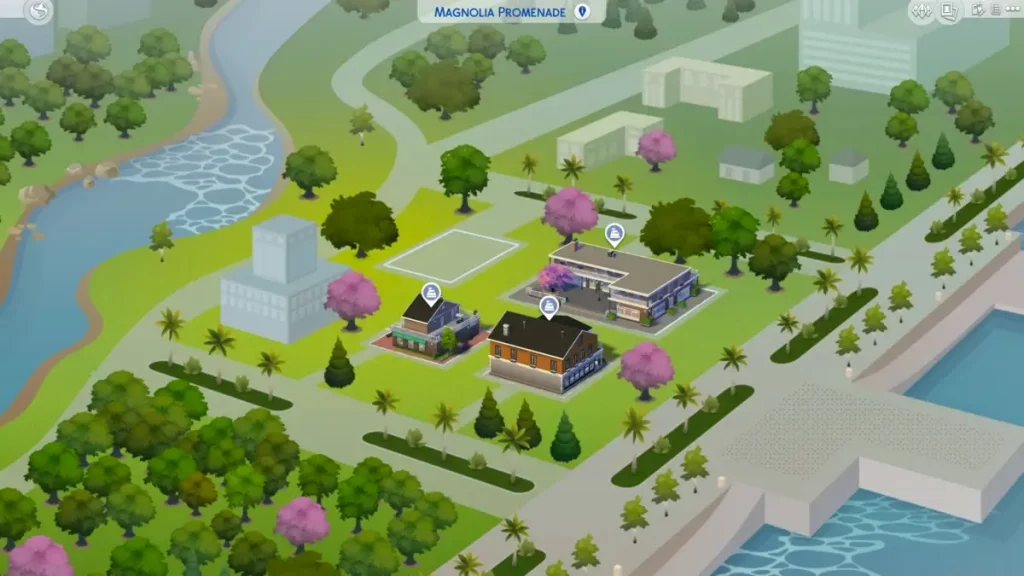 Magnolia Promenade can be missed if you blink. But blink twice, and you will. It is a very basic and boring world. There are four lots.
Three of these lots are pre-built retail shops. Paddywack's Emporium sells decor and trinkets, JF&S Clothiers sells clothing, and The Roadstead doesn't sell much in a large space.
The world is small and boring. It also has a decor that fits in well with Willow Creek. The stores aren't very functional so it is worth skipping. 
Let's hope that the next pack is in line for a refresh. We need personality in this world.
20. Granite Falls (Outdoor Retreat)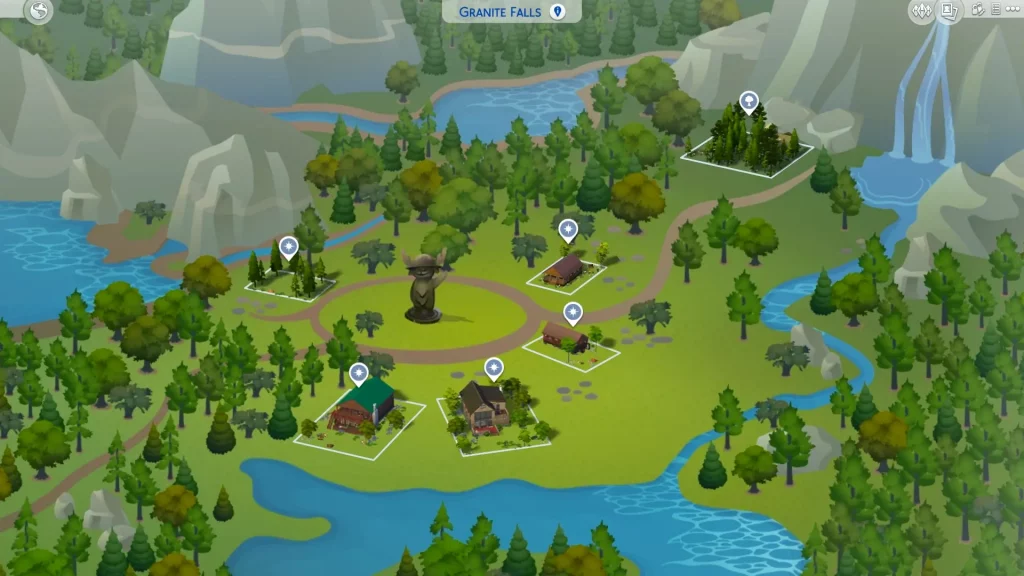 Granite Falls Outdoor Retreat It is the first vacation destination and it shows. We love the idea of a vacation, but this place is not the best. 
It is small, with only five lots, a campground, and a national park. It has a lot to offer, but it's not being used as much as it could.
The trees can also block your view making it a frustrating vacation where you need to adjust the camera constantly. 
Seasons make the place feel alive and can be fun to collect bugs and plants. But Granite Falls quickly outclassed it.
19. Batuu (Journey To Batuu)
The Sims 4: Adventure To Batuu marks the first real collaboration between these two massive franchises. Through Batuu, it brings the Star Wars world into The Sims 4.
It also draws heavily from Disney Galaxy's Edge. The appeal of the world and pack is much less than that of most.
You can access the world via a phone call. It is technically a vacation place. Sims can stay in Batuu for as long as they like, but it doesn't cost them anything. 
The world is vast in one sense, but it's very limited in another.
The entire world is themed, and all buildings are taken directly from Galaxy's Edge designs. It's fun for Star Wars fans, but there are some restrictions. 
It has only three editable lots per neighborhood and many buildings are facades or rabbit holes, making it near the bottom of our list.
18. Strangerville (Strangerville)
Strangerville is a unique world, but its inhabitants are bizarre. This 12-lot location includes a bar, secret lab, library, and some houses. 
Although Strangerville is interesting, it can be tiring to have to go through the story mode in order for your neighbors not to look scary.
We recommend that you solve the mystery first, as it is entertaining and can be used to create a save game. This will save you time and help you avoid future problems.
17. Forgotten Hollow (Vampires)
Although we would love to rate this gothic and creepy world higher, Forgotten Hollow is too small. 
Although the five lot sizes are understandable due to their inclusion in a comprehensive game pack, it is still disappointing. 
It is difficult to see the potential of the vampire world in such a small area.
This is the only dark, gothic world we have. It just feels so dull. 
Although the central garden is nice, it is too slow and there isn't enough space to explore. This vibe is needed more.
16. Glimmerbrook (Realm Of Magic)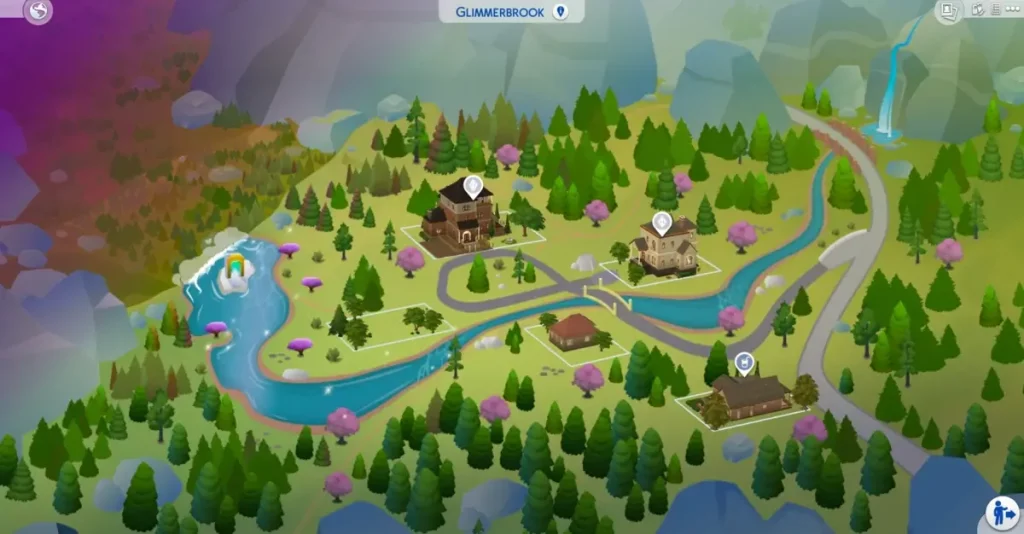 Glimmerbrook, another five-lot town with no game packs, is a more interesting one. 
You can find a portal outside the town that will take you to Magic Realm, where you can learn spellcasting and fight duels.
Although the Magical Realm can't be edited, it is well-built and features beautiful scenery. It is just before Forgotten Hollow. Spellcasters have unbeatable views, vampires not!
15. Newcrest (Base Game)
Because the world of 15 lots is empty, it can be difficult for Newcrest to be ranked. 
This is a builder's dream but it may be underused by other players because it is only a small area.
It is also less dynamic and richer than other worlds due to its base game blandness. 
We love the idea of a blank world, but we would like to see one with more life and character.
14. Selvadorada (Jungle Adventure)
We would love to rate Jungle Adventures Selvadorada higher due to its beautiful surroundings and unique temples that are available for exploration. 
It's hard to rank it because it's a vacation universe with only seven lots. This includes a bar, museum, and national park.
There are also other drawbacks to the world, such as lighting and bugs, and other hazards that you might encounter while exploring. Selvadorada is both beautiful and deadly.
13. Britechester (Discover University)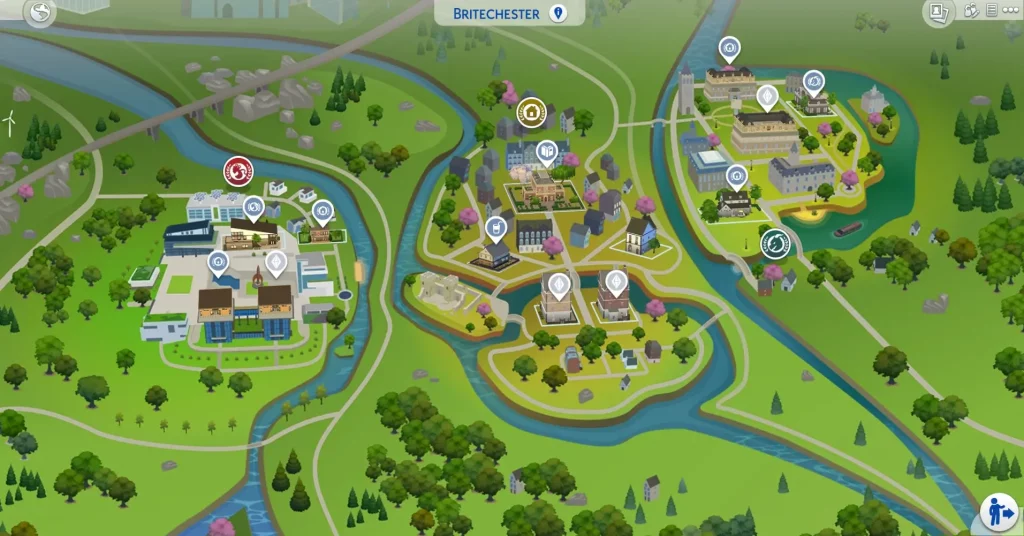 Britechester is actually more flexible than we thought. It is divided into three sections, with Foxbury in one, Britechester in the other, and the town in the third. 
Each section of campus has two dorms and one student house. There is also a common area. Events can also be held in the surrounding areas.
Three houses are available for all residents, as well as a bar, and a library. 
The 13 lot world offers more flexibility than you might expect and allows anyone to have university life without having to go on campus.
12. Willow Creek
Willow Creek is a beautiful green area and is the first place you can build a home in The Sims 4 before all the DLCs.
It provides all the information you need in order to get your life moving.
These starter homes look very much like American homes, where families can earn a living and benefit from the rich culture of a town. 
This is a beautiful space that's well worth visiting, especially if you're familiar with Americana-style houses.
11. Oasis Springs
Oasis Springs may have been the first Sims town to be introduced, but it is certainly one of my favorite places to live when it comes to the whole Sims franchise.
It is a modernized version of Sims 3's desert map. The natural resources feel a little more accessible.
Imagine yourself living in a desert town with lots of lakes and ponds. If all of this sounds appealing to you, then visit Oasis Springs to get started building. 
Take some photos while you are at it so I can see them!
10. Brindleton Bay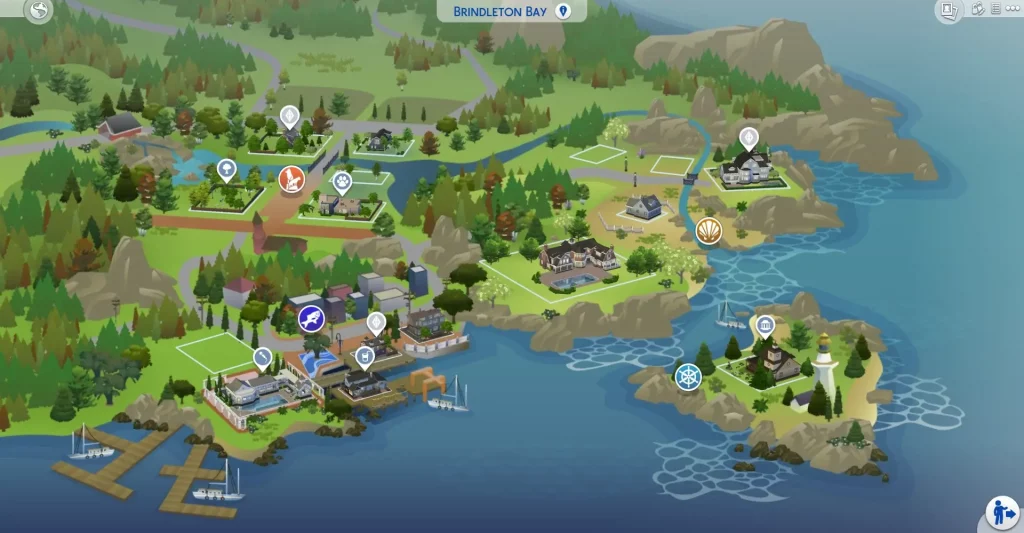 Brindleton Bay is where you and your pet can live in harmony.
You will feel one with nature in a pet park, a space for vet clinics, and a place where you can have your pets.
You can build a home or a mansion in the friendly region of Brindleton bay. In your spare time, take a trip to the lighthouse and visit the many cultural attractions of the town. 
There is so much to do and so many simoleons worth of money!
9. Sulani
Sulani is the home for beach lovers.
It was included with the Island Living DLC. The design is clearly Hawaiian (even the names are a reference to Hawaiian culture).
You can take your Sim to an island to experience the joy of living near the seashore for the first time in The Sims 4! It is truly paradise in the middle of the ocean.
8. Willow Creek (Base Game)
Willow Creek is the base world for Sims and home to The Goths, a Sims franchise staple. It has 21 lots, making it one of the most popular worlds in the game. 
There are also a few pre-built homes, a library, and a nightclub.
The world is friendly and has a lot to offer, but it's also one of the most boring, mainly because it's a base game. It would be great to have some of the polish that later worlds received.
7. Del Sol Valley (Get Famous)
Del Sol Valley, which is influenced by Los Angeles, complements the Get Famous pack well. 
It's like a city full of stars with three large mansions up the hills and three smaller homes clustered together.
There is also a central area that includes a VIP lounge and regular lounge, a park, a museum, and a gym.
These little touches make the town so enjoyable.
6. San Myshuno (City Living)
San Myshuno is an exceptional world. This location is the best in terms of gameplay with its festivals and collectibles. You can also find unique nightspots and places to visit.
Skye's Skye gym, park, and art gallery, as well as a penthouse lounge, penthouse lounge, and karaoke bars, offer unique places to keep sims happy. 
It's lively and bustling with all the events and festivals on the streets. This is for some people, but it's not for everyone.
5. Brindleton Bay (Cats & Dogs)
Brindleton Bay is among the most picturesque locations in the game. This 16-acre coastal community includes a vet clinic, a bar, lounge, museum, and park.
There are also several houses. It is more rustic than other worlds and has a lot more openness.
It's peaceful here and a beautiful place. Windenburg is just behind it due to its smaller space and fewer unique communities. Its rain is also a major factor.
4. Windenburg (Get Together)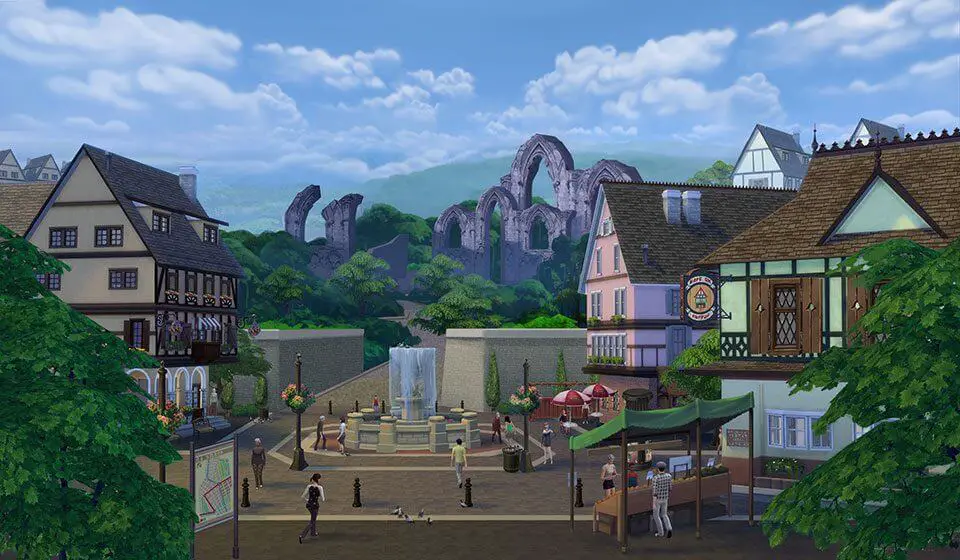 Windenburg, a coastal town, is large with 27 lots. This includes two bars, two cafés, a swimming pool, a gym, and a nightclub. 
There are also some other unique lots, including the Von Haunt Estate and the Ancient Ruins. These areas can host events.
It has a Tudor-inspired feel and is filled with beautiful period buildings. 
A separate island is located off the coast and has modern buildings that offer variety and attention to detail, giving the town depth and style.
3. Evergreen Harbor (Eco Lifestyle)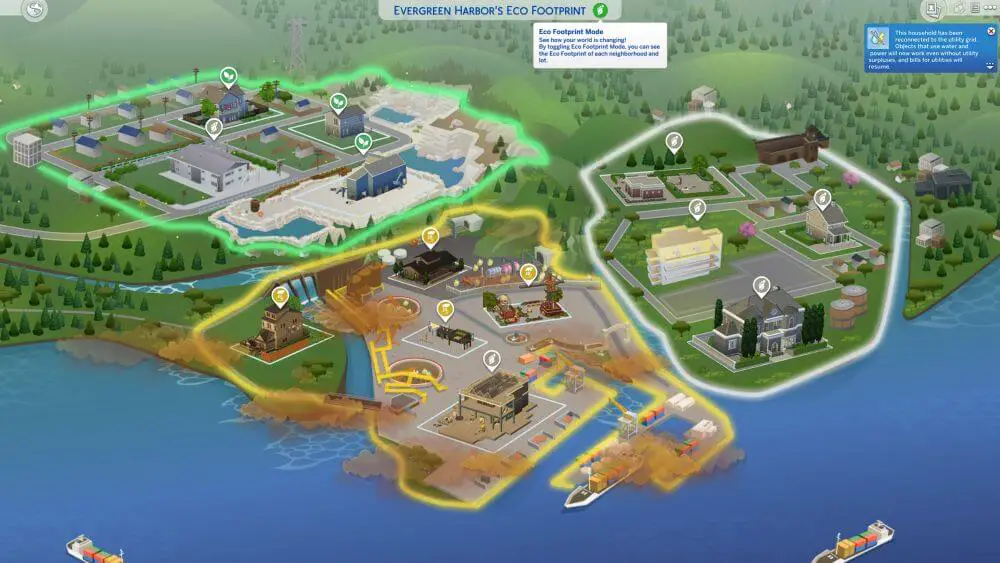 Evergreen Harbor is a top pick for its many features, stunning views, and ability to make a difference with the eco-footprint program. 
Each neighborhood can be modified individually by players to change the feel.
There are also community lots, walk-up apartments, larger apartments, and different-sized houses. 
It is the most flexible world we have seen, as it combines features from many different packs. It's beautiful in all variations.
2. Mt. Komorebi (Snowy Escape)
The Sims 4 team is getting better at creating worlds as the game expands. Mt. Komorebi, the most recent addition to the game, is an incredible example of what you can do in this game.
There are two neighborhoods that have five lots each. The main mountain neighborhood has four lots regular and two lots for the mountain expedition.
The world has both rental and residential lots. It also features some stunning scenery. 
Each neighborhood offers its own unique set of hikes and walks, as well as loading screen-free journeys to beautiful sights. 
While the Yukimatsu neighborhood experiences changing weather, the Yukimatsu neighborhood enjoys permanent slow and fast climbing walls, slopes, and trails. 
There are even festivals around the world, one per area.
1. Henford-On-Bagley (Cottage Living)
Henford-On–Bagley draws inspiration from rural England. Sims can live in their own cottage in the country with the 11 lot world. 
The lots are now alive with farm animals, including chickens, cows, llamas, and llamas.
There are also new features in the grocery and gardening stalls. The village pub will still have the same friendly landlords behind it. 
These features will allow you to have more interaction with your neighbors, thanks to the village fair and errands. 
You can even ask a friend to help you and play matchmaker with your neighbors.