When it comes to your eyesight, not all of us have been given the gift of flawless eyesight, and unfortunately, this fact is revealed to many people when they are still little children.
These Sims 4 toddler glasses CC choices will give you the ability to give the impression that your toddlers have vision problems, or you can simply give the impression that they are wearing a cool pair of sunglasses the next time they are loving the beach life.
The best thing about toddlers is that when you choose glasses for them, they don't have to be fancy or even trendy style.
Instead, they can actually be any fun notion you want, and they can even have bunny ears if that's what you're into.
This is the best part about choosing glasses for toddlers.
Your children will be strolling about in style if you pair these glasses with a pair of lovely personalized content toddler earrings and give them both to them at the same time.
16.  Bright Flower Glasses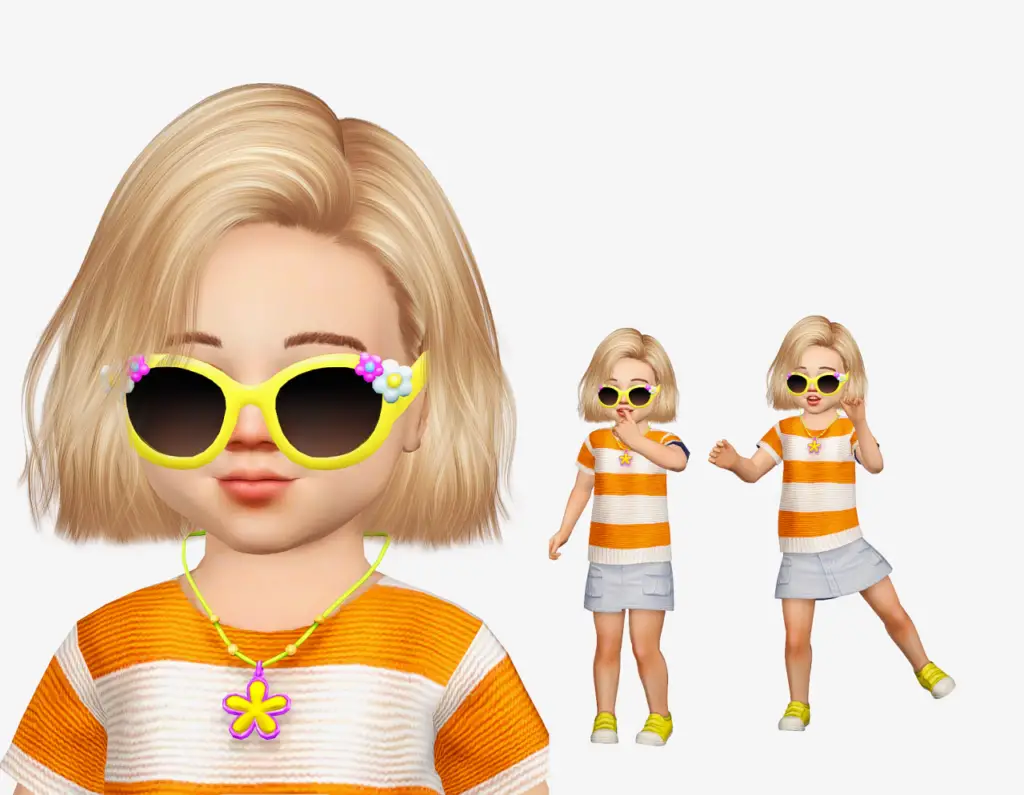 These lovely Bright Flower Glasses are the next pair of essential Sims 4 toddler glasses CC that you simply cannot go without.
These eyeglasses have a pretty simple design, with spherical lenses and a lovely bridge that sits on top of the nose.
However, they come in a variety of vibrant colors and feature some cute flower designs off to the side.
The nicest thing about these is that you can download a matching necklace that comes in the same color swatches as the glasses.
This allows you to create a wonderfully unified appearance with your toddler's accessories.
15. Snorkel Glasses
These next ones are a little less traditional, but they are a nice thing to have if your sim lives in Sulani and spends a lot of time swimming or if you have a pool in your sim's backyard and they use it frequently.
The Snorkel Glasses are incredibly cute and bring back many fond childhood memories of going swimming with my family.
These look incredible paired with a custom-made swimsuit on the beach, and they will assist in shielding a child's eyes from the harmful effects of prolonged exposure to salt water.
So cute!
14. Sunglasses Adorned with Floral Embroidery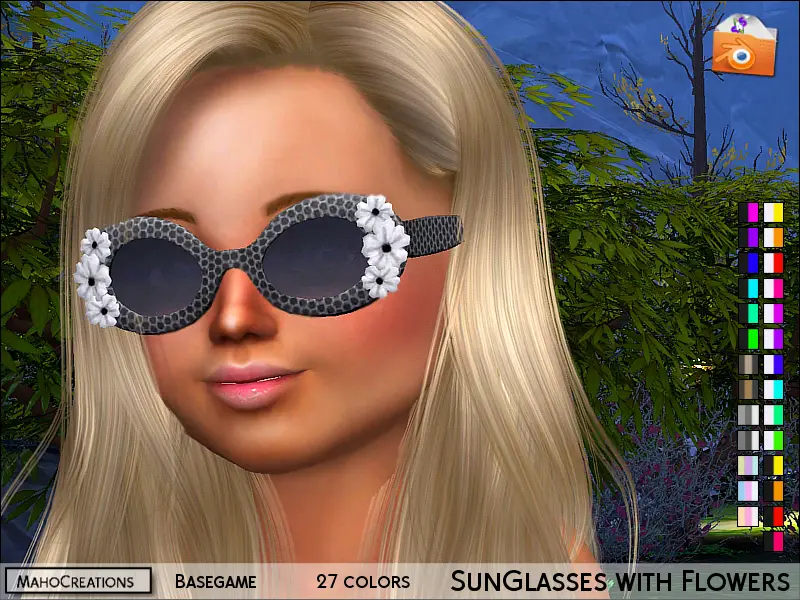 It is imperative that you purchase these flower-patterned sunglasses for your child if you intend for them to have a high level of personal style.
These eyeglasses feature an attractive oval shape for the lenses, and they have beautiful flowers arranged in a clump on either side of the frame to give them a bit of extra flair.
This would be stunning on a young girl with long, wavy hair who was wearing an adorable sundress as she strolled around her favorite park.
13. WM Glasses 202005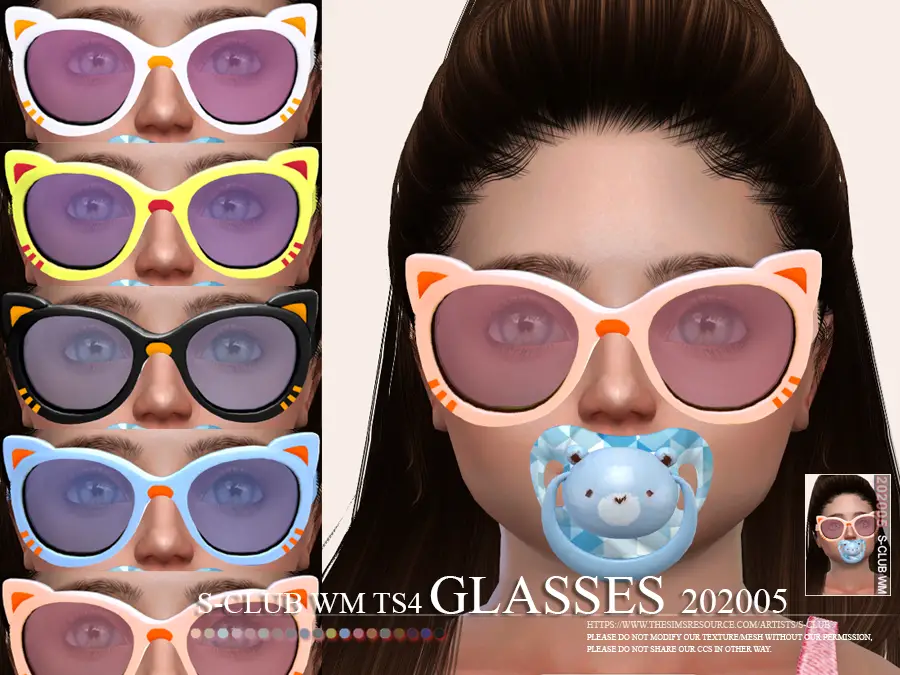 As you can probably imagine, one of our favorite things to do with toddlers is to dress them up in glasses that give them the appearance of being animals, and the WM Glasses 202005 are an excellent choice in this regard.
These glasses feature a form that is rather conventional up until you reach the top, where you will see two beautiful cat ears jutting out of the top of the frame.
In addition, there is a nose detail on the bridge, and there are a few whiskers on the bottom of the glasses.
These are great glasses because they come in such a wide variety of colors.
Imagine your little one using their toddler potty while wearing one of these, it would be so cute!
12. Glasses with a Thick Round Base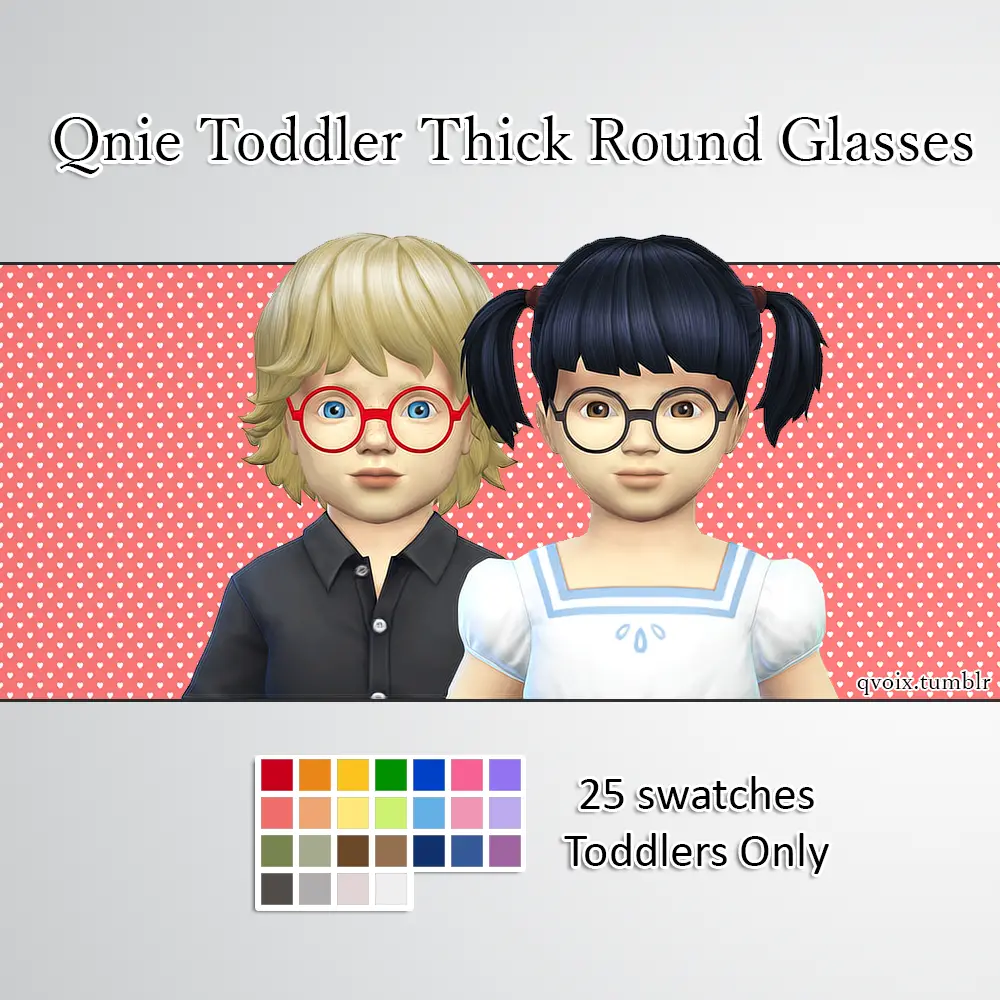 The next pair looks and feels like something you would give to your children as their first pair of spectacles, and the feeling I get when I wear them is one of pure joy.
These thick, round glasses offer an appearance that is thick and round!
These eyeglasses are available in a mind-boggling variety of colors, and customers have their choice of 25 different color swatches, including both basic and bold hues.
If you wear one of them with cute attire and a pair of custom-made crocs, you will stand out as the most trendy young person in the neighborhood.
11. Bunny Sunglasses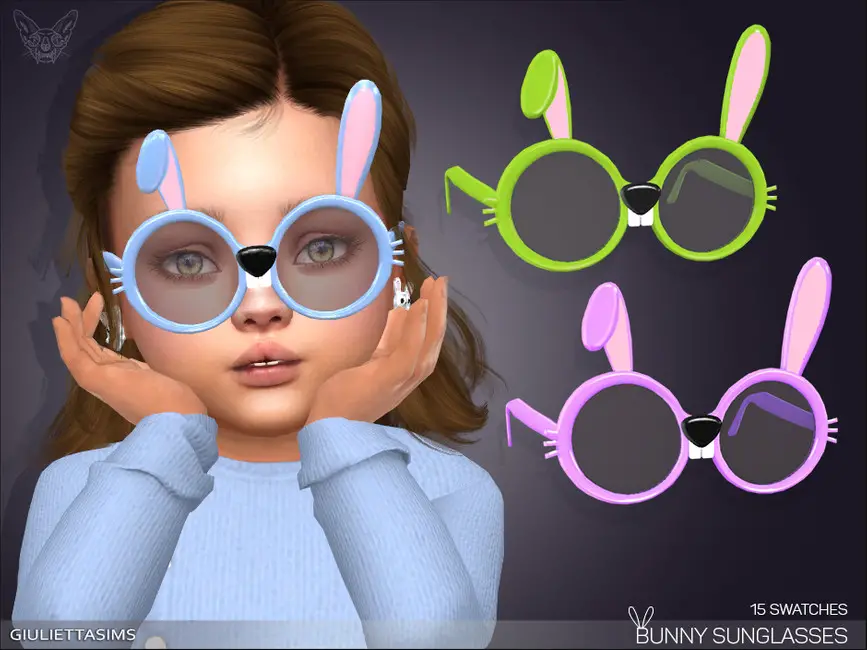 If you thought the cat sunglasses were crazy, wait till you see this pair of bunny sunglasses—they're going to take the party to a whole new level.
These glasses are a lot of fun thanks to the cute rabbit ears that come out of the top of the circular lenses, the cute nose and two front teeth that make up the bridge of the glasses, and the whiskers that extend off to the sides of the frame.
These Sims 4 toddler glasses are an absolute must if your game features a child who resides in Henford-on-Bagley and enjoys interacting with wild bunnies as a form of play.
10. Conversion of the Wayfarer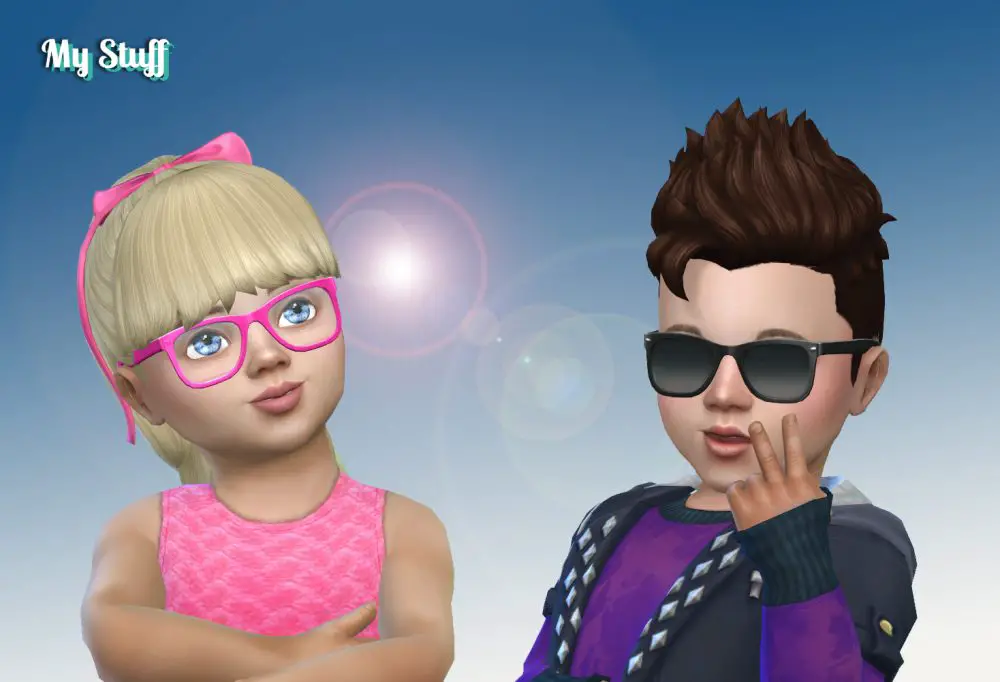 The Wayfarer Conversion glasses are a popular pair of sunglasses and glasses from the original game that has been converted so that they may be worn by your toddlers in the game.
The cutest thing about conversions is that they let you dress your children and adults alike in charming coordinated outfits.
These glasses are not only spectacles for your sim's vision; they are also sunglasses, which means that you can wear them at any time, even when you are swimming in your favorite CC swimsuit.
They come in a variety of bright and exciting colors.
9. Vision Glasses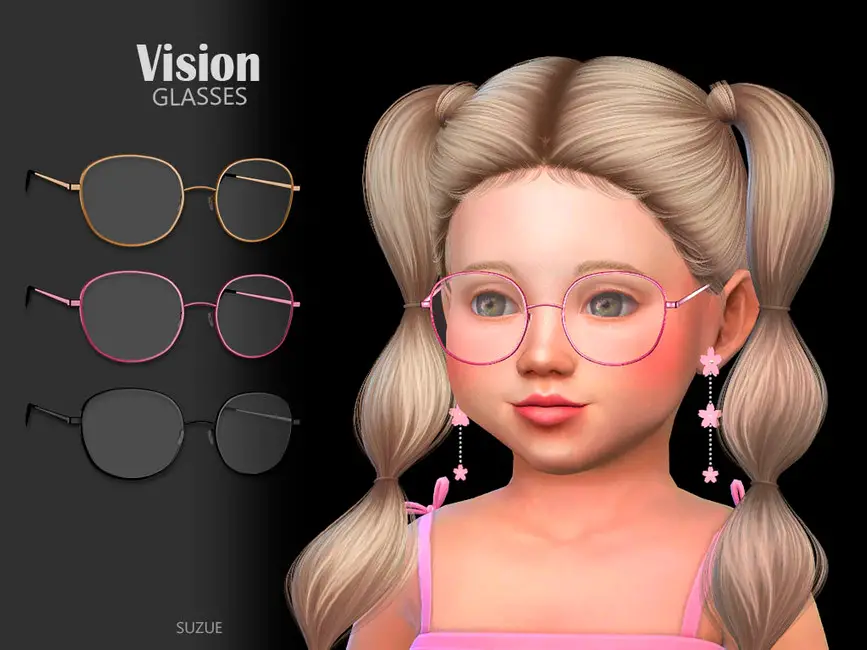 The next item on the list of Sims 4 Toddler Glasses CC is the Vision Glasses, which are an accessory that will unquestionably improve your sim's vision!
These eyeglasses are a fantastic choice for a straightforward spherical appearance that would look amazing on any young child.
These come in ten different fun swatches, each of which is available in a variety of colors, some of which are more subdued, such as black, while others are brighter and more vibrant, such as pink.
This allows you to really highlight the unique personality of your toddler by matching it with their favorite cc clothes.
8. Heart-Shaped Eyewear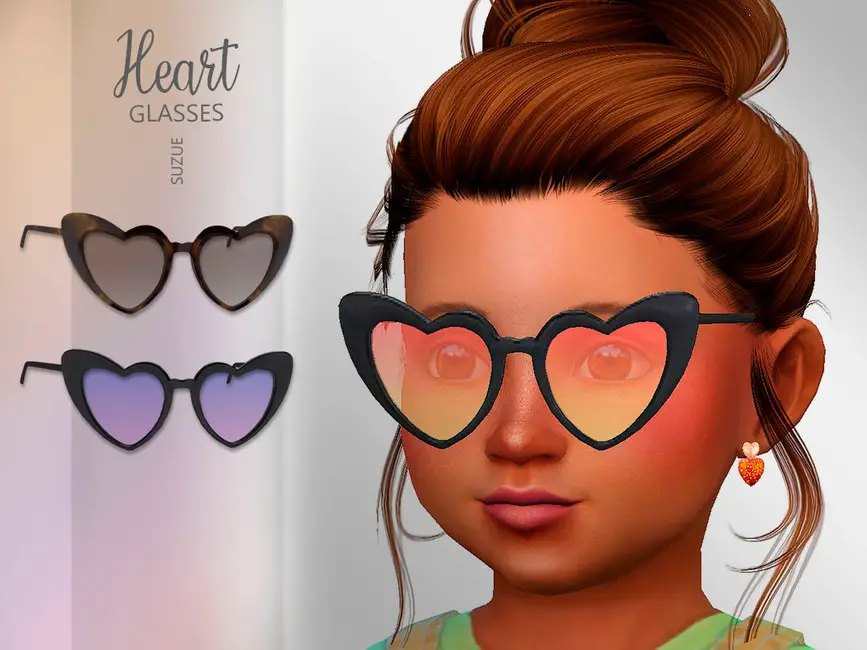 The next pair of glasses on our list is a set of heart-shaped spectacles.
These glasses have such a lovely silhouette, and I think they'd be a wonderful addition to my collection.
The fact that these eyeglasses come in eight different colors gives you the flexibility to wear them with a wide variety of ensembles.
When you wear these charming heart glasses with a gorgeous cc toddler hairdo that leaves their ears exposed, you have the incredible option of having some exquisite custom earrings made for your child as well.
This really adds to the overall look and makes your child the cutest toddler ever seen.
7. The Now Eyewear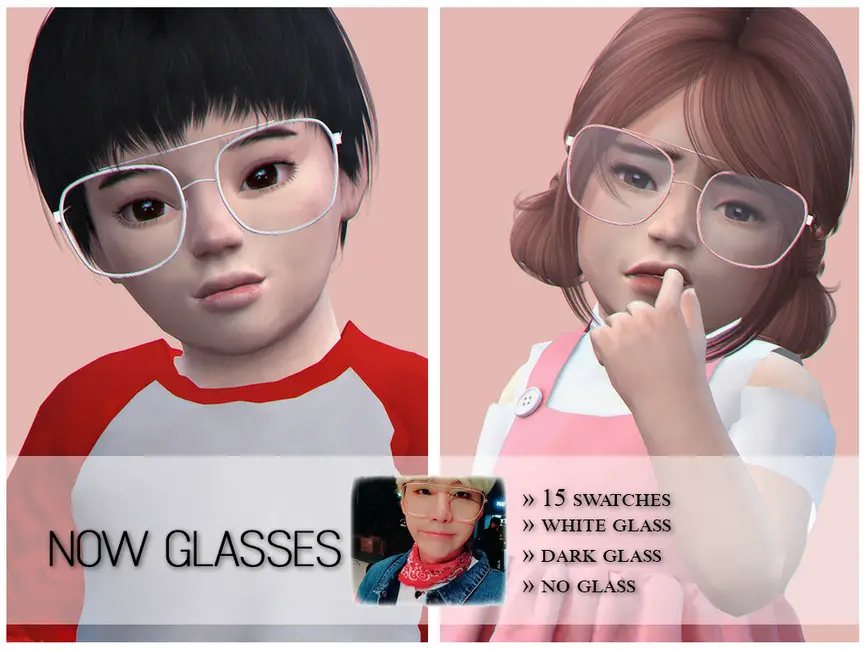 If you are a major fan of BTS, you should probably put the Now Glasses in your mods folder as soon as possible.
These stunning sunglasses in the form of aviators were influenced by Min Yoongi from BTS, and they would look extremely adorable on any little child.
The best feature of this set of Sims 4 toddler glasses CC is that they come with fifteen swatches from which you may pick to have either white glass, black glass, or no glass at all.
This allows them to function as either sunglasses or ordinary glasses, depending on your preference.
6. WM Glasses C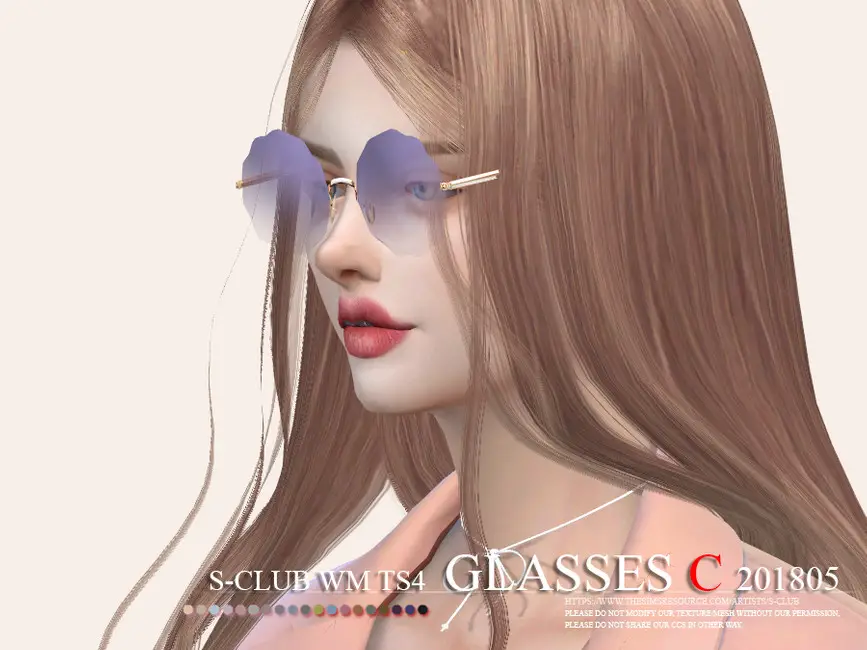 The WM Glasses C is the next pair of eyewear that we provide, and they are a toned-down version of the glasses that came before them.
These have the same beautiful bubbly design around the edge, but we've toned it down so that you may pair them with more of your favorite outfits for your child.
Although the picture on this page depicts a youngster, the glasses in question are really available in sizes that are appropriate for toddlers as well as children; therefore, you can even have siblings match in this incredibly amusing pair of eyewear.
5. Rosie Sunglasses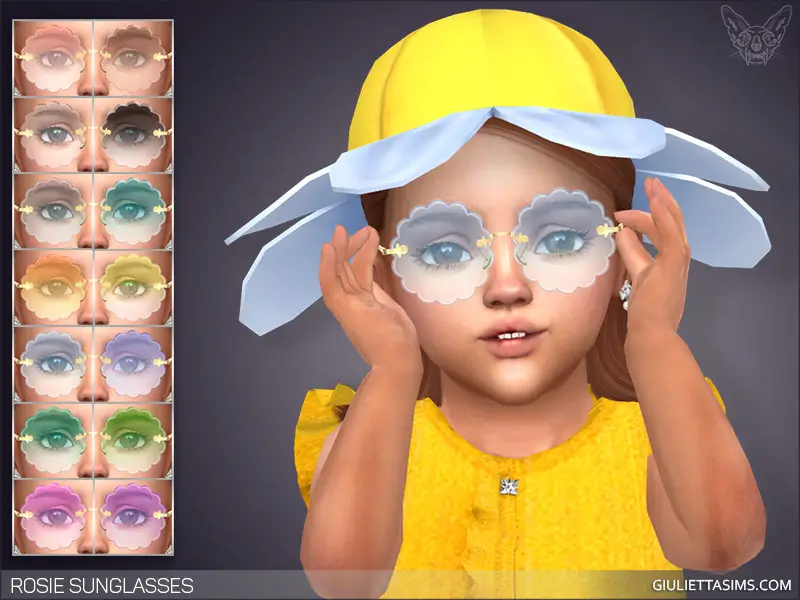 Are you seeking a Sims 4 Toddler Glasses CC design that is entirely one-of-a-kind and will make your Sims appear extremely adorable?
There's no need to search any farther than these sunglasses, the Rosie.
These gorgeous sunglasses have a distinctive shape that is reminiscent of a cloud and is a bumpy circle.
They also have gold arms and embellishments that make them look very elegant.
They are available in a wide range of distinct swatch colors, which, when combined, span the entire rainbow in the most effective way.
4. Geek Glasses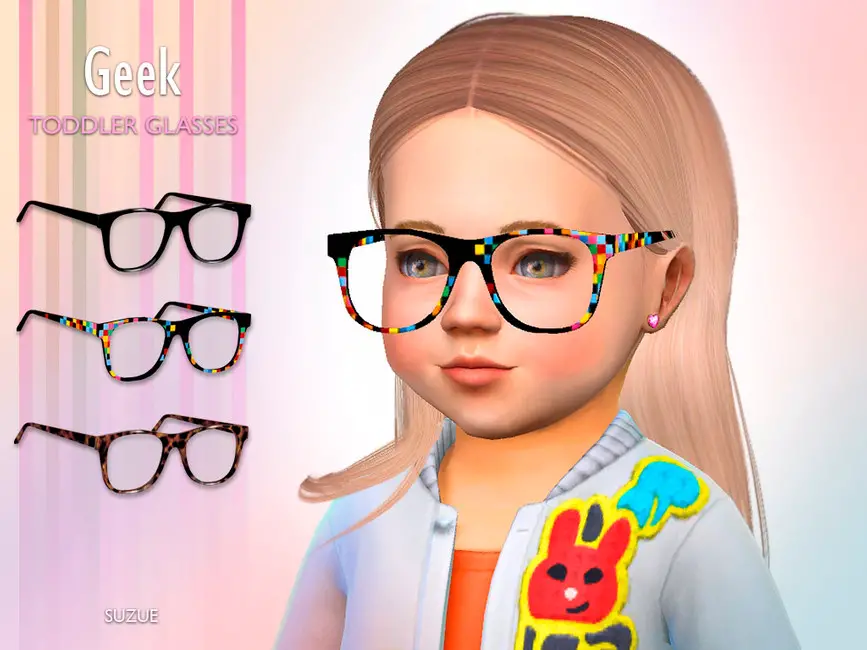 These geek glasses will give you the same feeling that you get when you see a toddler wearing glasses that are much too large for their face; this is a really sweet and adorable sight.
The glasses have a timeless design that looks good on a wide variety of people (I'm wearing them right now, lol), and they are available in several different colors and patterns, including the classic black, some tortoiseshell designs, and even patterns with squares of varying colors to keep things interesting.
3. Avant Sunglasses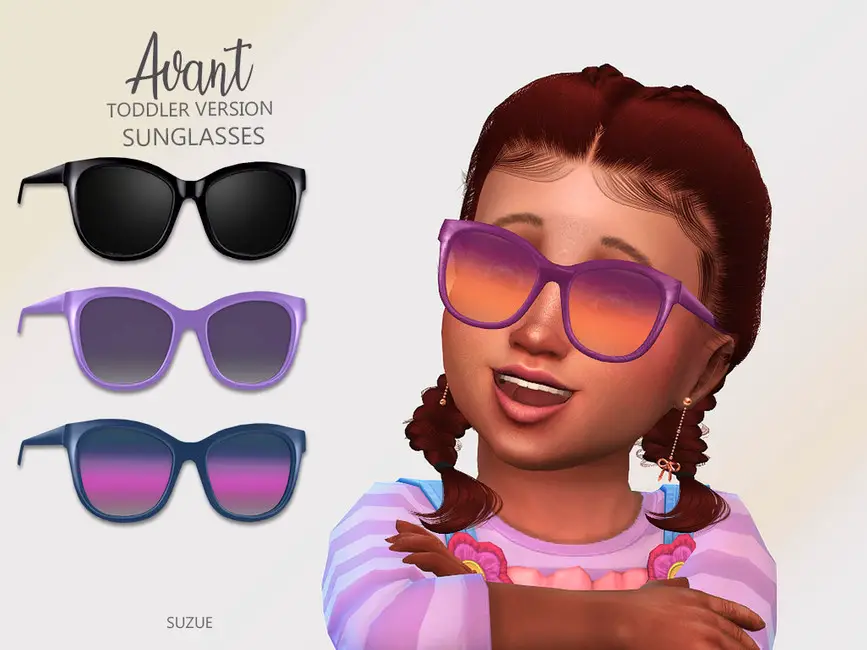 If you are seeking a classic set of sunglasses in the manner of Ray-Ban, then you should get your hands on a pair of avant sunglasses.
These are a wonderful choice for the next time you take your child on an excursion outside, whether it be to the beach or the park, and they will allow them to really take pleasure in the finer things in life.
These are a lot of fun since they come not only in the traditional black design but also in a wide number of various color swatches and shades, including ombre styles that lend an even greater degree of entertaining flair.
Your little one can make things look even sweeter by wearing them with a lovely ensemble from cc toddler, and you won't believe your eyes.
2. Sunglasses shaped like cats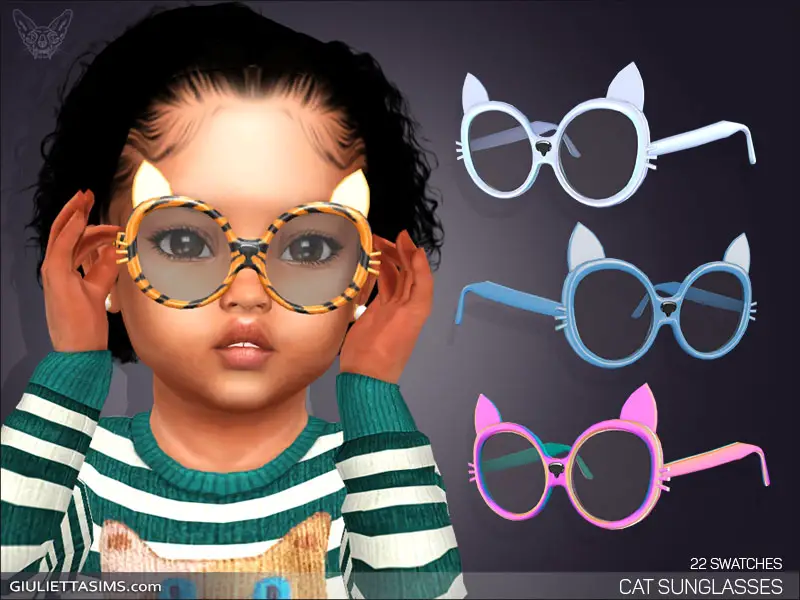 The only people who can get away with wearing these cat sunglasses without drawing attention to themselves are very young children.
Can you picture a young adult, 25 years old wearing them to their very first job in a large corporation? Incredible.
These eyeglasses are ideal for a child who has a close relationship with their pet cat and aspires to look just like the feline companion.
Your Sim may wear these with just about any dress that is appropriate for hot weather, and they will instantly become the talk of the town.
All they need is a quirky hat to complete the look, and they will be ready to go.
1. Cateye Glasses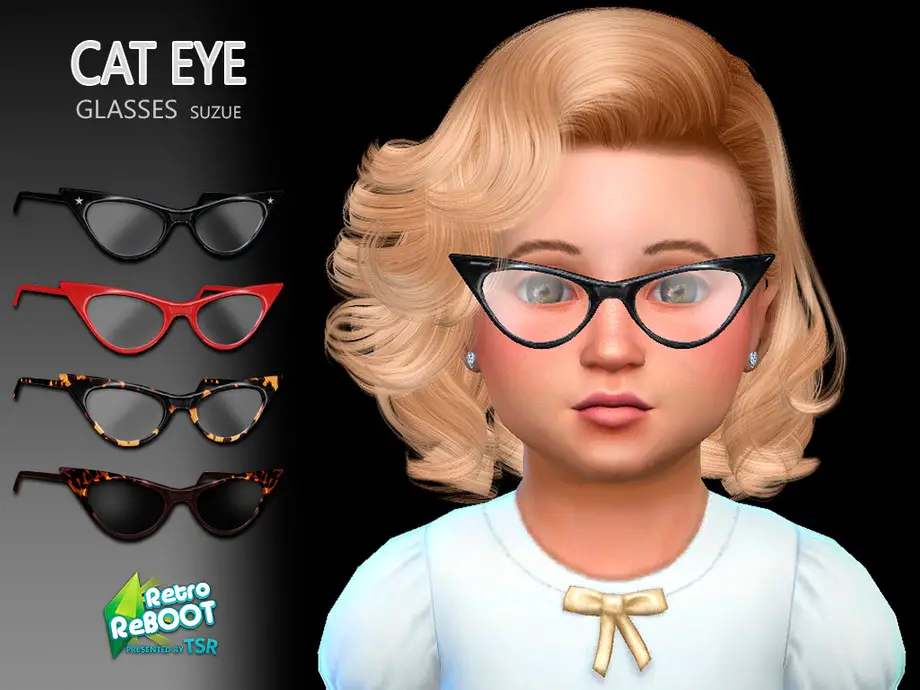 Our very first pair of eyeglasses is a very classic type known as cat eyeglasses.
These glasses make children appear very charming while also giving them a distinct look all on their own.
This pair of eyeglasses has an interesting form that is rounded at the bottom and comes to a sharp point at the temple, which really helps to make these a dramatic set of eyewear.
They are available in black, crimson, and even two different colors of tortoise shell for a truly unique appearance.