Over the past few years, Harley Quinn's popularity has skyrocketed, making her one of DC Comics' most successful characters.
After being debuted in Batman: The Animated Series as little more than the Joker's sexy sidekick, the character quickly developed her own distinct identity.
She's completely off her rocker, but she's also charming, assured, and stunning.
She may be bad, but her heart is in the right place: she wants to have fun and find love, just like the rest of us.
This makes her the ideal antagonist for The Sims' lighthearted universe.
Let me show you some of the most impressive Harley Quinn mods I could find, all built specifically for The Sims 4.
18. Harley Quinn Suicide Squad Prison Outfit GTW Recolor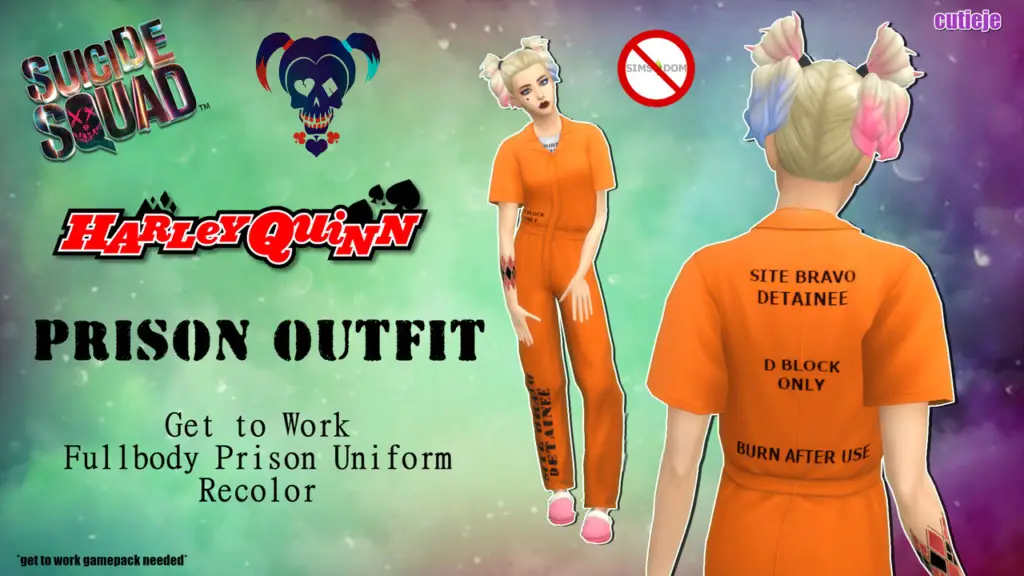 This is the craziest, most audacious prison getup ever!
It's common knowledge that Harley Quinn is a cultural icon.
Unrestrained and unrepentant, she is a force to be reckoned with.
People admire the badass woman who can hold her own physically and aesthetically.
We're giving it one last shot with a lovely GTW re-color because every sim should be able to wear Harley's legendary suicide squad getup.
As the world as we know it is about to come to an end, now is your final chance to try your luck.
17. Sims 4 Harley Quinn BOOTS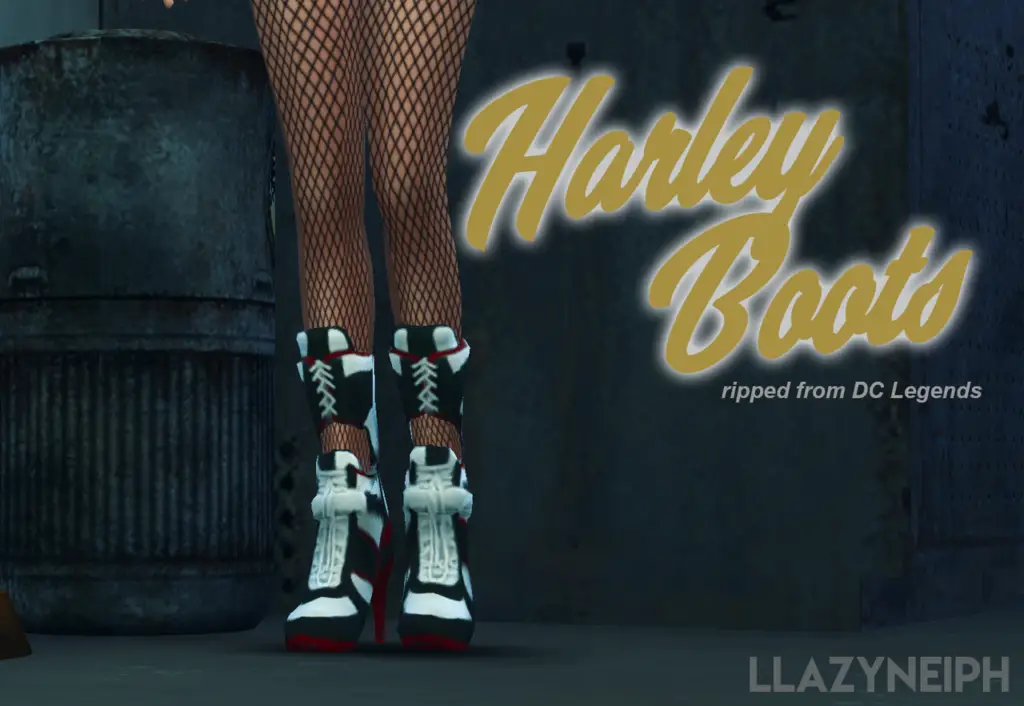 The boots that Harley Quinn wore became instantly recognisable.
They played an important role in the movie and were a memorable part of Harley's history.
As of late, we've learned that the Sims 4 includes a pair of these boots.
Since then, we've made the assets available to anyone who would wish to utilise them in their own games.
Famous boots worn by Harley Quinn in the current film "Suicide Squad" are now downloadable for The Sims 4.
16. Royalty Harley Quinn Outfit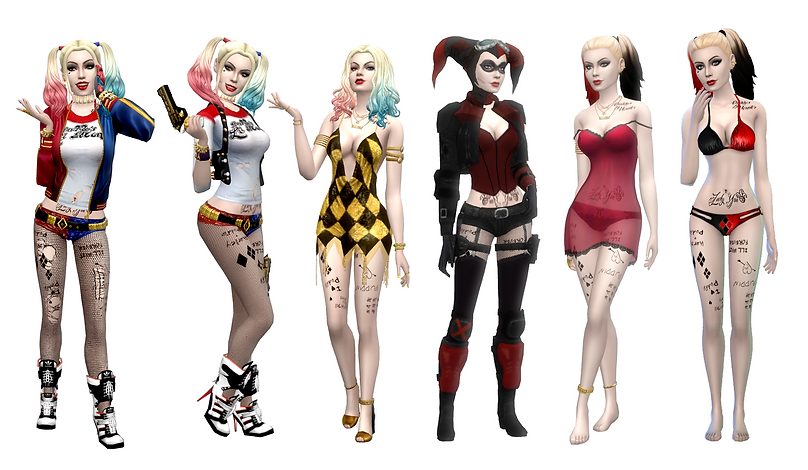 Clothing worn by Quinn plays a significant role in the DC canon.
Dress up your Sims like Harley Quinn in any number of ways with these accessories.
Harley Quinn is a formidable new addition to the Suicide Squad.
The Sims 4 features a faithful recreation of her signature red and blue outfit.
Any Sim who enjoys a good belly laugh is bound to like her, thanks to her infectiously maniacal laugh and quick wit.
Your Sims will look fantastic in this garment, which features a blue and red colour scheme.
It's an excellent method for making people feel somewhat out of their minds.
15. Sims 4 Harley Quinn Jeans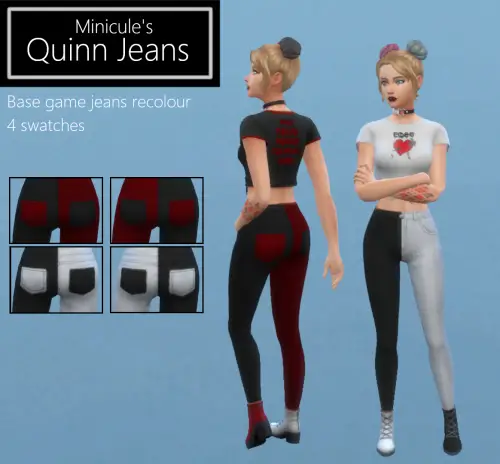 In any media appearance, Harley Quinn's fashion sense stands out.
If you and your Sims can find the right pair of jeans, you can give yourselves a Harley Quinn makeover!
Whether or not you're a Harley fan, you'll want to get your Sims some of these unique jeans.
You can select from one of four different denim samples.
These denim bottoms are available in a rainbow of colour combinations, from black and red to white and white.
14. Sims 4 Harley Quinn Set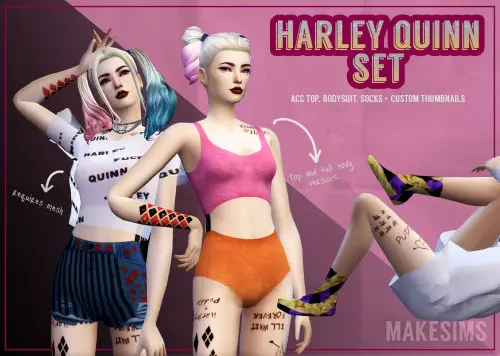 You may recall the first time you saw Harley Quinn's outlandish attire in the first Suicide Squad film.
The Sims 4 players can now achieve the same aesthetic.
Don't be left out of the #fashion conversation this season; get your Sims 4 back-to-school wardrobe ready with the newest Harley Quinn costume.
13. Harley Quinn Jumpsuit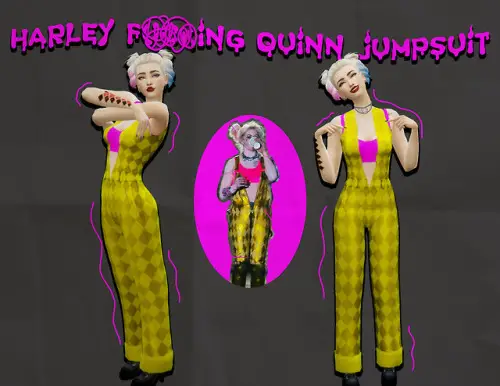 When playing a game like The Sims, many players try to dress like Quinn because of her famous costume.
With Birds of Prey's Harley Quinn as an inspiration, your characters are free to don yellow attire.
If your Sim is celebrating a birthday or just wants to look good while fighting crime, this outfit is a great choice.
You simply must have this brilliantly coloured jumpsuit.
We think the most stylish colour combination is the bright yellow base with a pink top.
If you wear this outfit, you will undoubtedly draw attention.
12. New Harley Quinn Tattoos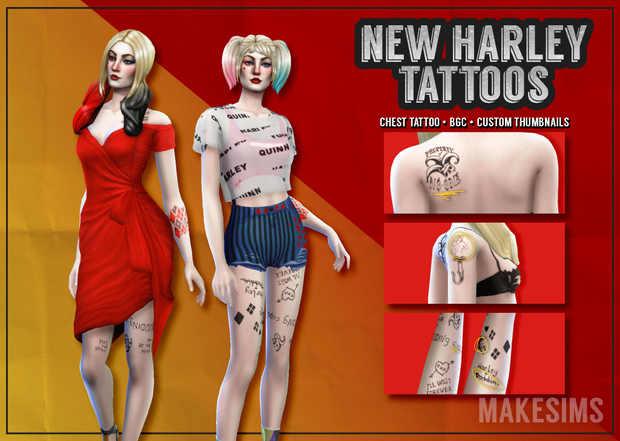 In Sims 4, you may give your Sims a wide variety of tattoos inspired by Harley Quinn.
In addition, the tattoos typically feature a lot of bright hues like pink, purple, red, and green to emphasise Harley Quinn's dual nature as a crazed and sweet outlaw.
On the other hand, these are exclusively black.
You can put these tattoos anywhere on your body, whether it be your arm, leg, chest, etc.
11. PUDDIN Necklace Sims 4 Harley Quinn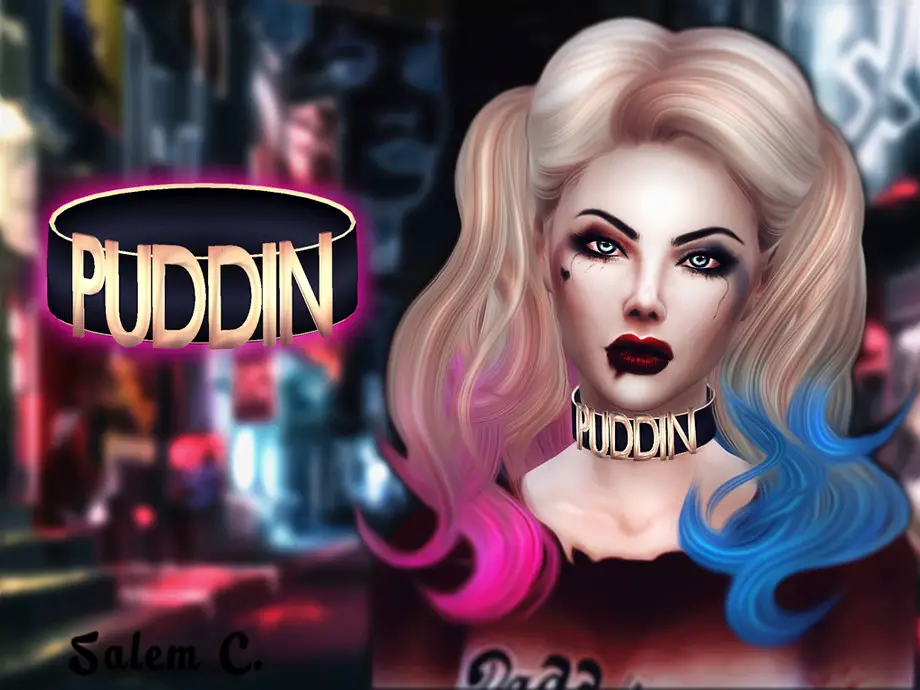 There are several distinct characteristics that make this necklace an intriguing one to wear.
The PUDDIN necklace is an 80's inspired necklace that your sims can wear, giving them a retro look that is right in tune with Harleys style.
We absolutely recommend having it to complete your sim's Quinn's look.
You can choose from 4 different swatches. You may find it in the same section as other headwear.
10. Chibi Harley Quinn Wallpaper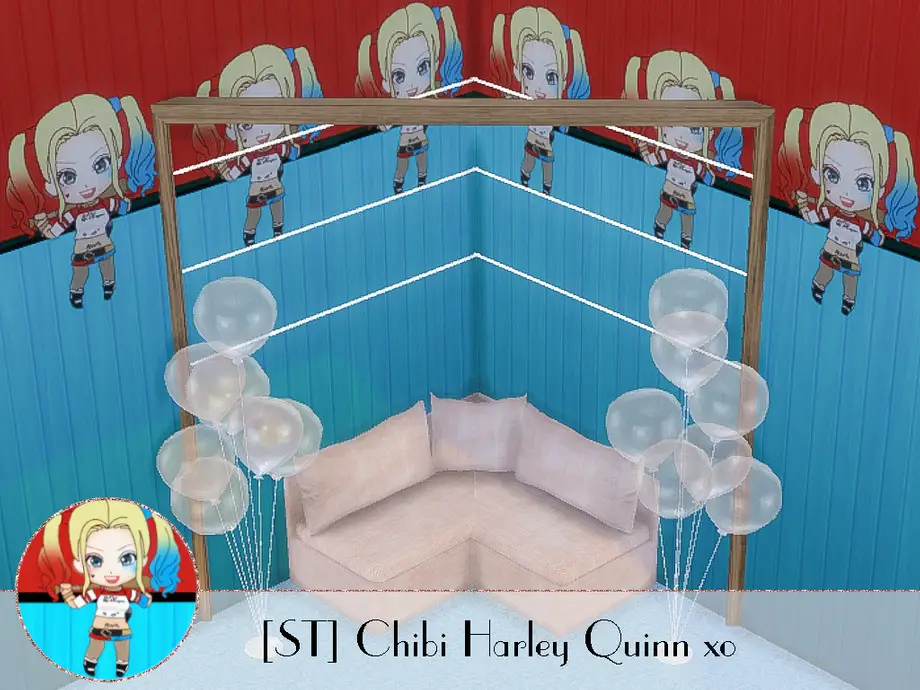 Despite the fact that she is a psychotic supervillain responsible for innumerable deaths across several timelines, Harley Quinn is nevertheless cute in all except the grimmest and darkest of realities.
The creator, Sugaredterror, is obviously in agreement.
They found the cutest "chibi" Harley they could and based a whole CC wallpaper set on it.
The character of Harley Quinn is not one you would want your child to look up to.
On the other hand, if you're into it, you may decorate their room in The Sims 4 with pictures of adorable criminals.
9. Harley's SS Nightclub Dress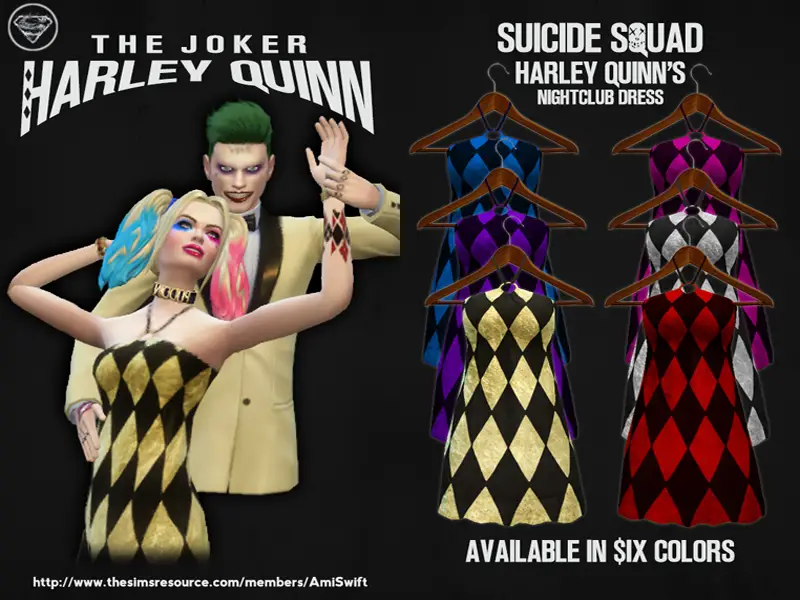 For Harley, there is no need to don a fancy outfit before entering a nightclub.
She seems to be constantly out on the town.
The sledgehammer method is always an option if the bouncer forgets, but everyone in town is aware of that.
Even yet, she enjoys dressing up on occasion, as evidenced by the notorious nightclub scene from Suicide Squad, in which she and the Joker flirt with a low-level criminal before killing him in a bizarre love roleplay between insane villains.
AmiSwift has created an accurate recreation of the dress worn in that scene, and it is available in five different colours in addition to the classic black-and-gold checkerboard seen in the film.
8. Harley's Injustice 2 Outfit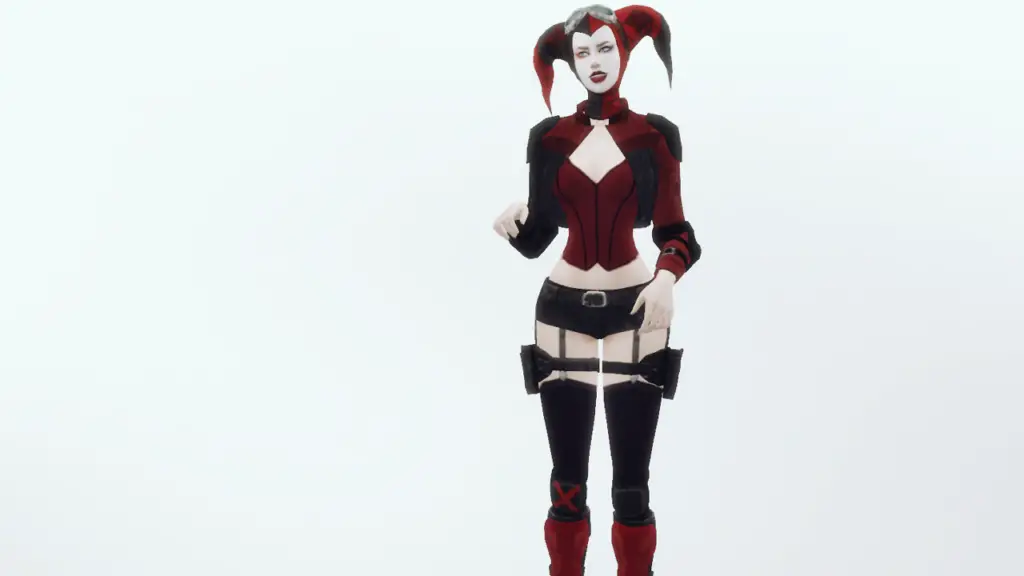 The universe of Injustice: Gods Among Us is grim and bloody even by DC standards.
This is reflected in Harley's appearance in Injustice 2.
She's bulkier, and her clothes, like the one in this mod, look like they'd do a good job of protecting her.
Check out this CC set by PlazaSims if you like Harley in her most aggressive and badass incarnation yet.
It combines sensible design with the traditional madness of Harley Quinn in an ideal way.
7. Harley's Classic Outfit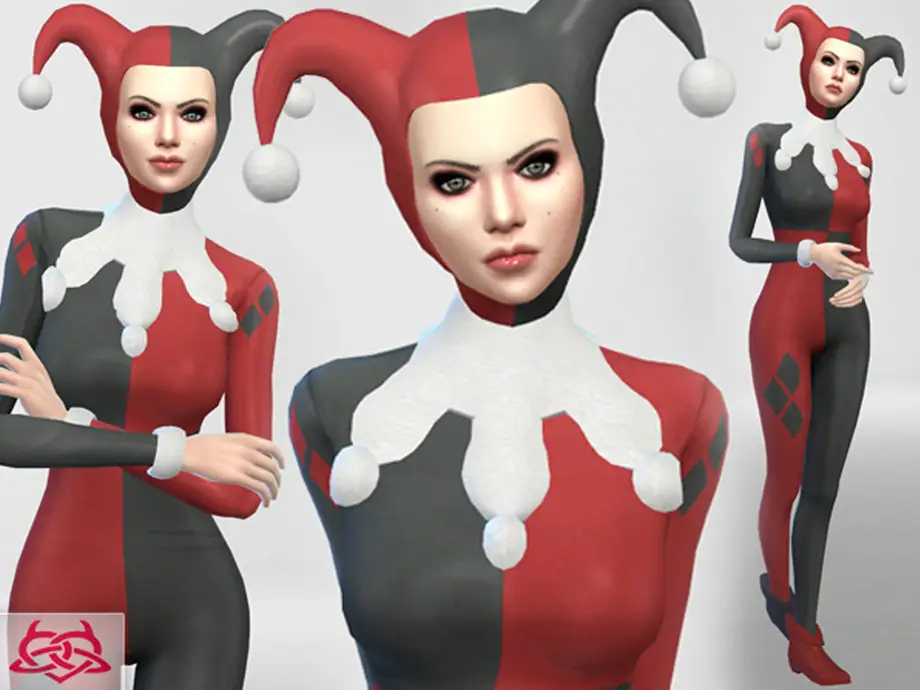 In my opinion, Harley Quinn's iconic getup from Batman: The Animated Series is unrivalled.
When someone says Joker's paramour, I image a silly-looking jester with amazing hips and a smile so insane that you can't help but want to know what she'll do next, even as someone who was born long before Harley's new wave of popularity began.
Designed by ColoresUrbanos, this classic onesie can now be worn by any female Sim in The Sims 4.
Hand it over to a Sim who carries the Erratic characteristic so that everyone else knows who they're dealing with.
6. Harley's Arkham City Outfit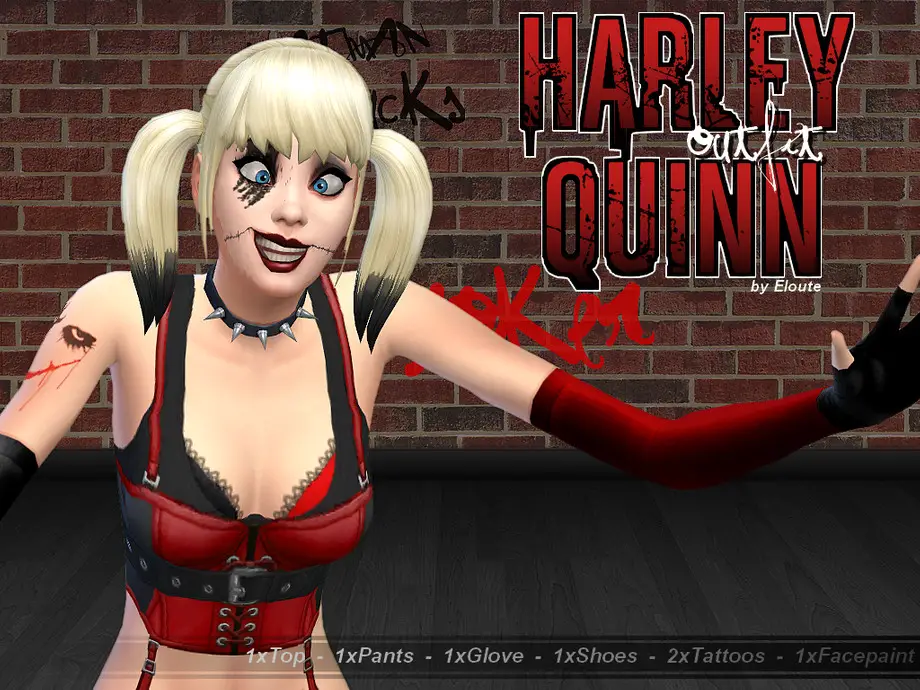 This outfit does not directly replicate anything from Arkham City, unlike some of the others on the list.
This is instead an interpretation made just for The Sims 4.
Eleute, the CC builder, did an excellent job recreating Harley's tough (but wackily playful) charm from Arkham City.
But the best part about this set is how seamlessly it integrates into The Sims 4's environment.
Harley can be just as goofy as any other Sim without standing out in a more "serious" getup.
Included in this set are not only the top and bottom halves of the clothing, but also face paint, gloves, shoes, tattoos, and body paint.
Any Sim adult, teen, or young adult who can't get enough of DC Comics' hottest new star will love this.
5. Harley Quinn Hairstyle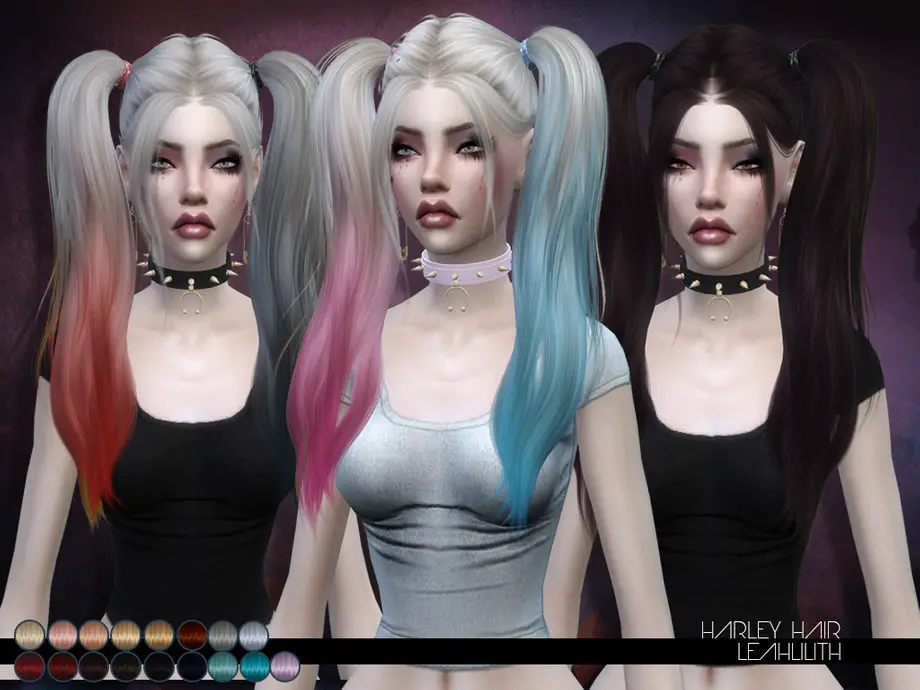 Getting a new hairdo is an integral part of any Harley Quinn costume.
And none more so than her ponytails from the Suicide Squad.
One model and length are included in this LeahLilith hairdo bundle, however the variety of colour options should suit most needs.
This haircut can be worn in a variety of non-Harley-related contexts, thanks to its ability to accommodate a wide range of hair colours (including the SS cotton candy colours and a black and red combination that recalls her traditional colour pallet).
4. Harley's Makeup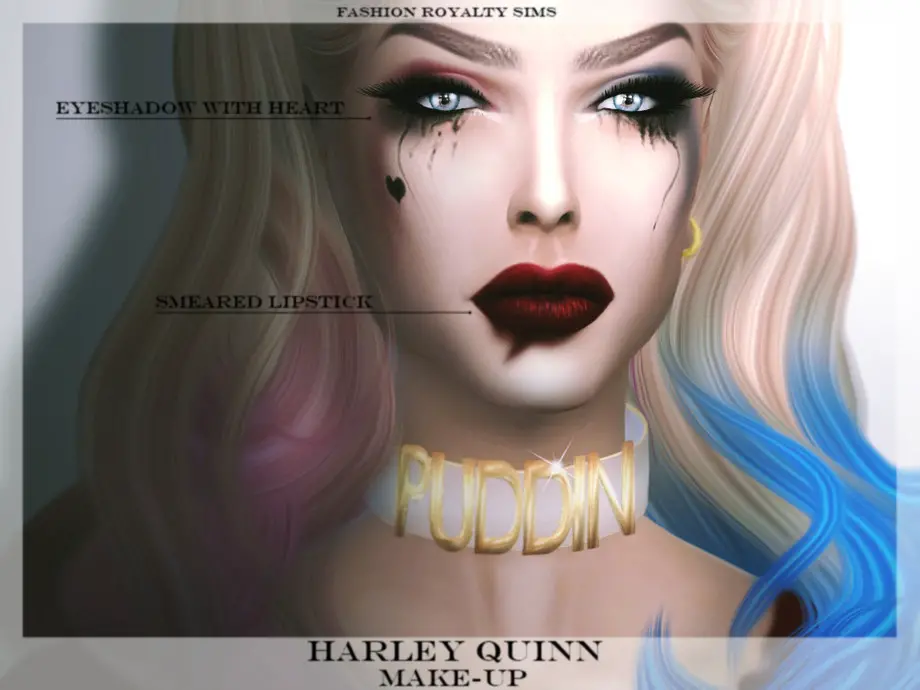 Whether she chooses to go the clown route and paint her face black and white or the smeared lipstick path, Dr. Harleen Quinzel's metamorphosis into Harley Quinn isn't complete without a dramatic change in her makeup.
This high-quality cosmetics pack by FashionRoyaltySims will elevate your close-up images to the next level with its attention to detail and rich textures.
Smudged lipstick and eyeliner are included to further emphasise the message of "mental breakdown" or "bad breakup."
That Sim you placed this on will have a very dramatic existence, in whatever way you want to look at it.
3. Harley's Suicide Squad Outfit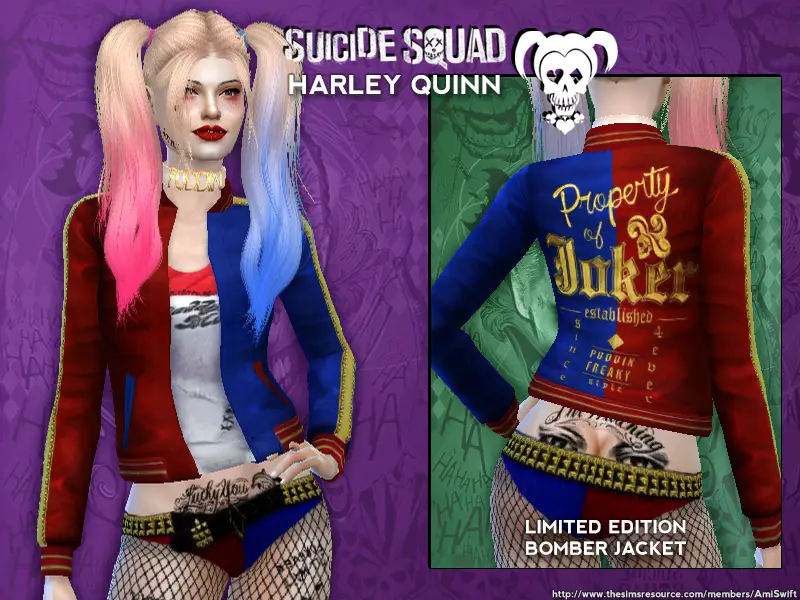 I've heard some folks say that Harley Quinn's attire in Suicide Squad is too seductive.
However, I believe that this garish appearance effectively conveys the nature of this evil.
You're dealing with a total bombshell here, but one that has more than a few screws loose, as evidenced by her clothing.
Feeling both tempted and terrified at the same time is the desired effect.
If you look at her for too long, she or the Joker will demand payment.
Luckily for your Sims, there's barely any real violence in The Sims 4 – so don't miss out on this high-quality set from developer AmiSwift.
2. Harley's Jacket-less SS Outfit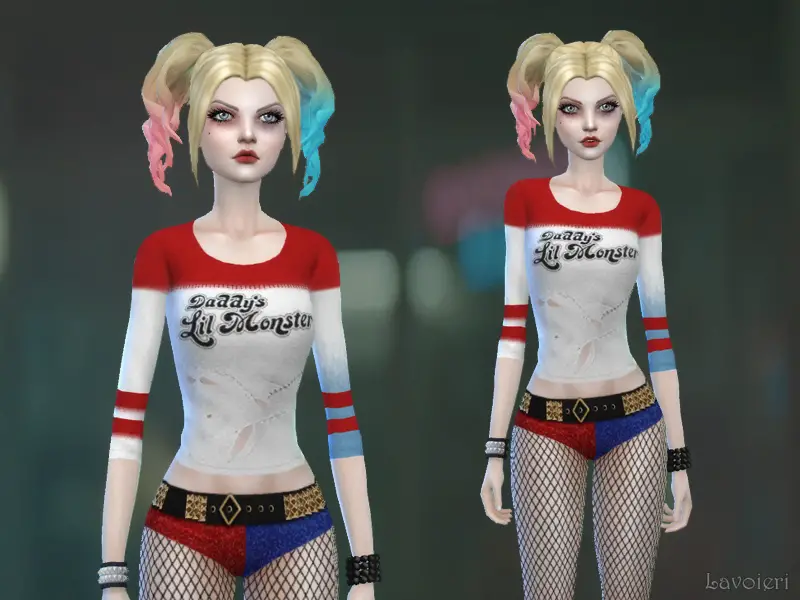 This jacket-free variation on the SS uniform is an option if the "Property of Joker" jacket isn't your thing.
This sporty and laid-back design by Lavoieri is ideal for the typical Erratic Sim.
Like Harley, you can never predict what the day may bring, therefore you should always be prepared with an outfit that can be dressed up or down.
To the outside world, your Sim will appear to be waving a red flag during the day, giving them the privacy they need to go about their day-to-day activities.
On the other hand, this ensemble would be the talk of the town as the sun went down at the local hotspot.
The perfect gift for the Sim who is obviously "Daddy's Little Monster."
1. Harley's Batman: The Enemy Within Outfit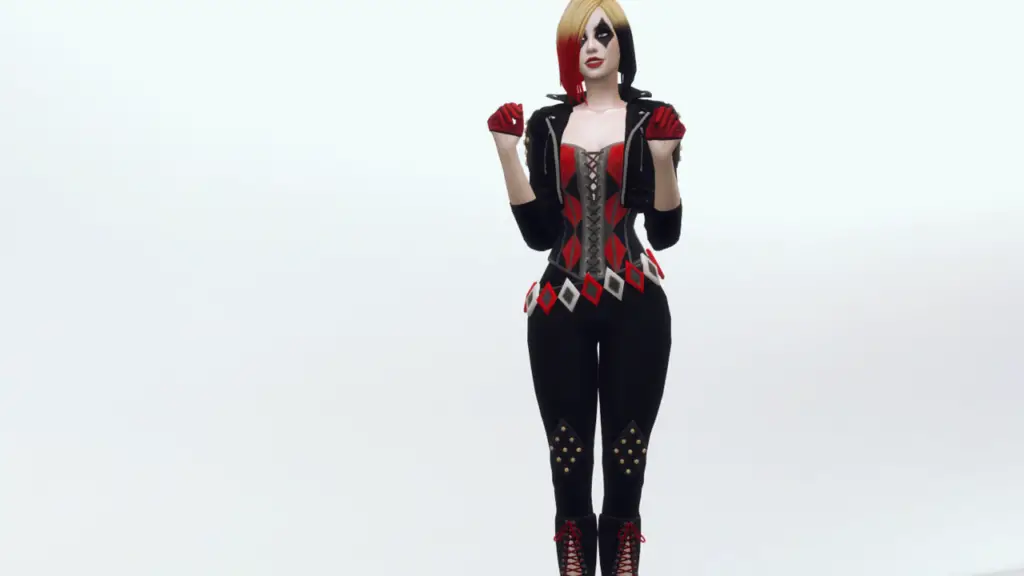 Harley Quinn is brilliantly realised by Telltale Games in Batman: The Enemy Within, where she is more than just a converted Joker follower and instead plays a crucial role in the villain's origin.
I love her design in this game since it tones down the retro aesthetic's kitsch without fully abandoning it.
She is more confident and self-reliant than in earlier episodes, thus this fits her character perfectly.
This CC set by PlazaSims does an excellent job of capturing the essence of the game while also making a few tweaks to achieve the desired Maxis Match aesthetic.