The construction mechanisms in The Sims 4 are some of the best components of the game.
They are the easiest to understand they have ever been in the series, and as a result, many players are eager to construct more things in the game.
Building, on the other hand, might be challenging at times, particularly if you aim to create interesting structures each time.
Find Sims 4 floor designs on Pinterest or Google Images; doing so is the best thing you can do because it will fundamentally alter the way you construct things in the game.
You'll find 10 of my favorite floor plans listed down below for you to test out and see how they work for you when you're creating.
What do you mean by "floor plans"?
A floor plan is "a technical drawing to scale, depicting a view from above, of the relationships between rooms, spaces, traffic patterns, and other physical elements at one level of a structure," as defined by Wikipedia.
A floor plan also depicts the layout of a building's individual levels.
In what way does this pertain to playing the Sims?
Well, as simmers, we are always constructing houses for our characters to live in, and if we don't carefully plan out the layout of these houses, they frequently turn out to be either perfectly square or in some strange box form.
If you go into the construction of your home with a floor plan in mind, you can save yourself a lot of time and effort when it comes to attempting to make the inside of your house practical while still making the outside of your house attractive.
10. A 20 by 20-foot lot with four bedrooms and three bathrooms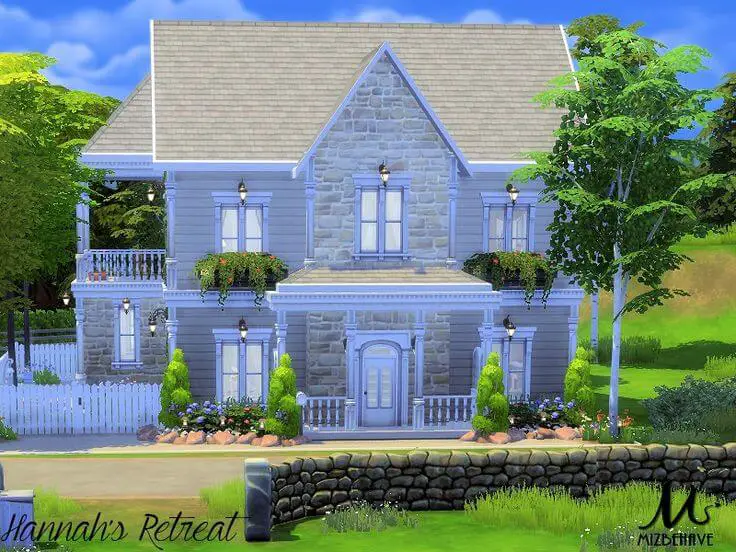 This is the perfect home for you if you're seeking something very compact yet extremely useful that can fit on a lot that's only 20 feet by 20 feet.
This house has four bedrooms, but it has the potential to have five if the office is converted into a bedroom.
Additionally, this house includes three bathrooms, making it a very functional home for your Sims.
You will enter the kitchen and dining area that is located at the front of the house as you go in the front door.
There is a staircase in the middle of the house, and the living room is located to the right.
One of the four bedrooms, a small office, and a bathroom are located on the main floor of the house.
There is also a tiny bathroom on this floor. Outside, there is also a space designated for cultivating vegetables.
You will find an extra three bedrooms and two bathrooms on the second level of this house.
There is also a nice-sized hallway area surrounding the stairs, which provides you with enough space to install a workstation or create a fun play area for your children.
9. 30×20 Student House, 4 Bedroom 3 Bathroom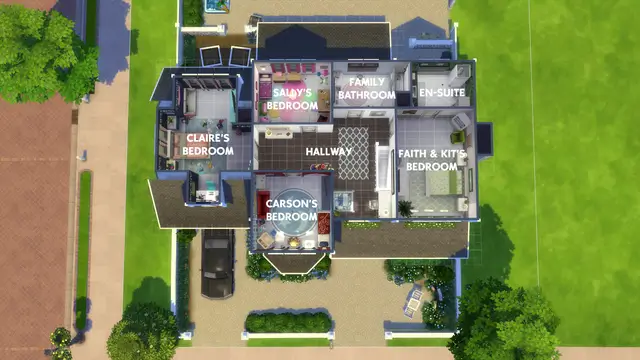 If you are interested in playing with Discover University, the following floor plan is an excellent choice for you.
This piece of real estate was intended to serve as student housing, and it features a two-story building with a total of four bedrooms on the upper level.
Your simulated characters can choose to either expand their family or find roommates using these accommodations.
Downstairs, you'll find two dining spaces that really allow space for everyone in this home to get enough food into their system, in addition to a small living room and a kitchen that features a lovely peninsula.
There are also three bathrooms, giving you plenty of space to accommodate everyone.
8. 40×40 Restaurant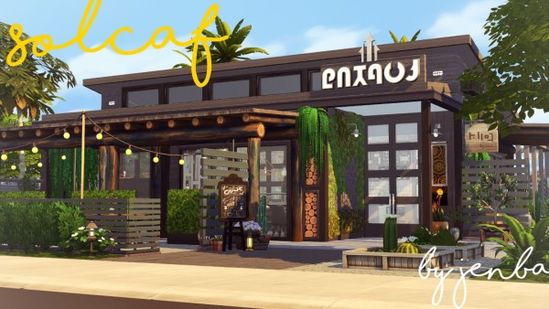 Are you interested in constructing something that you can utilize in The Sims 4: Dine Out? The 40×40 restaurant you're looking at is an excellent option for your subsequent monetary investment in the game.
This establishment has a stunningly beautiful and sizable rear patio that can accommodate additional tables for serving clients, a dance floor, or it can just be left empty.
Inside, there are a few couches for people to sit on while they wait to be served, a little kitchen where the food may be prepared, and a large number of tables and chairs for all of your customers to use.
There is also a cute play space for younger Sims to socialize in on the second floor, in addition to a secondary dining area, so you will have plenty of room upstairs for all of your clients.
7. 30×20 Lot, 6 Bedroom 4 Bathroom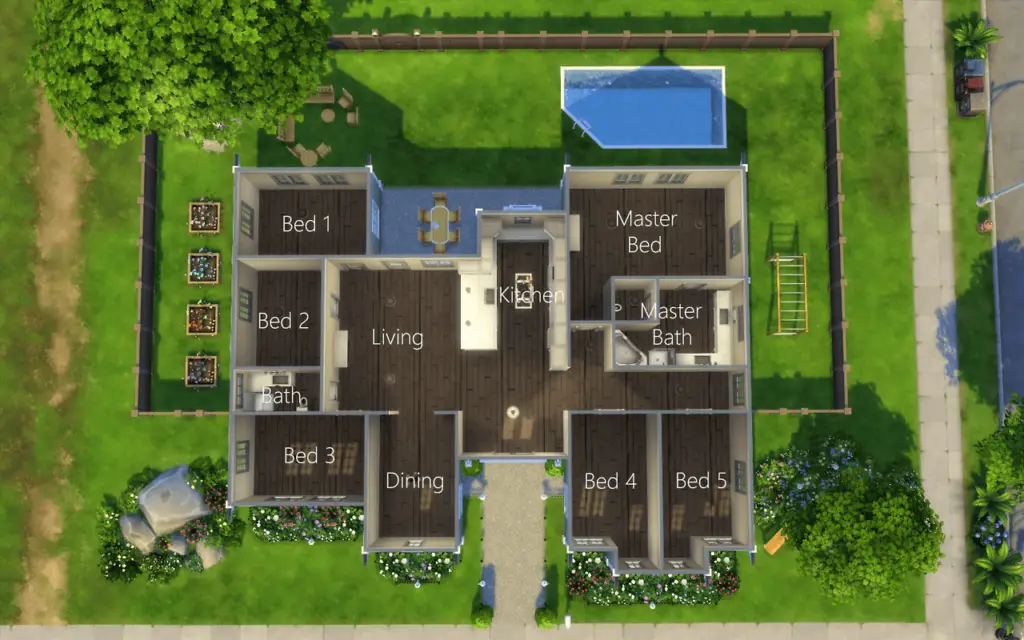 It is a lot of fun to see how much you can cram into a little lot, and this home, which has six bedrooms and sits on a lot that is 30 feet by 20 feet, does a fantastic job of maximizing the space it has.
You'll discover a bathroom and a lovely office for your Sims on the main floor of this home, adding to the kitchen, the living room, and the dining area are all located on the same level.
There is also a vegetable garden in the backyard for your Sims to grow their own food in if you so choose.
All six bedrooms and three of the house's more compact bathrooms are located on the second floor.
This house is perfect for large families because it can accommodate a huge number of Sims in a relatively small area.
6. 30×20 Lot, 4 Bedroom 3 Bathroom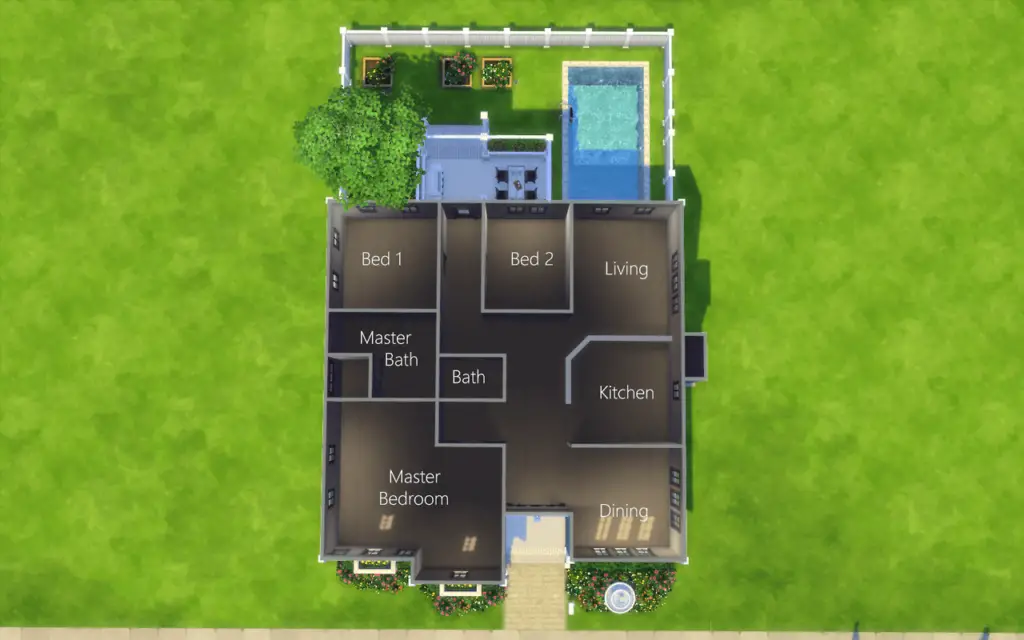 In any globe you choose, our first-floor plan would fit on a lot that is thirty feet wide and twenty feet deep.
This house is fantastic not just because of the abundant living space it provides, but also due to the fact that it features a pool where your Sims can swim or, alternatively, have an accident involving drowning.
This home has a bathroom that is conveniently located on the main floor, in addition to a tiny kitchen that has a dining area that is directly off of it.
The living room will be located in the rear of the house, and the stairwell will be located in the middle of the hallway.
On the opposite side of the stairwell is a second restroom as well as an office that is perfect for playable characters that conduct their careers from home.
You'll find all four of this house's bedrooms and a nice-sized bathroom on the second floor, which is where you should have your Sims spend the majority of their time.
5. A thirty-by-twenty-foot clothing store with an apartment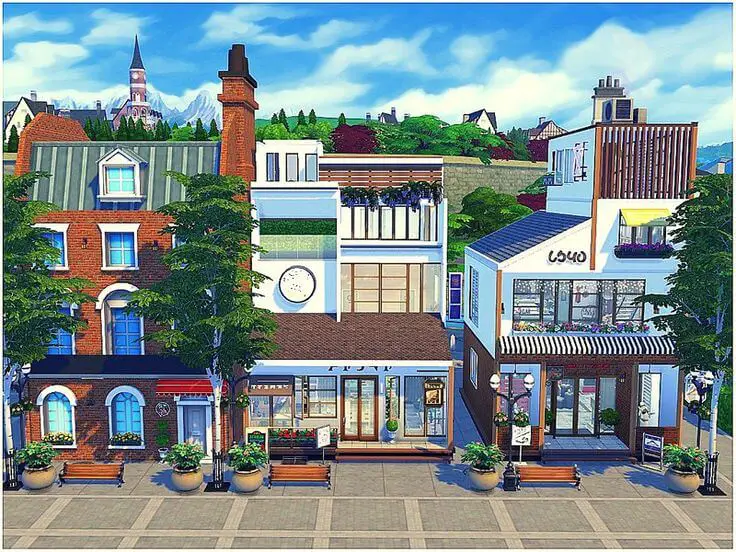 If you have to Get to Work, the next floor plan is not just a house; rather, it is a retail clothing store with an apartment for your Sims to live in located on the second story.
You can have your usual home, which is where your Sims spend most of their time, but you can also give them a modest apartment for when they come home late from work.
These are a lot of fun.
You will have a check-out counter, a restroom, and several changing rooms for your retail outlet on the main level of this house.
Additionally, there will be platforms to display the merchandise in its best light.
You'll have an apartment for your sims upstairs, complete with two bedrooms, a desk, and a small open living area.
This will allow your sims to have all the amenities of a normal home, even if they'll be living in their shop!
4. 40×30 Lot, 4 Bedroom 1 Bathroom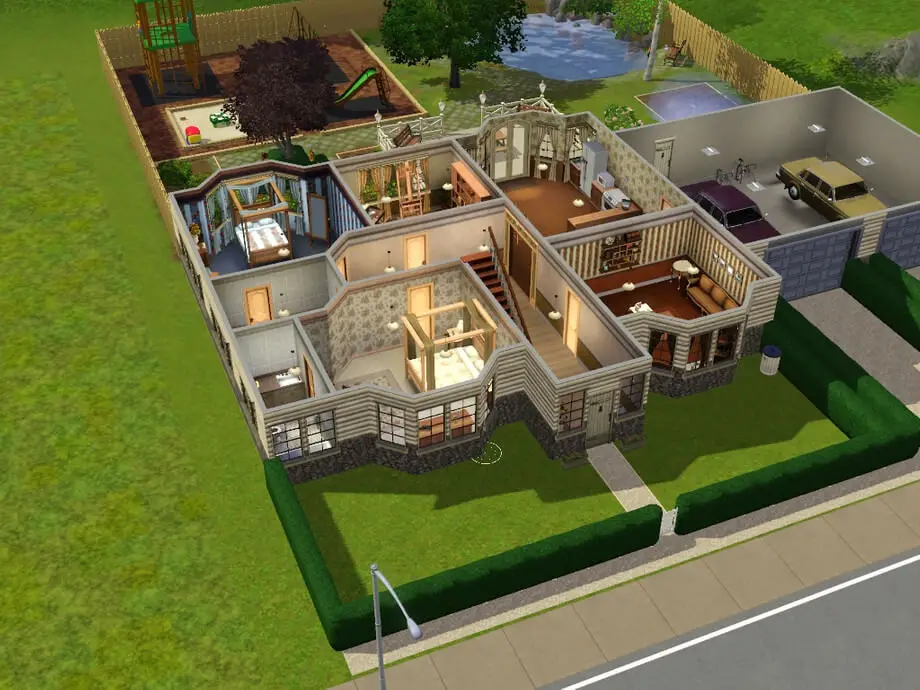 This house is quite spacious for just having one floor, despite the fact that it was constructed on a lot that is 40 feet wide by 30 feet deep.
It's a lot of fun to have homes that only have one story so that you can watch everything that's going on all at once on the screen.
When you walk up to this property, the first thing you'll see is an open floor-plan living area that includes a kitchen, dining area, and living room.
The fourth bedroom, which is likewise close to the kitchen and may be used as an office, is located on the opposite end of the home, just off the kitchen.
The corridor that leads to these rooms is to the left of the entrance.
A lowered platform for a shower is a highly fancy touch that may be added to your Sims' homes to make them feel more luxurious.
This bathroom, which is the only one in the house, is located at the extreme end of the house.
3. Trailer for the 20×15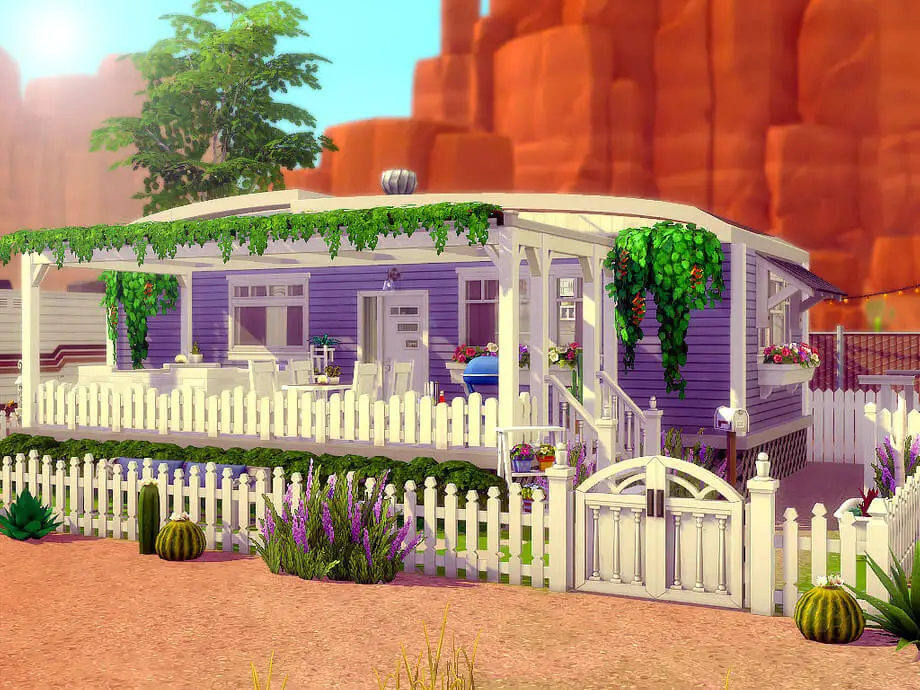 The following one was made specifically for this region and is an excellent choice for the modest trailer park in Strangerville.
Because this trailer can be placed on any 20×15 lot and because each of its seven bedrooms is somewhat small, it allows for a large number of Sims to reside in a relatively little space.
There are three bedrooms on the top floor, but there is only a narrow hallway and no bathrooms.
Downstairs, there are a total of four more bedrooms spread out across the space.
Due to the fact that this is a trailer, there is not a lot of room, so you will need to get creative when you are decorating.
2. 40 x 30 Foot Lot, Five Bedrooms and Four Bathrooms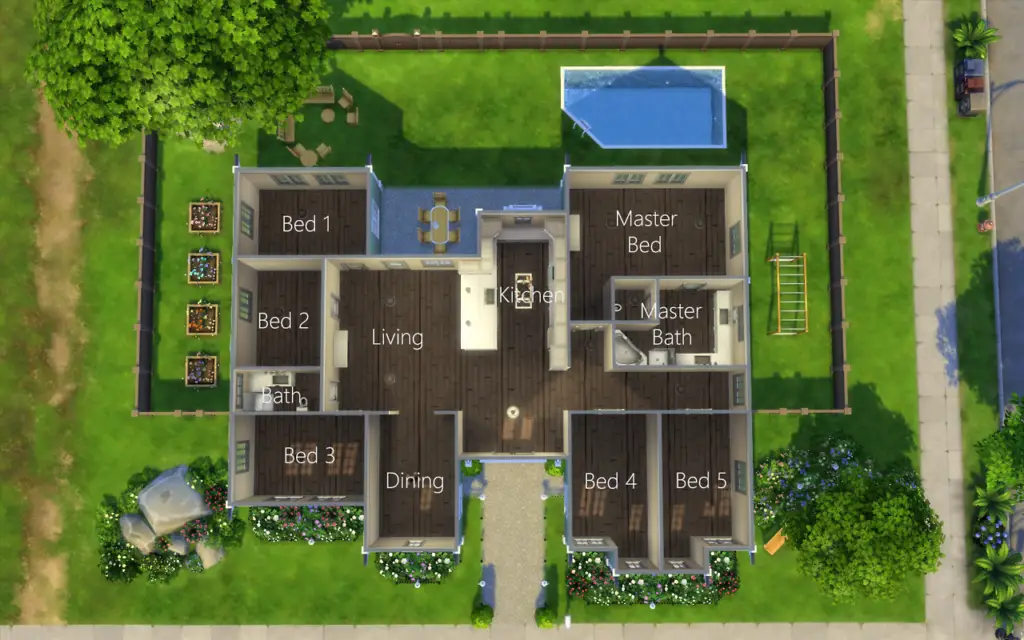 This is a terrific floor plan for you if you want a fairly huge home with 5 bedrooms and you're looking for something like that. Even a swimming pool is included!
This house features a garage on the main floor, which not only gives you additional space for your hobbies but also gives the impression that it is large enough to accommodate a toy car, which makes the property appear more practical.
In addition, there is a single bedroom located on the main floor, in addition to a living area that features an open concept and is extremely practical.
You'll find just about everything you need at the upper level. with a large number of closets, one of which is specifically designated as a laundry closet.
The fact that there are three restrooms on this floor ensures that the occupants of the four bedrooms will never be without options when it comes to satisfying their urge to empty their bladders.
1. 30×30 Church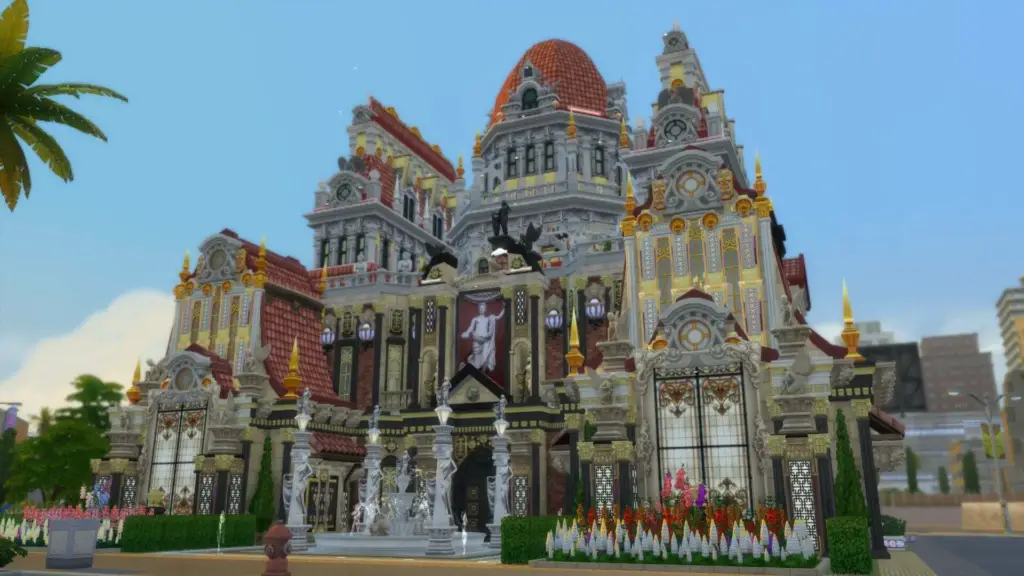 With the arrival of My Wedding Stories, we will have a greater opportunity to create breathtaking churches and other locations for our Sims to visit and explore.
This church floor plan for a 30 by 30-foot lot is fantastic since it includes a lovely raised bridal arch or altar, as well as a lovely aisle with church seating on either side.
To the left of the main structure is an area with a kitchen, a restroom, and an attractive outdoor space that can serve as the location for your wedding celebration.
This space includes a stage for performances as well as a dance floor, as well as a dining area with a number of tables and a bar at the opposite end.