The Sims franchise is quite an into science fiction.
The franchise has always featured a wide variety of non-traditional Sims, including but not limited to robots and aliens.
In addition, Servo, our lovable metal companion, has been a part of the series from the very beginning, so we certainly shouldn't overlook him.
The things on this list are required for play in worlds where artificial intelligence is preferred to the company of Sims with flesh-and-blood.
This list has everything you need to make your save look like it came directly out of Detroit Become Human (which is also included on this list!).
From lore-friendly robots to androids and cyborgs, this list has it all.
15. Dysfunction / Chromatus Skin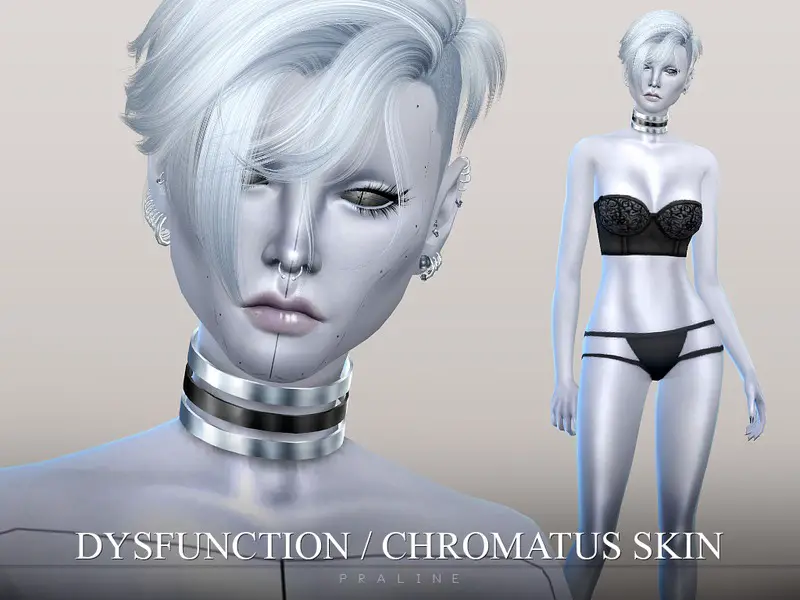 You're going to need convincing metallic skin if you want to turn a human Sim into a robot.
This CC skin by Praline Sims has a sleek and polished appearance, making it an excellent choice for robot cosplaying and storytelling.
There is a choice between a version with seams and one without them, as well as five distinct color options.
All genders and ages This item can be equipped by players of the Teenage and above in the Skin Detail category.
14. Robot Dermals V2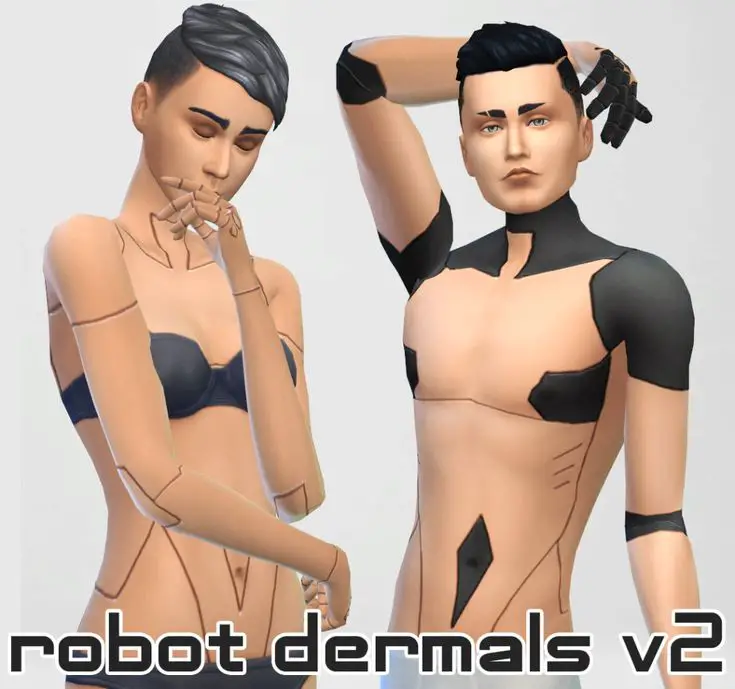 These OBJ sims Robot Dermals are a CAS item that may be used for a variety of purposes.
It is possible that both robots and androids could use it successfully.
However, technologically advanced Sims, also known as cyborgs, will look fantastic with this feature included as well.
In addition to this, it is available to most Sims, regardless of gender, from the age of Teen and up.
You can find these in the section devoted to tattoos.
Also, there is no need to be concerned about random citizens of the town becoming cyborgs at any time because that feature has been disabled.
13. Robot Traits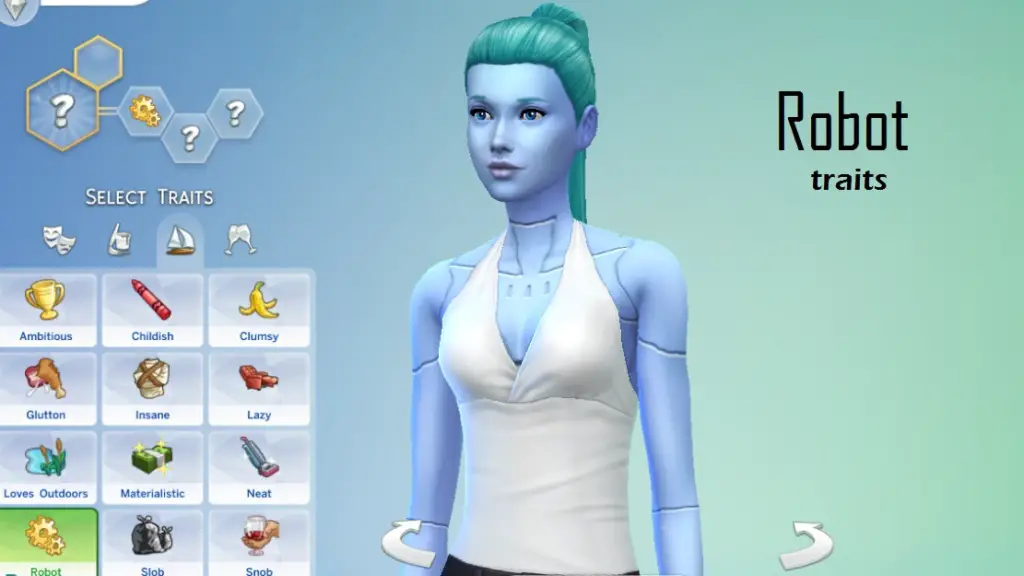 What would a robot be if it didn't have its programming?
Within the context of this game, we consider Sim to be completely average.
With Captain KyoKyo's Robot Traits, you can give your robot more than simply the aesthetic it was going for.
The Sims 3: Into the Future served as inspiration for this expansion pack, and it includes five different distinct features that vary depending on the type of robot you want your Sim to be.
You have the option of going with a robot that never needs to sleep, a hybrid robot, or artificial intelligence (think if Alexa or Siri came to life).
In addition to that, there is some preparation required before you may download this:
Because these characteristics were not updated by the original developer, another creator by the name of Lord Solus kindly updated them for everyone.
You can get the most recent update by going to this page and downloading it.
12. Sims 2 to Sims 4 Robot Pet Conversion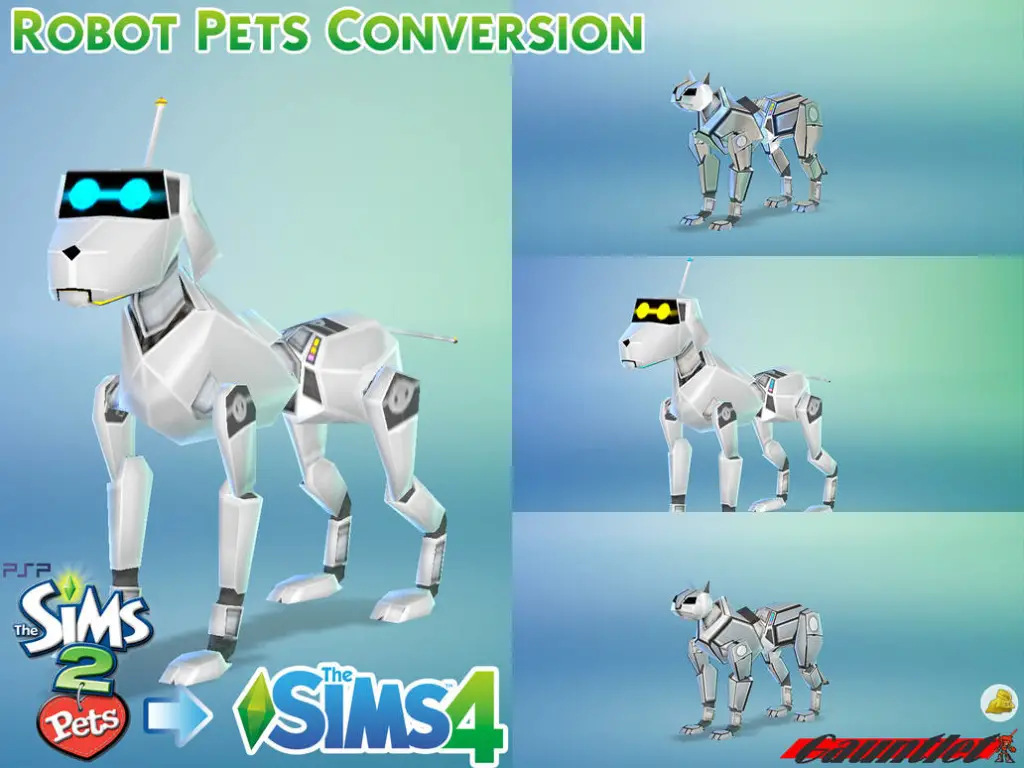 It wouldn't be right to introduce robots and androids into the earth and give them partners of their own kind.
This conversion of robot pets from Sims 2 to Sims 4 provides a solution to that difficulty.
It's interesting to learn the backstory to this one:
Robot pets were exclusive to the PSP version of The Sims 2: Pets and could not be obtained through any other platform.
This finding was produced by the creator Gauntlet101010, who was also successful in converting it for use in the PC version of The Sims 4.
Discuss people's abilities.
Both the robot cat and dog in the picture appear fairly excellent, despite the fact that they are from a game that was released a long time ago on an entirely different platform.
11. Cyborg Mask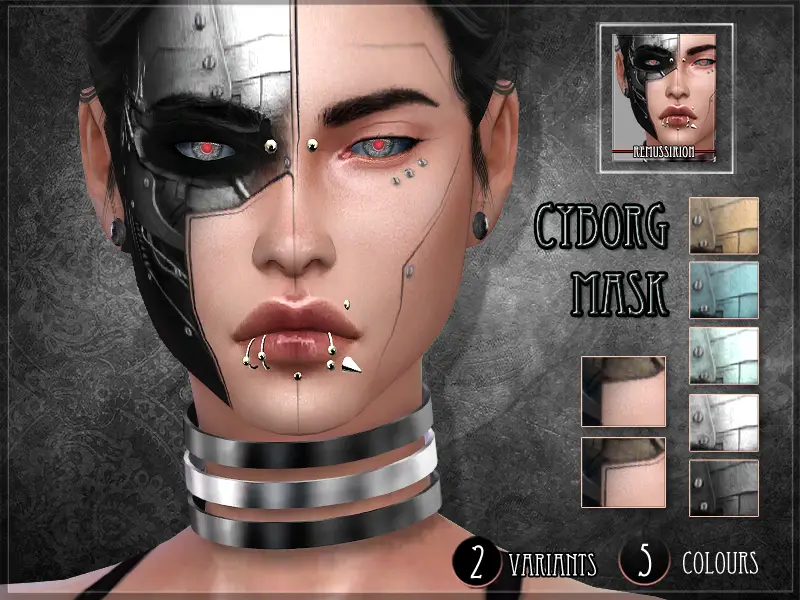 Cyborgs are distinct and fascinating subspecies.
These augmented Sims visually have just enough of both human and robot characteristics to show exactly what they are. They are neither human nor robots.
The cyborg mask created by RemusSirion reaches the ideal balance between these two elements.
It has metal plates and bolts covering more than a fourth of the face, and there are seams all over the place.
Having said that, it is also offered in a version that is seamless.
10. Android and Cyber Eyes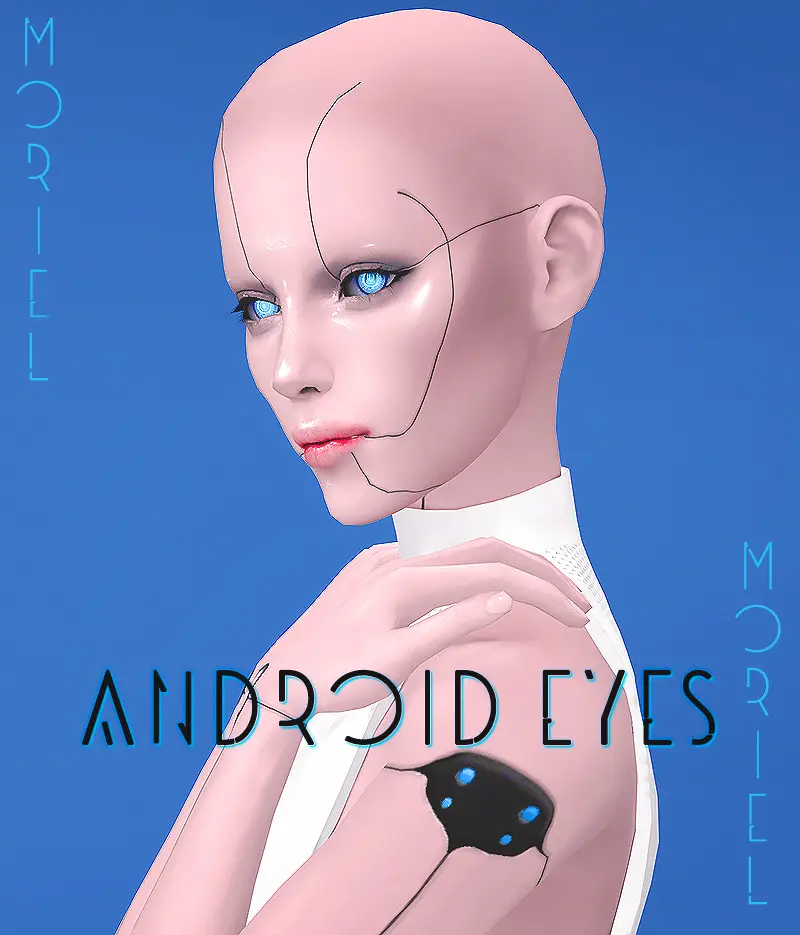 The eyes are where it's at when it comes to Androids.
It is the most efficient approach to convey to people exactly what species they are looking at in the shortest amount of time.
The android and cyber eyes that Moriel sells come in two distinct variations: one has shiny, glossy eyes while the other has glowing eyes that are ideal for androids and even some cyborgs.
The first modifies the eye as a whole, but the second, which focuses solely on the iris, might be thought of as having a little more natural effect.
It is available in blue and red, and you have the option to download either version separately or a combined package containing both.
9. Glowing Android LEDs for Children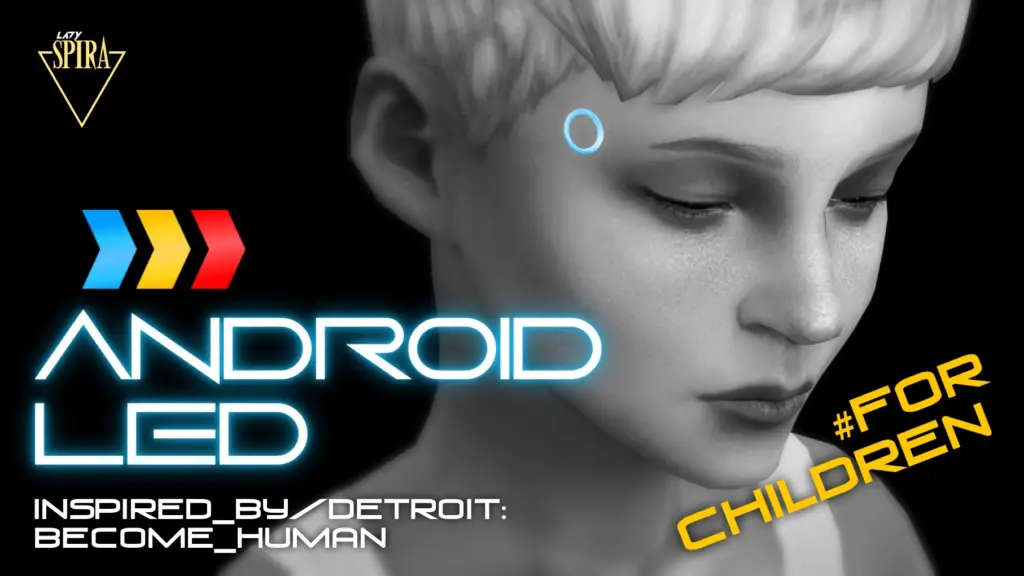 In recent years, there has been a meteoric rise in the popularity of concepts associated with the future, such as androids, robots, and cyborgs, as well as futuristic aesthetics.
We believe it's reasonable to conclude that the critically acclaimed video game Detroit: Become Human is a significant contributor to this phenomenon.
As a result, we are ecstatic to present a number of goods that have been either derived from the game itself or faithfully replicated from it.
First up, we have LadySpira's colorful android LED lights designed specifically for children.
In the video game Detroit: Become Human, every single android possessed a set of LED lights affixed to their foreheads.
This light practically functions like a mood ring, as it changes colors depending on how the android is feeling at any given moment.
In light of this, it is available in the following hues: blue, yellow, and red.
This is appropriate for both men and women, and it may be found in the section labeled "earrings."
Oh, and here is where you really must remember to include the LED android light for adult Sims.
8. Android Costume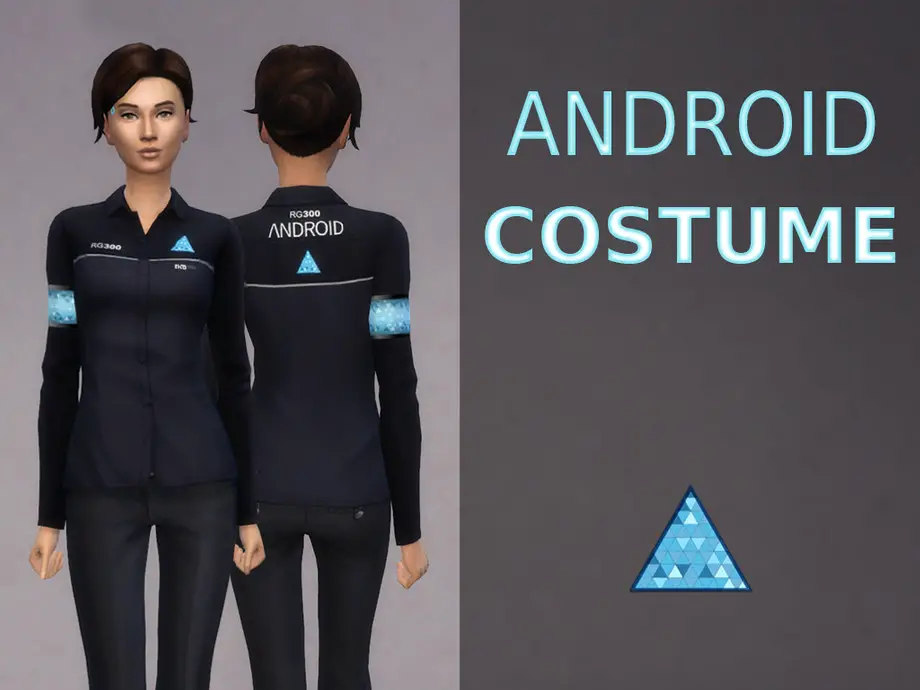 Next up is Leda's Android outfit, which is a nearly exact reproduction of the Cyber Life androids seen in Detroit: Become Human but tailored specifically for female androids.
The buttoned-up collared shirt and creaseless formal pants in a dark blue hue are included in this combination.
The CyberLife logo and the android model number are emblazoned on both the front and rear of the device.
We believe that this is a really important issue for CC because it does not require any packs or other items to be purchased.
7. Female Android Crop Top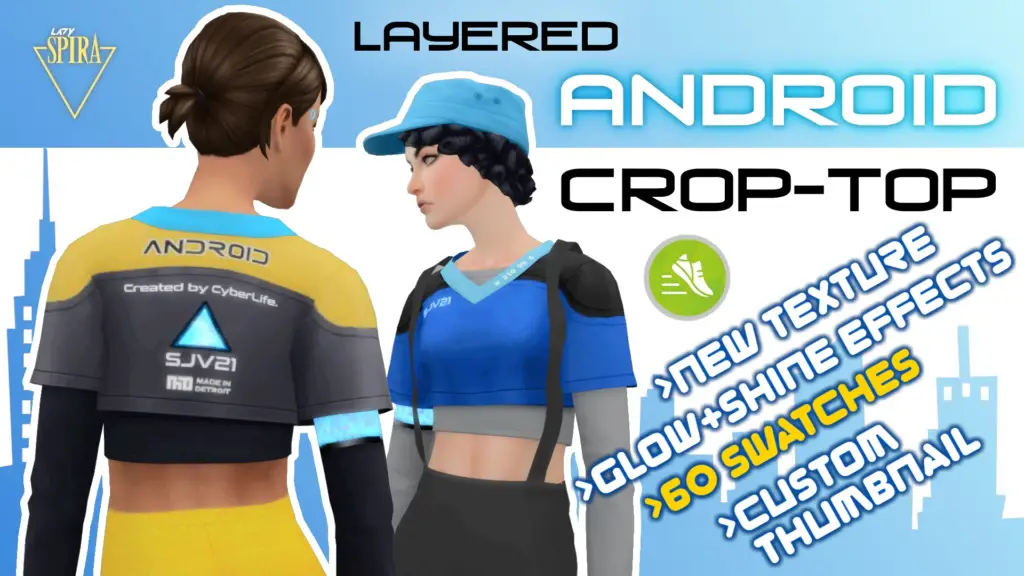 Another one of LadySpira's creations for D:BH, the female android crop top, may be found here.
It is a piece of clothing that is worn by members of a specialized athletic brand of androids that was designed to be a workout buddy for their human owners.
We are aware that androids do not have to be concerned with issues like overheating or becoming too cold, but we admire the top's realistic appearance of being light and airy despite this fact.
Additionally, the CyberLife brand, as well as the model number, may be found on either side of the device.
Because the top is a recolor of a shirt that comes in the Fitness Stuff pack, you should make sure that you already own the pack before downloading it.
6. Detroit Become Human Kara's Dress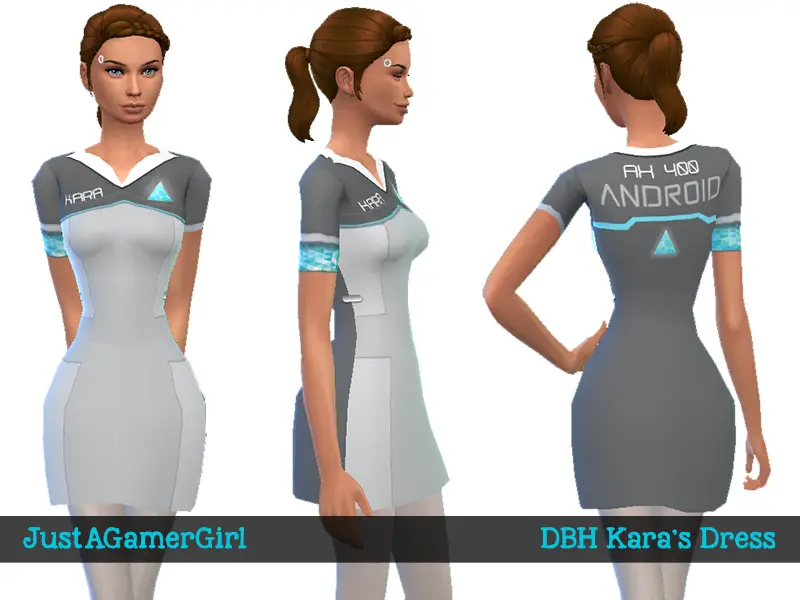 Oh, Kara, you are so adorable and lovable.
The iconic outfit worn by what is perhaps the cutest android in D:BH is now downloadable for use in The Sims 4.
For optimum functionality, the Kara AX400 model comes complete with an elegant dress that has short sleeves.
And everyone will be able to tell she is an android due to all the brands and labeling on her.
Unless, of course, she decides to depart from her programming…
But regardless of whether or not that occurs, she will look great in her getup in the meanwhile.
In addition, the only thing required to use it is the main game.
5. Plumbot Clothes Project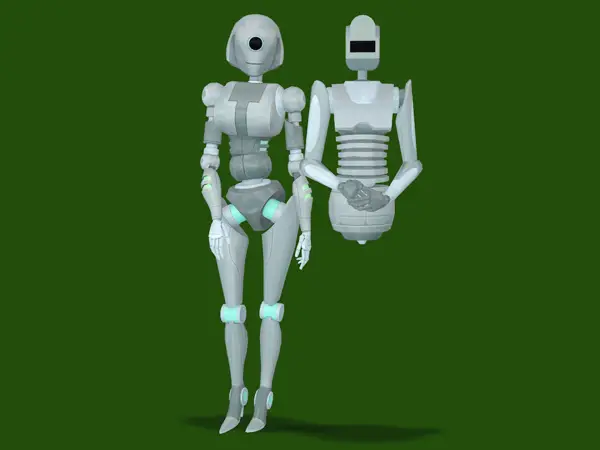 You have two options when it comes to how you put this robot clothing set from DeeDeeSims to use:
Offers a wide variety of one-of-a-kind outfits for your robot, perfect for any Sims player that enjoys Spooky Day.
Or you may use it as a means to personalize your Servo bots in-game, although doing so needs a little higher level of technical ability.
In either case, it provides you with a complete one-of-a-kind head, torso, and leg robot CC for your game.
And a lot of it: there are a total of 55 different swatches available for selection.
4. Female Robot Arm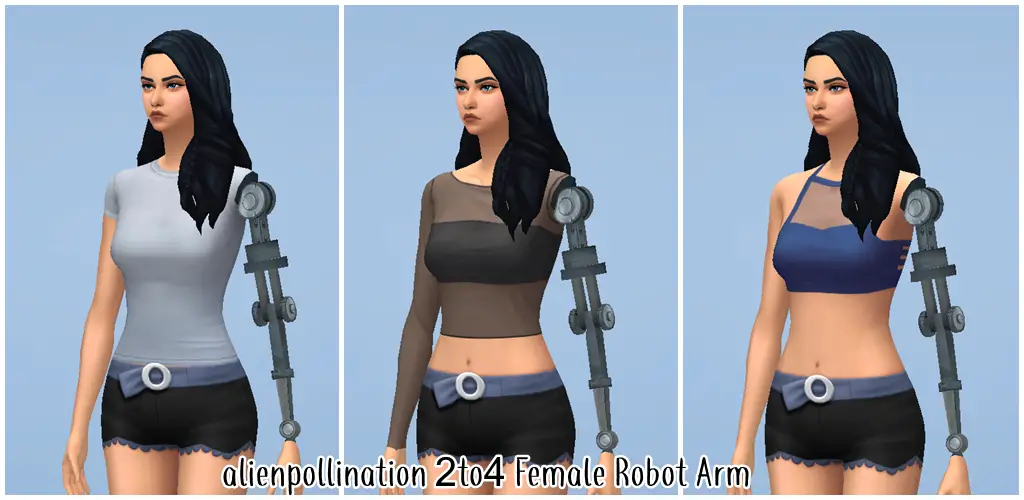 What does the character Jax from Mortal Kombat have in common with Johnny Silverhand from Cyberpunk 2077?
Nothing can be seen on paper.
Until you recall how amazing those mechanical arms were.
The AlienPollination robot arm for ladies will make your Sims look awesome, whether you're playing a cyborg Sim or just one whose life has been turned upside down by a sad event.
This content was converted from The Sims 2 by CC fan Losts4CC and made available for download.
It only appears to be available in one color, silver.
3. Cyborg Skinton and Mask Set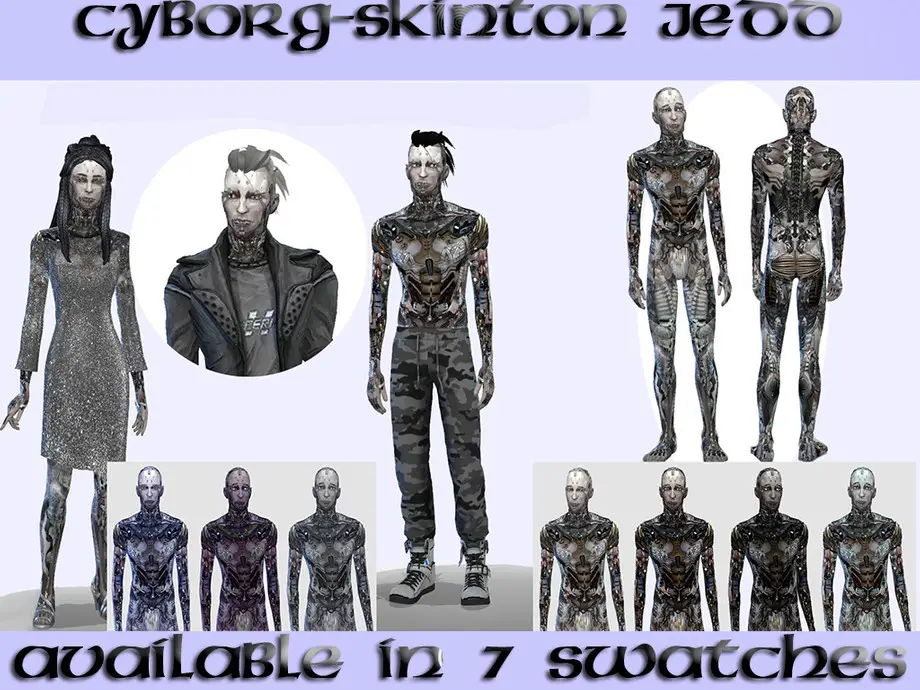 We have discovered the grail of Sims 4 Cyborg CC content creation.
The cyborg set that Yugoza is wearing is definitely a masterpiece from head to toe — and we mean that quite literally.
The two-item set includes a skin that covers the body of your Sim from the neck down and transforms them into a metallic work of art.
Add a mask to your ensemble to finish off the appearance.
For your convenience, there are seven different skin swatches and ten different mask swatches.
It is appropriate for people of all genders and ages YA and up.
2. Cyborg Visor TS4 Version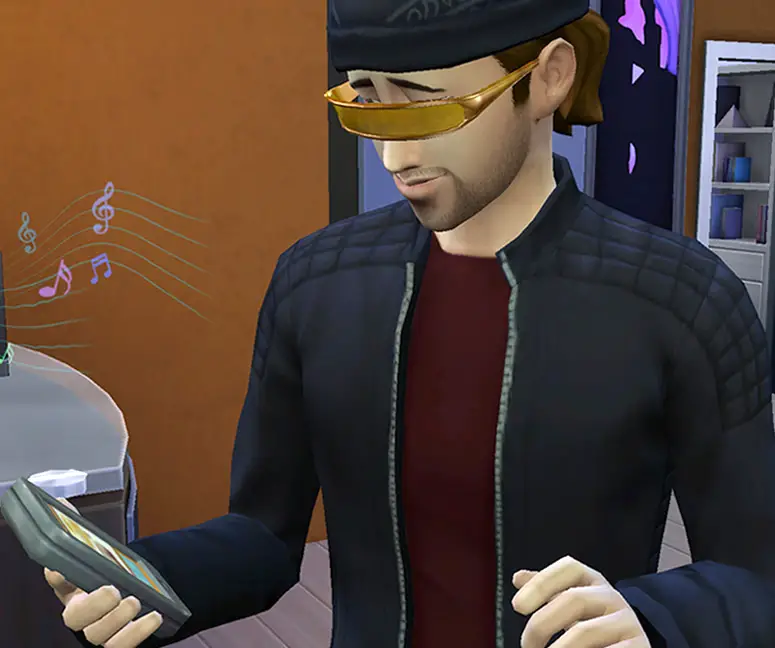 Cyborg or Star Trek?
When experienced Simmers take a glimpse at Esmerelda's cyborg visor, there is only one thing that will come to their minds:
Geordi La Forge is a character from Star Trek: The Next Generation television show.
They're nothing more than an extremely cool pair of glasses for the younger Simmers, though.
We strongly recommend that you get them if you are willing to use CC content but do not require anything particularly sophisticated for your storyline.
1. Sci-Fi Bedroom Set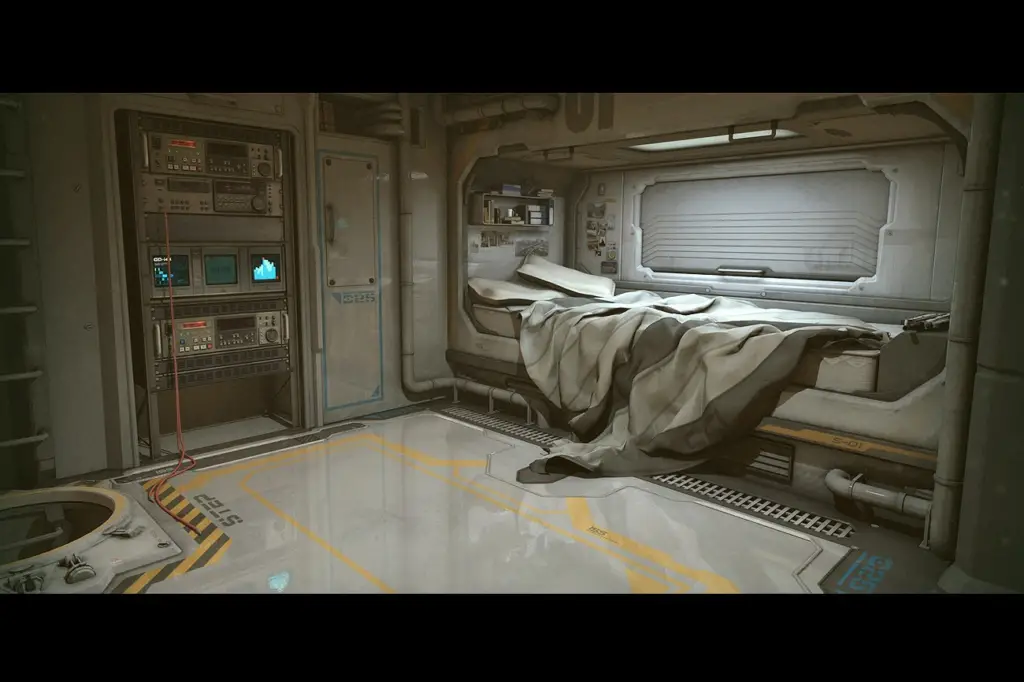 If you're going to incorporate science fiction aspects into your game, you might as well do it right.
The Sci-fi bedroom set by Mimoto is a wacky HQ bedroom set that will nearly make you forget you're playing The Sims when you put it in your house.
This 10-piece collection seems more like something you'd find in Fallout or Mass Effect, and that goes for every single item.
Because there are so many different ways to create a tale here, our imaginations are going into overdrive.
In the event that you are interested, there is also a companion corridor CC set!