Pride is unique because it not only highlights our collective progress but also brings attention to under-recognized communities.
It unites us and keeps on spreading the word that we won't give up!
Pride events bring people of all backgrounds together so that they can celebrate their differences and realize they are not alone. In all likelihood, this is one of the most crucial messages ever.
Although June has come to an end, many of us continue to wear our commemorative t-shirts and lapel pins.
And we hope to incorporate this adoration into future iterations of The Sims.
There are a plethora of options for displaying one's patriotism, including shirts, socks, flags, and more.
Let's take a look at some quality CC that's worth the download!
18. Pride Month Hoodie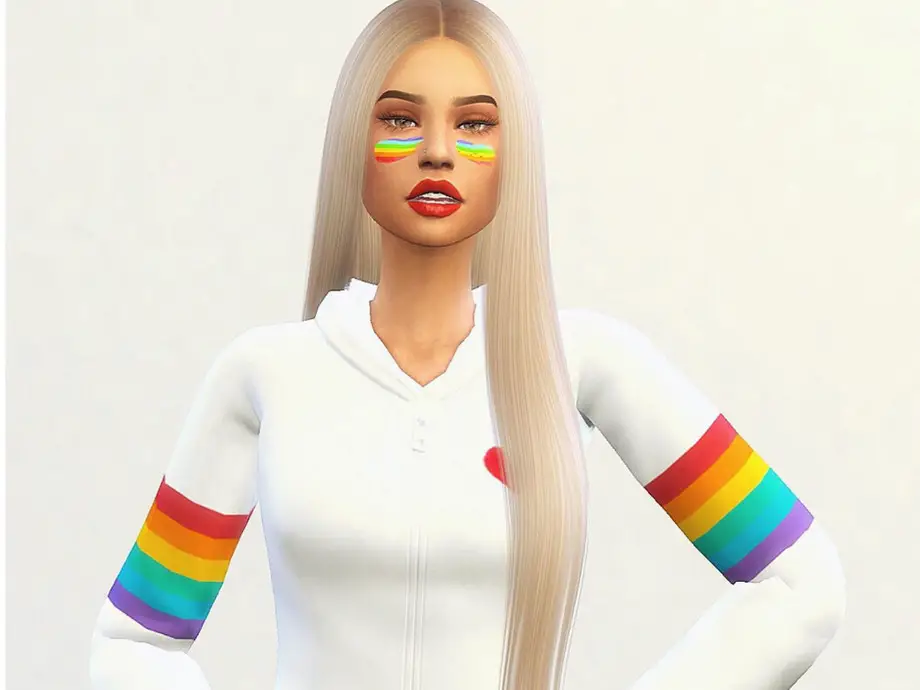 Ciarella has also presented us with a sweatshirt that has sentimental value.
The cut is modern, and the Pride symbol appears prominently on the sleeve.
Additionally, its sentimental undertones will endear you to others.
17. Pride Collection-Stripped Tank Top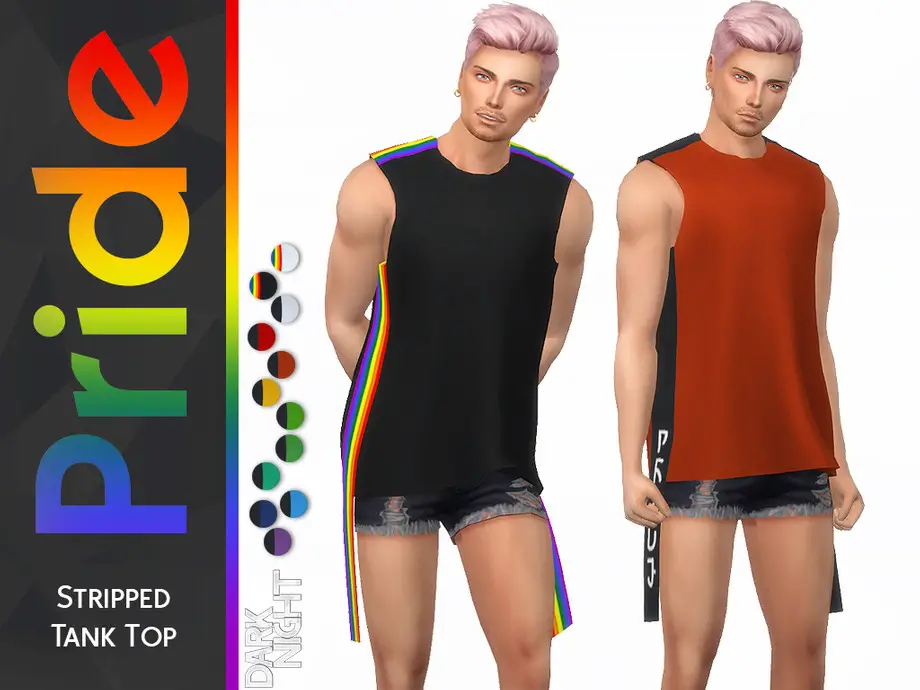 One of the most original male tops in The Sims 4 was made by Darknightt.
This shirt comes in 12 different colorways, the most common of which is black with rainbow stripes.
16. Pride Collection-Loose Cut Satin Shorts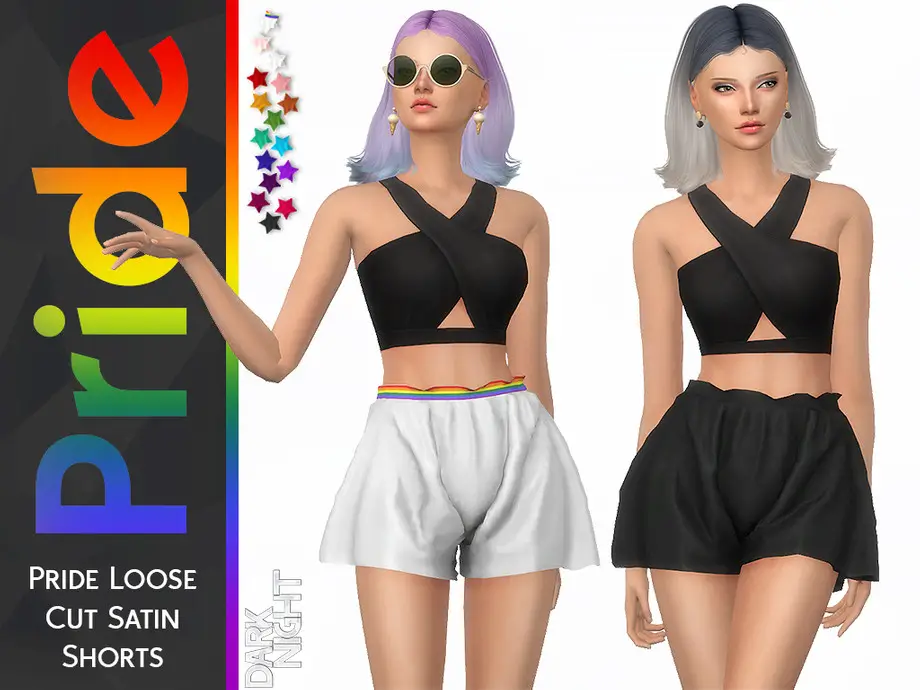 Shorts, ideally, would be the perfect trifecta of modern, loose, and laid-back.
The amazing Darknightt created the texture, and it comes in 16 different color variations.
What a fantastic bargain!
15. Pride Upper Arm Tattoo
Tatoos are a great form of individual self-expression.
Then have your Sim get a tattoo on their arm so they can truly wear their emotions on their sleeve.
These colorful rainbow tattoos are available in four unique styles for your upper arm.
And they speak volumes about the significance of LGBTQ+ inclusion for you (and your Sim!).
When the next Sims pride event rolls along, you may also use them as a temporary body paint item.
14. Pride Face Paint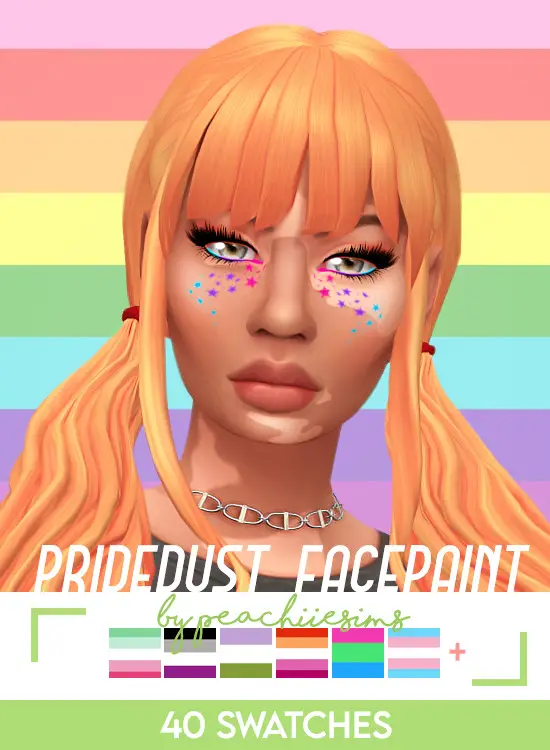 This Pride Face Paint CC is the best way to go if your Sim is attending a rally, a parade, or just wants a fun way to jazz up their cosmetics.
Use face paint to enhance your appearance in whatever way you see fit. As an added bonus for going against the grain, the way it is positioned on the face gives it a freckled appearance.
You may have hours of fun trying on different combinations of the 40+ swatches included in this collection of facepaint, allowing your Sim to show their unique personality in a variety of ways.
13. Pride Glasses

Sunglasses are never a bad idea.
They serve a practical purpose and have done so for years, and they can be found in a wide range of colors and designs.
There is a tonne to choose from, so finding the right pair of sunglasses should be easy.
These Pride Glasses, with their round lenses and vibrant graphics in every imaginable combination of flag colors, are a great illustration of how far a little bit of pride can go.
There are three options for how your Sim can sport this eyewear when out and about.
If you want them to look like traditional glasses, try resting the bridge of your nose on them. Or, for a more relaxed look, prop them up on the bridge of your nose.
Or even over their head where you won't be in the way!
12. Pride Flag Accessory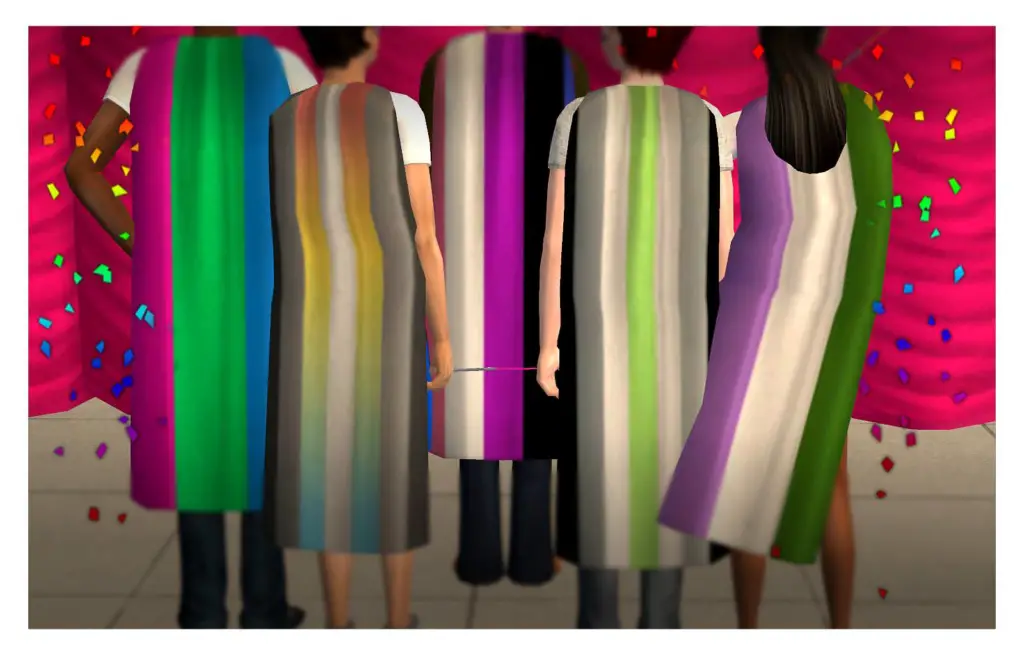 Displaying your country's flag in your Sim's house is certainly an option.
Well, what if they put it on their clothes?
This piece of custom content allows your Sim to drape the Pride flag across their shoulders like a cape. A great addition to any outfit when they want to express their individuality.
There are forty different colors available so no nobody is left out. And no superhero cape can compare to the coolness of a pride flag worn as one.
11. DIY Pride Jeans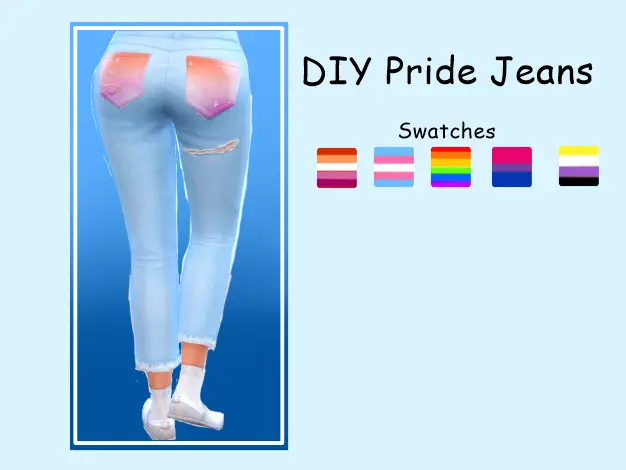 Do you enjoy the concept of wearing your patriotism as a fashion statement… Perhaps, though, you're on the lookout for a more understated option.
Perhaps you want to stand out from the crowd by wearing something different from the typical pride clothing.
Don't worry if that's the case. For the reason that the Do It Yourself Pride Jeans CC has arrived!
If you want to breathe fresh life into a pair of old jeans, try painting the back pockets. They are a stunning pair of jeans in and of themselves, what with the baggy cut and the tear right below the butt, plus the special paint job on the back.
The pressure to dress consistently with a theme might be overwhelming.
Wearing them with a simple blouse and shoes will give you a casual look that gets the job done without sacrificing comfort.
10. Harmony Eye Liner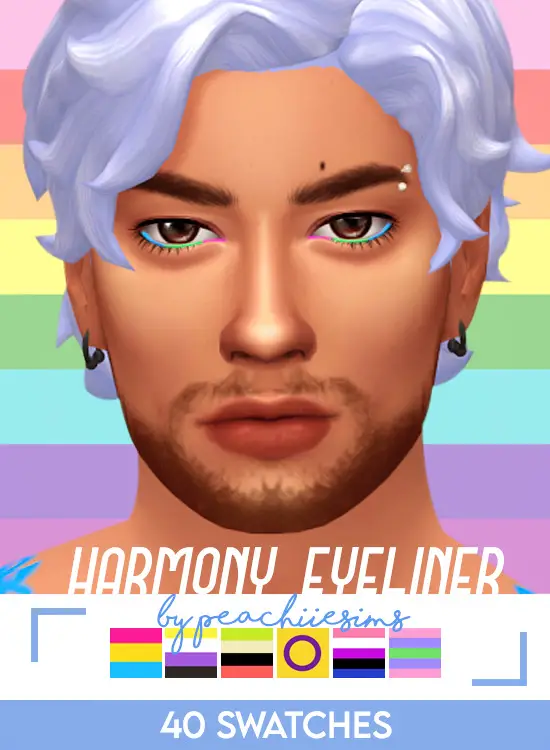 The art of applying cosmetics continues to evolve and become more sophisticated.
It never fails to surprise me how creative and skilled people can be when applying art to their faces.
Even while this style isn't as flashy as others, it's nonetheless stunning in its own way.
Also, its significance is not to be underestimated.
This game-friendly eyeliner, available in 40 different shades, works equally well on male and female characters. It goes well with the face paint CC that was included earlier in this list and was also made by the same artist.
9. Pride Undies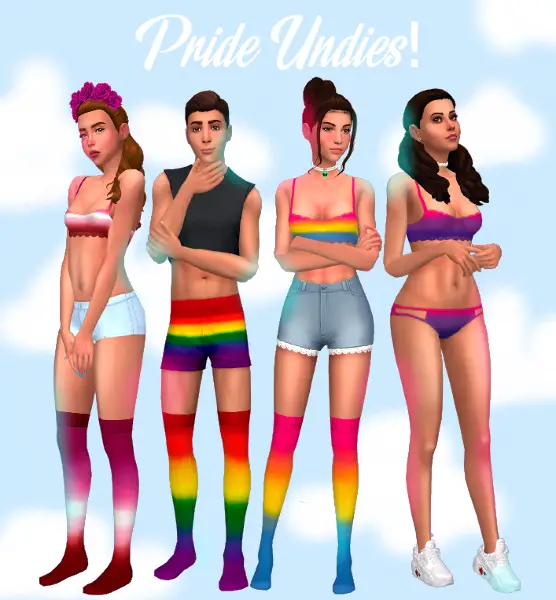 This set is ideal whether your Sim plans on keeping them for themself or has a specific someone in mind to dress up for.
Complete with the essentials for lounging about the house, including underwear (pants and boxers), a bra, and knee-high socks in the latest styles.
These Pride Undies are all you need to make your Sims' world a rainbow of color and love. Also, stuff that most Sims won't ever see.
8. LGBTQ+ 2019 Pride Shirts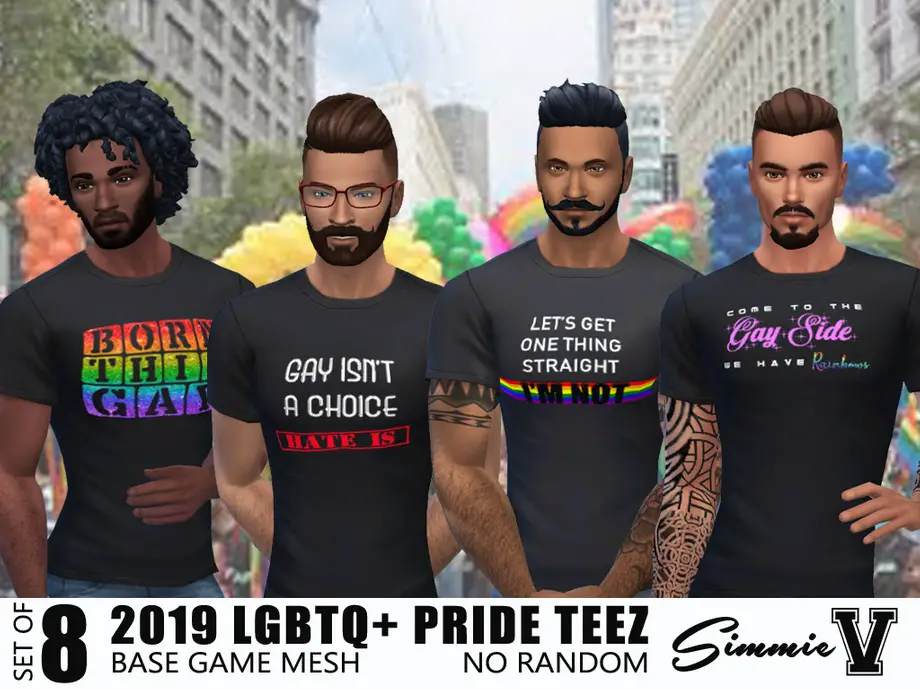 Personally, I've always liked black graphic shirts.
They are not sloppy and may be worn with many different styles of clothing.
And they go with everything from jeans to a flowy skirt. And you may still use words, symbols, and any combination thereof to convey your thoughts and feelings.
Furthermore, black pride t-shirts have the same advantages as plain black graphic tees. However, now that they bear the phrases most dear to your heart, they take on new significance.
These Sim shirts are the perfect vehicle for spreading your message to the globe.
T-shirts with slogans like "Gay isn't a choice, hatred is" and "Let's get one thing straight, I'm not" show that this place has something for everyone.
And I am confident that you will discover one that works perfectly with your Sim.
7. Pride Toddler Tee
It's never too early to get them started!
Having your younger Sims sit out on the pride festivities is unnecessary.
This toddler shirt CC is a cute way to demonstrate how accepting your Sim kids are, whether you want them to learn acceptance and love or they just happen to have two parents or two fathers.
This shirt is offered in a total of 19 colorways with slogans like "Adore wins" and "I love my mums" printed on the front and back, respectively. They always seem to pull through in a pinch.
6. Pride Bracelets

Some jewelry isn't the type you should take off before bed every night.
Indeed, this serves as an excellent illustration of the concept.
With this bracelet on their wrist, your Sim may always be an advocate for their cause.
This beaded bracelet with a pride motif is too adorable to pass up.
5. Proud Pride Recolor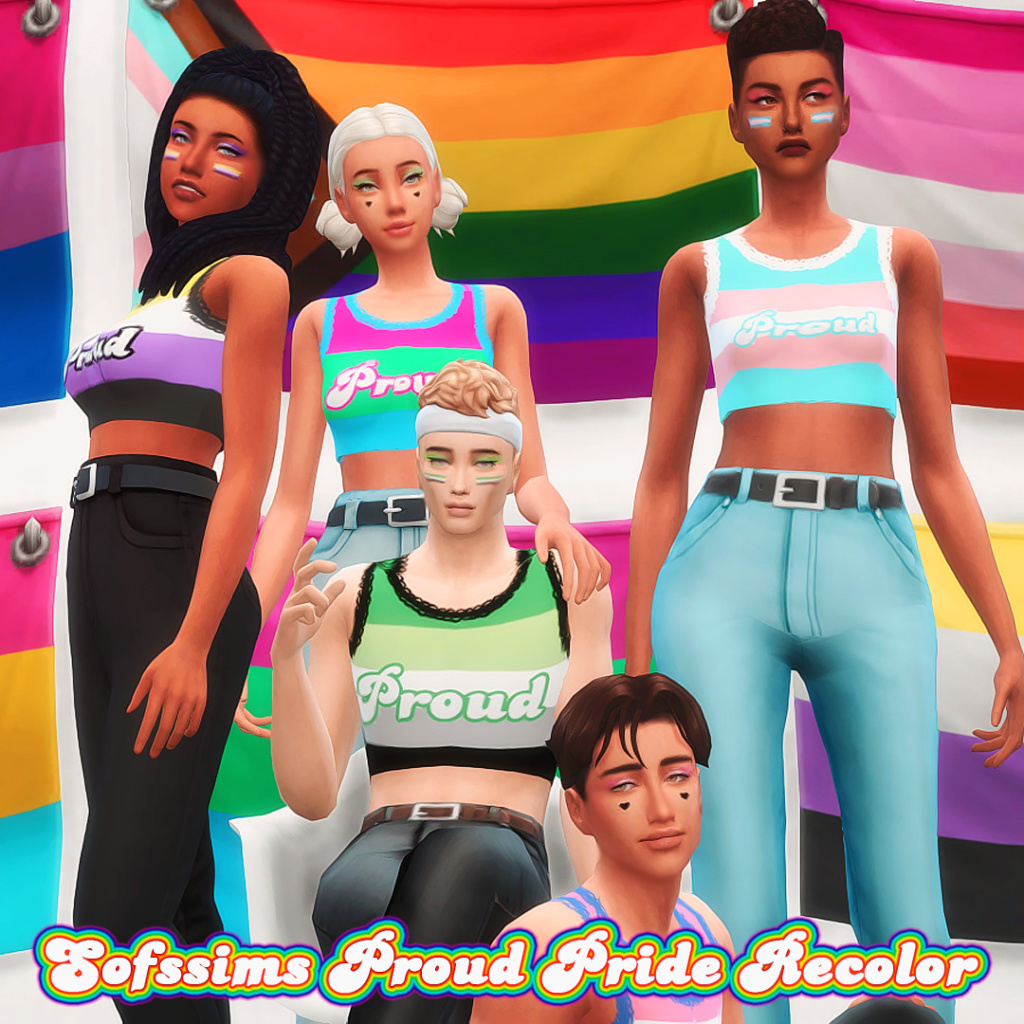 When the temperature outside rises, your Sim needs a place to cool down and relax.
And, of course, sporting a crop top that proclaims their national pride.
These flags offer a range of LGBTQ+ flags, including those for pansexuals and transgender Sims, and are the perfect accessory for the next parade.
4. Punk Pride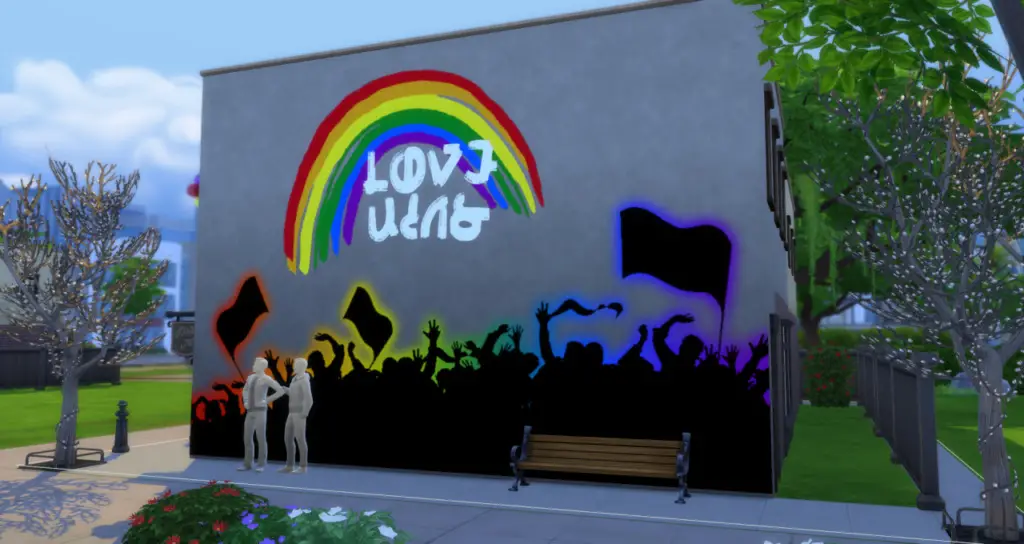 If you're playing The Sims 4 and want pride-themed items, this is the greatest bundle you can get.
It contains everything you might want, from beauty to accessories, and what's more, it's got a little of an edgy twist to it.
The rainbow-studded jacket included with the Punk Pride bundle alone is worth the price of admission. And it's the perfect opportunity to decorate your property in time for Pride Month!
3. Coming Out Mod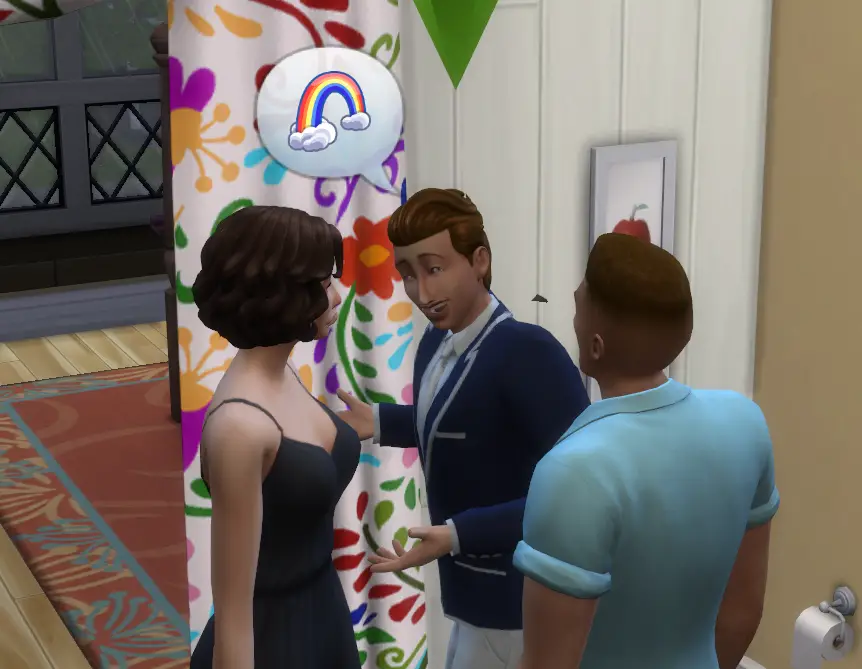 The LGBT lifestyle has always been available in The Sims. Do you ever wish you could provide the whole experience for your Sims?
What I mean by this is, you know how terrifying it is to have that talk with your parents when you decide the time is right and you reveal your true identity to them?
Then you should definitely look at the Coming Out Mod.
This option allows your Sim to explain their sexual orientation to other players.
Of course, your Sim can experience a wide range of feelings as a result. Because in the words of the mod's developer:
2. Pride Month Mod Pack
There is much anticipation for the arrival of June. This is the perfect hack for you if you miss Pride Month but don't have the patience to wait for it to come back around on its own.
The communities of Windenburg and Del Sol Valley, for example, feel its effects and become in a party mood.
Banners, flags, and more! Your community will look magnificent during Pride.
1. LGBT Mod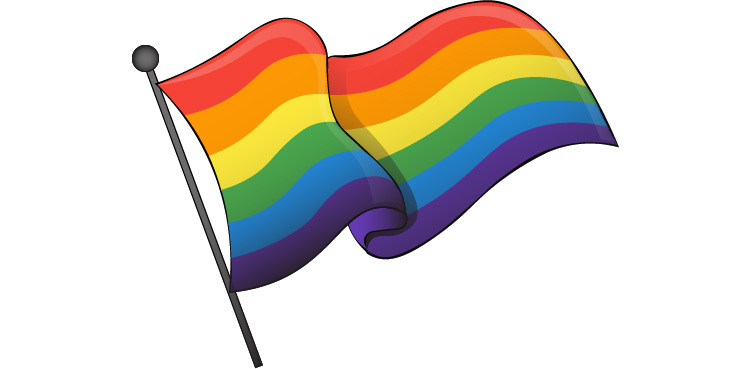 If your Sim is interested in exploring their sexuality, the LGBT mod provides the greatest environment to do so.
The mod is pre-loaded with features that will allow them to indulge in their every desire, host a drag show, and make new friends.
This is the perfect mod to introduce to your city so that everyone may share in the liberation and celebration of the LGBTQ+ community.
Some of this mod's best features, in my opinion, are the ability to host pride-themed charity galas, the ability to give your lot unique attributes like LGBT hotspots that generate like Sims, and the ability to celebrate pride as a holiday.
A homophobic aspect exists in this mod, which is unfortunate given the actual world analog. True, it makes things more realistic, but it also dampens the atmosphere a bit.
But there is a technique to get those Sims to broaden their horizons. Additionally, if the attempt is fruitful, the Sim in question will no longer exhibit that characteristic. In my opinion, a triumph!