The initial D is incredibly old-fashioned but, it's thought to be among the most thrilling racing series of the last decade.
It hasn't lost its luster despite the years since its release. The beginning of Initial D is good and is as good as you'd expect and is full of complex character development, all amidst hopeless races that are heart-pounding and adrenaline-pushing at once.
The most enjoyable aspect of Initial D is that the series is all focused on car racing and makes no apologies for this aspect to essentially establish the basis for an enjoyable classic. 
With its roller coaster of thrilling events, rousing music, and fluid scenes during races, Initial D is a classic that continues to be enjoyable in the present day.
In each episode, you'll be immersed more and more in the fascinating world of risky racing. If you're planning on watching Initial D, watch it in this sequence.
Initial D Watch Order
Easy Watch Order Guide for the Initial D Anime Series, including episodes, movies, and OVAs, as well as a timeline.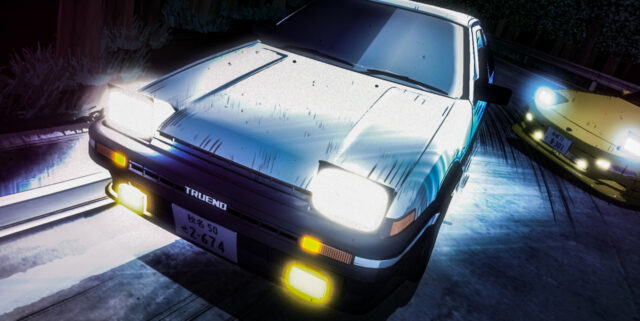 1. Release Order
I. TV Series
Initial D First Stage (1998)
Initial D Second Stage (2000)
Initial D Fourth Stage (2004)
Initial D Fifth Stage (2013)
Initial D Final Stage (2014)
II. Movies
Initial D Third Stage (2001)
New Initial D Movie: Legend 1 – Kakusei (2014)
New Initial D Movie: Legend 2 – Tousou (2015)
New Initial D Movie: Legend 3 – Mugen (2016)
III. OVAs
Initial D Extra Stage (2001)
Initial D Battle Stage (2002)
Initial D Extra Stage 2 (2008)
IV. Specials
Initial D: Project D to the Next Stage – Project D e Mukete (2003)
2. Chronological Order
Initial D First Stage (1988)
Initial D Second Stage (2000)
Initial D Third Stage
Initial D Fourth Stage (2004)
Initial D Fifth Stage (2013)
Initial D Final Stage
Quick Review
I. Story
Initial D has a simple yet compelling storyline. Takumi's path to becoming one of the best racers in Japan isn't a simple one.
Despite his talent, he is faced with many challenges that he can overcome with the assistance of his buddies. Racing is an integral aspect of the show, and the battles for victory are fierce, with every participant being more powerful than the previous one.
This storyline is entertaining and thrilling, with each episode filled with adrenaline-inducing racing.
II. Characters
From the innocent protagonist to his closest friend, who adores his character, Initial D has all kinds of characters.
The racers competing are pros with crazy personalities and a wealth of information about the technicalities of racing and cars.
Their reckless criminality, along with their high egos and sly machinations, makes them unforgettable and real.
III. Animation
The animation of Initial D is beyond its time. The race scenes are breathtaking to watch, and the action of the show!
IV. Sound
The soundtrack is fantastic. Its Eurobeat music adds an extra dimension to the show.
Conclusion
The most recommended order to watch Initial D is its chronological order.
These OVAs, as well as the extras, are stories that focus on certain characters from the show.
They don't have any connection to the main storyline, so you can leave them out.
The brand new Initial D movies are essentially an update of the series and are available to skip also. 
But they are awe-inspiring in animation, so it is worth your time to take a look after you have completed all of the series.