Sometimes, The Sims 4's vanilla animations can seem repetitive and too subdued, and sometimes too exaggerated.
The limitations can be very frustrating for the story-based Simmer, who loves creating stories using TS4 graphics.
Sometimes, you just want to snap pictures of your Sims running on rooftops, in bathtubs, or playing with their friends in a midsummer dog pile. The Sims 4 vanilla doesn't offer that option.
But once again, the Sims CC creators deliver.
This time, we're going to be looking at the best custom poses. Grab a snack and settle in for a good night. 
To make it easier for you to understand, I have divided my choices into three categories: solo shots, group poses, and shots that need accessories.
It's pretty obvious, so let's get started.
Group Poses
If only one Sim is doing the custom poses, they can look a little odd and out of context. For a fun photoshoot, grab two or more Sims.
You will need Andrew's Pose Player to use these poses. Scumbabo's Teleport Any Sim mod requires you to position your Sims correctly according to the intended poses.
1. Sibling Poses by Ratboysims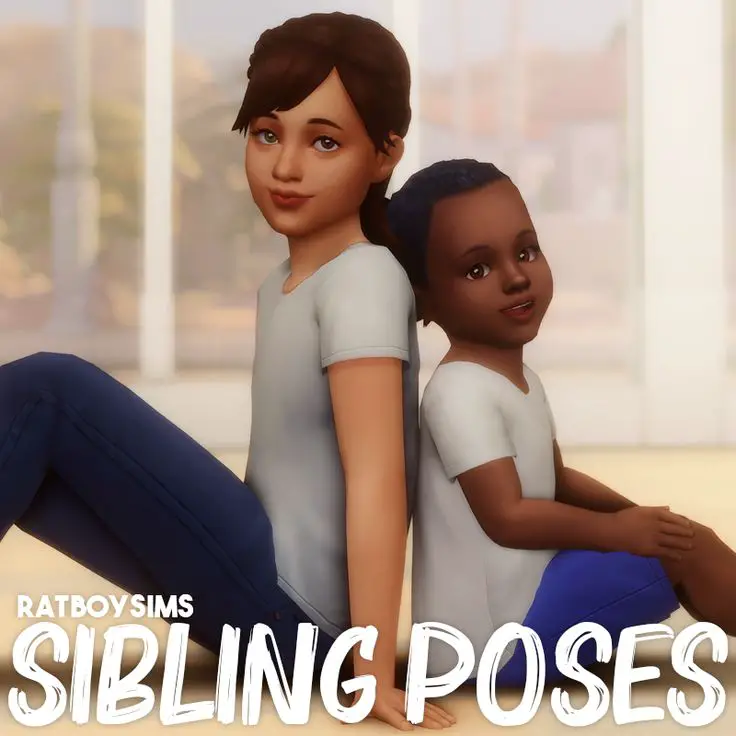 You can still get a heartwarming picture of your Sim's children regardless of whether they love or hate each other.
You will need a Sim teleporter, a Pose player, and a completely sunny background.
The beaches of Sultani are my favorite at any time of the year.
This pack contains four poses, but they are only for Toddlers or Kids.
Two toddlers or one kid can be allowed, but Sim A must carry Sim B to do certain poses.
2. Sitting and Talking Pose Collection from ratboysims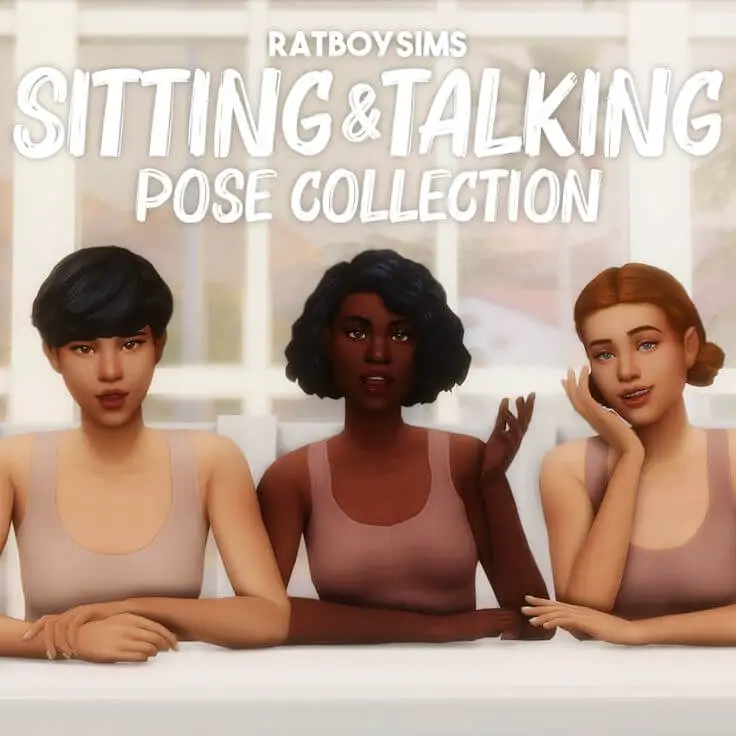 This set of 40 (!!) is for you. 
This pack of 40 (!!) poses can be used to create "stolen shots" and story-building scenes. 
It is amazing how simple actions, such as having a conversation, can turn out to be so complex.
It's not a secret that I love the Sims 4 animated talking. (Shout out for the TS3 Sims' animated talking style; those animations are famous.
Sometimes you just want something more real and less cartoony. Realistic.
These poses are the best.
These poses capture the body's idiosyncrasies and spontaneity of spontaneous conversations, from subtle eyebrow raisings to small finger gestures, to full-on leaning forward to anticipate slumped down in frustration.
3. Times of Friends by memoriesplasticine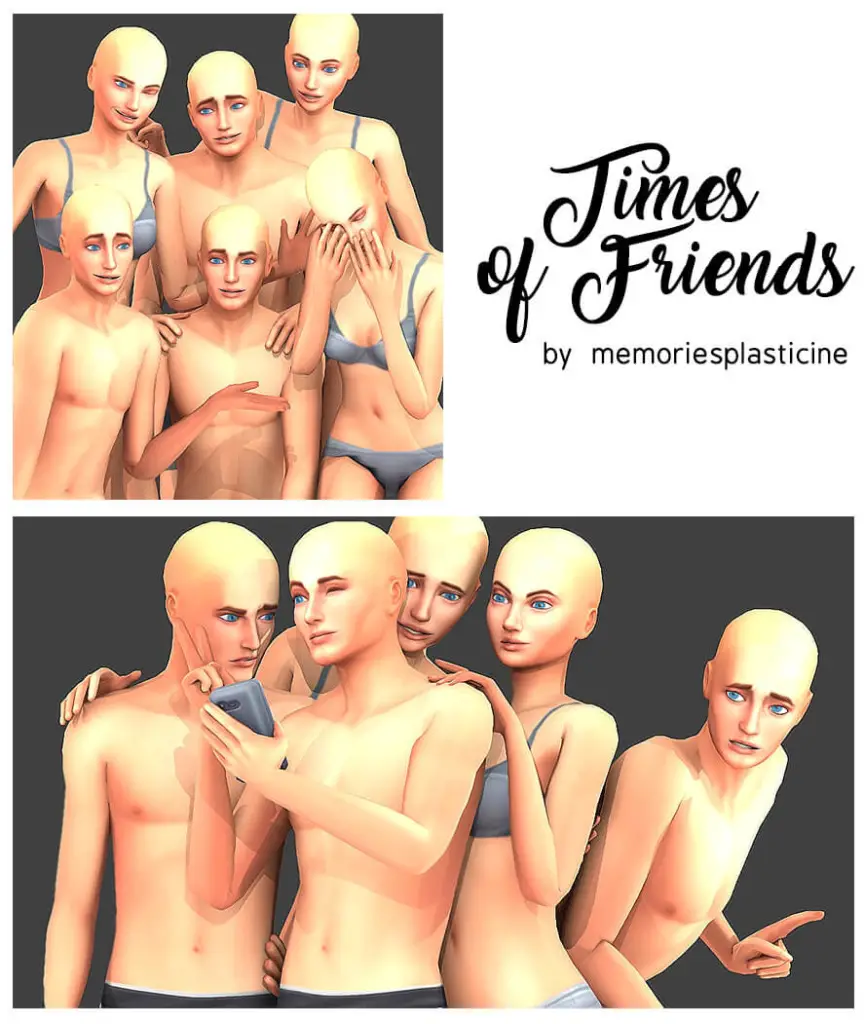 This cute Times of Friends pose by memories plasticine captures the camaraderie of Sims.
There are many group shot poses. Trust me, I'm sure.
But I love poses that don't make it seem like your Sims are intentionally posing. Studio setups are better than candids or stolen shots.
The latter is what I like, so this simple pack that holds two poses for five to six Sims appealed to me. They look very relaxed. 
They seem completely at ease. Another day was spent with their group of ride-together, get-together friends.
Who specifically is not looking into the camera?
For six Sims, the first pose works well. The second pose can only hold five Sims. It shouldn't cause any problems if there are missing one or two people.
There is nothing that the camera angle cannot conceal.
4. "Let's Walk Together" Pose Pack by clumsyalien
Another conversation pack?
They are standing, yes.
But it's true. It's amazing to see the little perplexities in our bodies when we converse with another person.
It's strangely charming how soft the models appear in this pose set. It seems like they are having an entertaining and/or stimulating conversation.
These poses, like the Times of Friends poses, are best for candid, unintentional scenes.
5. Solo Shots
Your Sims are ready to shine.
They are in the center of the shot, and they can do solo poses. These positions allow your Sim to take a wide variety of positions without needing any accessories or furniture (e.g., beds, chairs, etc.).
As always, you'll need Andrew Studio's Pose Player. These are standalone poses that can be used by themselves, so you don't need the Teleport Any Sim mod.
6. HelgaTisha Model Poses 19 Posepack & CAS
These custom poses are for the sim who is sexy and saucy and downright sassy.
Your Sim's body and face will do the talking. They certainly have much to say.
This pack contains 14 original poses and five default CAS poses. These are the poses that will be used to display the evil trait. 
All original poses have some degree of confidence and sex appeal. There may be a hint bit of smugness in the expressions.
This is a great option for Sims who know that they're hot.
These poses can be done without any additional equipment. All you need is a posing player and some spunky attitude.
Perhaps an appropriately fabled background.
7. Solo Pose 3
Although it may have been created by another creator, this poses back is the literal equivalent of the Model Poses 19 pose set.
The pack was ideal for independent, strong female Sims. This pose pack allows male Sims to show off their confidence and sultry gravitas.
The majority of the ten poses have an assured, absolute look to them: tall backs, casual-yet cool demeanor, slight peacocking. There are also two or three boy-next-door poses that are quite sexy.
8. Bad Bitch Redux from eslanes
This Bad Bitch Redux pose by eslanes may be the right choice for you if you are looking for sassier, grungier poses for women (again).
These poses are not meant to be teasingly playful. They warn viewers to stay away from the camera lest they get a trendy leather boot on their feet and some harsh words.
Although it is intimidating, it is also visually appealing. It is a simple representation of the power and unbounded femininity that we all love.
Have Sims who don't mind putting their foot in front of the man? Grab these poses and press "C."
9. Poses That Need Accessories
These are essentially single shots without props.
I decided to separate them from the group so it was clear that they needed something more – be it a bed, a table, or even a small pumpkin cupcake.
These are not to be downloaded and then wondering why your Sim is floating mid-air.
Andrew's pose player is essential. You'll need the Teleport Any Sim MOD by Scumbabo for poses that require furniture.
10. Halloween Gift 2020 Collab With BackTrack by Wasabi Sims
Halloween is for the seductive sirens and batty babes.
It is not a holiday, but a state of being.
These cute wasabi sims' spooky poses will make you shout it loud. They are all ten in total, and each one tells a story.
You will need the right accessories.
(Otherwise, you'd have a guy gesticulating in thin air and a woman cradling nothing.
These cute Halloween accessories from BackTrack are essential if you want to set the scene. The creator of the poses had a collaboration.
11. Thoughts!!! Pandorassims4cc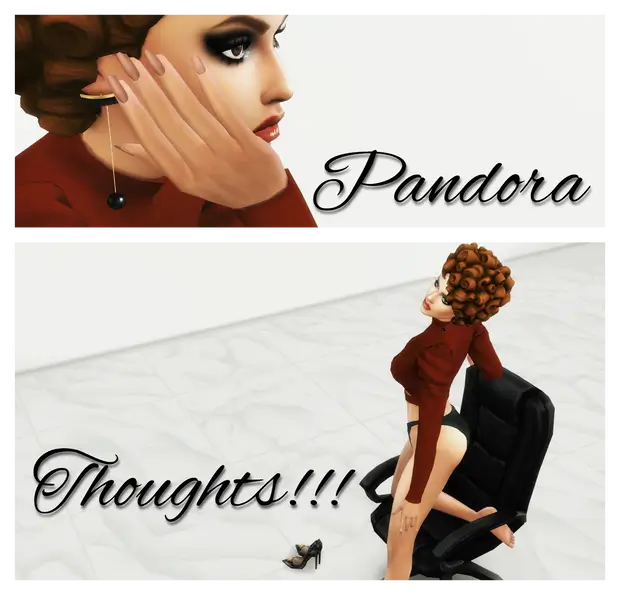 You can arrange for your Sims to be contemplative and broody in their own home, rather than wandering the streets and squatting on benches and curbs. 
These are some of the strange, but certainly artistic, quasi-contortionist poses.
I prefer to think things through on my bed, with pillows and blankets around me. 
If you prefer to think about your worries in an office chair with your legs crossed and your hand hovering tremulously above your heart, then you can do that.
There is no judgment.
It also makes for a very creative photoshoot.
These poses can be used with any chair, base, or otherwise, as long as the height isn't changed.
12. Telephone Call Poses by Ratboysims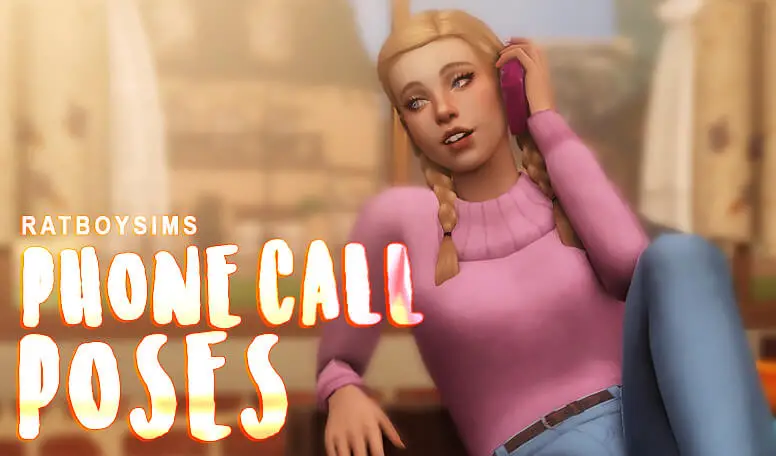 These are my favorite poses. Here's why.
The concept is not new, but I understand it. There are many phone calls for Sims 4.
The pack doesn't offer many choices. 
It offers six poses in total, making it a pack. However, this is a very low number compared to other pose packs which offer up to fifteen variations.
But, I was blown away by the expressions in this package.
I will be the first to admit that many custom poses make me irritable due to my facial expression. 
I mean, I get it. It's in the title: poses. It's all about what your body does.
The face looks pretty drab when all your attention is focused on how it looks. Meh, it is not something I like. 
My Sim will parkour over a bench, cannonball into the ocean, climb a cliff, or cannonball into a pool. I'd love to see their faces.
That's why I was so impressed by ratboy's Telephone Call Poses. You can feel the warmth and comfort in her expressions when she speaks to the person on the other end.
Don't forget to grab your phone accessory, courtesy of Sims CC creator Quiddity.
13. Rue's Bathtub Poses
As I mentioned earlier, there are many custom phone conversation poses.
This one is the same. But!
The concept is slightly more original, I'll argue. Many Sims might think of holding phone conversations on their couch or bed.
How many people go to the bath?
Bonus points for a unique twist on a very common idea. I'm open to trying out new resting spots, and it is something that I enjoy as much as anyone else. Your Sim may feel most at home in a tub.
But I will be truthful. I was there for the bath, but I was there for the expressions. In the previous entry, I gave my entire "I want emotions!" speech.
I won't repeat it. What I will do, is point out that the creator created four versions of each pose (five total), based on four emotions: happy, worried, angry, and angry.
This is the kind of attention to detail that I love.
You'll also need a smartphone. If you have Quiddity's accessory, you can either use this or R-Jayden's. This is the recommended method of using the pose creator.
14. Come to My Window and Open Window Poses by Hula Zombie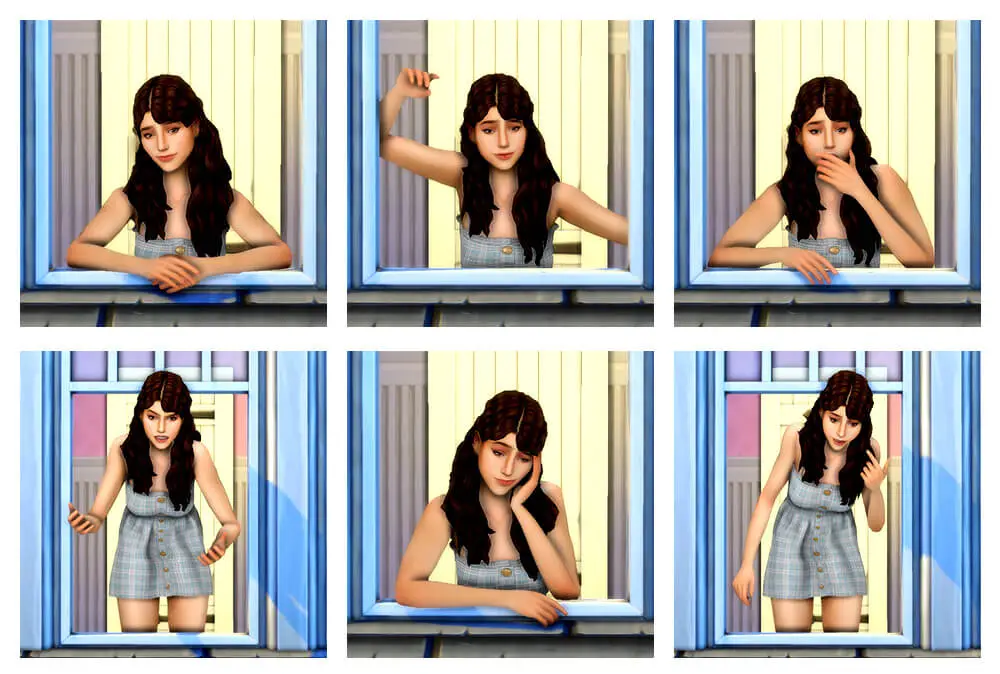 Because (1) they are by the same creator and (2) the Open Window Posespack needs the object.package file of the Come to My Window package.
So, I thought, why not?
These packs were truly enjoyable to me. These packs are unique. They tell a similar story and present two takes on the same concept. What if Sims were locked in and the window was their only contact with the outside?
You don't need to be dramatic.
I mean, sure, you can go the whole "abusive/overprotective authority figure keeps them locked in their bedroom" route. You do you. You can also put it in the context of getting out after all the craziness.
15. Bored in Bed Poses by Katverse
Do you ever feel like you are glued to your bed for hours?
There is no rhyme or reason. It's just boredom mixed with laziness and ennui. Netflix is not good for you. Your social media feed is a mess, you are unproductive and restless, and you don't know what to do.
You might try rolling onto your back to stare at the ceiling, as your right shoulder is starting to cramp.
This is the exact message this pose pack is trying to convey, and it does so beautifully.
There are five poses in total. All you need is a bed. Vanilla games or custom content will work fine.
16. No Mood Pose Pack from katverse
The Sims is a simulation game that is meant to be a recreation of real life. Holy hell. I've never felt so strongly about a computer-generated being.
The preview photos were like looking at snapshots from my Wednesday night.
This is what lockdown can do to you, I suppose.
These five poses, like the previous pack, capture perfectly what it is to be lonely, listless, and lazy. This posse pack captures the essence and failure of trying to be productive.
Every single time.
Sometimes, you just aren't in the mood to socialize. Or functioning like a normal adult. It happens.
These poses will allow Sims to relive our lives.
This pose pack is the TL; DR. Relatable. Get it now.
The creator also used this laptop from Simsational Designs and this beer container (as a CAS accessory) by Luumia.
17. Unique Sitting Poses By Isims1357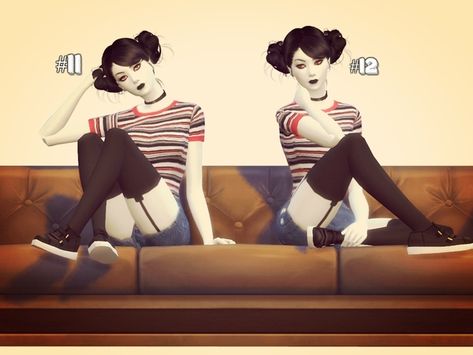 These sitting poses can be beneficial for both teens and adult Sims. 
These images make you think back to the fun times spent with your friends at high school bonfires or on the lawn enjoying a picnic. 
Get these sitting poses now!
18. Pregnancy Poses Mod Pack 2
Pregnancy photoshoots are becoming more popular than ever. 
Look at the Katversecc photos! 
In-game, her pregnancy poses are amazing. They are warm, sweet, and spiritual. 
They are ideal for Sims!
19. A Few Cozzy Moments Packs
Are you looking to spend the winter holidays with Sim's friends? 
This pose pack is perfect for this occasion. 
There are three different poses here, each with its magic. 
It's possible to make your Sims wish each other a happy new year or a Merry Christmas.
20. Couquett's Cute Me and Me Friends Poses Pack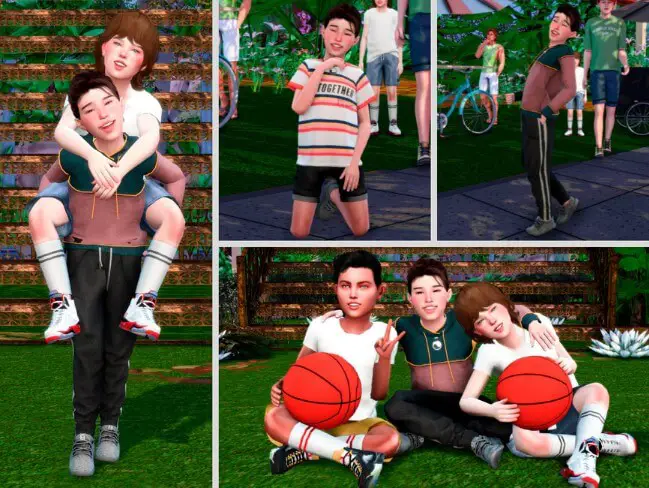 It's such a blessing to have children so young and without any care. 
This pose pack is my favorite because it shows the carefree lifestyle of the Sims 4. 
These playful poses are full of warm feelings.