Our Sims should look their best.
Townie makeovers have a reason to be so popular and there is a reason so many facial-modifying CCs exist.
I will admit that I am ruthlessly critical of Sims in a way that I would never wish to be to real people. 
Sims' flaws are often prominent and may be passed on to their children or grandchildren.
Simmers spend a lot of time in CAS analyzing every detail of their Sims' faces. Eyes and nose. The most important part of Simmers' face is the lips.
A strange set of lips can make your Sim look completely different. It's unfortunate that many of the presets aren't the best.
Well, fear not. There are two options: EA lips or hours of meticulously sculpting.
There are many CC lip enhancements, mods, and presets available that you can use, just waiting to be used.
Note: Before I get into the details, I want you to know that I don't like 'weird lips' on Sims. This applies only to presets and randomized ones that no real person has. 
Sims' features can be beautiful but not always.
Poor Nina Caliente, Malcolm Landgraab, and others will be able to attest to this.
20. Mouth Preset Five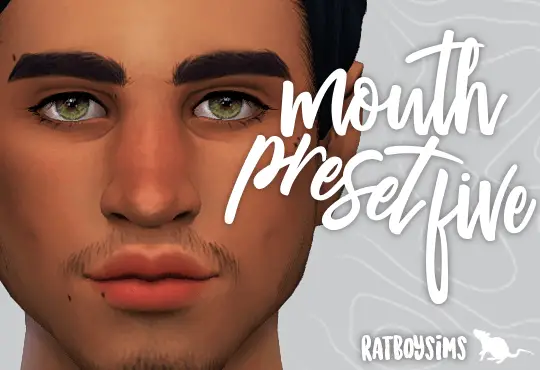 We can't forget the men, they deserve beautiful lips!
These preset by rat boy sims just can't be passed up
They are described as "kissable" by him. I have to admit, I agree with him.
You've probably had Sims you wanted to kiss, even though they are just pixels.
It's okay to be commonplace. Right?
Lips are more difficult for girls than they are for men, and that may be because of this. 
These are my current go-to tools, and I am so grateful for them.
19. Realistic Lips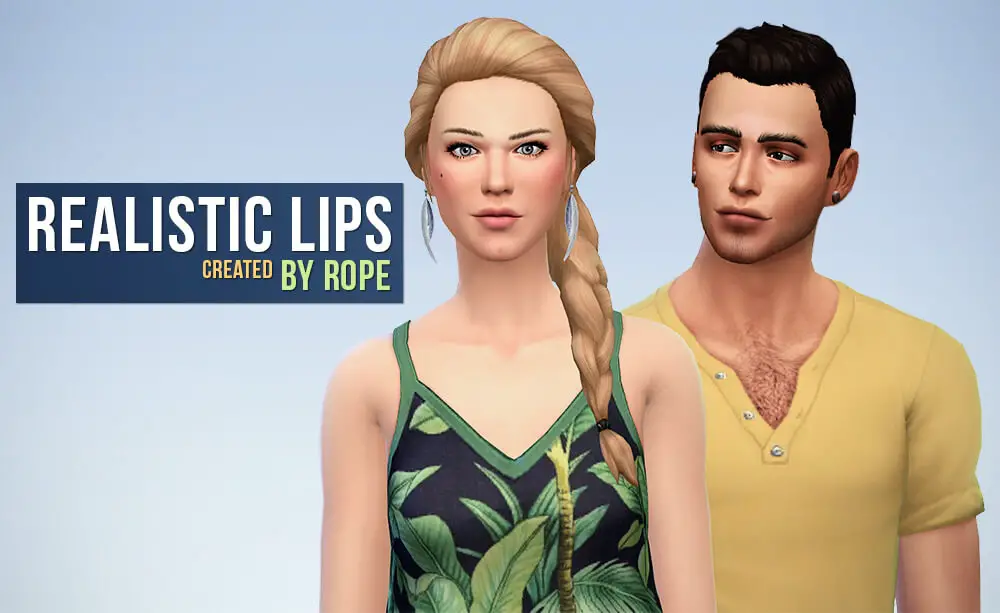 We have more colors for Sim's lips. It is a little odd that they have the exact same beige color.
These tones are natural and realistic, created by CC Creator Rope for Sims of all ages.
The variety is truly amazing. These shades are just like real life. They range from muted pinks to faint reds, to darker browns and mauves.
18. Bigger Mouth Preset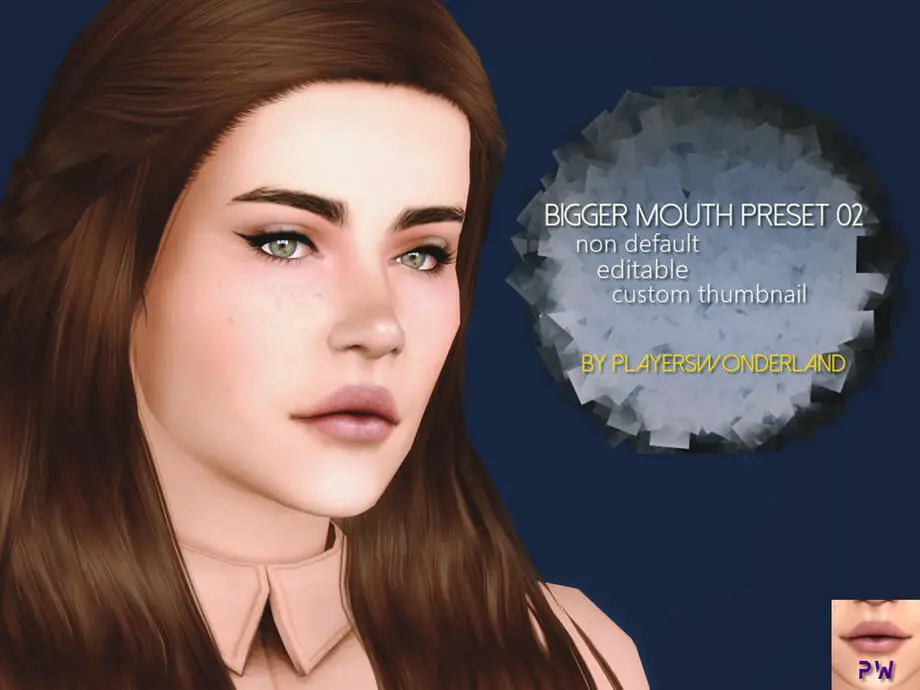 PlayersWonderland's Bigger Mouth Preset gives you the option to have your lips bigger than many of the base game presets.
These are stunning and look so good.
These might be the best ones.
These are the best of the lush, plump lips. There are others that are drier than the desert. Your Sim will be the most beautiful person in your neighborhood.
17. Dry lips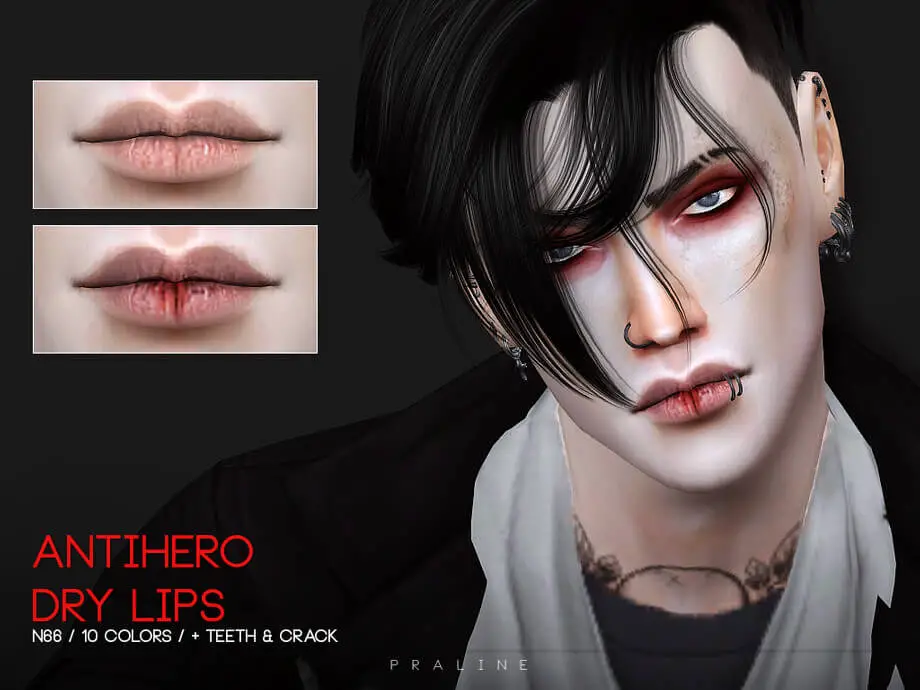 As jealous as I am about all the beautiful lips out there I decided to add some reality.
It is a sad fact that not all people have healthy, soft lips. Some people's lips are chapped and bloody for the majority of the year.
Although I don't mean to, let's just say that my lips don't show any scar tissue. Because I would look like the Joker if my lips showed scar tissue.
And I know that I am not the only one. It can be hard to keep your lips in tip-top shape.
These are normal struggles for Sims. They shouldn't have perfect lips!!
These Pralinesims lips will level the playing field in amazing quality. There are two options and ten color options for chapped, bleeding, or dry lips.
16. Asymmetrical lips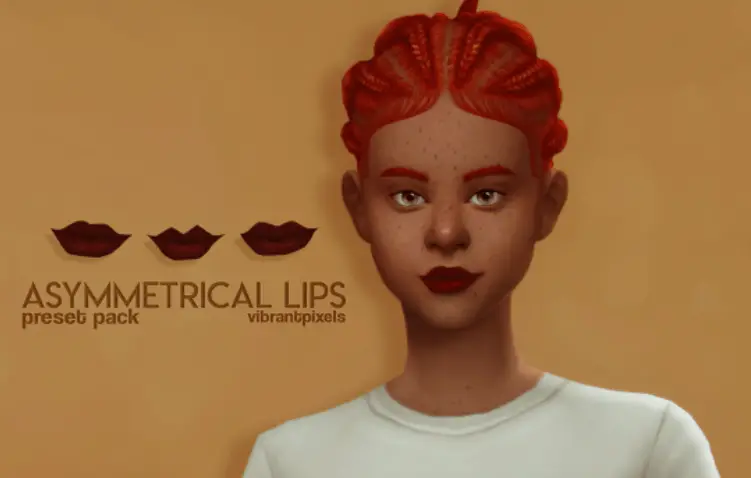 You can put a charming smile on Sim's face by using these three presets for crooked lips.
Creator vibrant pixels call these "quirky", and I tend to agree.
These buttons can be used in the same way as pressing an "instantly adorable" button on your Sim.
I find quirky to be a wonderful thing. This is especially true when it comes down to tiny facial features such as this.
It's hard to resist the temptation to customize each Sim in new ways.
As far as I know, asymmetrical shapes such as these are impossible without CC.
This is yet another example of content creators bringing new ideas to the game that neither we nor the developers thought possible.
15. Lip Preset 5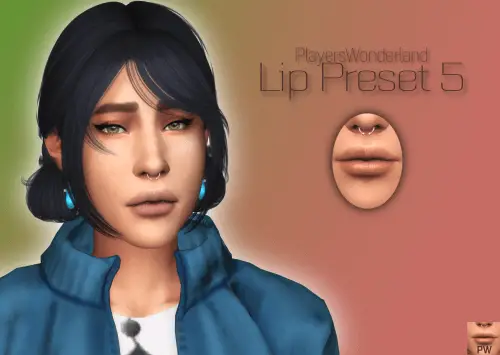 Big is beautiful, as they say. PlayersWonderland's preset is a perfect example of this maxim.
This gives your Sim a bold, distinctive look.
You can't go wrong whether you use every lipstick or keep your lips simple.
Although I believe all lips are beautiful, my lips are thin. I envy anyone who smiles without shrinking or disappearing.
14. 7 Lip Presets
These seven presets could be your go-to CAS for many years.
They will compliment any face shape. These lips can enhance any face shape, whether it's square or round.
Even if you don't have the time to edit every detail of your Sim's appearance, these lips will instantly elevate their look.
This is true for toddlers and children as well. These lips are also available for females of all ages.
13. Cleft Lip Pack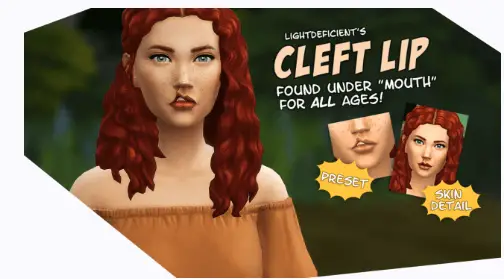 It's a great honor to be part of such a supportive community.
It is equally beautiful to be 'different' or 'rarely' than what we think of as the norm. These real-life diversities are what I appreciate most about the CC.
The cleft lip kit is available for all Sims as a preset and skin detail.
12. Lip Preset Pack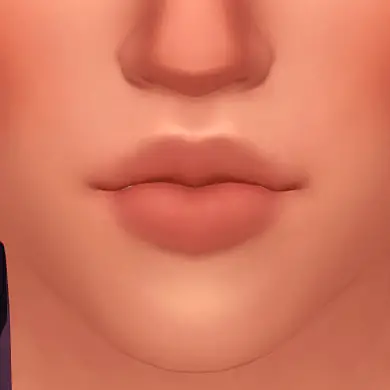 It seems that lips have become the focus of many beauty discussions lately.
There will always be someone complaining about a bad-shaped mouth or wanting to get lip injections.
These difficulties, thankfully, won't be something Sims will experience.
Squeamish sim's preset packs include all the perfect lips that everyone desires and those who have the means to purchase them.
11. Natural Kiss Lipstick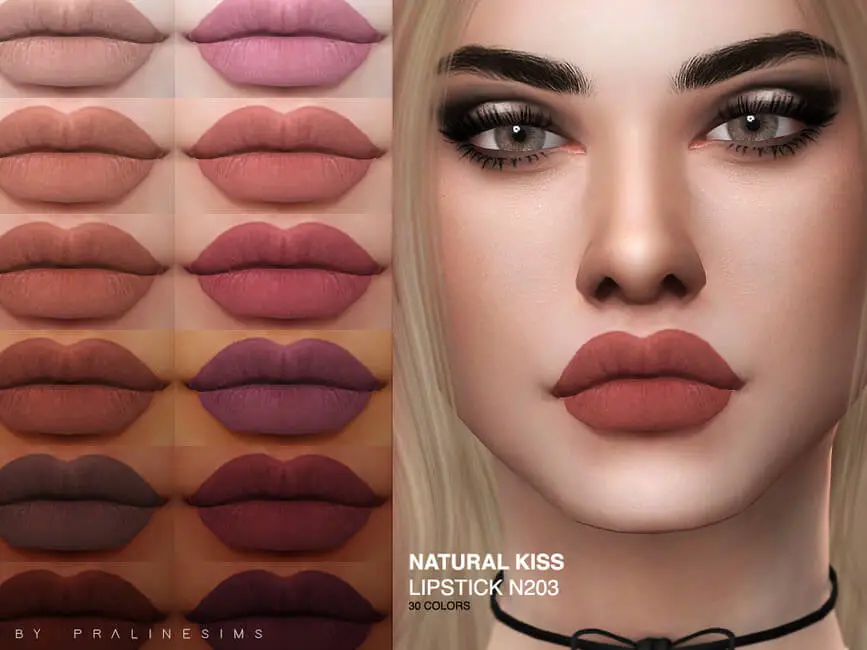 After you've discovered some amazing new presets thanks to this list, you'll want some lipsticks that you can use.
You can always stick with the familiar options in the game or choose to get new colors that match your Sim's new lips.
Get ready to scream! Pralinesims Natural Kiss Lipstick Swatches will make Sims look so gorgeous you'll need to whip their pursuers with a stick!
10. Lip-kit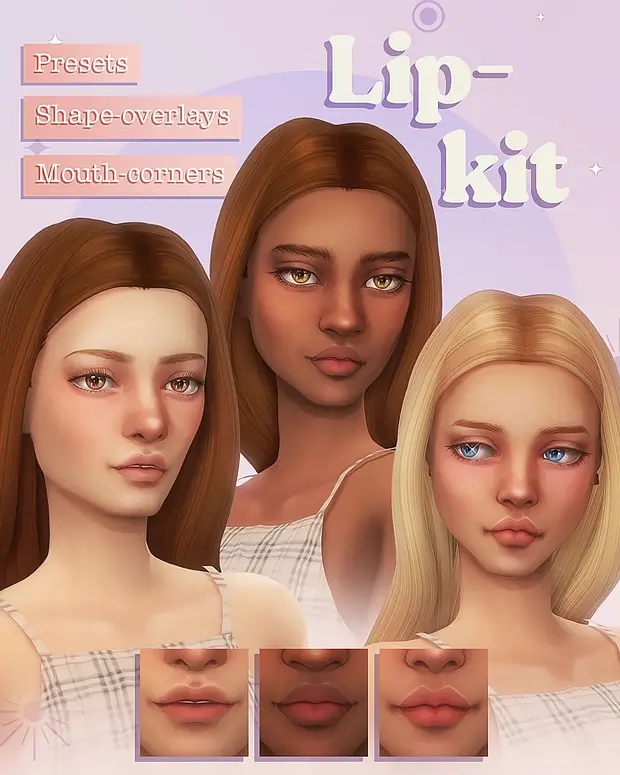 Miiko has designed a kit that includes everything you need to give your Sim flawless, custom-made lips.
There are presets, shape-overlays, and mouth corners.
There are three options and each one is different. While the bottom lip remains the same shape, the upper lip can vary in its roundness.
Did you know that Cupid's bow is the "pointy" part of the upper lips?
Yes, I did. But then I discovered it had a name, and Googled it. This moniker makes perfect sense, for some reason.
The overlays can be adjusted in opacity to change the Sim's tone. This will give your Sim a more defined mouth corner than any other gamer.
9. Mwah Lip Presets
Sammi's presets offer more options for creating unique, full-size shapes.
The upper lip is defined, while the bottom has a more round look. This makes them cute.
Each pair is unique, but they are all similar enough that you can see they came from the same maker.
All of them are great options to create well-constructed Sims. Although it may sound strange to say this, that is what Simmers set out to do when they start exploring CAS custom content.
We want every detail to be perfect. That's all we ask for at Sammi.
8. Mouth Scale Slider
Another thing that is worth considering is the size of Sim's mouth. There are endless options.
A slight change can make a big difference in the appearance of your Sim's face. This is where Teanmoon's slider will come in handy.
This will change the size of your Sim's lips. You can now make them as large or small as you like.
There's a bug in CAS that my mouth moves forward as far as the game will permit. 
It's not something I've seen mentioned by anyone else, so perhaps it's me who has no skills and keeps giving my Sims beaks.
I appreciate any way that players can have more control, regardless of game flaw or Simmer Flaw.
7. Redefined Nat Lips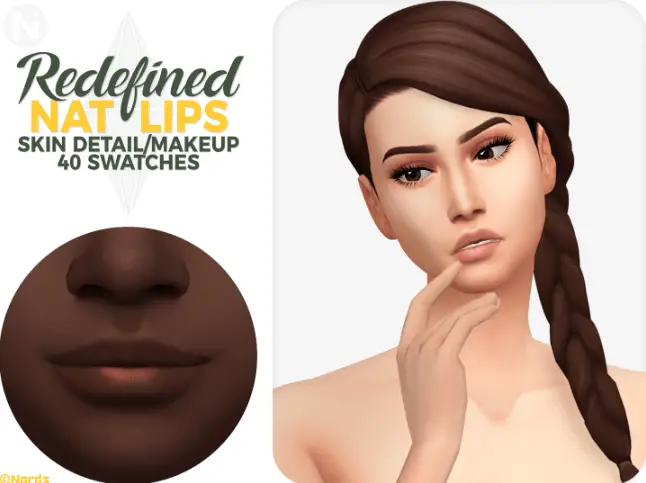 Look no further if you are looking for a wide range of options when it comes to Sims lips.
This varied set of presets includes a wide range of sizes and shapes. Each preset can be customized with shading and details.
This is a hard feat to top.
This is a fantastic addition to the game, as there are many different shades and colors one could use for his or her lips. The majority of these are more natural tones.
6. Summer Equinox Lip Presets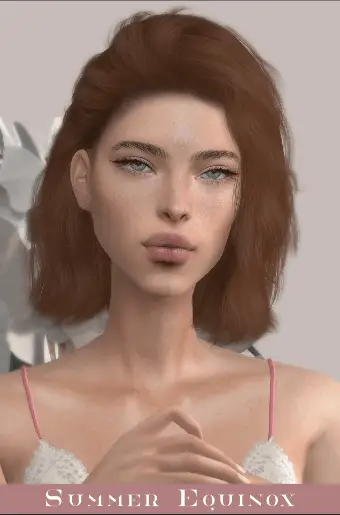 Twelve presets are available in total, with varying sizes.
These are great and definitely worth noting, but the main point is that they come in so many colors.
There are 123 color options available so you can find the right one for your Sim.
5. Natural Lip Presets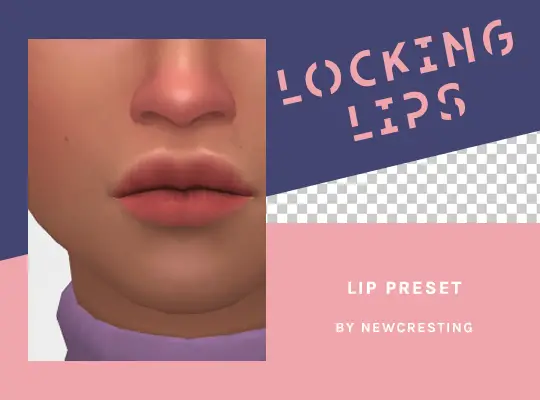 You may be surprised at how many of these CCs contain the word "normal" in them.
We Simmer all agree that CAS options can be tweaked.
Newcresting's preset has a well-sculpted pair of lips with a slightly downturned appearance. These aren't thin.
The real question is: Does the Sim make your lips or does the Sim make your lips?
It's a question I don't really know the answer to. It's probably the latter. Anyone can wear anything with enough confidence and amazing lips that will make anyone (even fake) feel like a million dollars.
4. Pomeline Lip Preset
This lipstick will make Sims look runway-ready.
These are really beautiful and you can eliminate all the strange things that may happen in CAS when making a shape like these.
There are no worries about your corners being too far back or trying to balance moving your lips forward while not affecting the cheeks.
You can simply put these on your Sim's face if you have the rest set up.
3. Red Wine Lip Presets
It's easy to see that our lips are at the heart of almost everything in our lives.
They can tell a story, make a joke, or shout out anger.
Our vocal cords actually have more to do than our lips. They are still very important.
These preset by evoxyr perfectly capture the beauty and complexity of our mouths. Your Sim is ready for anything with three options that are even and rounded.
2. Presets for Three Lips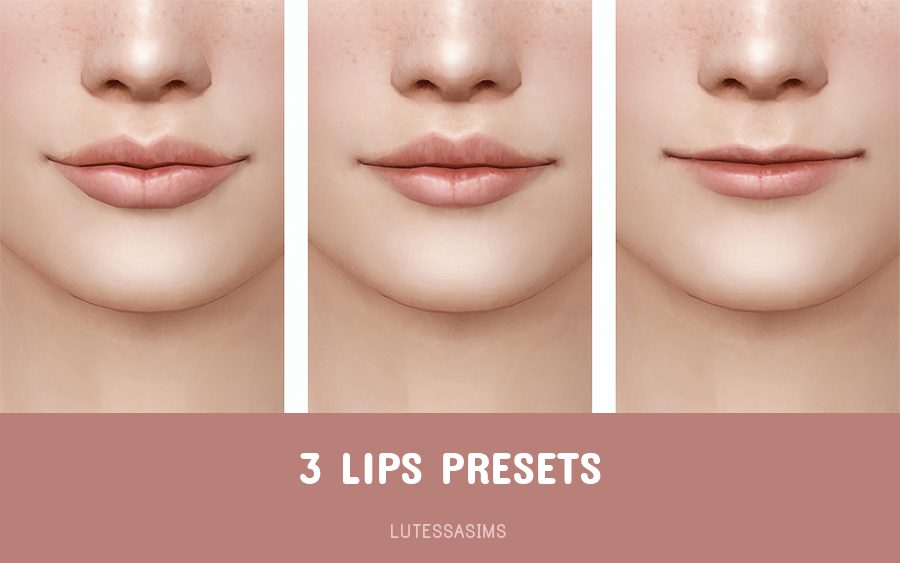 We have three options to make your lips thinner.
Each individual has a different thickness of the upper and bottom lips. Corners of the mouth also vary.
The first one, I believe, will give you a youthful, playful look with a slight smirk. 
This unfair bias is due to the modern beauty standards that thin lips are seen as unattractive. These are beautiful.
These were clearly handcrafted with care. This will save you time and effort in shaping them exactly as you want.
1. Pouty Lip-Slider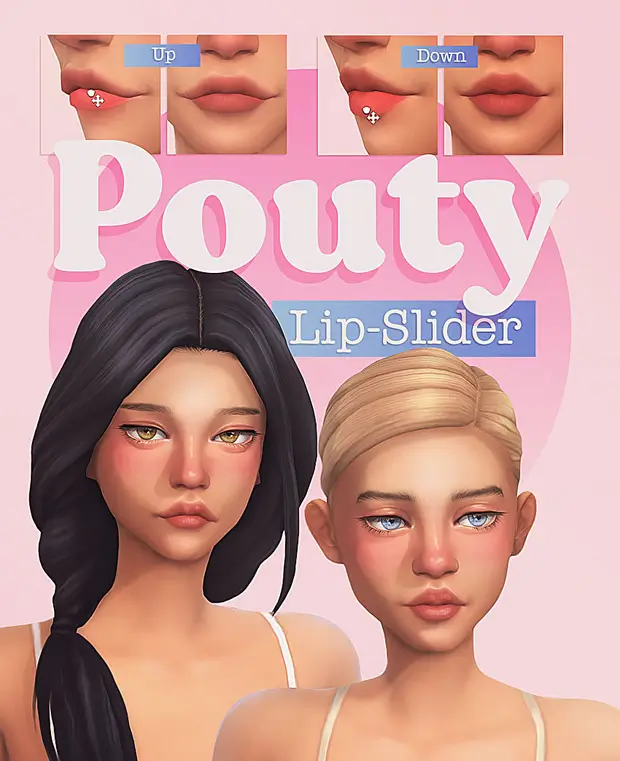 Lips CC has already taken a step toward extending your customization options for Sims.
These Miiko pouty lip-sliders allow you to shape your Sim's lips to perfection.
There are so many ways to alter the details of a person's face that there is no limit to how many you can have, and sliders allow for more control than presets.
This mod allows you to change the pouty lips of your Sims.
Sim plastic surgery is basically the same as traditional surgery. It doesn't require any lengthy recovery or expensive procedures.