Customized content and game tweaks enhance your Sims 4 game experience and make it more enjoyable.
One drawback, however, is that we can discover a myriad of mods that conflict with each other.
The solution?
A Sims 4 mod conflict detector.
What Is A Sims 4 Mod Conflict Detector?
The mod-conflict detector in the Sims 4 is a very well-built GUI (graphical user interface) tool to help detect and resolve mod conflicts within the game.
It was created by Dmitry Malfatto at Mod The Sims in February 2015 and then regularly updated through the year 2018.
Imagine an unorganized Mods folder.
Modifications to games can be beneficial and enhance the overall gaming experience.
However, isn't it frustrating when your mods conflict and, in the process, negatively impact your game?
Sims 4 conflict detector addresses the issue.
It lets users not only eliminate mods that conflict, but also unusable and empty mods that were placed into the Mods folder accidentally.
Main Features Of The Sims 4 Mod Conflict Detector:
Look for duplicate TS4 mods
Find files that aren't suitable for The Sims 4
Search for files that are not within the Mods directory (not *.package, *.zip, or *.zip.)
Delete (particular) mods
Open the file using the s4pi
Show the file within an existing folder
Eliminate file(s) right from the program
Analyze the files (to determine exactly the way that they affect your game);
Copy resource keys that conflict.
Better performance
Add the following: "Files" analysis mode, "File" mode
Localizations: (zh-CN, zh-TW), Spanish (es-ES), French included
.CFG file detector added
"Send error report" and "Check for updates" options to be updated to the latest version of the program.
'Customize file colors' feature (Options > Settings > Colors)
The ability to disable any file is not allowed.
Filters for Mod Type and 'Conflicts' have been added
Access to panels is more convenient
Updated Chinese translations
Mod activation/deactivation
Updated notification center
Faster analysis of files
Advanced user mode
Automatic detection of the game's director
Increased search efficiency for duplicates
The pop-up menu has changed.
Performance improved and errors fixed
How To Use The TS4 MCD (Mod Conflict Detector)?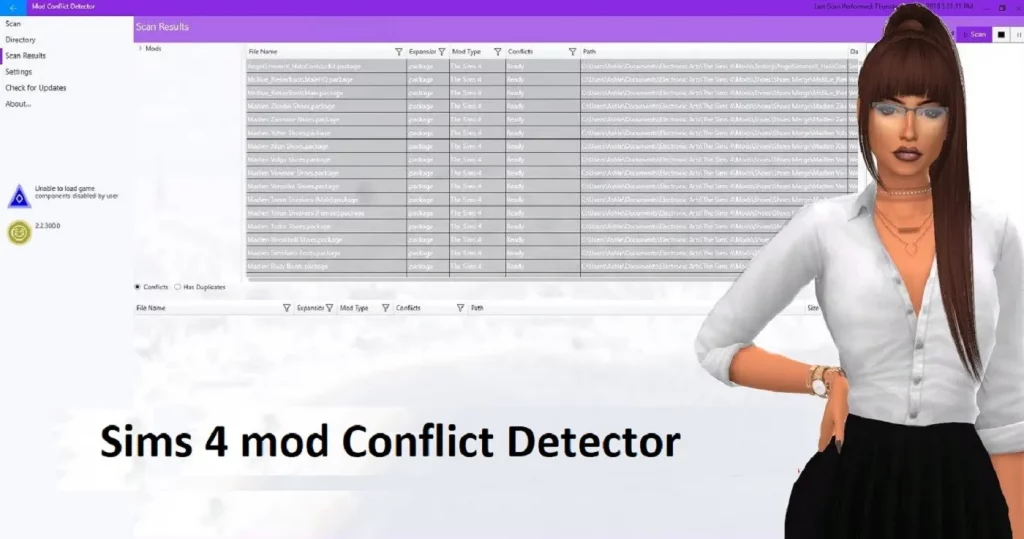 The mod conflict detector software is available for download via the Sims mod by following this link.
Before you download this wonderful program Here are a few important things to remember:
All files should be archived in one folder prior to running the MCD program.
Every file, including .dll libraries, not only the .exe files, should be in the archives.
Check that all these files are located in the directory on your computer or in another space that is not connected to your Mods folder.
After you've installed the program and opened the application, it will prompt you to check your files for mods compatible with Sims 4.
Mods that have been scanned will be displayed in the Scan Results tab and the program will inform you about the different types of mods available or any conflicts.
From there you can manage your TS4 mods and remove duplicate downloads or unneeded downloads with the Sims 3 mod conflict detector.