Sims 4 gives you the ability to control and create people. The Sims 4 offers you the chance to experience creativity, humor, and escape as well as the freedom to live your life.
Make your sims happy with the best bunker and loft bed designs. These mods will help you have the best Sims 4 experience.
As more people move to our planet's greener side, it becomes clearer that bunk and loft beds are the arks of this generation.
Sims are not being affected by overpopulation or rising rent prices. However, it's still a good idea to invest in space-saving strategies.
You don't have to worry, custom bunk beds will be available.
23. Basic Bunk Bed Frame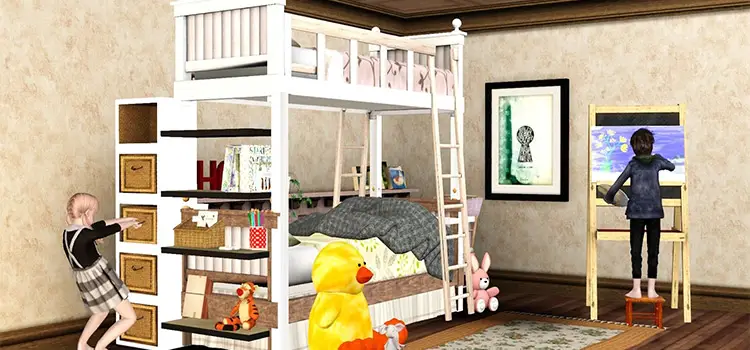 It'd be hard to believe that children could have a sense of style from as young as they could walk. 
The wooden bunker bed with wooden frames is something your Sims will love. 
It's stylish, comfortable, and simple to use.
22. Loft Bed Set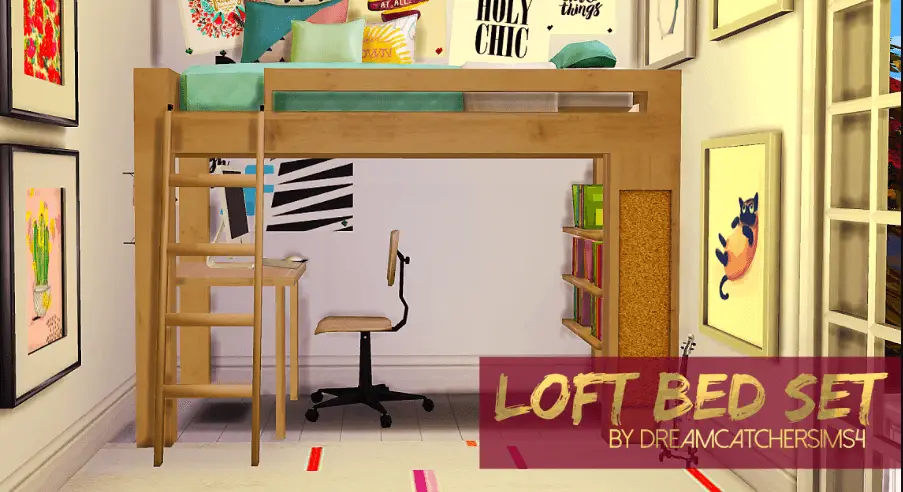 You don't want a traditional bedroom setup. 
You can maximize vertical space by installing a loft bed. 
The Around the Sims 4 CC comes with the basic necessities and a sturdy loft bed. 
You can finally free up valuable square meters below deck to have more space, or even a small living area if you have the furniture.
21. Bunk bed with functional features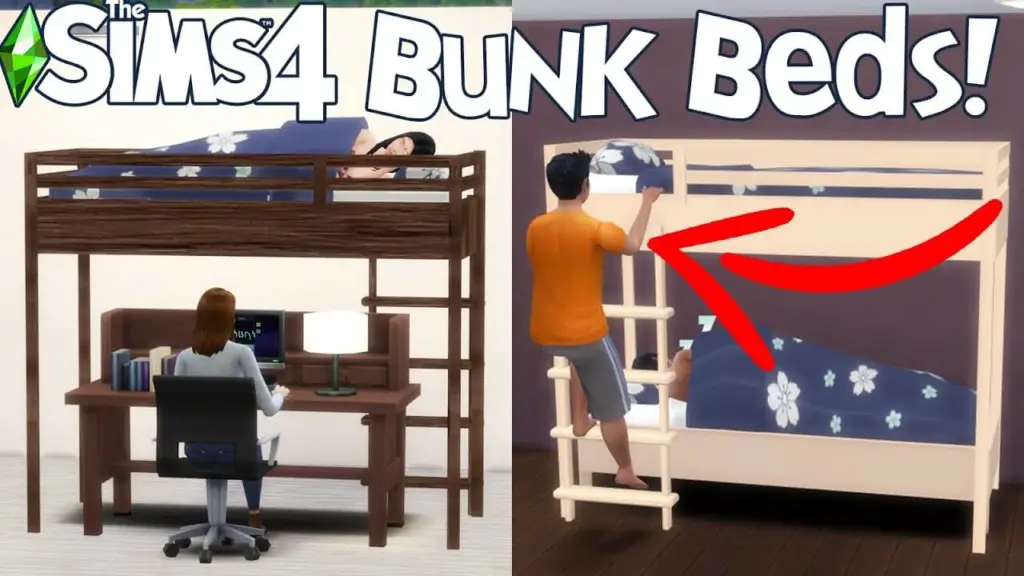 Children are notoriously stubborn and gullible.
It is easier to get them to love bedtime when you have the right CC. 
The Bunk Bed CC is a fun, playful design designed to lure children to sleep. 
Its simple, inviting design will ensure that no child ever goes without a good night's sleep.
20. Bunk Bed Platforms/Loft Bed Platforms
Imagine a Sim climbing into the top bunk to take a rest. 
The animation of Sim climbing up the ladder is not perfect.
Getting out is also a little strange.
The sim clips through the bed frame before rising in midair, blinking, and then disappearing from existence. 
You can save significant space below for other activities.
19. Bunk Bed Frame #1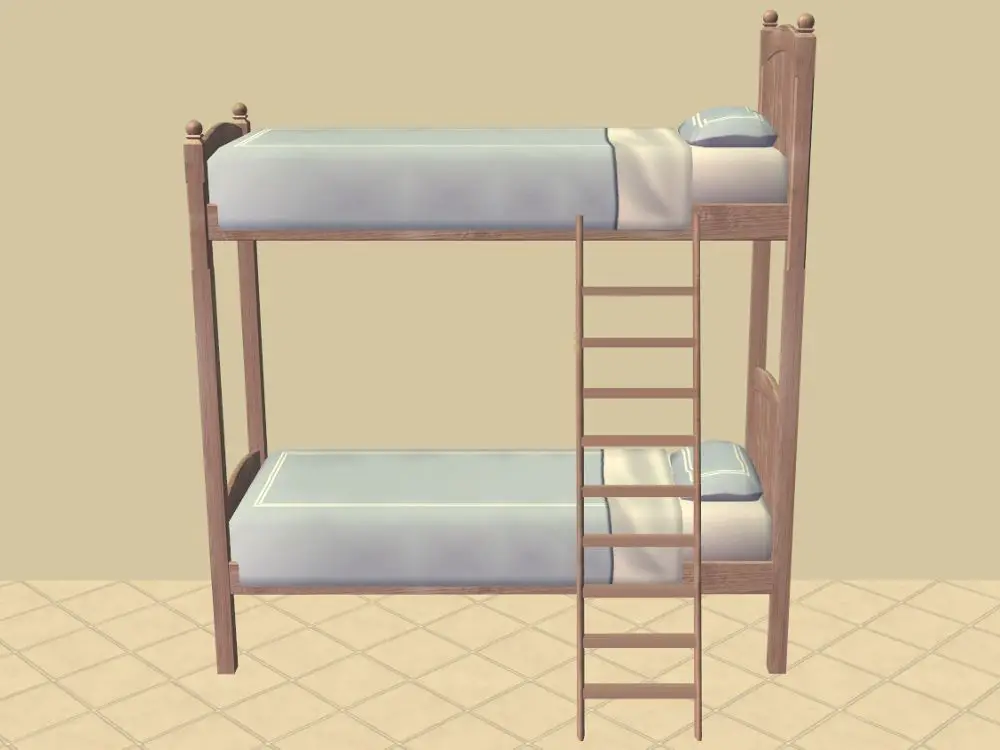 These bunk beds frames are great for Sims' toddler rooms, shared rooms, and tiny rooms. They are modern and playful. 
For an unusual bunk bed, the bed frame can be combined with either a single or toddler mattress. 
You can place the ladder on either side of your frame. This furniture set is available in eight modern colors and wood tones.
18. Loft Bed Frame #2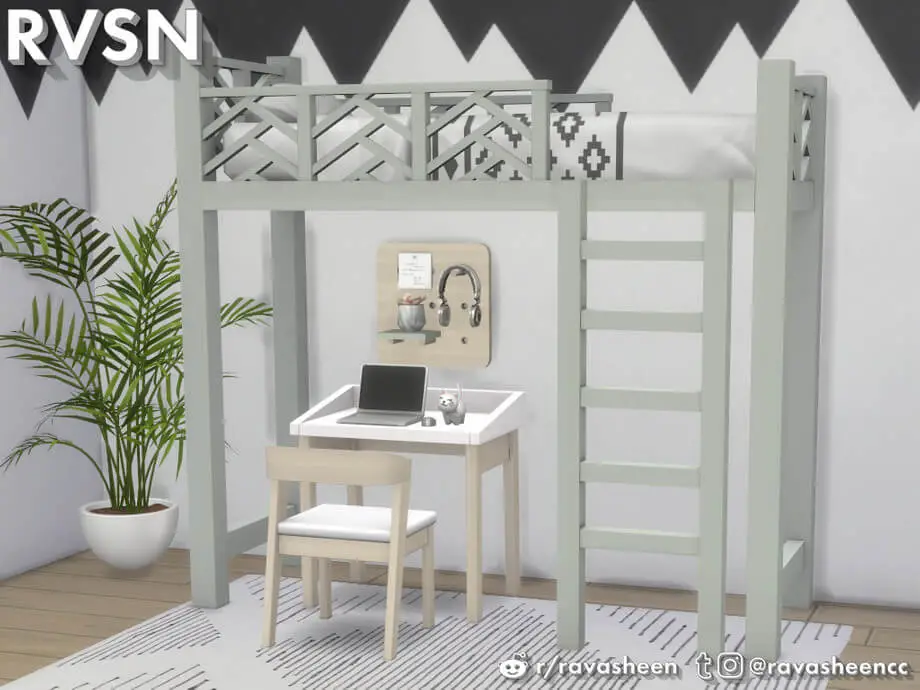 You have a bunk bed frame, then a loft bed frame, where you can attach a bottom bunk. 
This is the ideal CC for sims.
You can mix and match the sheets and mattresses with this frame, and there's plenty of space underneath for other furniture. 
Available in 8 vibrant colors.
17. Upper Bunk Bed
The upper and lower beds come in two versions.
They have slightly different bedspreads and swatches. 
The upper bunk bed is also available in different colors and a toddler-sized model.
16. Bunk bed set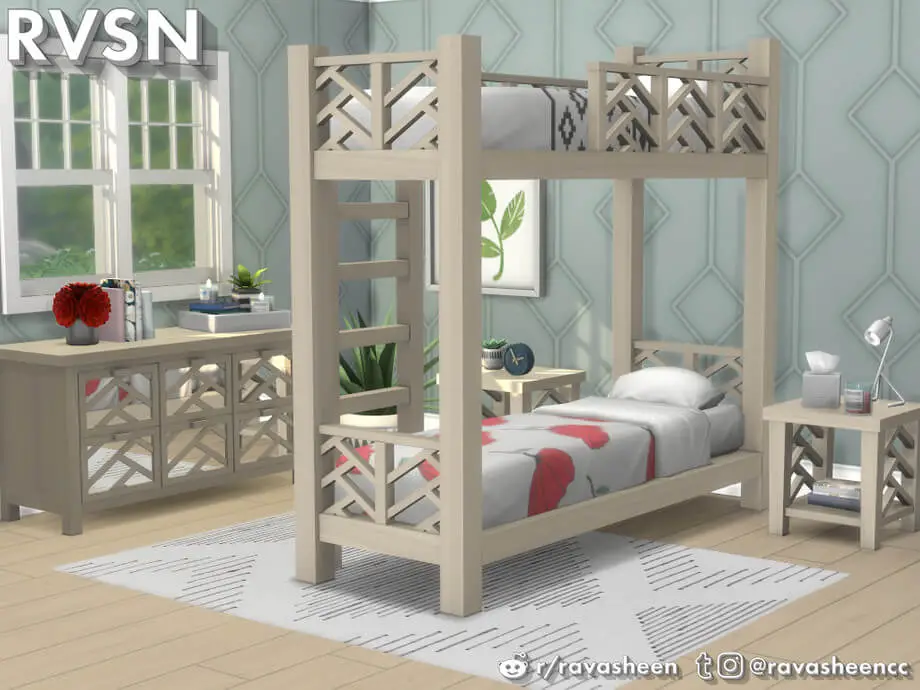 A work-from-home setup is impossible. With some creativity, you can transform even the smallest spaces into a relief zone. 
This Loft Bed CC comes with a built-in desk underneath and creates a new space for your professional needs.
15. Bunk Bed Lower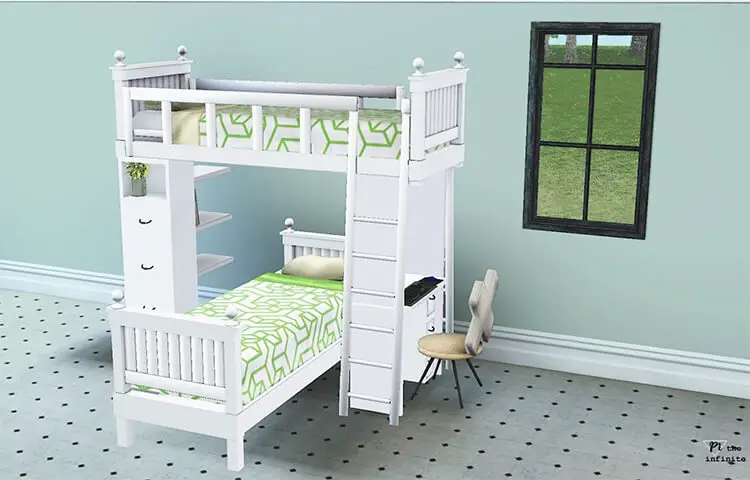 These stylish, lower bunk beds can be used with any type of bunk bed frame and offer more space for clutter and decor. 
It can be used as an addition to your existing bunker bed frames to add a fresh touch.
14. Lower Bunk Bed RC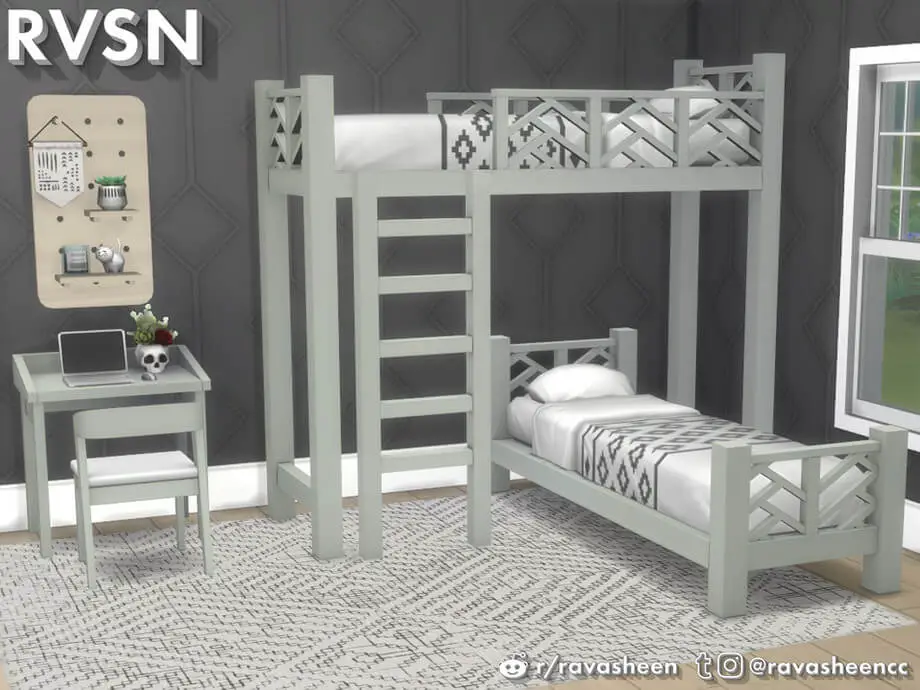 We have a wide range of bunk beds  for all your sims' bedding needs. 
These colorful and functional bed mattresses will enhance the appeal of sim's bunker beds. 
Even suitable for lofty beds
13. Puzzle It Bunk Bed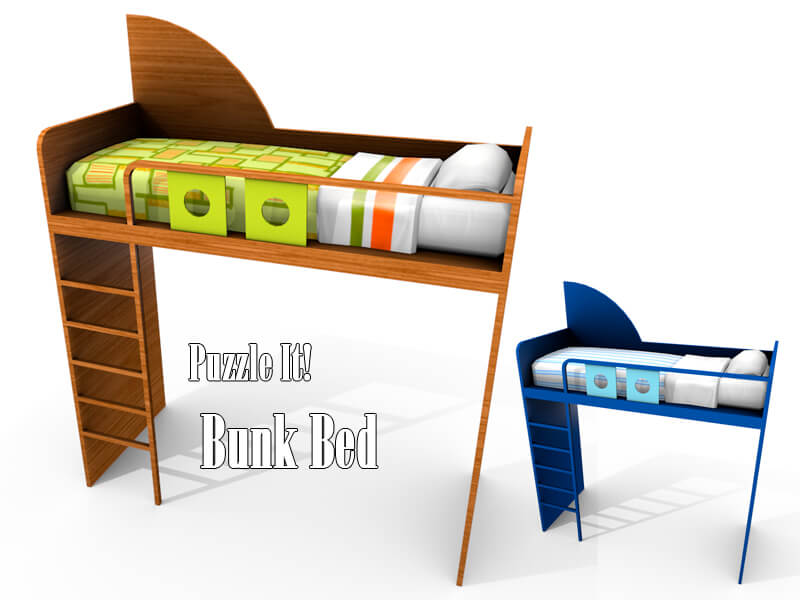 This is a unique and beautiful piece for a kids' room. 
There are many funny tones that can be used by both genders. 
For boys, there are two options: pictorial brownish and relaxing blue. 
A realistic blanket. Use it for work or relaxation. It's something fun and interesting for your sims.
12. One small dresser with a fake bunk bed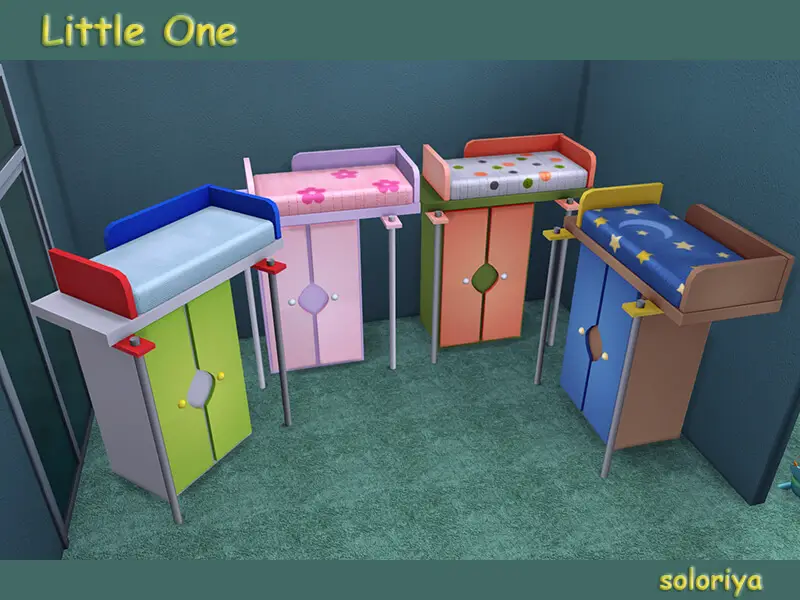 This dresser is functional and has a faux bunk bed at the top. 
You can use the slots to store decorative items, and you can also store other toys and items. 
The stairs can be added so that your sims have access to the top of the dresser with toys.
11. UL Dorm & Contrast Bunk Bed Frames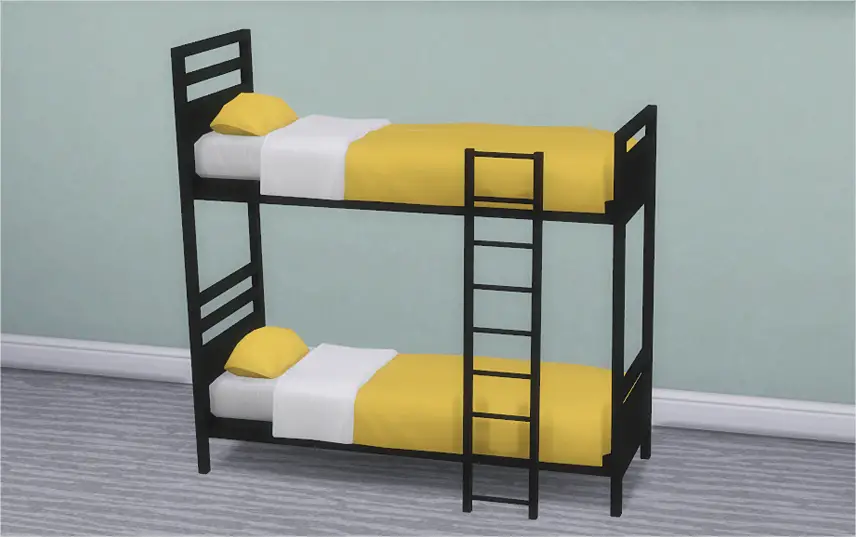 This twin deal is great for twins. You get the same themed dorm with contrast bunk beds. 
This is ideal for sims who live in hostels or dorms to feel "equal". 
It is a perfect bunker bed for children because of its minimalistic, stylish and functional design.
10. Functional Toddler Bunk Bed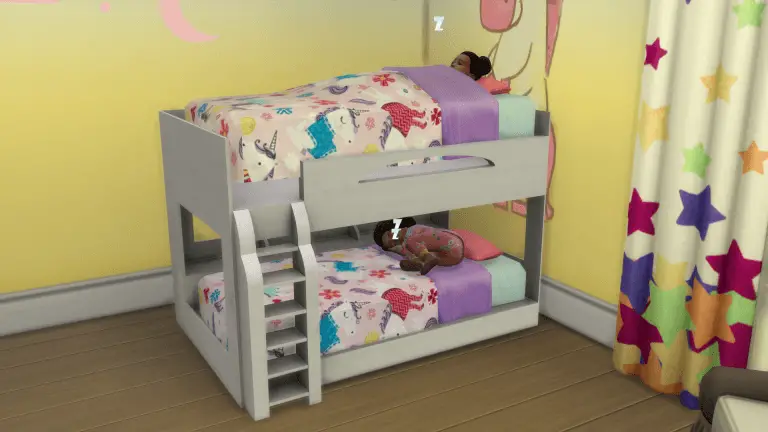 If you are a responsible parent, it should be obvious to your Sim that separating rooms for each child is a wasteful and child hazard.
Children can talk all they want about privacy and "space" at three years old, but it's impossible to trust them to leave their space.
It would also be great for their social development to share their room with their sibling and bond over who mommy and daddy love most.
This Functional Toddler Bunk Bed is a great way to teach your Sims about friendship and thriftiness. It comes with adorable sheets and mattresses.
9. Toddler Club House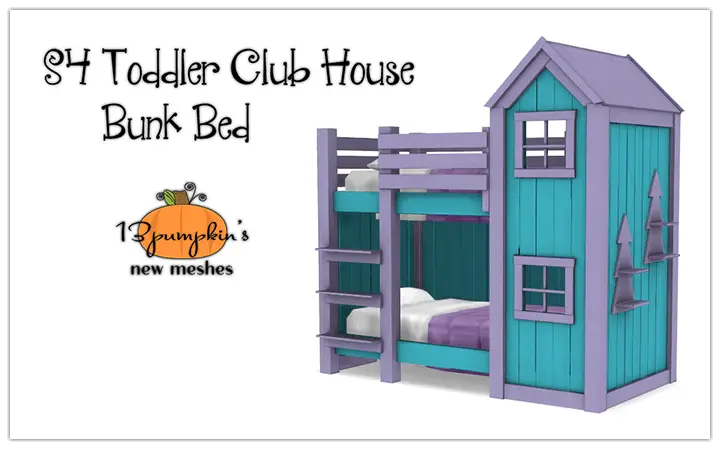 All I can think of is how great it would be for my boss to require me to take naps during lunch breaks.
Children are notoriously stubborn and gullible. It is easier to get them to love bedtime with the right CC.
The Toddler Clubhouse Bunk Bed has a playful design to draw young girls and boys into their sleepy demise.
Its inviting and colorful structure will ensure that no child ever leaves without a good night's sleep.
8. Alwine Children's Room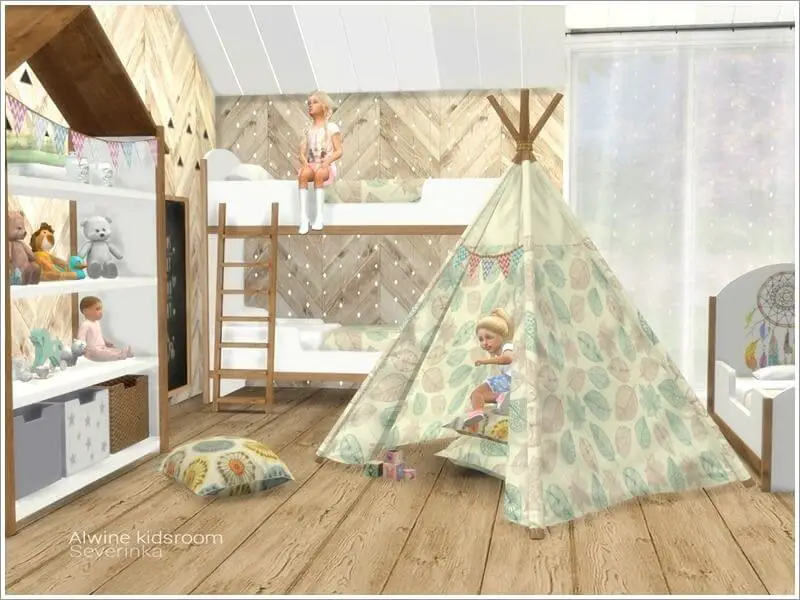 It is hard to imagine that children would develop a sense of style as young as they can walk.
Sim children are smarter and can adapt to any remodeling project you may have in mind.
They don't have the option of choosing, is it?
Grow your kids' appreciation for the mainstream Pinterest aesthetic with this Scandinavian-inspired CC from Severinka!
7. Jimi's Bedroom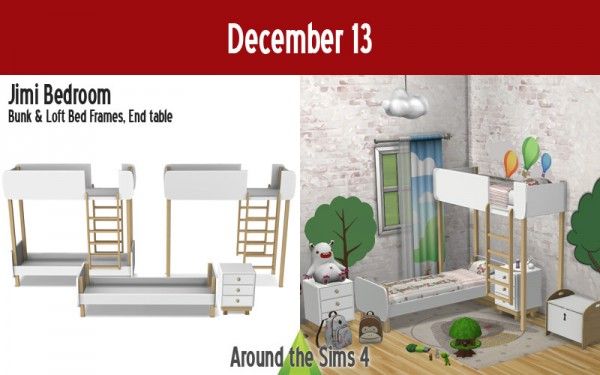 Two main reasons someone might want bunk beds are: they either want to feel 6 feet higher than the ground or they are clingy.
You can have both in the Jimi Bedroom
The CC has 2-bed frames that can be used to accommodate single sleepers or clingy roomies.
You will first need a frame for your bunk bed. Then, you will need a frame for your loft bed, where you can attach a bottom bunk.
This is the ideal CC for top bunkers, who initially found it difficult to kick out problematic roommates on Friday nights.
6. This is What She Bed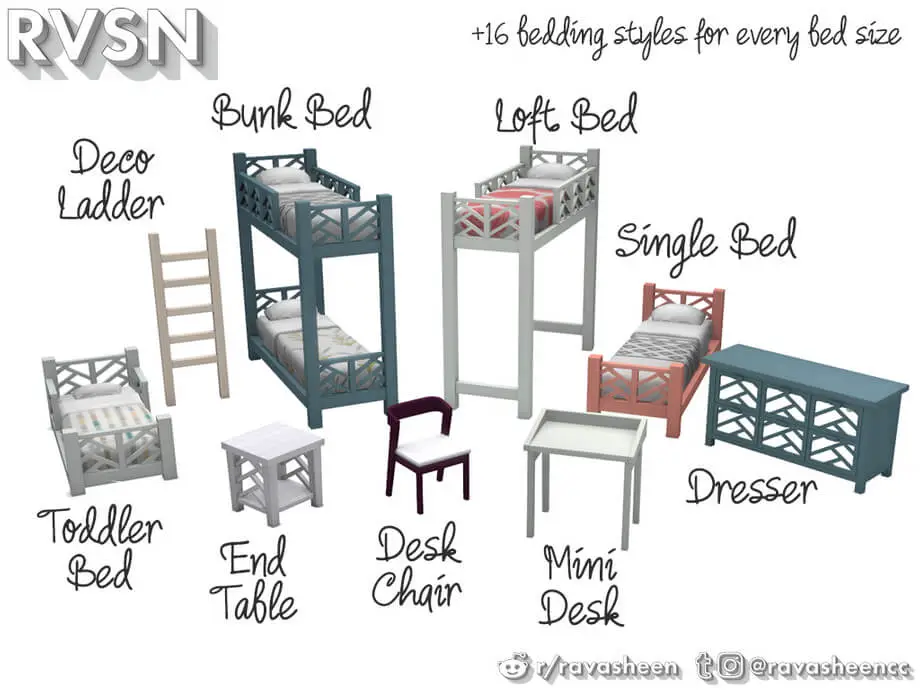 Ravasheen's "That's What She Bed" is the most downloaded CC in this category.
This is not surprising, given that this CC covers toddlers, children, and struggling adults who can tolerate tiny houses.
You can customize your shared accommodation by pairing up loft beds with Sims who aren't able to share a bottom bed.
You can also get rid of the bottom bunk entirely and put in a desk for Sims who are busy at home.
Download this CC to get more than 16 styles of bedding for every bed size and 8 frames colors.
5. Loft bed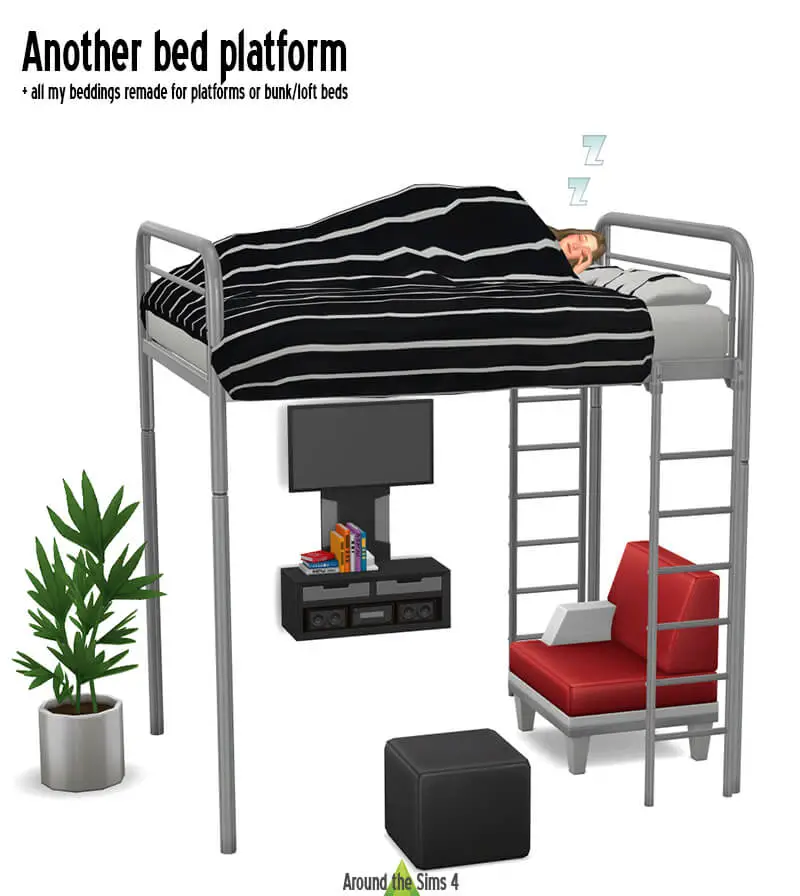 It has been difficult to rent or buy a large enough residence to accommodate all the necessities over the years.
Instead of sticking with the bedroom setup, why don't you maximize the vertical space by installing a loft bed?
The Around the Sims 4 CC comes with the basic essentials of sleeping and a loft bed that is sturdy enough to withstand sleepless nights.
You can finally free up valuable square meters below the deck, and have enough space to install a desk, additional storage or even a small living room, if you have the right furniture.
4. Tropic Like It's a Hot Beach House Set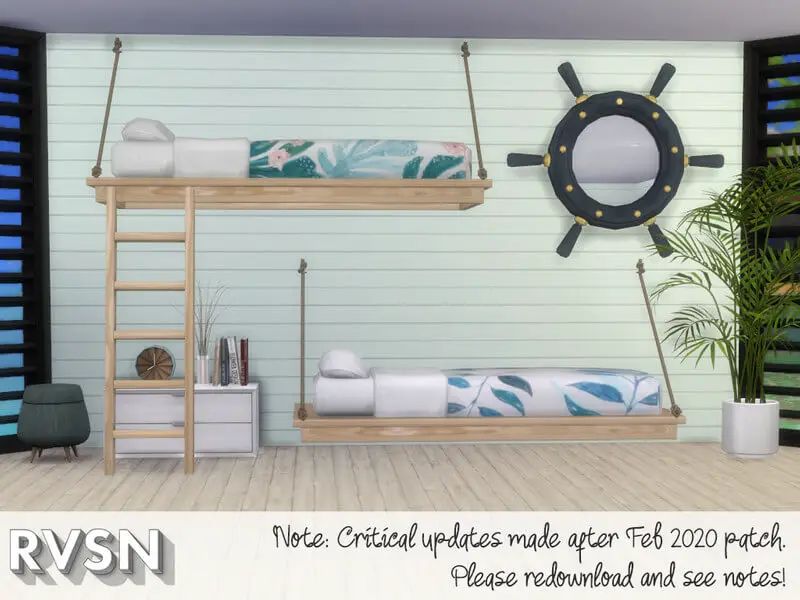 It's difficult to be popular in school if you are an introverted child with bad acne.
A super cool bedroom can make up for the lack of confidence in your Sim child.
This Ravasheen CC will make your children the King and Queen at Sleepovers!
You can arrange a room with sailor themes (or pirate-themed), and invite all your friends to weekly sleepovers.
The "Tropic Like It's HOT Beach House Set" features a Captain's Wheel mirror, decor, functional upper/lower bed frames, and tropical wallpapers to remind children of endless summer fun.
3. IKEA Tufting Loft Bed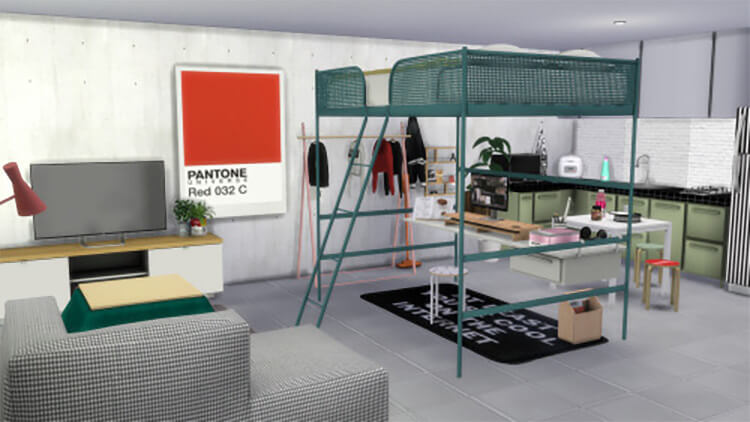 You can combine the living room, kitchen, and bedroom into one space to create a cozy sanctuary.
It's impossible to store an extensive wardrobe or other useless trinkets that are not essential for survival.
Even the smallest spaces can be given a bit of relief by creative thinking.
You can get your Sims the IKEA Tufting Loft bed CC with a built-in desk. It opens up a whole new space for professional needs.
You will find more space to store clutter and decor, and you may even want one for yourself.
2. Vello Bunk Bed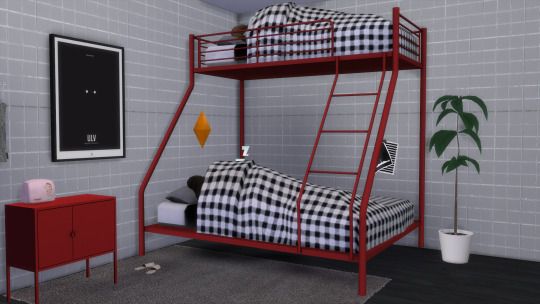 This Vello Bunk Bed CC shows only where it is the lower bunk that is superior to the upper.
The CC has the standard bunk bed frame, but the bottom bunk houses a double mattress.
You might think that fighting over the top bunk is bad. But, wait until things escalate when it becomes a grumpy adult fighting for more legroom.
1. Bunk/Loft bed sets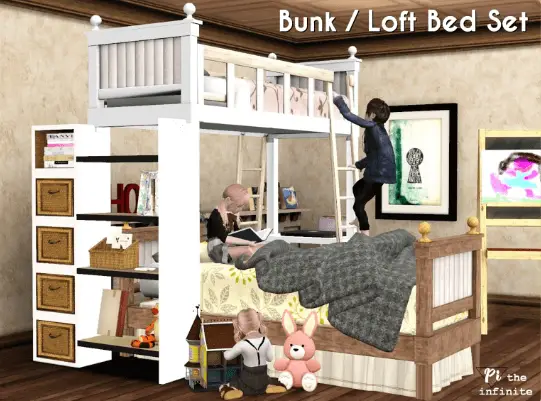 Children shouldn't be picky beggars. Sim mommy and daddy work 5 days a week to pay for three meals per day and the month's Netflix subscription.
What mommy and daddy did not know was that they will only need this handy CC in order to restyle the little Simmer's attitudes.
You can easily configure loft and bunk bed frames to meet the changing needs of your Sim. 
You can give your Sim's children more motivation to sleep in their bedrooms by providing more storage and work areas for their hobbies and arts.