For true throwbacks, nothing beats the original Sailor Moon cartoon.
When I was a kid, I was completely engrossed by this show because of all the things it had to offer: characters I could look up to and admire, a hilarious sidekick, and a gorgeous aesthetic that seems to be making a comeback in modern pop culture.
A lot of us have grown up, yet Sailor Moon will always hold a special place in our hearts.
The opening theme is still ingrained in our brains. Our favourite Sailor Guardian becomes like a close friend to us (Sailor Mars has always been my favourite).
To have our very own genuine Moon Wand in our possession is something we would do anything for.
The Sims 4 allows us to live out our fantasies of being one of the Pretty Guardians by recreating many of the aspects of the programme that we have come to adore.
We need to reunite the group and ogle Tuxedo Mask, for sure. Because we're checking out the best Sailor Moon-themed add-ons for Sims 4 players.
10. Moon Stickers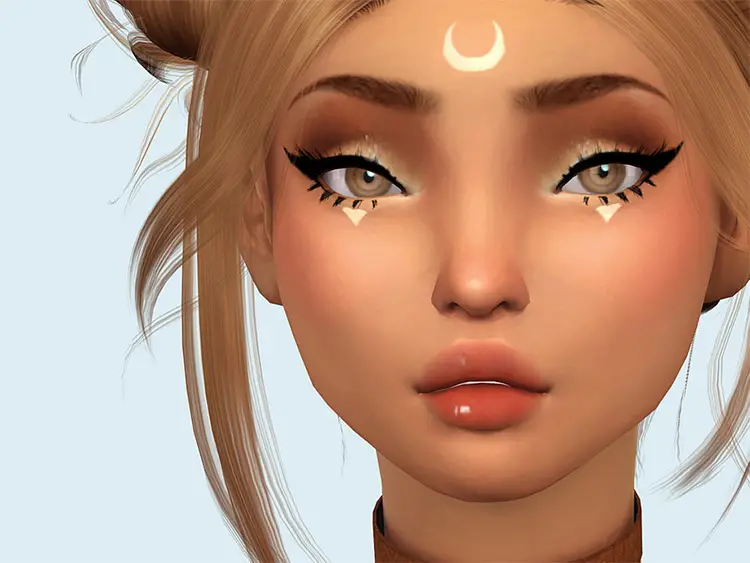 When it comes to popular culture, there is nothing quite as recognisable as the moon that is imprinted on Luna's forehead.
One of the reasons that it is so well-liked is that despite being straightforward and adorable, it exudes confidence.
Whether it's for a one-time costume or for an adorable outfit, adding some facepaint like Luna's moon is a terrific way to add a distinctive touch to your Sims look.
This may be done by applying some moon-shaped facepaint.
Any Sailor Moon accessory collection would be incomplete without the moon sticker!
9. Sailor Scout Tattoos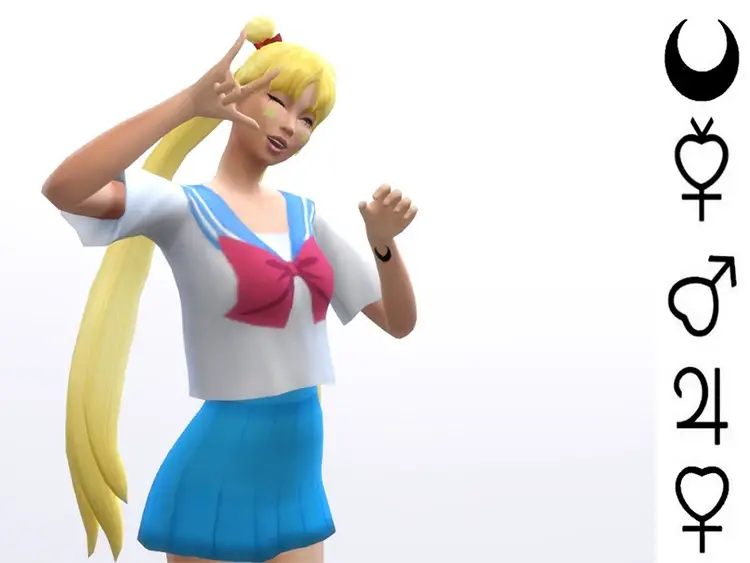 It is arguable that getting tattoos is one of the best methods to showcase your creativity as well as your commitment to the activities or causes that are most important to you.
If you are a die-hard fan of Sailor Moon but are too chicken to get a tattoo in real life, then these digital Sailor Scout tattoos are an absolute necessity for you!
Or, even if you already have tattoos in real life, don't you think that your Sim should have some as well?
This collection of little wrist tattoos comes with a handful of different possibilities, such as Usagi's moon, Mars, and Mercury, and it serves as a subtle reminder of how incredible the show really is.
8. The Alleged Simmer – Usagi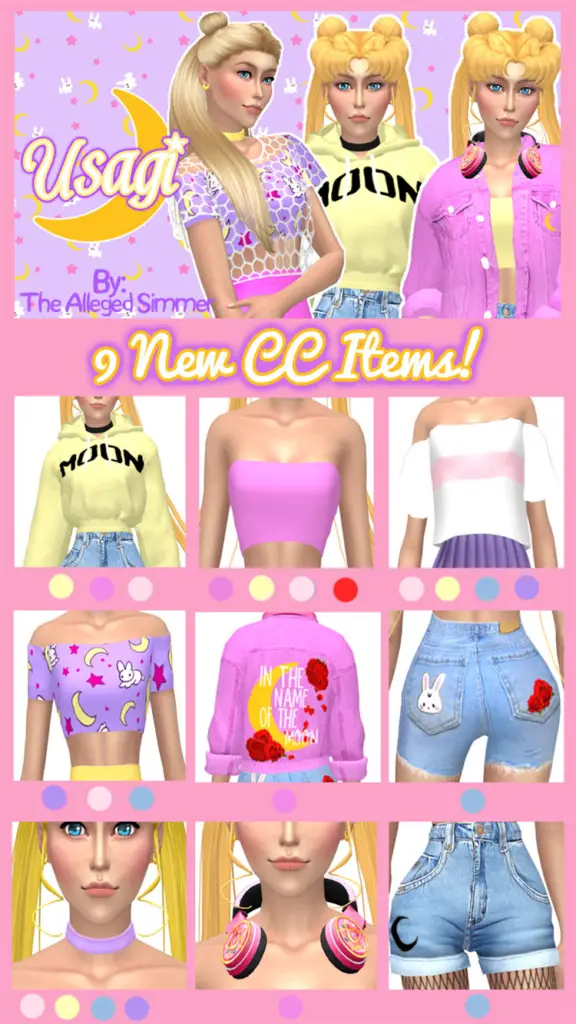 People's first thoughts, when they hear the name Sailor Moon, almost always go to… Sailor Moon herself.
This blogger has put together nine different possibilities for user-generated content, all of which are centred on the well-known character Usagi Tsukino and the sweet pink and purple hues that are associated with her girly, cute aesthetic.
The majority of these works, including all of these subtle references, are all references to the show as well as to her.
As a result, you can utilise them to give your Sim a style that is appropriate for everyday life while yet giving them a touch of flair thanks to the inclusion of elements such as bunnies, moons, and flowers.
The choker and the headphones are the two pieces in the collection that jump out to me the most among the others.
This pack comes with a selection of clothing for you to choose from, in addition to other items, such as accessories.
7. Cat and Kitten Cresent Moon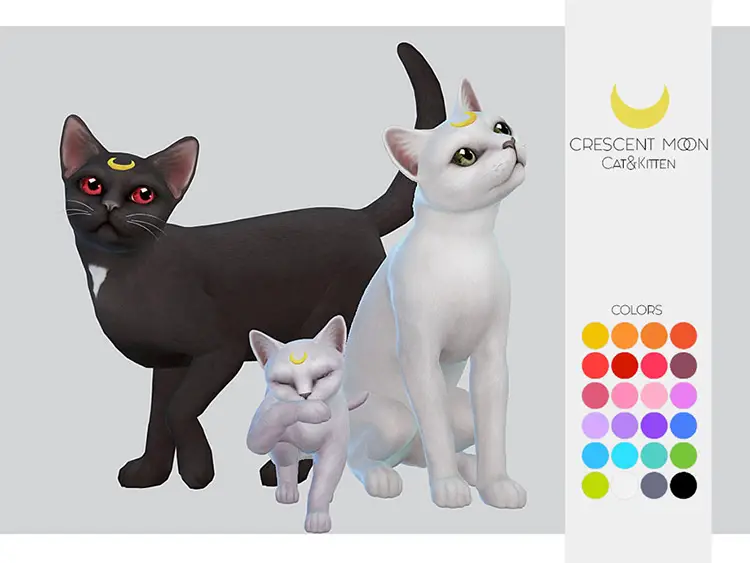 Yes, the idea of bestowing your Sim with Luna's crescent moon has been discussed.
But what about completely recreating Luna's appearance from scratch?
In order to accomplish that, you would have to locate a crescent moon for your companion animal… and that is precisely what we have here.
In far too many cases, players forget about their Sims' pets. However, they are also in need of accessories. And yes, there are a lot of mods centred around pets, but I really want Luna to be a part of TS4!
You will be able to replicate Luna down to the smallest of details with the help of this CC that is shaped like a crescent moon and is meant for your cats and kittens.
6. Sailor Moon X Colourpop Eyeshadow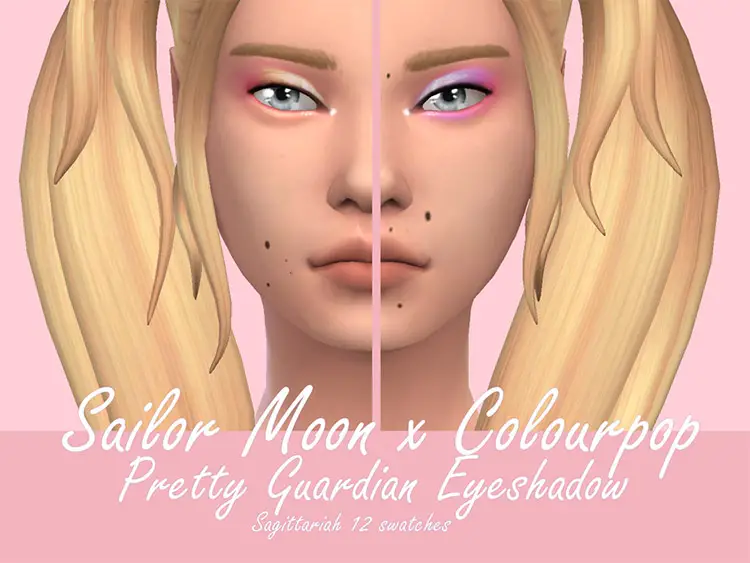 When Colourpop announced that they were discontinuing their cosmetics line that was a collaboration with Sailor Moon, the globe nearly lost consciousness.
The hues were quite pleasing to the eye. The palettes were just gorgeous. And its packaging was ideal for any collector, regardless of whether or not the buyer intended to put the makeup to practical use.
The good news is that this content producer has reproduced the entire line of makeup, which means that you can give your Sim a full face that is evocative of the guardians.
And fill the voids that have been left in the hearts of fans like myself who were unable to purchase any of the merchandise before it went out of stock.
5. Sailor Moon Objects Pack 01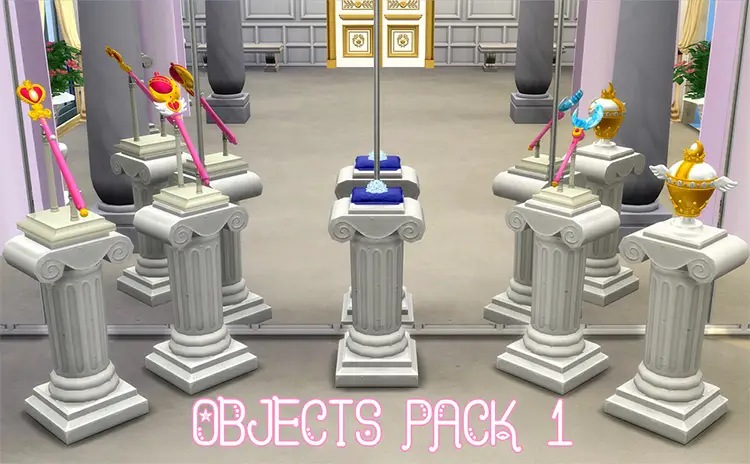 There is nothing quite like one-of-a-kind art items to help bring a house or apartment to life.
Check out this collection of adorable sculptures with a Sailor Moon motif if you are having problems locating the specific element that your property is missing in order to take it to the next level.
When you want to add some décor allusions to your favourite programme but you don't want to come off as cliché, they are the right alternative for you to go with.
They range from a variety of wands to a crystal that is placed on a royal pillow.
Not only are the sculptures exquisitely crafted and presented, but one of them, the Silver Crystal statue, can also be used as a lamp! Because of this, it can serve a useful purpose in the home of your Sim.
Be sure to check out the rest of Silver Moon Sims' Tumblr page if you're looking for even more Sailor Moon-related entertainment to consume on the internet.
They have a huge selection of unique Sailor Moon stuff, ranging from the very first programme all the way up to Sailor Moon Crystal, and everything in between!
4. Kitty Slippers

Because there is a choice to put Luna-themed slippers on your Sim's feet, these kitten slippers made their way onto this list despite the fact that there is a large range of Sims 4 slippers from which to choose.
Luna slippers!
Is there a cuter or more enjoyable way for your Sim to greet the day than by donning these adorably cuddly fuzzies on their feet? I don't think so!
3. Sailor Moon CAS Background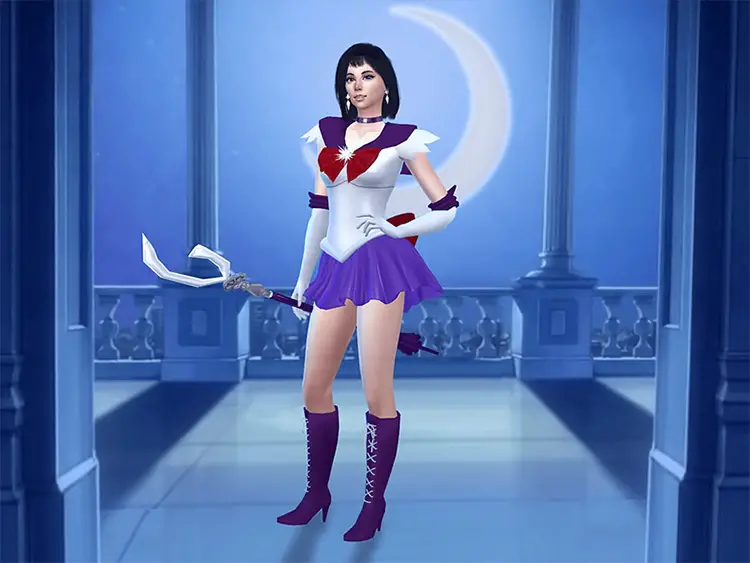 There are a variety of creative ways in which Sailor Moon can be incorporated into The Sims, some of which you would not have realised were conceivable.
If you're attempting to make your Sims look their best, for instance, try switching out their background for something with a more modern appearance rather than sticking with the same old dull blue.
Consider incorporating this background from KatVerseCC into your game's CAS user interface.
While you are thinking about new outfits for your Sim to wear in the next cycle of their wardrobe, it will put you in the perfect frame of mind.
2. Sailor Moon Classic Pack V2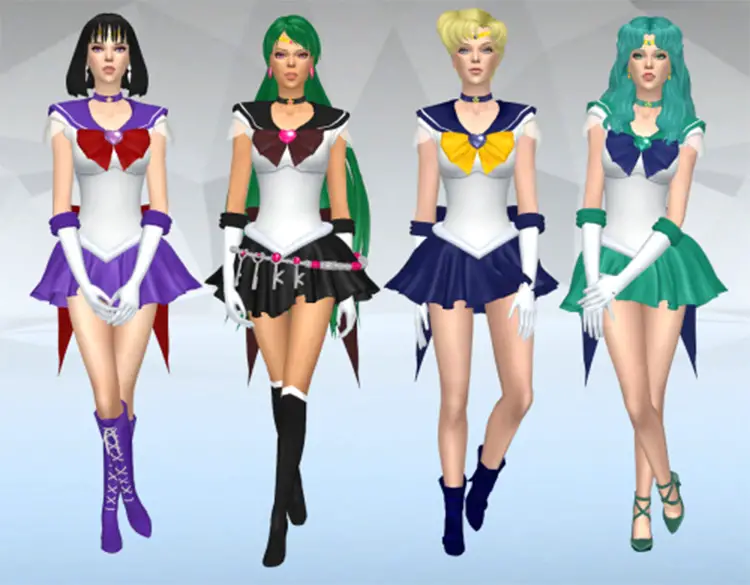 This list wouldn't be complete if I didn't provide you with a means to make your Sim look just like one of your favourite guardians, so here it is!
This CC pack is where you will discover all of the tops, skirts, accessories, and shoes that you require in order to make your reproduction look as authentic as possible.
Yes, right down to the minutest particulars that may possibly be imagined.
When everyone saw this together, did anyone else immediately feel the want to start a family with all of the members of the team? I'll make a note of that on my list of things to accomplish over the weekend.
1. Usagi Hair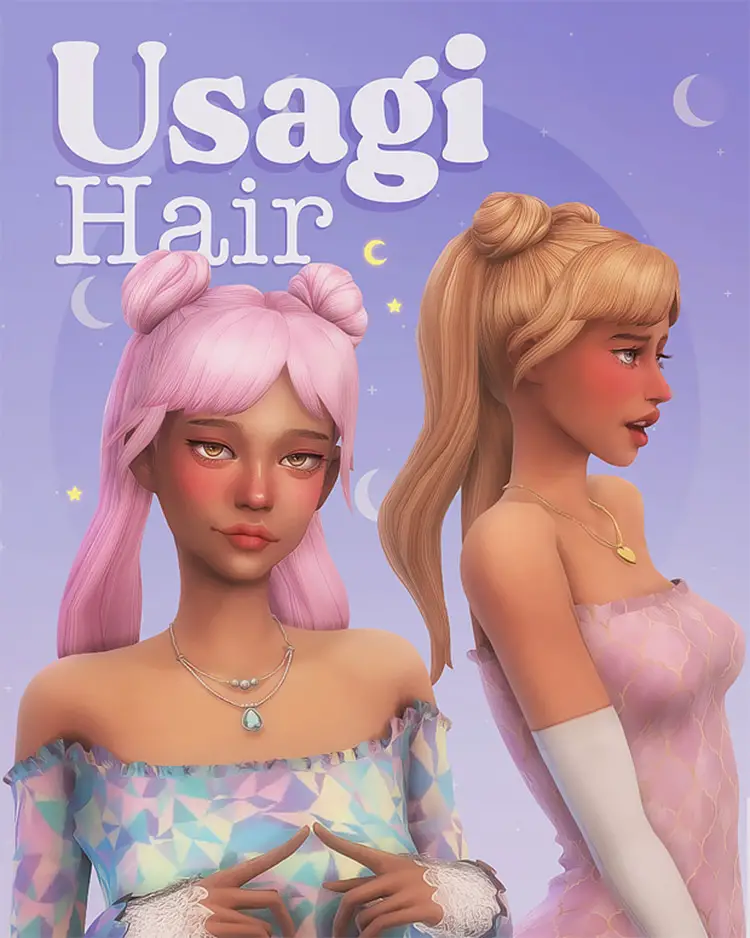 There are a lot of different choices available for what I consider to be one of the most stunning haircuts in all of anime. I'm not going to lie about that.
Nevertheless, this specific replica of Usagi's hair is without a doubt the most accurate one I've come across so far.
It's the perfect CC to achieve her hairdo without making your Sim look like a crazy freak, starting with the natural-looking texture all the way up to the buns.
Everything from the texture to the buns is excellent.
This hair blends in, and it does it very effectively.
Not to mention that it is available in a wide range of hues as well.
It's possible that your Usagi has grown tired of her blonde hair and is eager for a new look.