If you're here, there is evidence that you're a huge fan of My Hero Academia and would surely want to play it in Sims 4.
It appears that every fandom will eventually get special content designed specifically, especially for The Sims 4.
Similar to The Sims 4, My Hero Academia was launched in 2014. The game has been growing exponentially in its popularity since the time it first came out. 
Recently I've been obsessed with the idea of re-creating the dorm life from Class 1-A within my Sims game.
Let me present to you some of the finest.
38. Shinso Hair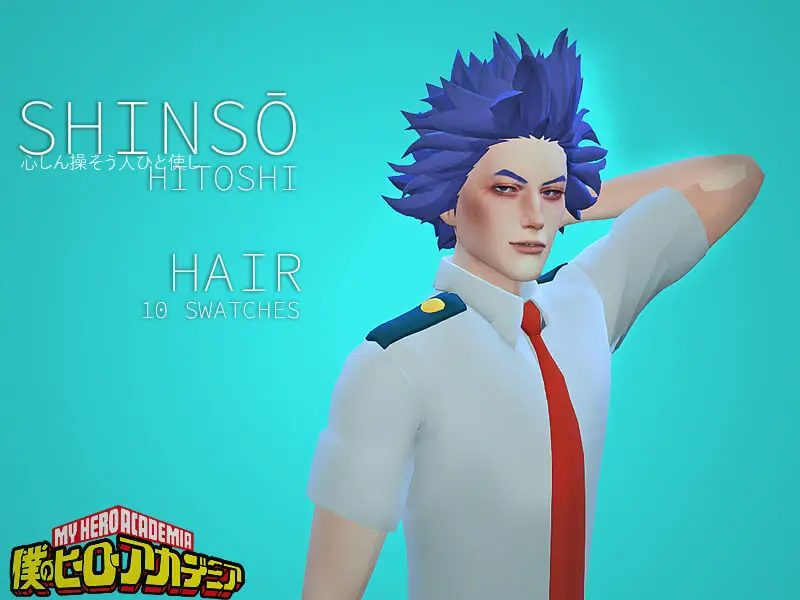 A hairstyle that is influenced by our unpopular Hitoshi Shinso. 
You can pick from 10 samples (some of them are based on other unrelated characters). 
You can also purchase eyebrows that are custom-made to match your hairstyle.
37. BNHA Toga Hair Toga Hair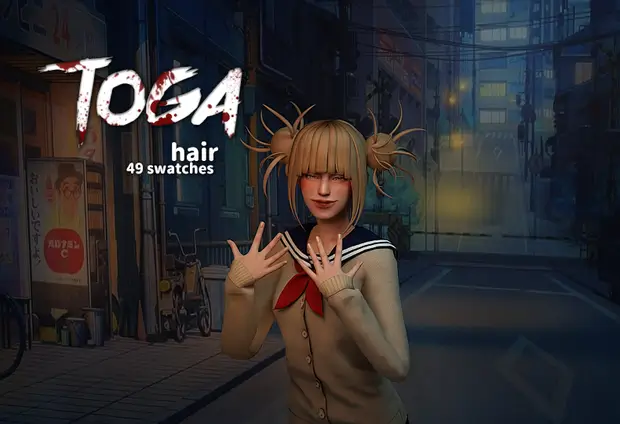 Toga must be one of the characters that everyone is a fan of! 
The stunning hairstyle of Drosims is available in a range of 49 hair swatches. 
You can check it out by clicking the page below.
36. Boku No Hero Academia
A variety of sets include items for the following characters: Lida, Ochako, Tsuyu, Momo, Jiro, Sero, Toga and Mina, and more. 
Hairstyles can be customized that are each in their own package, in addition to customized glasses. 
Enjoy!
35. My Hero Academia Hair Packs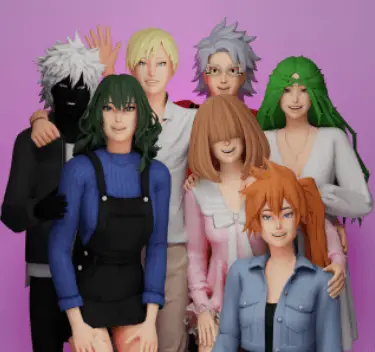 The thumbnail by itself is amazing, isn't it? There are seven packs of this assortment. 
They include items for Itsuka Kendo, Setsuna Tokage, Ibara Shiozaki, Kinoko Komori, Tetsutetsu Tetsutetsu, Neito Monoma, and Shihai Kuroiro. 
It's a great thing that there's some background information on each of the characters for those who want to know more about them.
34. Sims 4 Bnha CC
This custom content created by Dabi Todoroki specifically for Sims 4 is created by Dabi Todoroki.
Sims 4 is brought to us by MOCHI SIMS. 
The creator can be seen creating it in this video. 
To download this application you need to follow the link below.
33. Overhaul, Chronostasis, and MIMIC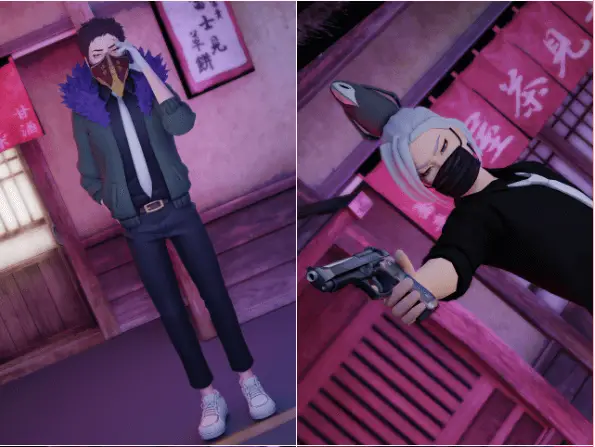 A masterful set! It comes with Chronostasis hair, Overhaul's hair gloves, earrings, and a mask.
It is located under Fur as a necklace, a full-body costume, shoes, and scar. 
Visit the page below.
32. Sims 4 Bnha Cc Kai Chisaki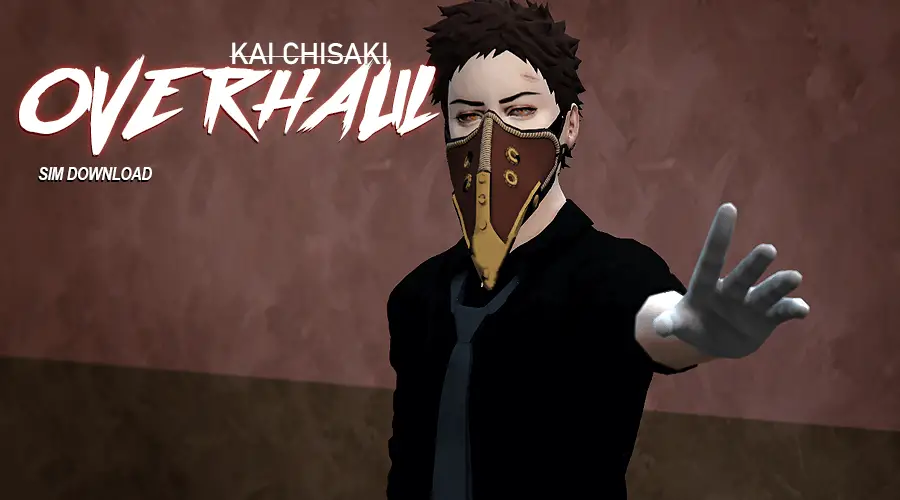 A special content that is dedicated to the overhaul of Chisaki Kai. 
Integrating this into your game will bring you into a brand new lifestyle, albeit a very unique one. 
You can check it out by using the link below.
31. Gentle Criminal & La Brava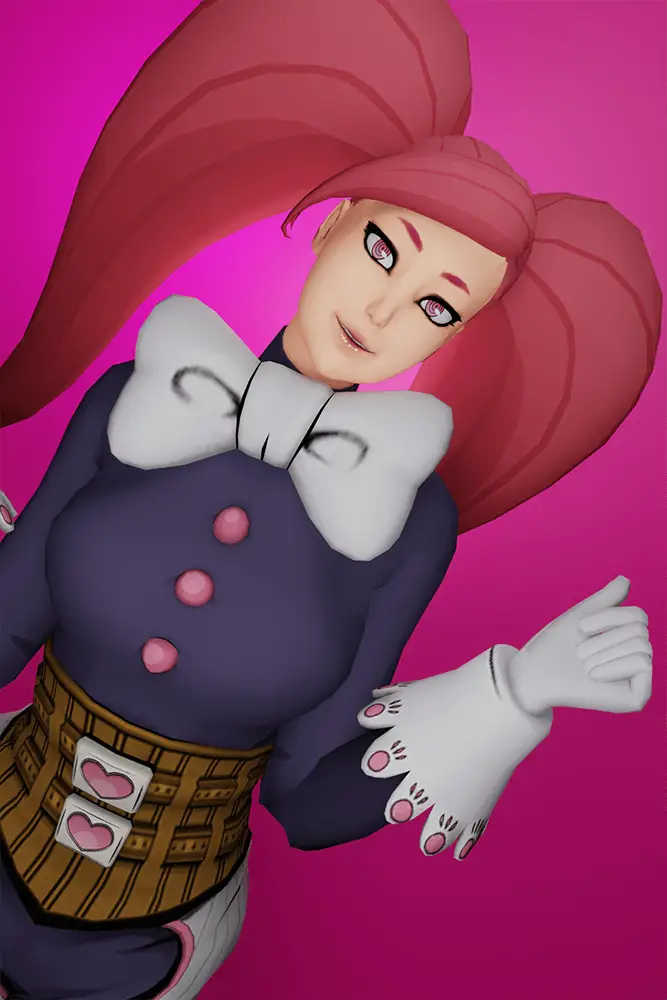 This collection, adds new life to Gentle Criminal and La brava's hair and costumes for the whole body that is accompanied by shoes-in Sims 4.  
Hairstyles that can be customized are part of this collection. 
Also included is Criminal's scarf as well as La's bow.
30. Sims 4 Bnha Cc Bakugo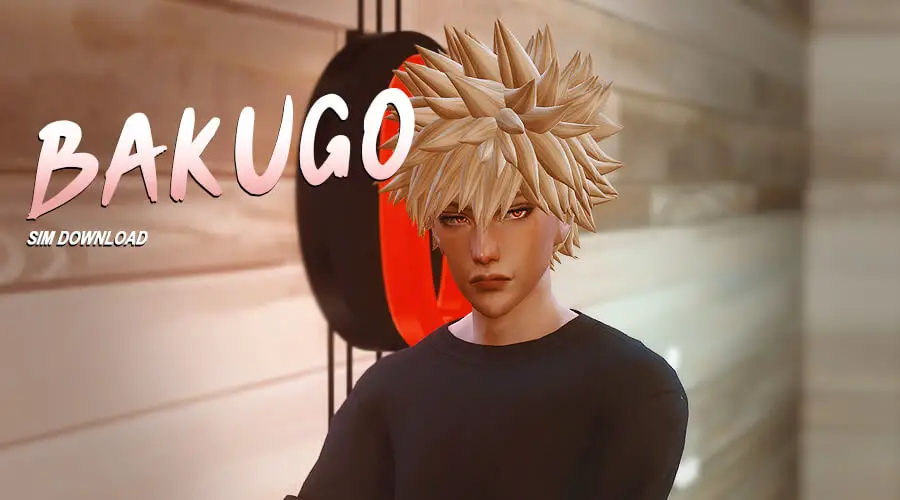 If you're still not enthusiastic about this set, then you ought to be! 
You'll have to download several CCP packs to make him appear exactly like the image in the gallery. 
Follow the link to download these.
29. Sims 4 Bnha PONY TSUNOTORI & YUI KODAI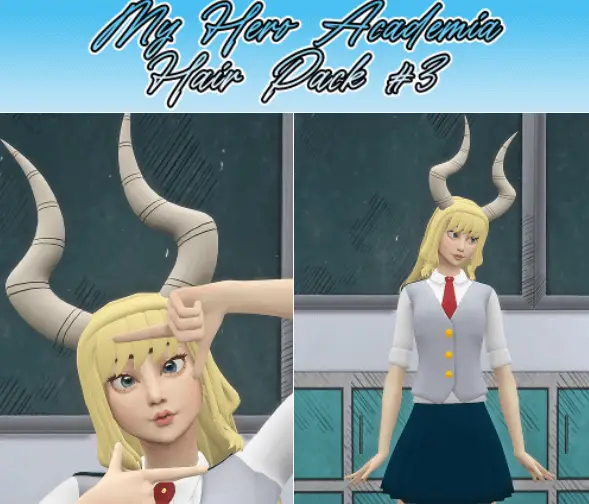 If you're looking to make characters in a sim format using Pony Tsunotori's and Yui Kodai's hairstyles this set is the best way to accomplish this. 
Also included are their shoes. Take a look by clicking here.
28. My Hero Academia CC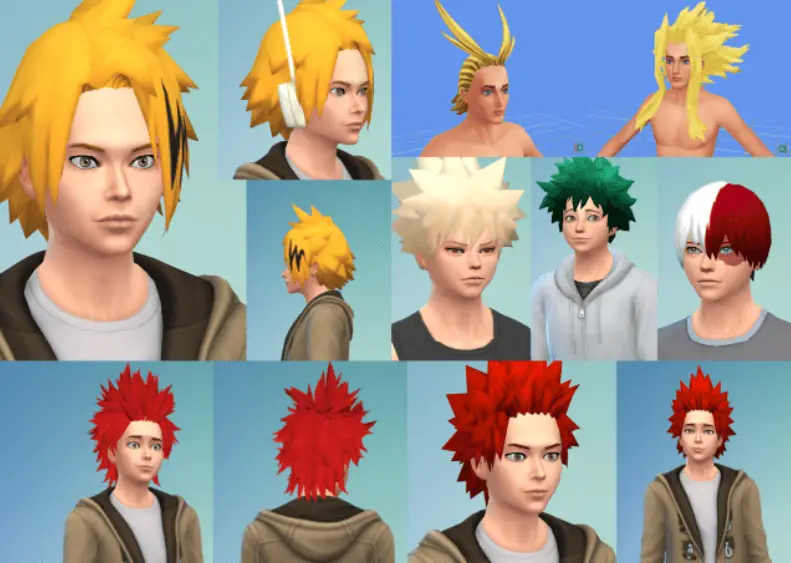 The hairs we have here are provided into our lives by BOTROM U1. 
We strongly recommend you check out their exclusive content for Sims 4. 
To install the hairs, follow the link below.
27. My Hero Academia Hawks Eye Marks & Eyebrows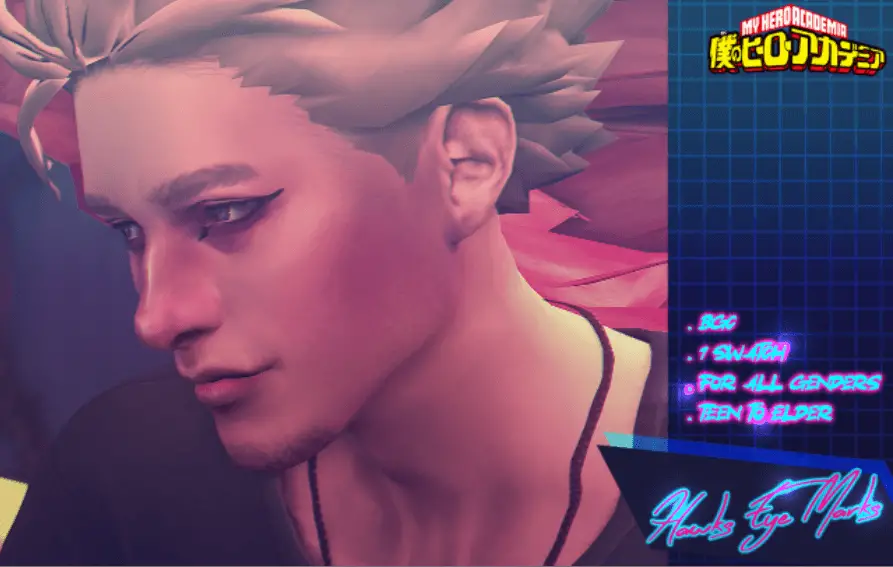 We're all in agreement that these eye marks are gorgeous! 
They're compatible with base games and can be found beneath the Skin Details, Tattoos, Face-paint, and Eyeliner. 
Also, it's compatible with all genders, from teenagers to seniors. 
The eyebrows come in two shades to male Sims.
26. Mei Hatsume Release of CC Set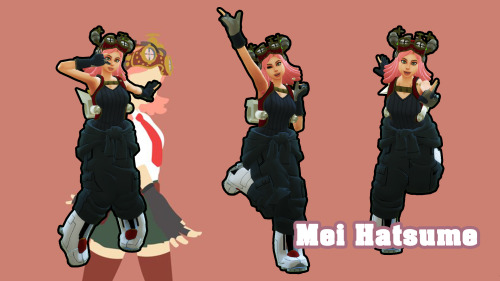 Another amazing custom set for all My Hero Academia fans! 
A pair of shoes, an outfit, and bags. 
However, remember that your shoes and outfit must be paired to function properly.
25. Shemage and Phantom Thief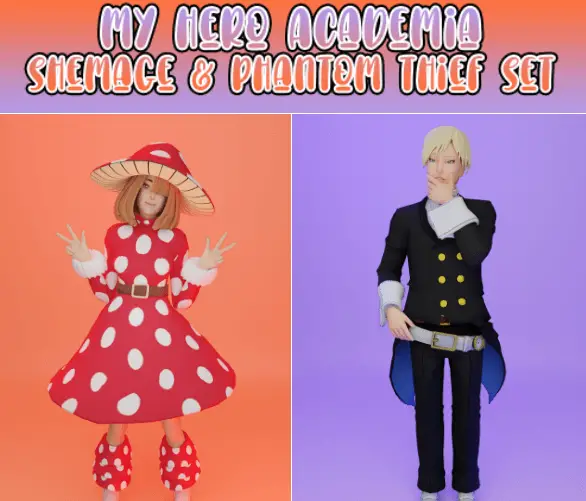 Simmers, the set also includes outfits that are suitable for Shemage and Phantom and shoes that are custom made. 
It also comes with custom-designed hats and eyelashes. 
You can check them out by clicking the website below.
24. Izuku's Set Bnha CC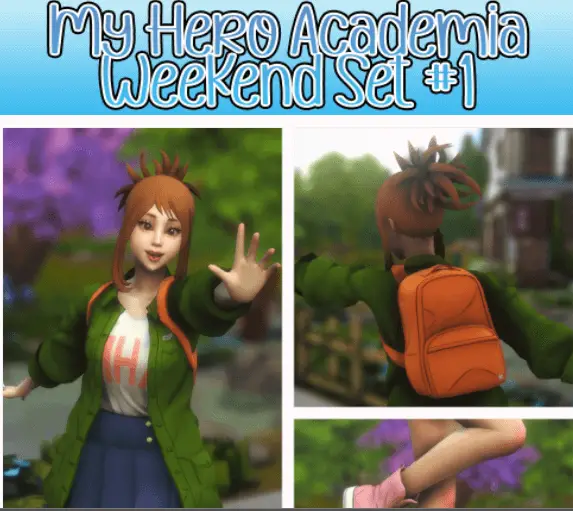 He's a sweetie Isn't the guy? 
This set contains 10 swatches to match the dress as well as 10 swatches for the shoes, and 11 swatches to go with the backpack. 
Take a closer look at them by clicking on the link below.
23. Sims 4 Bnha CC – My Hero Academia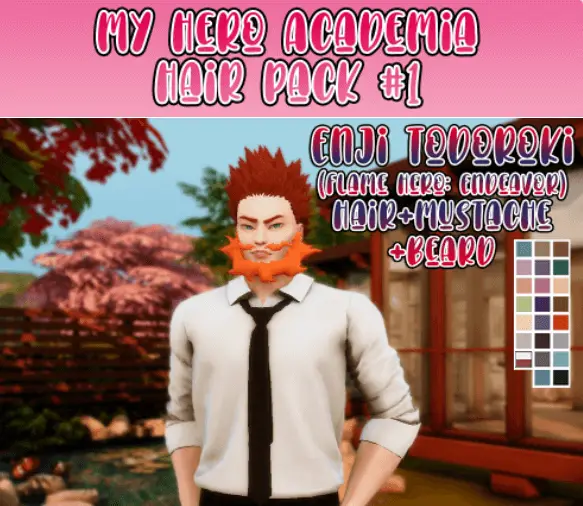 You'll get a few items from this set, including hairs, costumes, horns, and a mustache. 
Also, they're offered in a variety of distinctive colors. Check them out for yourself.
22. My Hero Academia CC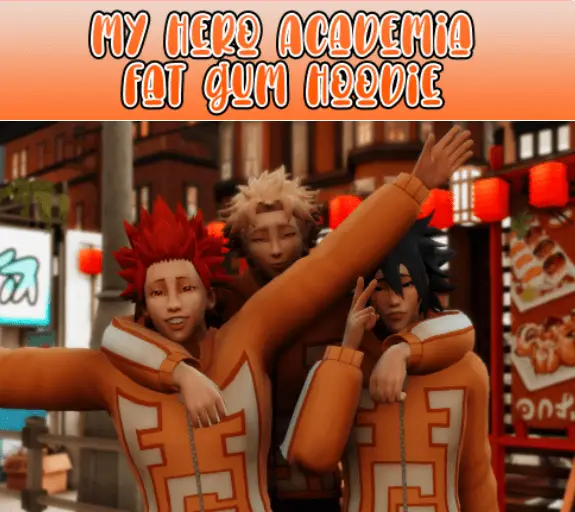 What a perfect set to finish this list! 
A jacket made of 10 swatches with different colors. 
Take a look at the link below. 
Find customized coats for the Sims 4 here.
21. Hair Pack – Boku No Hero Academia
Beginning with hairstyles from these five characters: Midoriya, Backugo, Todoroki, Kirishima, and Kaminari. 
The effort put into the creation of these certainly shows.
20. Bakugo T-Shirts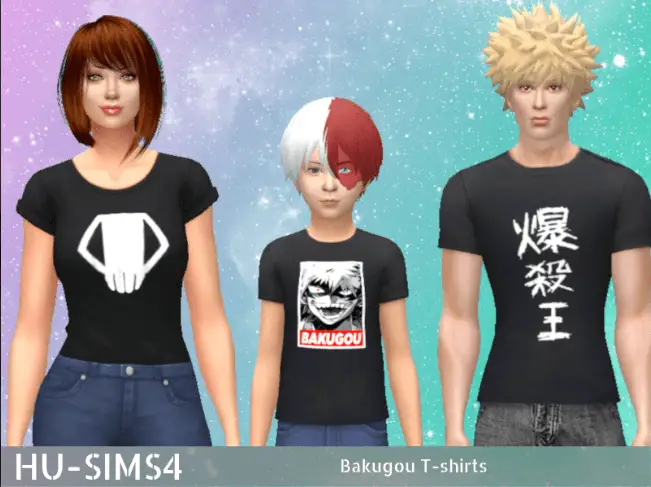 Two of the designs are straight from the anime The final one looks more like the type of Bakugo-themed products you'll find on the shelves of Hot Topic or some other popular retailer.
They're modern and simple and perfect for every outfit. 
Your anime-loving Sims are able to show their love for anime without needing to be dressed as Hatsune Miku.
The Sims are all black-white, and there are variants for females, males, and children Sims alike.
19. Midoriya T-Shirts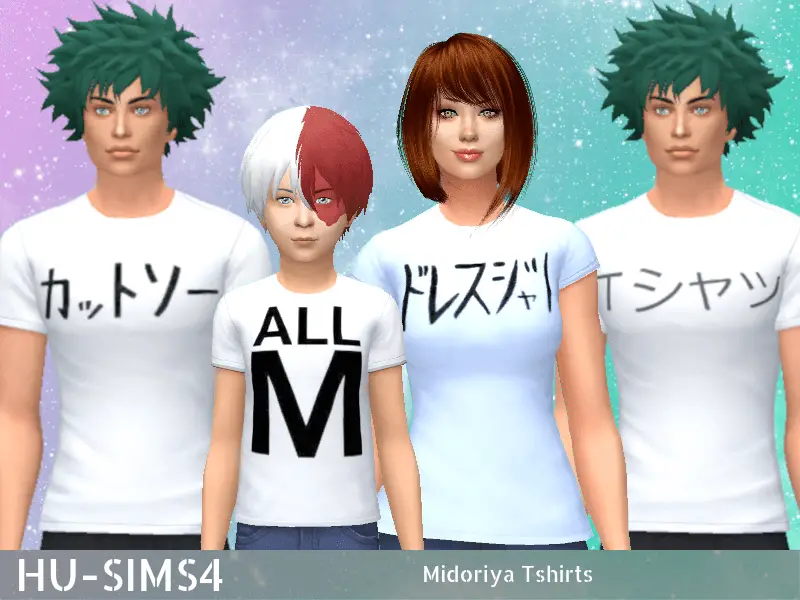 Midoriya's T-Shirts are polar opposite to Bakugo's but they're just as comfortable and look fantastic for any Sim.
These white T-shirts are simple designs that are derived directly from the shirts used by characters from the animated series.
One of them is a man who says "ALL M" to express his gratitude to All Might, and others use phrases similar to "T-Shirt" in Katakana.
Knowing Midoriya He probably designed these designs on T-shirts himself.
Sims are available for males or females as well as child Sims.
18. MHA Girls Hoodies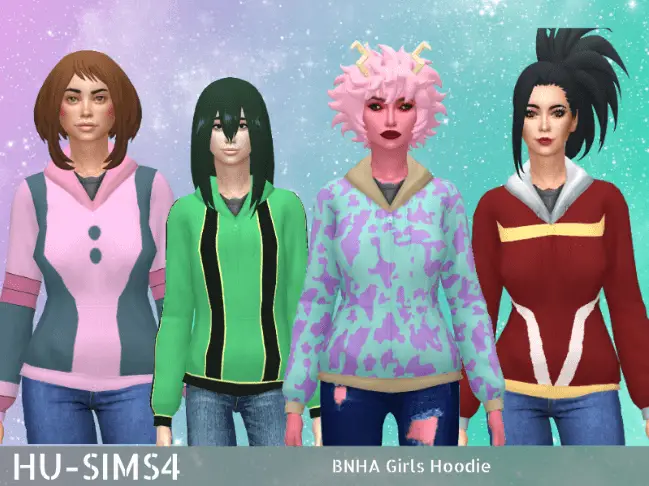 Another great MHA-themed item to add to the Sims clothing is this hoodie collection that is based on the hero's costumes of the most well-known girls from Hero Class 1A.
Ochaco Uraraka Mina Ashido, Momo Yaoyorozu as well as Tsuyu Asui all are beautifully illustrated in these gorgeous sweaters. 
Personally, I'd like to have one even in the real world.
It's actually just one thing that comes with four swatches, one for each girl. 
Although they're based on female-only models, the black hoodie is able to be worn by fans of anime of all genders.
17. Hero Career Path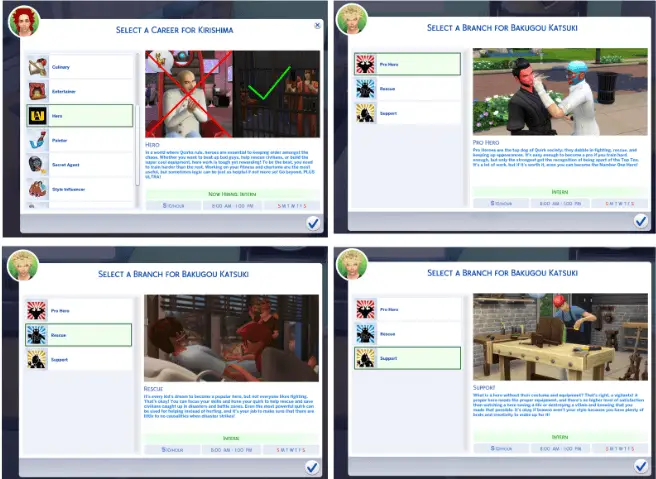 If you're purchasing MHA costumes as well as characters to play TS4 it's possible to be able to make some adjustments for the experience. 
In particular, there's a newly introduced BNHA customized career…
Start by logging into the Hero Career Path mod.
Creator Sakine can open up the possibilities for quirk-free Sims to pursue a profession that is focused on helping people or helping those who are.
As you progress, climb into those in the Top Ten heroes, and you'll start to see the cash come into.
16. MHA CC Assortment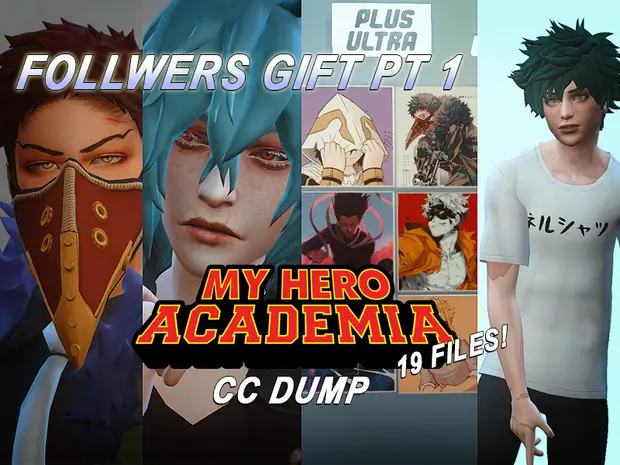 It features a range of high-quality, varied MHA-themed CAS items as well as Buy Mode items to transform your Simsverse into something more powerful.
Within it, you'll discover Overhaul's attire and poses as well as a Tamaki Amajiki Sim and a collection of 15 artworks/prints to embellish your walls, and much more.
This bundle exceeds expectations to provide everyone with something they'll enjoy. Plus Ultra!
15. MHA Hair Pack
Creator Botrom U1 vastly increases our CAS options by the Two MHA Hair Packs that cover the majority of Hero Course Class 1-A.
Midoriya, Bakugo, Todoroki, Kirishima, and Kaminari are all located in the first quarter of the game.
Iida, Ochaco, Mina, Momo, Tsuyu, Sero, and Kyoka are included in this 2nd hairstyle collection.
This second set also includes Himiko Toga's locks.
All of them are high-end and faithful to the original material, without appearing out of place within The Sims 4.
14. More MHA Hairstyles
This amazing pack contains styles for Nejire Hado as well as Mirio Togata two of the best hero contenders in Japan. 
Also included is a hairstyle that's for Pro Hero Fat Gum in his less bloated form.
The most appealing feature of this pack comes from Pro Hero Endeavor's hairstyle which is complete with a flaming mustache and beard.
Do not worry, it's not like Sims were ignited in the making of this hairstyle.
13. MHA Class Uniforms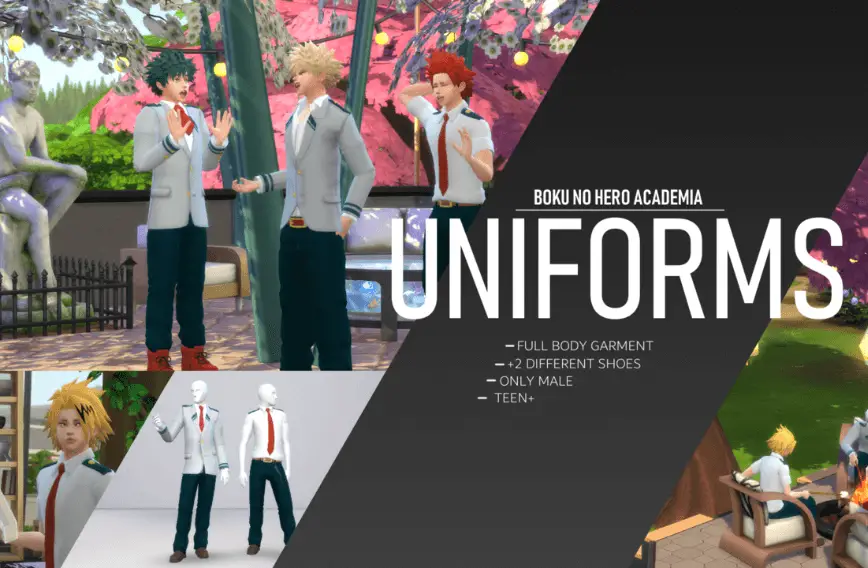 Once you've got the hairstyles you want, it's time to start putting on the other parts of your Sims body.
If you're making a hero Sim to go to the UA then you'll require the uniform of the school. The pack comes without and with the jacket to allow for more personalization.
It's absurd to put on a jacket during the summer months.
Unfortunately, they are only available for male Sims. If you'd like the women's version buy it now.
There's the short-sleeved summer version of this here All with different colors to experiment with.
12. BNHA Gym Uniforms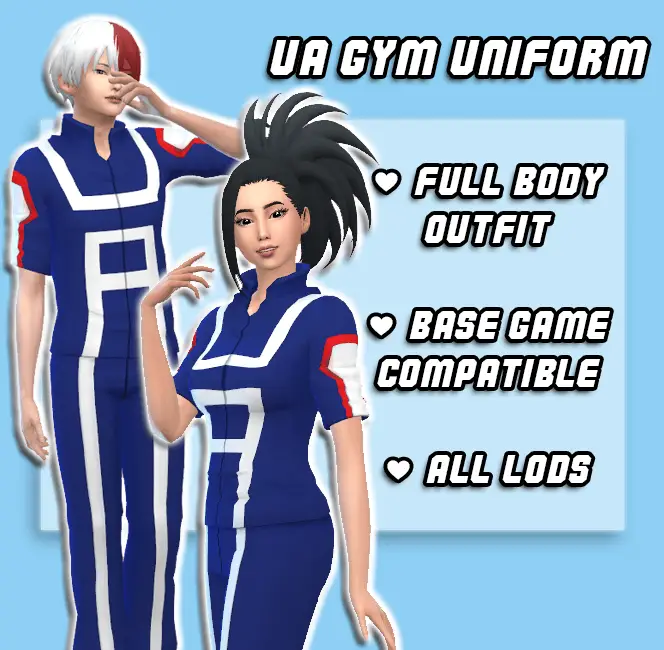 The uniforms are suitable for both genders.
They're comfortable and won't get damaged by the quirks of your Sim!
The uniforms are available in a variety of swatches, ranging from ten to amazing color palettes, like All Might's colors and a black-on-yellow version that is reminiscent of the character The Bride in Kill Bill.
If you're interested, purchase the Cheerleader uniform by the exact CC creator.
11. Maboromicamie – Camie Utsushimi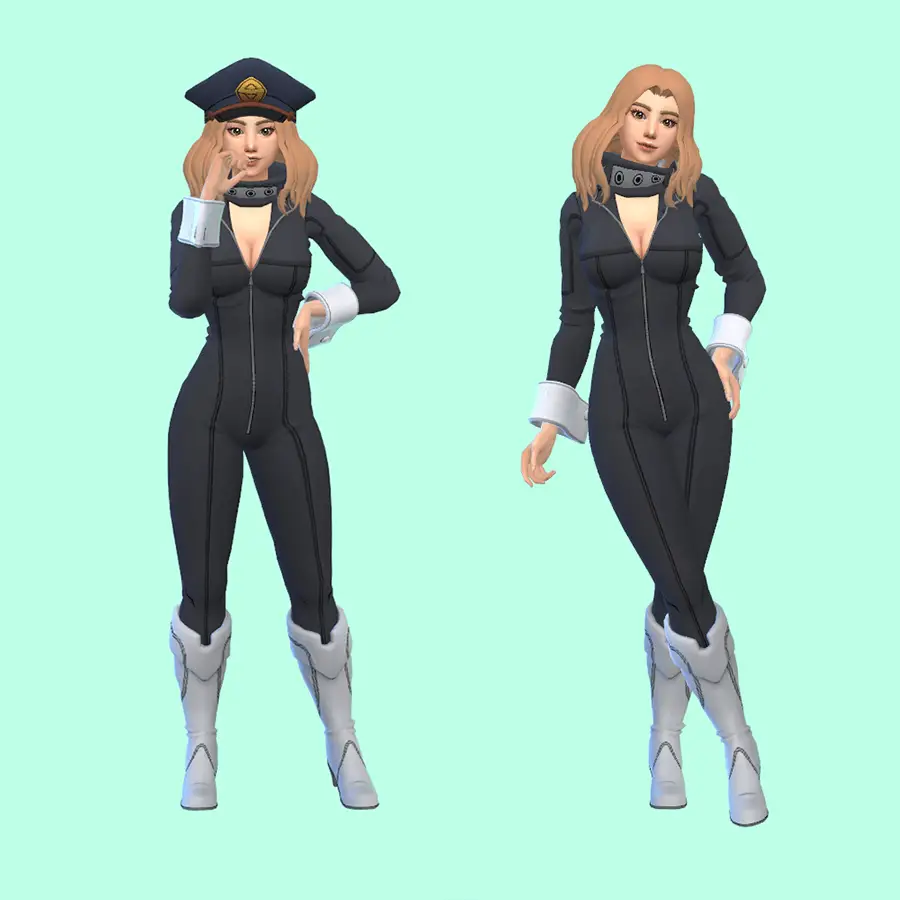 Maboromicamie is among Shiketsu High School's most popular hero students. Her unique quirk, Glamour, allows her to exhale a hallucinogenic fog that covers a vast area. 
It is a great match with her hero's suit of leather that accentuates her body and gives her the advantage over males who are overwhelmed.
Do you think you've noticed how easy it is for people to get bored when they meet gorgeous people?
The sexy dress is available in ten different swatches which means that even if don't need Camie to be your ally it's still an incredibly skin-tight, versatile jumpsuit.
10. Himiko Toga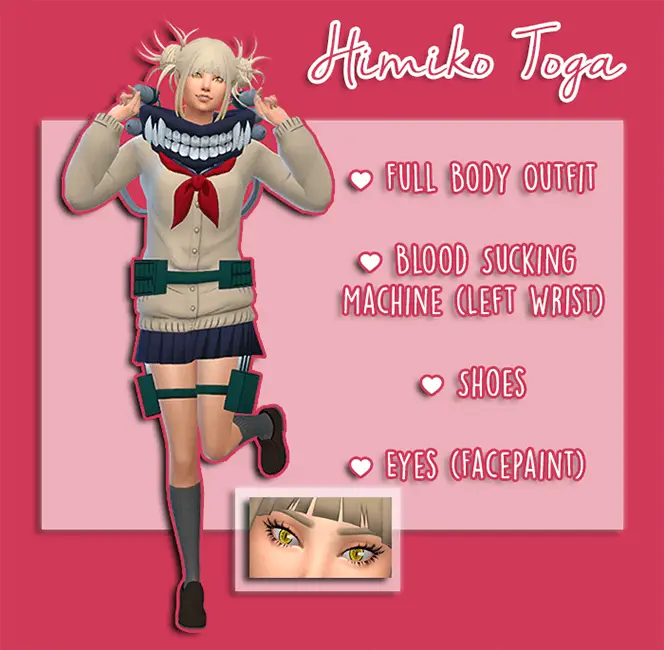 The first time that we see Maboromicamie in the Exam for the Provisional Hero License Maboromicamie is actually performing the role of no other person than Himiko Toga, the most adorable participant in the League of Villains.
The murderous psychopath is among the most vital members of the LOV because of her quirk, Transform that lets her duplicate her appearance (and later her quirks) of any person whose blood she drinks.
The pack comes with an unbloody and a normal version of her famous outfit. Also included are her mask and all the blood-sucking device she uses to increase her powers.
9. Dabi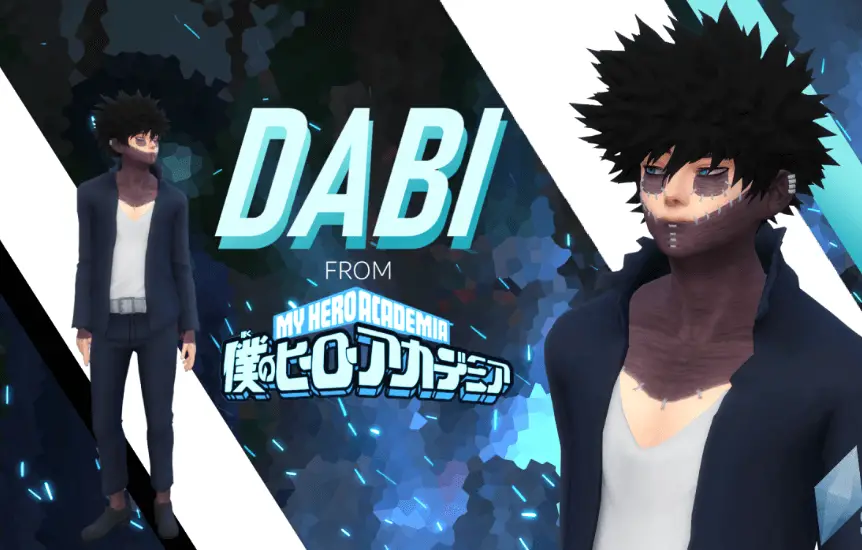 Another important member of The League of Villains is Dabi Blue-flame, a user who has an unsettling background that I'm not going to reveal for those who are only watching the show instead of going through the manga.
His peculiarity, Cremation, lets him produce incredible blue flames that are hot and intense from his body.
However, they also burn him, which is why there are marks and staples around his body.
The pack does not include his clothes, but the entire Sim because the staples and scars only are compatible with a certain facial and body style. It's still a great option.
8. Mr. Compress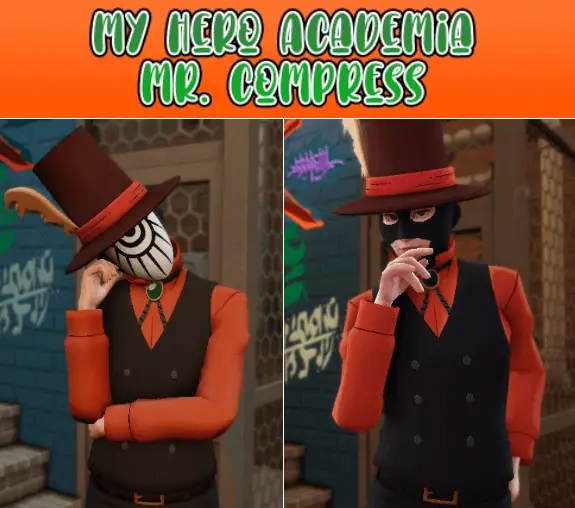 One of my all-time favorite antagonists of the LOV includes the character Mr. Compress, a sharp-dressed gentleman who has one of the best peculiarities ever.
As his name implies, his Compress feature allows him to reduce everything he touches into just a small, round pebble he can carry around.
It's a great tool for abductions, heists, and even carrying wounded allies to HQ.
I'd never use backpacks in my entire life if had this quirk.
In addition to his attire In addition to his outfit, the pack contains five masks as well as one "unmasked" version that shows the balaclava under.
7. Twice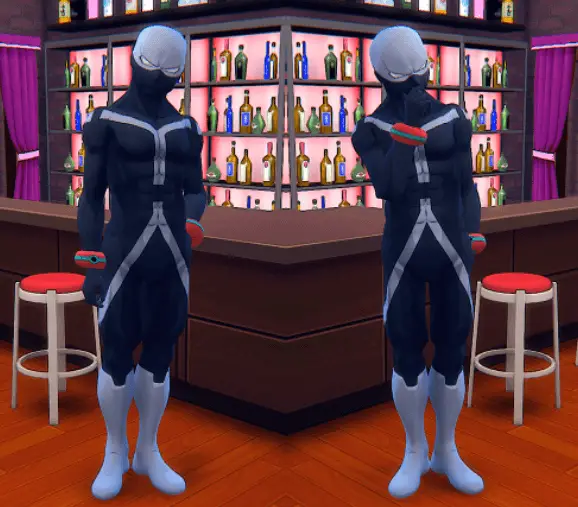 Twice is most likely to be the most interesting character in Twice's League of Villains due to the story of his birth in which his sanity is being destroyed due to his peculiarity.
Twice is capable of making perfect copies of everything which is why it's called Twice.
He also copies himself, which ultimately leads him to lose track of which of the copies was the original. 
With this custom-designed creation, you now have Twice roaming the neighborhood… perhaps the other two… even three…
6. Tomura Shigaraki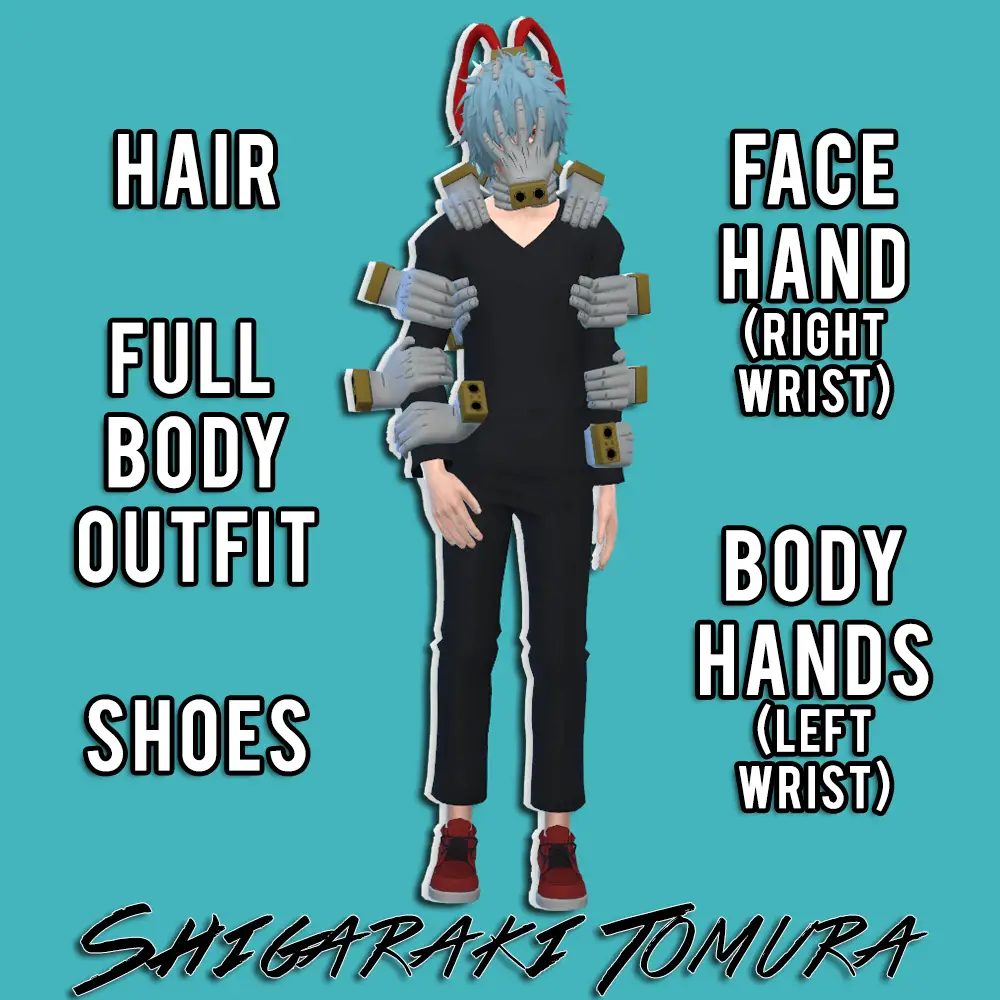 This leader from the League of Villains starts as a grumpy child who has serious issues with his childhood. 
Apart from the power of leadership, Shigaraki has the Decay ability to take down anything he can grasp using his hands. 
This is a terrifying power initially however, as the story develops, it will reach an extent that he's able to take down entire structures with ease.
The set includes his hair, clothing shoes as well as "handy" complete-body accessories. You can also purchase another version that comes with a black coat here.
5. Creati – Momo Yaoyorozu
The show isn't titled "My Villain Academy".
Let's get started and have a look at some of the top heroes of Sims CC that is available on TS4.
Momo Yaoyorozu is one of the most accomplished academic students in the Class 1A class. She is from a wealthy family, however, she doesn't consider herself differently from her peers.
Her open-faced outfit is intended to let the skin as exposed as is possible, but not to hinder the Creation ability that allows her to reproduce any substance through her skin.
You can purchase this unique and flirty dress in ten shades, including some that remind you of All Might or Uravity.
4. Froppy Tsuyu Asui
The cutest character in the entire series has to be Froppy The Rainy Season Hero.
The adorable superhero has abilities that resemble a frog's including a strong tongue as well as the ability to leap over great distances the same as a freshwater amphibian.
Her clothes reflect her roots as froggy by using green hues and her headpiece, which looks like the eyes of a frog. 
The combination of black and green is great, you can pick one of the nine additional swatches in this collection.
3. Uravity Ochaco Uraraka
Ochaco Uraraka has a determination woman. One among the most relatable heroines.
She wants to be a Pro Hero so she can earn some cash to assist at home, something that we are more able to connect more with "becoming an emblem of peace" or some other such thing.
Her attire is also one of the most imaginative and beautiful on the show and gives her a hint of a futuristic, astronaut style that I like. It's only appropriate for someone who allows her to manipulate gravity.
This Gravity set comes with the Ochaco Sim, her outfit as well as nine additional samples in addition to the color palette that was originally created.
2. Deku – Izuku Midoriya
Naturally, of course, we can't remove MHA's protagonist from the story.
As a child, Deku struggled with the hard reality of not having uniqueness in an otherwise enchanting world. But Deku wanted to be heroin in some way or other.
The earnestness and determination to give up his own to assist others caught the eye of All Might and he was able to pass on the All for One quirk to the boy who was just starting out.
This pack lets you bring this empathetic teenager into your Sims" world.
1. Kacchan – Bakugo Katsuki
Bakugo's quirk renders his sweat as explosive as nitroglycerin. This is unusually appropriate considering his personality. 
The costume he wore as his hero was designed to aid him in using his sweat in a variety of ways. The bracers that hold grenades are a crucial component of the overall system.
This set includes everything from the grenade arms, to the explosive effect accessory hidden behind his hair that is spiky.