Today I am here to share with you something different and new although every content has a different theme this time this is quite different from another article.
A visual novel from 2004 Fate, will start with that these series have some fantastic and amazing animation. Unlike most anime, it isn't based on manga; instead, it is based on a video game series called Fate/Stay Night.
The anime follows its characters' adventures for the Holy Grail's quest, which acts as the common theme. While every season is a bit different from others yet they share the same motive.
Compare to the newer series of times this anime worth your time and what to watch, whatnot, and what at which time so, follow that list of watch order of the series below.
Fate Series Watching Order Explained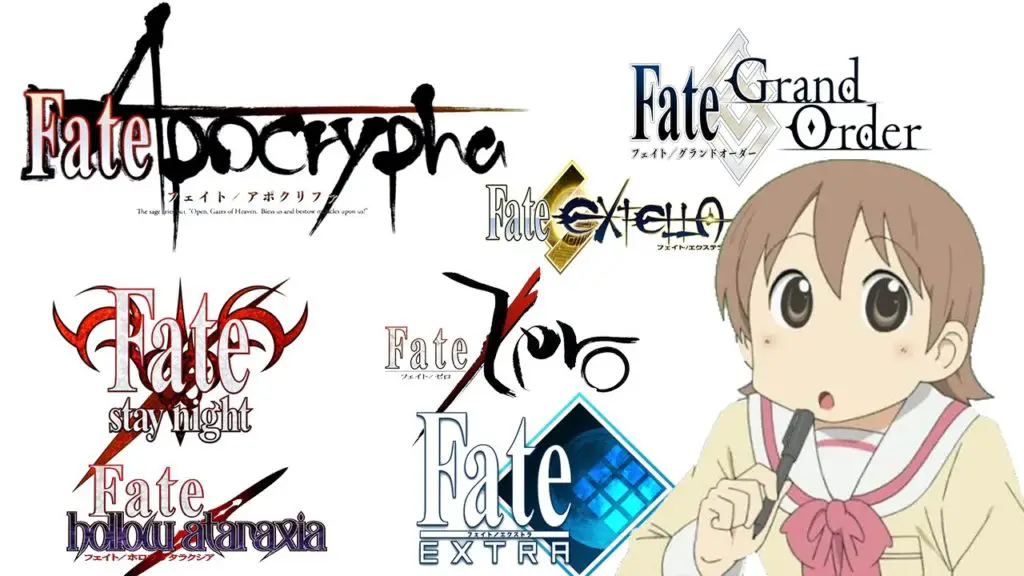 With a lot of twists and turn this series got my eye. The series got into the world after Ufotable's adaptation in 2011, so after lots of reasons this series came as a newcomer with a boom.
As I told you before this series is an adaptation of a novel with the same name but the visual novel consists of three alternative story routes called the "Fate," "Unlimited Blade Works" and "Heaven's Feel" route, but when Deen adapted the novel they are not sure for the sequel.
And Fate got its redemption when Ufotable took over the right on that and after the release with lots of criticism the series make its path with a strong storyline in the field.
Instead, after watching the 2006 version, the next series to watch would be 2014's Fate/stay night: Unlimited Blade Works, followed by the Fate/stay night: Heaven's Feel trilogy. The brilliant Fate/Zero series, which is a prequel to the events of Fate/stay the night, can be watched after the 2006 adaptation.
Regardless of all the ups and down and twisted things if you start watching it I am damn sure you'll surely get hook with the story and feel how good the fate series is. 
The beginning of the fate anime series
In 2006 Studio Deen adapted an anime version of the Fate route visual novel. The adaptation was named "Fate/stay night" and is optional in the Fate series watching order. The story in Fate/stay night deviated from the source.
And for the Fate/stay night fans might get impressed. However, that all changed in 2010 when Studio DEEN tried to adapt the Unlimited Blade Works route into a movie.
So, try to watch it without any delay and it won't ruin the watching order.
The Turning Point
Besides all the fact this anime itself is good for watcher and in 2011, Ufotable got their chance to step into an anime adaptation. With that being said, they released Fate/Zero. The story of Fate/zero follows the character Kiritsugu, the man who adopted Shirou, and in the novel, there is nothing about him.
So, to led the way toward excitement fans were excited to know about Shirou in the anime adaptation of Fate like about his life, how they both met, where were they before they met, etc….
With fully loaded with action this series has amazing animation, with good visuals and of course on the top great storyline. But this is a recommendation in my opinion either watch it first or watch it last, it's up to you but do watch it.
Why the turning point?
You are wondering right that now what is the turning point here means but it's not like the change in the story or anything like that it's like the anime adaptation by Ufotable. I enjoy it watching but I don't think so all of you guys did the same experience that I did right?  
And with one more guest on the list, they announced a new anime adaptation. They adapted the Unlimited Blade Works route which was released in 2014.
Unlike the 2006 version from Studio DEEN, this adaptation followed the Unlimited Blade Works route. Now with the awesome story that pleases the fans and also comes under the category of some badass animation and action.
Fate Series Watching Order (Chronologically)
1. Fate/Zero Season 1
2. Fate/Zero Season 2
3. Fate/Stay Night (2006 Made by Studio Deen)
4. Fate/stay night: Unlimited Blade Works – Prologue
5. Fate/stay night: Unlimited Blade Works
6. Fate/stay night: Unlimited Blade Works 2nd Season
7. Fate/stay night: Unlimited Blade Works 2nd Season – Sunny Day (This is an Alternate Happier End To Unlimited Blade Works)
8. Fate/stay night Movie: Heaven's Feel Movies
Why watch chronologically?
Although the chronological order might seem to be tempting if you are a first-time watcher, and I also recommend you to watch this series in chronological order is simple.
Even though Fate/Stay night deviates a lot from the original Fate route story, it is still the only one that has adopted it so far. There is no adaptation of the Fate route by Studio. And I believe this order led you to the story where you are experiencing the best.
And in the end, it all comes down to one single thing, whether you're enjoying it. So, it doesn't matter in whichever Chronological and Narration you watch it, but make sure you enjoy it to the fullest.