On the 7th of March 1999, the very first show of Digimon Adventure premiered on Fuji TV in Japan. The premiere took place just a week after the short with the same name also had its premiere. 
Since then, Toei Animation and Akiyoshi Hongo have produced a total of eight animation series (with one currently on air on TV in Japan) along with 12 movies (with one being a set consisting of six films). 
Due to the honor of the franchise and the numerous works that are available, many people wonder what's the best Digimon order to watch the entire series. That is the reason we decided to provide you with this ultimate order to watch every anime film and series.
The fans of the series will have been through all of the films in the sequence in which they were published, but there's an abundance of information that you could get confused about even if you're not interested in the entire series. 
In addition, the majority of material that was released later was part of earlier series, and that's why we've taken the initiative to clear everything up. 
This guide will provide all the essential information including a complete episode schedule and a complete list of all relevant material that includes the anime films, series, and OVAs.
Continue going to read to find out more!
How To Watch Digimon Series?
Easy Watch Order Guide to watch the Digimon Anime Series in order including Episodes, Movies, and OVAs.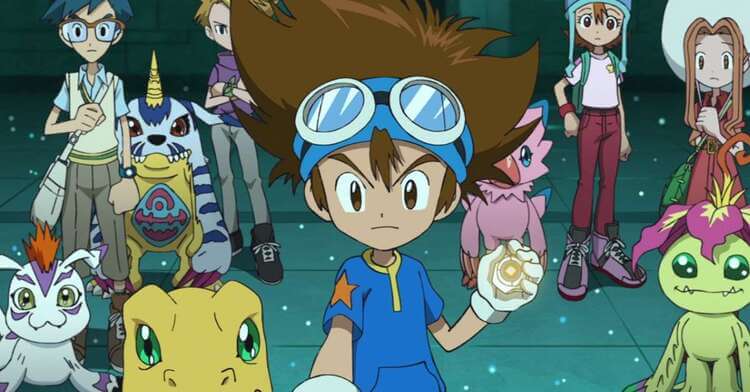 1. Release Order  
Season 1: Digimon Adventure (1999–2000)

Episodes: 54
Canon: 1-8, 12-16, 18-24, 26-32, 34-54
Mixed Canon/Filler: 17
Filler: 9-11, 25, 33

Season 2: Digimon Adventure 02 (2000–01)
Season 3: Digimon Tamers (2001–02)
Season 4: Digimon Frontier (2002–03)
Season 5: Digimon Data Squad (Digimon Savers) (2006–07)
Season 6: Digimon Fusion (Digimon Xros Wars) (2010–12)
Season 7: Digimon Adventure tri. (2015-18)
Season 8: Digimon Universe: App Monsters (2016-17)
Season 9: Digimon Adventure (2020) (ongoing)
2. Movies 
Digimon Adventure Movies
Digimon Adventure (1999)
Our War Game! (2000)
Digimon Hurricane Touchdown / Transcendent Evolution! The Golden Digimentals (2000)
Digimon: The Movie (2000)
Revenge of Diaboromon (2001)
Digimon Adventure 3D: Digimon Grand Prix! (2009)
Digimon Adventure tri. Series Movies 
Digimon Adventure: Last Evolution Kizuna (2020)
Digimon Tamers Movies
Battle of Adventurers (2001)
Runaway Locomon (2002)
Digimon Frontier (2002)
Digimon Frontier: Island of Lost Digimon (2002)
Digimon Data Squad Movies
Ultimate Power! Activate Burst Mode!! (2006)
The Digital World in Imminent Danger! (2009)
3. Other
Conclusion
Digimon doesn't have an intricate timeline and is fairly simple. The most recommended order to watch would be the one that is released that comes with the release order.
There are very few or no fillers throughout the entire series however should you want to skip specific episodes, you can skip filler segments of Season 1. 
There are indeed none of the filled-in episodes in the later installments.
The films are stories that are a side story and don't add to the overall plot, and thus, should be seen at the conclusion.
Does every Digimon series link?
Digimon's first two seasons Digimon as well as Tri, are part of the same timeline. 
Each season of Digimon is a distinct separate universe. 
However, from time to the point, some figures from the earlier episodes from Digimon have been seen to cross dimensions, and be transported to this universe in a separate season.
Is Digimon 2020 different?
The 2020 remake from Digimon Adventure enhanced the first in a variety of ways.
Digimon has been allowed to expand beyond Pokemon that has led to breakthrough modifications as well as increasing pains.
Is Digimon a Pokemon ripoff?
Digimon has long been seen as a Pokemon rip-off, but there are a lot of things that it did better. 
Digimon and Pokemon were both released in the late 90s, Digimon was released one year after Pokemon and Fans had already given their hearts to Nintendo's series of portable monsters.