I believe that Japanese School uniform is designed great. I wore uniform myself and I would like to exchange it for these uniforms. They also look very good on students! After reading many articles, I've learned many things of how they designed the uniforms.
The Japanese school uniform is modeled in appearance similar to that of the European-style naval uniforms and was first used in Japan in the late 19th century, replacing the traditional kimono. 
Today,  Japanese School uniform are common in many of the Japanese public and private school systems. The Japanese word for this type of uniform is seifuku (制服).
Various schools are known for their particular uniforms. Uniforms can have a nostalgic characteristic for former students, and are often associated with relatively carefree youth.
Japanese School uniform
Japanese School uniform are sometimes modified by students as a means of exhibiting individualism, including lengthening or shortening the skirt, removing the ribbon, hiding patches or badges under the collar, etc.
In past decades, brightly coloured variants of the sailor outfits were also adopted by Japanese yankii, sukeban and Bōsōzoku biker gangs
The 'Sailor Suits' were designed from the inspiration that the royal children of Europe give. The boys usally weared the military styled uniform whereas girls the sailor uniforms.
However Japanese style in school changed as they slowely started to adapt to Brittish tyle unforms including the blazers and chequered pattern skirts along with a tie or bow tied around the neck.
The type of uniform depends on individual school which personally I think it make everything unique as there's many styles and colours that the uniform in Japan can be.
Lets start with elementary school. It some elementary schools they don't require uniforms yet they want the children to wear a colourful cap, so they'ld be seen by traffic and umbrella in case it's raining. Ocassionally, in some school they give the 'Sailor' typed uniforms for the children.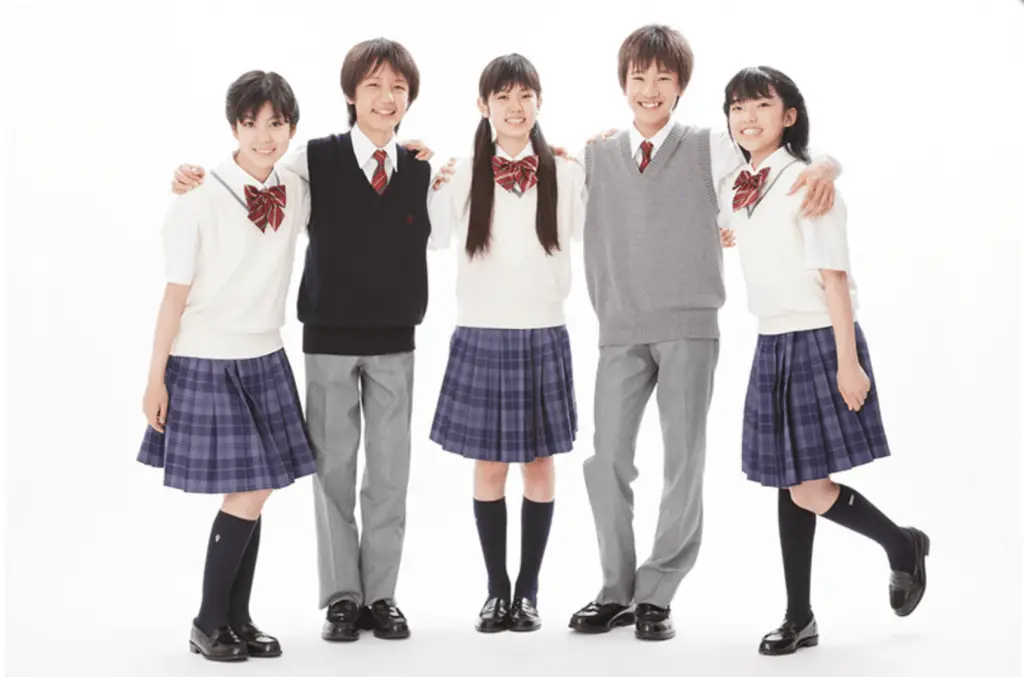 One of the traditional uniforms in Japan are "Sailor Outfits", worn by female students in the middle school. It consists of a shirt which has attached Sailor-styled collar and accordion-type skirt, everything can be designed in many colors.
The length of the sleeves depend on the season – if it's winter/autumn season they wear long sleeves, and on the spring/summer the short sleeves. The boys, on the other hand, wear a military uniform.
Another style of uniform, which is genuinely used in highschool, is the the uniform used in Europe.
It consists of a white shirt, tie or bow, tartan skirt, trousers (which aren't the same color as the rest of uniform), jumper and blazer with attached school crest.
Even though the Sailor/Military style is still used, some school slowly started to use this style.
Japanese schools also have different types of shoes depends on the room; they have outdoor, indoor and gym. shoes. In the indoor they use "Uwabaki Slippers" –  white canvas slip-on shoes with different colours at the end; yellow, green, red, blue (depends on the school).
This color code makes people recognize in which level of education the particular student is.  For outdoor they use the elegant shoes (loafers) which make the school very presentable.
Since some schools do not have sex-segregated changing- or locker-rooms, students may change for sporting activities in their classrooms.
As a result, such students may wear their sports uniforms under their classroom uniforms. Certain schools also regulate student hairstyles, footwear, and book bags; but these particular rules are usually adhered to only on special occasions, such as trimester opening and closing ceremonies and school photo days.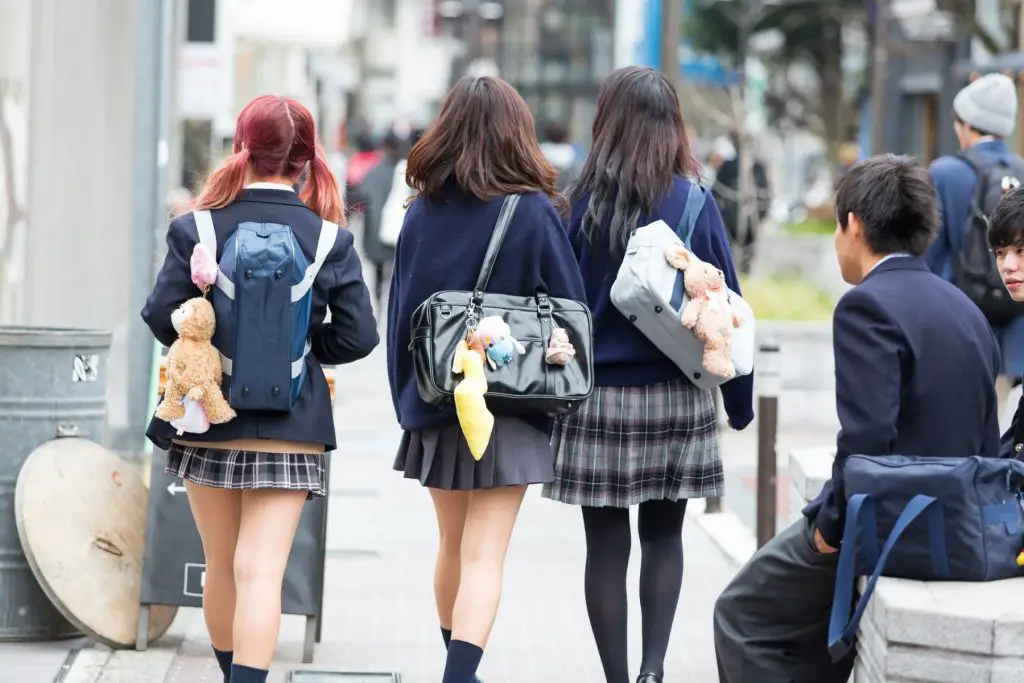 I love how these uniforms are designed so creatively, practical and are so unique.
Who wouldn't wish to wear these kind of uniforms? As I mentioned before it depends on individual school which decides on the style.
I decided to share my knowledge that I've gained through reading many articles as I think it's very interesting things to know ^.^